Podcast: Play in new window | Download (Duration: 27:17 — 38.2MB) | Embed
Subscribe: Google Podcasts | Spotify | Amazon Music | Stitcher | Email | TuneIn | Deezer | RSS | More
So, you need to use a project management tool but comparing Asana vs ClickUp leaves you confused.
If you are one of my regular readers you will know that project management makes me alive.
Join me on this journey to learn what you need to know when looking at ClickUp vs Asana.
It is possible that you have heard a lot about project management and you want to get started but you are not sure how.
Let me know if this sounds familiar.
You are currently managing several aspects of your business but every week things slip through the cracks.
There is a longing in your heart to have a single view of everything in your business.
However, it is not possible to put everything on your to do list as it makes things overwhelming.
If only there was a way to set up all the relevant tasks each quarter and have the most important ones revealed week by week.
In this post, you will learn how you can use a project management tool to get things done efficiently.
You will also see a side by side comparison of Asana vs ClickUp as well as which one is more suitable for your requirements.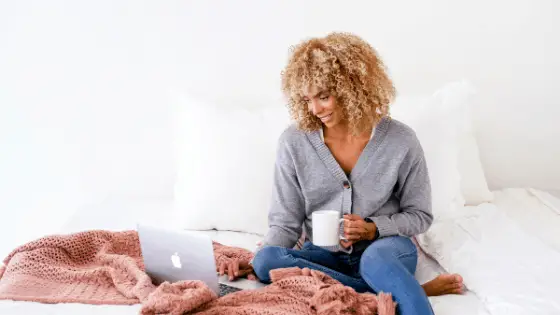 What is Project Management Software?
If you have been an entrepreneur for a while you'll know that being responsible for everything is normal.
By this I mean that you are the CEO, accountant, visionary, salesperson, customer service and you even do your marketing.
Because there is so much to do and so little time the need to automate as much as possible is normal.
This is where using project management software to streamline your business makes sense.
By nature, a project management tool can really help you to manage all your projects by department efficiently.
What I enjoy about using a tool to set up all your projects is that as you grow you can add team members easily.
Since everything is already set up in a systematic way adding team members can be a simple process.
Project Management Software vs Pen and Paper
Some small business owners may argue that they prefer using pen and paper or even their notes application quite easily.
While this may sound fine initially when your business begins to grow and even explode it means that you cannot add team members to the notes app.
In fact, it will be a struggle since you will be onboarding new team members and setting up systems at the same time.
However, if these systems have been set up in advance then it would be just a matter of adding new team members to systems that already exist.
Also, using pen and paper or a notes app does not give you the overall visibility you need to make strategic decisions.
As your business grows every team member should be given access to the project management software.
So they know what tasks needs to be completed to move the business forward each day.
Your business will run efficiently and it reduces the chance of a client or customer query or order falling through the cracks.
What do you Need to Get Started?
One of the things that prevent small business owners from getting started with project management software is that they feel they need to know everything.
The truth is that this type of software really helps you to see the potential gaps and risks in your projects.
Here's the ultimate list of what you need to get started with software to manage projects.
What is the project all about and the budget
Who are the people involved
When is the deadline
Where will the project be done (online or offline or location)
Why are you doing the project
You are probably thinking that I have lost my mind altogether but I can assure you that even complicated projects have the same 5 items.
Yes, you are right that when you look at a complex project that has been set up there seem to be so much more.
However, both simple and complex projects have the same 5 items.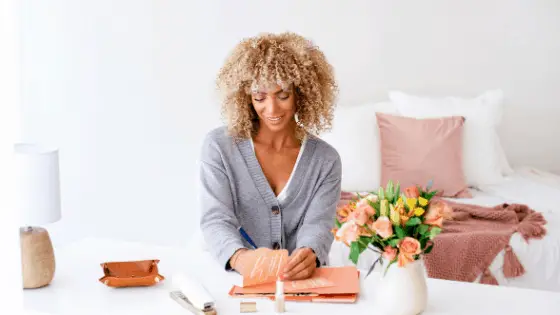 What Makes Projects Complex?
On the topic of complex projects let's spend some time looking at why some projects turn out to be more comprehensive than others.
The best way to explain this is by looking at two examples.
Simple Project
A simple project example is publishing a blog post every week. Let's look at what is needed to kick-off a blog post project.
What – writing a blog post
Who – the entrepreneur or writer
When – 1-2 weeks prior to publication
Where – will be published online
Why – to grow authority
How – using an outline, keywords, topic, images, objectives, CTA and a guideline or template.
As you can see, you may not need to use a project management tool for writing a weekly blog post.
Complex Project
However, let's say that the project changed to writing 100 blog posts in 30 days.
In any given month, there are 20-22 working days to get work done. So, what will this project look like now.
What – writing 100 blog posts
Who – 10 contractors (writers), 2 editors plus a project manager
When – to be completed in 4 weeks
Where – they will be published online
Why – to build authority, assist with course launch and grow an audience
How – using an outline, keywords, topics, images, objectives, CTA and a guideline or template.
Is it possible to get this project completed without using a tool to manage the project?
Yes, it is possible however a project management solution will help streamline everything.
How to Set Up a Complex Project in Asana
Now that you have an idea of what you need to get started using a tool for managing projects let's do one.
You will first need to set up an account in Asana. The good news is that Asana is free to use.
The first thing you will need to do is create a team name. Just give it a name that is easy to recognise.
Create team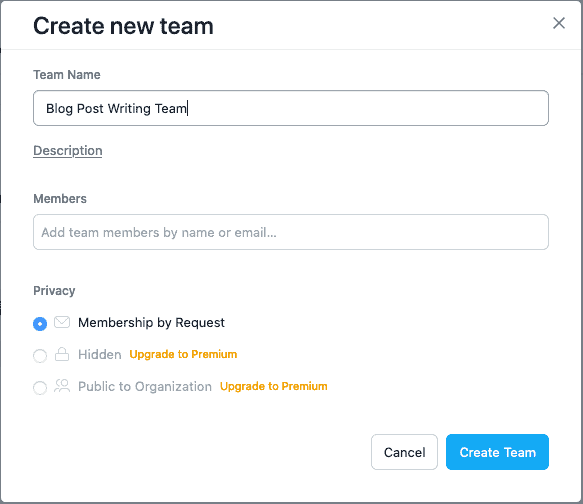 I decided to call it the blog post writing team. There is no need to add any members just yet.
Next you want to set up the project based on the 'what' that we discussed earlier.
You will be given the option to use a blank project, a template or even import a spreadsheet.
When I worked in the corporate world I was almost always surprised by how many small businesses use spreadsheets to run their company.
I always choose a blank project and then depending on the project I can go with a list, board or calendar.
Name Project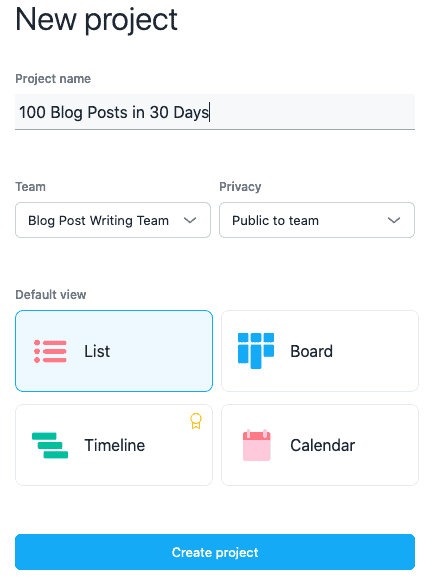 Remember to give your project a meaningful name then click on 'create project'.
In many instances, I prefer to use the board view since it helps me see the project as it progresses or by tasks by status.
Create Tasks
As you can see I decided to call the project 100 blog posts in 30 days. You will see that I have labelled the first 6 boards as follows:
Keyword research
Approved keywords
Blog posts outlined
Topic research
Approved outline
Writing in progress
It is important to have a fairly rigorous process of deciding which topics get written and which don't.
Here is a screenshot of my next 5 boards.

These are the boards listed.
Draft blog post ready for review
1st edit completed
2nd edit completed
Blog post scheduled
Post published
Now, let see a list view of this blog post creation process.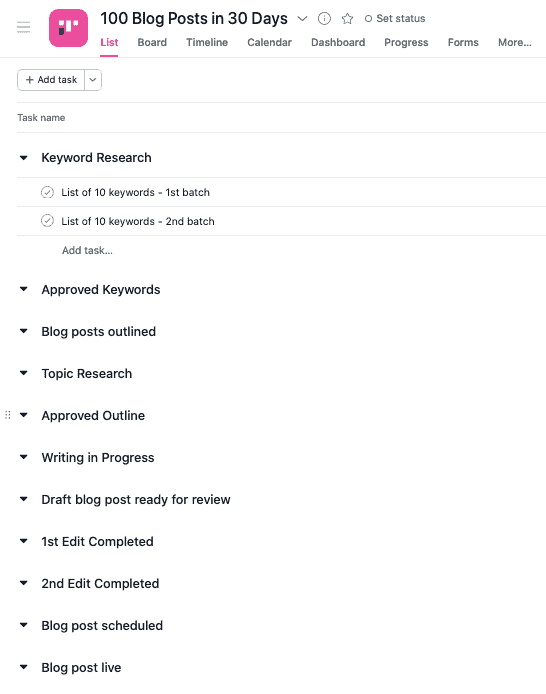 Subtasks in Asana
Now that you have the main tasks set up it is time to decide what subtasks need to be completed under each main task.
While setting up the project I have come to realise that we either need to hire a contractor to do keyword research or outsource this to an agency.
I have divided the keyword research into 10 segments to make it manageable.
Each keyword research batch will have 10 subtasks under it with a primary and a group of secondary keywords.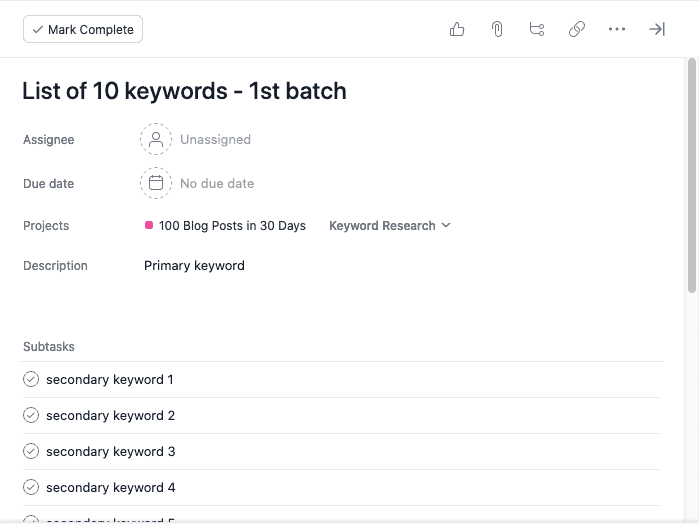 Tasks Progression in Board View – Asana
Once the keyword research has been completed it is time to progress these keywords to the next stage.
This is what moving each tasks along looks like in Asana.

So, managing projects in Asana can be a very simple affair. It helps me see obvious gaps that needs to be filled.
How to Set Up a Complex Project in ClickUp
Now that you have a sufficient understanding of how to set up a complex project in Asana.
Let's compare it with setting up a project in ClickUp. You can access it here.
When you sign up with ClickUp and you have added your photo and given your workspace a name, you'll be ask to start your first space.

It just sounds confusing but it is essentially a project. Use the default ClickApps.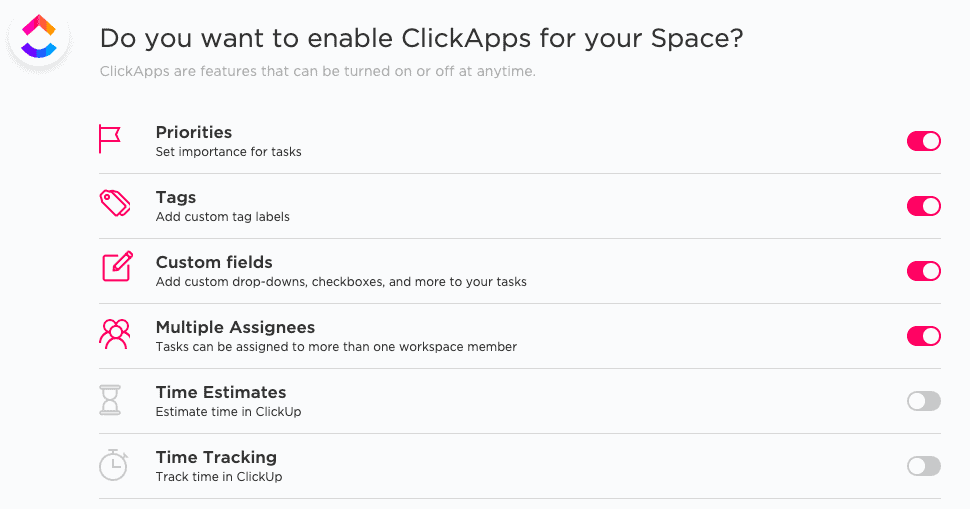 I like the fact that ClickUp allows you to import tasks from Asana and other project management software like Monday.com, Trello and Basecamp.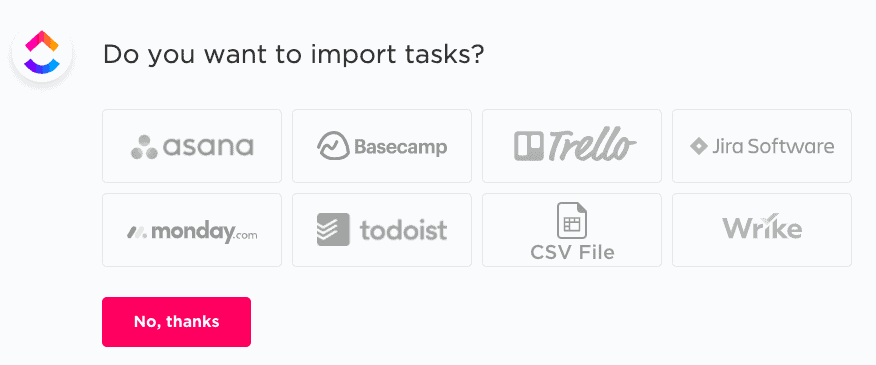 Let's set up these tasks in ClickUp from scratch since you may not have a list of existing tasks.
A word of warning, you will be forced to use one of ClickUp's templates when you first sign up.
Once you get in just delete the template as it can be confusing at first.
After you delete the template your project will look like the screenshot below.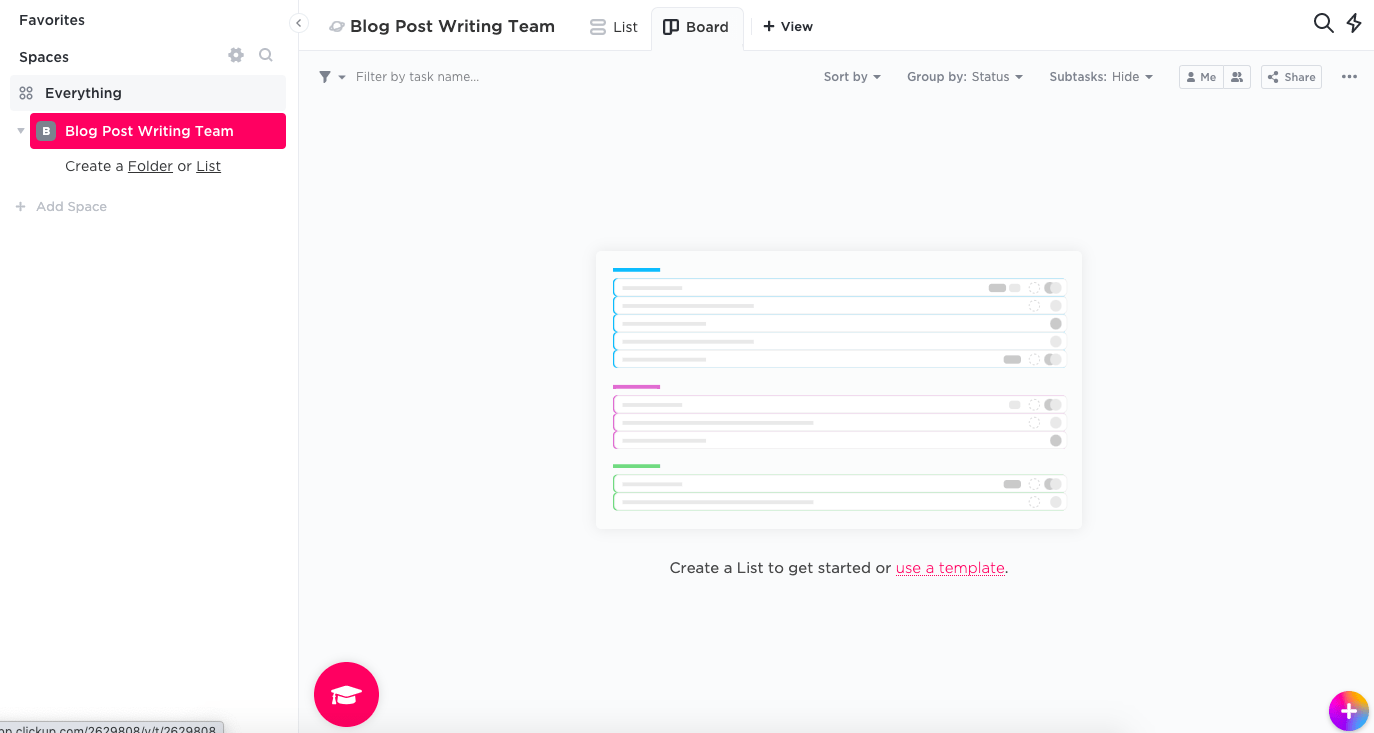 Creating tasks in ClickUp
Just click on the multicoloured plus button on the bottom right hand corner to start creating your tasks.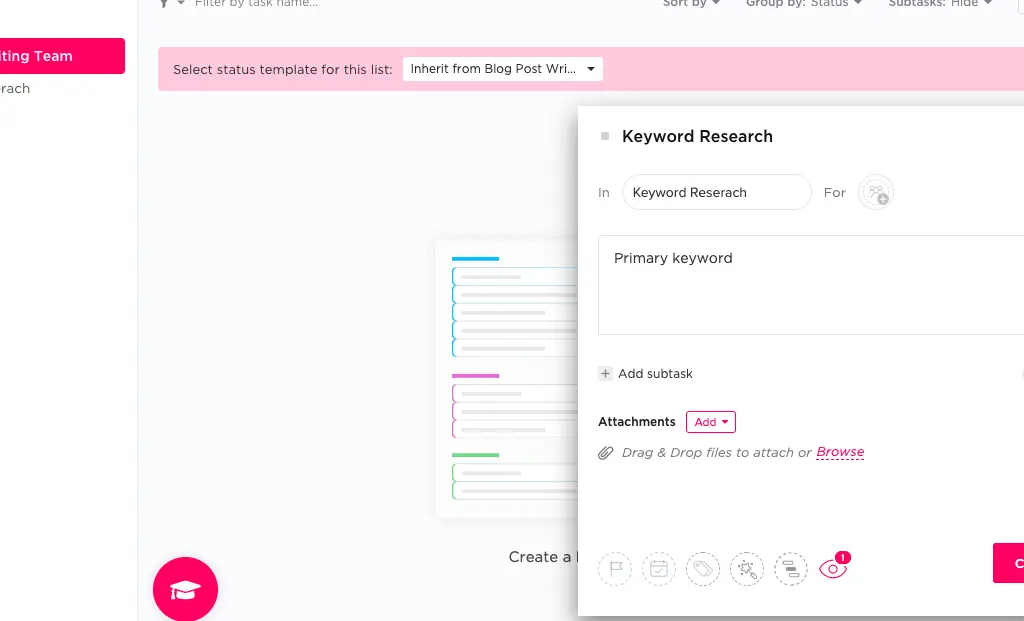 You may face a little bit of rigidity when creating your first task in ClickUp as they almost force you to choose the status of each task from templates.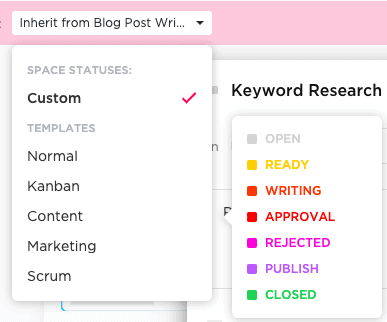 Choose the custom option as shown above. This will allow you to label the status of each column or status based on your needs.
After you label your sections or columns they should look similar to what you see in the screenshot below.

Subtasks in ClickUp
Remember to add your subtasks as needed in ClickUp to ensure that there are no gaps in your projects.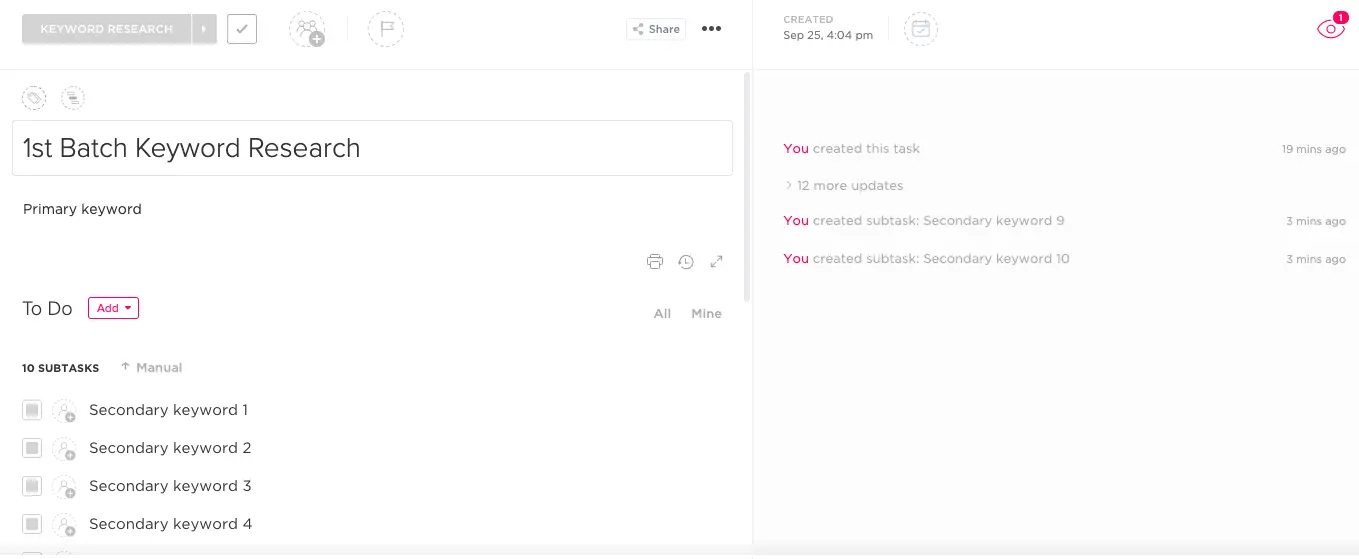 Just like Asana, you can copy and paste subtasks from one task to the next but ensure that you uncheck the URL option.
Unfortunately, ClickUp does not allow you to drag and drop the columns or boards like you can in Asana.
So, be careful how you label each one during the set up process.
When you are in the list view in ClickUp it is only possible to see the boards that have tasks on them.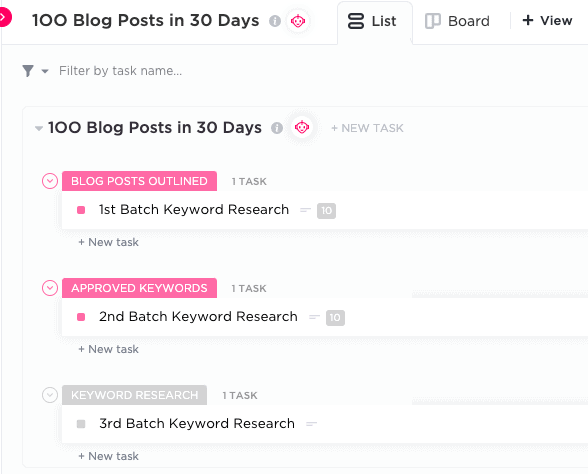 ClickUp vs Asana – Pros and Cons
To make it easy to decide on which project management software is better for your requirements.
Let's look at each one in a little bit of detail. I have rated each feature on a scale of 1-10 with 10 being the highest.
As you can see there are many features available in both Asana and ClickUp as standard.
However, at the end of the day it really depends on what your needs are as a small business owner.
From a user point of view Asana has a simpler look and feel when setting up projects.
You will miss out on the additional cool features that ClickUp has to offer if you prefer the great user experience from Asana.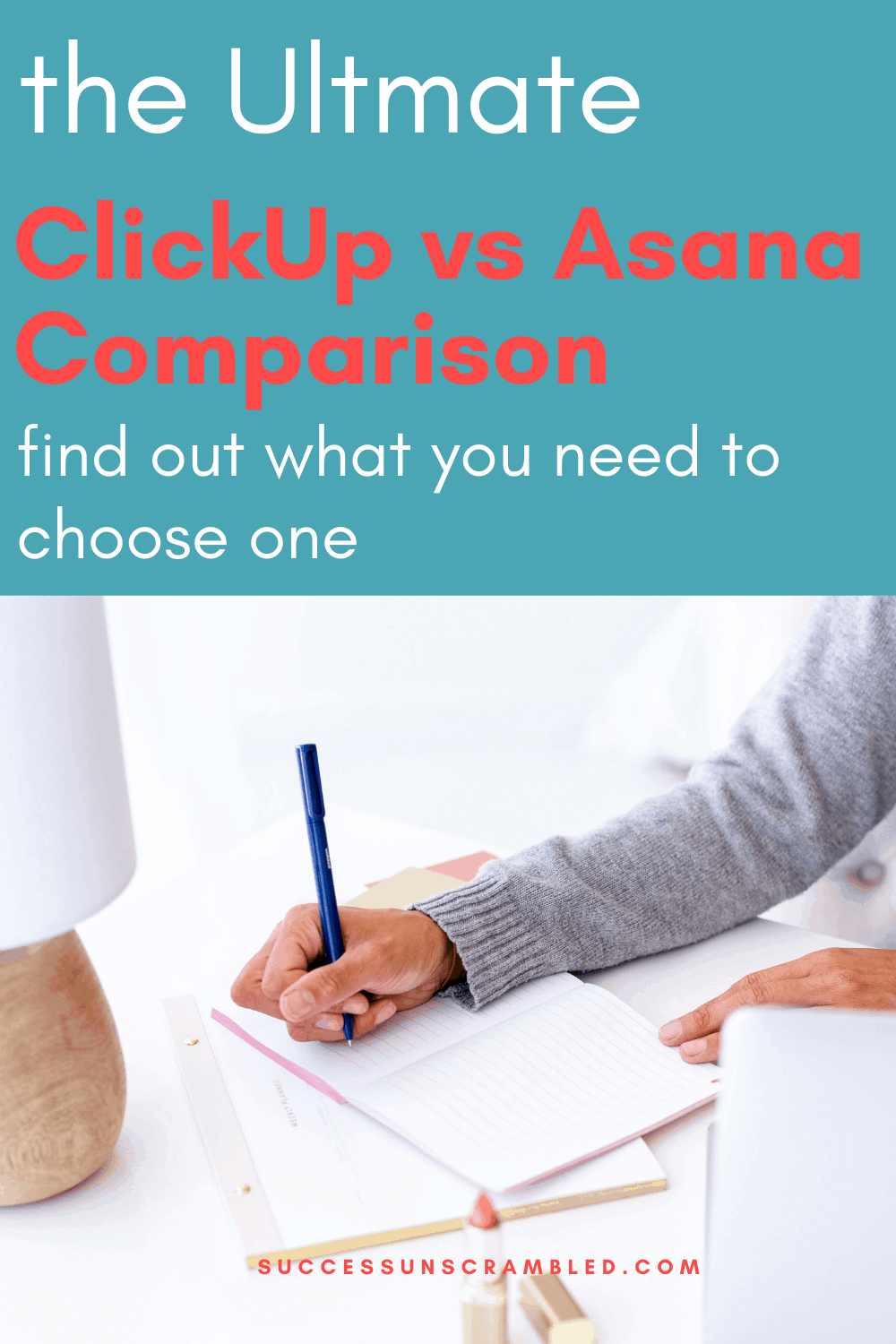 Summary
So, which one is best suited for your needs as a business?
If you are just starting to create projects and you are looking for a simple way to get started then Asana is the way to go.
However, if you are a beginner and you have a more complex project in mind you may want to consider using ClickUp instead.
Think of ClickUp as the all in one place to get your project started and to ensure your team is using one complete system.
While Asana does give you the ability to integrate with 3rd party applications like Slack and Google Docs.
It means that you will need to go back and forth between applications.
ClickUp does give you the ability to have real-time conversations with your team mates right inside the application.
Are you looking for someone to set this up for you as well as manage your team of virtual contractors?
If yes, feel free to book some time in my calendar here for an initial consultation.
Over to you what has been your experience using project management software. Let me know in the comments.
Announcements
Remember to subscribe to the Success Unscrambled Podcast where you will be the first to hear what's happening in the entrepreneurial and digital marketing world.
Your positive review of this podcast is vital to keeping it alive and running for the next 12 – 24 months so please leave a positive review for us on iTunes, Spotify or any of your favourite podcast players.
If you have been in business for the last 3-5 years and you are at that point where you need a strategic contractor, learn all about the benefits of a DBM here.
Are you curious about what tasks a DBM can confidently do with very little input from you? Check out tasks you can outsource to a DBM here.
Want to know all about the type of online work that can generate a 6-figure income? Find out about the 6-figure jobs and how to find them here.
Helping creative female entrepreneurs to skyrocket their business using simplified marketing strategies continues to be my main focus.
If you need help with your business marketing so that you can get back to your zone of genius and even spend quality time with your loved ones.
Book some time in my calendar for an initial, free 15-minute consultation.
ClickUp + Asana Comparison Related Posts
A Comprehensive Asana vs ClickUp Side by Side Comparison