Podcast: Play in new window | Download (Duration: 24:38 — 34.6MB) | Embed
Subscribe: Google Podcasts | Spotify | Amazon Music | Stitcher | Email | TuneIn | Deezer | RSS | More
4 Reasons Not to Use Kajabi When Contrasted with Kartra
You are ready to launch your online course but comparing Kartra vs Kajabi is a struggle.
Are you confused about which one will be suitable for your long list of requirements?
Creating an online course has to be one of the most exciting things to do as an entrepreneur.
As an expert in your field, you cannot wait to help other entrepreneurs like yourself to get the results that they need in their business and life.
Does this sound familiar?
One day, you woke up with a bright idea to start your own online business.
Everyone knows that being an entrepreneur can be quite challenging with so many things to get done.
Ensuring that you are signed up legally as a business, putting the best operations procedure in place, building a website.
Of course, you need people to buy your products or services so there's also marketing, sales and even bookkeeping.
However, you never realised the amount of technology involved to get an online course running smoothly.
If only there was a way to at least make choosing an online course platform easier for you, the busy entrepreneur.
In the post, you will learn the differences between Kartra and Kajabi as well as the best one to choose for your particular business requirements.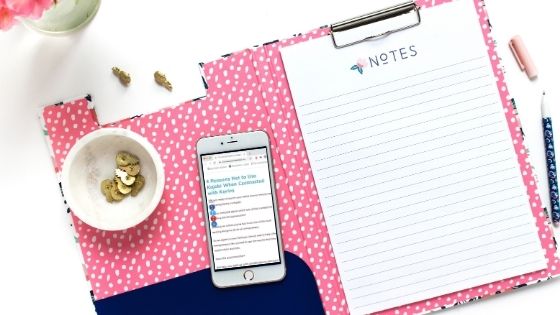 What is an Online Course Platform?
For many teachers, professors and course creators the reality of delivering their courses online has become a harsh reality.
My father has been a teacher since he was a teenager and he turned 77 recently and he still teaches.😳
I wouldn't be surprised that it has been 50 years of teaching. Can you believe that he uses Zoom to teach online?
Basically, an online course platform allows many course creators and/or teachers to deliver their courses virtually.
Many of these platforms give them the opportunity to record the course material one time and deliver it over a lifetime.
The beauty of this is that they don't have to spend hours on their feet 5 days a week where they teach for 9 months of the year.
In fact, it can be a set it and forget it type of scenario where they teach and generate an income while they sleep.
There are some cases where the teachers will need to mark and grade the assignments due to industry regulations.
However, this can all be done virtually.
7 Course Platforms Must-Haves
It is a fact that not all course platforms are created equal.
There are some features that should be available on a course platform to be considered as standard for course creators.
These items include:
Media storage facilities
Great layout for modules and lessons
Ability to track progress
Support for the different learning styles
Payment gateway
Customisation
Content protection
1. Media Storage Facilities
It is already so difficult to be an entrepreneur. This is why online course platforms should make course creation and management as simple as possible.
You are probably thinking that all providers in this space come standard with media storage but I can tell you for a fact that this is not the case.
The ability to host content such as video, audio, PDF, Word and other documentation should be a standard feature on the platform.
2. Great Layout for Modules and Lessons
You've spent a lot of time coming up with amazing content for your community so you want it presented in a great way.
As someone who is a creator and consumer of online courses I can tell you that I have seen a lot of layouts.
Making the user experience a pleasantly memorable one should be the responsibility of the course platform provider.
So, take advantage of the free trials on offer and take the course platform for a test drive to see if it is a good fit for your students.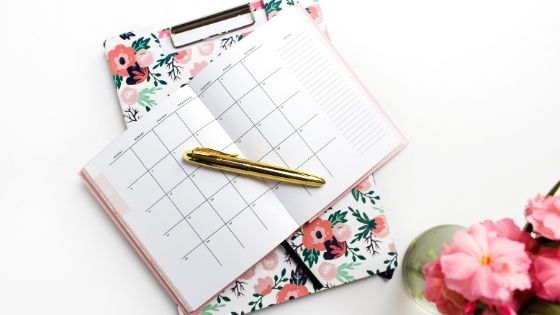 3. Ability to Track Progress
Time is a resource that none of us has in unlimited quantities so it would make sense to consume course content as time will allow.
For this reason it is so important for students to be able to mark items as completed so that they don't have to remember where they stopped.
Some course platforms even go as far as remembering the exact minute and second where you pressed the pause button.
4. Support for Different Learning Styles
As a teacher it is important to cater for all of the different learning styles.
It is virtually impossible to survey everyone who would sign up in the next 6 to 24 months for your course.
Finding out about their preferred learning styles would be awesome but this is not feasible. So, it would make sense to cater to their learning needs.
The four learning styles include:
Visual
Auditory
Reading/Writing
Kinesthetic
5. Payment Gateway
Since creating courses is a business endeavour it would make sense that as an entrepreneur you will have the ability to accept payment.
Offering courses for free is not a feasible plan as you will need to cater for business expenses as well as the cost of your expertise.
Having a payment gateway may also come with an additional charge depending on the platform.
It is important to price your course material to factor in this added cost.
6. Customisation
The ability for you to express your creative flair in terms of the look, feel and presentation of the course material is super important.
One main benefit of this is for it to assist with conversions.
If nobody is signing up for your course you may want to consider the way it is presented.
Adding your brand elements like a logo, brand messaging, colours and even icons or a sub mark can help with your brand promise.
7. Content Protection
There are a ton of course platforms available in the marketplace today.
It is important to remember to check to ensure that your course material is protected.
Creating course content can take months of toil and labour. So, to have someone rip it off can have a negative effect on you and your business.
Now that you have a fair idea of the things you need to have as standard on your course platform.
Let's dig in and look at the differences between Kartra and Kajabi.
Kartra vs Kajabi
First, let me say that as someone who has been using course platforms for a number of years I have experienced both of these platforms in some detail.
In fact, I am currently a student of programs on Podia, Thinkific, Teachable, Kajabi, Member Vault and Kartra.
Also, I am a current course creator with courses on Thinkific, Member Vault and Teachable.
I had the opportunity to use Kartra to create a course and test a webinar recently.
Essentially, I am talking from experience as opposed to someone taking a peep over someone's shoulder.
If you want to see a side by side comparison of Kartra and Kajabi in a table format then take a look here.
Kartra
The company behind Kartra is called Genesis Digital and they have been in business for over 7 years.
If you never heard that company name before then they are the same people behind Webinar Jam and Ever Webinar.
Webinar Jam is great for live webinars while Ever Webinar is great for launching automated recorded webinars.
In case you did not make the connection, Kartra comes as standard with an element of integrated webinar software.
It is the one thing that attracted me to this course platform because I thought that it was an amazing feature to have as standard.
Kartra Pricing
The average price range for course platforms is $29 to $99 a month (except for Kajabi), there's always one. Lol!!
Kartra does fall within this price range and you can even sign up for a 14-day trial for $1.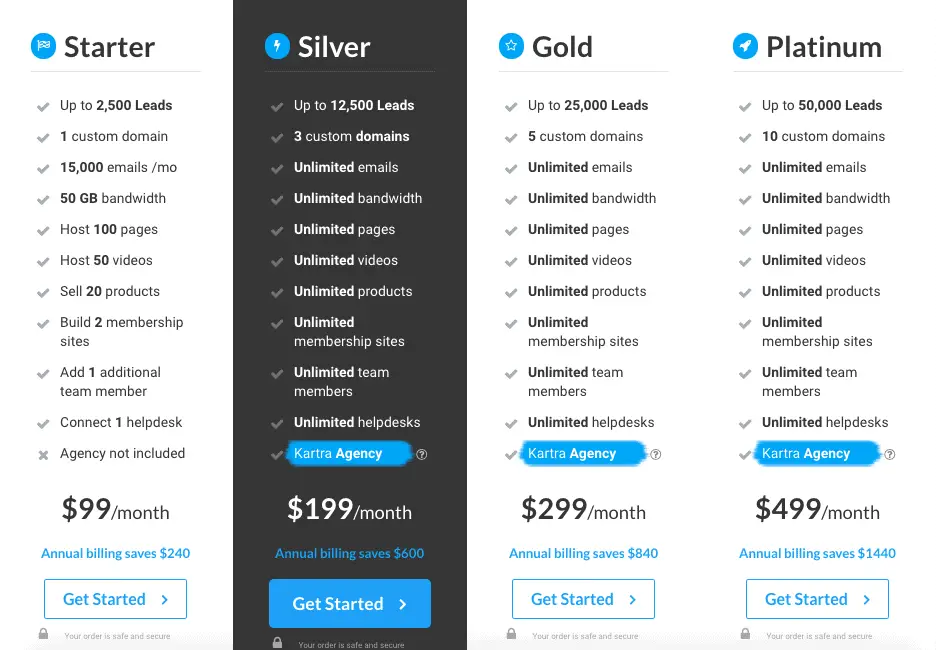 While $99 a month may initially seem like a very expensive plan for a course platform.
Let me go through the list of features with you so that you can really understand what's included at this price point.
Features
In terms of what's included let's first look at everything that is needed to run an online business.
Website/blog
Deliver email newsletters and campaigns
Landing pages
Funnel set up/Campaigns
Lead capture forms
A place to host videos (Youtube can work but those adverts😳)
Affiliate management platform
Webinars
Booking forms
Payments
As an entrepreneur, you constantly wish that you can have it all but what if you can?
Website or Blog
Kartra does not come with the ability to have a blog in the traditional sense so it means that you may still need to host this separately.
The main purpose of a blog is to do content marketing in order to generate interest or visitors to your products and services.
So, you will need leads to get conversions and sales.
If you have an existing WordPress site like me you can use your Kartra pages on your WordPress site by inserting a simple piece of code.
Email service provider
The ability to capture emails as well as send automated emails is something that comes as standard with Kartra Mail.
They also give you the ability to do SMS messaging on their platform.
In fact, their email automations are considered next level stuff because you are able to tag someone who has watched 60% of a video inside Kartra.
Landing pages + Lead capture
A feature that is available with Kartra is the ability to create your very own high converting landing pages.
It gives you the ability to build gorgeous landing pages from scratch or you can use one of their templates and customise it to suit your needs.
Did I mention that Kartra's tagging systems works wonders to track your visitors to landing pages?
Their pop up forms are like next level stuff. If you want to try it out then visit their website and try to leave and see what happens.
Video hosting
Have ever had the need to incorporate videos in your marketing campaigns but you did not know how to get it done?
Maybe you wanted to use YouTube for video hosting.
However, the adverts and the related videos that are seen at the end of the video is a turn-off.
Well, with Kartra, you can rest assured that your users and visitors get an amazing experiencing when interacting with your video.
Plus, Kartra tracks everyone that interacts with your videos by assigning a tag based on the percentage of video consumed.
Affiliate management
After creating your online course you may want to use affiliate partners to help you sell the course.
This is now possible because you can seamlessly use Kartra to manage your affiliates.
No need to tape a lot of technology together to make things work.
Webinars
One of the fastest ways to convert your visitors to customers is by using webinar presentations.
Kartra has made this possible by including their webinar-like feature as standard.
Technically speaking they don't call it a webinar but I used their video + landing page + countdown timer feature to generate leads for my business.
When someone watches a certain percentage of the video a buy now button is displayed.
The only draw back to this is that people on a Mac device can advance the webinar video and not see the buy now button.
Booking forms
If you are familiar with using Calendly, Acuity Scheduling or Dubsado lead capture forms then you know why booking forms are important.
The good news is that Kartra actually has this feature included as standard.
Their calendar system syncs seamlessly with Google calendar and you also have the option to do both free and paid appointments.
Payments
In terms of taking payments from customers and clients, Kartra integrates seamlessly with Stripe, Braintree and Paypal.
No need to send your clients off the platform to make a payment using a different provider.
There is even the option to have up sells, down sells and order bumps right inside Kartra.
Did I mention that you can even have custom fields and cart abandonment tagging? These features just blew me away.
Campaigns
If there is one feature that is unique compared with many other course platforms is the ability to set up funnels and campaigns.
Kartra comes with done for you campaign templates that you can use for your business.
Memberships
Whether you have one membership product or several, Kartra gives you the ability to set up your program as a membership or as a one-time subscription.
Features in their member portal include the ability to drip the content over time.
Individual progression bar so that your members will know how far they have reached in the course.
Other features include a drag and drop builder, opportunities to cross sell your programs and giving members the ability to leave comments.
Kajabi
After looking at all the features that Kartra have on offer you are probably left wondering what does Kajabi have to offer that is different or even better.
Kajabi was founded back in 2010 by their co-founder and CEO Kenny Reuter.
Like Kartra, they are also based in California. Their branding does not seem to be feminine focused.
Also, it appears that all of their employees are based in California and they don't seem to be embracing the Gig Economy ethos (work from anywhere).
Let's dive in to see all the things that makes Kajabi so popular.
Kajabi Pricing
As I mentioned previously, Kajabi is one of those course platforms that fall way outside the standard price range of $30 to $99/month.
Instead their monthly plan is $149.00 or if you choose to pay annually it works out at $119 per month.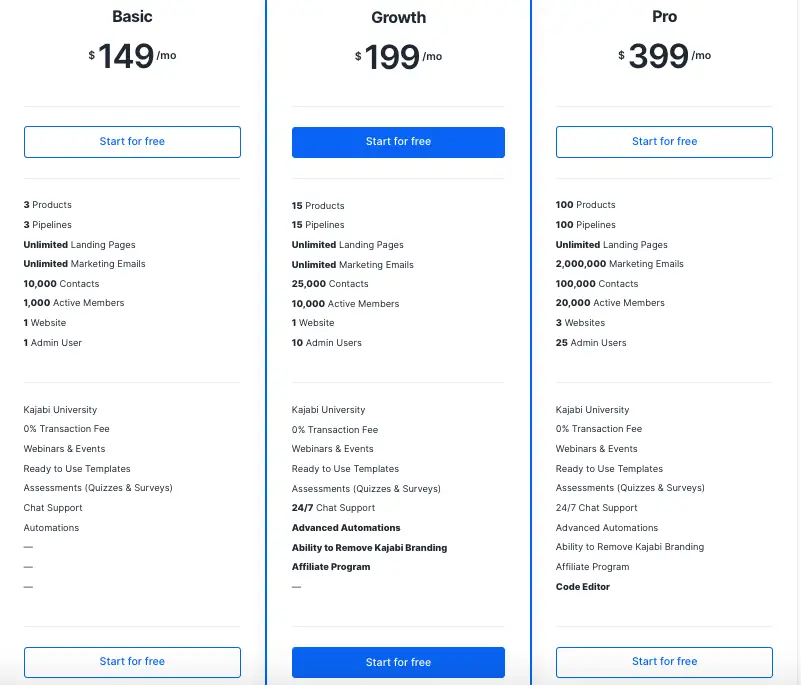 If you need to remove the Kajabi branding and you want to manage affiliates then you'll need the Growth level which is $199/month.
Kajabi Features
The big list of features that is available with the lowest Kajabi plan includes the following:
Website
Blog
Products
Payments
Emails
Pages
Pipeline
Analytics
People
Website + Blog
Interestingly, Kajabi comes as standard with the ability to create a bog-standard website with a home page, about us page, terms and conditions and contact us page.
They even have the ability to publish blog content.
So, I guess you can say it is a real all-in-one solution compared to Kartra in this particular area.
Products
The products department allows you the ability to create online courses, a membership portal and gated content.
Which is the main thing that you will need as a course creator.
I must let you know that I was reading a post on Facebook where a course creator had a complaint about Kajabi's course platform.
This person said that it was glitchy and that some of her course material would go missing.
Payments
As you can imagine, having payment processing for your online products and service is paramount.
Kajabi integrates with both Stripe and Paypal as standard.
There is the option to add an order bump during the checkout process so that you can increase your average order value.
Emails
Instead of having two separate platforms for your email list and your website, Kajabi has it all integrated.
They will be your email service provider giving you feature-rich email marketing capabilities including campaigns, one-time sends and email sequences that are multi-touch.
Landing Pages
Your email system in Kajabi will not be complete without their landing page builder.
They have a library of landing page templates that you can use to customise and make them your own.
There is the added benefit of being able to export a landing page and upload it into another Kajabi account.
Pipeline
Both Kartra and Kajabi claim to have pipelines or campaigns that are high converting.
They say that the copy on each of the features has been created by world-class copywriting and funnel experts.
I had a look at the pipelines video over at Kajabi and their funnels look well thought out.
Analytics
The best thing about analytics is that you get to break down the data by any criteria you want.
Kajabi has the ability to report revenue by the following:
Monthly Recurring Revenue (MRR)
Average Revenue Per User (ARPU)
Churn Rate
While this may not sound like a big deal for someone just starting to make their first set of sales it can become crucial when you are generating 100s of transactions every month.
People
The people feature inside Kajabi is equivalent to a built-in CRM system with full-blown automation.
It allows you to manage tags, make bulk edits and even gives you the ability to create segments and filters.
To get a better idea of how the Kajabi CRM works you can go here to see their video on managing contacts.
Kartra vs Kajabi Side-by-Side Comparison
| Feature | Kajabi | Kartra |
| --- | --- | --- |
| Membership or subscriptions | Yes | Yes |
| Intuitive tagging of prospects | No | Yes |
| MRR and ARPU tracking | Yes | No |
| Campaign or Pipeline templates | Yes | Yes |
| Landing page builder | Yes | Yes |
| Website features (blog, homepage, about us) | Yes | No |
| Email service provider built-in | Yes | Yes |
| Payments or Checkout | Yes | Yes |
| Upsells and Down sells | No | Yes |
| Order bump | Yes | Yes |
| Booking forms | No | Yes |
| Webinar feature | No | Yes |
| Affiliate management | Yes | Yes |
Kajabi vs Kartra Comparison Table
It is important to note that the affiliate management feature is not available in the entry-level plan of Kajabi.
To get this feature with Kajabi it costs $199/month compared with $99/month on the Kartra Platform.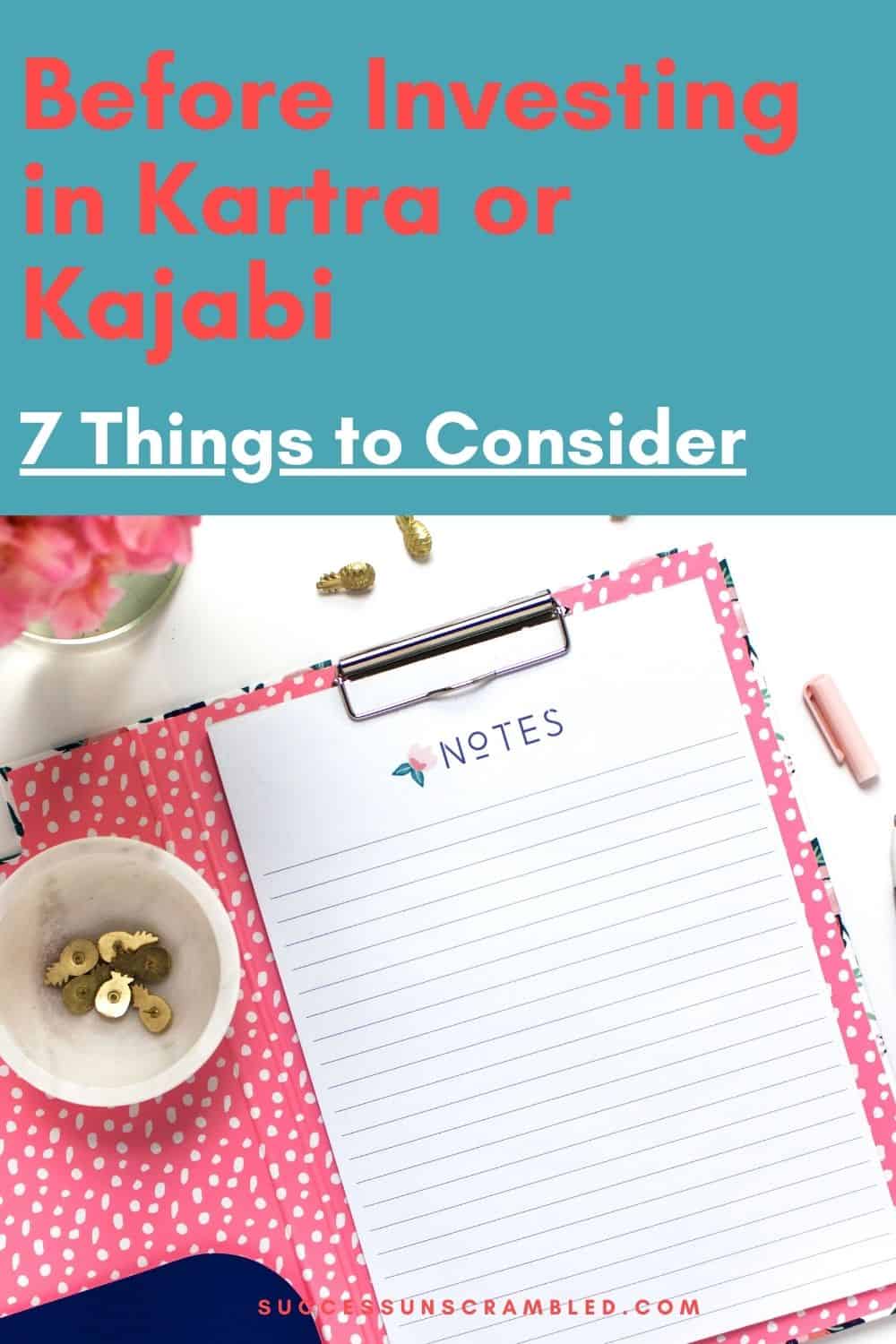 Summary
Whew! This Kartra vs Kajabi comparison has a lot of information to take in during one sitting so you may want to bookmark this for future reference.
There is not a one size fits all solution for small business owners and course creators when it comes to online course platforms.
It really depends on your requirements, your current circumstances as well as your budget.
As each provider offers a free or low-cost trial of the platform my advice would be to give it a try to see which one you like the most.
If none of these are suitable for your business needs then you may also want to take a look at this Thinkific vs Teachable comparison.
This Kartra vs Kajabi comparison is quite comprehensive but it is not an exhaustive resource so doing a trial can help you make the final decision.
Over to you, what has been your experience using online course platforms? Are there other ones that you tried?
Let me know in the comments.
Announcements
Remember to subscribe to the Success Unscrambled podcast where you will be the first to hear what's happening in the entrepreneurial and digital marketing world.
Your positive review of this podcast is vital to keeping it alive and running for the next 12 – 24 months so please leave a positive review for us on iTunes, Spotify or any of your favourite podcast players.
I started this blog in 2017 because I had a burden on my heart to reduce women's illiteracy globally.
Helping 1,000 women over the next 10 years to become wildly successful in their online business through simplified marketing strategies is part of that dream.
That way we can build a strong business network of women who can donate 1% of their profit and together we can help reduce women's illiteracy worldwide.
Would you like to be part of this movement? Shoot me an email using alvern (at) successunscrambled (dot) com.
Kajabi and Kartra Comparison Related Topics
7 Things to Consider Before Investing in Kartra or Kajabi