This Review of Agorapulse Will Change Your Perception of Social Engagement
So you know that you need to be more engaging on social media but you are not quite sure if Agorapulse is the right fit.
Maybe an Agorapulse review can help.
In the last number of months I became aware of the Agorapulse social media scheduler but didn't think much of it.
I read an article where a business owner claimed that it did so much to help get visibility on his article.
Is it really possible that a piece of software can be that good? I thought.
Picture this…
You have between 1-5 social media accounts across LinkedIn, Twitter, Facebook and Instagram.
Experts say that you need to engage with potential clients on 1-2 platforms.
However, you are finding it impossible to be everywhere at once and the navigation is awkward anyway.
If only there was a way to easily engage for 20 minutes a day and give your audience the attention they need.
In this post, you will learn how you can effectively fulfil your 20-minute social media engagement requirements and still have quality time for loved ones.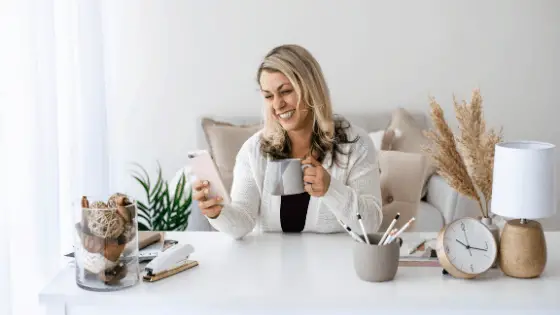 Why Use Social Media for Business
When you decide to create a social media account for business on Facebook, Twitter, LinkedIn or Instagram.
There are a few reasons why you decide to be there as a business.
These reasons include:
To drive business awareness
Meet your potential clients or customers
Showcase your offering
Develop relationships
Generate leads
Keeping these reasons in mind it is also important to take into consideration the process involved to accomplish these goals.
1. Drive Awareness
For example, driving awareness does involve you publishing content to these platforms on a regular basis.
Publishing one time is just not going to get any results at all.
To get results you need to show up regularly and consistently for 90-days.
2. Meet Potential Clients/Customers
How does one meet potential clients online? Well, you never know who exactly will make a purchase today.
However, you do know the type of words your potential clients will use to find your offers.
The best way to meet them is using profiling. Creating a client avatar will help you know who you serve and you can join in their conversation.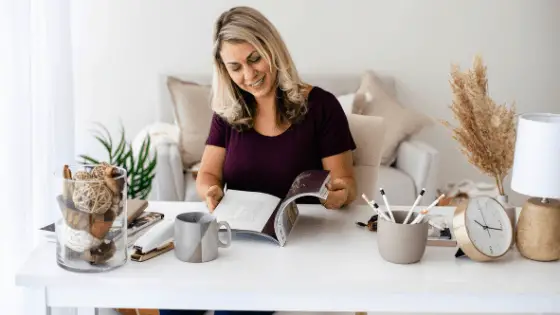 3. Showcase Your Offering
Depending on the platform you can showcase your offers using images, testimonials or videos.
Gone are the days when posting text-only will get attention. Except in rare cases where you are famous, a celebrity or an influencer.
Using good quality media will help you get the attention that you need. If humour is part of your brand messaging why not use it.
4. Develop Relationships
The process of getting clients to know, like and trust you does require you to develop a relationship.
It is very unlikely that someone will purchase from you the first time they meet you unless they have a great need or they are in pain.
You will never meet someone for the first or 2nd time and ask them to marry you so the same applies to social media.
5. Generate Leads
After your potential clients get to know you they may accept your free offer by entering their details on your lead capture form.
In most cases, they need to leave the social media platform to sign up and become a lead.
Now that you know more about the reasons for being on social media let's look more at engagement.
What is Engagement and Why You Need to Do it
There is a phrase used in the marketing world called 'pray and spray'.
It involves someone publishing content on social media without doing anything else like engaging.
Engagement means showing interest in other people's content.
After all, if you want clients to know, like and trust you as well as build a relationship then you need to engage.
So, what does engagement look like when it is in action.
Basically, engagement can take several forms including, liking, commenting, re-sharing and giving encouragement.
The reason why engagement is important is because it allows potential clients to realise that you are a real person.
It shows that you care and can be trusted.
Your potential clients get to know the person behind the brand.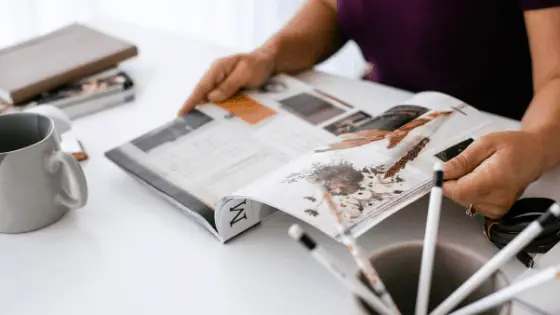 Understanding Your Potential Client
One of the secrets to winning at engagement is by taking the time to know and understand your ideal client.
Where do they hangout, what time of day they are online and what hashtags they use can really help.
Here is a list of things to help you understand the demographics and psychographics of your potential client.
Age
Gender
Where do they live? (country, city)
Do they live in a house or an apartment?
Their neighbourhood, what does it look like?
What are their daily, weekly, monthly or annual challenges?
Outline their biggest needs?
The kind of problems they are trying to solve personally, financially
Their deepest desires and dreams for them and their family, what are they?
In terms of their biggest fears, what are they? (not spiders, emotional ones?)
Do you get their short-term and long-term goals?
Any idea of their good and bad habits?
What gets them excited?
The stuff that annoys them, what are they?
Their passion projects, what are they?
Where do they spend the most time online?
List the kind of items they spend their money on when they get paid?
What type of podcasts do they listen to?
Which software and/or apps do they use?
Once you have this nailed it is time to do some listening on social media using cool tools.
The Importance of Social Listening
I wrote an entire article on social media listening some time ago but here is a brief synopsis of how you can nail this skill.
Social media listening involves using specialised tools to 'listen' to the conversation of your potential audience.
It is important because it helps you to understand what your potential client is talking about and what is important to them.
The beauty of social media listening is that you can do it using several methods including;
keywords
hashtags
accounts
brand names
tag lines
questions
product names
trends
pain points
The two social media tools that do this really well are Hootsuite and Agorapulse.
Social Listening with Agorapulse
I am specifically looking at Agorapulse in this post so let's see how you can do social listening using Agorapulse.
After setting up your organisation and social media profiles head over to the listening tab.
At this point having a list of words, phrases, brands, competitors and hashtags would be really helpful.
Choose the social platform that you would like to listen to and enter each search term or hashtag separately.
In this example, I have chosen to listen to the Twitter platform using the hashtag 'productivity'.
As you can see Agorapulse brings me right to a screen where I can reply directly on a post of someone who used the 'productivity' hashtag.
How cool is that? No need for me to go back and forth in the Twitter feed.
I can simply read the post and decide if this is a good opportunity for me to engage with the person who published it.
Here's another example where the post is more happy and light hearted in nature.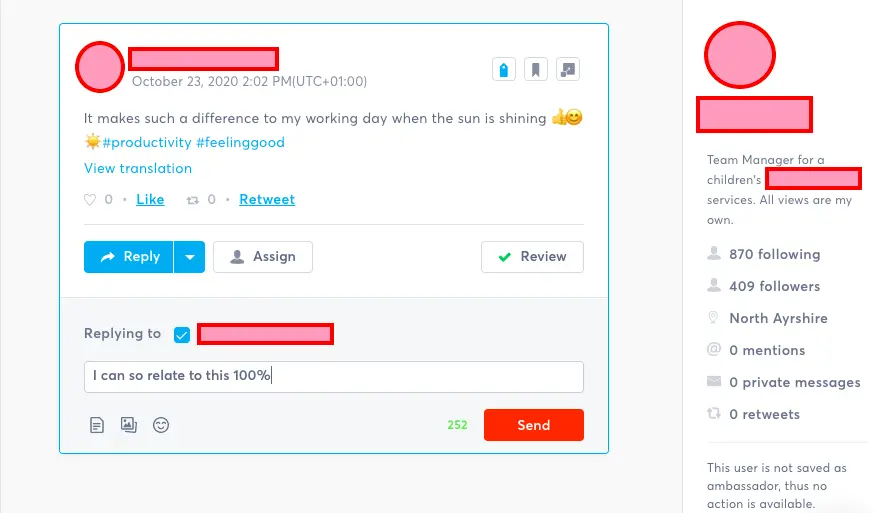 You will notice that I have written a reply and all I need to do is click send.
How to set up a social listening in Agorapulse
First you need to head over to create a new search and enter your required search term.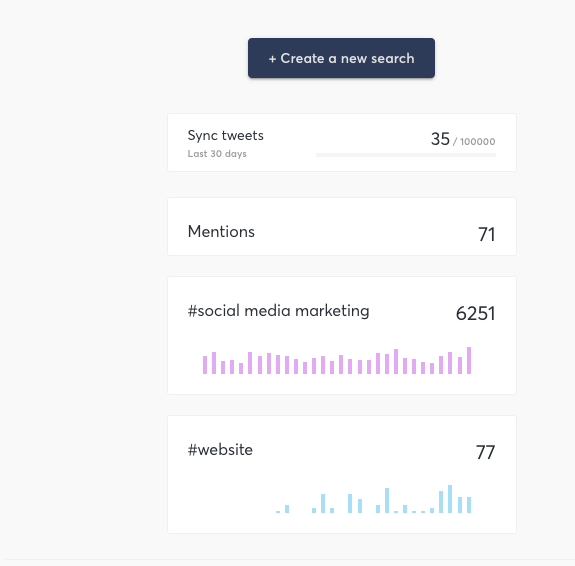 Then you will see a suggested count every month. If the total monthly figure is too small you can try a different term.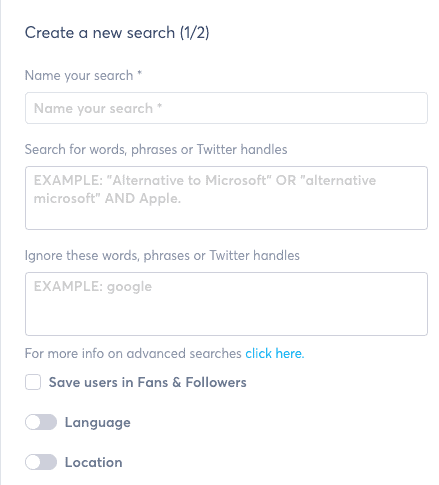 Here's a quick tip. You can have the Twitter search open in another tab to double check your hashtags and terms before confirming your selection.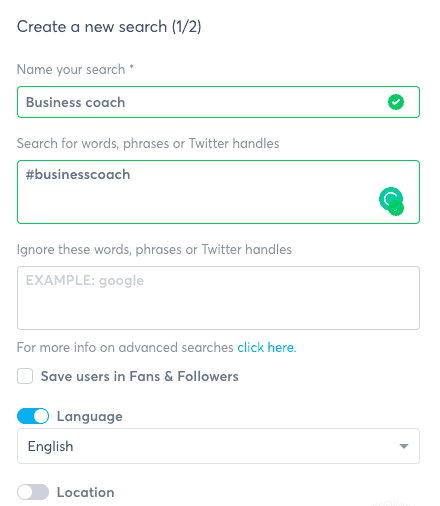 In this example, I decided to listen to the hashtag 'businesscoach' and I chose English as the language.
According to Agorapulse, I can expect to get 2425 results every month for this hashtag search.
It is important to note that hashtag listening is only available for Instagram and Twitter for now.
On the Facebook platform you will be able to listen to any mentions of your Facebook business page.
Agorapulse Social Inbox
There is also a feature in Agorapulse to respond to any comments on your own posts on all four platforms.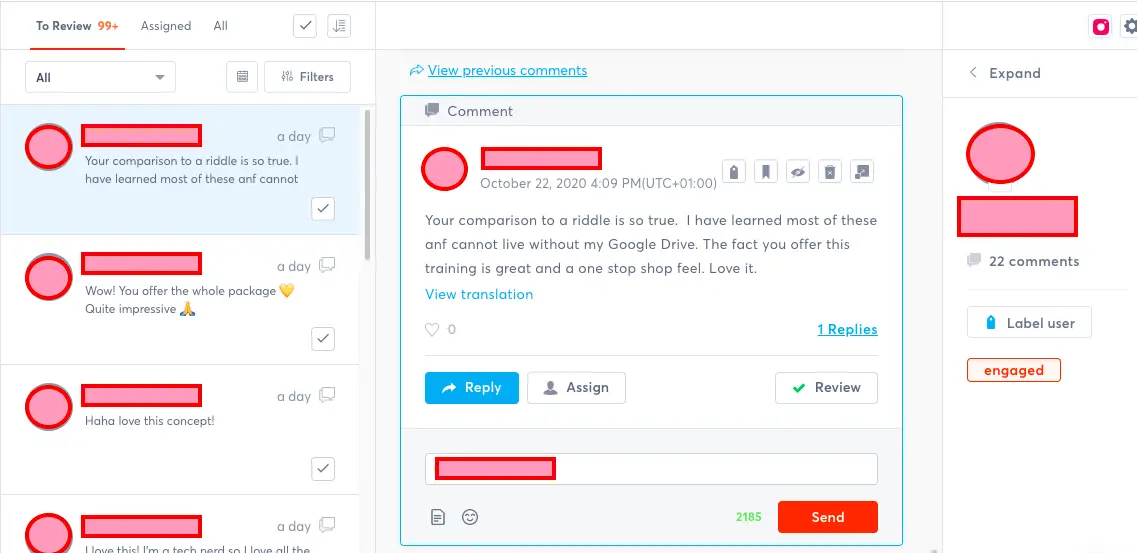 It feels so much like a regular email inbox that it is almost scary to think that it is a social media inbox.
I would highly recommend this to anyone who is running an agency or if they have team members working on several social accounts.
Did you notice that you have the ability to label the people you engage with on social?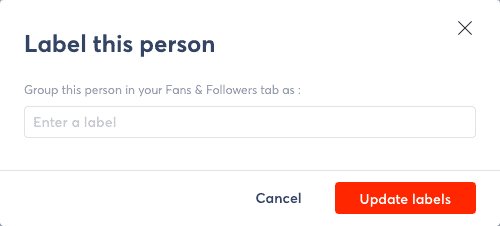 ---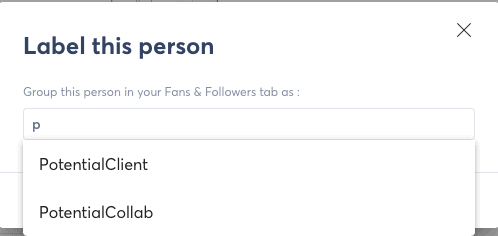 Inbox Assistant
Depending on how busy you are there is the ability to apply automation to your account using Inbox Assistant.
It gives you the ability to apply logic and reassign comments to someone else on your team.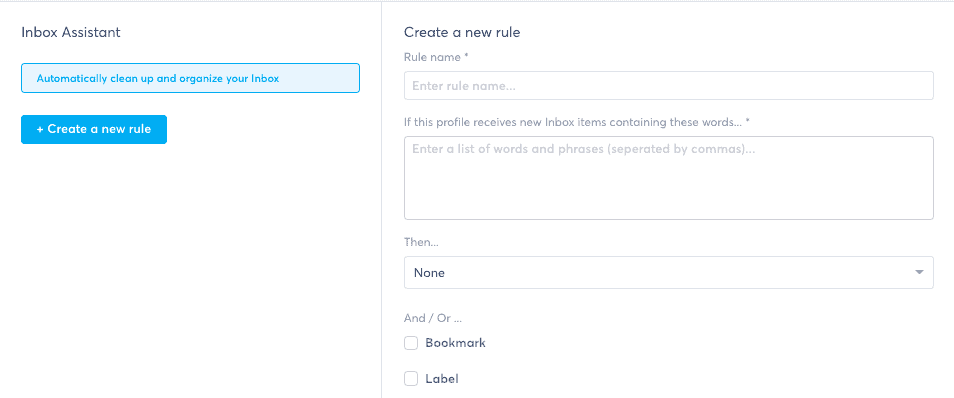 You will even have the ability to bookmark certain items and/or label them automatically.
Publishing Calendar
Like most social media schedulers Agorapulse also comes with a publishing calendar.
As well as the ability to bulk upload content so that you can schedule posts 90 days in advance.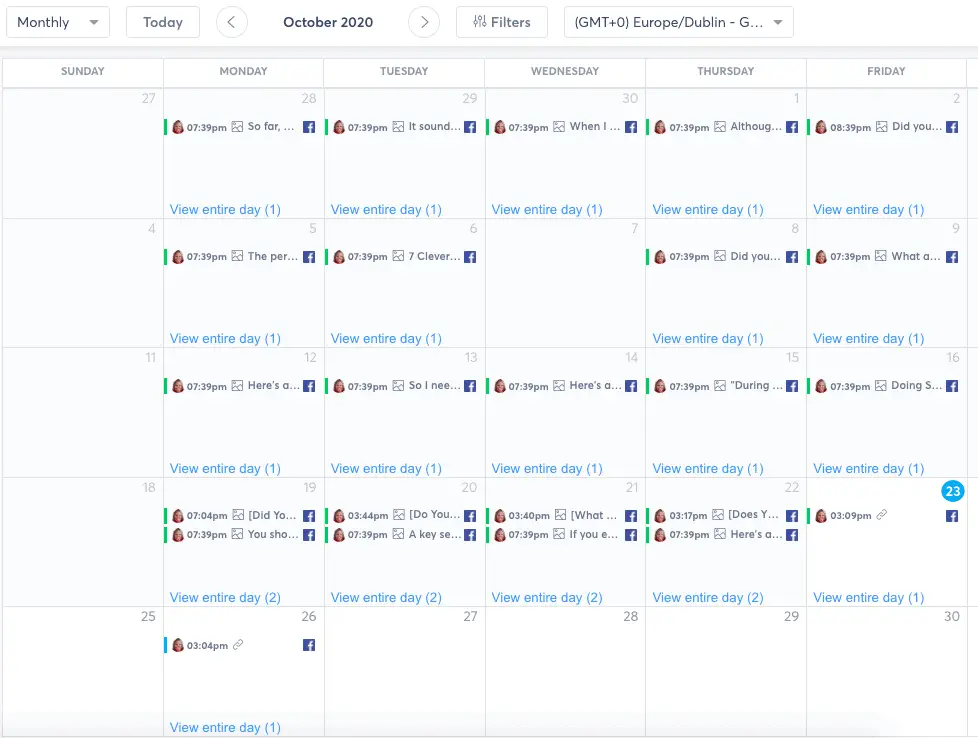 There is also the ability to have a publishing workflow set up where posts can be queued for approval.
Reporting in Agorapulse
Another cool feature of Agorapulse is it's powerful reporting tools.
You have the ability to get a bird's eye view on everything that is happening across your social media profiles.
The ability to go back a number of months is worth its weight in gold.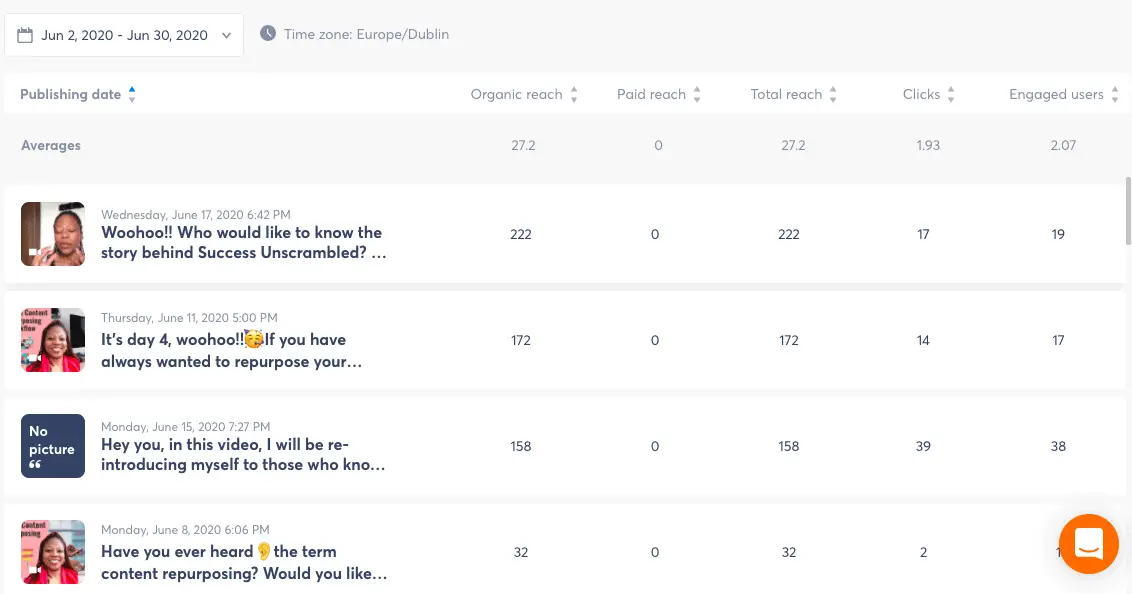 There's even a section that reports on Instagram stories so that you can see which stories got engagement.
You will also like the community management tab if you run an agency as it will help you monitor engagement on your social accounts.
Agorapulse Chrome Extension
Did I mention that Agorapulse has a Chrome extension?
It certainly does and this extension allows you to take articles that you find online and schedule them to your social calendar.
Once you click on the Agorapulse button the publisher will pop up giving you options to customise the post before scheduling it.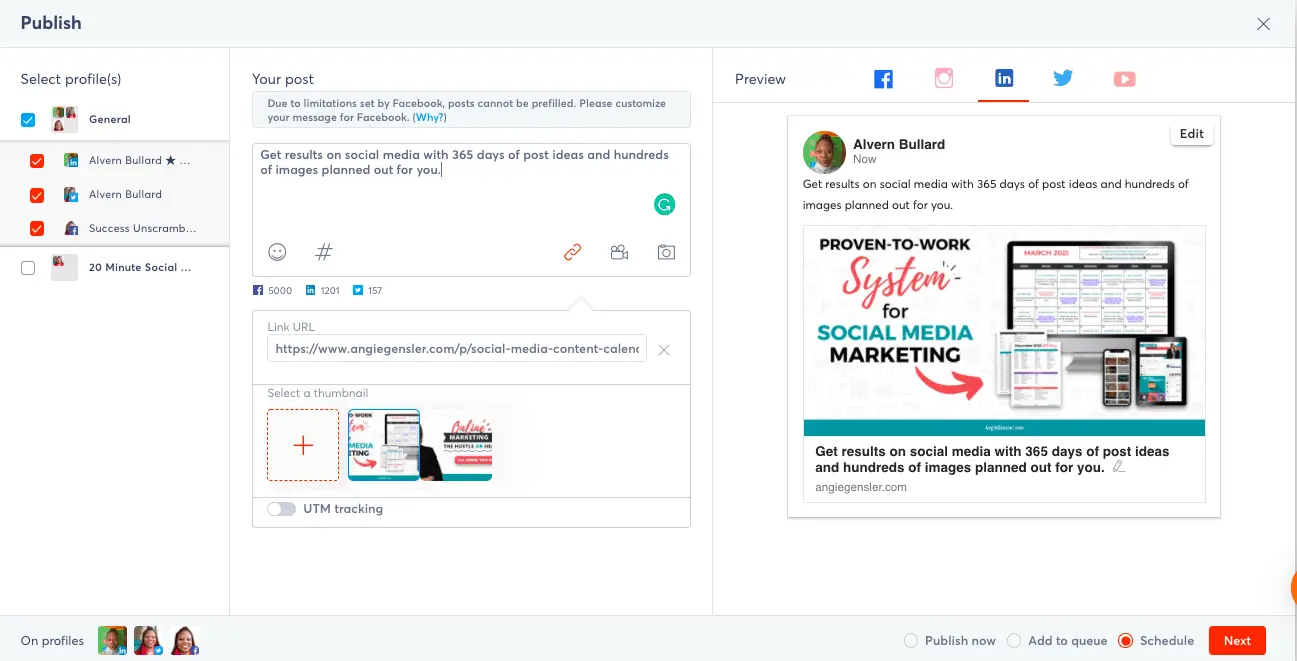 The hot feature of Agorapulse publisher is that you can schedule the post to repeat several times on LinkedIn and Facebook.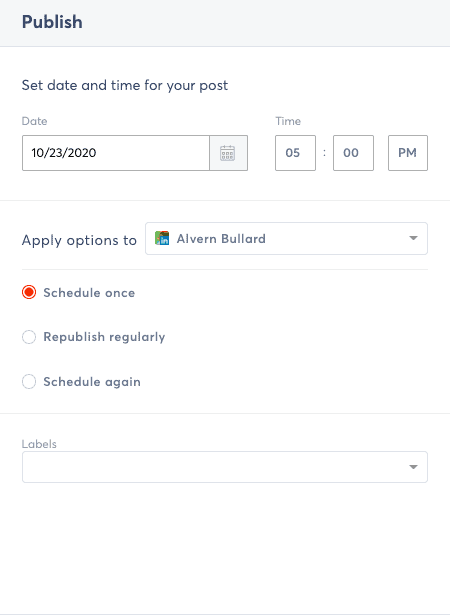 Twitter's terms of service does not allow for republishing the same content multiple times.
Hashtag Reporting in Agorapulse
The question on everyone's lips is does Agorapulse do hashtag reporting.
Yes, it does to a point. If you are looking for basic reporting where you can see hashtags by interaction then it is available.
However, if you have a more comprehensive requirement then you can see my previous article on the Instagram hashtag analytics here.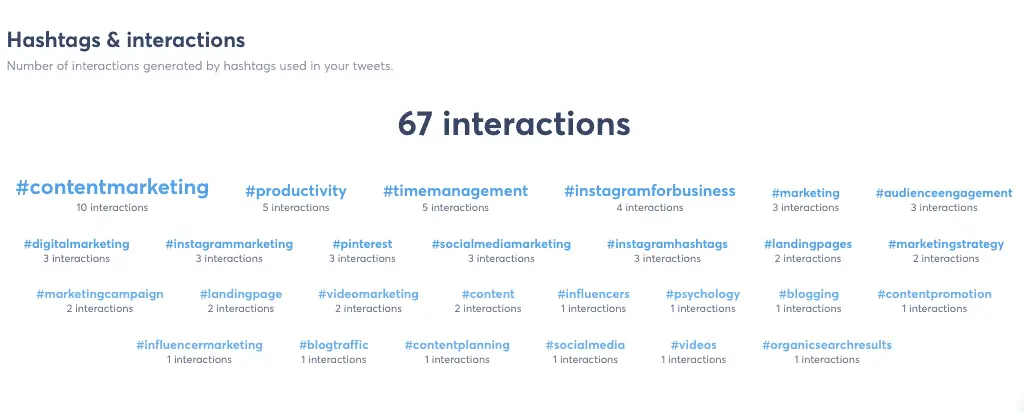 As you can see the hashtags are stack ranked based on interactions or engagement.
7 Things Missing From Agorapulse
Like every social media scheduler there are a few things that I wish Agorapulse had included in its features as standard.
Here is a short list of items.
Media library
Grid view for Instagram
Listening to lists
High-level overview
Adjust the sync frequency
Facility to publish carousel posts with mixed media
Native URL shortener
1. Media Library
When it comes to creating branded content across social media it is important to have a collection of branded images and graphics to use.
Especially when you want to have the ability to create just in time post on trending topics or newsworthy items.
It is probably the reason why I enjoy using the media library already available in Planoly.
I did notice in the Agorapulse backlog that this feature is in the planning phase.
2. Grid View for Instagram
It is undeniable that having a feed that is attractive with matching on-brand posts is appealing for your followers.
For this reason, I prefer to use a scheduler that gives me the ability to view posts in a grid format to be sure it blends well before I schedule it out.
I wrote two comprehensive posts about social media scheduling tools and a separate one comparing Planoly vs Later if you need help choosing one.
Here's an example of a grid view in Planoly.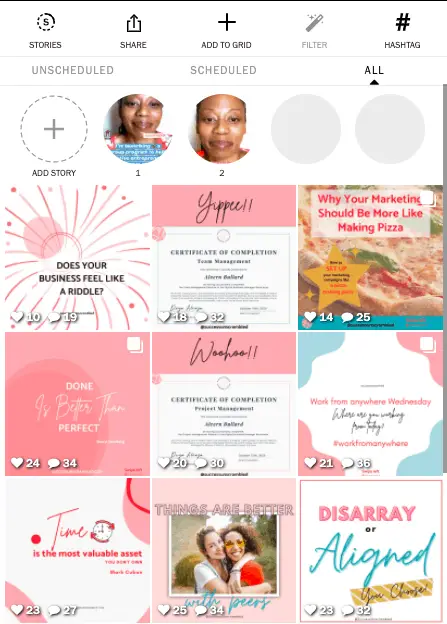 3. Listening to Lists
While at first glance this may not seem like a feature on your priority lists you may want to understand why it is on mine.
You see if you want to get the attention of the influencers in your niche the two best platforms to do this are Twitter and Instagram
The Social Inbox offered by Agorapulse gives you a seamless experience to engage with tweets so engaging with a list as well would be dreamy.
This is a feature that is available in Hootsuite as standard.
4. High-level Overview
When you log into Agorapulse on a daily basis it almost looks like nothing is happening.
However, upon closer investigation, you will be able to see activity in your social listening queue.
The issue here is that you need to dig so deep to get to this level.
When compared to the 'Streams' feature on Hootsuite these extra clicks feel like a lot of work to get to the action.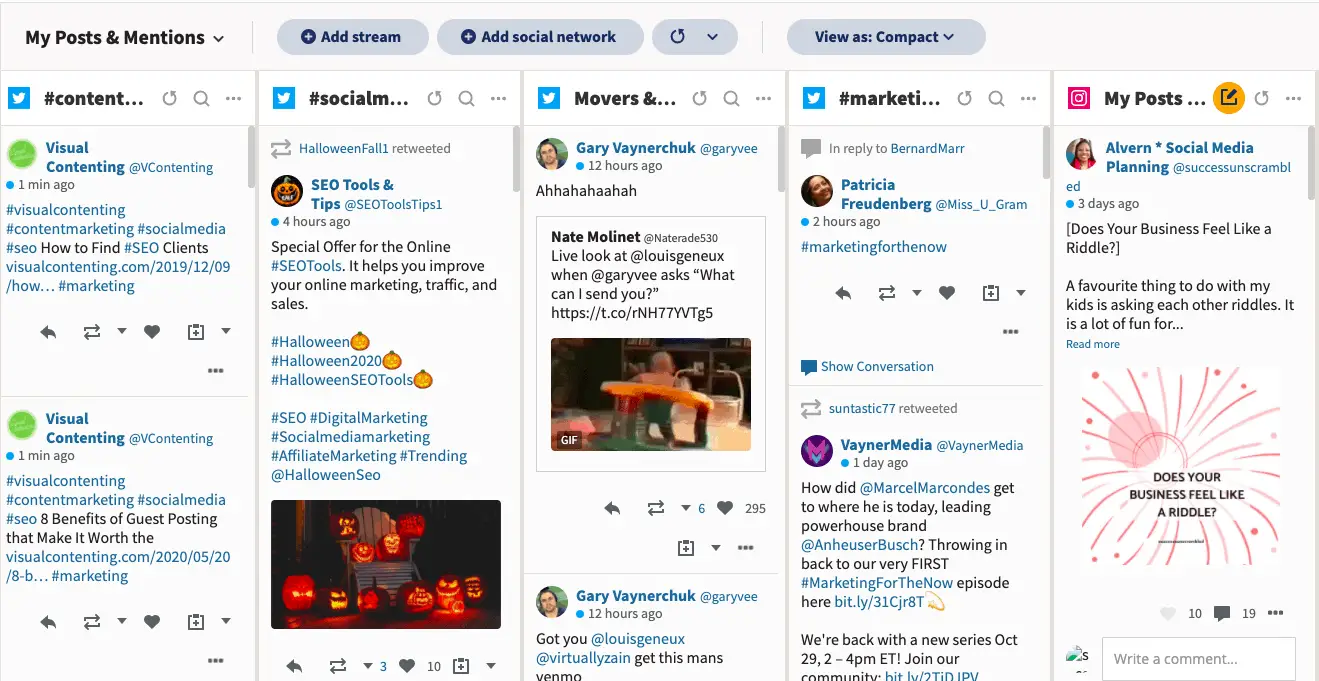 5. Adjusting the Sync Frequency
There doesn't seem to be the ability to adjust the sync frequency of social media platforms inside Agorapulse.
While schedulers like Hootsuite seem to offer a near-real-time refresh rate the 'feed' in Agorapulse seems almost static.
6. Mixed Media Carousel Posts
Instagram's carousel posts offer publishers and followers the ability to experience awesome mixed media content.
For example, a carousel post on Instagram can have a mixture of images and video to assist with storytelling.
Agorapulse offers the ability to publish carousel posts with images only.
7. Native URL Shortener
Almost all social media schedulers come as standard with their own branded native URL shorteners to save character count.
This can be really helpful on platforms like Twitter where there is a limit on how many characters you can use.
Although you can use the third-party URL shortener called Bit.ly this can prove problematic since many organisations have labelled these links as spam.
Agorapulse Pricing
It will be terrible of me not to include the various price points of Agorapulse in this review of the scheduler.
At the time of writing this article there are 4 levels in their pricing plans.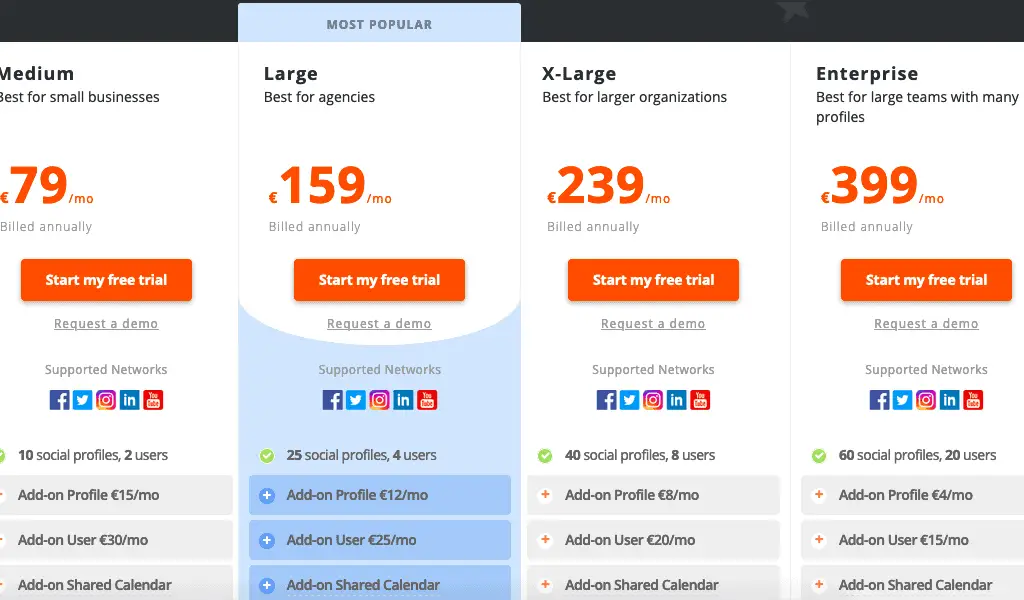 For this Agorapulse review I had access to the large plan which allows for 25 social media profiles and 4 users.
As you can see it is a scheduler that is geared more towards agencies compared to the other solutions on the market.
The Twitter sync frequency is one hour at this level and the data retention history is 24 months.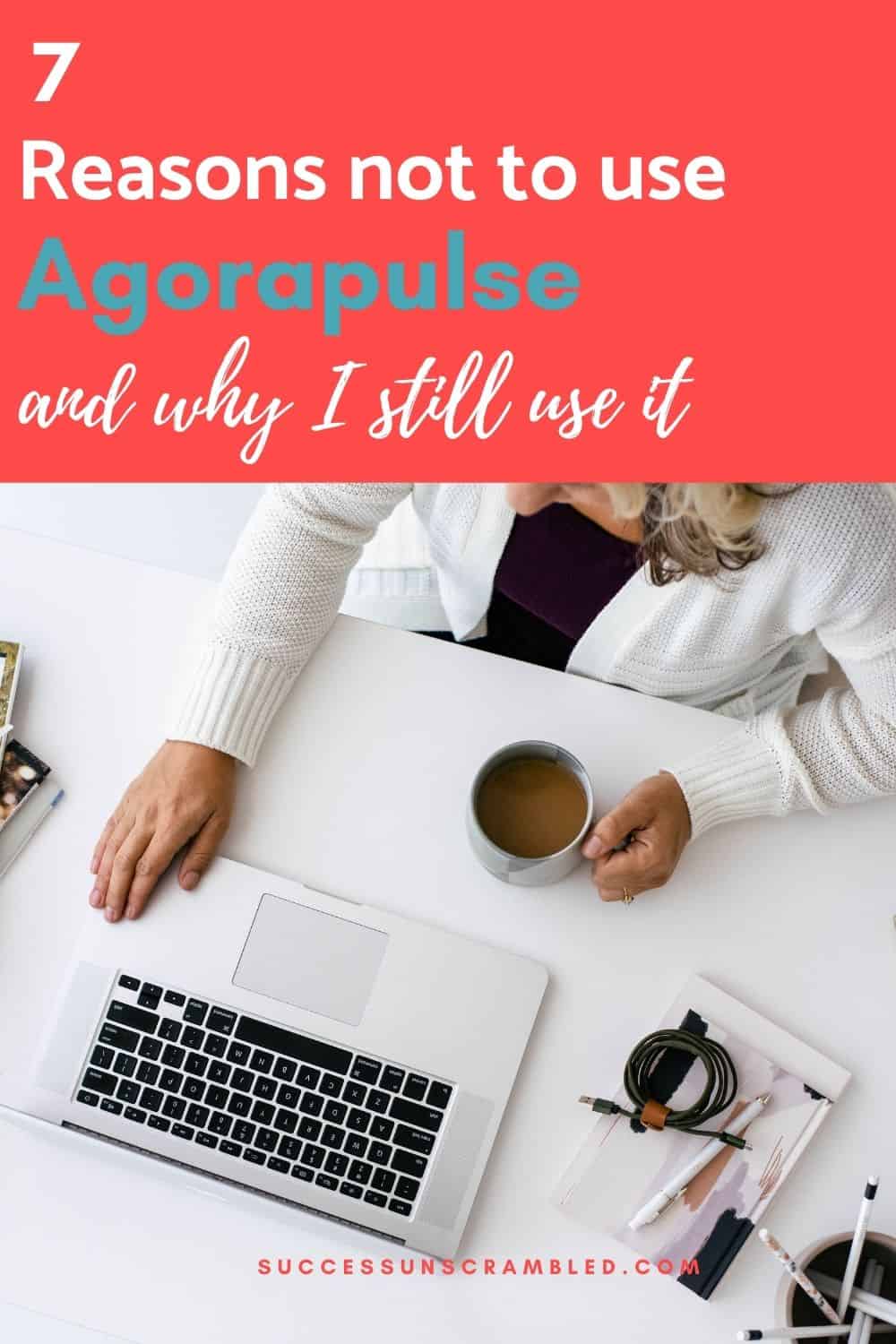 Summary
There is so much that I can tell you in this Agorapulse review but somethings would need to be left for the imagination.
The key things to note here is that once you set up your social accounts as well as plan your 90-day calendar all you need to do is this.
Do a social media audit across your accounts and make social goals
Set up social listening on Twitter and Instagram
Pop in 20-minutes a day to engage on other people's posts
Remember to @ mention people in your posts where necessary
Use communities like Viral Content Bee to gain traction
Share the love by posting other people's content using the Agorapulse Chrome extension
Check your reports every month to ensure that you are reaching those KPIs
Unfortunately there isn't a one size fits all solution when it comes to social media schedulers.
You will need to decide what your top 3 goals are every 90-days then find the scheduler that will help you to get there.
Over to you, what do you think of the Social Inbox in this Agorapulse review.
Let me know in the comments.
Announcements
Remember to subscribe to the Success Unscrambled podcast where you will be the first to hear what's happening in the entrepreneurial and digital marketing world.
Your positive review of this podcast is vital to keeping it alive and running for the next 12 – 24 months so please leave a positive review for us on iTunes, Spotify or any of your favourite podcast players.
I started this blog in 2017 because I had a burden on my heart to reduce women illiteracy globally.
With this in mind, I have decided to help 1,000 women over the next 10 years to become wildly successful in their online business through simplified marketing strategies.
That way we can build a strong business network of women who can donate 1% of their profit and together we can help reduce women illiteracy worldwide.
Would you like to be part of this movement? Shoot me an email using alvern (at) successunscrambled (dot) com.
Posts Related to Reviewing Agorapulse
Why Engagement and a Review of Agorapulse is Synonymous