Podcast: Play in new window | Download (Duration: 20:54 — 29.6MB) | Embed
Subscribe: Google Podcasts | Spotify | Amazon Music | Stitcher | Email | TuneIn | Deezer | RSS | More
Influencers you Need to Follow on Clubhouse and 15 Things to Do After you Join
As I stood in the kitchen, looking through the window, contemplating who to follow on Clubhouse, a strange sight greeted me.
About 1/4 mile away in the neighbours garden I noticed a man tugging on a blue rope.
Prior to this, I remember hearing what sounded like a chainsaw in the distance.
Just then another usual sight met my eyes another man appeared to be ziplining down the blue rope.
I was transfixed for some time because I was waiting for the pearl barley in the rice cooker to finish.
It was making a bit of a mess on the kitchen counter so I didn't want to leave it unattended.
More about those men with the blue rope later…
Are you wondering if it is worth your while to join the Clubhouse bandwagon?
I joined just over a week ago and I was wondering the same thing for many weeks until I finally decided to join.
Which led to me acquiring an invite.
In this post, I will tell you about my experience of joining and using Clubhouse as well as the best people to follow.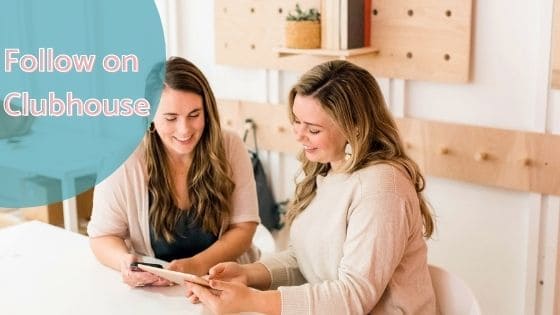 What is Clubhouse Anyway?
Well, to put it simply, Clubhouse is a social media app that is designed for live, voice-only communication.
What makes Clubhouse unique is that it allows for live conversations to take place inside rooms.
Think of it as the audio-only version of Facebook where groups are synonymous with rooms.
The unique attraction of this voice only app is that you can show up as you are and network with like-minded people in real-time.
At the time of writing this post, the Clubhouse app is only available on Apple devices like iPhones and iPads.
Founders, Paul Davidson and Rohan Seth, have indicated that they want to grow the social network slowly.
Hence the reason why you can only join on an invite-only basis.
After all, they only have a small team so it would be difficult to manage the technology if it grew exponentially in a short time.
15 Things to do on Clubhouse
After joining Clubhouse it may initially feel strange since you are not able to see the conversations taking place.
It is extremely important that you have your volume on and turned up.
One of the first things to do when you join Clubhouse is to enter a room with a topic that interests you.
Here are a few examples of rooms that are in session as I write this post.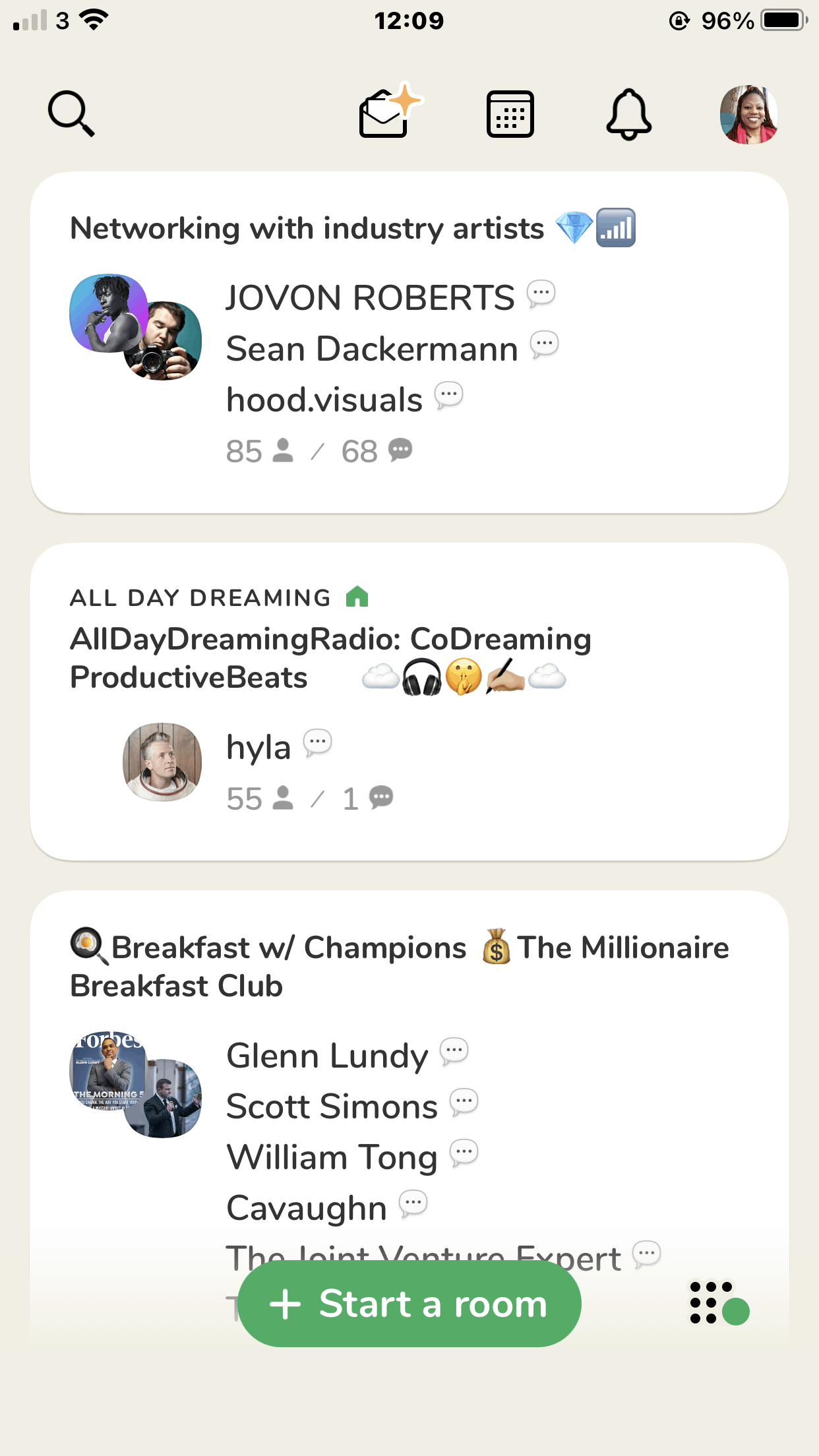 So, what are a few things that you can do during your first few weeks on Clubhouse?
Update your profile
Join a room that's in session
Listen to conversations
Hop on stage
Link your socials
Follow people of interest
Start your own room
Co-host a room with a colleague or friend
Find people and clubs to follow
Join existing clubs
See what's coming up
Create an event
Invite your friends
Promote your business
Create your own club
When I first joined Clubhouse I didn't think that it was possible to do a lot on a voice-only app.
However, you can see that there are so many things you can do apart from listening to conversations.
1. Update your Profile
One of the first things to do after joining Clubhouse is to update you profile.
Add a headshot of yourself and place what you do in the first line of your profile.
The first line of your profile is searchable on the app so complete this if you want potential clients to find you.
Carefully use solution focused keywords, for example if you are a business coach then place that in your bio.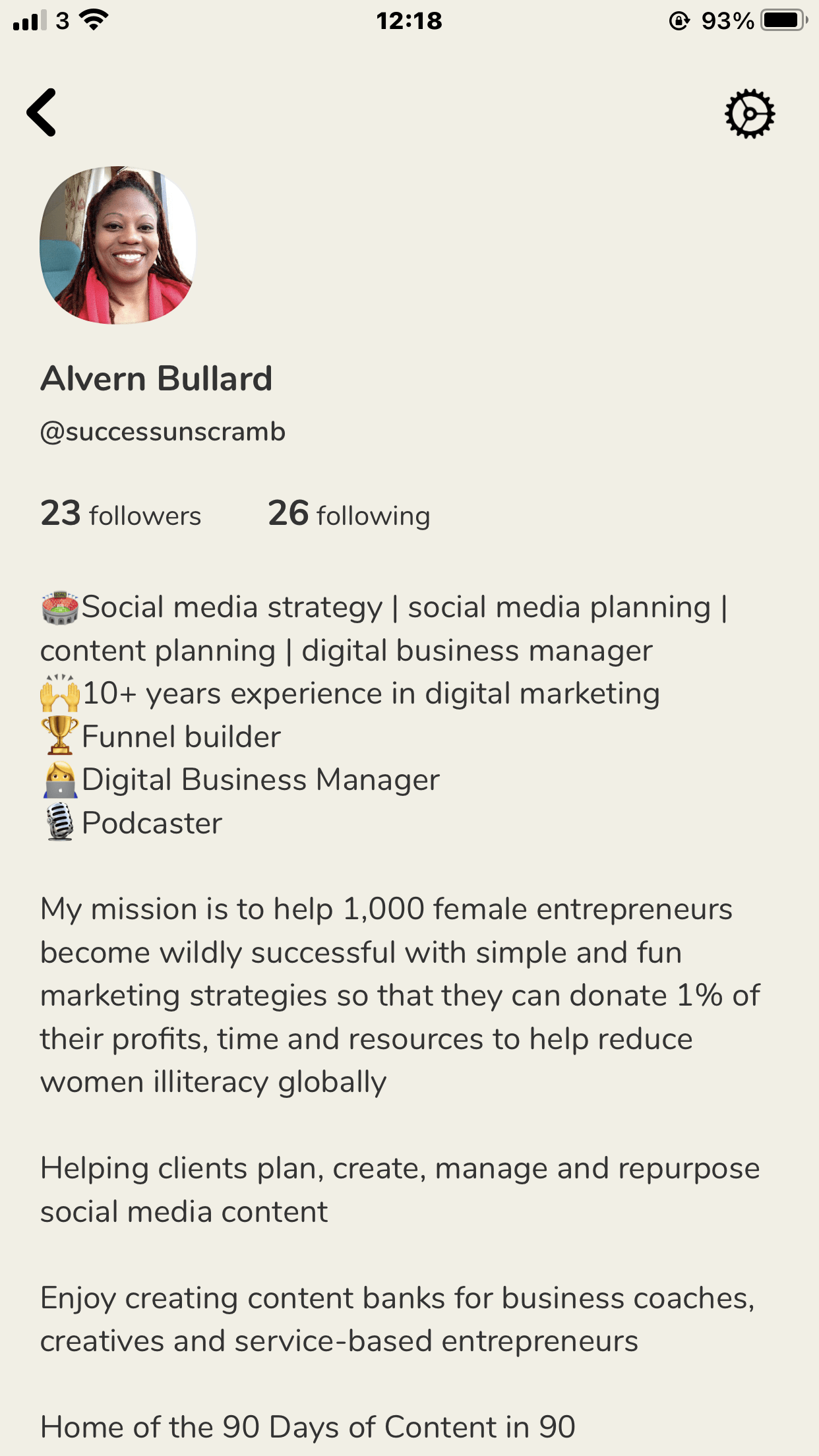 2. Join a Room
As you saw in the previous screenshot there are many conversations happening all the time on Clubhouse.
Simply click on the image and it will allow you to enter the room and listen.
After joining the room you may be surprised to see many photos of people on a page.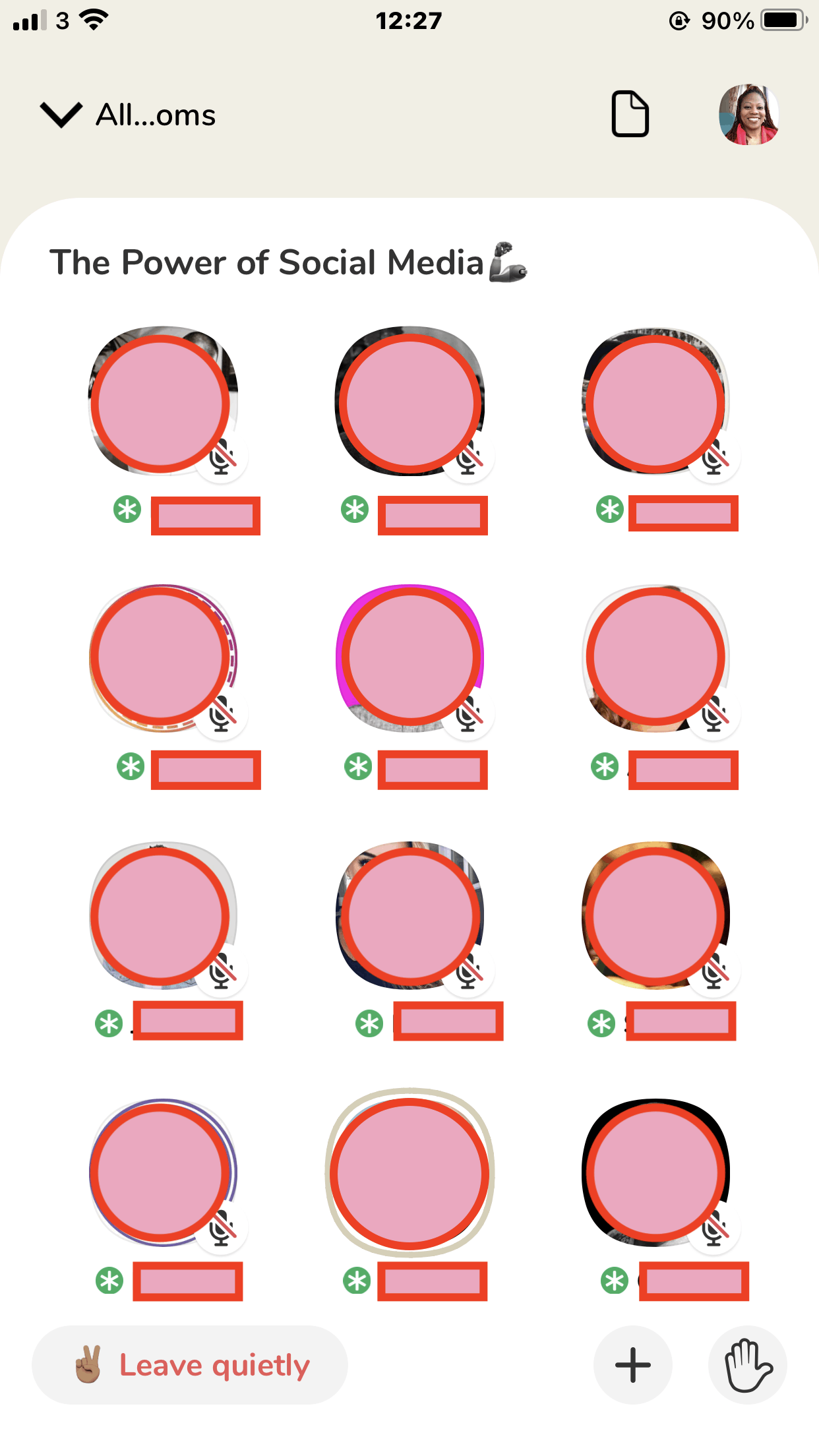 These people are all participating in the conversation as speakers or listeners.
The photos with the green and white stars are those moderating the room.
You will also notice that some people have a microphone icon on their photo while others don't.
Those with microphones are the ones on the virtual stage.
Interestingly, these microphones are also used to 'clap' when someone in the room has made a valuable point.
3. Listen to conversations
Depending on the size of the audience in the room you may feel better just listening in on the conversation.
If you are there long enough you will hear the main speaker of the room say that he/she will reset the room.
This means they will set the expectation of the discussion and sometimes how much longer the room will be in session.
While in the room, you may hear a very impressive conversation and feel that you need to network with this person.
Simply click on their profile and check them out.
If you still feel impressed to connect with them just click on their Instagram link and send them a DM.
You can always leave a room by clicking on the "leave quietly" icon.
4. Hop on Stage
While listening to the conversations you may hear someone talking about their struggles in business growth.
They may be looking for funding or visibility in their business.
Or they maybe looking for help with something at home. It could be that they are overwhelmed with a challenge.
If this is something you can assist with then raise your hand and one of the moderators will bring you on stage.
Sometimes the raise hand feature is switched off because there could be over 1,000 people in a room with 50 people on stage at once.
5. Link your socials
Before hoping on stage it is super important to ensure that you have connected your social profiles
Instagram is the most popular choice to connect your profile on the Clubhouse app.
When you hop on stage and introduce yourself the first thing that happens is that people check you out.
I know it sounds like dating but this is just the way the app works.
If you don't have your social profile connected then it will be difficult for potential clients or partners to contact you.
Clubhouse has no way of messaging people directly on the app.
6. Follow People of Interest
While listening to conversations in a room you will also notice that there are experts in many fields.
This is a great time to start following people who can be of benefit to you and your business.
Just click on their photo view their profile and click follow.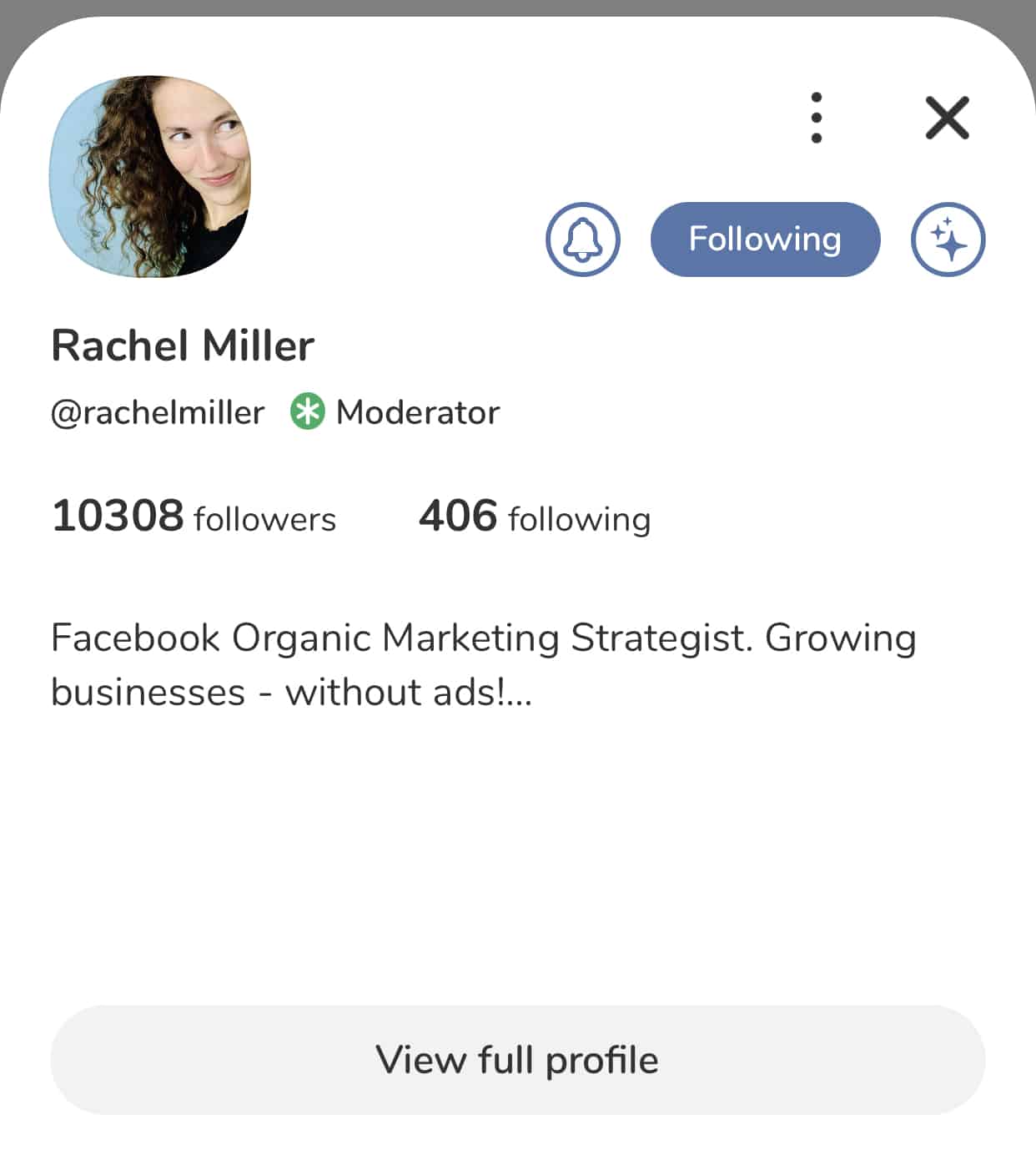 Unlike Facebook groups, the ability to build the 'know, like and trust' factor is exponentially faster.
This is because you will know pretty quickly those who are great at what they do after listening to them speak for an hour.
7. Start your own room
If you are not really happy with the conversations available you can feel free to start your own room.
Starting your own room is so easy just click on the "Start a room" button.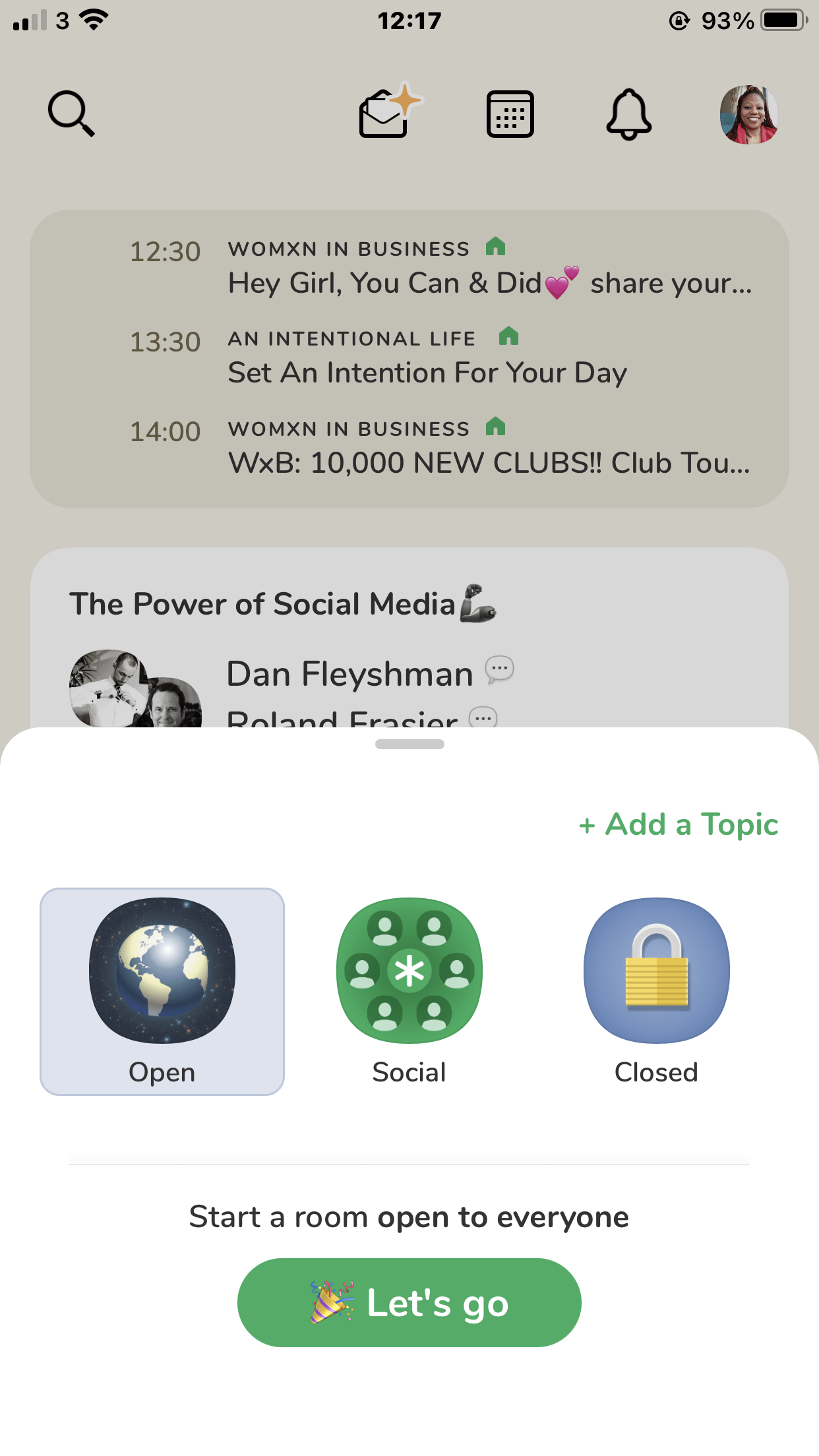 Bear in mind that just because you started a room doesn't mean that people will flock to it automatically.
One way to get people to join your conversation is to ping them into the room. Just click on the plus button.
This is especially helpful if you have a number of followers on your list.
8. Co-host a room with a colleague or friend
If starting your own room makes you nervous then another great way to get confidence in this area is to get a co-host.
Of course this will need to be arranged in advance.
In my experience getting 3-4 people to moderate with you makes it more exciting.
All 4-5 of you can advertise the event in advance to your communities.
9. Find people, clubs and conversations
Finding your next co-host could be as simple as doing a search on the Clubhouse app for people.
Is your business bestie, accountant, coach or marketing consultant already on the app?
Do a search using the magnifying glass.
You will be able to see a list of people and clubs that are available on the app.
To find conversations just scroll down and pick a topic that is related to the conversation you want.
10. Join existing clubs
Now that you are getting to know your way around the app it is time to join a club.
Depending on the room you join you will notice that some of them have a green house at the top.
Others don't have that green house.
The green house represents a club and you can decide to join that club by clicking on the house.
You will be brought to the page of that club where there will be instructions on how to become a member.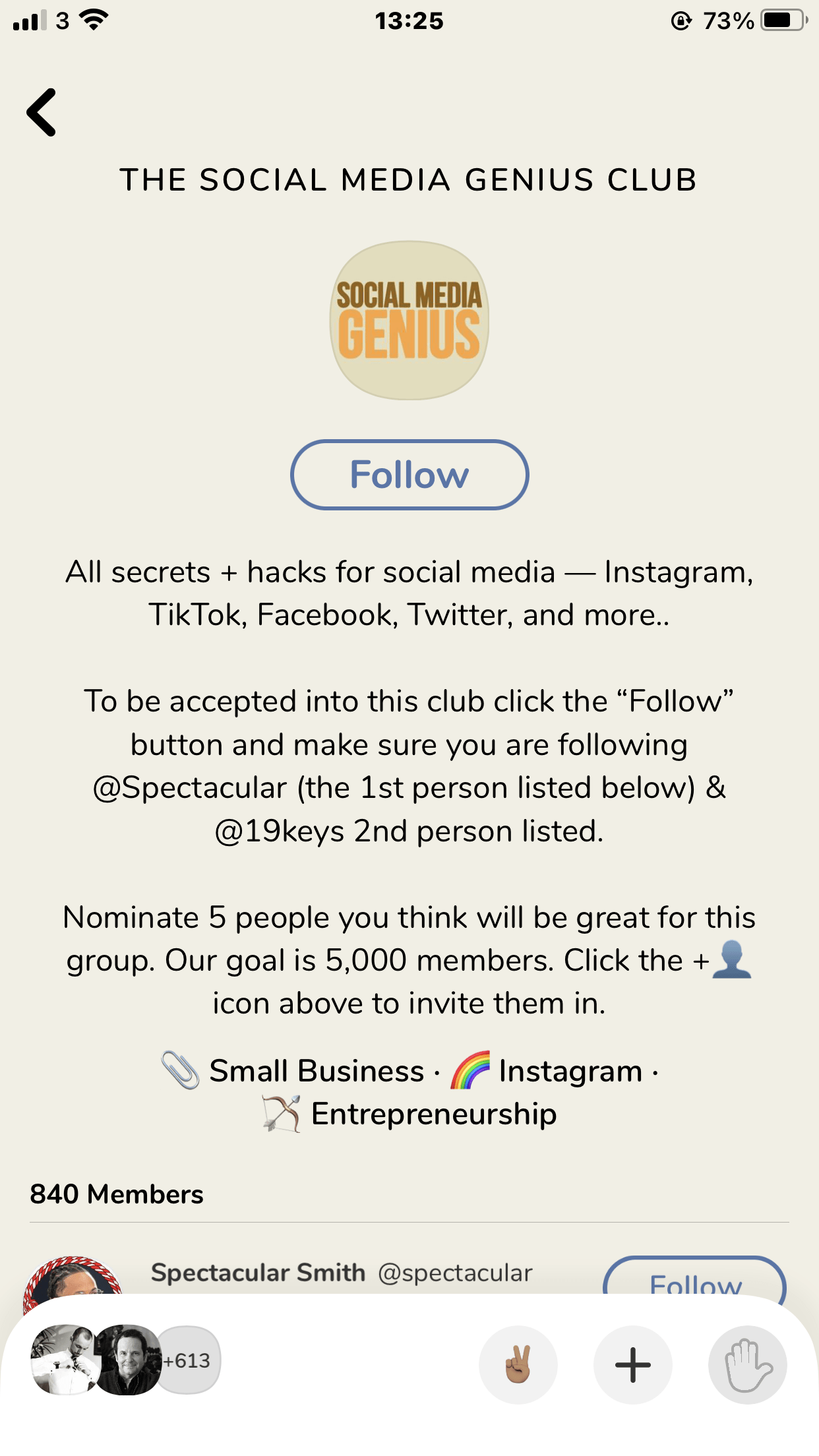 11. See what's coming up
Want to intentionally allocate time in your diary to listen in on conversations on Clubhouse?
Go through a list of what is coming up next by clicking on the calendar icon.
When you find something you like simply click the bell.
You will then be given the option to share it, copy the link or add it to your calendar.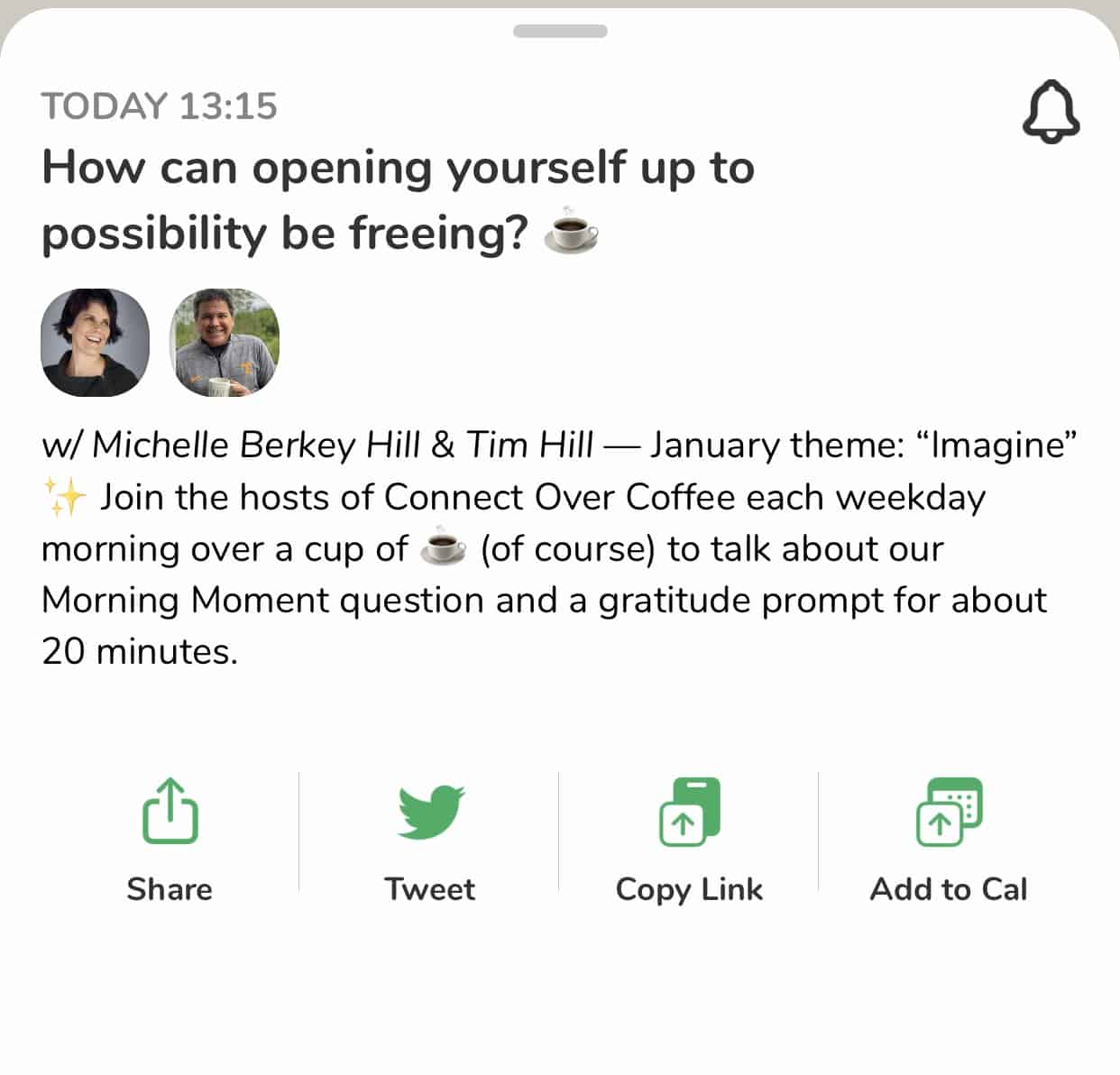 12. Create an event
While you are in the calendar section on Clubhouse you will notice that there's a plus symbol on the calendar.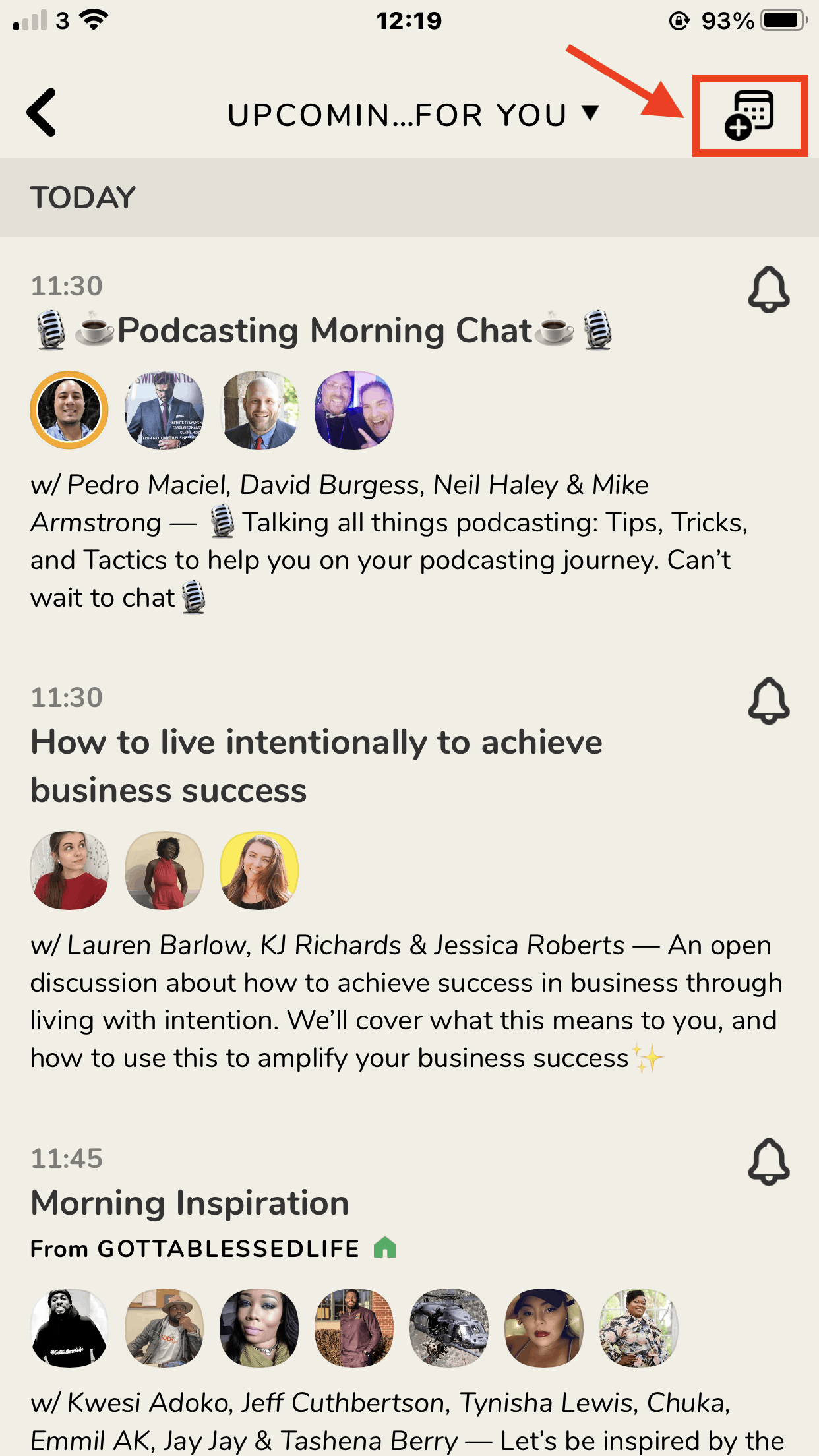 After clicking that icon you will be directed to a page to complete the details of your future event.
The key difference between starting room and creating an event is that the event will be sometime in the future.
While starting a room is immediate.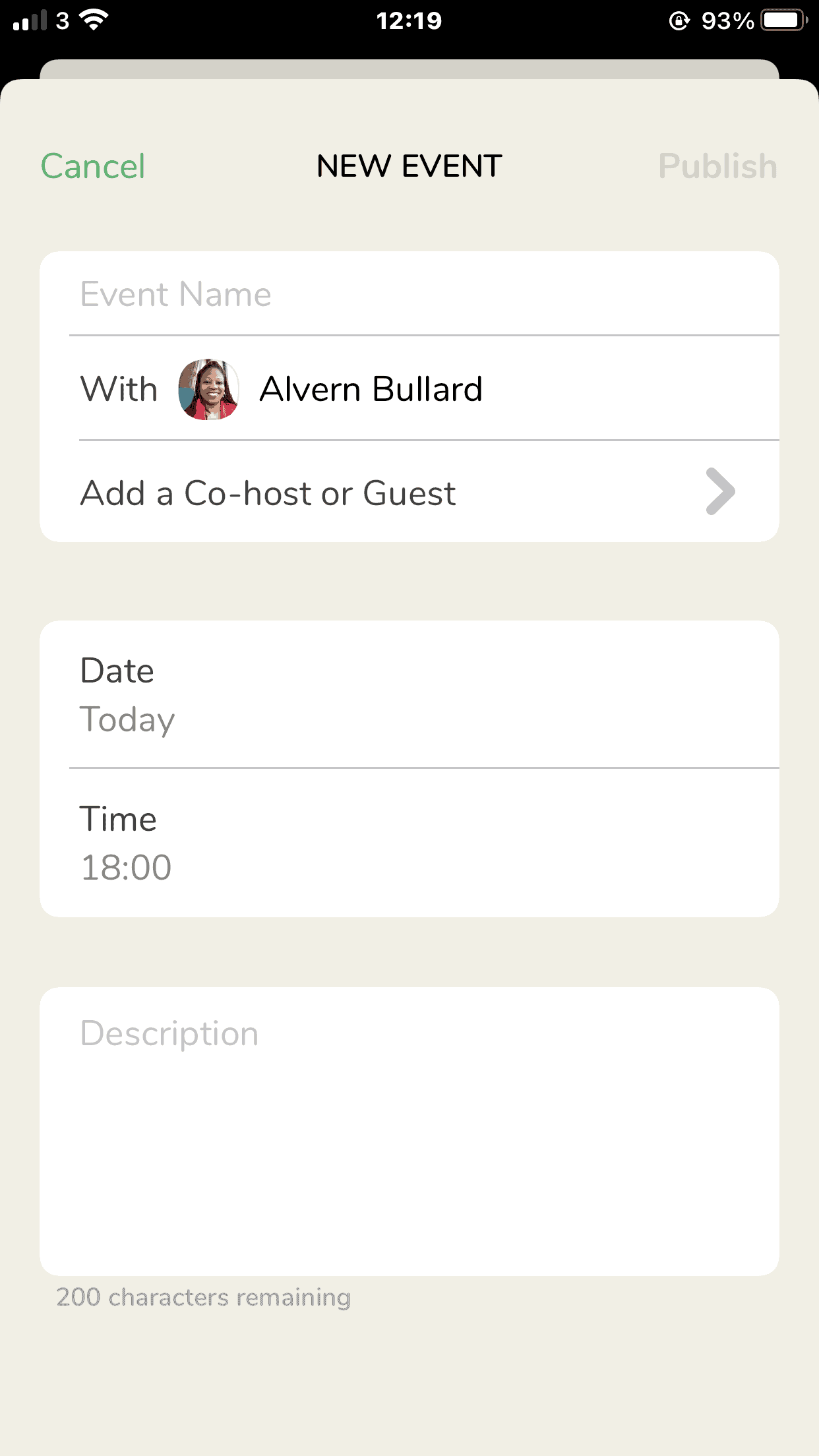 13. Invite your friends
What better way to enjoy the Clubhouse experience when you do it with friends or business besties.
When you first sign on to the app you will be asked to share your contact list.
The only way to invite people onto the app is by having their mobile number which can seem apprehensive.
Simply click on the email or envelope symbol to invite people to join you.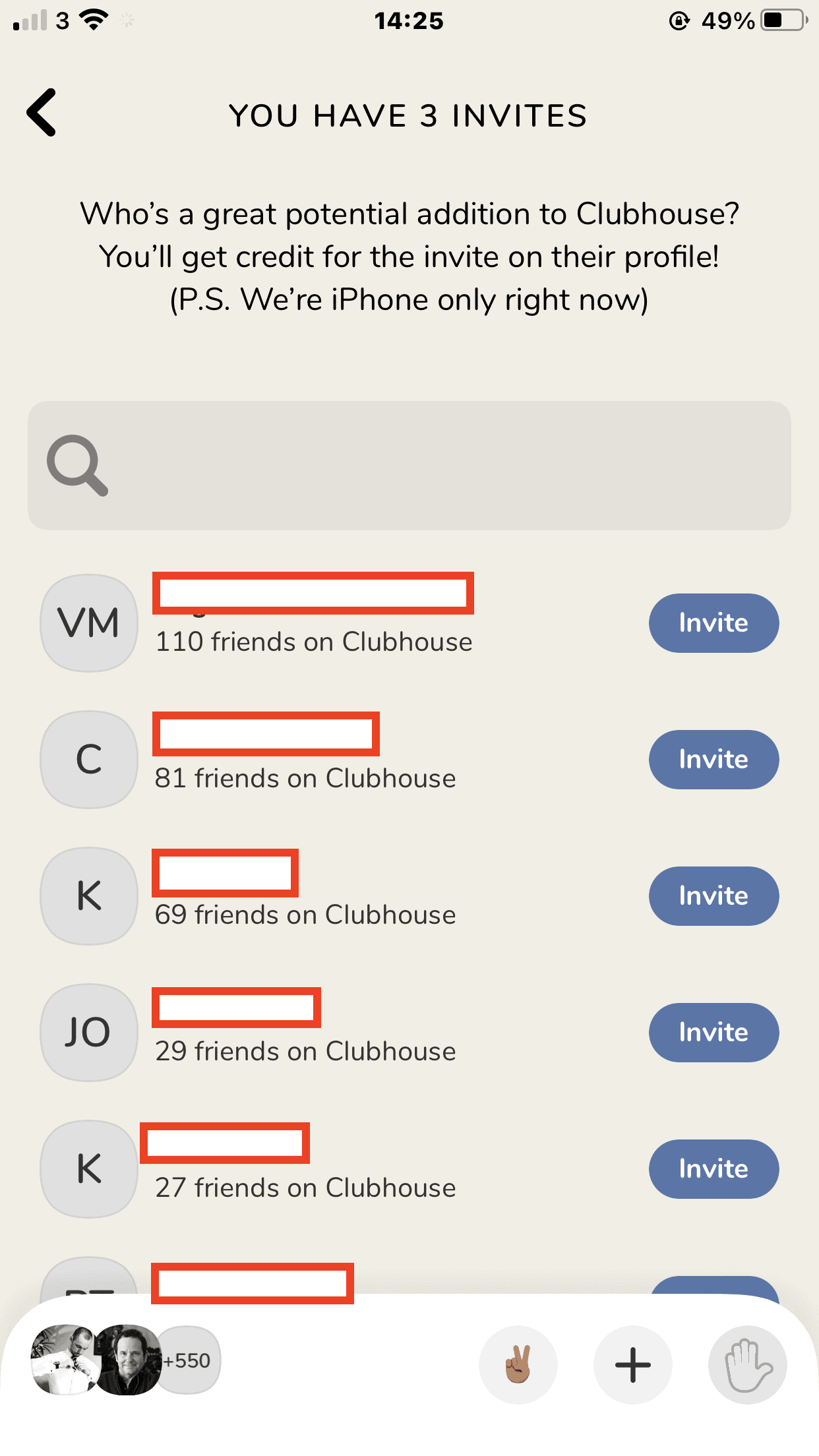 14. Promote your business
Another thing that I found fascinating about Clubhouse rooms is that several of them encourage promotion.
Now, you may initially find this strange but this is such a welcome change compared to Facebook groups.
There are some rooms, when you hop on stage you are asked to introduce yourself and say what you are hoping to achieve.
In other cases, you may be looking for a collaborator, coach, mentor or affiliate marketer.
Whenever Mimi the Planner is hosting a room, she encourages everyone to come onstage and promote what they do.
15. Create your own club
Is your ultimate dream is to run your own club on Clubhouse? If yes, then here's what you need to know.
You need to have hosted three (3) rooms in Clubhouse before you can apply to create your own club.
After you complete this requirement then you head over to your profile then click the gears icon.
Go to the FAQ section and click on "how can I start a club".
At the bottom of that section you will find the club request form. Just complete it and wait.
Who to Follow on Clubhouse?
If you are in a rush or feeling overwhelmed and you are wondering who to follow on Clubhouse to get answers to questions.
Here are a few people you can follow.
If you want to ask an expert about Instagram engagement then follow Cate Cole.
Cate Cole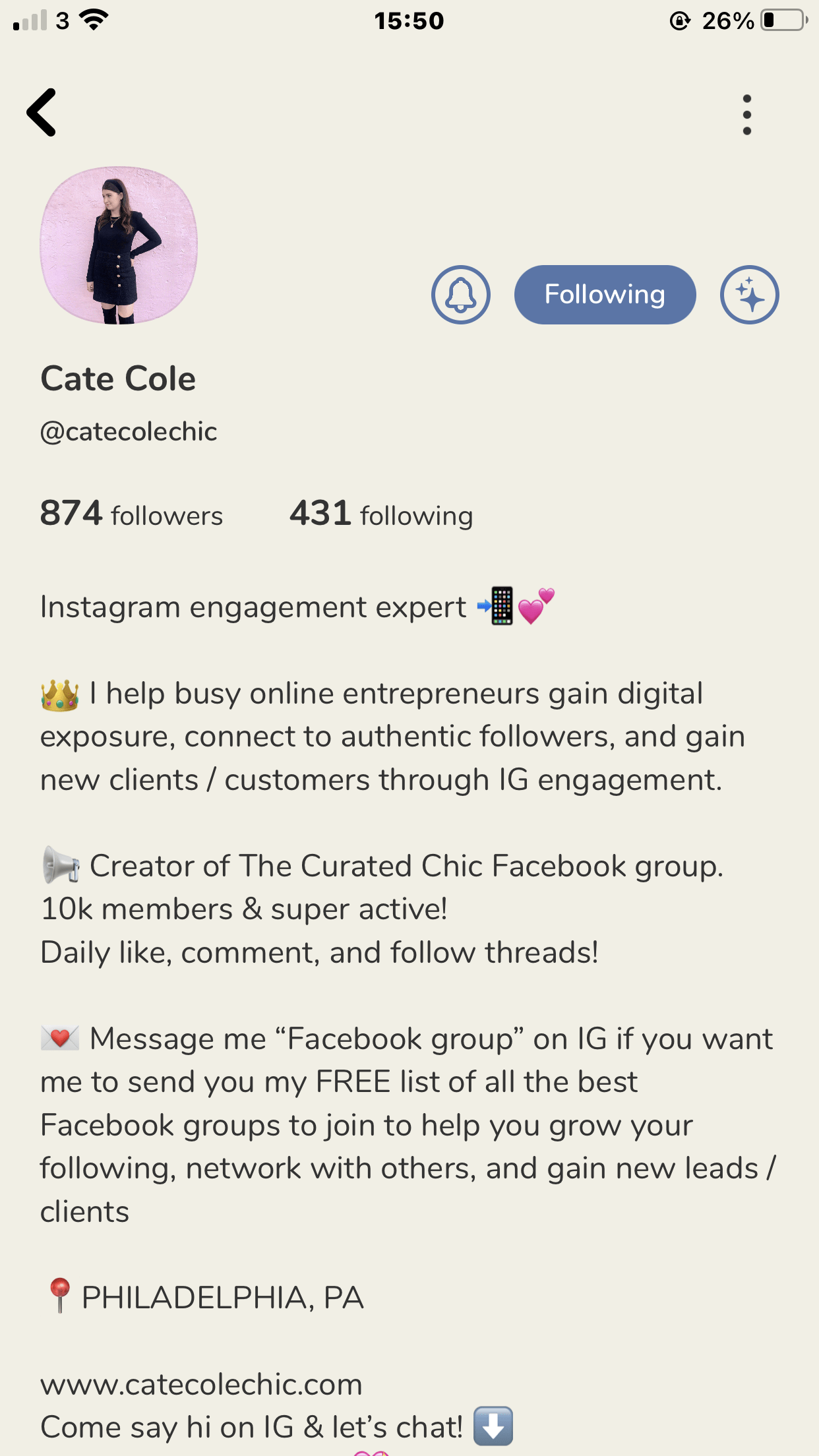 Looking for a business coach to take your business to 7 figures? Then don't hesitate to check out Jenae Elizabeth.
Jenae Elizabeth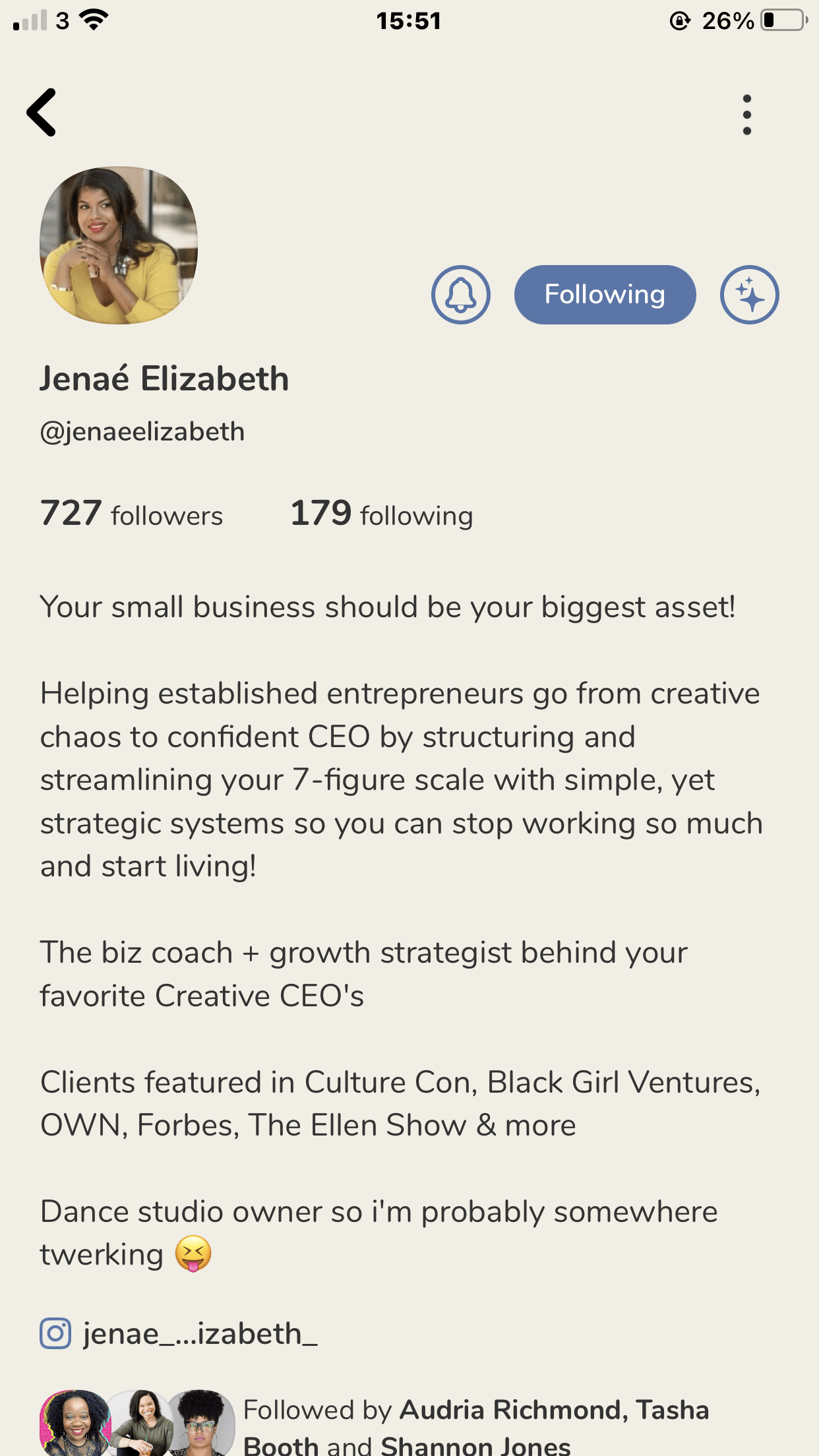 Need to get your business to 7 figures using organic strategies on Facebook? Follow Rachel Miller.
Rachel Miller
If you are based in Atlanta and you need a local business champion for Black entrepreneurs then follow Mimi The Planner.
Mimi the Planner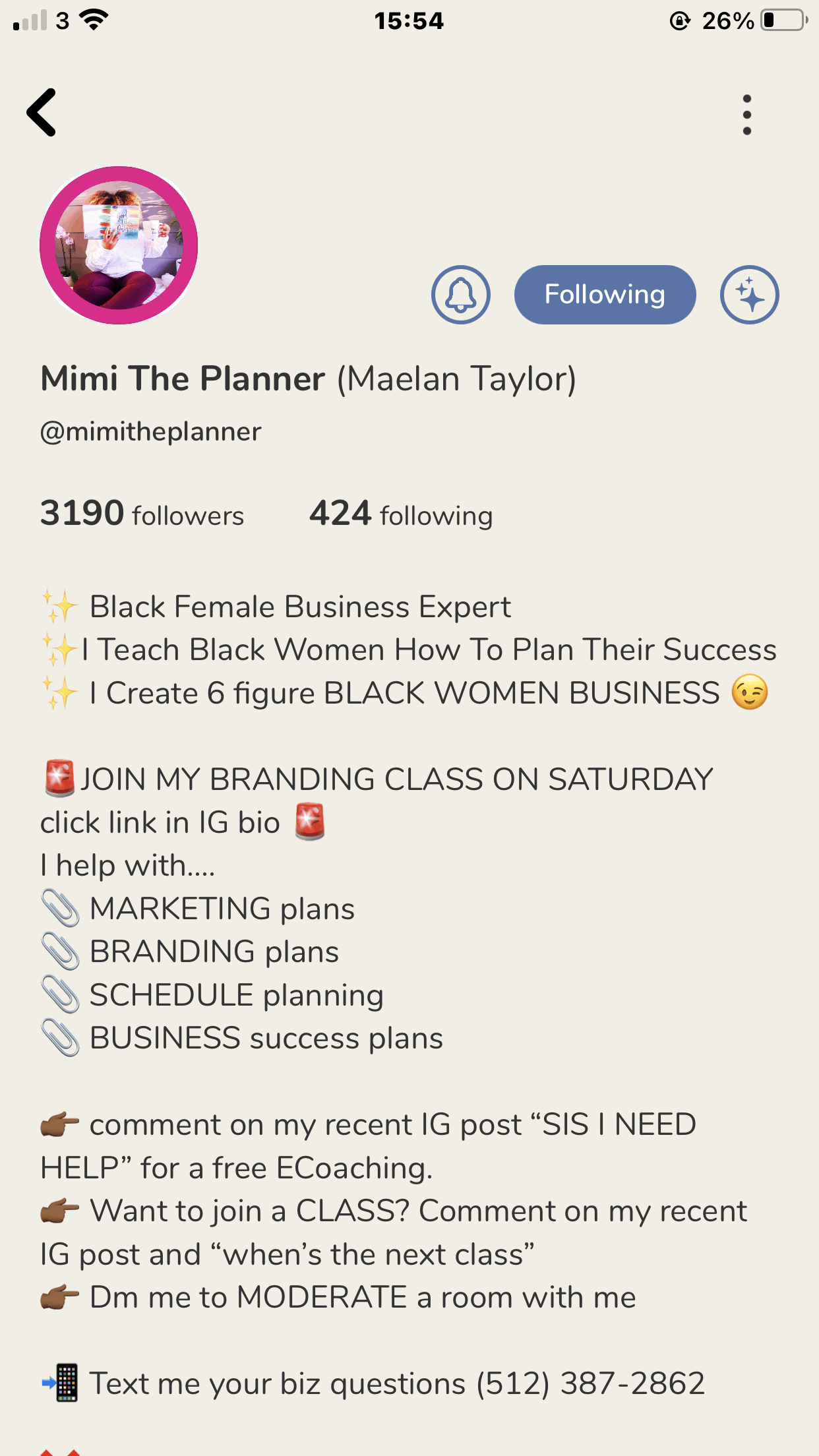 Are you an entrepreneur that's looking for an ultra special brand strategist who has an extensive background in TV ads?
Follow Charlie Fusco and listen to her answer questions.
Charlie Fusco
Do you need to find a virtual assistant position fast? Then follow Tamber Belshaw on Clubhouse and send her a DM on Instagram
Tamber Belshaw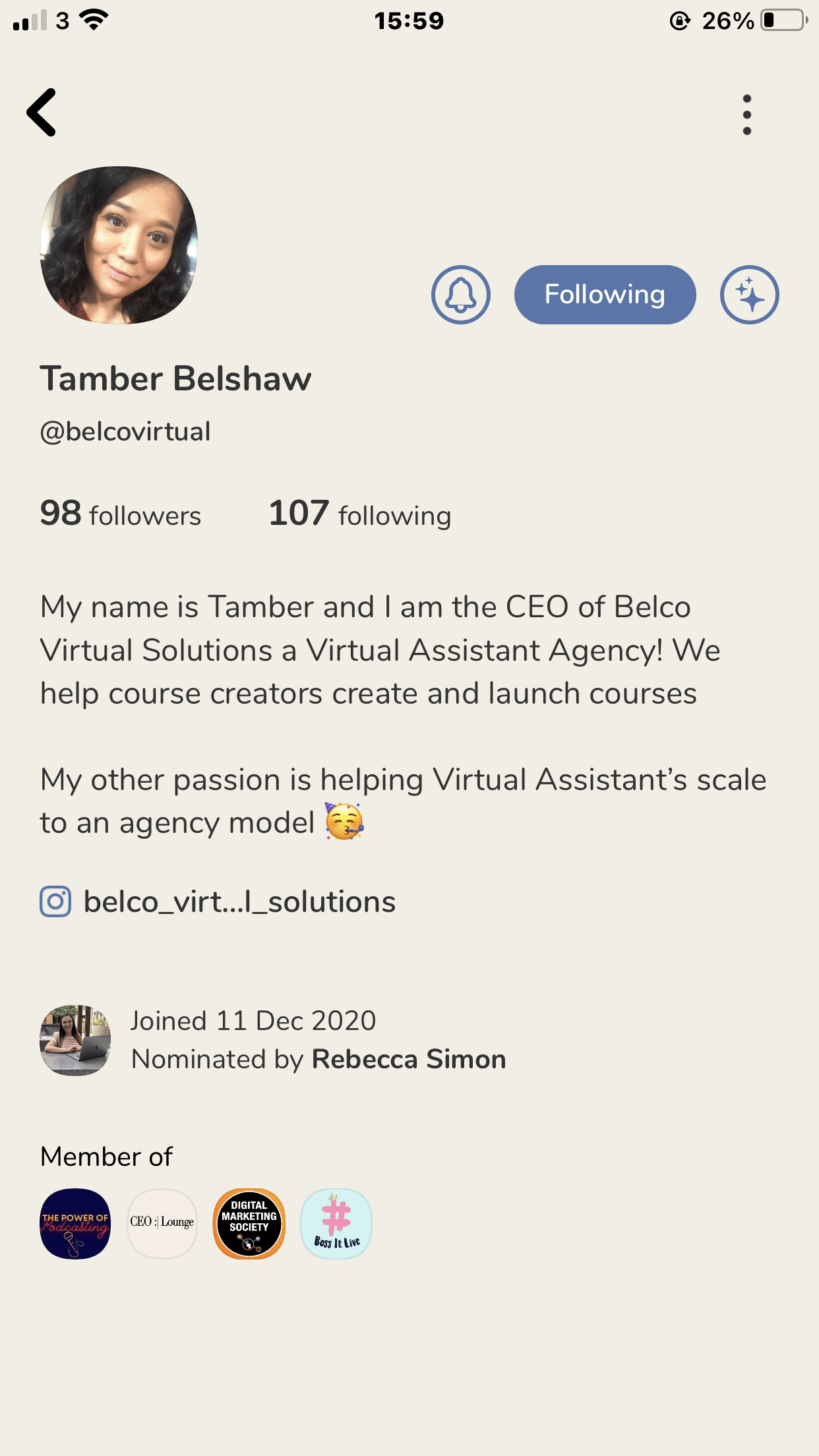 Would you like advice on becoming a paid Influencer on IG? Check out Brent Colmer.
Brent Colmer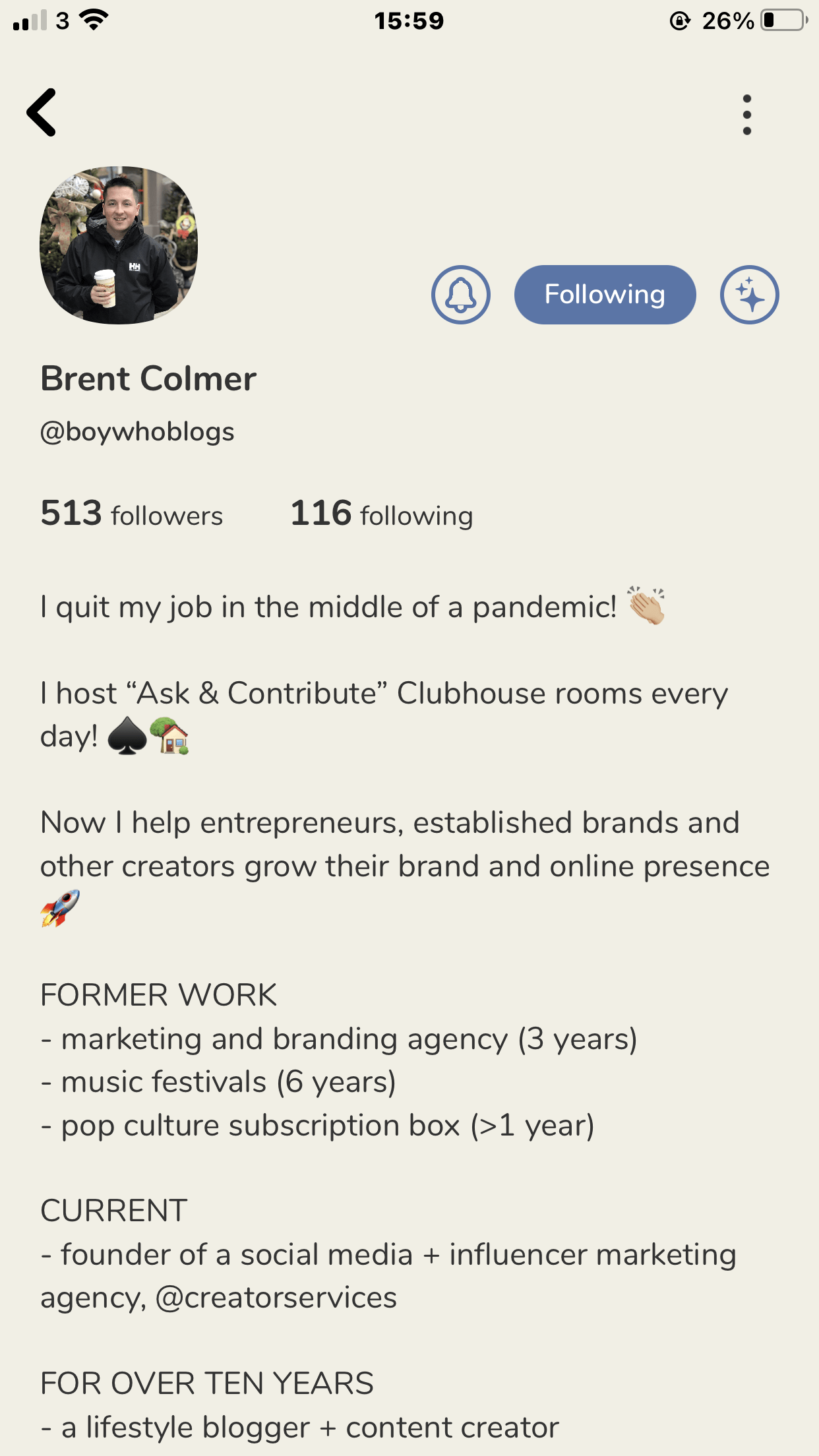 Want to get in on the 'Inner Circle' on Clubhouse? Connect with Jamie Davidson.
Jamie Davidson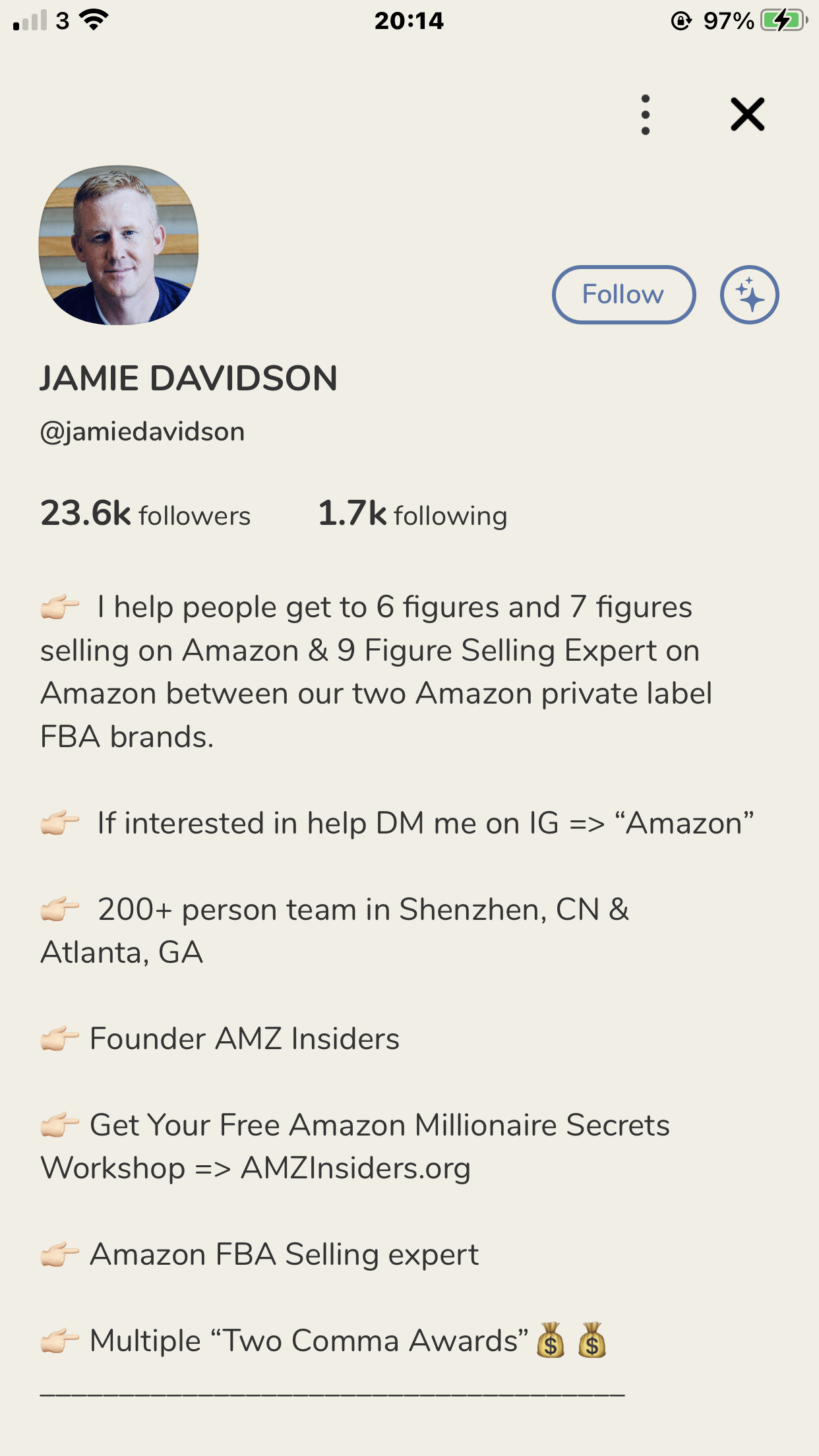 Do you need to breakthrough your money ceiling and get to 6, 7 or 8 figures? Then follow Dana Garrison.
Dana Garrison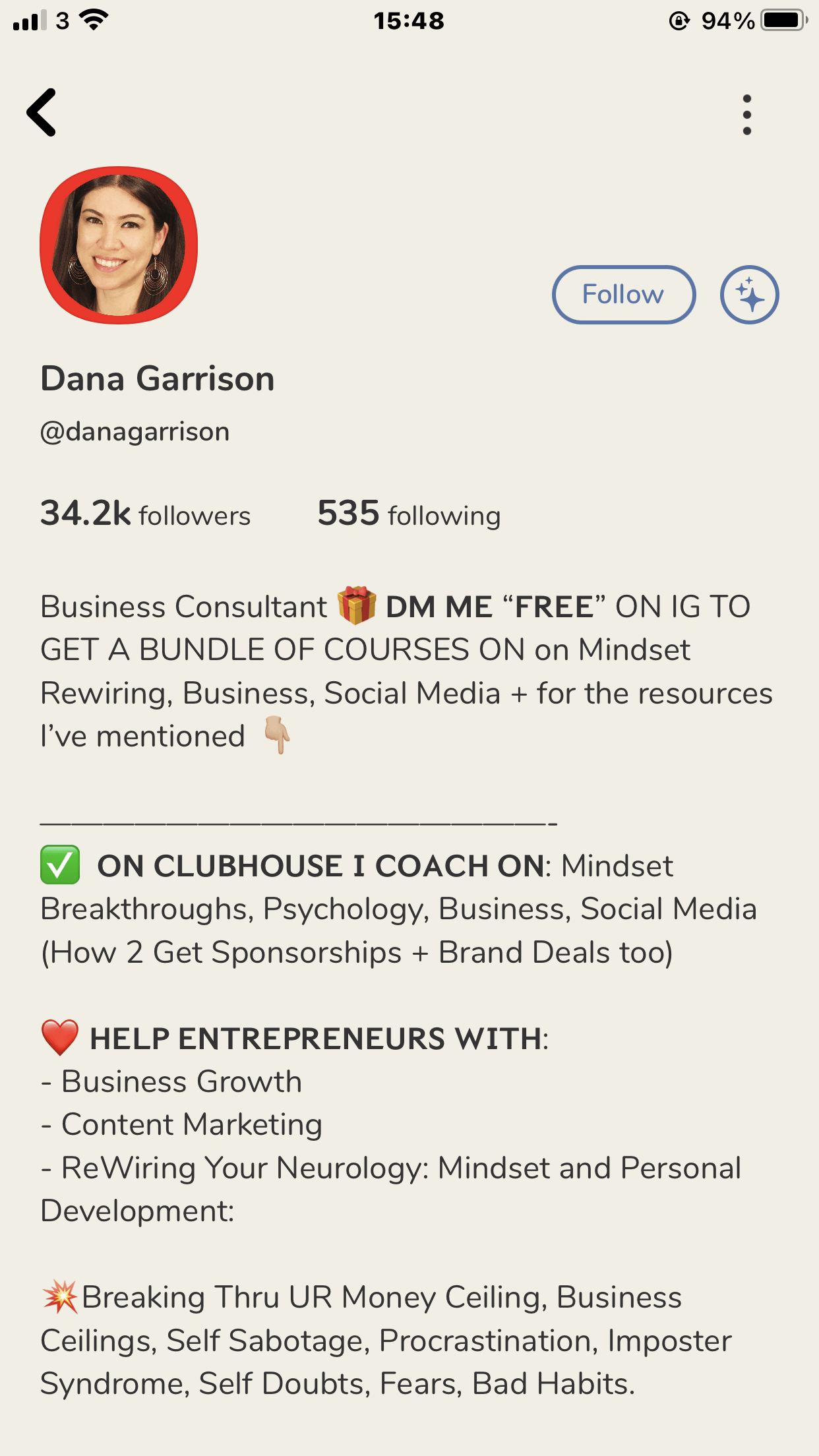 Eager to get your hands on the ultimate Clubhouse moderator secrets? Then you need to follow Samantha Brown.
Samantha Brown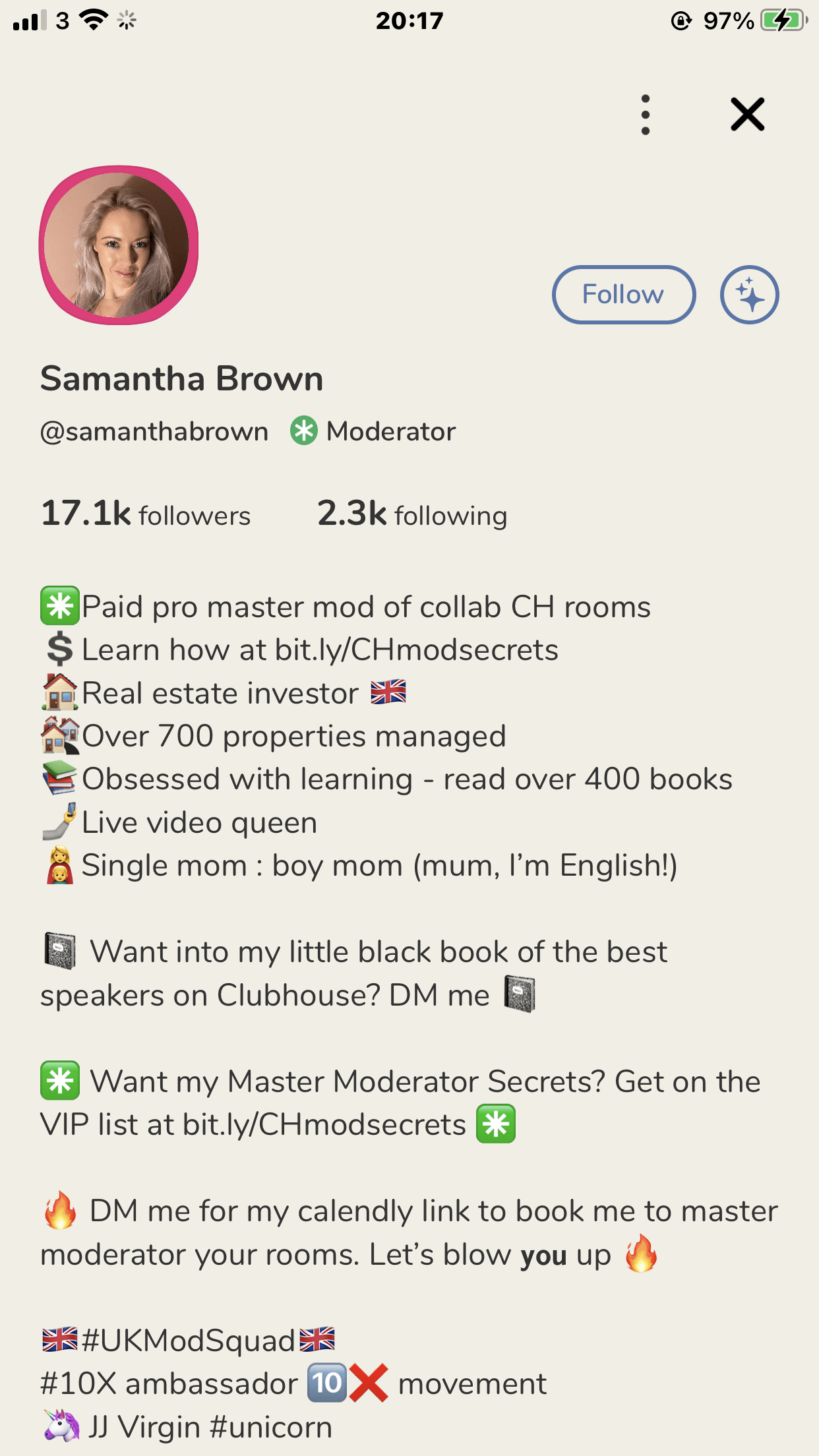 Ever wanted to know all the secret features that Instagram has to offer you as an entrepreneur? Follow Jon Youshaei because he's the Product Marketer at IG.
Jon Youshaei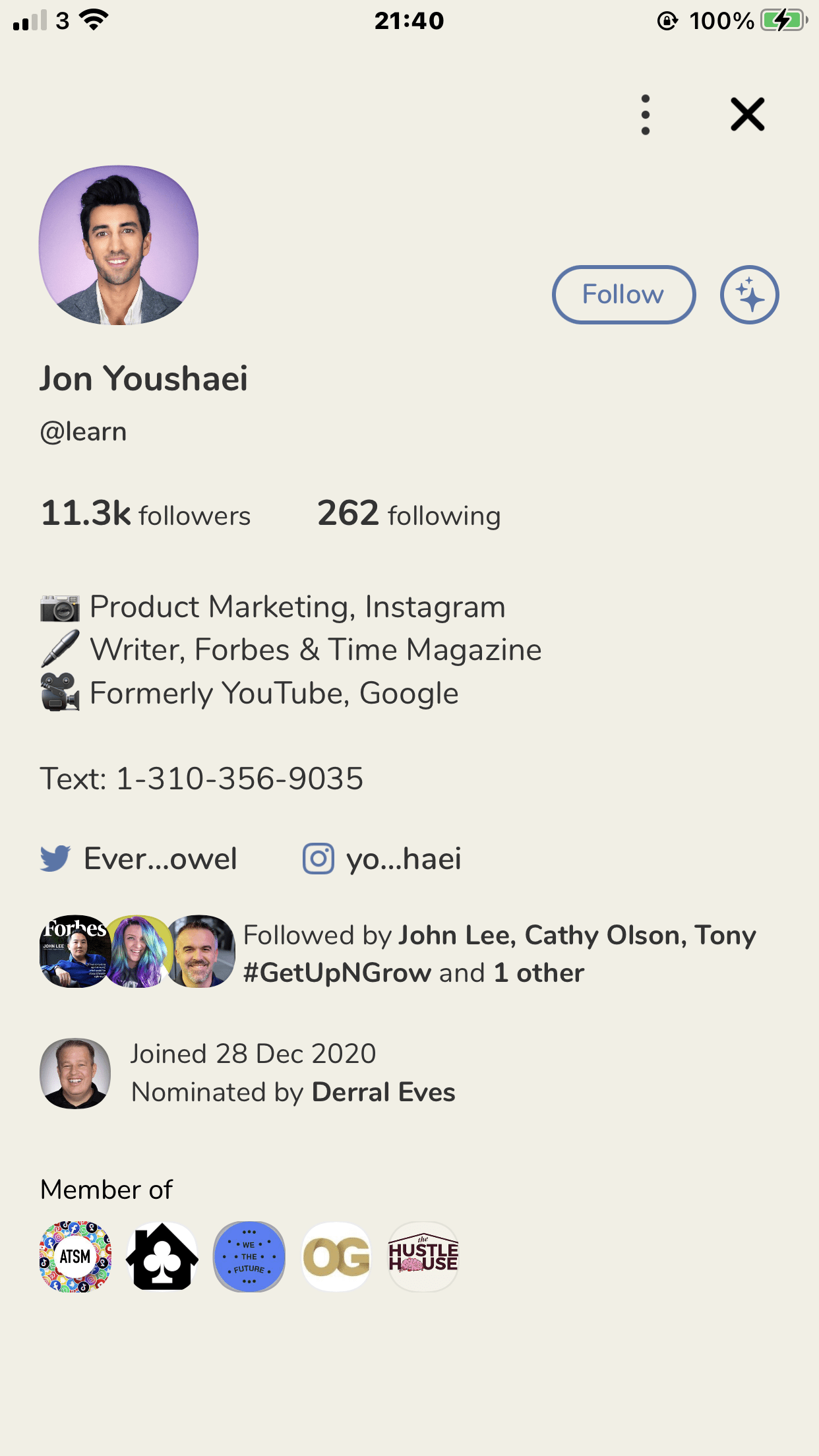 Are you a Christian entrepreneur wanting to achieve success using biblically based principles? Then check out Deedee Breski.
Deedee Breski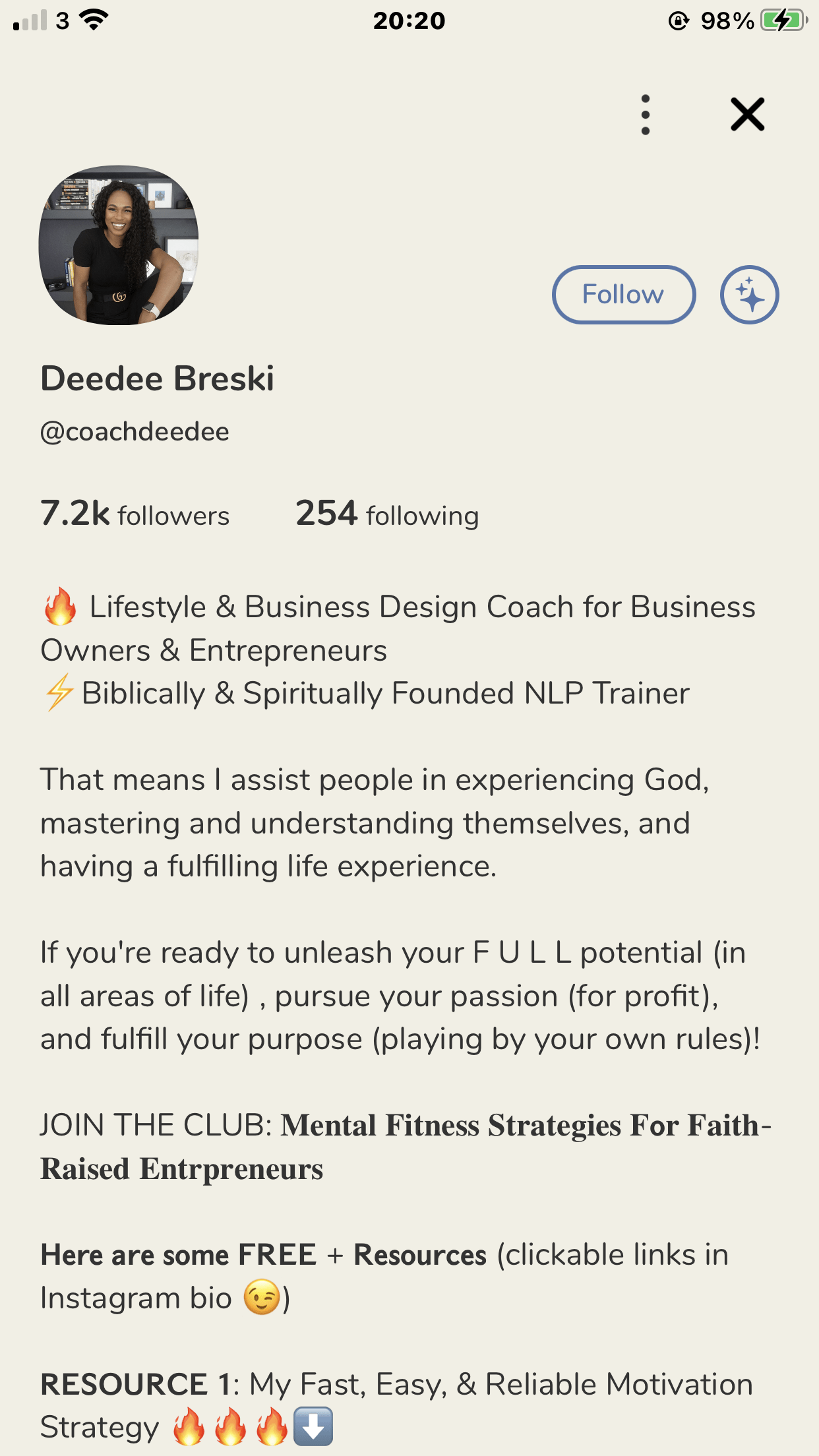 Would you like to know how to get free promotions for your business through PR using some unique techniques? You need to follow Cameron Herold to learn how.
Cameron Herold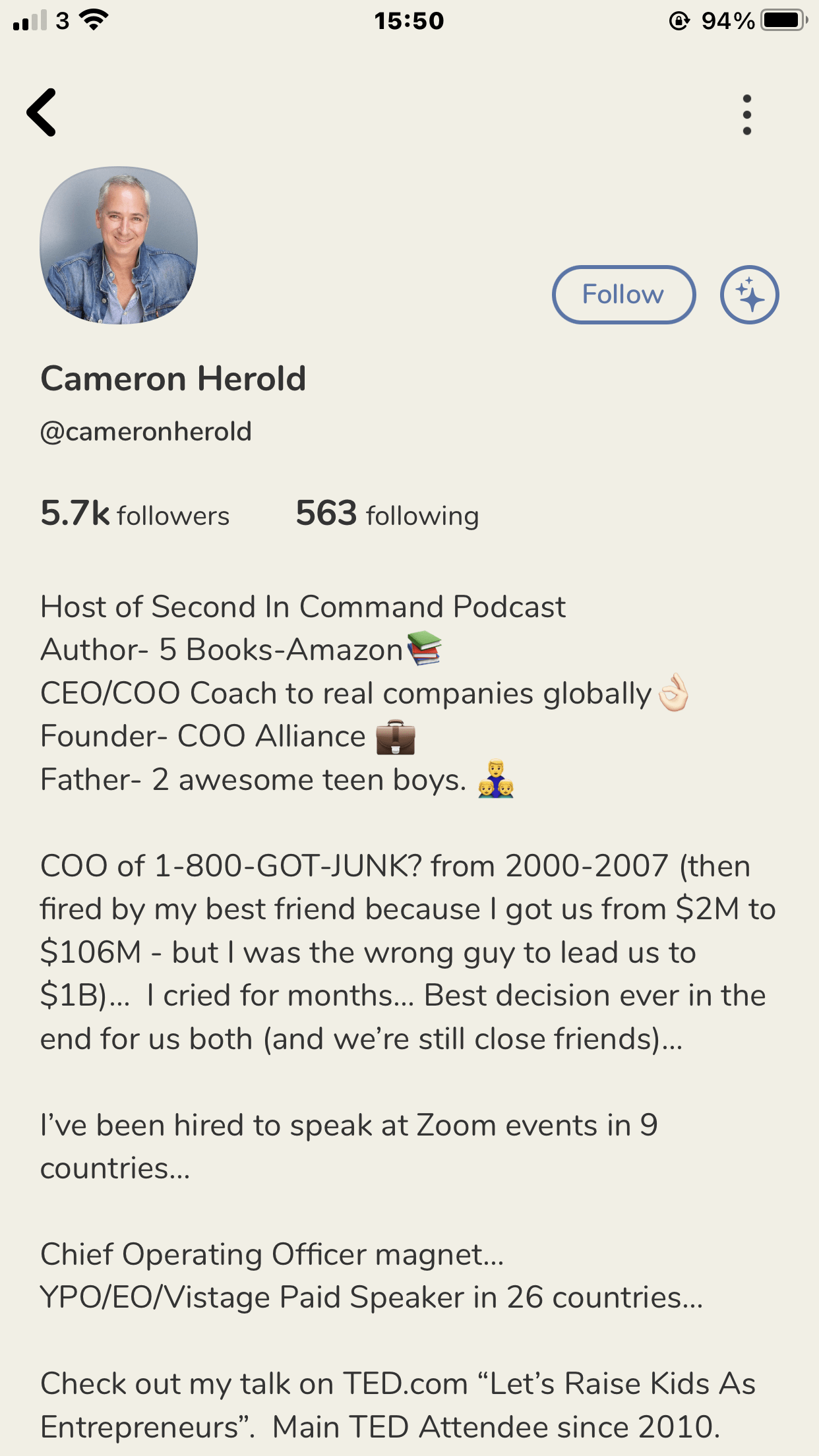 Can your Instagram profile benefit from an IG audit or would you like more information on auditing your IG account? Follow Eden Marquis quick.
Eden Marquis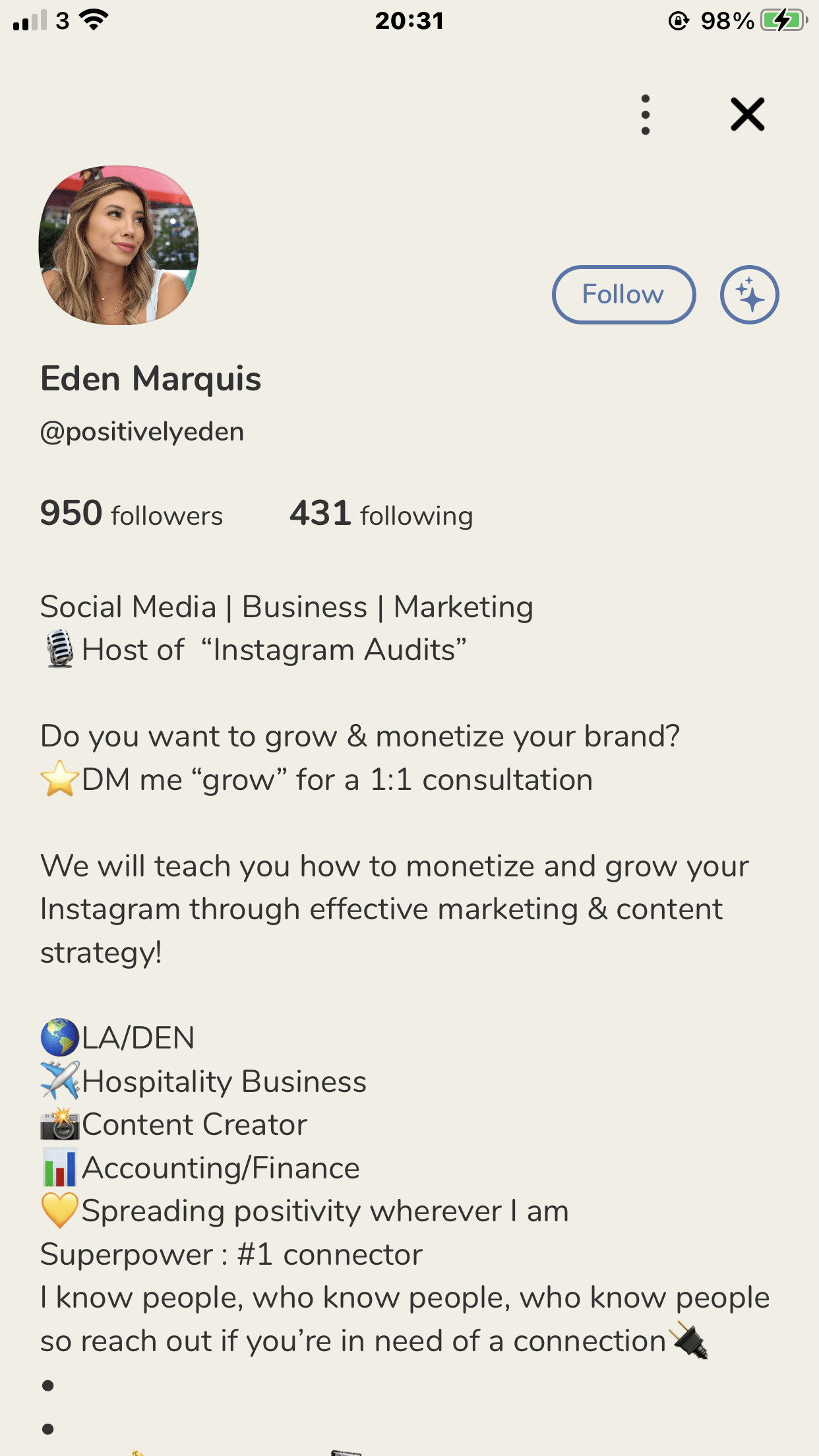 Are you using TikTok for your small business or as an entrepreneur? Need some TikTok hacks? Follow Alex Stemplewski to get the low down on TikTok.
Alex Stemplewski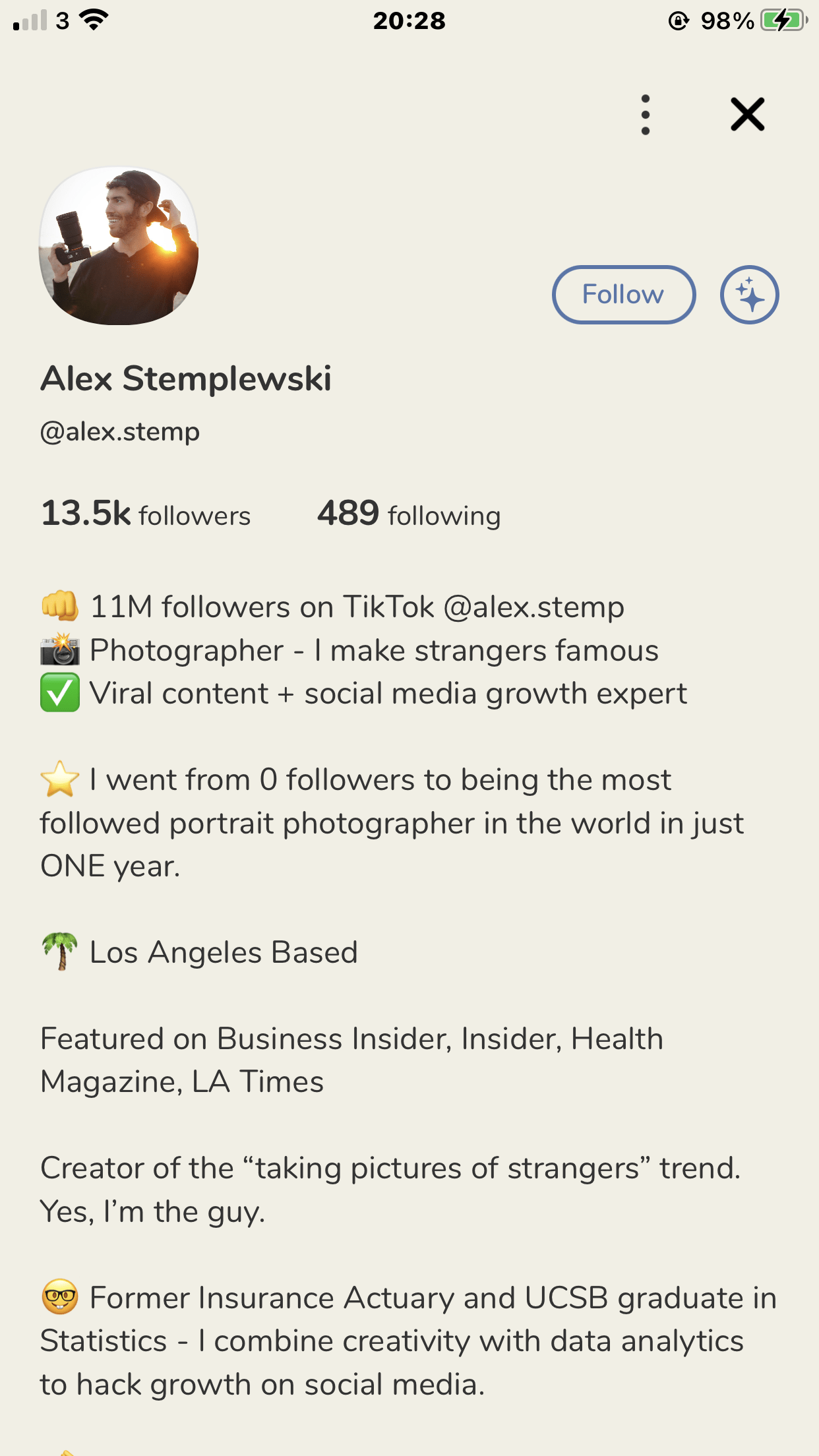 How to Get a Clubhouse Invite
Every one and their friends are looking for an invite to Clubhouse.
Here are 5 ways to find an invite to get onto Clubhouse in 7 days or less.
Check inside your Facebook group for a Clubhouse train.
Join the specific Clubhouse Facebook group
If you are on my email list I will be sending weekly/monthly updates when I have invites available
Feel free to leave a comment on my latest Instagram post here indicating that you need a Clubhouse invite
Send a DM to your business besties on Instagram letting them know that you're looking for a Clubhouse invite
Leave a 5-star rating on this podcast, send me a DM on Instagram and I will enter your name into a hat to be one of the lucky people to get an invite.
Remember that currently the platform is only open to people with iPhones or iPads.
You will need to share your mobile number in order to get an invite sent to you.
Summary
Several social media platforms have launched and fizzled out of existence.
However, with Clubhouse, many successful entrepreneurs and serial entrepreneurs are using it.
Also, several multiple 6, 7 and 8 figure business owners have said that Clubhouse adds value to their lives.
It could be that the timing is right because Clubhouse is providing a way for people to meet and network live.
Clubhouse also offers many valuable features and topics to suit nearly every need when it comes to information.
Back to that guy with the blue rope in his hands, it so happens that he was pulling down a 25ft tree that was cut to a certain extent.
As I kept watching, they kept pulling and eventually the tree yielded and came crashing down.
My eyes welled up a bit because I felt a little sad for the tree. I was sobered by the thought that where I live was once a forest of trees at some point.
Over to you, are you already on Clubhouse or are you planning to join at some point?
Announcements
Remember to subscribe to the Success Unscrambled podcast where you will be the first to hear what's happening in the entrepreneurial and digital marketing world.
Your positive review of this podcast is vital to keeping it alive and running for the next 12 – 24 months so please leave a positive review for us on iTunes, Spotify or any of your favourite podcast players.
When I started this blog in 2017, I had a burden on my heart to reduce women illiteracy globally.
Reduce illiteracy among women is a huge undertaking so I have decided to help 1,000 women with their business over the next 10 years to become wildly successful.
That way we can build a strong business network of women who can donate 1% of their profit and together we can help reduce women illiteracy worldwide.
Would you like to be part of this movement? Shoot me an email using alvern (at) successunscrambled (dot) com.
Clubhouse Social Media Related posts