Podcast: Play in new window | Download (Duration: 14:56 — 21.1MB) | Embed
Subscribe: Google Podcasts | Spotify | Amazon Music | Stitcher | Email | TuneIn | Deezer | RSS | More
The Most Effective Editorial Calendar on Trello
There comes a time in your business where organising content will help you scale so a Trello content calendar can help you do this.
When you first got started in business you may have had 8 weeks worth of content ready for your launch date.
However, as time went on you began to realise that the constant content hamster wheel seems like a bit of a drag.
Having to show up every day or week on your blog or social media account can leave you feeling bored.
Let me know if this sounds familiar.
You know how important it is to remain consistent when it comes to promoting your business.
Making consistent sales in your business takes more than doing an infrequent guess appearance annually like the grammy awards.
The ideal scenario is you want to find a way to enjoy the process of showing up regularly.
In this post, you'll learn how to use Trello to plan, create, publish and enjoy the process of content marketing.
Meaningful Social Interactions
Before looking at content ideas or a Trello editorial calendar, I thought it would make more sense to start at the end.
The end of the process happens after you click the publish button.
In other words, I am focusing on the response from your audience including the engagement.
Have you ever connected with someone offline? Do you remember what it felt like?
What made that interaction meaningful? If there is one word that you can use to describe that new found relationship what will it be?
Now think of a time when you connected with someone online, I am talking about the fact that something clicked.
Do you remember what it felt like? What made that interaction meaningful?
In a research paper published by Facebook in 2020, it was found that having meaningful social interactions depended on a few things.
Community ties with that person
Participating in shared activities
Planning activities
Making memories from the encounter
Synchronous engagement
As you can see from the research making connections on social media should involve a meaningful interaction.
It takes more than a passing like or thumbs up.
What is Does MSI Look Like?
As I mentioned above what really matters before you start creating any ideas or content is the end result.
To help you understand this more fully, let's look at a few real-life examples.
A couple of years ago I decided to intentionally reach out to the top 50-100 marketers online for a collaboration.
In the end, 17 of them agreed to collaborate with me on a piece of content.
Since then one of them continues to find ways for us to collaborate on future events.
Looking back on the 5 aspects of MSI you will notice that I made an initial connection with this person covering all 5 areas.
Another great example of this is someone I refer to as a business bestie.
We met online because we belong to the same paid mastermind together.
Somehow, I cannot even remember our first interaction but we got on so well that she and I continue to cheer each other on in business.
As I look back on what happened between us over the last number of months I can see distinct elements of MSI in out relationship.
We even spent 3 hours together on a Zoom call planning content.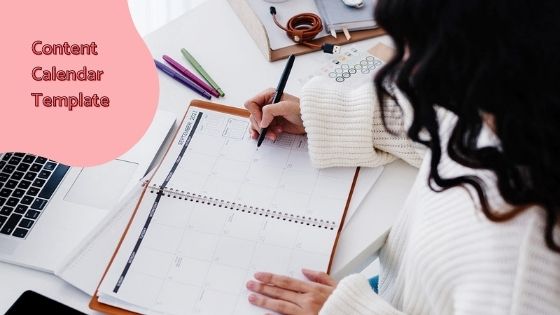 How to Start an MSI with your Content
After looking briefly at those examples you are probably wondering how you can use your content to create MSIs.
Well, it is a lot easier than you think.
Here are a few things you need to consider before coming up with a list of content ideas.
Can you make a new friend?
Does your content hit the heart?
Is your content warm and fuzzy?
Will your content give people aha moments?
Can deep meaningful conversations result?
No matter how many amazing content ideas you generate for your Trello content calendar if it lacks depth then MSI will not happen.
If you want your content to stand out among everyone else's out there it needs to be different.
It also needs to speak to your potential audience on a deeper level.
Most importantly, your content needs to deliver a ton of value and encourage people to save, share and comment on it.
Engagement Hacking
What most people struggle with is how to get a follower from casually viewing your post to actually engaging.
In fact, the secret to beating the algorithms is by doing something called engagement hacking.
This is accomplished by first using meaningful social interactions (MSI).
It is very similar to the actions that affect your business revenue because it takes your followers or viewers from being passive to being active.
Here is a list of those MSIs.
Commenting
Direct messages
Sharing
Saving
Whenever someone takes one of these actions on your content it alerts the Facebook and Instagram algorithms.
The algorithms will show your content more to this person.
A few ways to get followers or viewers to take decisive action on your content is by asking them questions about themselves.
Getting them to tag their friends, asking them to message you for a coupon code and getting them to save your post for later.
In the meantime, if you would like to get your hands on Instagram templates, captions that work check out this content bundle here.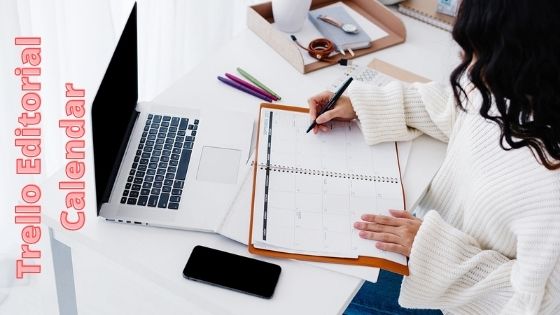 Create a Trello Content Calendar
Now that you know how to intentionally make your content different its time to create a content calendar.
Are you ready?
Step 1 – Set up account
Set up a free Trello account if you don't already have one, create a new board and give it a memorable name.
Step 2 – Outline the flow
Write a list that outlines your current process flow when it comes to creating content in your business.
For example, you may go from content idea to researching to creating and scheduling.
idea -> researching -> outlining -> writing -> images -> scheduling
Take time to consider who else is involved in your content planning and creation process.
Bear in mind the frequency of your content publishing.
Step 3 – Platforms
Make a list of all the platforms that you want to publish on during the next 12 months.
Whether you are publishing on 2 or 10 platforms weekly or monthly it is important to plan for each one.
Popular platforms include:
Facebook posts
Facebook Live
IG post
IG Live
IGTV
IG Stories
Twitter post
Twitter fleets
Periscope
LinkedIn post, stories, videos
LinkedIn articles
Pinterest pins
YouTube videos
It is imperative not to stretch yourself too thin and to ensure that you have sufficient resources to publish or show up regularly.
Step 4 – Create lists
Create all the necessary lists that is needed for your content creation and publishing workflow.
Use the process flow from step 2 to help you create the correct lists.
Step 5 – Adding covers
Feel free to add a cover to each list to help them stand out as headers as it will help with the process flow.

Step 6 – Pretty labels
Use the 'labels' feature to highlight the social media platforms that you will be publishing on in the next 12 months.

Step 7 – List of ideas
Create a list of themes or ideas for the next 90 days for your content calendar plan.
Add the list of ideas to your Trello board.
Step 8 – Calendar
Add the calendar power-up to your Trello board so that you can start securing dates for your content.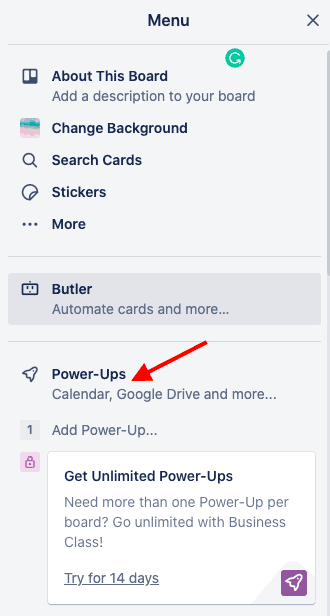 Step 9 – Checklists
Create checklists that you can use to ensure that all aspects of your content planning and creation is covered.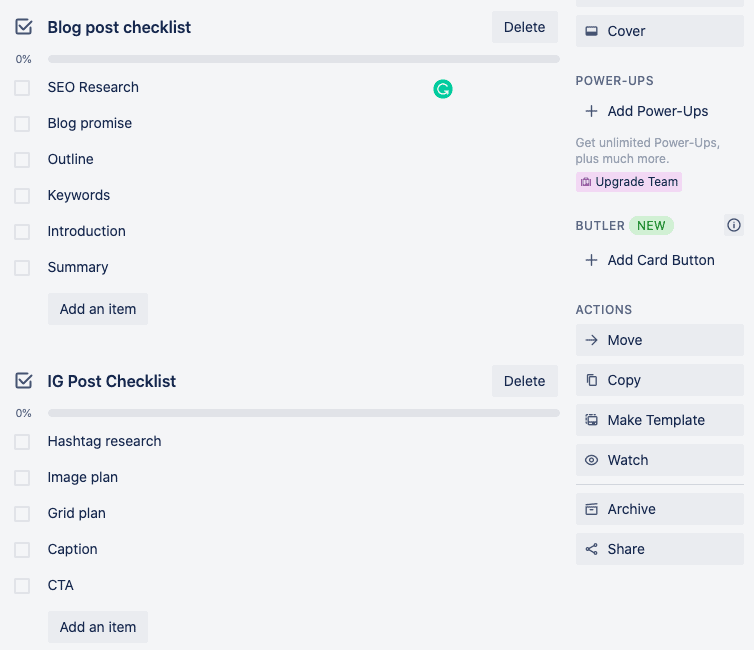 Step 10 – Set Up Your Calendar
Assign due dates to the content so that your calendar will be populated with a brilliant content plan.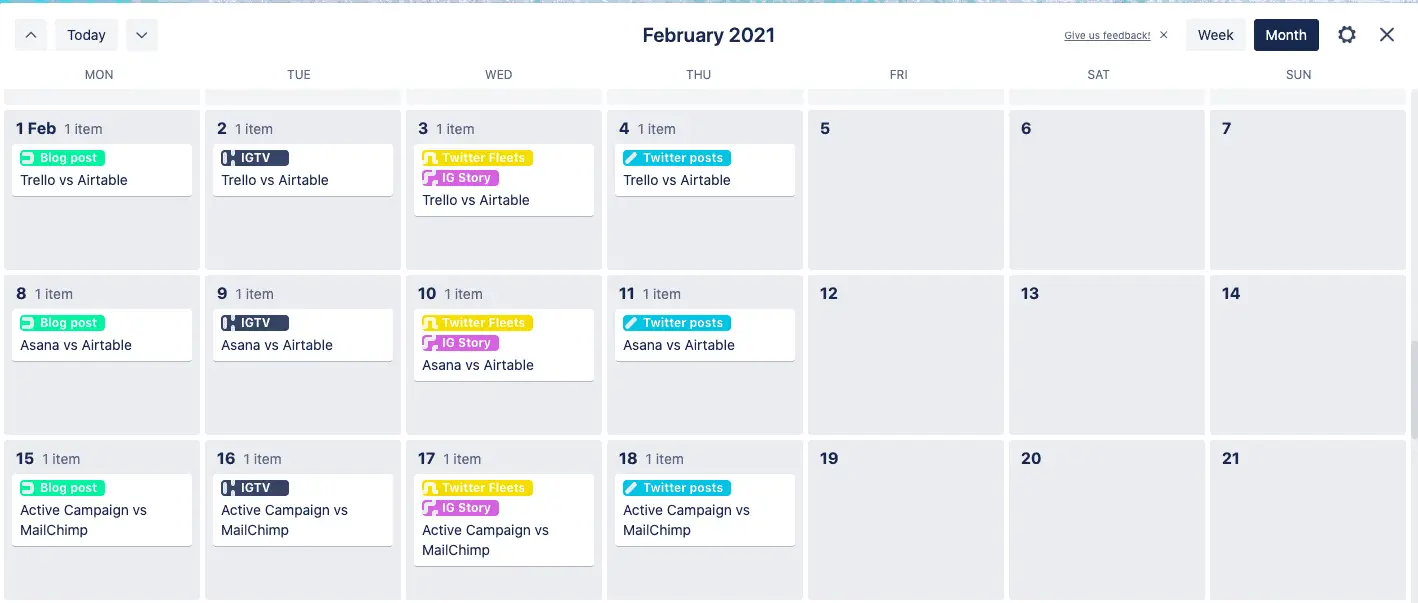 Feel free to use one theme per week as opposed to covering several topics in one week.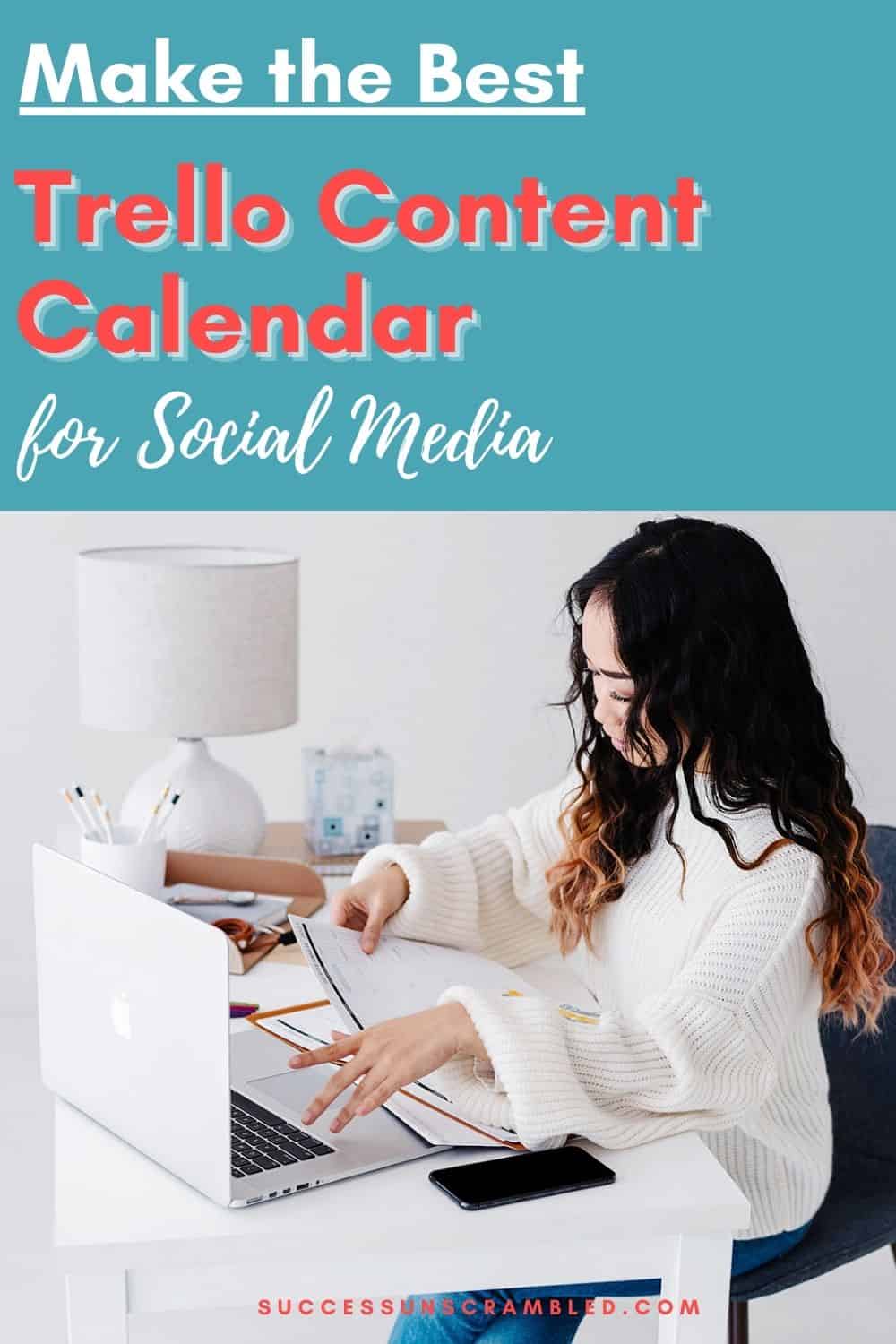 Summary
At the end of the day, the most important aspect of your content calendar plan is the end result.
Ensure that your content is creating meaningful social interactions (MSI).
With this in mind the item missing from each checklist before your post, story or video goes live is the BIG question.
Does that content have the potential to create a deep and meaningful connection with your audience?
If no, what can you do to add another level of pizzazz?
The reason why social media has that name is because it is supposed to be a platform for a more laid back connection.
So ensure that your social content connects with your audience to the point where your are growing a following.
The biggest struggle for most small business owners is coming up with ideas for social content.
If this is your struggle feel free to take a look at the 90-day content bundle here.
Announcements
Whatever you do, remember to subscribe to the Success Unscrambled podcast.
You'll be the first to hear what's happening in the entrepreneurial and digital marketing world.
Your positive review of this podcast is vital to keeping it alive and running for the next 12 – 24 months so please leave a positive review for us on iTunes, Spotify or any of your favourite podcast players.
Did you know that 20% of the world population continues to be illiterate over the last 20 years?
If you think that's surprising here's the shocker, over 75% of those people are women.
I started this blog in 2017 because I had a burden on my heart to reduce women illiteracy globally.
Because this is a huge undertaking I have decided to help 1,000 women over the next 10 years to become wildly successful in their online business through simplified marketing strategies.
That way we can build a strong business network of women who can donate 1% of their profit and together we can help reduce women illiteracy worldwide.
Would you like to be part of this movement? Shoot me an email using alvern (at) successunscrambled (dot) com.
Trello Content Planner Related Posts