Podcast: Play in new window | Download (Duration: 45:27 — 62.9MB) | Embed
Subscribe: Google Podcasts | Spotify | Amazon Music | Stitcher | Email | TuneIn | Deezer | RSS | More
Are you tearing your hair out trying to find the best remote working tools to get stuff done?
Whenever there is a crisis or a sudden need to isolate yourself from others you may realise you need to change the way you work.
In the past, it was easy for you to meet clients or prospects face to face.
The thought of not being able to chat with colleagues in the same office can increase your stress levels.
It is no secret that we are so accustomed to human interaction that to some extent we take it for granted.
Maybe, you are an extrovert by nature and the need to self-isolate has taken you by surprise so what do you do?
In this post, you will learn about 37+ tools that will give you the best remote working software and accessories.
Disclosure: Please note that this post may contain affiliate links which means that if you buy one of my recommended products I get paid a commission for sharing the link at no additional cost to you.  I only recommend products that I have tried myself and have experienced success.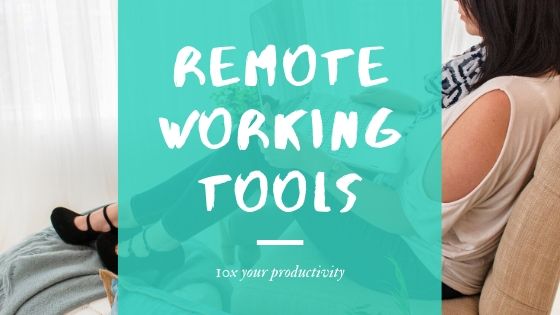 Why Consider Remote Working Tools?
Earlier this week I was scanning posts and comments on Facebook when I noticed a single mother of a 4-year old looking for help.
She is still doing her same workload as if she were in the office but she is finding it difficult.
You see, this lady has to conduct conference calls, webinars and prospecting calls while still minding a young child.
It got me thinking if I were in her situation what will I do.
Bearing in mind that I have only 24 hours a day, having to work 8-10 hours a day, all while minding a 4-year old.
What I would do if I were in her shoes is to work smarter and use the best tools to aid that process.
Of course, I will also find activities for my 4-year-old that will keep them busy during those important business interactions.
Working smarter does mean that I will now need to try and accomplish more business tasks in less time.
How to Work Smarter
At this point, you are probably thinking how on earth will you reduce your working day from 10 hours to 6?
The secret to this is to first find those tasks that can be completed in less time.
Also, if there is anything that can be done in advance I will get that done while my child is asleep.
Finally, if there is anything that can be batched together then I will get those completed in huge chunks.
Here are a few examples of what I mean.
Use an app to take notes during meetings (manual notes slows down calls)
Reduce meeting times from 60 minutes to 35 minutes
Create templates for each type of report or document that is repetitive
Record every call, webinar or meeting using two different software (stuff happens so be prepared)
Avoid unnecessary meetings where possible
Prepare a strict agenda and get approval from all parties
Ensure that everyone is aware that your time is precious
Outsource labour-intensive, repetitive tasks if possible
Delegate other team members to complete non-core items
As you can see just by making a few small adjustments to the way you approach your day allows you to free up precious time.
37+ Remote Work Tools that Make You Look Clever
Let's spend some time looking at the best remote working tools to help you cut time by 50%.
The categories of these tools are as follows:
Mindmapping
Video creation
Video editing
Keyword research
Generating headlines
Writing
Social listening
Image creation
Video calls/conferencing
Project management
Team collaboration
Social Media Marketing
Client contracts
Productivity at work comes in so many different formats that it is difficult to know what you need until you are faced with the problem.
Mind mapping
Over 10 years ago I was introduced to the concept of mind mapping.
I have to confess that at the time I was not ready to appreciate the benefits of using it until 3-5 years later.
Many believe that you should use two different tools for mind mapping and brainstorming but it really depends on the way your brain works.
The three tools I found useful for mind mapping are these 3 applications.
1. Xmind
By far, my all-time favourite because it is so easy to use and it previously had a desktop version that synced with the cloud version but that is no longer available.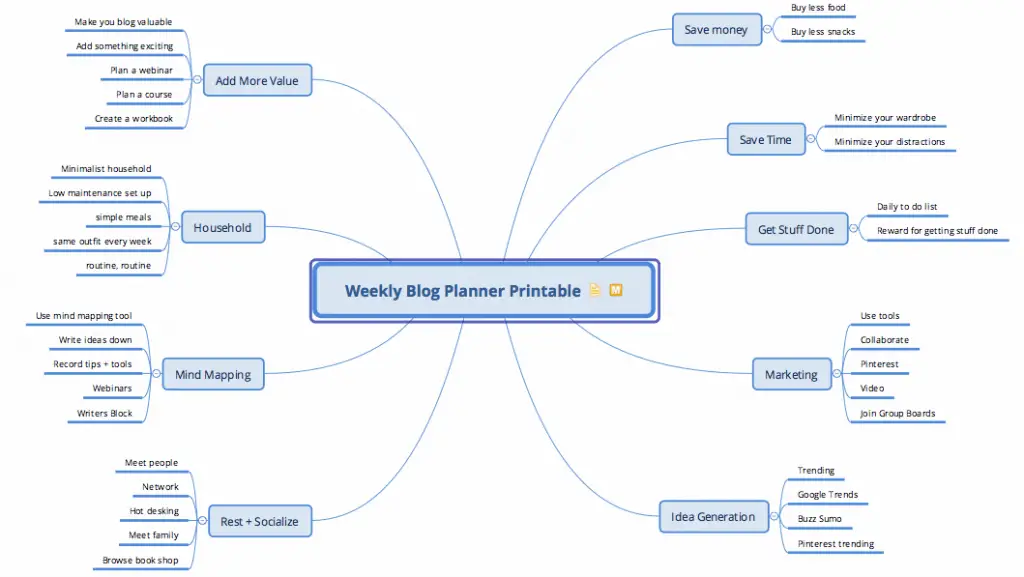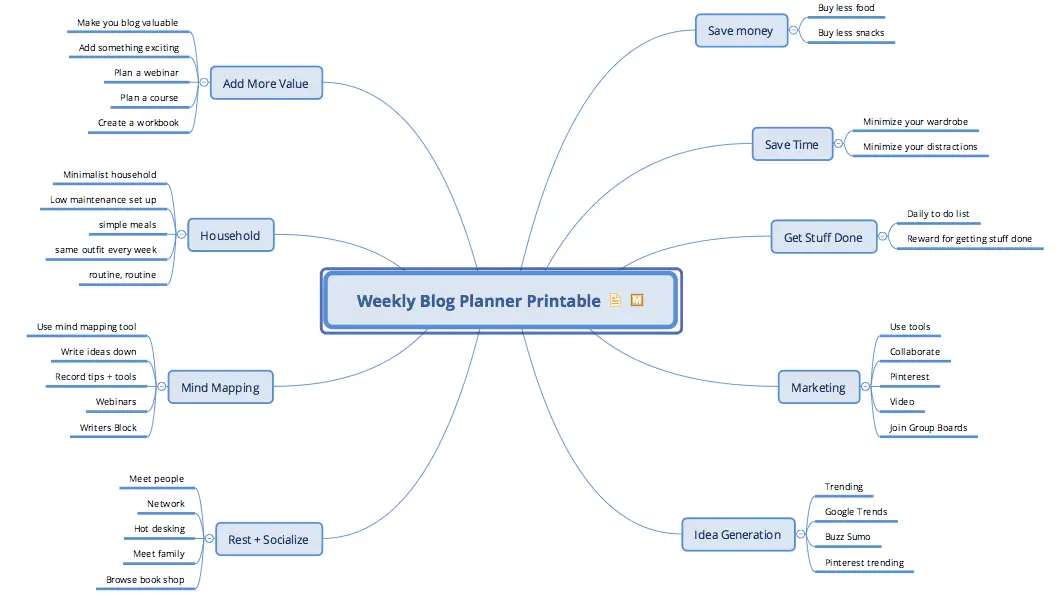 In the above example, I wanted to create a printable so I created a mind map version of what I needed to include which really helped me immensely.
2. MindMeister
If you prefer a colourful version with lots of bells and whistles then you may prefer to use MindMeister.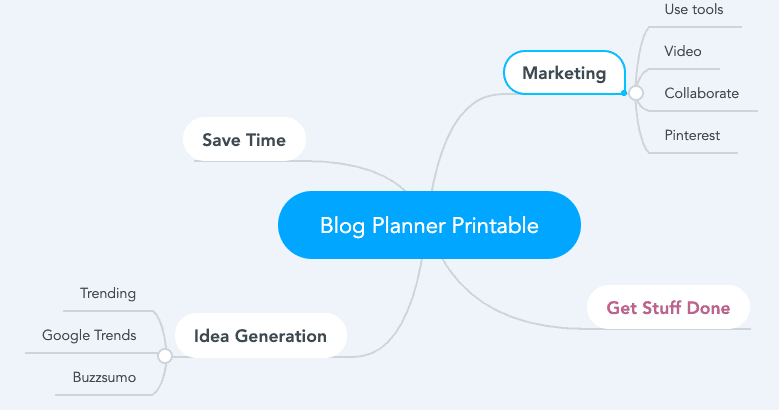 3. Coggle
Another colourful mind map option is Coggle and as you will see it has a more corporate look and feel to the way it works.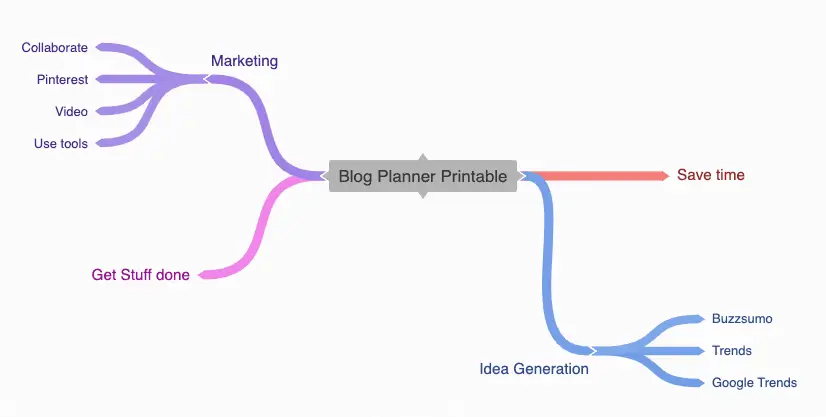 There are several other options available on the market but these three are the ones that I am recommending for now.
Video Creation
As you probably heard by the year 2021 it is expected that video marketing will account for over 80% of content marketing activities.
Video can be created in several different formats and types. For example, there are vertical and horizontal video.
There are also talking head, animation, screen recording and many other types of video.
For the purpose of this post, I will highlight at least one software to address at least 3 video types.
4. Filmic Pro
Ever since I learned about this app a few years ago I have found it superior to the standard video capture app on the smartphone.
It is available both on iOS and Android and it just gives you a whole lot of professional features that are not even available on a DSLR camera.
I even gifted a copy to my daughter to do her YouTube videos.
5. QuickTime
A great app for capturing a recording of your screen giving you the ability to simply use earbuds to get started.
This is only available on a Mac but a great alternative for the PC is something called Loom which is a Chrome extension.
Screencast-o-Matic can also be used as a great option to do a screen capture from your computer.
If you are creating high-quality courses also consider Camtasia.
6. Doodly
A popular solution that is used by amateurs and professionals to create animated videos is Doodly.
Creating an animated video can take a lot of time when compared to creating a talking head video.
Video Editing
After creating those videos you will be happy to know that there are several applications available to help you with editing.
I have to say that the task of video editing is not for the faint-hearted because it can take a lot of time.
It can bring a level of frustration that you never knew existed until you have completed your first few projects.
7. Filmora
A great application that is available on both Mac and PC is Filmora. Although it is not free it does come with a one-time price tag.
I personally use it weekly to edit podcast and videos and it just gets the job done. The version I currently use is Filmora9.
8. Adobe Premiere Rush
If you are looking for something a little more upmarket where there isn't a huge learning curve then consider Adobe Premiere Rush.
One thing it has over Filmora is the ability to easily make animated social posts and to seamlessly resize video.
The audio editing is also at a higher level compared to Filmora. The drawback is that the pricing is monthly.
9. Adobe Premiere Pro
Anyone who is seriously into their content creation will tell you that they use Adobe Premiere Pro for all their video editing.
I did a training on this software recently and I can tell you that the software is top of the class. The cost drawback is that the pricing is monthly.
The huge drawback will be that the learning curve can be quite steep.
Keyword Research
Whenever you decide to create a piece of content one of the things needed to help you pick winning topics is keyword research.
As you probably know there are tons of different tools available on the market.
However, here is a list of keyword research tools that will help you save a truckload of time.
10. Keyworddit
This tool can be labelled as somewhat genius because it not only gives you popular terms used on one of the world's most visited platforms, Reddit.
It also has a link to the context of where it was used and how it was used.
In other words, it drops you right in the middle of an ongoing conversation.
11. Seed Keywords
My next obscure keyword research tool is Seed Keywords because it really brings you back to the basics.
If you ever found yourself using jargon or industry language but you need to really 'dumb things down' for the layperson to understand then this is the tool you need.
12. Exploding Topics
If you ever wanted to get ahead of the curve and find topics that are about to become super popular then this is the tool you need.
According to their tagline, they help you find "rapidly growing topics before they take off."
You have the ability to search for topics by time period like 1 month, 6 months, 1 year or even 5 years.
You can filter your search by category as well.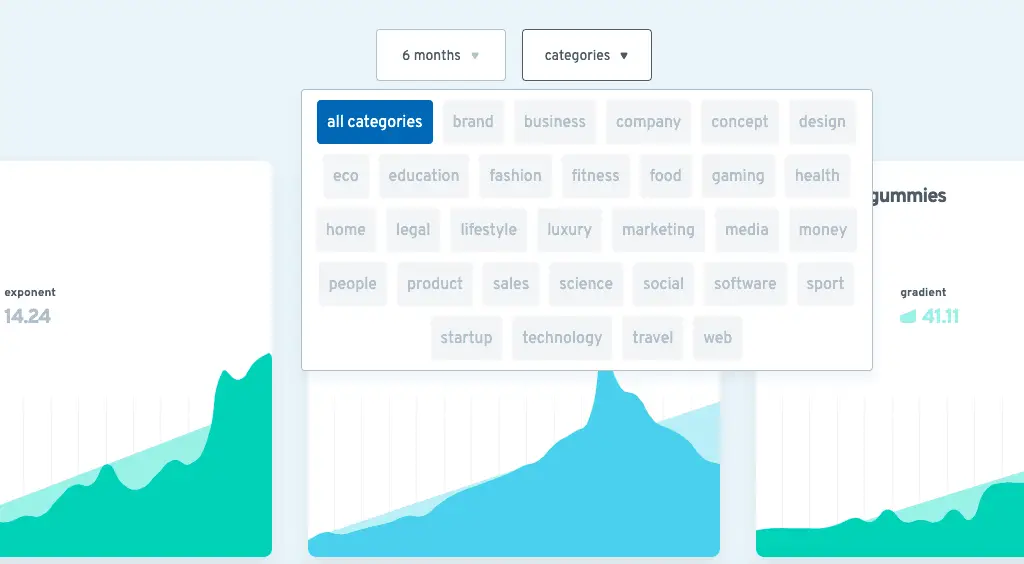 Generating Headlines
If you have been in business or blogging for some time you understand the importance of creating headlines or titles that get the click.
As we are not all born copywriters, it means that we need to use tools available to us that will help.
Here are my favourite three headline analysis tools.
13. Co-Schedule Headline Analyzer
A tool created by the folks at Co-Schedule this can help you to take your headlines to a new level.
You simply need to place your original headline in the search bar and keep tweaking it to get a score above 70.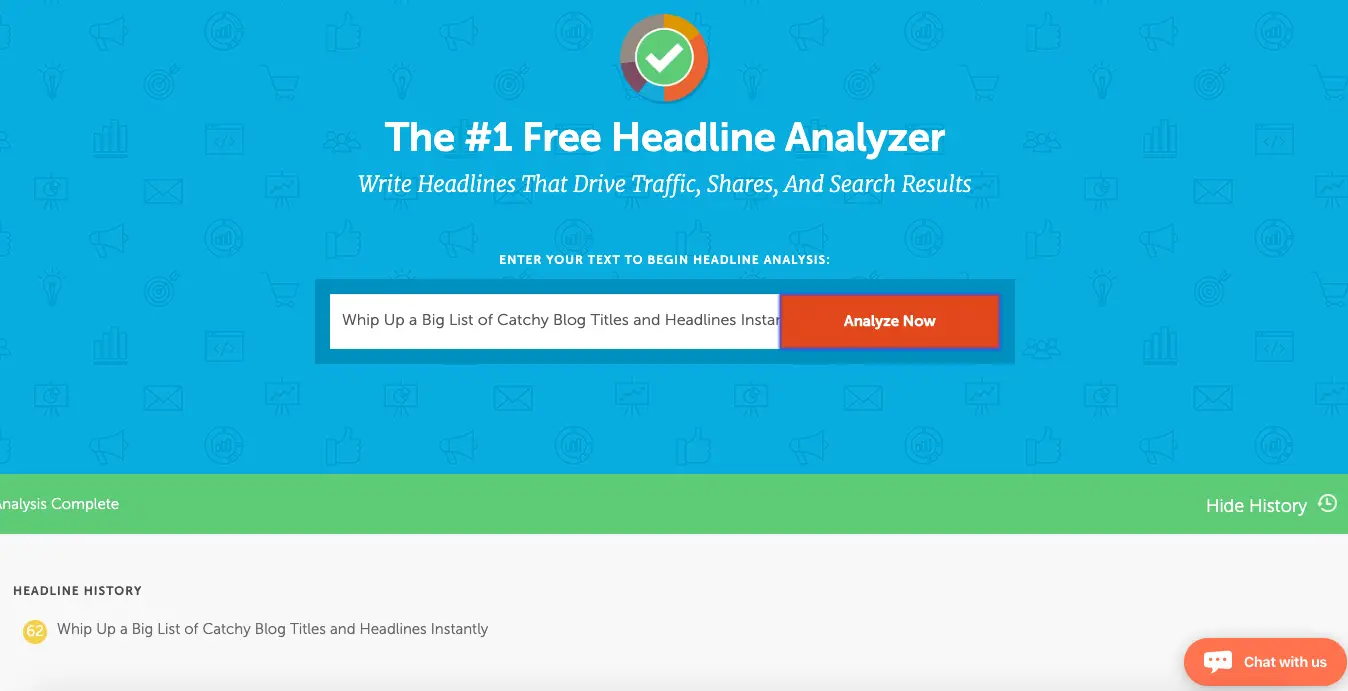 14. Advanced Marketing Institute – Headline Analyser
This remote working tool is very similar to Co-schedule's but you often get different results when using the same title for both.
One feature I like about it is that it tells you the type of audience that is more likely to respond to your title.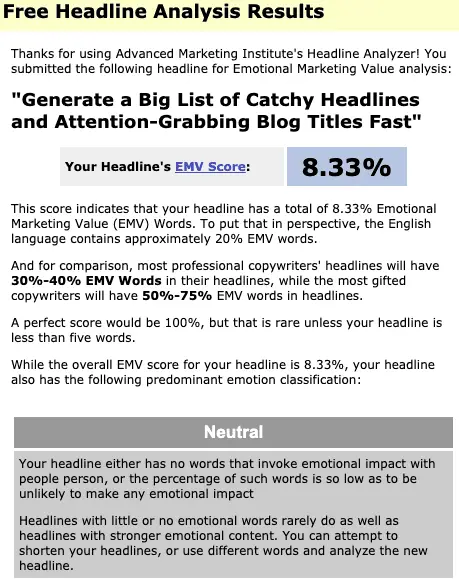 15. Portent Headline Generator
The final tool that I will leave with you today is the Portent Headline Generator.
I have to warn you that it is a bit over the top but the reason I like it so much is that it helps me to think outside the box.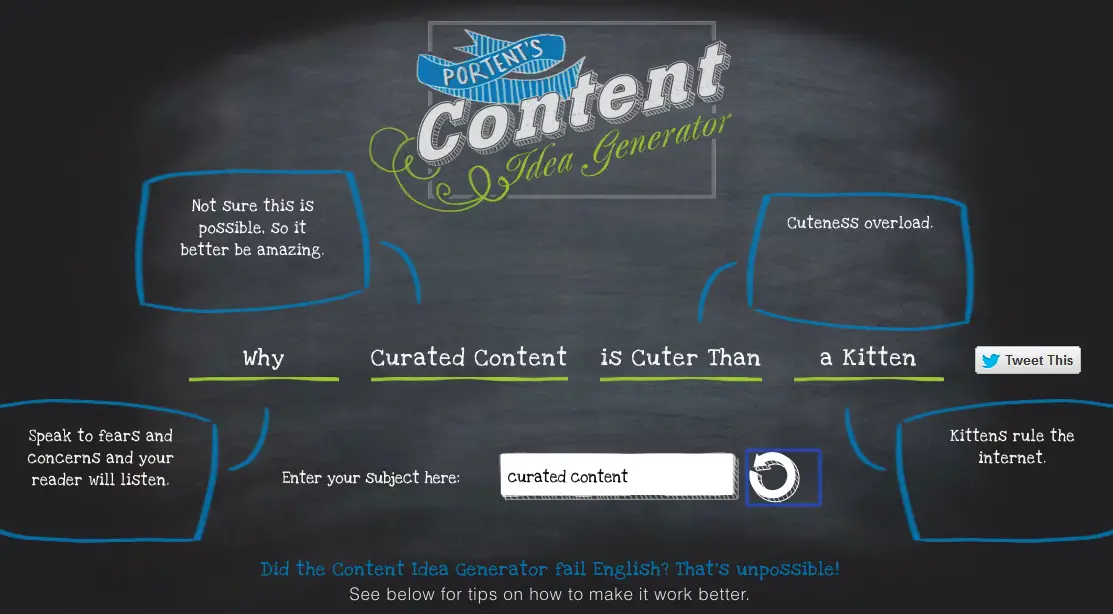 Writing
Many writers have different habits to help them achieve their goals.
I have heard many say that they prefer a plain screen without sidebars as they find those distracting.
Others need to have everything else on their computer switched off in order to get anything done.
Whatever your preference I am sure that there is a tool for every writing need.
Here are 3 tools that you may like.
16. Airstory
In case you never heard of Airstory it is a free tool developed by the folks at Copyhackers that helps you to achieve your writing goals.
The one feature I like about Airstory is the ability to do research online and save it to your chosen project via one of the best Chrome extensions for marketing.
17. Evernote
Another great tool that helps writers to do their writing from any device.
Evernote is that cool tool that segments your writing by projects and you have the ability to see all your work at a glance.
The major drawback is that you have a limited about of data allowance available before you need to pay to use it.
18. Simplenote
A great alternative to Evernote is a tool called Simplenote.
The layout of the app is very similar to the layout on Evernote and it is really easy to use.
You will be happy to hear that it is available on iOS and Android as well as PC and Mac. It is also 100% free for now compared to Evernote.
Social Listening
A great way to keep your fingers on the pulse of what is happening on social media is by doing some social listening.
If you never heard this term before it simply means listening to your audience and competitors on social media.
This can be accomplished using hashtags, topics, engagement and keywords.
Here are three tools that you can start using right away.
19. TweetDeck
If you want to get the low down about what's happening in your niche on Twitter then TweetDeck is one of the remote working tools for you.
It not only gives you real-time results on specific accounts, keywords and hashtags but you also get to see trending hashtags in real-time.
Here is what it looks like.

20. TweetReach
So this is going to sound confusing initially but the next tool is TweetReach and as the name suggests it measures the reach of a specific hashtag.
It allows you to see the number of people who saw the hashtag that you used.
21. Hootsuite
A tool that is very similar to TweetDeck is one called Hootsuite. It allows you to do social listening across several platforms.
You can integrate it across 6 social platforms including Twitter, Instagram, LinkedIn, Facebook, YouTube and Pinterest.
Here is what it looks like.

Image creation
Although the need to use videos in marketing continues to grow it is important not to neglect the usefulness of images.
You probably heard or saw recommendations from several bloggers and small business owners about which tool is the best.
After using several different applications here are my top 2.
22. Canva
Canva comes with both free and paid versions with many advantages for using the pro or paid version.
Personally, I find that using the free version continues to be an attractive option as it is so flexible about what you can do with it.
Yes, it does come with many free templates as standard and you can also purchase templates from many places.
My preference is to tweak what is already working on Pinterest or other social platforms.
23. PicMonkey
A remote working tool that is great for creating images that have awesome quality is PicMonkey.
There isn't a free version but it does give you a lot of flexibility in terms of what you can accomplish.
Video Calls + Webinars
Since it may be difficult for you to meet face to face the next best option is to do a video call.
The three things to look out for when choosing the best service for your needs are the following:
Reliability
Integration features
Price
There's nothing worse than having a service that goes down in the middle of a presentation or where the streaming has a huge lag.
This is why my preference would be for these services.
24. Zoom
I have used several video conferencing software over the years including Cisco Webex, GoToMeeting, Google Hangouts and Skype.
The truth is that the only one that did not give me an embarrassing experience is Zoom.
This is the reason why I have it at number one. It also allows you to broadcast to Facebook Live but that option is pricey.
25. BlueJeans
A new kid on the block compared to the other 'heavy hitters' BlueJeans does offer a very attractive price at entry-level.
Unlike Zoom there isn't a free level at 40 minutes per meeting but their entry-level price will not break the bank either.
The good news is that you have the ability to broadcast to Facebook Live as well.
Project Management
One of the requirements when working from home is the need to collaborate on projects.
In the last 5-7 years, there have been so many applications launched that focuses on project management that I wonder if there isn't too many of them.
Here are a few of my favourite apps.
26. Trello
Nearly everywhere you go everyone is talking about the amazing application called Trello.
The free version does offer a lot of features that you can use to run an entire client project.
However, the paid version has its advantages with their secret weapon called Butler.
27. Asana
The tool that stands right next to Trello, in my opinion, is Asana. The user interface is easy on the eyes and it is easy to use.
You are given two different layouts to run your projects including the Kanban (boards) and standard list views.
Assigning individual tasks on a project to team members is super simple and they get notifications when the task is due for completion.
28. Airtable
I use Airtable all the time and it is probably the most powerful tool that I have used in a long time.
It covers a wide spectrum of project types and it even comes with ready-made templates so you can get started right away.
Their spreadsheet features are also pretty impressive.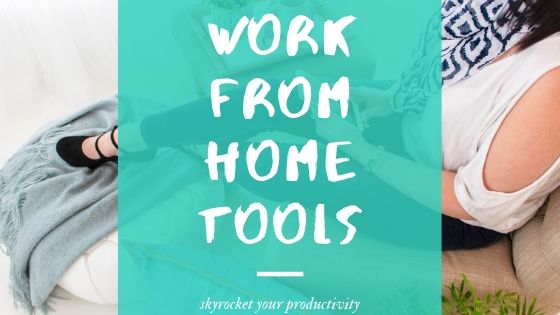 Team Collaboration
One of the important aspects of working in an organisation is the ability to collaborate within a team environment.
This environment is difficult to foster when everyone is working from their own homes.
If you have ever been exposed to the stages of team building you now that every team goes through 4 phases.
These phases include forming, storming, norming and performing.
In order to get to a world-class, high performing team there must be a way for everyone to communicate and collaborate remotely.
Here is a list of remote working tools that are ideal to help teams to successfully go through the phases.
29. Slack
In the last 5-7 years, there is one tool that took the world by storm due to its ability to help a wide range of team globally.
Slack launched on the market in 2013 and has grown from strength to strength over the years as a disruptor of status quo tools.
I used it in a number of team environments and I must say that I was absolutely blown away at its capabilities.
It integrates with nearly every software that you can think of including Loom, Zoom, BlueJeans, Asana, Trello, Dropbox, Gmail, Evernote, Google Analytics and a lot more tools.
30. Flock
Another collaboration tool that was launched in 2014 that also caters for many different types of teams.
They cater to engineering, sales, marketing, product, HR and customer support.
The look and feel are very similar to Slack and you can see a side by side comparison here.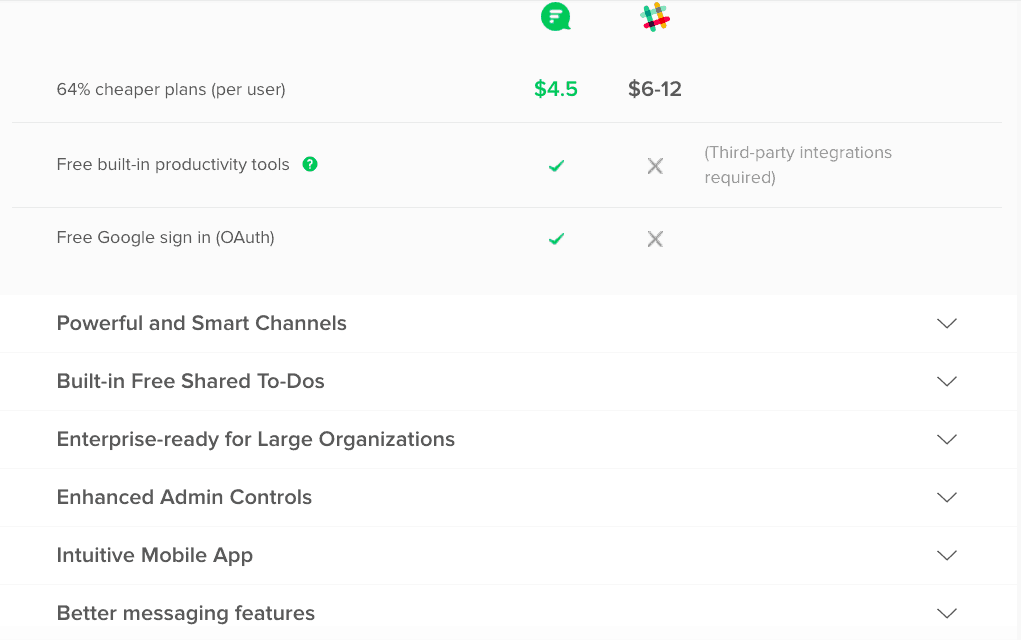 Flock does not offer a free version of its collaboration platform.
31. ClickUp
This tool is on fire! I found out about ClickUp recently and it must be the most adorable project management and team collaboration tool on the market.
It allows you to do project management, collaboration, goal tracking, time tracking, spreadsheets, docs and even screen recording.
There is a free version available that allows for up to 100MB of storage space.
Social Media Marketing
During a crisis, the first budget that gets reduced or cut is the one for the marketing team.
It does not make sense to cut your marketing budget completely as a business or blogger because you need website visitors and leads to keep coming in.
A great way to keep your funnel full is to use social media marketing tools to keep your head above water.
The other extreme is to do what only a few others are doing which is to ramp up marketing budgets and activities to keep ahead of the curve.
Here is a list of awesome social media tools that you can use. You can also get great images, templates and captions for your social campaigns here.
32. Planoly
Nearly everyone who is successful at Instagram marketing believes that Planoly is the 'bee's knees' to get the best ROI.
It allows you to visually plan your feed so that your Instagram profile is esthetically pleasing to your potential audience.
A new addition to their tool is the ability to plan your Pinterest pins. This feature is limited to photos only.
The good news is that it is free for up to two social media profiles I have a great resource comparing Later vs Planoly here.
33. Tailwind
A direct rival to Planoly is the popular Tailwind app which also caters to both Pinterest and Instagram.
I have a number of years experience using Tailwind and I can tell you it is a very good solution for Pinterest pins.
You can take a look at my very detailed review of Tailwind here.
34. Missinglettr
A new addition to my arsenal of social media scheduling tools is one called Missinglettr.
Ever since I started using it I have seen a remarkable increase in the engagement of my social posts.
What I really like about it is that you can schedule posts for an entire year in advance just by repurposing your existing blog posts.
For a detailed review of Missinglettr go here.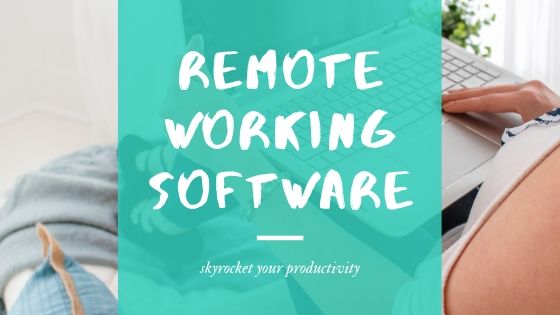 Client Contracts
Recently I needed to print-off a document for someone to sign and I was going crazy because the libraries all closed for the crisis.
I did not have a printer at home so I was forced to find a solution online.
The person who needed to sign the document did not have a computer at all so I needed a mobile app that allowed for e-signatory.
Thankfully I found one but it got me thinking what if most of your customers were in the same scenario what would you do?
Here is a list of applications that allow for online client contracts.
35. Dubsado
I have heard so much about this software and although I have not had a chance to evaluate it to the full capacity, it looks awesome.
It not only gives you the option to manage client contracts but it comes with features for CRM, scheduling, accounting and reporting.
The fact that you can use it to create workflows is such a huge time saver as well.
There is a free trial (version) for up to 3 clients which is great news for everyone.
36. And.Co
Another tool that I have heard about is And.Co which is a very simple solution to help you manage client contracts.
You have the ability to connect it with your bank accounts and even accept payments via Paypal and Stripe.
As far as I am aware it does no support tax requirements for European businesses.
37. 17 Hats
The last client contract management solution I like is the one called 17 hats.
As the name suggests it gives you the ability to manage several workflows in your small business from one solution.
If paying monthly it is the one solution that has a higher cost price compared to Dubsado and And.co
It is possible that the benefits far outway the cost if you need to use it for a wider team.
Other Software
Here is a list of other software that may not necessarily fall under any of the categories above.
They still save you time and money in the long run.
38. Otter.ai
An awesome tool to take meeting notes automatically and it even helps with transcribing audio files.
You get 600 transcription minutes free every month.
39. Quicc.io
If you are looking for a way to quickly add captions to your videos at a low price then you need to check out Quicc.io
You can easily improve the engagement on your video 10 fold just by adding captions.
This is very useful for videos on social platforms.
40. Skitch
If you need to have a quick way to add annotations to images or even shoot quick annotation videos on the go then Skitch is your tool.
It is available on mobile and desktop with the desktop version having image blur features as well.
41. Zubtitle
Depending on the complexity of your requirements when it comes to making captions you may want to look at Zubtitle.
It is similar to Quicc but has more advanced features like giving you the ability to add top titles to video and video resizing options.
42. Auphonic
If after recording a video or podcast you realise that you need to improve the sound or make it more level then take a look at Auphonic.
It comes with 2 hours of processed audio free every month so you can easily tidy up 30 minutes of audio files every week.
43. Google Docs
Paying for Microsoft Office software may not be an option for you if you are on a really tight budget.
The good news is that Google Docs is still free and allows you to collaborate with others on your team.
I have personally used the sheets, slides, forms, presentations and drive and they offer great value for money when you need to work smarter.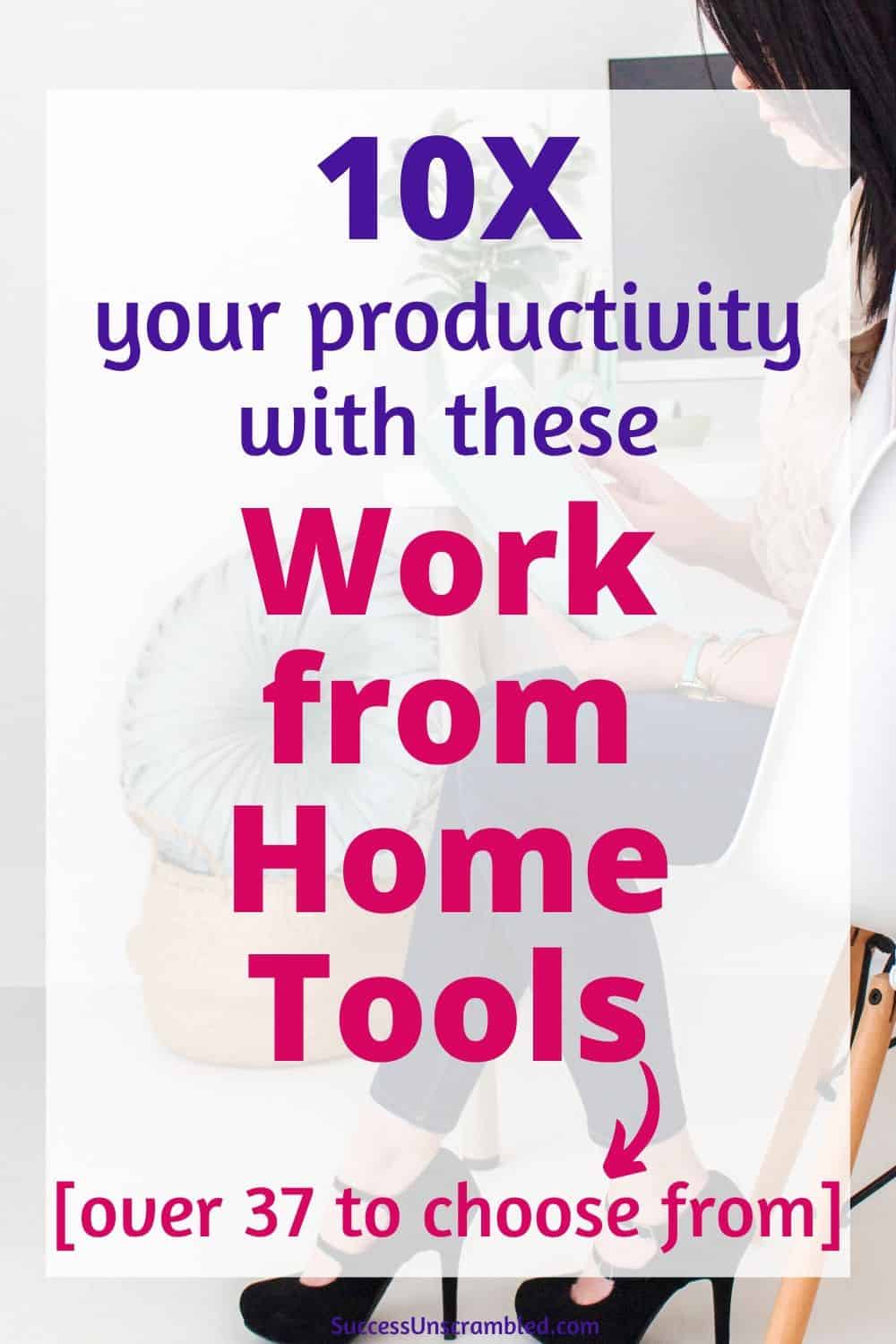 Summary
Just because the way we work and communicate is no longer the same doesn't mean that we should suddenly 'throw in the towel'.
As humans, we are resourceful. You and I are lucky to be living at a time when working online is not at all alien.
The key to becoming successful during a recession or global crisis is to embrace change and find a way to work smarter.
There are so many companies offering solutions that can be used to accomplish daily tasks in less time.
It means less time at the computer and more time spent with our family and those we love so dearly.
What has been your experience finding remote working tools and which is number one on the list for you?
Share your thought in the comments below.
Announcements
Remember to subscribe to the Success Unscrambled Podcast where you will be the first to hear what's happening in the entrepreneurial and digital marketing world.
Your positive review of this podcast is vital to keeping it alive and running for the next 12 – 24 months so please leave a positive review for us on iTunes, Spotify or any of your favourite podcast players.
Do you need to find a work from home job as a beginner? Grab this great resource offering over 47 options.
Ever wanted to start a business from home with low investment? Check out these options that let you start a business this weekend.
Are you looking for ways to save money so that you can generate a budget for a long term dream? Grab this resource here showing things to stop buying.
At Success Unscrambled my focus continues to be helping ethical female entrepreneurs to become more visible online.
They can accomplish this using clever marketing hacks and loopholes that others have not found just yet.