Podcast: Play in new window | Download (Duration: 55:06 — 76.2MB) | Embed
Subscribe: Google Podcasts | Spotify | Amazon Music | Email | TuneIn | Deezer | RSS | More
Are you interested in work-from-home jobs for beginners with families?
Every few years there seem to be issues that affect cities or countries where a country needs to go on lockdown.
Let me know if this sounds familiar…
You know that job security is no longer promised and every year you wish that you can find a work-from-home option.
One that is recession-proof, crisis-proof and even one that would replace your full-time income.
The truth is that it is very difficult to find something that is recession-proof.
Except for rental properties which continue to be a good investment during a recession.
However, finding a work-from-home job or opportunity, where you don't need to meet people face-to-face, is great, especially during a crisis.
In this post, you will learn about over 47 different jobs that you can do from home even with social distancing.
Disclosure: Please note that this post may contain affiliate links which means that if you buy one of my recommended products I get paid a commission for sharing the link at no additional cost to you.  I only recommend products that I have tried myself and have experienced success.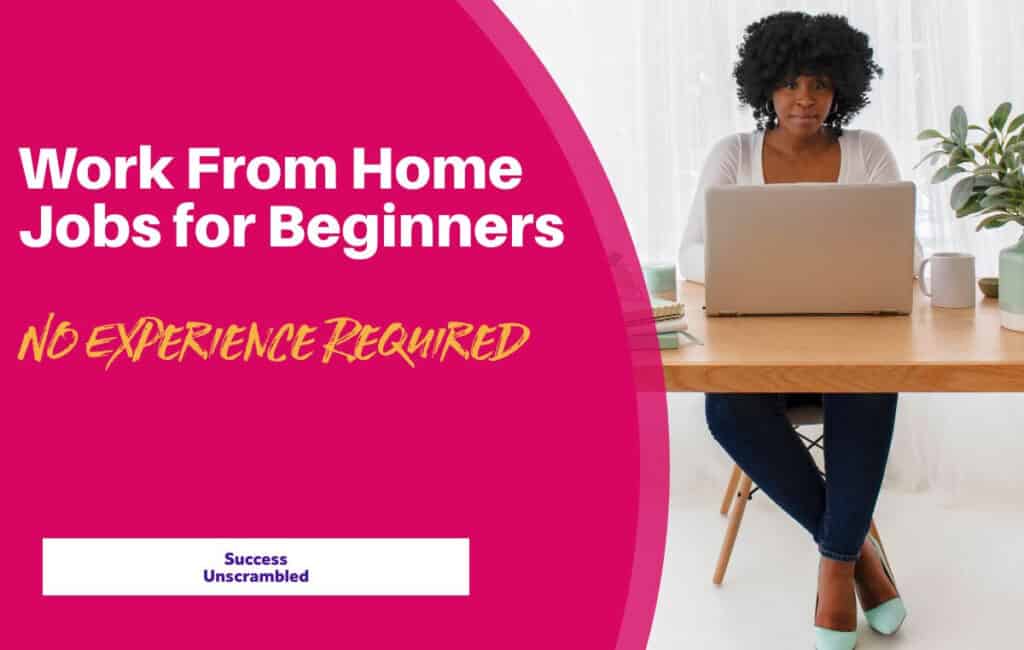 Benefits of Working From Home
If you never considered working remotely or from home before this should help you understand the benefits.
People who have young children, health-related challenges, disabilities or even a child or children who needs to be homeschooled will get this right away.
You see we live in a world that is not at all perfect which means that we are all different and unique in one way or another.
This diversity means that some of us are unable to do a 'regular' 9 to 5 job so a work-from-home option would be more suitable.
If there is one thing I wished for when my children were younger, it is the ability to work remotely while spending more time with my children and loved ones.
The Internet and the advancement of technology over the last 20 years are making it possible to work from virtually anywhere in the world.
Work-from-home benefits include:
A shorter commute to your home office
The ability to supervise older children at home
Reduced childcare costs
Low-cost meals
Better work-life balance options
Flexible work hours
Lower stress levels
As you can see the advantages of working from home can be quite attractive for families with children.
Work From Home Equipment
The thought of working outside of a standard office can be quite daunting for some people as they are unsure about what is needed to get started.
At this point, it is pretty obvious that not all jobs can be done remotely or from home.
There are only certain kinds of jobs that require a few basic items which means you are ready to get started.
Here is a list of those items:
A modern computer (Mac or PC)
VOIP telephone
Headset with microphone
Office standard desk
An ergonomic chair
Great natural lighting (where possible)
Fast Internet access
Some roles would require you to make and receive calls while others only require email and text message communication.
You may come across some that need you to have a physical landline number as well.
It is important for you as an employee or freelance worker to have the best equipment to avoid health and safety risks.
When it comes to software or services this big list of remote working tools will cut your working time by 50%.
47+ Work From Home Jobs
Let's spend some time looking at over 47 jobs that you can do from home even when faced with a national crisis.
Many of them would have suggested places where you can start applying right away so that you can get started in a matter of weeks.
1. Video Editing
Small business owners are aware that in order to be competitive in today's market they need to use video in their marketing mix.
The biggest challenge that small businesses face is finding time to edit those videos to perfection.
This is where you come in as someone who can potentially help them.
All you need is video editing software like Adobe Spark, Adobe Premier, Filmora or iMovie as well as the video to be edited by the client to get started.
It will help if you have experience editing videos or the ability to craft a great story.
Here's a great source for video editing jobs.
Key Information – Video Editing
2. Video Creation
The demand to create animated videos is huge simply because there are so many people who are introverts.
These videos are also known as explainer videos or whiteboard animation and they have the ability to keep your client's audience engaged.
They prefer not to do a 'talking head' video but to have the story of their brand told via animation.
If you are good at animation then this is the perfect way for you to generate an income from home.
A great application to get started is Doodly. This site offers tons of video explainer jobs.
Key Information – Explainer Video Creation
3. Video SEO
This may seem strange but simply placing a video on YouTube without optimising it to get views is not the best idea.
You see unless you are a celebrity or have an established tribe it does mean using a digital strategy known as search engine optimisation to get your video seen.
If you have experience or knowledge about how to get YouTube videos found then this is the perfect gig for you to choose.
There is the option to take a quick course so that you can learn how to do this for your clients.
Key Information – Video SEO
4. Food Photography
If you love food and photography then this may be of interest to you.
There is a high demand in the market for better photos of food. Therefore if you feel that this is something that you can do then go for it.
It does require some specialist equipment like great lighting as well as food photography props.
A number of specialist tripods are available to take photos at the best angles.
Taking a food photography course to brush up on your skills is also a great idea.
You can easily start charging $100.00 an hour just ensure you invest in a number of visually appealing props.
Key Information – Food Photography
5. Product Photography
This is very similar to food photography but the major difference is that you will not need to cook any food.
A small business will send you different products for you to photograph at home and all you need to do is send them the images.
Like food photography, you will need to acquire a number of specialist photography props.
It will boost your confidence to take a product photography course to give you the best results for your clients.
Join this company to get hired to do photoshoots.
Key Information – Product Photography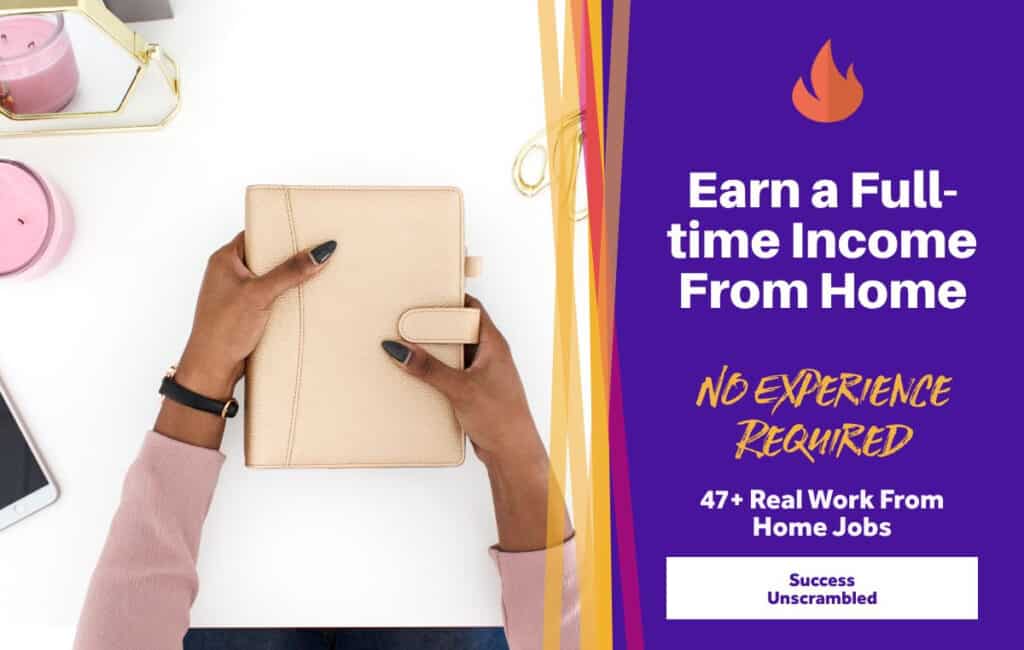 6. Writing
The area of writing can be quite broad so it would be up to you to decide if you would like to focus on a few niches.
This is a good work-from-home job for beginners because you don't need a lot of experience writing.
There are so many writing styles as well as niches that there will be a small business that needs your skills.
Be sure to use a tool like Grammarly to help you with editing but other than that you can get started right away.
The current going accepted rate is between 0.10 to 0.15 per word which means a 1,000-word article will be $100.00.
Here is a great place to find competitive writing jobs.
Key Information – Writers
7. ProofReading
It may surprise you but there is quite a high demand in the market for people who can read other people's work and make corrections.
This is especially useful if a small business needs someone to proofread an article or post that is 5,000 or 10,000 words long.
Can you imagine writing a 5,000-word post and spending time editing it?
I can tell you, from experience, that the task can be very daunting as I did it only a few months ago.
If you have a keen eye for grammatical errors and have all the nouns and adjectives in their correct places then this is something you'll enjoy.
Get started by watching this introduction to proofreading course here.
Key Information – ProofReading
8. Copywriting
Do you have a way with words? There are so many people around the world with a natural gift of copywriting.
In case you have no idea or never heard of copywriting it involves being able to sell a product or service using words.
If you ever read a sales page, an advertisement or purchased anything online then you have been exposed to copywriting.
It is the one thing that businesses use to get more new customers.
This skill is in high demand and your customer or clients can expect to pay $5,000 for a single sales page.
Key Information – Copywriting
9. Blogging
The one work-from-home opportunity that has the lowest barrier to entry will have to be blogging.
All you need to get started is a website and the ability to write new blog posts on a regular basis.
If you always wanted to get started with blogging but you are not quite sure where to start here are a few resources for you.
As you can imagine there is no experience required to get started but you will need a lot of patience and perseverance if this is all new to you.
Key Information – Blogging
10. Foot Photography
Do you have lovely feet? Every time I think about this work-from-home job for beginners all I can think of is the Eddie Murphy movie.
Have you heard of the movie called Boomerang where he is looking for a woman with beautiful feet?
Well, if you have beautiful feet and shoes there are many businesses looking for images of feet.
Yes, there are some people who have what is known as a fetish for feet but I am not referring to that as a job.
Here are a few ideas of what I found on Pinterest.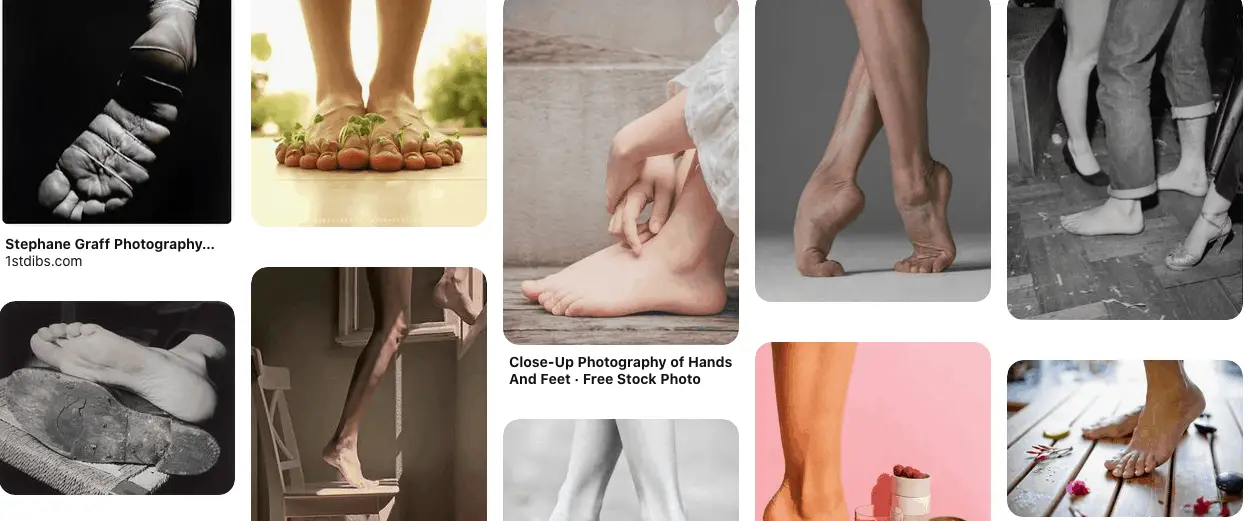 Key Information – Foot Photography
11. Calligraphy
While I was a child I really enjoyed writing beautifully for many years.
I do remember my aunts and uncles commenting on how beautiful my handwriting was back then.
Now, my handwriting is absolutely terrible or non-existent. (haha)
Encourage your children to write beautifully as it is a valuable skill that generates an income.
The good news is that if you are inclined to become a calligraphy artist but you need to hone your skills there are several courses available.
In case you are wondering where to sell your calligraphy skills think wedding invitations and all things related to weddings.
Key Information – Calligraphy
12. Illustrator
If you are one of my regular readers you know that I often talk about the fact that I am no good at art.
In fact, this special skill is what my daughter does every single day of the week.
I would love to have the opportunity to sit down for two months and learn how to become an illustrator but I just don't have the time.
In case you are wondering what you can do to generate an income online then take a look at the examples below by Angela from Stray Curls.
Angela also has a course where you too can learn to become an Illustrator here.
Key Information – Illustrator
13. Graphic Design
The area of graphic design is quite broad and it can include calligraphy and illustration under this umbrella.
However, not all graphic designers do either of those areas.
In fact, you are probably more familiar with graphic designers doing the following:
Logos
Letterheads
Posters
Business cards
Brochures
If you think that this is something that you can do working from home then it doesn't take much to get started.
All you need to do is create 5 logos for small businesses for free as pro bono work and get them to send you testimonials and you are ready to take new orders.
Key Information – Graphic Design
14. Web Design
Some graphic designers also do web design as part of their portfolio of services.
If you are new to this area then a web designer is someone who literally designs your website for you.
It means that your design would be unique to you and your business and prices normally start at $5,000.00 for a single website.
Here is a list of web design courses that come highly recommended.
Key Information – Web Design
15. Social Media Manager
If you have been using the Internet or social media platforms like Twitter, Facebook and Instagram for a while then you are aware of its impact.
Small business owners need to be constantly promoting their brand as well as products and services to get new customers.
One of the benefits of social media marketing is that you can get direct feedback and sentiment from social platforms on your content.
The thing is that small business owners don't have time for this level of marketing so they need help from people like you and me.
Are you one of those people who have the natural ability to grow a following on social?
If yes, then it doesn't take much to get started as a Social Media Manager. Simply do some pro bono work and you will be off to a flying start.
Key Information – Social Media Manager
16. Digital Strategist
As the name suggests a Digital Strategist is someone who looks at the entire digital marketing strategy of a business.
This includes both digital marketing and digital media.
The area of digital marketing is very broad. To give you a flavour it encompasses the following:
Digital activities
Creative formats
Messaging
On the other hand, digital media look at the channels through which these activities, formats and messaging are delivered.
The key role of a Digital Strategist involves looking at the overall objectives, channels to be used, content that will be created, paid activity as well as the tactics used for each channel.
As a digital strategist, you can choose to specialise in one specific area like marketing on Twitter both free and paid.
Key Information – Digital Strategist
17. Facebook Ads Manager
The demand for Facebook Ads specialists is quite high simply because of the access to audiences that reside on Facebook.
Unlike the insights available on Google, Facebook has a rich dataset that can be used by small businesses to easily reach their intended audience.
Facebook Ads have proven to be a lot cheaper compared to many other digital platforms.
Many small businesses have said that their per-lead cost can be as low as 8 cents per lead on Facebook.
Of course, the best-performing Facebook Ads are the ones that have funnels that are optimised to bring in awesome conversion rates.
Key Information – Facebook Ads Manager
18. Pinterest Ads Manager
The next best platform for paid ads is Pinterest. The majority of marketers and bloggers use Pinterest for free.
However, the best way to get faster results on Pinterest is by using promoted pins.
This feature is useful if you are launching a product or service and you need to get conversions quickly.
If you are interested in becoming a specialist focused on Pinterest Ads then take a look at this course here.
Monica is one of the leading specialists when it comes to promoted pins.
Key Information – Pinterest Ads Manager
19. Funnel Hacker/Builder
You might be thinking what on earth is a Funnel Hacker?
Well, these are people whose job focuses on conversion rate optimisation to get you a higher return on your ad spend.
Actually, let me back up a bit and explain what is a funnel.
I want you to think of the process you go through whenever you make a purchase on Amazon.
It may start with adding the item to your cart, then you'll enter your delivery address followed by your credit card details.
All through that process, you may have noticed several prompts where Amazon tries to get you to purchase additional items.
Essentially, that process is sometimes called funnel hacking.
If you want a way to improve the conversions on your website or become a better Funnel Hacker feel free to take this funnelling course here.
Key Information – Funnel Hacker
20. Customer Service Agent
There are many people who are panicking because they believe that robots are going to replace humans in a very short time.
However, robotics as a technology is not at the point where it can handle customer service requirements.
This means that you can work from home as a beginner in the area of customer service.
You will, of course, need to have a lot of patience, a lot of empathy as well as assertiveness to answer customers and prospects diplomatically.
Depending on the organisation you will also need to handle queries that are sent via social media.
Most companies would offer their agents canned responses to popular questions while others like Zappos give their employees a big goal.
Zappos is known globally to go above and beyond to deliver the very best customer service possible.
Sites like Verafast offer a minimum of 10 hours a week which is great for those looking for a part-time gig.
Key Information – Customer Service Agent
21. Technical Support Agent
This role is very similar to customer service except that the main focus will be to solve technical problems.
It is normally used by hardware and software companies to troubleshoot problems that customers face while using the product or service.
In many cases, training is provided by the company but an existing technical aptitude or computer degree is needed to get started.
You will notice that companies would have technical support at three levels. Namely level 1, level 2 and level 3.
Key Information – Technical Support Agent
22. Transcriptionist
The role of a transcriptionist is not for everyone.
When I first started my podcast over 2 years ago I decided to save money by transcribing the recording myself.
I can tell you that it is a very difficult task (at least for me) so I will not wish it on anyone else.
It may seem easy at first and you can become quite good over time but it does take some skill to get it done.
You can become a transcriptionist literally overnight by applying to the following companies.
Rev
Speechpad
GMR Transcription
AccuTran
Appen
TranscribeMe
TigerFish
I have seen that as a transcriptionist you'll need specialist equipment to fast-forward and rewind seamlessly. It is called a transcriptionist foot pedal.
Key Information – Transcriptionist
23. Voice Acting
Do you remember your days in drama class?
In my lifetime I have participated in so many plays and skits that I must be able to become a voice actor. (haha!!)
As someone who records podcast episodes every week, I can tell you for a fact that voice acting is not a walk in the park.
However, it can be a whole lot of fun.
The reason it can be difficult is that you may need to remain 'in character' for a pretty long time.
Sure recording a paragraph or two is easy but what if you need to do 5,000 words?
The truth is that you can be really good at voice acting if you really want it bad enough.
Here is a list of places where you can get paid as a voice actor.
Voices.com
Voquent
Voice Bunny
Voice123
The Voice Realm
VoicesUK
VoicesUS
Voices.co.uk
Voices Pro
If you need help getting your voice in gear check out these lessons from voice-over coach, Carrie Olsen.
Maybe you are not quite sure if voice acting is for you, then grab this free voice-over mini-course from Julie Eickhoff.
Key Information – Voice Acting
24. Programming
Just the thought of becoming a coder may cause your eyes to glaze over but hear me out.
Here's the story of an 81-year-old woman who created her first iPhone app. She thought herself how to code.
One may argue that she is tech-savvy so it is easy for her.
While that may be the case remember that you can always hire someone to create useful mobile apps if you have an innovative idea.
It is all about saving people time and/or money.
Key Information – Programming
25. Web Developer
It is easy to get confused whenever you see this title because it sounds very similar to web design but it isn't.
To help you to understand the difference between the two roles this is how you can look at it.
A web designer makes a website pretty while a web developer adds a lot of backend functionality to process information.
For example, if you have a website and you need it to have a portal so that people can log in to access information then you need a web developer.
So, a web developer is essentially a programmer who specialises in code for the web.
Key Information – Web Developer
26. Web UX
A relatively new kid on the block is the role of user experience specialist. So, what does that mean?
I guess the best way for me to explain this role to you is to give you a practical example.
Have you ever purchased an item like a toaster, a TV or even a microwave oven but you could not figure out how to use it?
You see Engineers are great at coming up with practical ways to solve problems.
However, what has been discovered in recent years is that the world needs people who are great at making things intuitive.
The last thing you want to do when you buy an appliance, device or visit a website is the need to read a manual before you can start using it.
This is where a user experience specialist comes in handy.
It is their job to make it easy for consumers to start using things without the need to read a 20-page manual.
Do you have what it takes to become a Web UX Designer?
Key Information – Web UX
27. Email Marketing Specialist
If you are a small business owner then you know the importance of growing an email list.
Having an email list brings added responsibilities in terms of maintenance, newsletters as well as staying in touch with your audience.
This is why many small business owners are happy to outsource this task to someone who can grow their email list full-time.
Many businesses will require someone to do the following tasks from time to time.
create weekly newsletters
improve opt-in, click-through and open rates
design an irresistible offer
clean up an existing email list
group emails by defined segments
assist with product launches
move a list of subscribers to a new email service provider (ESP)
Not everyone will have a passion for this kind of role but if you do it is something that you can add to your portfolio.
Key Information – Email Marketing Specialist
28. Web Analyst
The first thing that might pop into your head when you see a web analyst role is data mining.
To put it simply this person is focused on collecting data from the web and analysing it.
It may sound boring to some people but for others, it is the exciting world of collecting a ton of data and making sense of all those numbers.
If you need an actual breakdown of exactly what is involved then feel free to check out a full definition here.
Key Information – Web Analyst
29. Bookkeeper
I believe this goes without explanation but I don't want to leave anybody in the dark.
A bookkeeper is responsible for helping a business or charity to keep track of their income, expenses, liabilities and assets.
It is a legal requirement to keep track of these activities in all countries across the globe.
Each country may differ in the way things are kept up-to-date but at the end of the year a bookkeeper will hand over everything to the account.
This is how most businesses determine if they have to pay tax and how much can be written off as a business expense.
Key Information – Bookkeeper
30. User testing
Earlier on, I made reference to a person called a Web User Experience Specialist.
After a web designer, web developer and web UX complete their jobs on a website or web application it eventually needs testing.
This is where a person gets to do user testing on the finished product.
While this job does not sound like a lot of fun for many people it is a necessary task that needs to happen before the site goes live.
Can you imagine what the Internet would be like without people who do user testing?
It would be full of bugs, glitches and teething problems.
Sites like UserFeel pay you $10 for 20 minutes of work.
Key Information – User Testing
31. Inbox Management
If there is one task that I will never do from home it is managing someone else's inbox.
Essentially, it involves checking and replying to emails. Classifying them into specific folders.
Marking some as urgent while assigning some to other people to manage.
In many cases, there are canned responses that can be used for standard email queries.
There may be a need to manage customer service queries as well depending on the organisation.
Do you think managing someone's Inbox is something that appeals to you?
Key Information – Inbox Management
32. Pinterest Account Manager
Having a Pinterest business account can involve a lot of daily or weekly maintenance to keep a stream of visitors to your website.
A Pinterest account manager can do the following for a business.
Create 10-15 pins per blog post
Manually pin 15-20 pins a day
Optimise your Pinterest boards
Tweak your Pinterest profile
Schedule out pins using Tailwind
Create new boards
Join Group boards
As you can see managing a Pinterest business account can be a lot of fun since it is a visual platform compared to plain data.
Key Information – Pinterest Account Manager
33. Online Tutor
The need to learn a second language or improve your skills in math or science during off-peak times created a demand for online tutoring services.
Becoming an online tutor can be an easy process depending on your native language.
Other factors to consider include your qualifications like a degree or specialist certificate like Teaching English as a Foreign Language (TEFL).
If you are a natural-born teacher then you may want to consider becoming an online tutor.
In this resource, you will learn about 11 places where you can teach as a side hustle.
Key Information – Online Tutor
34. WordPress Management
Do you remember the first time that you encountered a problem with your website (if you have one)?
You wished that there was someone available to wave their magic wand and fix all those problems.
Well, for people using WordPress as their self-hosted platform, there's someone called a WordPress Manager who does this 364 days a year.
They are generally gifted with a knowledge of PHP as well as CSS and after a hop skip and a jump, they can resolve all your issues.
If this is something that you are passionate about why not add it to your portfolio?
Key Information – WordPress Management
35. Brand Designer
Every business needs to create a brand and contrary to popular belief it is more than just a logo and a name.
In fact, there is a lot of psychology, sentiment and research that goes into creating a brand.
A part of that process is creating a brand board for that business.
One thing I really like about branding is understanding the audience and their needs.
So that a business can use its brand message to address those needs effectively.
Do you see yourself as a brand designer?
Key Information – Brand Designer
36. Online Coach
By now, everyone should really understand the importance of a coach to improve a business or a life.
The services of a coach can be offered online as there is no real need to meet in person.
In case you never heard of coaching then it simply means giving someone or a company the support they need to get to the next level.
Many of us struggle with psychological barriers or lack of direction in terms of what to do next to gain success or overcome obstacles.
A coach can help you do both and it does involve a lot of internal work.
Key Information – Online Coach
37. Instagram Manager
Every business wants to gain success in terms of followers and engagement on Instagram but the algorithm keeps changing.
Keeping up with all these changes and knowing what to post daily can be a headache for a lot of people.
This is where an Instagram Manager comes in handy for any small business looking to increase their reach on the platform.
The duties of an Instagram Manager include:
Coordinating feeds
Reaching out to Influencers
Sourcing images
Engaging with followers
Creating captions
Knowing which hashtags to use when
Campaign management
Growing the total followers each month
If this sounds like something you'll enjoy then go for it.
Key Information – Instagram Manager
38. Influencer
I can see many people rolling their eyes at this option.
Over the last 5-7 years, the term influencer has conjured up so many negative circumstances across the globe.
Truth be told, we are all influencers in our own right simply because we have influence over other people in different spheres.
You have the choice to become an influencer that leaves a positive impact on people.
All you need to get started is a following on a social media platform like Twitter, Instagram, Facebook or YouTube.
Start receiving offers from brands after joining a platform like Social BlueBook here.
Key Information – Influencer
39. CRM Manager
Every business needs a bucket of leads or prospects to generate income in order to survive.
It is common practice for these businesses to use a piece of software called a customer relationship management (CRM) application to organise contacts.
In an effort not to confuse you, it is normal to use leads, contacts and prospects interchangeably.
The beauty of a CRM system is that it allows a business to comfortably manage thousands of leads by status.
Depending on the organisation leads are taken through different phases so that a business can efficiently forecast revenue with an error margin of 2%.
In other words, a business needs a CRM to accurately forecast income by day, week, month and quarter so that they can manage budgets.
To give you a flavour of what that looks like in real terms a lead can go through these stages.
lead > opportunity > qualification > technical qualification > assigned budget > procurement > contract > closed won
As you can see here the goal is to have defined stages with actions to increase the chances of a win for the business.
It is the job of a CRM Manager to set up and maintain a system that is acceptable and reliable for the organisation for forecasting and reporting purposes.
Key Information – CRM Manager
40. Launch Strategist
Just when you thought you have seen and heard about all the possible work-from-home jobs for beginners a weird one surfaces.
So what or who is a launch strategist anyway?
Well, this person is responsible for the planning, execution and running of a product launch.
This is not a job to be taken lightly because there is so much at stake.
On average any pre-launch starts 3 months before the cart opens and there are a series of posts, webinars, emails and landing pages involved in the process.
The different roles involved in a launch include:
Copywriter
Funnel Hacker
Facebook Ads Manager
Graphic Design
Email Marketer
Web Developer
Therefore a Launch Strategist needs to collaborate with all these people to get things up and running for a successful launch.
Key Information – Launch Strategist
41. Workflow Strategist
Every business has systems in place that they follow in order for things to run smoothly.
These systems are known as standard operating procedures (SOPs).
Have you ever wondered how these systems came to fruition or who put them in place?
Well, some people refer to these people as operations which is very generic but I prefer to label them as Workflow strategists.
They normally ensure that the customers have the best experience, that all documentation is legally binding and that the payment systems work.
If you have a passion for organisation and productivity then this might just be the job for you to do.
Key Information – Workflow Strategist
42. Online Speaker
Do you like to inspire and motivate an audience? Have you ever considered becoming a speaker?
With online summits popping up all over the world together with countless webinars, there is a constant need for speakers.
Everyone is being urged to be environmentally friendly, reduce their carbon footprint and think before they travel.
Maybe you are like me and you enjoy speaking to crowds but you feel that you have nothing amazing to say.
It could be that you are looking for speaking gigs as a motivational speaker but you cannot seem to find webinars that match your needs.
One of the best places to find speaking gigs is in Facebook Groups.
Almost every day I see group owners looking for people to present to their audience.
The two popular Facebook Groups for women to find speaking gigs are Boss Moms and Women Helping Women Entrepreneurs.
Key Information – Online Speaker
43. Course Creator
Another work-from-home job for beginners is creating courses.
If you are someone who has created curricula offline for educational institutions then doing it online is a breeze.
The good thing about being a course creator is that you can help other entrepreneurs create courses.
Carefully consider your area of expertise and think of an area where you can specialise to help entrepreneurs.
Remember that you can also create your own courses and enlist the help of a Launch Strategist to help you execute a 6-figure product launch.
Do you think that you can be a course creator?
Key Information – Course Creator
44. Blog Flipper
The ability to create blogs across several different niches and generate traffic to them can help you make money online.
Whether you are good and creating websites from scratch on WordPress or Squarespace it would make sense to use this ability to generate an income.
It will take anywhere from 3-6 months to get a blog to a sellable asset so it is something to take into consideration.
In case you have no idea what I am talking about flipping a blog is more or less the same as flipping houses.
A key differentiator is that most blogs will be created from scratch.
You may have questions about how to get started with blog flipping or even the best way to generate traffic to these new blogs.
The good news is that I can recommend a great resource for you to use to answer all those questions here.
Key Information – Blog Flipper
45. Online Researcher
So what is an Online Researcher and why does the world need one? Here are some interesting statistics.
Did you know that there were 474,000 Tweets posted every minute in 2019 and 300 hours of video were uploaded to YouTube every minute?
Over 3.5 billion searches are conducted on Google every minute and 293 billion emails were sent every day in 2019.
Imagine looking for information to create a resource for your business and having to go through all of that content.
How long do you think it will take?
The role of an online researcher is to save a business time and money by finding and collating statistics and sources of data.
Their goal is to arrange that data into a format that makes business sense.
In case you are wondering what is the difference between a web analyst and an online researcher it is quite clear.
An online researcher mainly collates a lot of 3rd party content while a web analyst is mainly focused on data generated from their own company.
Key Information – Online Researcher
46. SEO Manager
It is important for any business to drive traffic to their website or business using various sources.
One of the most important sources of website visitors is organic traffic from search engines like Google.
This can be achieved via search engine optimisation (SEO). It is a skill that does not require formal education but it can be technical.
I absolutely enjoy doing SEO for clients so I would recommend it to anyone who has a passion for this kind of work.
If you would like to see if this is a good fit for you then grab the free trial of this SEO course here.
To get a feel of what is involved check out my free SEO checklist here.
Key Information – SEO Manager
47. Resume Writer
Are you a former hiring manager or a recruiter looking to work from home?
Ever thought about tweaking or re-writing resumes?
The world as we know it is changing so fast that there's a constant need to update your resume.
Depending on your age or the age of your potential clients they may feel out of touch with modern hiring practices.
As a resume writer, you have the potential to look at a resume and compare it with potential jobs.
Your potential clients need your help to get their foot in the door of their dream company or dream job.
Do you have what it takes to be their resume hero?
Key Information – Resume Writer
48. Podcast Editing
Yes, nearly everyone you know wants to start a podcast in the near future.
What many of those people don't know is that it can take a lot of patience and time to edit a podcast.
My personal preference is to do the recording perfectly so that I have fewer edits to do during post-production.
This is where a podcast editor can come in handy to help small businesses get the most out of their recording.
If you have the ability to make an audio recording sound amazing then it is definitely something that you can add to your portfolio.
Key Information – Podcast Editor
49. Affiliate Marketer
Do you have a website with a lot of traffic? If yes, maybe it is time for you to consider affiliate marketing.
The most important asset to affiliate marketers is getting eyeballs on your offers.
Of course, these offers need to be relevant to your audience in order to get a return on your investment of time.
So, having either an email list or consistent traffic is the eyeballs you need to view the offers.
There are two kinds of offers that super affiliates like to share with their audience.
These include high-paying affiliate offers or the kind of affiliate offers that pay out a recurring affiliate commission.
Do you need help with learning the ropes around affiliate marketing? Grab this awesome resource for beginners here.
Key Information – Affiliate Marketer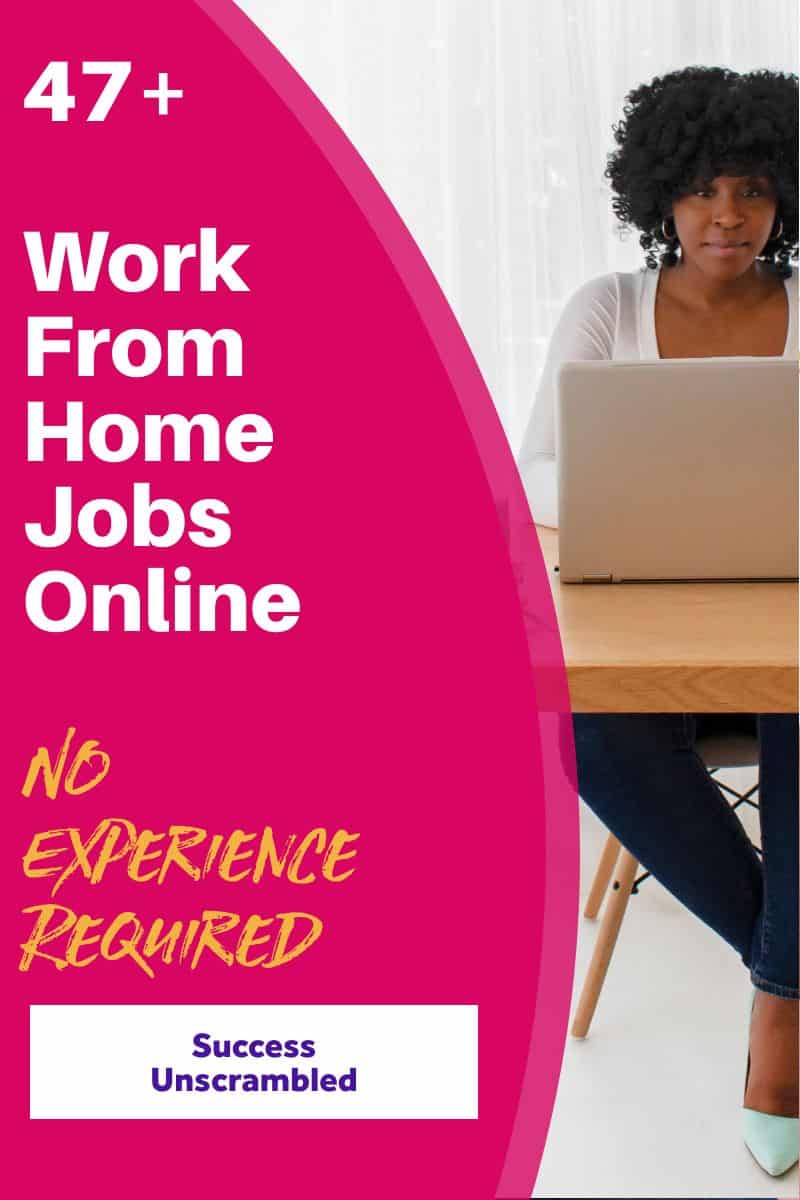 Summary
The world as we know it is changing and we either adapt or die.
Work-from-home jobs are available to help all kinds of businesses all over the globe.
What is needed is a change of mindset as opposed to widespread panic.
Who's responsibility is it to ensure that any given business should have a large number of employees or contract workers working remotely?
Should we depend on or encourage governments to offer incentives to businesses to offer work-from-home jobs?
Share your thoughts on work-from-home jobs for beginners coupled with the current economic climate.
Announcements
Remember to subscribe to the Success Unscrambled Podcast where you will be the first to hear what's happening in the entrepreneurial and digital marketing world.
Your positive review of this podcast is vital to keeping it alive and running for the next 12 – 24 months so please leave a positive review for us on iTunes, Spotify or any of your favourite podcast players.
Are you looking for ways to start a business from home with low investment? Grab these 25 ways to start a business this weekend.
If you are just at the start of your journey and you are wondering what is possible for you in the future then take a look at these 7 books for bloggers.
Want to increase web traffic organically? Check out this SEO hack to increase web traffic by 33%.
I am continuing to help ethical female entrepreneurs to become more visible online.
They can do this using proven organic marketing strategies here at Success Unscrambled.