Podcast: Play in new window | Download (Duration: 24:08 — 33.7MB) | Embed
Subscribe: Google Podcasts | Spotify | Amazon Music | Stitcher | Email | TuneIn | Deezer | RSS | More
Have you ever thought about the things to stop buying to save money? Are you looking to reduce your expenses significantly?
Over the last 7 years, I have gone from spending somewhat carelessly to becoming quite thrifty when it comes to my household budget.
You see it is quite interesting that as an adult I find myself buying things because I think I need them.
In fact, buying certain things every single month develops into such a strong habit that it can be difficult to give it up.
I meet people all the time who believe that they are broke constantly or that they never seem to have any money left over to invest in themselves.
However, upon closer investigation, it is surprising to see the things that people buy because their parents bought them.
In this post, I will show you how I saved $1,400 a month because I stopped buying the things that were not necessary.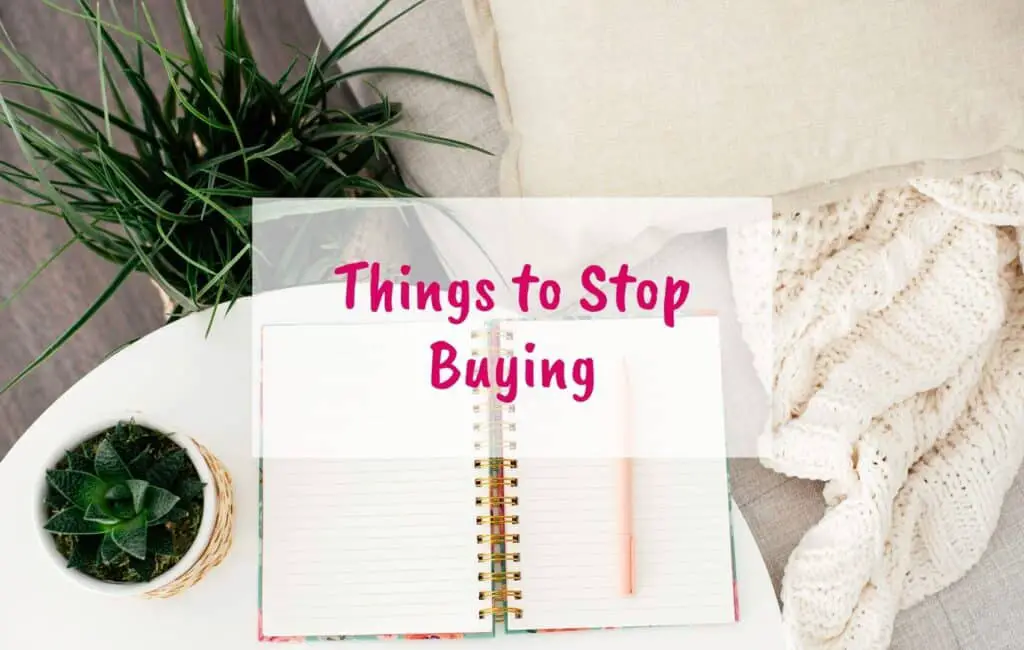 Disclosure: Please note that this post may contain affiliate links which means that if you buy one of my recommended products I get paid a commission for sharing the link at no additional cost to you.  I only recommend products that I have tried myself and have experienced success.
Why Make a Household Budget?
One of the best ways to save money every single month is by sitting down with a pen and paper to make a budget.
The process of making a budget can be a simple affair and it can also be complicated depending on your circumstances.
Two main columns that should be included in your budgeting are income and expenses.
Your monthly or weekly salary or wage should be included under income as well as any other incoming payment.
Expenses, on the other hand, include everything else like utilities, food, clothing and shelter (rent or mortgage).
The reason why budgeting is important is that it helps you to pinpoint areas where your expenses are exceeding your income.
It also shows you other areas where you can make significant savings like electricity, heating, other utilities, etc.
If you are thinking of starting a side hustle and you are in that position where you seem to have more month than money.
Then creating a budget will give you clarity on areas where you can cut back.
Need to make a budget for your blog? Grab this blogging budget spreadsheet that comes with lessons in video format.
Investing In Your Future
One of the best ways to find money to invest in your future when you find yourself broke every month is by cutting back on unnecessary items.
It is so easy to throw your hands up in the air and dream that you had more money to enrol in a course or to start a side hustle.
You would be surprised about what you can accomplish with a little bit of creative budgeting.
What I have come to realise in life is that sometimes we need a deep desire for taking advantage of an opportunity to cut back on unnecessary expenses.
Let me give you a typical example, I can decide to eat out 2-3 nights a week or I can cut my expenses and make food at home instead to save money for a big investment.
Another interesting thing I noticed is the fact that if I find myself throwing away food regularly it may mean that I am spending too much on food.
If my motivation to start a side hustle or retire early is very lame then I will not be passionate about saving more money.
The reality is that you will need to have a 'why' that is big enough that will cause you to want to change your spending habits.
Things to Stop Buying
Now you know about budgeting and have the motivation to invest in yourself let's look at the big list of things to stop buying to save money.
I have to tell you that the items on this list are just normal everyday things that many of us use regularly to get on with life.
1. Cable + Satellite + TV License
Many years ago, when I began my journey in the online marketing world I joined a program that encouraged its members to stop watching tv.
I initially thought well that is simple enough since I don't really watch that much TV anyway.
What I did not realise at the time is the overall cost to the average household in terms of time and resources to indulge in this habit.
Did you know that the average cost of pay-TV is around $107.00 per month? That works out at $1,284.00 a year.
Need to save more on your electric bills? Check out this resource that will help you save money on utility bills.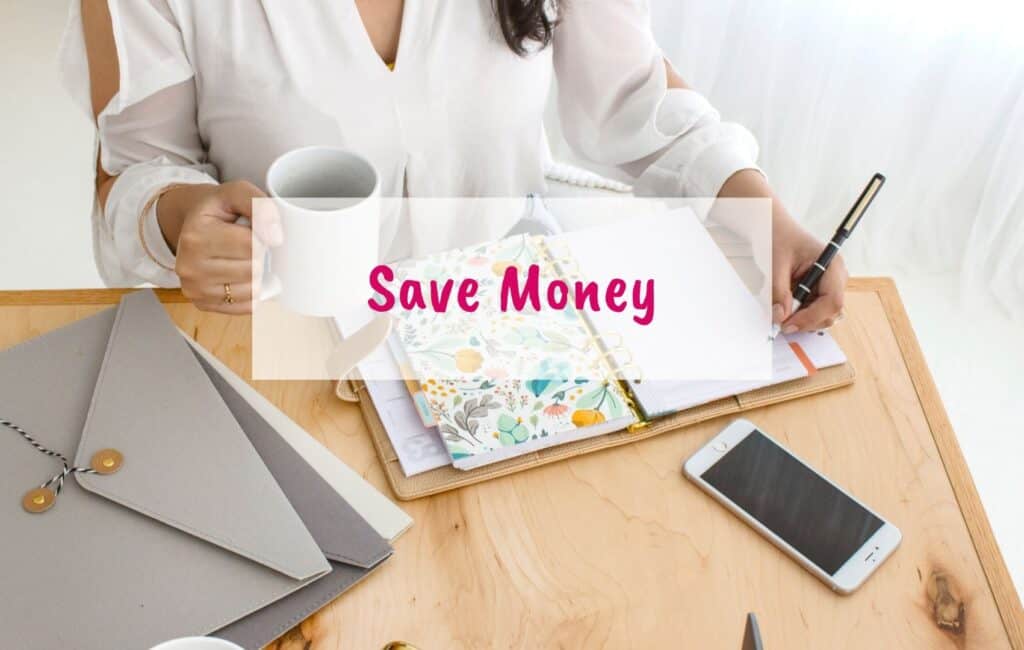 2. Eating Out Regularly
Now, there is nothing wrong with going to a restaurant for a special occasion or even ordering a takeaway meal here and there.
The issue arises when it becomes a weekly or twice weekly habit especially for a family of 4.
If you find yourself every month in a position of being constantly broke or never having enough funds to invest in your future then it may be time to rethink your spending.
According to an article in Forbes as well as research conducted by Wellio, the average cost of a single restaurant meal is $20.37.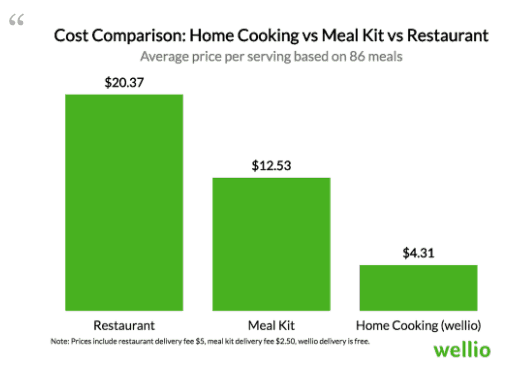 So, for a couple, this can be $40 a week or $2,118.48 a year. Learn 11 more practical ways to save money on food here.
3. Expensive Skincare
At one point in my life, I would spend money on what I thought was great skincare products.
"Ignorance is bliss where when it is folly to be wise". I have to tell you that this saying is ultra true in every sense.
When you are young it is easy to believe that you need to dole out a load of cash to look attractive.
I was fooled into purchasing all sort of well-known brands in the skincare industry like Clarins, Lancome, Simple, L'Oreal, etc.
Looking back I can see how I was working hard every month to fulfil the dreams of these companies.
In this article, 21 women reveal how much money they spend on skincare every month. There are at least two women spending $150.00 a month!
That works out at $1,800 a year. Personally, I spend about $20 every 1-2 months. All I need is a facial wash, lotion, toner and the odd mask at 0.65 cents.
I have no idea why I thought I needed a lot more.
Need to boost your blog income? Grow your monthly blog income using this resource right here.
4. Kitchen Roll or Paper Towel
It is very interesting that somehow every household would buy between 4-8 rolls of paper towels every month.
Don't get me wrong, it is great for cleaning up spills, drying hands and even placing the odd slice of bread.
In the grand scheme of things, it doesn't cost as much as expensive skincare but it can easily put a hole in your pocket.
A survey conducted by money saving expert found that people can easily spend up to $132.00 a year on paper towels.
I decided to ditch those paper towels and avoid spills. If there are spills use to washable dishcloth or a floor cloth instead.
5. DVD Movies
In the last few years, I purchased a new laptop which did not come with a DVD player as standard.
This meant that I lost interest in looking at movies on my laptop which is fine but I have two big boxes of movies sitting in the attic.
It is shameful to think about how that came about because the large majority of those items were not planned purchases.
I would say that it would easily amount to $1,000.00 spent every year buying movies and I could not tell you why I did it.
6. Magazines
I like reading stories and other articles that I deem useful. One of my favourite things to do is to visit the local bookstore.
The smell of new books is just something to enjoy and flicking through the pages.
Glossy magazines are also very attractive because I can read about the latest in cooking, lifestyle, fashion, celebrities and home design.
A few years ago I realised that it was a complete waste of money because it was not enhancing my life in any way.
According to Money Crashers, the average cost of a magazine is $3.99 so if you purchase one a week it works out at $207.48 a year.
I could have easily saved that to invest in my future.
Did you know that buying magazines about celebrity lifestyles only helps them save money and fulfil their dreams?
7. Ready-Made Packaged Cereals
When you have children around the house and life is so busy it is easy to stock up on those ready-made items to save time.
However, upon closer examination, those are the very things that can cause you to work harder and be more stressed.
According to NBC News in 2015, the average cost of breakfast cereals was $3.09 per pound.
With high-end cereals going for as much as $8.00 per pound. In this report by Credit Donkey, the average American eats about 14 pounds of cereal a year.
So, let's do the math and add up the cost. If the average cost of cereal today is $5.00 a pound then each person consume about $70.00 a year in cereal.
A family of four could easily be looking at $280.00 in ready-made breakfast cereals.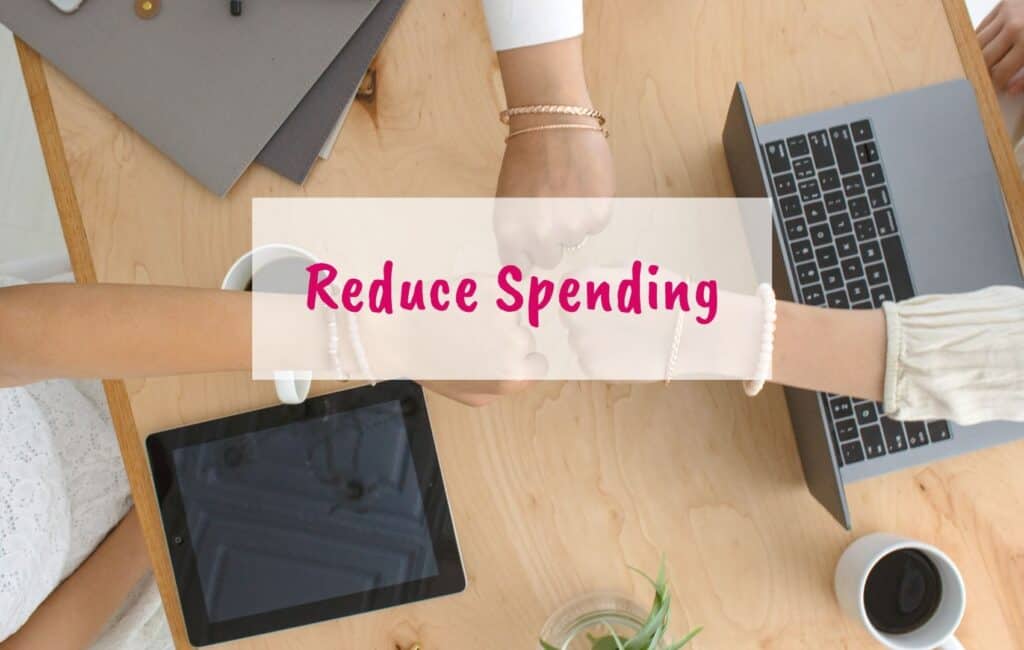 8. Expensive Cosmetics
Every girl likes to look their best and part of that process sometimes involves putting on some make-up.
However, does that make-up need to be expensive? I know that the word expensive is a relative term so let's look at some figures.
I was reading this article on Byrdie which states that the average spend on beauty products by women every month is $313.00.
It works out at $3,756.00 a year. Yet many of us don't have funds to invest in our future which is kind of strange.
That figure is at least three years old and I am a bit worried to think that the price could be higher.
Who told us that we were ugly? It seems to be something subconscious that we are telling ourselves.
Grab these other 11 ways to save money on makeup here.
Are you short on time? Need to really focus on tasks that actually generate an income for your blog? Check out this cool resource here.
9. I Have Nothing to Wear
There are some people who believe that they should never be seen in the same clothes twice.
While others need new things so that they can fill up their Instagram profile. I personally could not care less.
In fact, I don't mind wearing the same or similar-looking clothes every day.
My daughter is only 16 and she is a huge advocate against fast fashion. So, in case you think that it is because I am getting old think again.
Did you know that on average women spend between $150 and $400 on clothing every month?
When I read that statistic I could not believe that it could be for real. Has the world changed priorities?
If you are looking for even more ways to save money on clothes every single month then go here.
I cannot imagine spending $4,800 every year on clothes, I will feel too guilty.
10. Fabric Softener
Is it me or am I the only one who does not understand why everyone is so hung up on using fabric softener?
Don't get me wrong I used it in the past because it was something that everybody did.
However, I came to realise that it actually damages your clothes in the long run.
According to WashIt, the average family of four would spend $65.89 per year on fabric softener.
While this number is not very high it still is money leaving your pocket that can be saved.
11. Impulse Buys
According to a recent report by the Independent, the average British person spends $263.00 a month on impulse buys.
This works out at close to $190,000 in their lifetime on the planet. These impulse buys include sweets, clothes, new sofas, chocolate and even takeaways.
An impulse buy is basically anything that you bought that was not part of your planned budget and it is not a need.
I really love the fact that the report goes on to say that the day and time of the week that gets the biggest urge to splurge is Saturday at lunchtime.
On the other side of the ocean, the average US consumer spends $5,400 every year on impulse buys.
That equates to $450 a month on unplanned spending. I was there at one time in my life but I avoid this at all cost.
Total Savings
We now have a good idea about the actual cost of buying unnecessary items as well as unplanned spending.
Let's do a big-picture view on the possible savings that we can make every month and year by adopting new habits.
| | | |
| --- | --- | --- |
| Item to Stop Buying | Monthly Saving | Annual Saving |
| Cable | 107.00 | 1,284.00 |
| Eating Out | 176.54 | 2,118.48 |
| Expensive Skincare | 150.00 | 1,800.00 |
| Paper Towel | 11.00 | 132.00 |
| DVD Movies | 83.33 | 1,000.00 |
| Magazines | 17.29 | 207.48 |
| Boxed Cereals | 23.33 | 280.00 |
| Expensive Cosmetics | 313.00 | 3,756.00 |
| Clothes | 150.00 | 1,800.00 |
| Fabric Softener | 5.49 | 65.89 |
| Impulse Buys | 450.00 | 5,400.00 |
| Total | $1,486.98 | $17,843.76 |
Would you be interested in saving $1,486.98 every month and using it to invest in your future or to pay off debt?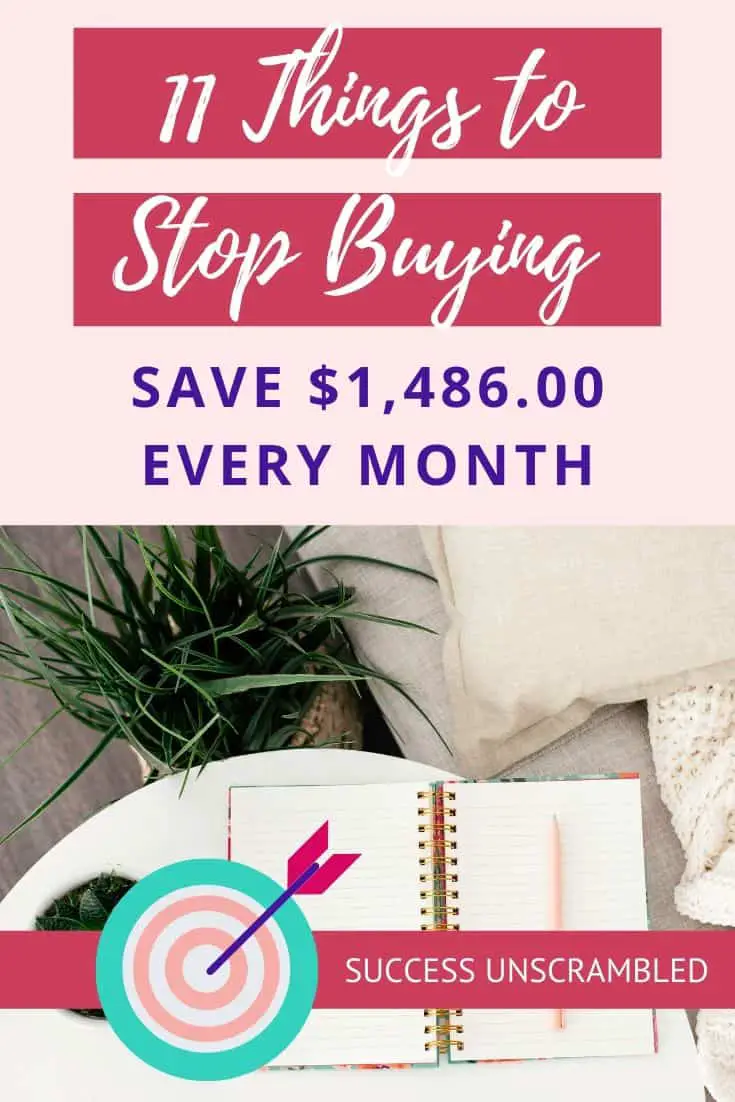 Conclusion
It is easy to fall into the trap of feeling that you are always broke and that there is never sufficient money to spend wisely.
However, in many instances, it takes a little bit of sitting down and making a budget as well as changing your spending habits to get what you want.
Many of us suffer from a herd mentality where we purchase items because we believe that this is what you need to fit it.
I can tell you for a fact that I was just like you, I fell into the trap of just making sure I buy the stuff that I thought I needed.
Life is a learning experience because I kept cutting back on items until I realised that I actually don't need many of the things on the supermarket shelves.
Oh to be young again but with the wisdom of an older person the second time around.
What are the things you should stop buying? What is that big thing you are saving for in your future?
Announcements
Remember to subscribe to the Success Unscrambled Podcast where you will be the first to hear what's happening in the entrepreneurial and digital marketing world.
Your positive review of this podcast is vital to keeping it alive and running for the next 12 – 24 months so please leave a positive review for us on iTunes, Spotify or any of your favourite podcast players.
If you are are looking for ideas to start a side hustle then check out these 25 side hustles that you can start in a weekend.
Are you suffering from procrastination blues? Need to find a way to save time? Grab these time management tips that'll help you generate $5,000 every month.
Want to take advantage of the little bit of time you have every day and get more done? Steal my productivity tools here.
The goal of Success Unscrambled is to help female entrepreneurs as well as potential entrepreneurs is to start and scale their online business.