Podcast: Play in new window | Download (Duration: 23:13 — 32.4MB) | Embed
Subscribe: Google Podcasts | Spotify | Amazon Music | Stitcher | Email | TuneIn | Deezer | RSS | More
Are you looking for clever ways to save money on makeup? Do you need to save money for a big project this year?
If you always seem to have more month than money but you still need to look attractive everyday then keep reading.
Many of us have been led to believe that the more money we spend on stuff it means the quality is superior.
However, this is not necessarily true in all areas of life.
If you ever heard the analogy of the fish in the fishbowl you'll know about this one thing.
When the fish is placed into a bigger tank it will increase in size to match the environment.
Of course, this is not always the case with all fish.🤣
The same concept applies to us as consumers, when we have a small salary we survive and stay within our budget.
Somehow when we get a bigger salary we seem to spend more to match our new ability to spend.
In this post, you will learn a few clever ways to spend frugally on make-up so that you can save hundreds of dollars every month.
Motivation + Goals
One of the secrets to finding the motivation to reduce your monthly expenses is to have a goal that you need to accomplish.
You may not be aware of this but it takes quite a lot of motivation to save money and reduce your expenses.
If you go to the supermarket to buy food or even to the beauty counter to purchase lipstick here's what will happen.
Every time you will be presented with options which will involve purchasing a more expensive item.
Can you remember the last time this happened to you?
I know that in the past I would go with the more expensive option every single time.
However, because I have big goals to accomplish today I'm always looking for ways to save money.
It is not going to be easy but you will require a certain level of discipline to say no to spending more money.
The main reason is that you have the money available for another project so it is only a matter of reallocating the funds.
Make a Budget
Another clever secret to choose lower-priced, good quality items is to make a budget and stick to it.
You are probably thinking that it is going to be very difficult to stick to a given budget.
The truth is that you are absolutely correct that it is going to be hard.
I can guarantee you that when you go to the store, you will see all those women at the beauty counter looking pretty.
A sudden urge to want to look your best will come over you from nowhere and you'll want to get a beauty makeover.
My advice to you is to run away because you will feel the need to buy all those things to get the desired look.
Of course, if you have vouchers or coupons to purchase a specific item at a reduced cost then that's fine.
Otherwise, stick with samples and keep moving.
If your budget is $50 for the next 6-8 weeks then stick to your budget and your bank account will thank you later.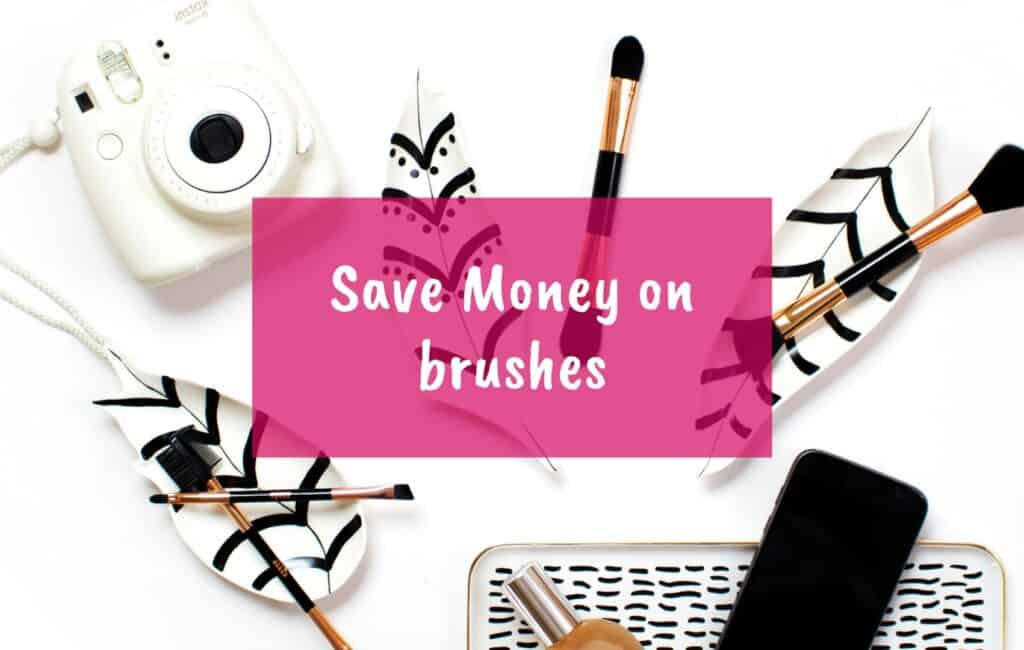 How to Save Money on Makeup?
There is going to be times when the item that you need is priced slightly higher than expected.
Here are 11 hacks that you can use to get the same or similar result as well as to save money on the branded items.
1. Save Money of Makeup Brushes
A few years ago, when Mac makeup was super popular the common practice of applying makeup by only using brushes, was all the rage.
Of course, it meant that you would need about 7 brushes to apply your makeup flawlessly.
The trick here is to try and get your brushes from non-beauty shops like the dollar store and thrift shops.
Also, let friends and relatives gift you with the more expensive set.
2. Broad Spectrum Colour Palette
A cool way to never find yourself stuck without an eye shadow colour to match your outfit is to buy wide.
Before purchasing your next colour palette think about the general colour scheme of your wardrobe.
This will help you to avoid purchasing a palette for every 3-4 outfits.
Of course, the odd colours like gold, silver and bronze can be purchased separately if it is not already included.
3. Think Classic Colours
When it comes to fashion trends it can be pretty dangerous to fall into the trap of buying makeup to match current trends.
However, what I have learned over the years is that trends can be costly.
You are better off sticking to the classic colours like black, white, red and blue for your makeup.
These basic colours rarely go out of fashion and they can still be useful in 12-18 months depending on the expiry date.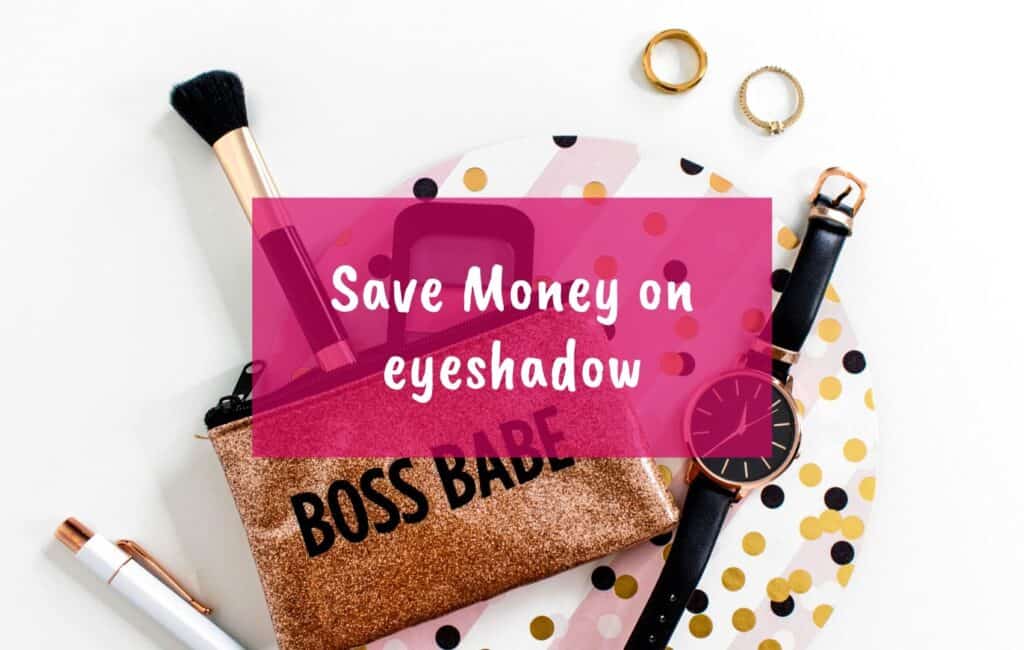 4. Buy Clothes to Match Your Existing Makeup
The moment you decide to go clothes shopping it is important to note your available makeup.
I have been in situations when I buy a new outfit only realise that I need to buy shoes, purse and even makeup to match it.
In the long run, this can set you back significantly from achieving your big goals.
5. Free Samples are Your Best Friend
There is nothing more annoying than purchasing makeup only to discover that it did not work for you.
To avoid the disappointment take advantage of free samples which are given out at beauty counters.
Also, scan the exhibition sites for upcoming trade shows where you can collect bags of free samples.
6. Use Every Last Drop
You have paid for the contents in the makeup bottle or tub yet still when there is only 10 per cent left, you throw it away.
My advice to you is to use every last drop that is available before opening or purchasing a new one.
It's time to behave frugally even when you're not broke because you have big dreams to fulfil.
7. Hunt for Coupon Codes
Why pay full price when you can get a discount? With so many national days it is important to grab discounts when you can.
Here are a few ways to get discounts off your favourite makeup brand.
Join their email list
Do a search on Google ("product name + coupon code")
Follow your favourite beauty blogger on Instagram or Youtube
Check magazine publications
Add your favourite items to wishlists
As you can see there are so many ways for you to find coupons so that you will not have to pay full price.
8. Loyalty Cards
You may have a love-hate relationship with loyalty cards but you have to admit that many of them have their perks.
The two popular ones that I like to use is the one from Boots as well as the one from Superdrug store.
On many occasions, I was able to get skincare items free because of the loyalty points.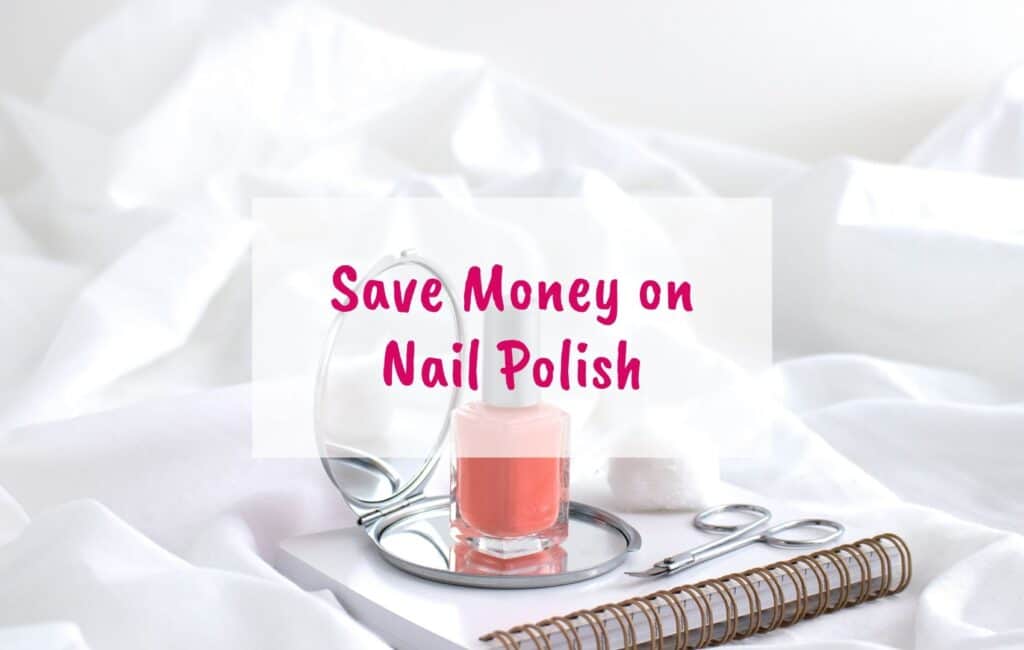 9. Sell Unused and Unopened Makeup
If you have many friends who are girls you may find yourself on the receiving end of all sorts of makeup items.
These items in many cases will remain on your dresser unused and unopened.
You may want to consider selling your stuff online as a way of getting more cash to buy the things you really need.
10. Broken Makeup Items
You will be tempted to throw away your makeup that inadvertently got damaged or broken, like lipstick, eyeshadow and compact.
I have seen in many places online where they suggest to use nail polish, saline solution and even rubbing alcohol to fix them.
Because I have sensitive skin I am not going to suggest any of those hacks as they may cause a breakout of rash.
What I do suggest is to transfer it into a more manageable container and use a smaller brush as an applicator.
11. Save Old Containers + Brushes
Many years ago I purchased a waterproof mascara from Clinique and it was perfect because the wand was just the right size for my tiny eyelashes.
I tried many times going back to see if they still do the same size wand in the newer mascaras but they don't so I just kept the old one.
At times you will come across a mascara or foundation that comes with the perfect brush or applicator.
Remember to reduce the hassle of finding it again and kept that article for use with newer products.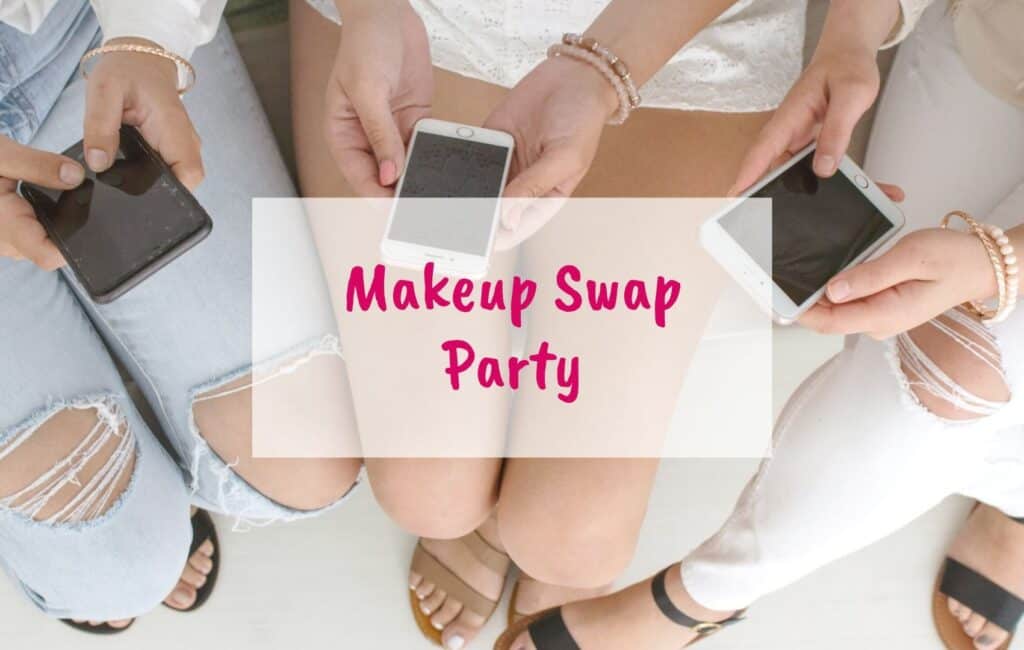 12. Makeup Swap Party
Another cool way to save money on makeup is to become a hostess of a makeup swap party.
Everybody you know and their friends have makeup at their homes that they don't use for several reasons.
At a makeup swap party, everyone can bring what they have and you can put it on display.
Feel free to charge $1 per item sold to cover the cost of refreshments.
13. Become a Makeup Influencer
When all else fails and you find that you still need to get your hands on elusive beauty products then there is one more option.
Maybe it is time to consider becoming a makeup influencer where you get free makeup products in exchange for doing review videos or Instagram posts.
If you never did it before it is pretty easy to get started. You just start by reviewing the items you already have.
Then reach out to brands showing them samples of your past reviews. Of course, you will need to have a small number of followers on your profile and channel.
Recap
This list of hacks to save money on makeup is not very long but I will do a summary anyway to help you.
Here are the 11 ways in a nutshell.
Lower cost makeup brushes
Broad-spectrum colour palette
Think classic colours
New clothes match old makeup
Free samples are your friend
Use every last drop
Hunt for coupon codes
Loyalty cards
Sell unused items
Use broken items with brushes
Save one of a kind items
Makeup Swap Party
Become an influencer
As you can see these are a number of practical ways to get the best results for your makeup budget.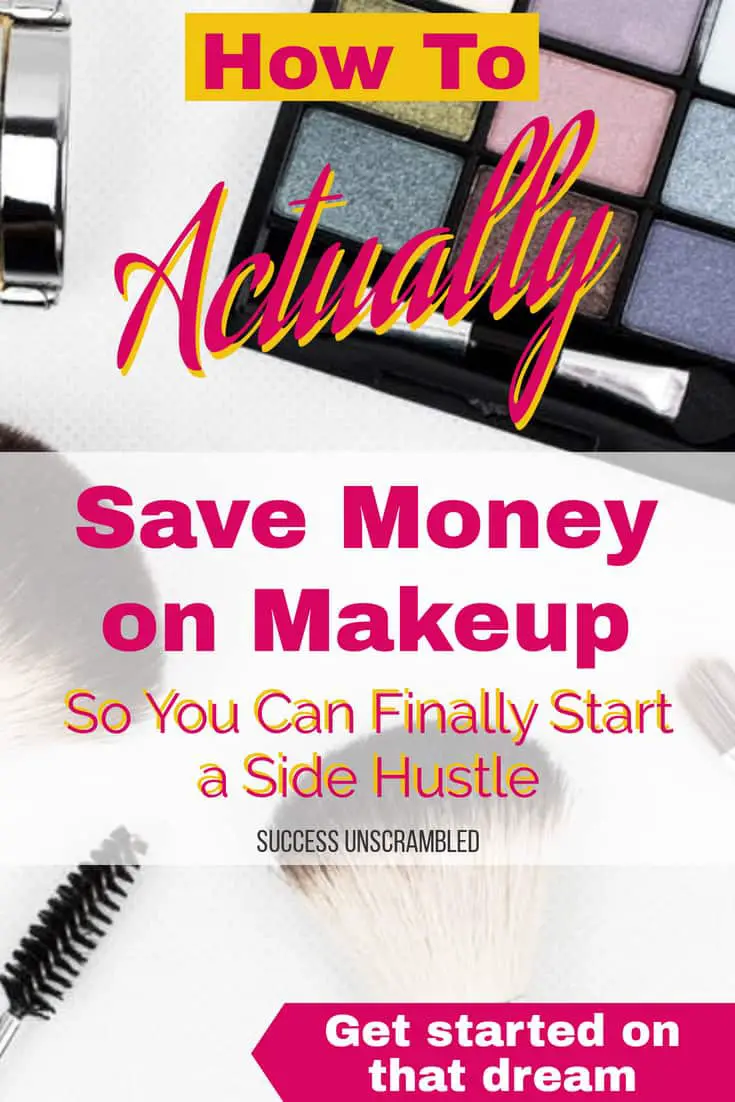 Conclusion
It can be really difficult to become frugal and save money on makeup because of all the pretty packaging.
The good news is that it is possible to still look good with low-cost or discounted makeup.
Even your bank account will look good after you completed shopping.
The bottom line is that you get to save sufficient money to meet your long-term goals and still look your best doing it.
What has been your experience with low-cost makeup? Have you ever been able to save money on makeup?
Announcements
Remember to subscribe to the Success Unscrambled Podcast where you will be the first to hear what's happening in the entrepreneurial and digital marketing world.
Your positive review of this podcast is vital to keeping it alive and running for the next 12 – 24 months so please leave a positive review for us on iTunes, Spotify or any of your favourite podcast players.
If you need to save money in other areas of your life then check out this list of things to stop buying to save over $1,400 every month.
Are you a procrastinator and you are finding it difficult to fulfil your dreams. Check out how to achieve goals this year here.
Want to take advantage of your free time? Grab my time management resource that you can use to generate an income.
The goal of Success Unscrambled is to help female entrepreneurs as well as potential entrepreneurs is to start and scale their online business.