Podcast: Play in new window | Download (Duration: 18:11 — 25.9MB) | Embed
Subscribe: Google Podcasts | Spotify | Amazon Music | Stitcher | Email | TuneIn | Deezer | RSS | More
If you are still looking for an Instagram scheduler that will blow your mind this Preview vs Planoly comparison may be what you need.
You will agree with me that there are a ton of IG schedulers on the market that promise the sun, moon and even the stars.
However, not all social media schedulers are created equal.
While some allow you to schedule weeks in advance others will let you publish automatically with the 1st comment.
Let me know if you can relate.
Instagram seems like the most attractive platform for your business but there are a few challenges.
Content creation continues to be a huge obstacle for you because you just don't have the time.
Graphic design is not in your wheelhouse so batch creating graphics is the least attractive option for you.
Hashtag research takes forever which means researching 100 hashtags every month is a no go area.
If only you can find a solution that gives you the inspiration to create 30 days of content in 8 hours or less.
In the post, you will learn about the similarities and differences between Planoly and Preview.
You'll also experience a quick and easy way to create a month's worth of IG content in one day or less.
Disclosure: Please note that this post may contain affiliate links which means that if you buy one of my recommended products I get paid a commission for sharing the link at no additional cost to you.  I only recommend products that I have tried myself and have experienced success.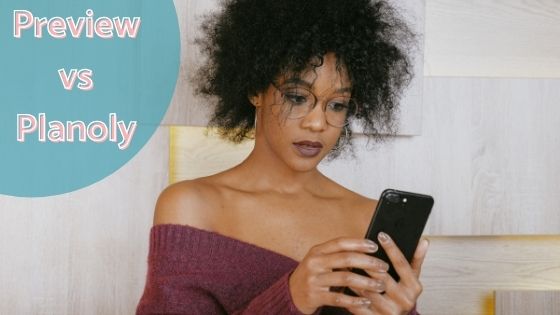 Why Use a Scheduler
If you a have been publishing content to Instagram for a while you know that IG has several features.
Apart from the IG feed you also have the ability to publish content to Stories, Reels, IGTV, IG Live, Guides and Highlights.
While this may sound overwhelming at first using all these features depends on your niche, time constraints as well as your audience.
Instagram rewards publishers for using as many of their features as possible.
So, it is for this reason that using a scheduler suitable for IG content is a productive idea.
Unless you are an octopus with nine brains and eight arms it will be virtually impossible to use all these IG features.
Yes, taking one piece of content and repurposing it to match each IG platform takes quite some time.
Imagine doing that 3-5 days a week?
What Makes a Good IG Scheduler?
Before doing the Preview vs Planoly comparison it is important to set a standard for good IG schedulers.
In my opinion, a good scheduler should help you as a business owner to save time and reduce that feeling of overwhelm.
A few ways that a scheduler can help you save time include:
Offer a grid view of your IG feed
Seamlessly apply filters
Has a media library
Assist with hashtag research
Offers IG analytics
Helps with caption formatting
Has a hashtag bank feature
Schedules feed posts, carousels, Stories, Reels and IGTV content
Suggests the best time to post
Shows upcoming events and hashtag holidays
Can schedule mixed media carousels (photos + videos in one post).
While this may seem like a lot to expect from a single IG scheduler stay with me while I show you what Preview and Planoly have to offer.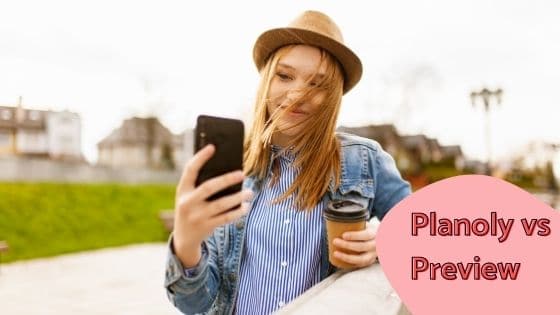 Preview vs Planoly Comparison
Now that you know what you can expect from a good IG scheduler, let's spend some time looking at the two tools.
I will review each one individually to include pricing, features and a video showing how each one works.
PreviewApp
The PreviewApp is an IG scheduler and Instagram visual planner that has been around since 2016 and it is available on both iOs and Android devices.
Although there is a free version available it is very restricted in what is on offer when compared to Planoly.
For example, you can only access the desktop version of Preview if you upgrade to their premium plan.
Preview Pricing
Speaking of the premium plan here's a quick overview of their pricing structure where they offer monthly and annual packages.
As you can see the top level plan, known as the premium plan works out at $14.99 a month or $150 a year.
The premium plan gives you the ability to use the desktop version as well as schedule Stories, Reels and IGTV content.
The Free Version – PreviewApp
In case you are on a tight budget and you don't mind using the free version from your mobile phone here's a video of the free version.
As you can see there are several limitations around the access to analytics as well as hashtags and captions.
If you need a better understanding of what the premium version offers compared to the free version hang on for a bit.
The Premium Version – PreviewApp
In the grand scheme of things paying 15 bucks a month for an Instagram visual planner may not seem like it would break the bank at all.
This is because what you get with the premium version is mind-blowing.
Hashtag Finder
There is a cool hashtag finder that is included in the premium plan as standard.
It not only allows you to find hashtags but group them based on a category of your choosing.
As someone who does hashtag research for clients I have to warn you that the hashtag finder gives you results across a broad competition set.
When I did the hashtag research and got 25 hashtags only 7 of them were in the 10k to 100k competition range the rest were higher or lower.
Caption Finder
The one unique feature of Preview is their caption finder which helps you to find captions for inspiration purposes.
I have to say that this is such a huge time saver and they are technically fill in the blank captions.
One important point to note is that these are for inspiration only and will not write the entire caption for you.
Free Image Library – Preview
Another interesting feature is their free image library which gives you access to images from Unsplash and Pexels.
It means that you don't need to create graphics if you don't want to because you can take advantage of their free images.
The mobile version of the Preview App comes with a free photo editor that you can use to tweak these free images to match your brand.
The Desktop View
Surprisingly the desktop view is pretty straightforward.
It gives you the ability to plan, create and schedule IG content easily right from your laptop.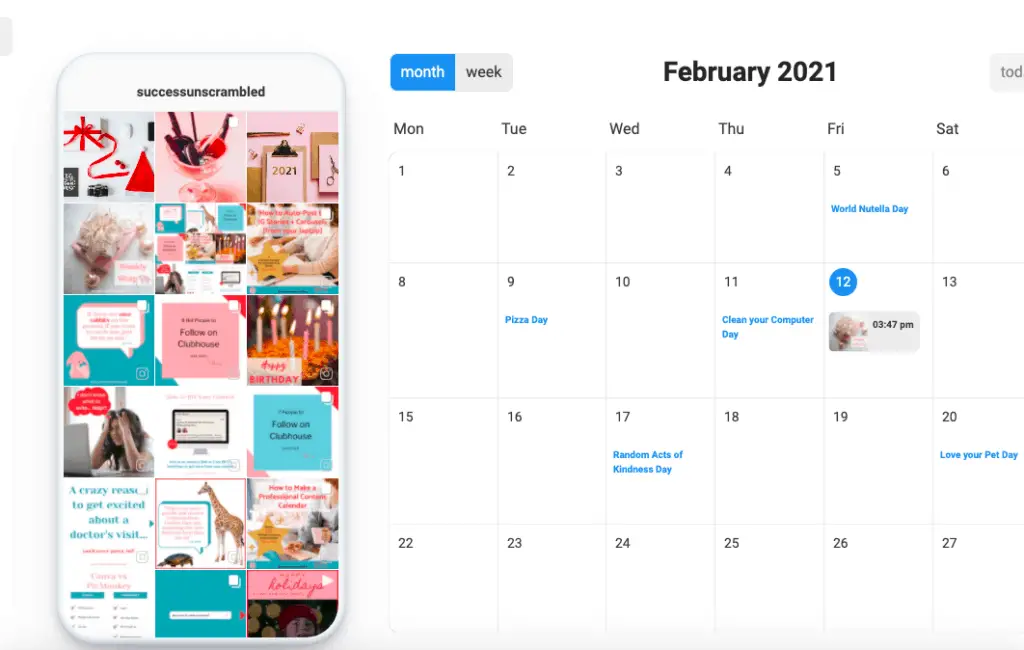 You also get a great monthly or weekly view to help with planning out your content in batches.
As well as the standard grid view for your IG feed.
In order to get visibility of the content for Reels, Stories and IGTV you'll need to use your mobile device to access these.
Repost/Re-gram Feature
The one feature in the PreviewApp that leaves me scratching my head (no my hair is not dirty, lol!!) is the reposting feature.
If you repost other people's content as part of your IG strategy on a regular basis then Preview will not save you time.
In fact, the process is very manual.
You will need to open the IG app search for a post that you would like to repost and copy the link to your clipboard.
Head over to the Preview app and paste it into the repost screen and click save.
Planoly
Born in 2016, Planoly was the very first visual planner for Instagram thanks to Brandy Pham's initial struggles with IG planning.
As the name suggests, Planoly allows you to plan your Instagram content in advance and it comes with 4 different pricing plans.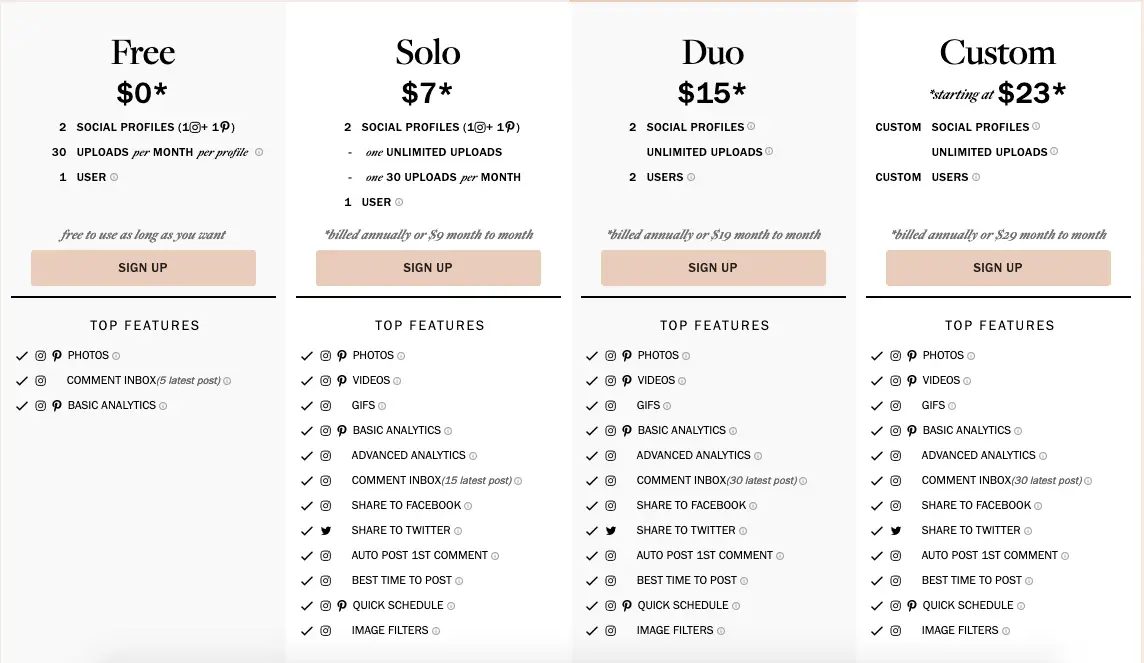 It also has a free plan available which may be attractive compared to the one offered by Preview.
Planoly is also available on iOS and Android devices which is great news for everyone. They are official IG Partners.
In my opinion, the key features offered by Planoly include:
Ability to post photos, videos and GIFs
Auto-post 1st comment
Best time to post
Hashtag storage bank
Search posts by user
Stock photo library
Low budget price plan
Planoly App – Solo Plan Video
If you would like to get a sneak peek of the Planoly App in action check out the video below.
Would you like to create a specific aesthetic on your Instagram feed? Then you will like Planoly as it comes as standard with a feature called filters.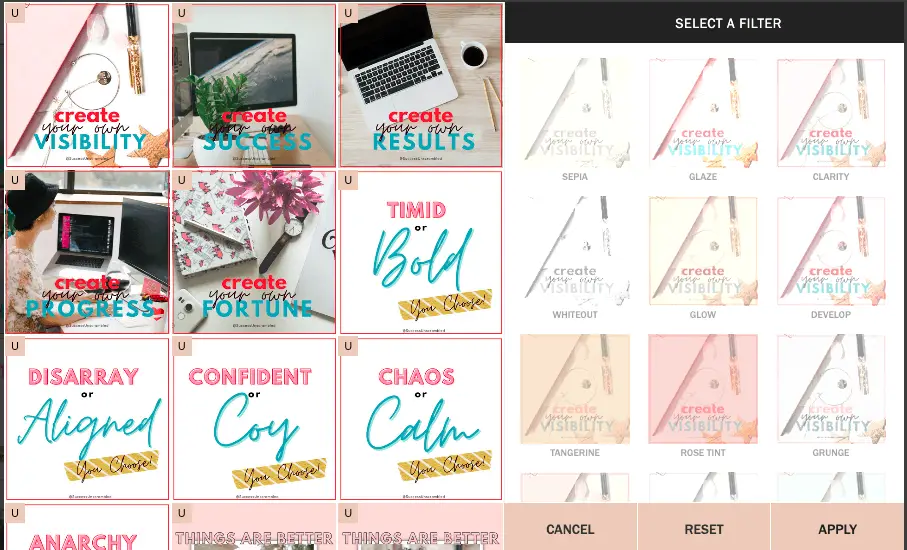 One thing I don't like about Planoly is that it doesn't come as standard with hashtag analytics.
If you want to get a feel for what the user interface looks like on Planoly then checkout the screenshot below.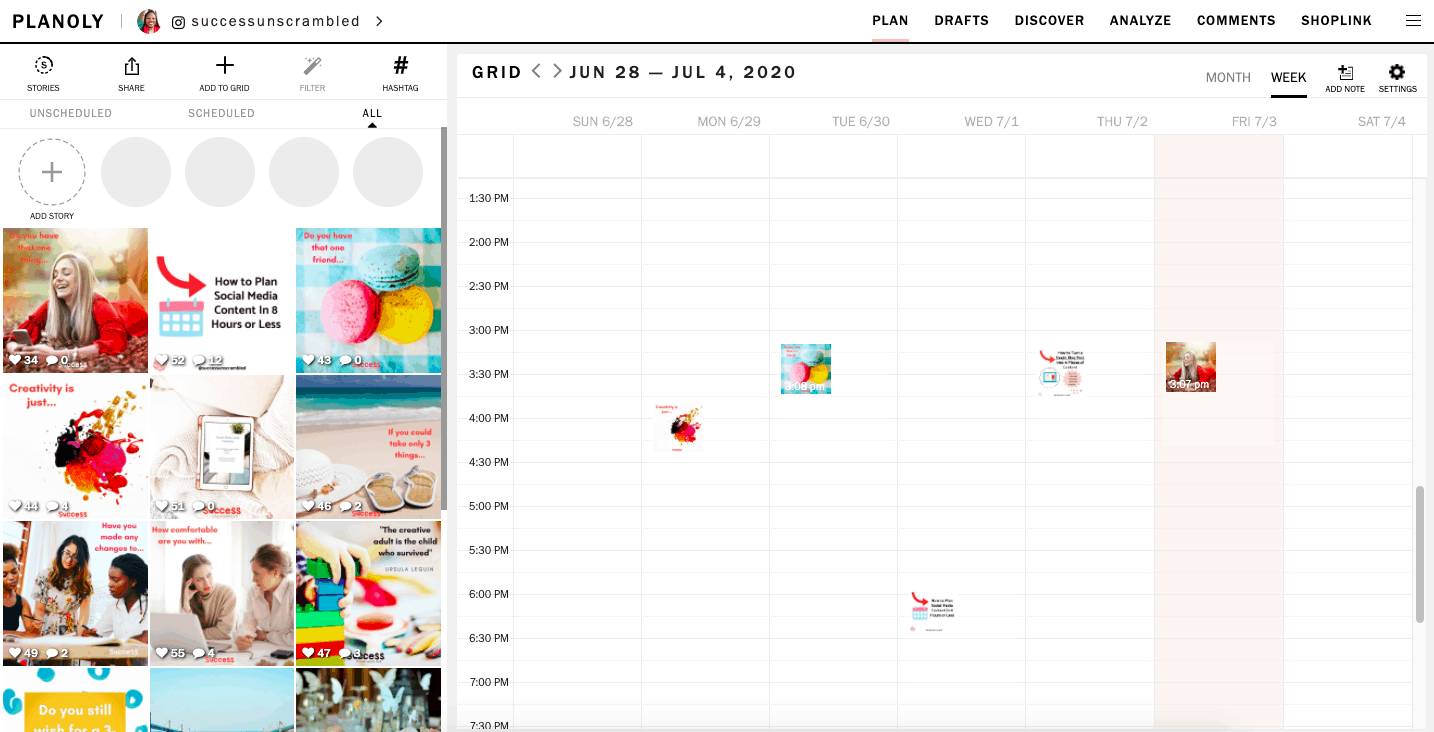 One thing that Planoly has that Preview does not offer is a separate drafts section where you can literally plan different looks.
This is available for Stories and your regular Instagram feed.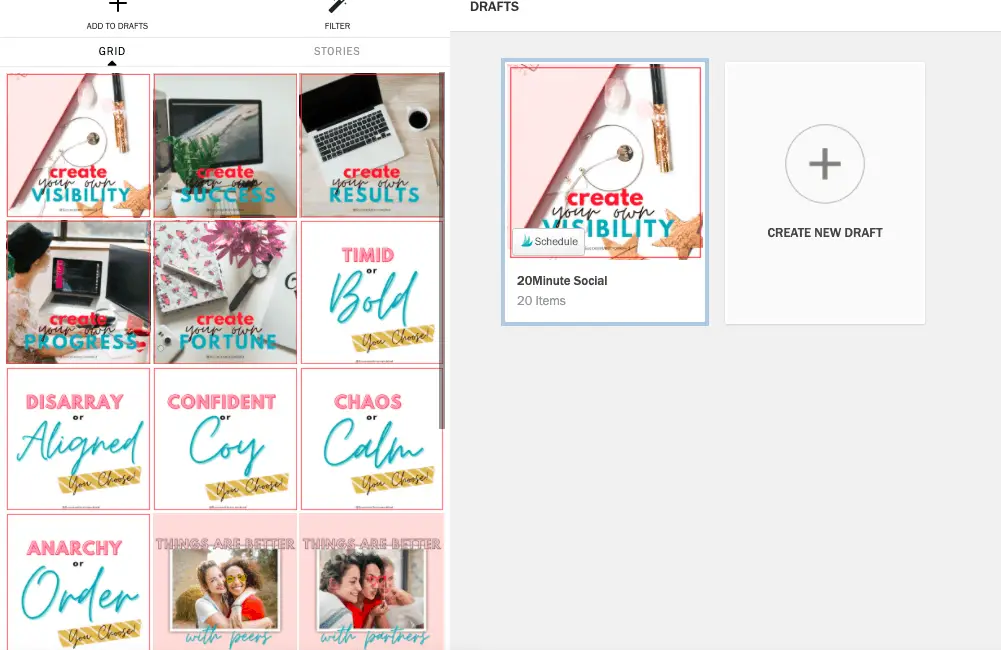 At this stage, you are probably wondering which one I prefer to use on a daily basis.
The honest truth is that it depends on what I am publishing to Instagram.
If I am publishing a single image and I want to post the hashtags in the first comment then I prefer to use Planoly.
When the need arises to publish a carousel post with a mixture of images and videos then Planoly is my preferred scheduler.
In case I am not available to complete a push notification then I will use Inssist since they auto-publish carousels.
You'll find 5 tools that can auto-post to IG stories in this comprehensive resource.
Planoly and Preview will send push notifications to my phone so that I can publish the post manually which is great.
Free Image Library – Planoly
Planoly offers a free image library in a very similar way to Preview.
After checking the comprehensiveness of images available in the library, I can say that Planoly's free image library is very limited.
Although the quality of the images are a lot better compared to those on offer with Preview.
Social Inbox
The one feature that Planoly has that can help you save time is a Social Inbox.
A social inbox is brilliant because it gives you the ability to reply to comments on your IG from inside Planoly.
It means that you don't need to switch between IG and Planoly in order to engage with comments.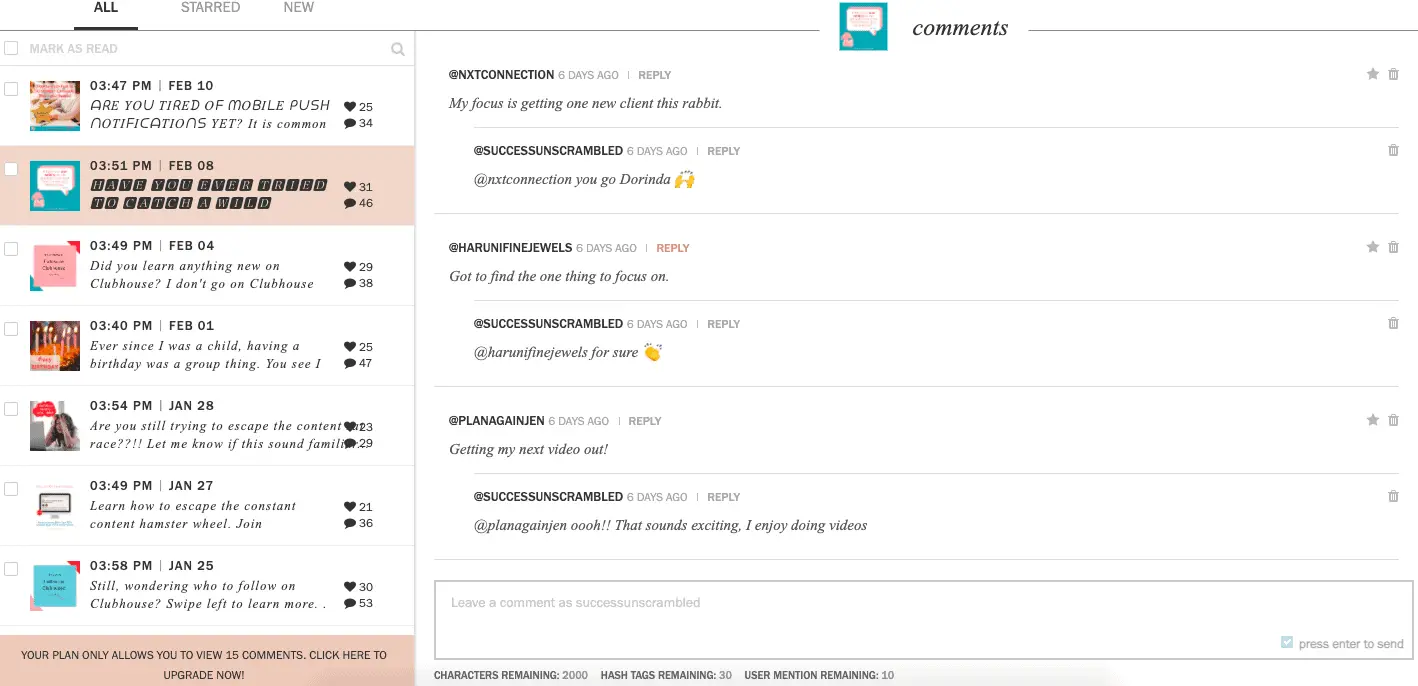 Repost/Re-gram Feature
In huge contrast to Preview's repost feature, Planoly really invested in this feature and it is a huge time saver.
It is available both on the desktop app as well as the mobile.
While on the desktop just click on the discover tab and you will be presented with a huge list of options classified by hashtag.
Simply select the images you want in bulk or singly then click the add to grid button (see screenshot).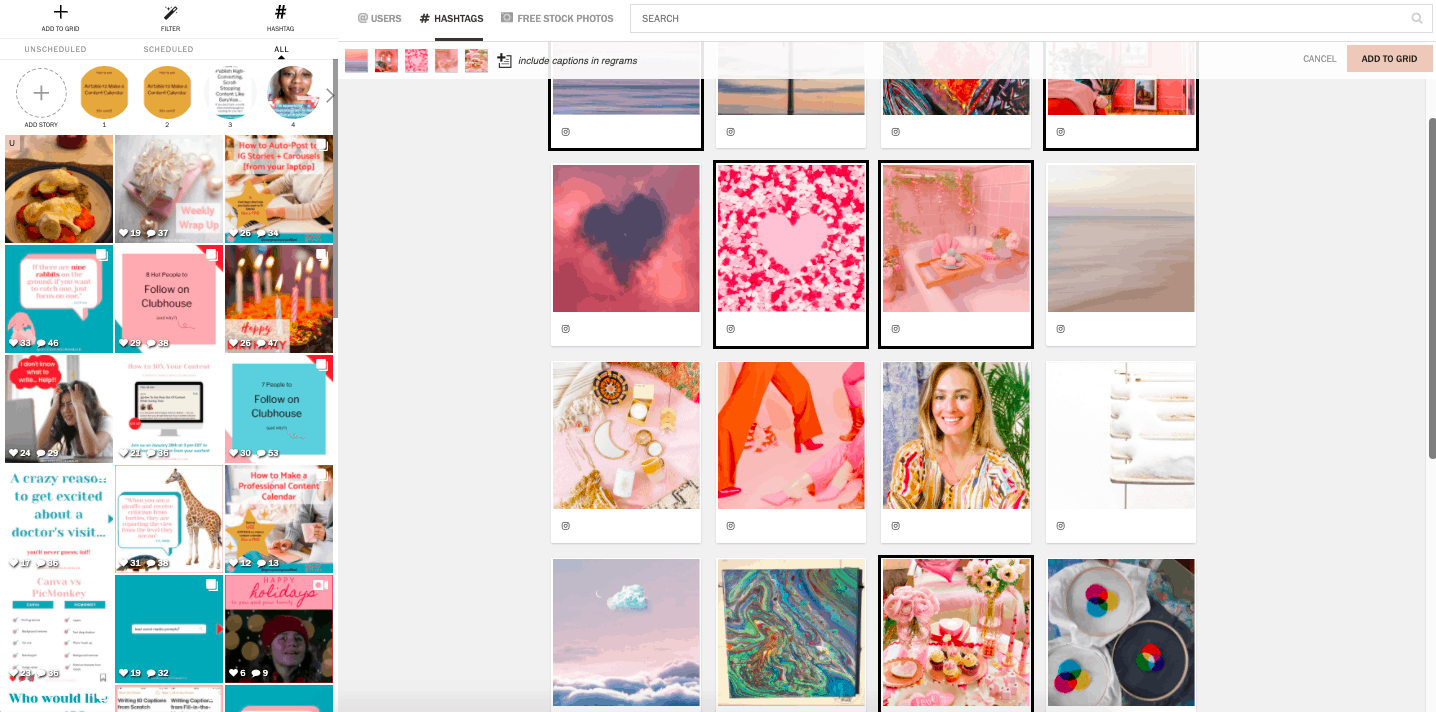 You do have the option to include the captions from the original image allowing you to give credit authentically to the original author.
It is also available on the mobile version of Planoly as standard which is brilliant.
You simply click on the big plus button at the bottom of the screen and you will see a menu that includes the option discover.
When you click on discover you will be brought to a view allowing you to search by hashtag or by user.
After the results are displayed, select the images you want and decide if you want to include the original captions in the regram.
Once you have all the images chosen click the add button and the images will be added as drafts to your IG feed view.
Planoly vs Preview a Side by Side Comparison
At this point, you are probably thinking that all this information can be overwhelming.
Wouldn't is be great to see a side by side comparison of Preview vs Planoly?
Well, I knew that you would find something like that handy so here it is just for you.
| Feature | Planoly | Preview |
| --- | --- | --- |
| Image library | Yes (limited) | Yes |
| Auto-post to IG | Yes (single post) | No |
| Hashtag research | No | Yes |
| Hashtag bank storage | Yes | Yes |
| Caption finder | No | Yes |
| Repost/Re-gram feature | Yes (comprehensive) | Yes (manual) |
| Publish to Pinterest | Yes | No |
| Photo editor | No | Yes (mobile only) |
| Publish to Twitter | Yes | No |
| Plan + Create Reels | No | Yes |
| Plan + Create IGTV | No | Yes |
| Separate media library | Yes | No |
| Auto-post 1st comment | Yes | No |
| Image filters | Yes | Yes |
| Share to Facebook | No | No |
| Social Inbox | Yes | No |
| Best time to post | Yes | Yes |
| Advanced analytics | Yes | Yes |
| Desktop app | Yes | Yes (premium plan) |
| Choose a Plan | Planoly | Preview |
As you can see there really is quite a mix of similarities and differences between the two tools.
When choosing between Planoly and Preview the secret is to start with a list of your business needs.
Whichever one helps you to achieve your business goals is the best one for you.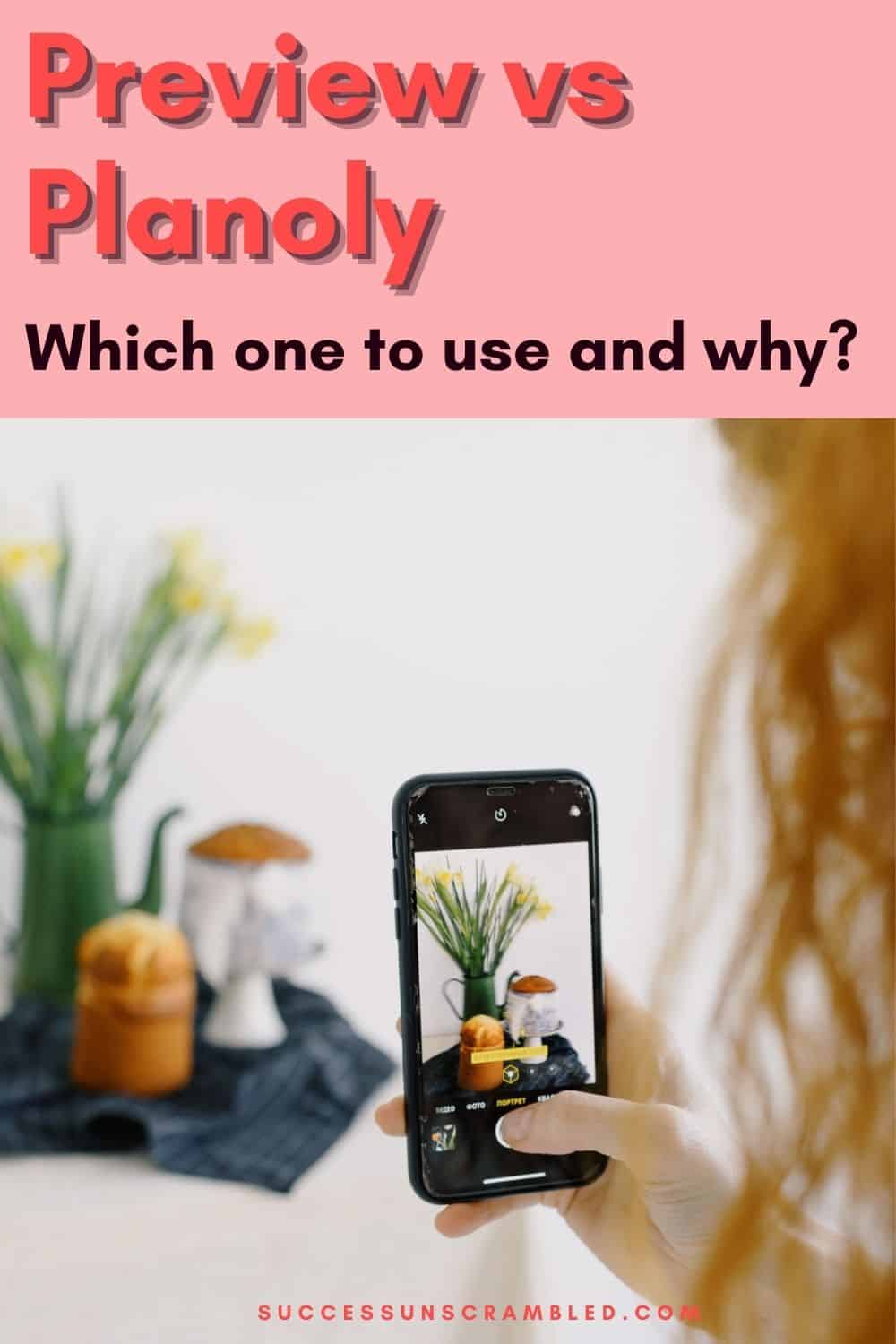 Summary
Choosing the perfect IG scheduler for your needs doesn't need to be difficult especially with this Preview vs Planoly comparison.
Make a shortlist of the features that you need for your business then add those nice to have items.
Ensure you take both schedulers for a spin using the free trial versions.
Only make a decision after using the PreviewApp and Planoly to successfully publish 2 or more pieces of content.
If you already have branded templates feel free to upload these to your IG schedulers.
Would you like to get your hands on a social media bundle with 365 days of fill-in-the-blank captions?
What about a 12-month done-for-you content calendar?
Grab this 90 days in 90 minutes content planning bundle designed for coaches and serviced based entrepreneurs.
Over to you, what has been your experience using Preview or Planoly?
Announcements
Remember to subscribe to the Success Unscrambled podcast where you will be the first to hear what's happening in the entrepreneurial and digital marketing world.
Your positive review of this podcast is vital to keeping it alive and running for the next 12 – 24 months so please leave a positive 5-star review for us on iTunes, Spotify or any of your favourite podcast players.
I really enjoy reviewing marketing applications that save entrepreneurs and small business owners time.
I started this blog in 2017 because I had a burden on my heart to reduce women illiteracy globally.
Because this is a huge undertaking I have decided to help 1,000 women over the next 10 years to become wildly successful in their online business through simplified marketing strategies.
That way we can build a strong business network of women who can donate 1% of their profit and together we can help reduce women illiteracy worldwide.
Would you like to be part of this movement? Shoot me an email using alvern (at) successunscrambled (dot) com.
Posts Related to Planoly vs Preview