Podcast: Play in new window | Download (Duration: 23:50 — 33.4MB) | Embed
Subscribe: Google Podcasts | Spotify | Amazon Music | Stitcher | Email | TuneIn | Deezer | RSS | More
Okay, you have done your research on IG schedulers but a Planoly vs Plann comparison can really help you make a decision.
Instagram is a beast of a platform with so many ways to display a brand to potential clients.
Publishing regularly on IG Stories is one of the secrets to getting in front of your ideal audience 24 hours a day.
Daily users of the platform spend 80% of their time binge-watching IG Stories.
Before giving up or ignoring the platform altogether let me know if you can relate to any of this.
Pushing out content 5 days a week can potentially be exhausting.
No matter how many resources are available you still seem to suffer with a feeling of indecision.
It would really help you if publishing content by themes was easily available.
If only there was a way to effectively plan your IG content in such a way that would match your content pillars.
In this post, you will learn the similarities and differences between Planoly vs Plann as well as why you should use one compared to the other.
Disclosure: Please note that this post may contain affiliate links which means that if you buy one of my recommended products I get paid a commission for sharing the link at no additional cost to you.  I only recommend products that I have tried myself and have experienced success.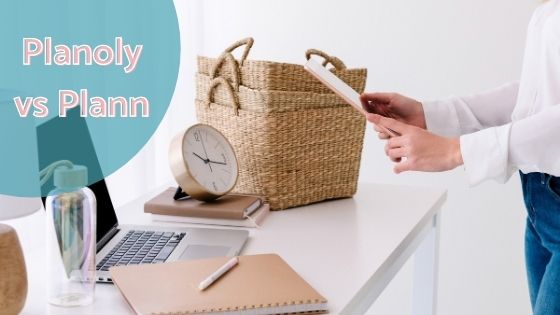 Why Use IG Stories for Business
Before looking at Planoly and Plann it is important to bear a few important facts about IG Stories.
The number one reason why Instagram continues to be a difficult platform for entrepreneurs and small business owners may surprise you.
Engagement is the one thing needed for your content to reach the explore page.
However, engagement takes a lot of time because it is a manual process that needs to be done daily.
Did you know that over 500 million people use IG Stories every day according to statistics from Hootsuite?
What's even more surprising is that 81% of people use IG to research products and services.
The fact that over 130 million people tap on shopping posts every month is nothing short of jaw dropping.
After seeing a product or service 50% of people visit a website to make a purchase.
Are you tapping into these 500 million potential users to get your slice of the IG Stories pie?
Why Publishing to Stories is a Struggle
You are probably thinking in your head that there's no way you are going to be able to keep up with publishing to IG Stories.
Simply because the effort involved in planning, creating and publishing to IG Stories is a real struggle.
In fact, did you know that branded Stories have an 86% completion rate compared to other types?
So, if there is a way to plan, create and publish IG Stories easier would you be interested.
When it comes to planning and creating IG Stories I will leave that aspect to the upcoming Planoly vs Plann comparison.
However, if you want an easier way to publish your Stories consistently then I have great news for you.
I wrote a comprehensive resource outlining 5 applications that you can use to publish stories to IG automatically.
Yes, auto-publishing to Instagram Stories is now possible so take a look at how you can do it.
Let's now look at the easier way to plan and create IG Stories by looking at these two IG schedulers.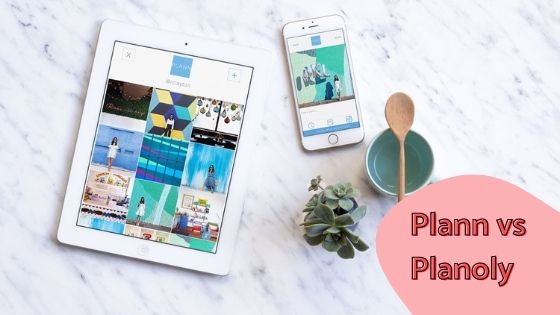 A Comprehensive Plann vs Planoly Comparison
Depending on where you are in your journey of using IG schedulers it is possible that you may have used other tools.
I've personally looked at Later, Planoly, Agorapulse, Inssist, Combin, Storrito, Sked Social, SocialBu, Creator Studio and Preview.
You can check out my Later vs Planoly review here as well as the Planoly vs Preview post for comprehensive side by side comparisons.
As you can see I am not new to the IG scheduler scene so the feedback I am giving you here is based on actual usage.
I am a total geek when it comes to exploring and using tools to make life easier for small business owners.
Let's spend some time looking at Plann and Planoly individually then I'll do a side by side comparison to help you decide.
Plann
In a very similar fashion to many of the IG schedulers, Plann was created from someone's story of pain.
Christy Laurence was recovering from a freak brain trauma when she used her creativity to come up with Plann.
She founded Plann in 2016 and bootstrapped it to 7 figures within 12 short months.
Did you know that Christy won several awards because of the success she had with Plann? These included:
Australasian Startup Founder of The Year 2016' with StartCon
Best Social/Lifestyle App, Summer 2016' with Best Mobile App Awards
Best Australasian Bootstrapped Business 2016' with StartCon
Startup Of The Year AU/NZ 2016' with Startup Daily
Well, if this is all you needed to convince you that Plann was the best IG app for your business you can get started here.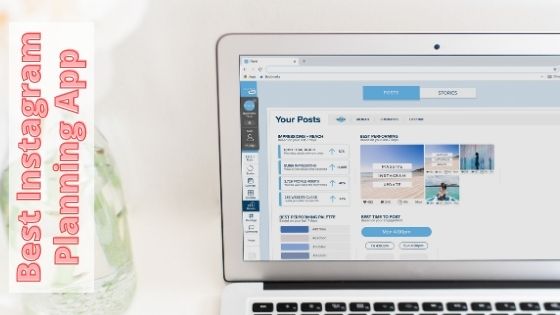 Plann Pricing
However, if you need to know more before making Plann your IG scheduler of choice stick around to learn more.
Like many IG apps, Plann comes with a free 7-day trial with all the bells and whistles.
In the meantime, here's a quick overview of the pricing packages available with Plann.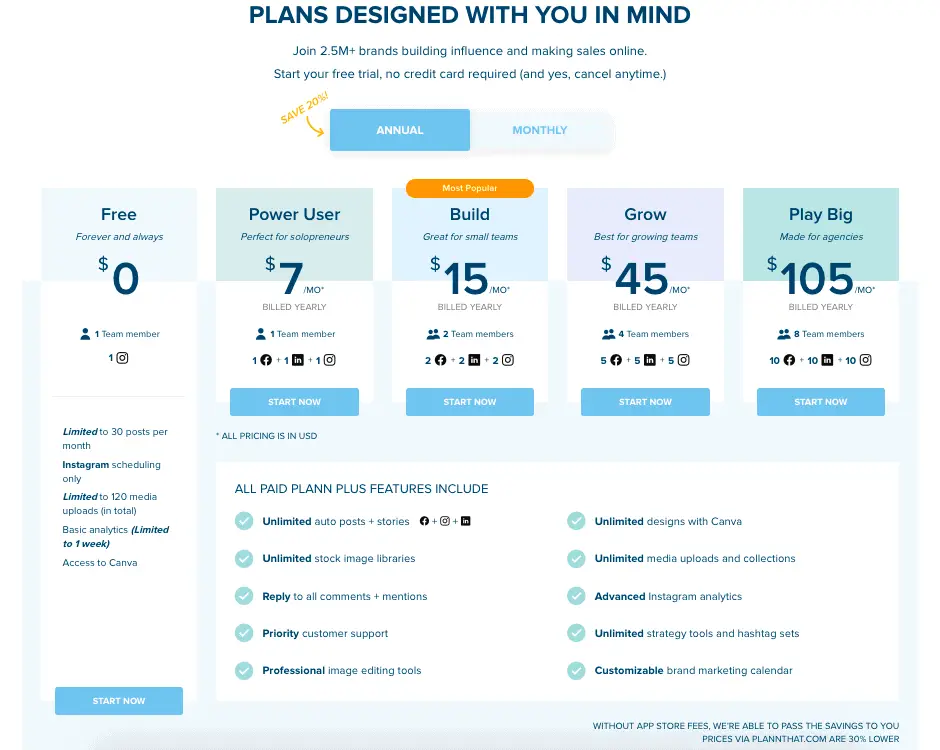 As you can see there are monthly and annual pricing plans available with the core difference additional social media profiles and team members.
For entrepreneurs and small business owners paying $9 a month is the standard.
The fact that you get access to Plann from both your smartphone and laptop is well worth the $9 a month.
Social Platforms
Plann allows you to schedule content to IG feed and stories, Pinterest, TikTok, Facebook and LinkedIn.
The real icing on the cake is that Plann now gives you the ability to auto-post to your IG feed.
It means that it can save you time when it comes to publishing content to your IG feed.
Stock Image Library + Canva
There are a ton of IG schedulers available on the marketplace but not many of them come with a built-in image library.
If you are publishing content to Instagram on a regular basis you'll know that having images is essential to your success.
Plann gives you access to Pexels, Pixabay and Unsplash right from your smartphone, laptop or desktop device.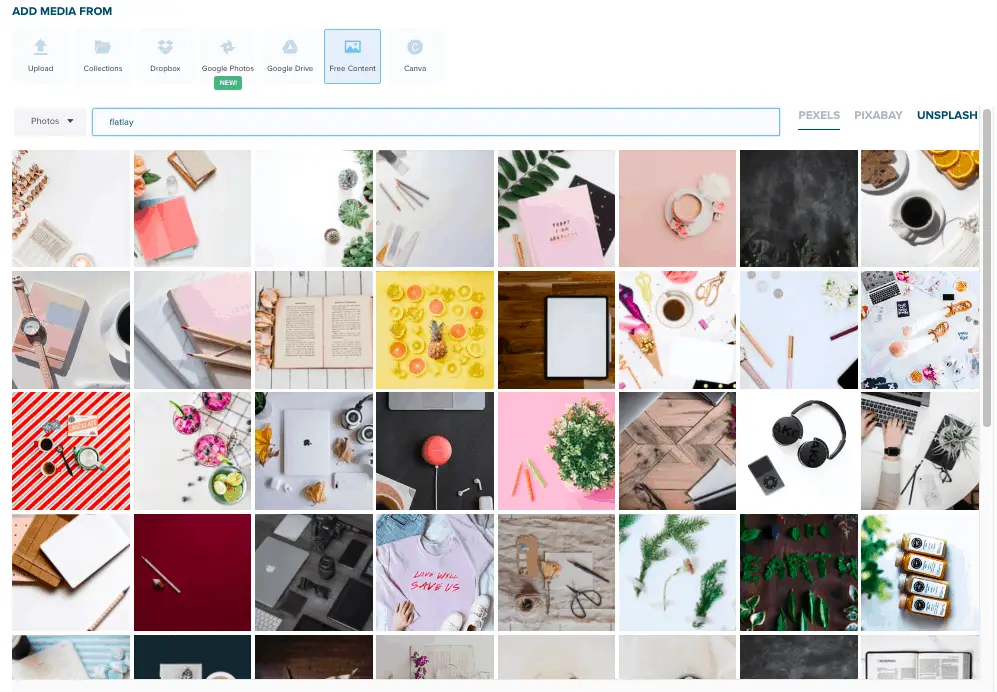 Another cool thing that is mind-blowing when it comes to Plann is the integration it has with Canva.
In my comprehensive Canva vs PicMonkey post, you would have seen the amazing list of features that Canva already offers for free.
So, if the built-in image library that comes with Plann is insufficient for your needs just pop into Canva to create your own.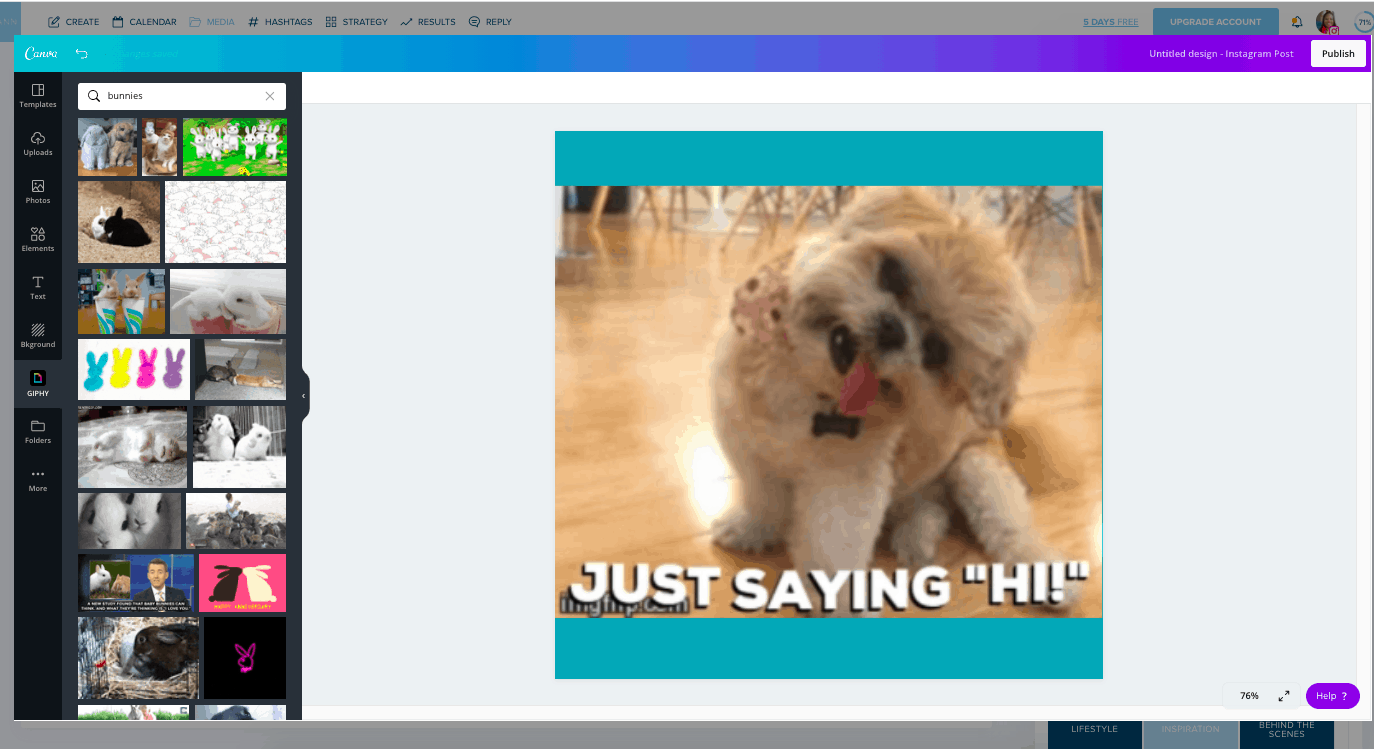 You'll also get access to your branding assets as well which is a win-win for everyone.
Stock Video Library
One of the most valuable features that come with Plann as standard is their stock video library.
Everyone knows that videos get more engagement than images when it comes to Instagram marketing.
Now, you can create show-stopping videos for as long as you need, thanks to Plann's foresight when it comes to video marketing.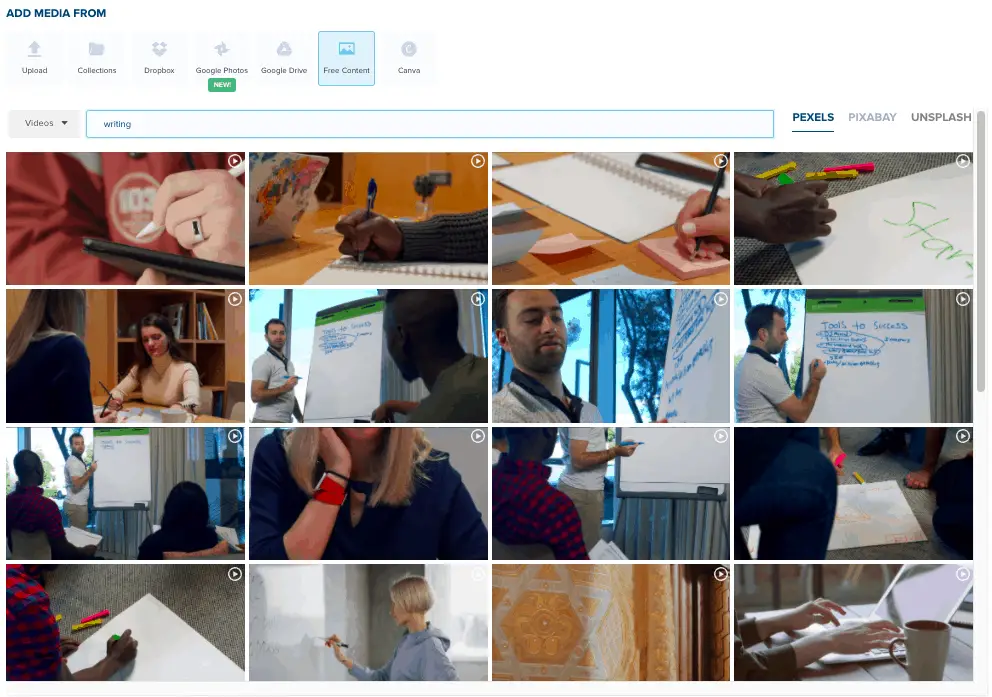 You may argue that the video library is only limited to Pexels and Pixabay but remember you also get access to Canva videos as well.
Strategy Tools
I mentioned previously that there are two reasons why posting to IG Stories continue to be a struggle for entrepreneurs.
These two reasons are planning and creating the content for IG Stories.
So, how does Plann help you with this struggle?
As a Plann customer, you get access to this set of strategy tools which I don't think they advertise sufficiently.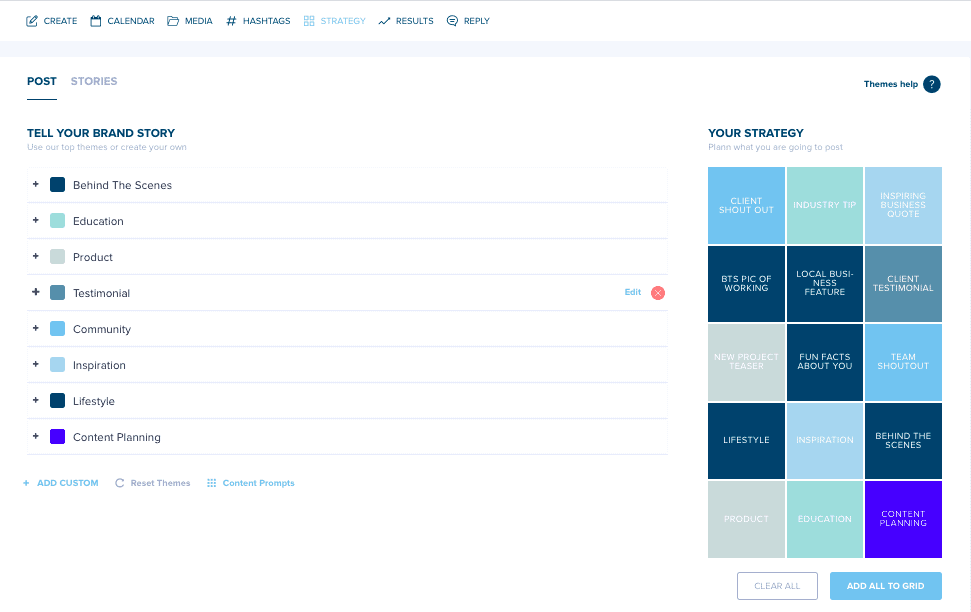 Allow me to demonstrate it in the video below. I created and published an IG Story in 5 minutes flat using Plann.
After seeing this one feature alone I was so excited because it seems like the folks at Plann thought about the scary blank screen.
You have to agree with me that the strategy feature on Plann really helps with planning your IG Stories.
Best Performing Palette
Another feature that sets Plann apart from many other IG schedulers is that their analytics incorporate something unique.
This unique selling point is the best performing palette which you can find in the results section.
Essentially it is showing which colour scheme or combination is getting the best results for you on your IG feed.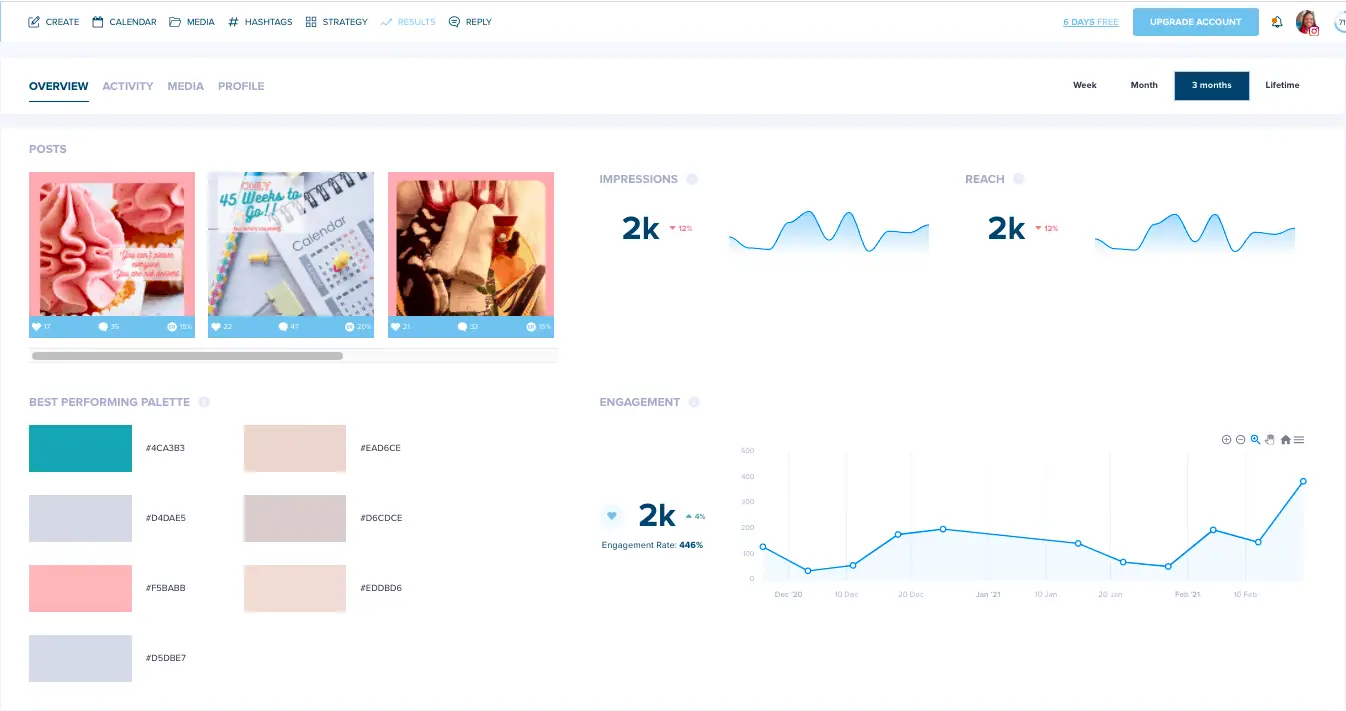 Social Inbox
One other interesting feature that comes as standard with Plann is the fact that they have a social inbox built right into the application.
It means that you can reply or engage with people who interacted with your posts right from the Plann desktop app.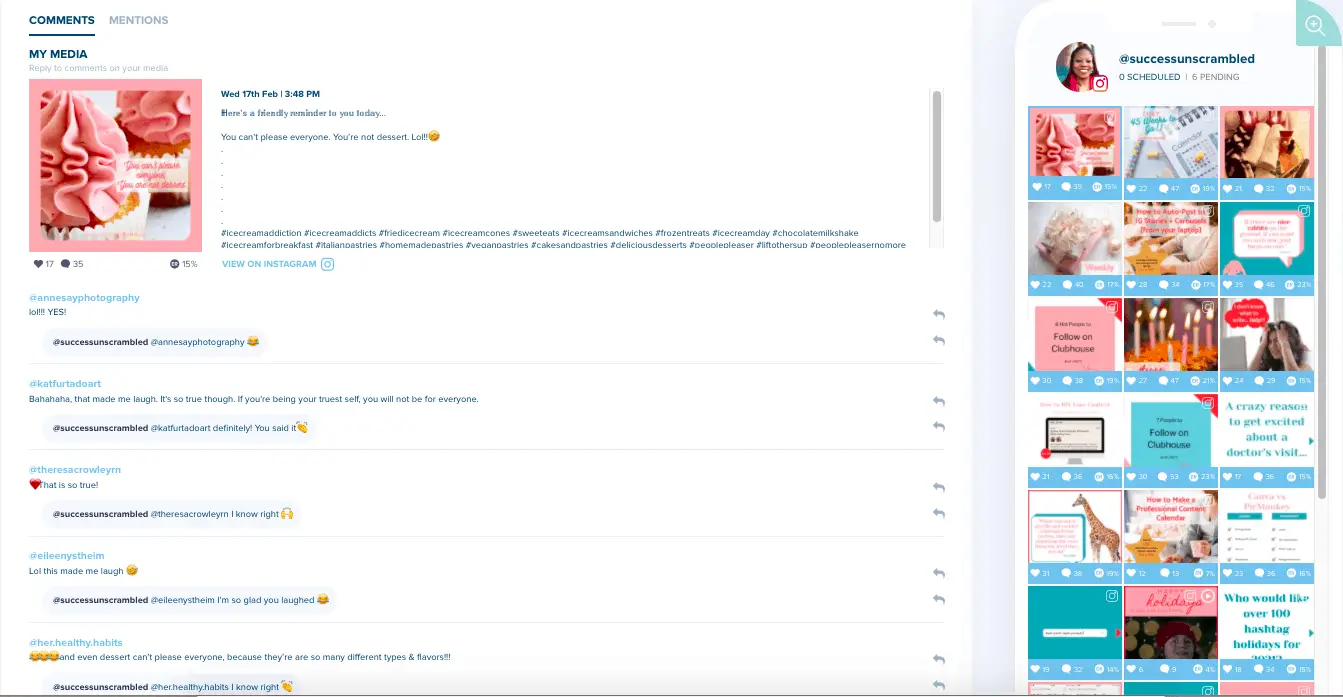 Just select the specific posts on the right-hand side using the grid view and complete your responses on the left.
Short Form Video Planning – Reels + TikTok
As you're probably aware short-form video has taken the Internet by storm.
If you don't think that is the case then bear with me as I outline all the platforms with short-form videos.
We've got Reels, Tiktok, Facebook Reels, Pinterest Idea Pins and YouTube shorts.
I bet you've never heard of YouTube shorts before (I can't wait for Plann to support posting to YouTube).
Anyhow before we get distracted with all this excitement let's look at how the best Instagram planning app, Plann, supports this revolution.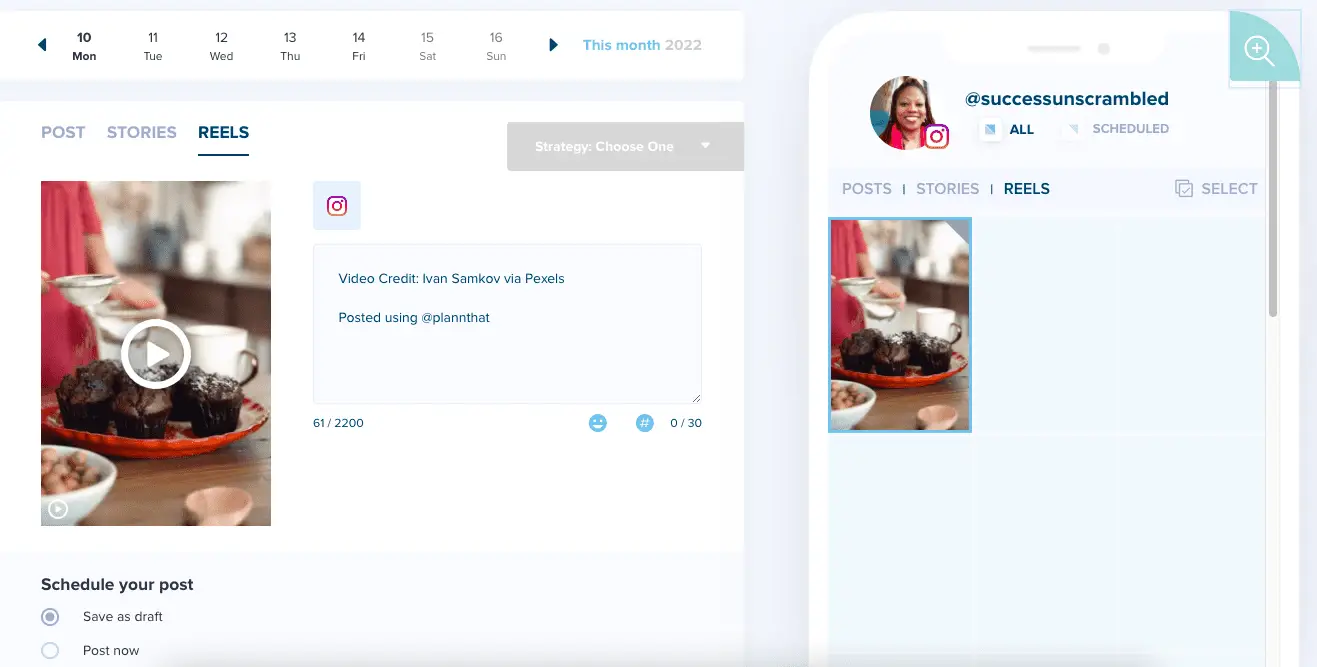 In the above image, you can see the IG Reels planning area where you can plan all your short-form videos.
You also get access to a free library of videos due to the integration with Pexels, Pixabay and Unsplash.
Planoly
Although Planoly was created as well in 2016, the story behind this Instagram marketing tool is different.
Planoly was the very first visual planner for Instagram thanks to Brandy Pham's initial struggles with IG planning.
As the name suggests, Planoly allows you to plan your Instagram content in advance and it comes with 4 different pricing plans.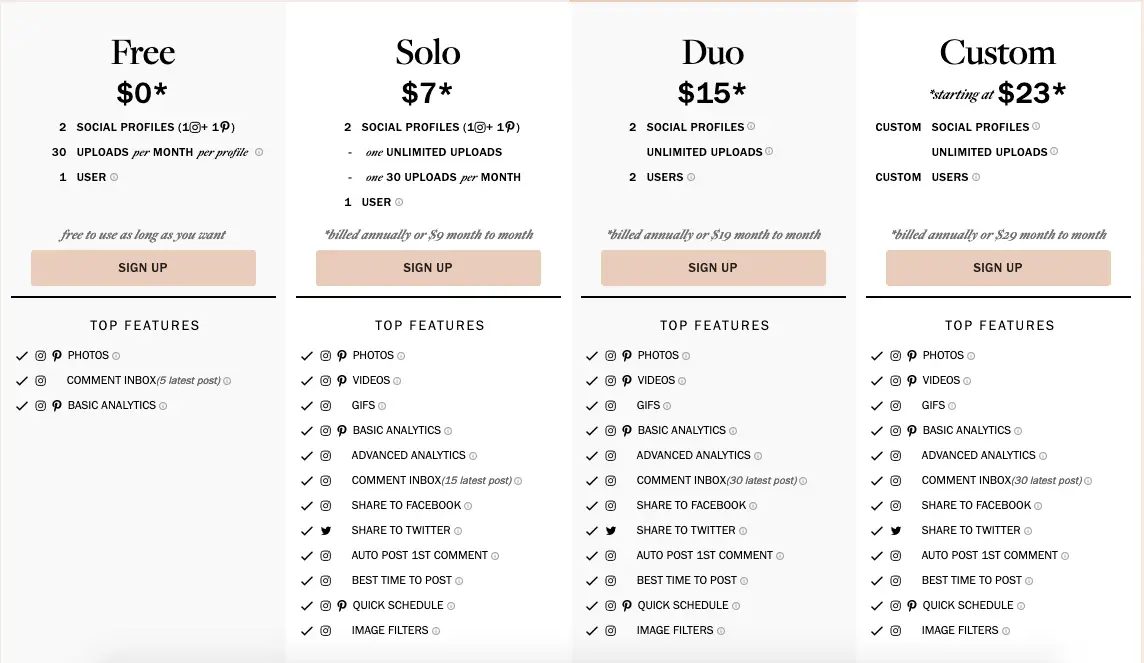 It comes as standard with a free plan which may be attractive compared to the one offered by Plann.
Planoly is available on iOS and Android devices and they are official IG partners, which is great news for everyone.
The key features offered by Planoly include:
Ability to post photos, videos and GIFs
Auto-post 1st comment
Stock photo library
Best time to post
Social calendar
Hashtag storage bank
Search posts by user
IG shareable link
Re-post or re-gram other people's content
Planoly App – Solo Plan Video
If you would like to get a sneak peek of the Planoly App in action check out the video below.
If you would like to create a specific aesthetic on your Instagram feed, then you will like Planoly as it comes as standard with a feature called filters.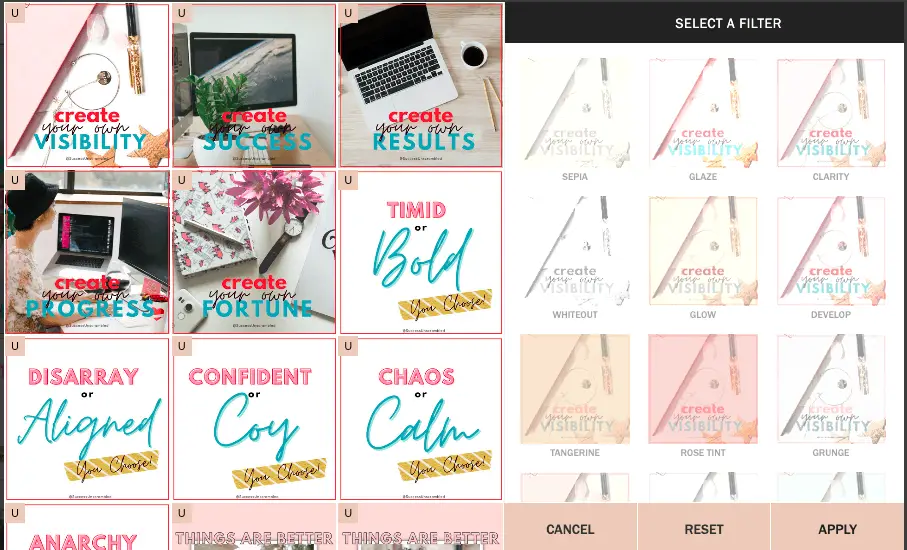 One thing I don't like about Planoly is that it doesn't come as standard with hashtag analytics.
If you want to get a feel for what the user interface looks like on Planoly then checkout the screenshot below.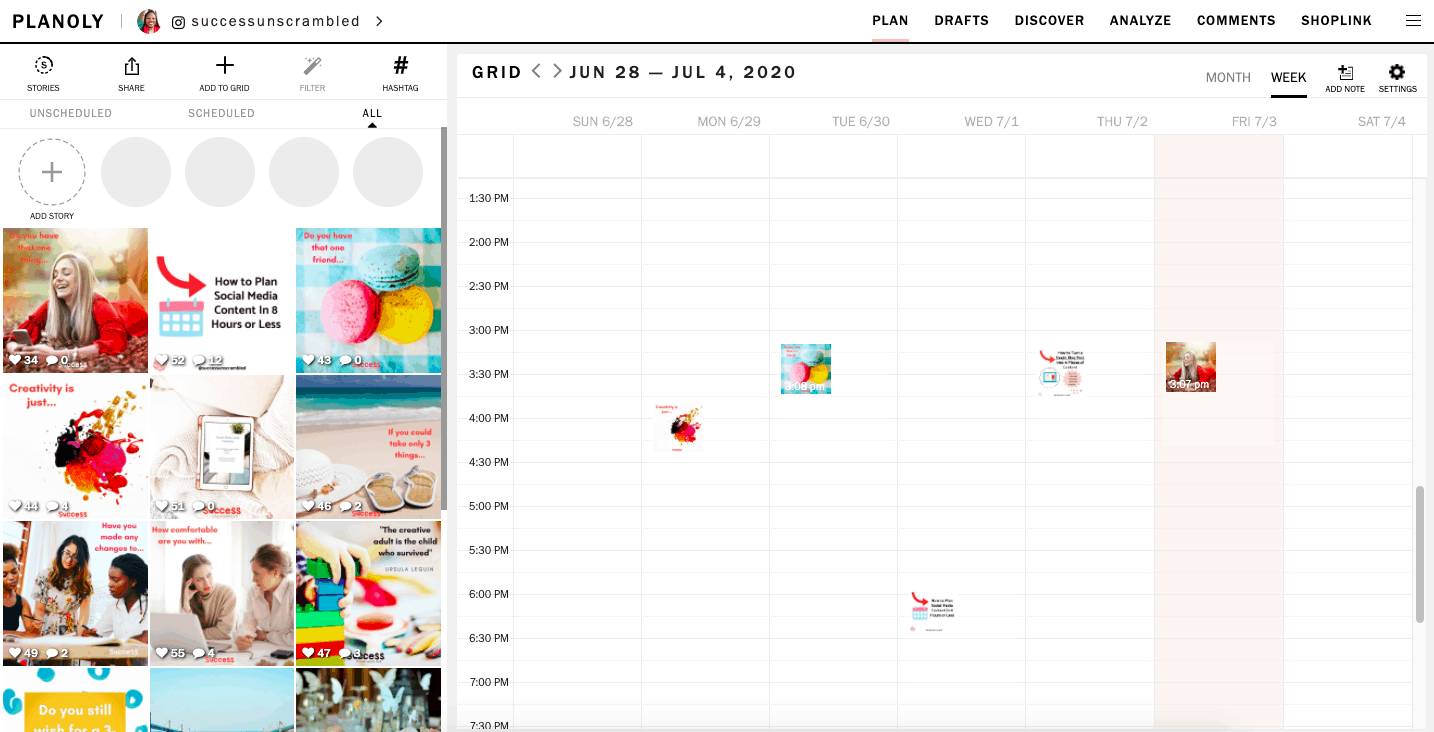 One thing that Planoly has that Plann does not offer is a separate drafts section where you can literally plan different looks.
This is available for Stories and your regular Instagram feed.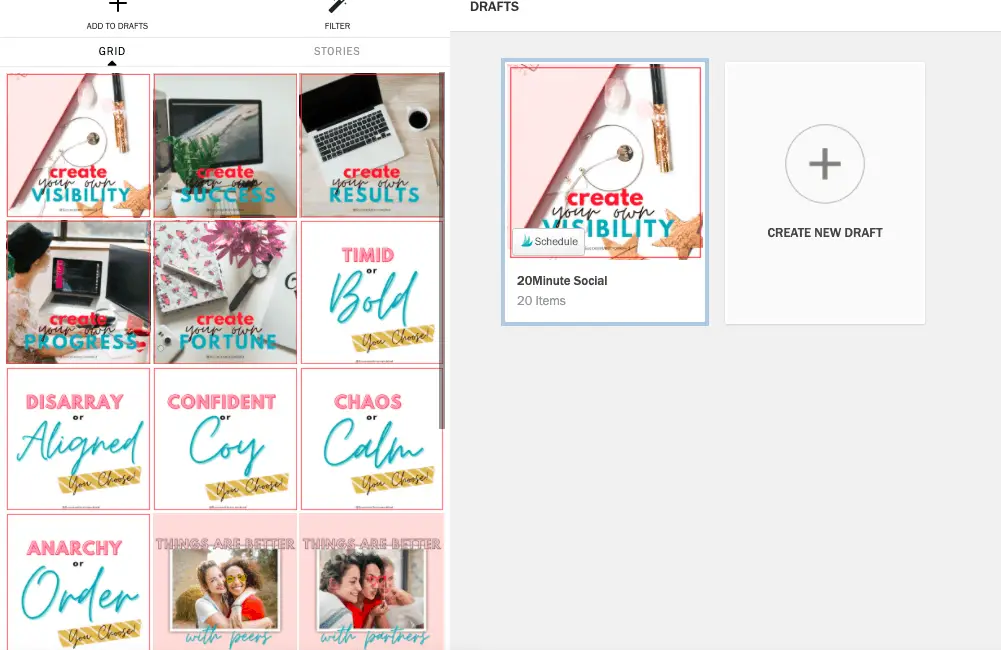 At this stage, you are probably wondering which one I prefer to use on a daily basis.
If I am publishing a single image and I want to post the hashtags in the first comment then I prefer to use Planoly.
When the need arises to publish a carousel post with a mixture of images and videos then Planoly is my preferred scheduler.
In case I am not available to complete a push notification then I will use Inssist since they auto-publish carousels.
You'll find 5 tools that can auto-post to IG stories in this comprehensive resource.
Planoly and Plann will send push notifications to my phone so that I can publish the post manually which is great.
Free Image Library – Planoly
Planoly offers a free image library in a very similar way to Plann.
After checking the comprehensiveness of images available in the library, I can say that Planoly's free image library is very limited.
Plann offers a much wider variety of images plus there is also a video library available.
Social Inbox
The one feature that Planoly has that can help you save time is a Social Inbox.
A social inbox is brilliant because it gives you the ability to reply to comments on your IG from inside Planoly.
It means that you don't need to switch between IG and Planoly in order to engage with comments.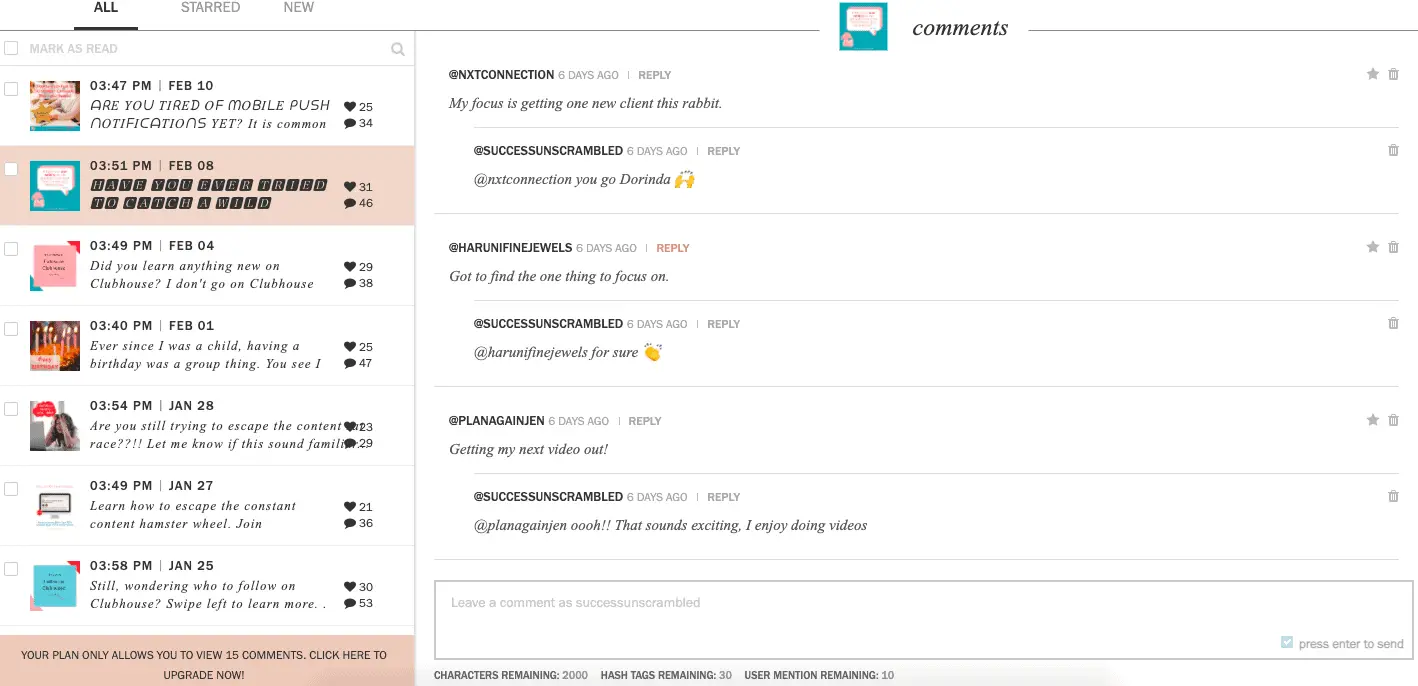 Repost/Re-gram Feature
Plann does not offer a repost feature but Planoly really invested in this feature and it is a huge time saver.
It is available both on the desktop app as well as the mobile.
While on the desktop just click on the discover tab and you will be presented with a huge list of options classified by hashtag.
Simply select the images you want in bulk or singly then click the add to grid button (see screenshot).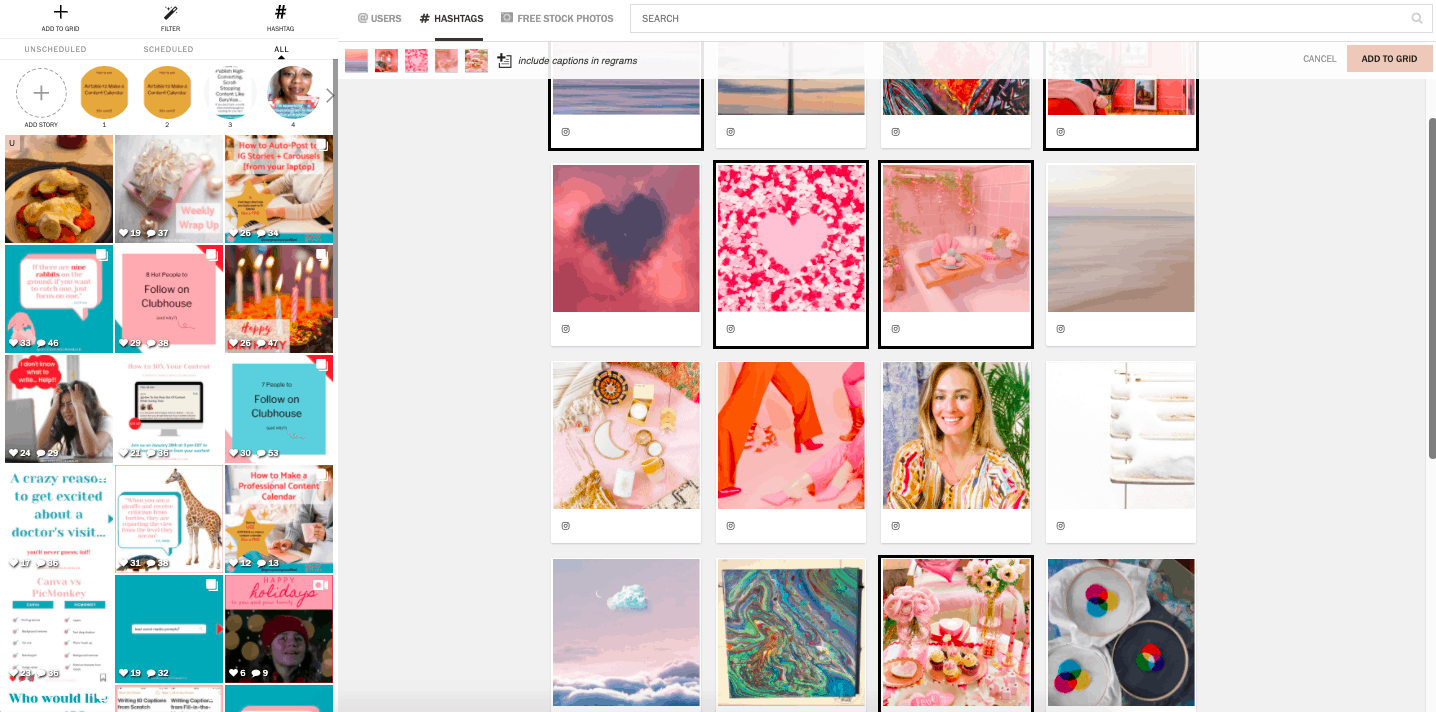 You do have the option to include the captions from the original image allowing you to give credit authentically to the original author.
It is also available on the mobile version of Planoly as standard which is brilliant.
You simply click on the big plus button at the bottom of the screen and you will see a menu that includes the option discover.
When you click on discover you will be brought to a view allowing you to search by hashtag or by a user.
After the results are displayed, select the images you want and decide if you want to include the original captions in the re-gram.
Once you have all the images chosen click the add button and the images will be added as drafts to your IG feed view.
Planoly vs Plann Side by Side Comparison
Going through both applications and their various features is super exciting and it can leave feeling overwhelmed.
Due to the fact that there are so many juicy features offered by both platforms here's a side by side comparison to help you see clearly.
| Feature | Plann | Planoly |
| --- | --- | --- |
| Desktop access | Yes | Yes |
| Smartphone access | Yes | Yes |
| Free Image library | Yes | Yes |
| Free Video library | Yes | No |
| Canva integration | Yes | No |
| Photo Editor | Yes | No |
| Strategy Tool | Yes | No |
| IG Analytics | Yes | Yes |
| Best Performing Palette | Yes | No |
| IG feed auto-post | Yes | Yes |
| Media library | Yes | Yes |
| Social Inbox | Yes | Yes |
| Image filter | Yes | Yes |
| Grid view | Yes | Yes |
| Publish to TikTok | Yes | No |
| Best time to post | Yes | Yes |
| Share to Facebook | Yes | Yes |
| Publish to LinkedIn | Yes | No |
| Share to Twitter | No | Yes |
| Publish to Pinterest | Yes | Yes |
| Plan + create posts | Yes | Yes |
| Plan + create Stories | Yes | Yes |
| Re-gram/repost viral content | No | Yes |
| Join Now ➡️ | Plann | Planoly |
As you can see there is so much you can get with both platforms that it can be tempting to sign up for both applications.
If this is what you need then go for it as it will cost you less than $20/month to subscribe to both of them.
You can also spend time carefully looking at what aspects you need the most from each provider before making a decision.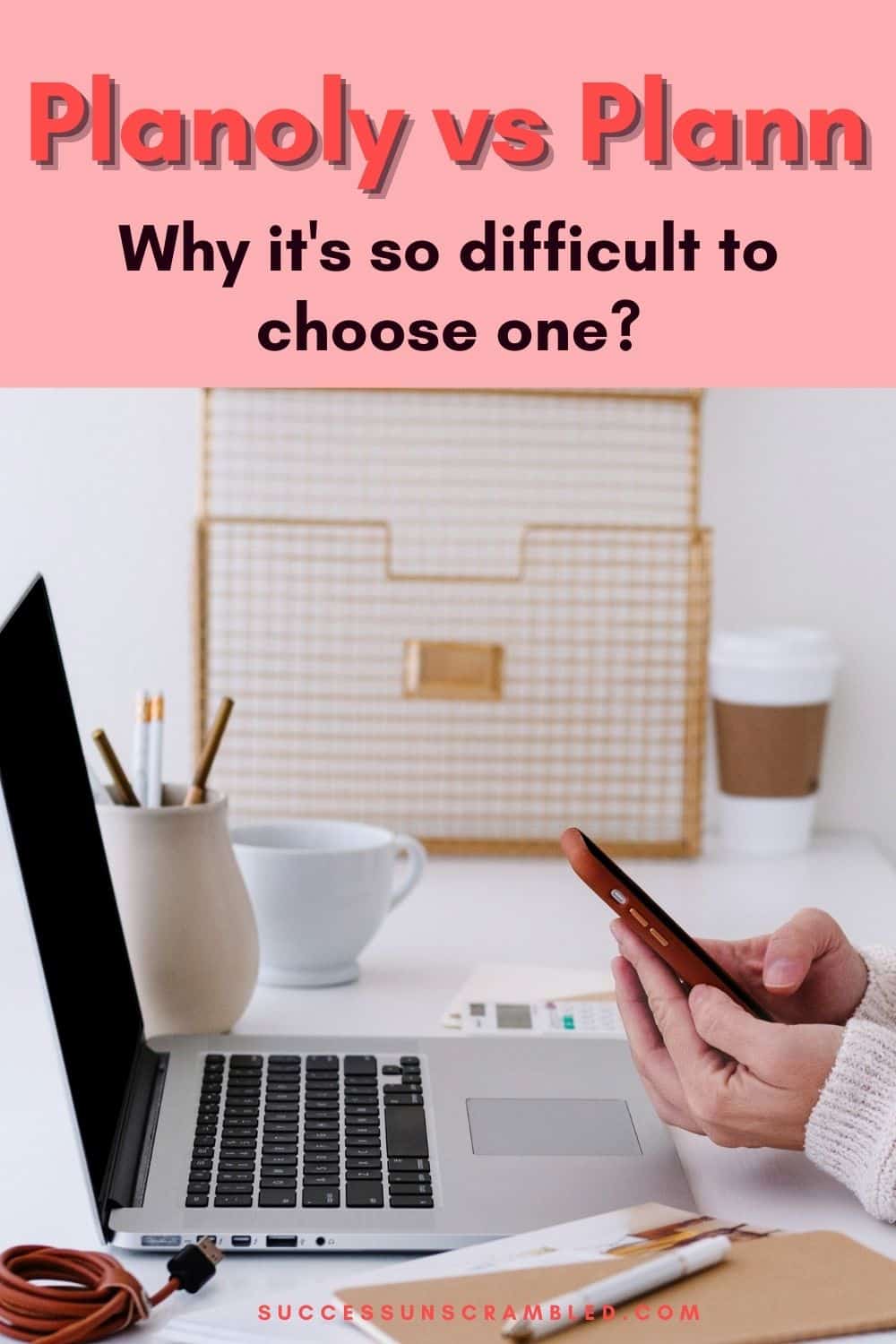 Summary
The world of posting on Instagram can be as exciting as you want it to be with so many options available.
It is important to sit down and consider what your longterm goals are for your business.
Yes, posting to the feed is not as valuable as it was in previous years as more people spend time binge watching IG Stories.
The bottom line is that publishing content to your IG feed would require you to engage more with potential clients.
While publishing to IG Stories will require you to be more deliberate with your creative juices.
In case you need help getting inspiration for your content or even a done-for-you calendar then hold on as I have something for you.
Grab the fill-in-the-blank 365 days of captions as well as the 12-month done-for-you calendar.
So that you don't have to stress so much about facing that blank screen every single week.
Over to you, what has been your experience using the PlannThat app for your business?
Announcements
Remember to subscribe to the Success Unscrambled podcast where you will be the first to hear what's happening in the entrepreneurial and digital marketing world.
Your positive review of this podcast is vital to keeping it alive and running for the next 12 – 24 months so please leave a positive 5-star review for us on iTunes, Spotify or any of your favourite podcast players.
Everyone has a story as to why they do what they do or what gets them out of bed every morning.
For me, I started this blog in 2017 because I had a burden on my heart to reduce women illiteracy globally.
Because this is a huge undertaking I have decided to help 1,000 women over the next 10 years to become wildly successful in their online business through simplified marketing strategies.
That way we can build a strong business network of women who can donate 1% of their profit and together we can help reduce women illiteracy worldwide.
Would you like to be part of this movement? Shoot me an email using alvern (at) successunscrambled (dot) com.
Posts Related to Instagram Marketing