Podcast: Play in new window | Download (Duration: 13:00 — 18.7MB) | Embed
Subscribe: Google Podcasts | Spotify | Amazon Music | Email | TuneIn | Deezer | RSS | More
Teresa needs to add a Facebook admin to her business account so that they'll be able to assist her with social media management.
However, this is not something that she did before so she feels a bit stuck.
You see, Facebook does not make it easy for entrepreneurs or small business owners.
Running a business takes a lot of time and planning in advance.
Especially when it comes to promoting your business using social media.
If you have a Facebook group you'll know that it takes a lot of time to manage it.
Let me know if any of this sounds familiar.
Your business has reached that point financially to be able to outsource a number of daily and weekly tasks.
However, you feel apprehensive about giving total strangers access to your accounts.
Getting the help you need is important to keep you sane and to continue generating leads for your business.
If only there was a way to safely share or give access to your social media accounts without worrying too much
In this post, you'll learn how to add a Facebook admin to your business account plus a few other tips and tricks.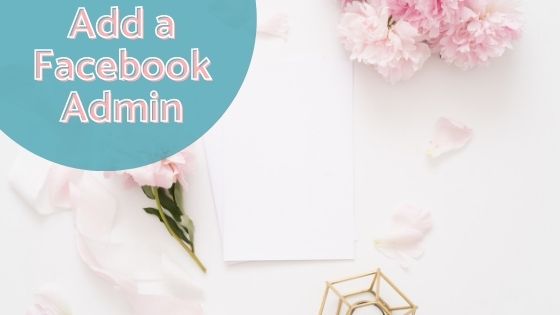 Social Media Management
Social media marketing is one of the key ways to continue growing awareness for your business.
It is also great to build the know, like and trust factor with potential clients.
Hiring a social media manager to help you achieve this ongoing task is a great idea.
In case you don't understand the logistics involved in social media management here's a list of what's needed.
Create an overall marketing plan
Develop branded social media templates
Refine key messages and conversion goals
Map out a 12-month plan
Design a quarterly editorial calendar
Create the content
Schedule out 13 weeks of content at a time
Evaluate the analytics
Rinse and repeat
Based on all the tasks involved in social media management you can see why having admin access to Facebook is pretty important.
Of course, there are other social media platforms besides Facebook and these include Twitter, Instagram, LinkedIn, YouTube and Tik Tok.
Pinterest is also there in the background but most social media experts will tell you that it is a visual search engine.
Facebook Business Suite
In order to give anyone admin access to your Facebook account, there are two things you need to have.
These include a personal profile on Facebook as well as a Facebook business page.
Once you have these set up it will be pretty easy to also access the Facebook Business Suite (FBS).
If you never heard of Facebook Business Suite before then let me explain.
Facebook Business Suite or FBS is the comprehensive platform built by Facebook for business use only.
Using this platform allows you to access your Facebook business page as well as your Instagram business account.
You'll be able to create and schedule posts months in advance including IG Stories.
The "insights" feature inside FBS gives you the ability to see and analyze the performance of your social media campaigns.
In order to get results faster, you can use Facebook Ads to generate more leads and sales.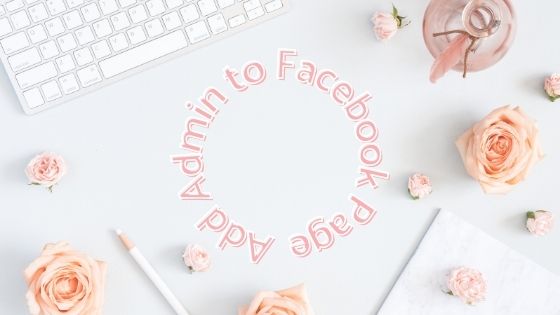 How to Add a Facebook Admin
By now, you should have your Facebook business page set up and ready to go.
Here's what you need to do to add a Facebook admin to your account.
Step 1
Head over to www.business.facebook.com and log into Facebook Business Suite using your personal Facebook profile logins.
When you get there you'll see a menu on the left-hand side or left column that looks similar to the one below.

Be sure to choose the correct brand page or Facebook page name before moving to the next step.
Step 2
Click the "settings" option or settings icon on the menu.
After clicking it you'll be brought to a page that looks like the one below.

Notice that you have options to connect your Instagram account, adjust page settings, update your business settings and Ad account settings.
Step 3
On the top right side of the page, you'll see the blue button labelled "Add People" click on that to add a Facebook admin to your account.
The new page role section will be revealed.
Here's the screen that will pop up when you click on the "Add People" button.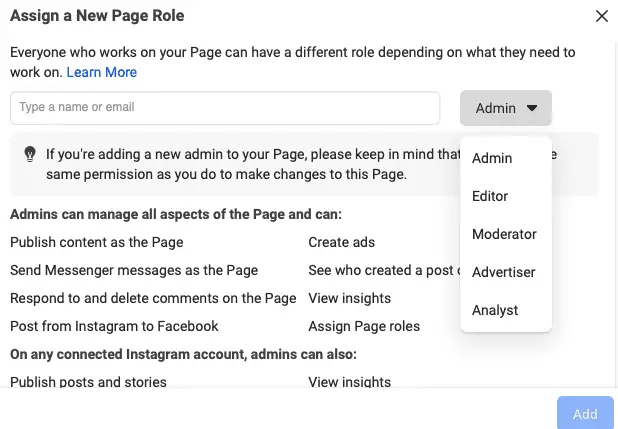 Click on the drop-down arrow and you'll notice a list of roles.
There are different roles or different types of page roles.
There are 5 different levels of permissions available for adding someone to your Facebook business account.
These include:
Admin
Editor
Moderator
Advertiser
Analyst
Only the admin and editor will have the ability to publish posts and stories to your Facebook business page and Instagram account.
The admin will have full control just like you to the Facebook Business Manager.
They'll also have access to view insights for both Facebook and IG.
Step 4
Decide on the level of control that you would like to give to this new person.
Choose the access level and enter the person's name or the email of the person.
Contrary to popular belief you don't need to be friends with this person in order to add them as an editor or admin in Facebook.
Here's an example of me attempting to add Sheryl Sandberg as an admin to my Facebook account.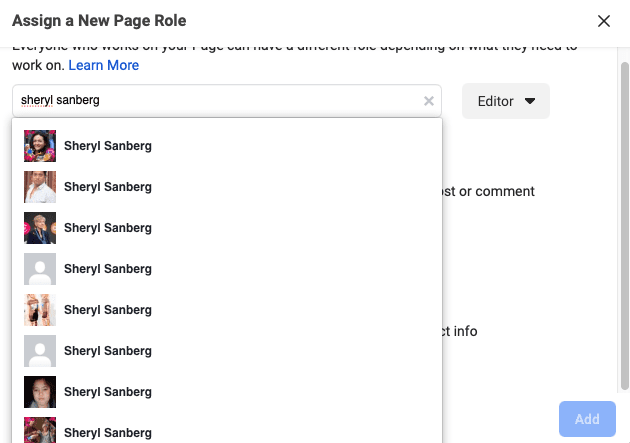 Of course, it doesn't make sense for me to add her since she will not be managing any of my social media campaigns.
Step 5
After finding the name of the person from the list, choose them.
The person will need to be a Facebook user in order to find them on the list.
Click the blue "add" button below and Facebook will send them a notification to join your Facebook business account.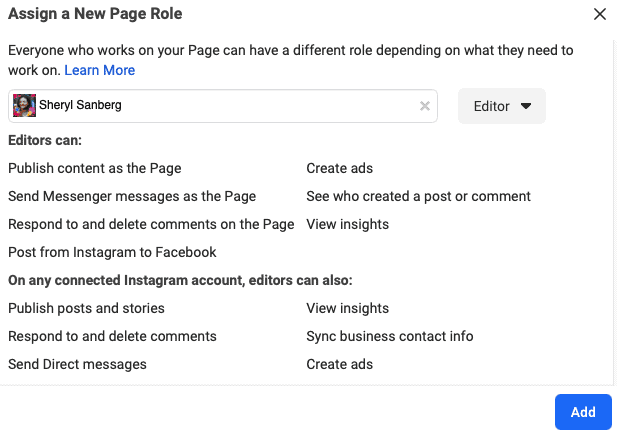 Just like that the whole process of setting up someone as an admin on your Facebook account is completed.
Social Media Tips and Tools
Instagram made a few announcements this year including the ability to create posts using your browser on the desktop.
They will also be focusing more on video content going forward so they made a few changes in this area.
If you are a business owner or entrepreneur looking for a way to streamline your social media management here are a few tips you can use.
The number one secret to ensuring that you don't develop a love-hate relationship with social media is to plan in advance.
Spend some time every week or month planning out your editorial calendar.
There are a few simple tools to help with social media planning including.
Using a Google Sheets planner
Creating a social media calendar on ClickUp
Developing a pretty Airtable content calendar
After planning out all your content for the quarter, you can use Canva to create all your graphics.
Once the graphics have been created, it is time to schedule 13 weeks of content using a social media scheduler.
There are so many available on the market but you can check out my review of each of the following:
Are you tired of the constant content hamster wheel?
Do you need 365 days of social media content ideas? If yes, then grab this social media bundle with captions and calendar ideas.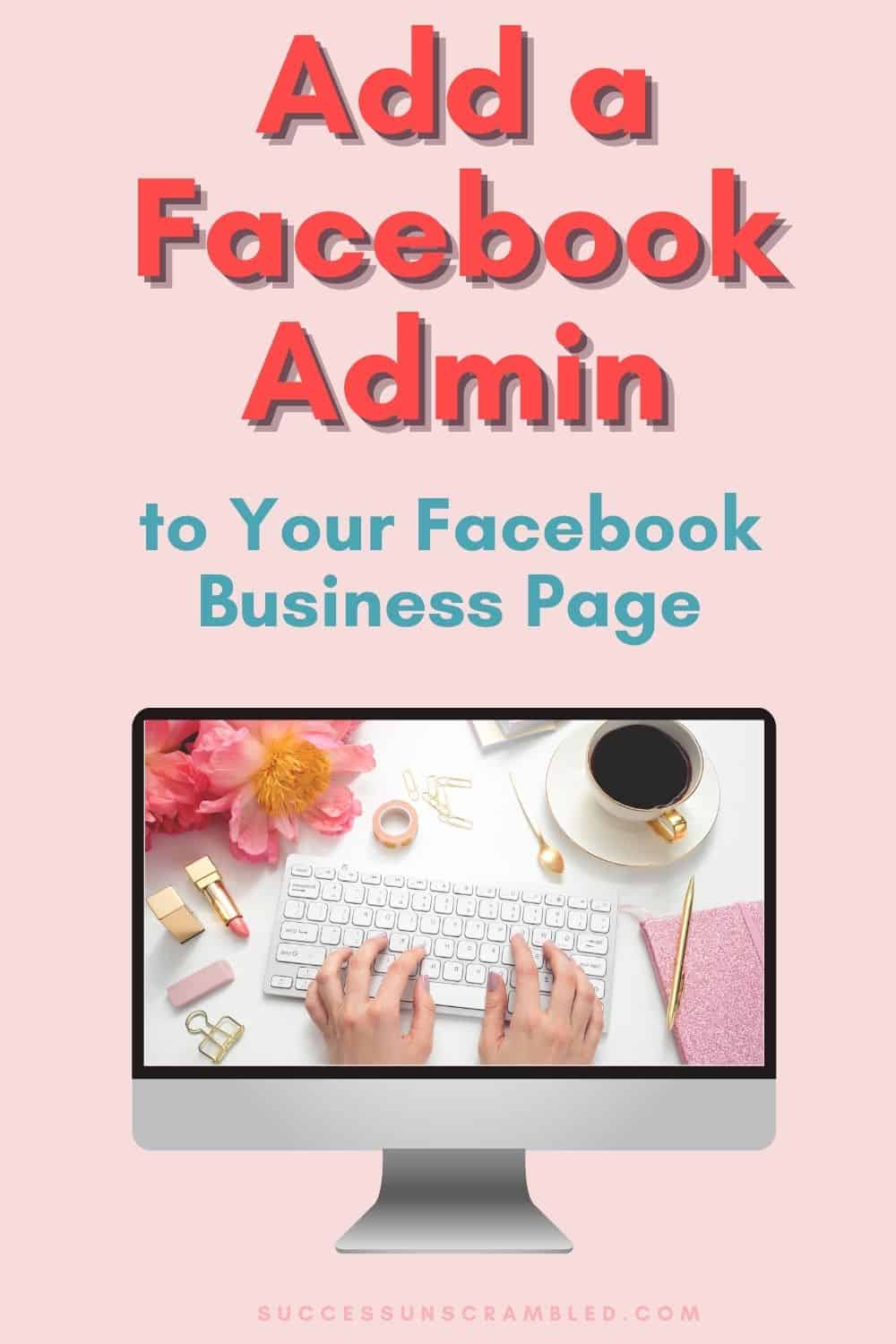 Summary
Oftentimes many things in business seem a lot more complicated than it is in reality.
Yes, adding Instagram to Facebook Business Suite can be quite glitchy at times.
The secret is to relax, take a break from doing it and come back again in a week or two.
Another option is to click the "Help" button on the bottom right menu.
After clicking it enter the word "Instagram" and you'll see this result.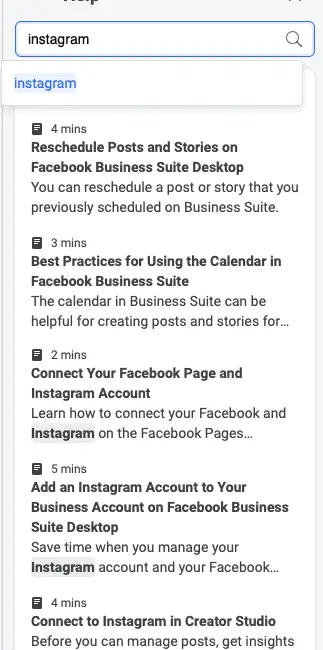 Here are the instructions that I got when I clicked on the option to "Connect Your Facebook Page and Instagram Account".

Facebook is on a mission to reduce glitches and improve the customer experience for its business users.
So, over to you, what has been your experience trying to add a Facebook admin to your account?
Announcements
Remember to subscribe to the Success Unscrambled podcast where you will be the first to hear what's happening in the entrepreneurial and digital marketing world.
Your positive review of this podcast is vital to keeping it alive and running for the next 12 – 24 months so please leave a positive 5-star review for us on iTunes, Spotify or any of your favourite podcast players.
Being an entrepreneur is a tough journey and you'll need to persevere no matter what life throws at you.
If life throws you lemons, make lemon juice or tabbouleh salad.
I started this blog in 2017 because I had a burden on my heart to reduce women illiteracy globally.
Because this is a huge undertaking I have decided to help 1,000 women over the next 10 years to become wildly successful in their online business through simplified marketing strategies.
That way we can build a strong business network of women who can donate 1% of their profit and together we can help reduce women's illiteracy worldwide.
Would you like to be part of this movement? Shoot me an email using alvern (at) successunscrambled (dot) com.