Podcast: Play in new window | Download (Duration: 23:44 — 33.1MB) | Embed
Subscribe: Google Podcasts | Spotify | Amazon Music | Email | TuneIn | Deezer | RSS | More
While Marsha sat reading a couple of productivity quotes she heard someone call her name audibly.
The sound of her own name made Marsha jump!
You see Marsha lived in a cottage near a little forest with lots of trees and bunnies.
There wasn't supposed to be anyone else around because she lived alone.
So, when she heard someone calling her name it startled her.
Marsha got up from her seat and looked out the dusty windows and through the glass doors.
It was still bright outside because it was a little after 2 pm in the afternoon.
She didn't see anyone which did not surprise her because the voice that she heard sounded like someone inside her head.
Has this ever happened to you?
Whenever your brain drifts off thinking about life in general when you're supposed to be creating your next project or other tasks.
It's almost as if your brain decides to wake you out of a daydream.
As an entrepreneur, you can sometimes feel stuck when it is time to do a number of important tasks.
This is why using productivity quotes from other well-known people can help to push you forward.
In this post, you'll learn about 20+ motivational quotes that will keep you focused and help you to become more productive quickly.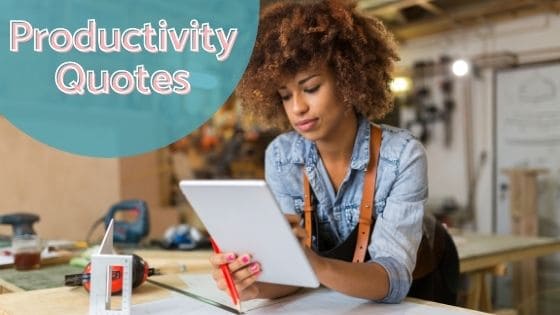 1. Stephen King
One of the most prolific writers of all time is Stephen King.
He was born in 1947 and he is a well-known author of crime, horror, supernatural, science fiction and fantasy novels.
If you know anything about writing, you'll know that it takes a certain level of discipline to write great books every year to earn a living.
One of Stephen's famous productivity quotes can be found below.
"Amateurs sit and wait for inspiration, the rest of us just get up and go to work."

Stephen King
2. Bruce Lee
If there's someone who will get you to your feet it must be Bruce Lee.
Somehow I never realised that Bruce Lee died back in 1973 at the tender age of 32 from a swollen brain.
He was known for his martial arts performances as an actor.
As you can imagine it takes a certain level of discipline to be good at martial arts in any form.
Here's one of Bruce's famous quotes to inspire you.
"If you spend too much time thinking about a thing, you'll never get it done"

Bruce Lee
3. Henry David Thoreau
Now is a great time to take a step back to the 1800s where we can catch up with Henry David Thoreau.
He was an American Naturalist, poet, philosopher and essayist. Born around 1817 in Concord, Massachusetts.
All his works, books, articles and journals amount to 20 volumes of works.
Without further ado, here's one of his inspirational quotes.
"It's the beauty within us that makes it possible for us to recognise the beauty around us. The question is not what you look at but what you see."

Henry David Thoreau
4. Benjamin Franklin
More than 100 years before Henry was born Benjamin Franklin came on the scene.
Benjamin was a polymath, inventor, politician, scientist, printer, statesman, diplomat, writer and political philosopher.
In case you are wondering who or what is a polymath, it is a person with wide knowledge and learning.
They are a jack or jill of all trades.
There are some suggestions that Sophia Stewart is a modern-day polymath. Sophia wrote the Matrix and The Terminator.
Before we head down that rabbit hole let's look at this quote from Benjamin.
"By failing to prepare, you are preparing to fail"

Benjamin Franklin
5. Peter Drucker
Believe it or not, we have yet another writer.
Peter Ferdinand Drucker was an Austrian-American management consultant, educator and author.
What I find fascinating about Peter is that he was born in 1909 and he lived until the age of 95!
He was only 8 days away from his 96th birthday on November 11th when he died.
Peter was the inventor of the concept management by objectives.
You'll probably be familiar with this famous productivity quote from Peter.
"The best way to predict the future is to create it."

Peter Drucker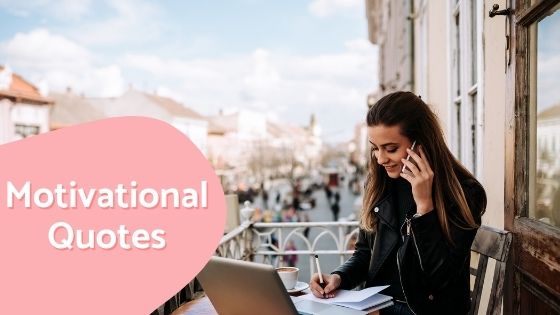 6. David Allen
Well, here is yet another management consultant and author for you.
David Allen is the inventor of the "Getting Things Done®" time management method.
He was born in 1945 and he is known globally as a productivity consultant.
Now for the funny part to help you understand a bit about David, for you see his career path was not straightforward.
He was a magician, waiter, karate teacher, travel agent, moped salesman, restaurant cook and many other professions before becoming a consultant.
After learning about David's background you'll find his quote interesting.
"Much of the stress that people feel doesn't come from having too much to do. It comes from not finishing what they've started."

David Allen
7. Walt Disney
This time we have the famous entrepreneur Walt Disney.
He was born at the top of the 20th century around 1901 in Chicago, Illinois.
Walt was also known as an animator, voice actor and film producer. He has been hailed as the pioneer of the American animation industry.
He holds the record for the most Academy Awards for his role as a film producer with a total of 22 from 59 nominations.
What you probably didn't know about Walt is that he was a heavy smoker and died of lung cancer in 1966.
Here's a fun fact. Did you know that EPCOT means Experimental Prototype Community of Tomorrow?
Let me leave you with these words of wisdom from Walt himself.
8. Franz Kafka
So, Franz Kafka is a novelist and short-story writer who was born in Prague around 1883.
He is known for writing stories about protagonists who find themselves in strange and unreal situations.
A good example of this is his novella called The Metamorphosis.
It is a story of a young travelling salesman who woke up one morning to realise that he became a giant insect.
Franz was engaged to several women but never got married. He died at the tender age of 40.
"Youth is happy because it has the capacity to see beauty.  Anyone who keeps the ability to see beauty never grown old."

Franz Kafka
9. Steve Jobs
Unlike many of our former well-known people, Steve Jobs had four parents.
He was born in 1955 to Abdulfattah John Jandali and Joanne Schieble Simpson who gave him up for adoption.
Did you know that Steve Jobs biological sister is the inspiration behind the Mother in the TV Series called the Simpsons?
Steve is known globally as the founder and inspiration behind Apple and all its products including the iPhone, Apple Watch and MacBook.
He was also the chairman and majority shareholder of Pixar, a member of the board of directors at Disney and the founder, CEO and chairman of NeXT.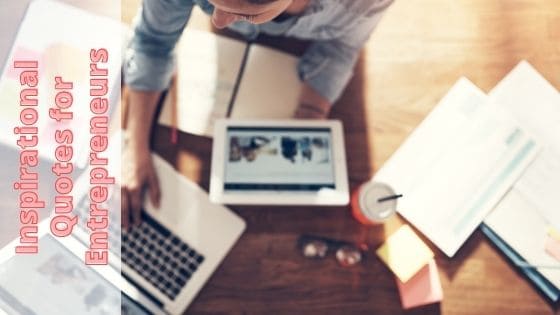 10. Alexander Graham Bell
Oh my, it's so interesting that Alexander Graham Bell invented and patented the first practical telephone.
As a result, Steve Jobs was able to enhance Alexander's invention even more.
More than 100 years before Steve was born Alexander came on the scene.
He's a Scottish born scientist, inventor and engineer.
What most people don't know is that both his wife and mother were deaf which led him to research speech and hearing devices.
This led him to invent the first practical telephone which he patented in 1876.
"When one door closes, another opens; but we often look so long and so regretfully upon the closed door that we do not see the one which has opened for us."

Alexander Graham Bell
11. Seth Godin
If you are a marketing enthusiast you'll be familiar with the name Seth Godin.
He was born in Mount Vernon, New York around 1960 and he is an author and dot com executive.
The reason why Seth is famous is that he has an unconventional approach to marketing in all its forms using a concept called permission marketing.
Seth founded a company back in 1995 called Yoyodyne which he later sold to Yahoo for $30 million dollars.
Some well-known books of Seth include Purple Cow, Free Prize Inside, The Dip and Linchpin.
12. Paul J. Meyer
In case you never heard of him Paul J. Meyer is considered to be the pioneer of the self-improvement industry.
Born around 1928 in San Mateo, California, he is the author and co-author of several books.
These include Chicken Soup for the Golden Soul, The 5 Pillars of Leadership, I Inherited a Fortune and Know Can Do: Put Your Know-How into Action.
Despite being born to a poor immigrant family, Paul became a self-made millionaire and he went on to own several companies.
His 24 full-length programs have sold over 2 billion dollars worldwide.
"What you vividly imagine, ardently desire, sincerely believe and enthusiastically act upon must inevitably come to pass"

Paul J. Meyer
13. Albert Einstein
In 1879, Albert Einstein was born in Germany and he is widely regarded as one of the greatest physicists of all time.
He is well known for developing the Theory of Relativity as well as contributions to quantum mechanics.
In 1921 he received the Nobel Peace Prize in Physics.
He was a citizen of three different countries including Germany, Switzerland and the USA.
14. Cortia Kent
Cortia was born with the name Frances Elizabeth Kent and she's also known as Sister Mary Cortia Kent.
She was an American Roman Catholic religious sister, artist, designer and educator.
The Cortia Art Center has been set up to promote her work as well as her concern for social justice.
"Love the moment, and the energy of that moment will spread beyond all boundaries."

Cortia Kent
15. Francine Jay
There isn't a lot to say about Francine except that she is a minimalist.
She's the author of 2 books, The Joy of Less and Lightly.
Francine believes that the "less stuff we have cluttering our homes, the more energy we can devote to the things that are truly important to us."
She's been featured in CNN, BBC, NBC TODAY, the New York Times, Chicago Tribune, The Guardian, Financial Times, Forbes, Huffington Post, ELLE Espana, Spiegel and The Irish Times.
Here's more inspiration from Francine.
16. Coco Chanel
If you're into perfumes then you're probably familiar with the name Coco Chanel.
In 1883, Gabrielle Bonheur "Coco" Chanel was born in France.
She was a fashion designer and businesswoman. Known for transforming the fashion world from the corsetted style to the current casual chic wear.
Coco Chanel went on to design bags, jewellery, perfumes and the iconic CC monogram brand.
"You can be gorgeous at thirty, charming at forty and irresistible for the rest of your life."

Coco Chanel
17. Oprah Winfrey
Well, Oprah Gail Winfrey was born in 1954 in Kosciusko, Mississippi.
She is an American talk show host, TV presenter, actress, author and philanthropist.
Oprah Winfrey was once the world's only Black billionaire and the richest African American of the 20th century.
She was awarded the Presidential Medal of Freedom in 2013 by US President Barak Obama.
In 2008, she formed her own TV network called the Oprah Winfrey Network (OWN). Her net worth is 2.6 billion dollars.
18. Michael Jordan
Michael Jeffrey Jordan was born around 1963 and he is known for his success as an American professional basketball player.
He helped to make the NBA very popular around the world during the 1980s and 1990s.
Michael is also a businessman as he is the principal owner of the Charlotte Hornets and 23XR Racing in the Nascar Cup Series.
He holds several awards including 5 Most Valuable Player, 10 All NBA First Team Designations, 3 All-Star Game MVP and the 1988 NBA Defensive Player of the Year Award.
As you can imagine with any sport it takes a lot of practice to achieve success.
Here's some inspiration from Michael.
"One day, you might look up and see me playing the game at 50. Don't laugh. Never say never, because limits, like fears, are often just an illusion."

Michael Jordan
19. Brian Tracy
Brian Tracy was born in Charlottetown, Canada around 1944.
He is a motivational speaker and self-development author of 80 books.
Some of his books include Eat That Frog, The Power of Self-Discipline and Earn What You're Really Worth.
He is the CEO of Brian Tracy International where he offers several counselling programs in leadership, goals and success psychology.
If you want to be inspired by Brian check out his quote.
20. Henry Ford
If there's one person we can learn from it is Henry Ford because he's responsible for the explosion of the car industry as we know it today.
Henry was born around 1863 in Springwells Township, Michigan.
He was the founder and leader of the Ford Motor Company and the inventor of the mass production and sale of affordable cars.
Although he left most of his vast wealth to the Ford Foundation giving his family permanent control over it.
Henry also developed a franchise system allowing him to put Ford dealerships throughout North America and 6 continents around the world.
Here's some inspiration from Henry.
"When everything seems to be going against you, remember that the aeroplane takes off against the wind, not with it."

Henry Ford
21. Warren Buffett
If investments are something that interests you then you probably heard of Warren Buffett.
He was born around 1930 in Omaha, Nebraska.
Warren Buffett is known as an American business magnate, investor and philanthropist who spends a lot of time reading.
He is the chairman and CEO of Berkshire Hathaway and he's also known as the most successful investor in the world.
What's fascinating about Warren is that he has pledged to give away 99% of his wealth to philanthropic causes.
Summary
The secret to being productive as a small business owner and entrepreneur is to do some intelligent planning and stop watching TV.
Oprah Winfrey, Brian Tracy, Warren Buffett, Henry Ford, Dale Carnegie, Theodore Rosevelt, Mark Twain, Frank Sinatra, Barack Obama, Thomas Edison and other successful people are ordinary people just like you.
What makes them different is that they found a better way to implement action steps for goal achievement.
It doesn't mean that they never have bad days.
In his video Seth Godin talks about his failures as he spends each day busy making mistakes to find golden nuggets.
They channelled their energies in the right direction ensuring that they doubled down on their biggest gain.
So, if something worked they focused on making that thing extremely successful.
Many of them were born in poverty or less than favourable circumstances.
They didn't let their circumstances control their future.
Doing the right things, hard work, productive energy and giving appropriate attention to the task at hand are the secrets to their successes.
Over to you, what are your favourite motivational quotes?
Announcements
Remember to subscribe to the Success Unscrambled podcast where you will be the first to hear what's happening in the entrepreneurial and digital marketing world.
Your positive review of this podcast is vital to keeping it alive and running for the next 12 – 24 months so please leave a positive 5-star review for us on iTunes, Spotify or any of your favourite podcast players.
The key to attain any level of success may be a lot closer than you think.
It does involve stepping outside of your comfort zone which is a critical ingredient.
Judging from the quotes given by millionaires and billionaires, it's all about working smarter.
I started this blog in 2017 because I had a burden on my heart to reduce women illiteracy globally.
Because this is a huge undertaking I have decided to help 1,000 women over the next 10 years to become wildly successful in their online business through simplified marketing strategies.
That way we can build a strong business network of women who can donate 1% of their profit and together we can help reduce women illiteracy worldwide.
Would you like to be part of this movement? Shoot me an email using alvern (at) successunscrambled (dot) com.