Podcast: Play in new window | Download (Duration: 23:18 — 32.6MB) | Embed
Subscribe: Google Podcasts | Spotify | Amazon Music | Stitcher | Email | TuneIn | Deezer | RSS | More
So you've heard a lot of hype about MeetEdgar and you want to read a MeetEdgar review to see if the excitement is real.
As a small business owner, you know how important it is to show up on social media daily.
You know that showing up frequently will help you generate leads for your business.
Because posting on social media feels like a constant content hamster wheel.
It is imperative for you to find a way to remain authentic but still post regularly.
Here are some of the potential challenges that you might be facing.
Creating pretty social media graphics is not in your zone of genius.
Remembering to post on social media every day is a struggle.
So far, your social media content has been inconsistent.
You dread facing the notorious 'B' blank screen so you don't even try.
Wouldn't it be awesome to find a way to show up on Facebook, IG and Twitter authentically but still leverage automation?
In this post, you'll learn how to use MeetEdgar to achieve all your social media promotion goals.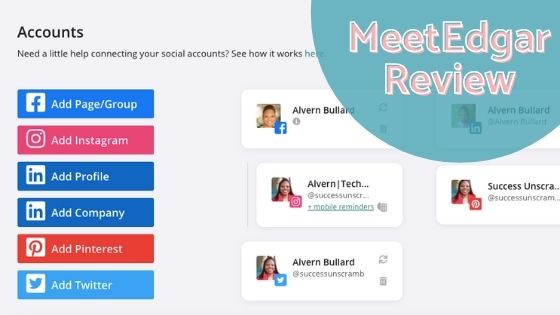 Social Media Posting Times
One of the most important questions on the lips of most small businesses is when is the best time to post on social media.
As you can imagine there are several social networks that are useful.
Each of them requiring different posting frequencies in order to achieve your desired reach.
Facebook
According to Sprout Social, the best times to post on Facebook is Tuesday, Wednesday and Friday between 9 am and 1 pm.
Of course, this doesn't mean that if you post on other days or times you will not get results.
It also doesn't mean that you should experiment with your content.
Instagram
However, the same source has said that the best days to post on Instagram are Monday through Friday at 11 am.
As you already know Instagram has 5 different areas so you'll get more reach if you post to IGTV, IG Reels, Stories, the IG feed and Go Live.
This is especially useful if you decide to do an IG takeover on the same day.
Twitter
When it comes to posting on Twitter, the folks at Hootsuite have suggested that the best posting times are Monday and Thursday at 8 am.
They've also said that 25% of Americans check Twitter several times a day.
What they failed to disclose is that in order to get seen on Twitter you'll need to post between 5-22 times a day.
LinkedIn
Of all the social media networks LinkedIn appears to be the most strict of them all.
However, I must mention here that in order to gain traction on the platform consider creating content in the edutainment category.
The best posting times for LinkedIn is 9 am Tuesdays and Wednesdays.
While all these suggestions are great it is important to look at the data in the analytics section of your social media platform.
It is there that you'll discover the best time to post based on the interaction of your audience.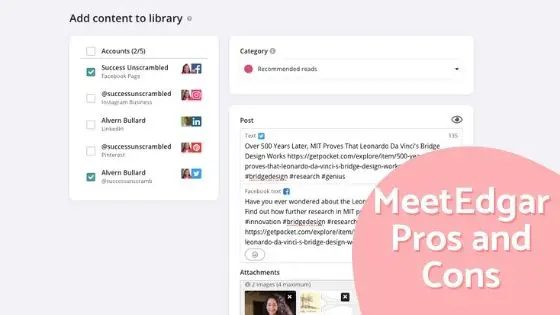 The Customer Journey
One of the secrets to creating content that drives leads and sales is to understand your customer journey.
The reason why this is important is that you want your content to resonate with your potential buyers.
There are many small business owners who believe that social media is a waste of time.
However, the problem is not social media if you are posting the wrong content.
Let's look at the customer journey briefly.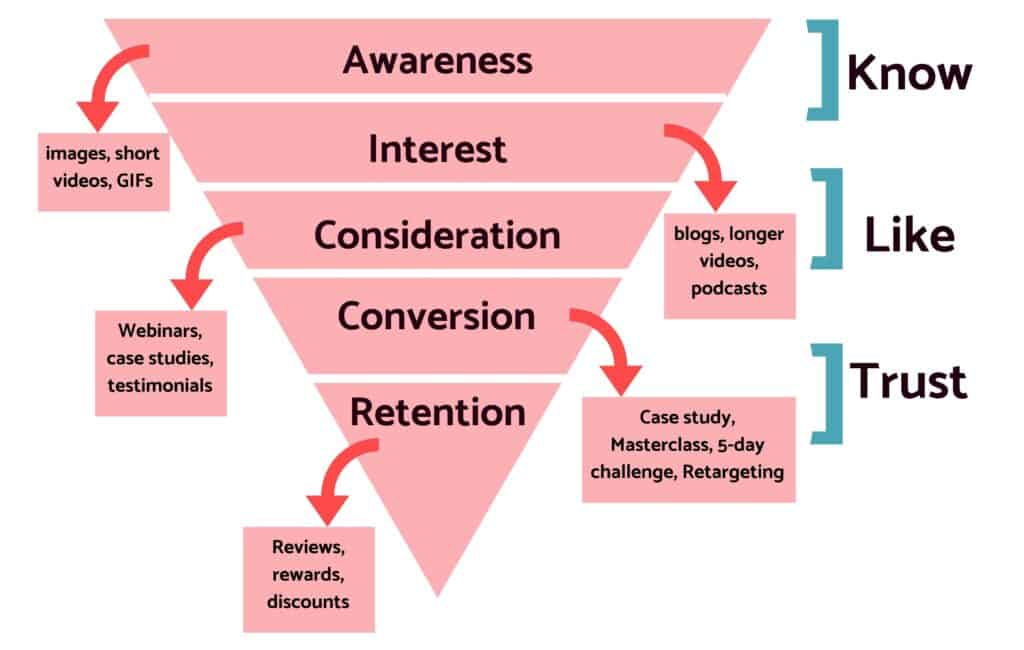 These include awareness, interest, consideration, conversion and retention.
If all the content that you post on social media is promotional content then you'll not get the results you need.
However, if you follow the defined journey format you'll increase your chances of conversions as time goes on.
Building the know, like and trust factor with your potential clients is essential for success.
Meet Edgar Review
Over the last 5 years or so I've heard so many people recommending MeetEdgar as a great social media scheduler.
So, I've decided to give it a try and see what all the fuss is all about.
After all, it's important to take it for a test run in order to rule it in or out.
In case you didn't know MeetEdgar is a social media management app or a social media marketing tool.
MeetEdgar Pricing
Before diving into the features of the application it is important to look at the pricing.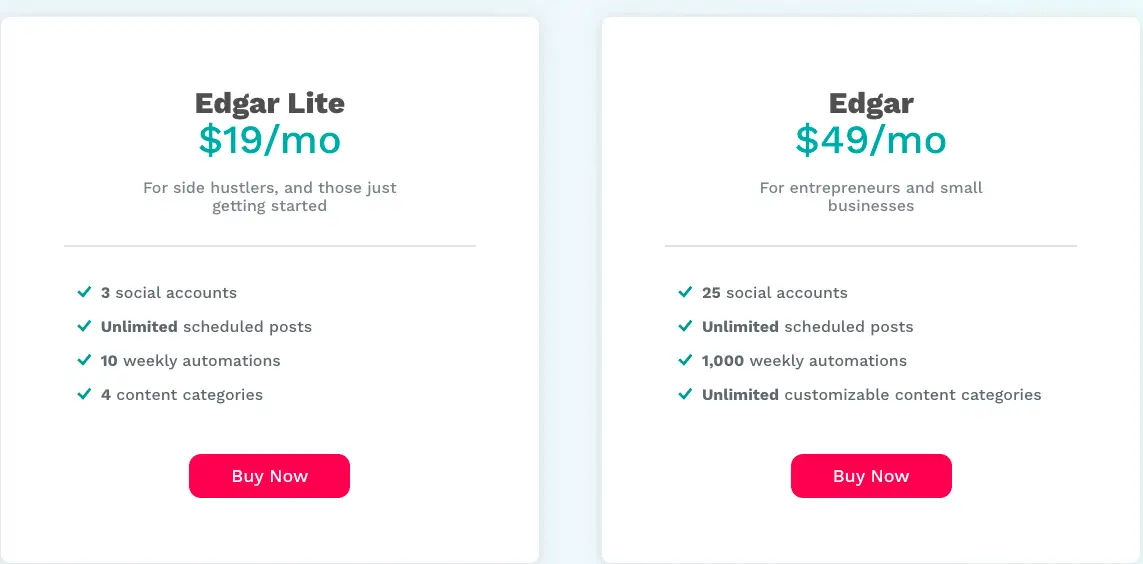 As you can see there are two pricing options available. The entry-level plan is priced at $19 a month.
While this price can seem really high when compared to other schedulers there are many features available that can justify this price point.
MeetEdgar Features
On the topic of features, let's spend some time looking at all the bells and whistles available inside MeetEdgar.
The signup process is pretty straightforward and they offer a free trial of the higher-level plan.
You'll need to place credit card details on file and an email address when you sign up for the trial.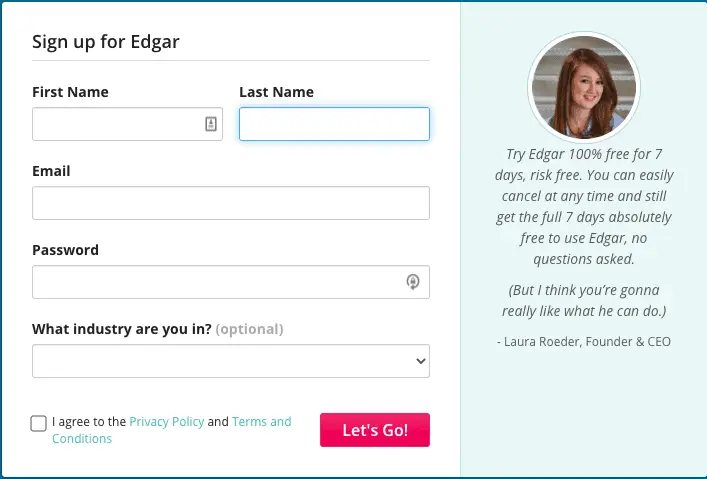 When you complete the sign-up process, you are encouraged to connect all your social media accounts.
These include Facebook pages, your Twitter account, Facebook accounts, LinkedIn accounts, Pinterest and IG accounts.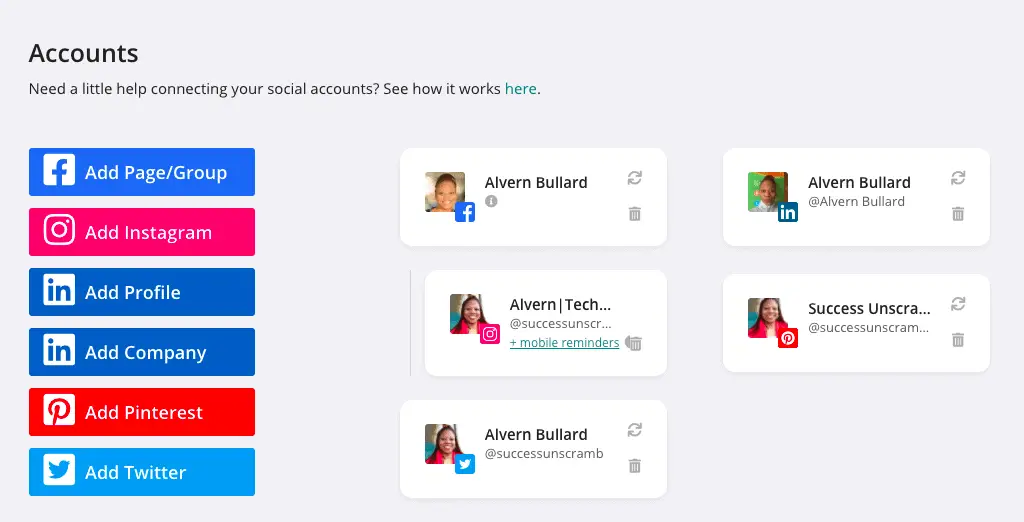 I really like the fact that they have a number of video tutorials to help you navigate their platform.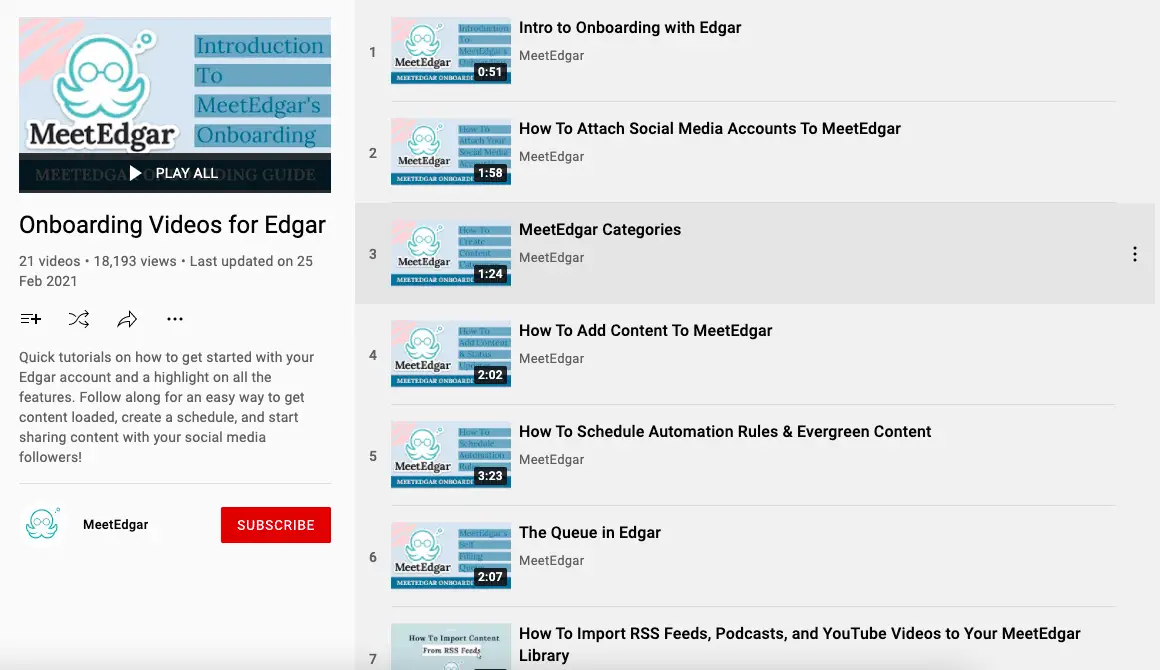 At first glance, the user interface is great when compared to many other social media management tools.
Key Features – What Makes MeetEdgar Unique
When you first start using the platform you'll notice a host of unique features available at the top navigation bar.
Let's look at each one in turn from left to right.
After adding your social accounts you are encouraged to create categories for your content.
If you remember earlier in this resource I mentioned the fact that it is important to have content that matches all the areas of your customer's journey.
So, if you want, you can label your categories based on your customer journey.
Content Library
The first tab on the MeetEdgar navigation is the library and you'll notice while in there that you are encouraged to store content in the library by category.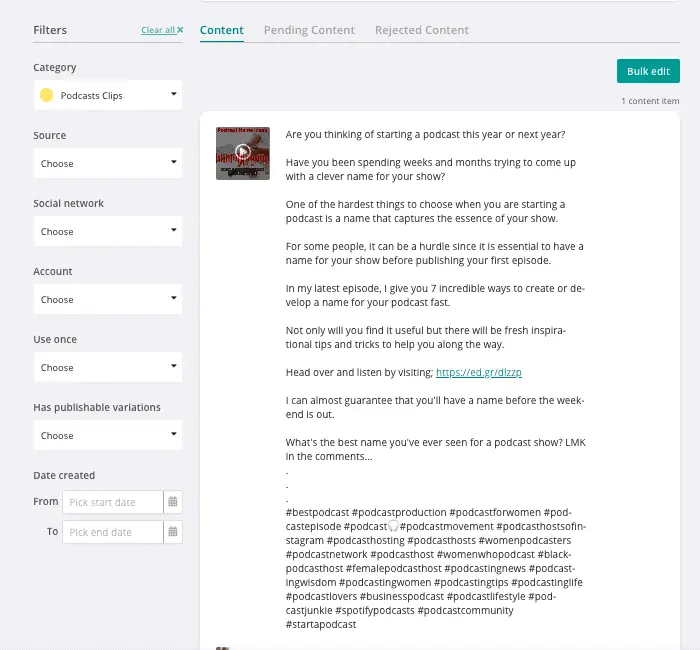 What's nice about this feature is that it allows you to sort content by a particular category as well as the date created.
Queue
You'll see that the 2nd tab is labelled queue which enables you to see all the items that are queued to go live.
I like this feature because it allows you to filter items in the queue by category and date created.
Just so you are not confused the library is content that isn't scheduled while the queue has content waiting to be published.
Schedule
In case you are wondering where is the content calendar on MeetEdgar it is cleverly labelled 'schedule'.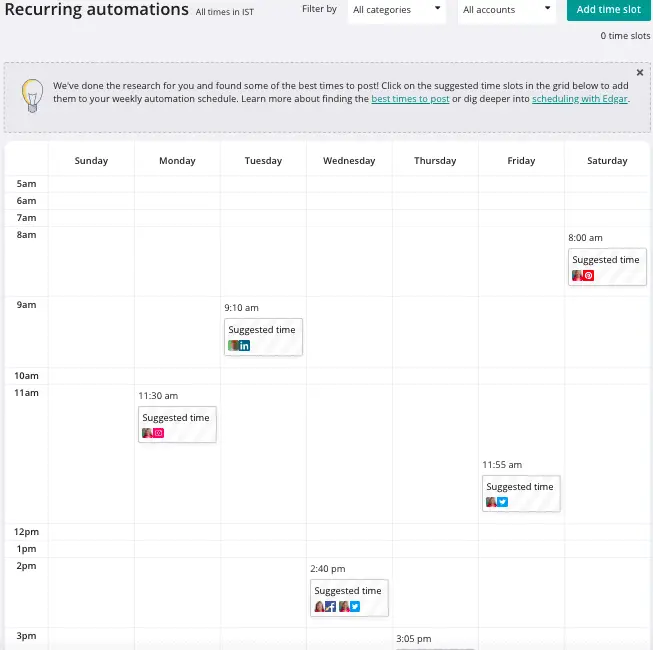 You'll notice that there are a number of suggested time slots already selected for you based on your social channels or social profiles as well as types of content.
I think that this is so cool since the system figures out the best posting times in advance for you.
Import
The hottest feature inside MeetEdgar is the import feature.
It's brilliant because it allows you the ability to import an RSS feed from your blog as well as your podcast.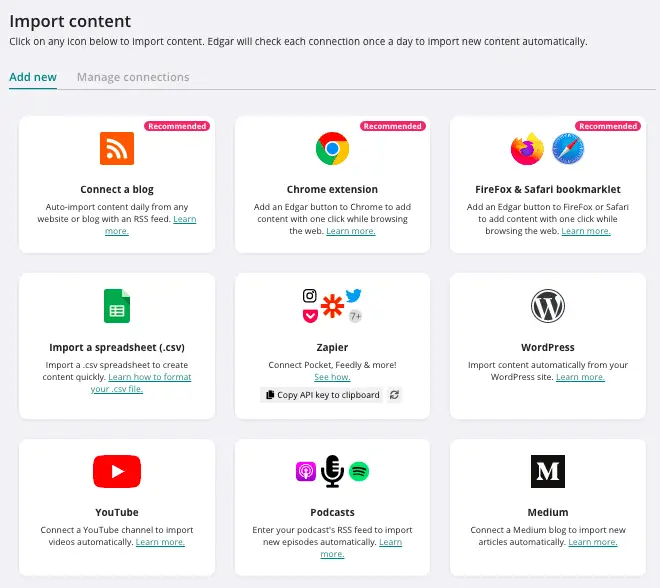 Yes, you read that right, including your old posts.
Imagine having the ability to import or upload all kinds of content in bulk from existing content you already created.
If you are adding content manually from scratch and you are not using the bulk import feature.
You'll need to click on the "Add content" button to create new posts.
Content Variation
One key feature that's almost unique to MeetEdgar is the ability to add 5 variations of one piece of content.
I say almost unique because this is also available in a few other social media schedulers.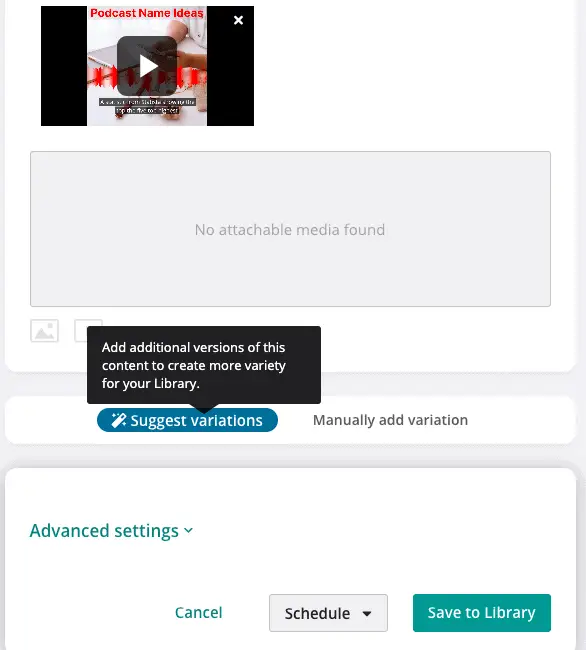 When you click the "suggest variations" button MeetEdgar will pull content from your existing blog posts that you'll need to modify as needed.
It means that one blog post can yield 5 pieces of fresh content in one click.
Chrome Extension
MeetEdgar also has a convenient Chrome extension that you can use to add other people's content to your library.
As you know it is important as a small business owner to share other people's content to establish your authority in the niche.
Publishing your own posts is just as important too.
When you find an article that you would like to share, simply click the MeetEdgar icon or Octopus logo Chrome extension.
A screen similar to this one will pop up where you can modify it to suit your requirements, assign it to a category and add it to your queue.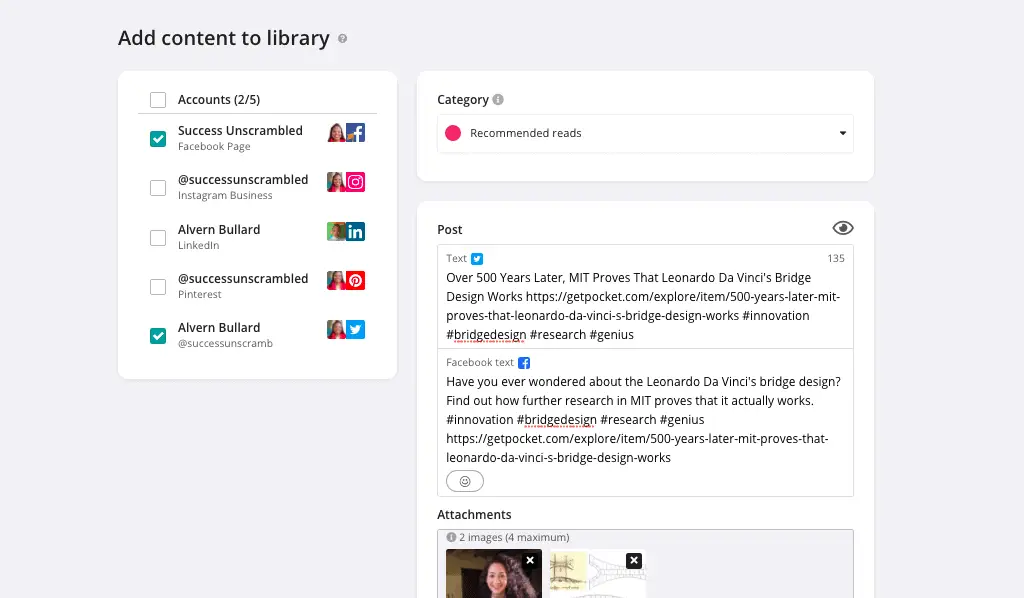 After adjusting it to suit your requirements, simply add it to your queue or click save.
There are browser extensions available for Safari and Firefox as well.
Pinterest Feed
As I mentioned previously, MeetEdgar has the ability to import content from several places including:
Blog
Podcast
Medium
Spreadsheet (CSV file)
Vimeo
Etsy
YouTube
Pinterest
I was curious by the fact that you can import Pinterest pins.
So, I decided to try that option out just to see how I can repurpose mine and other people's Pinterest pins.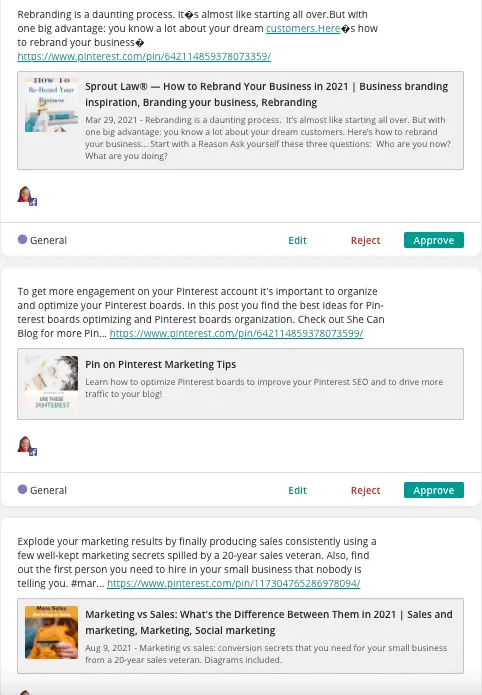 However, to my dismay, I can only use that content from Pinterest on LinkedIn, Twitter or Facebook.
Recurring Automations
Earlier, in this resource, I mentioned that MeetEdgar didn't have an ordinary calendar in a true sense.
What they have in the schedule tab is a feature giving you the ability to set a day and time every week to publish content.
This is especially useful for publishing evergreen content regularly.
After you decide how many times you want to publish content each week by category.
MeetEdgar gives you the ability to set a schedule to match.
As you can see from my schedule I have 11 spots each week broken down by category.
It is colour coded by the category for each piece of content.
What's even more interesting is that you can have those posts repeated over 1-2 years giving them increased exposure over time.
Edgar University
If you are worried that MeetEdgar will be too complex for your needs or you are a bit apprehensive.
There are more training videos available via Edgar U.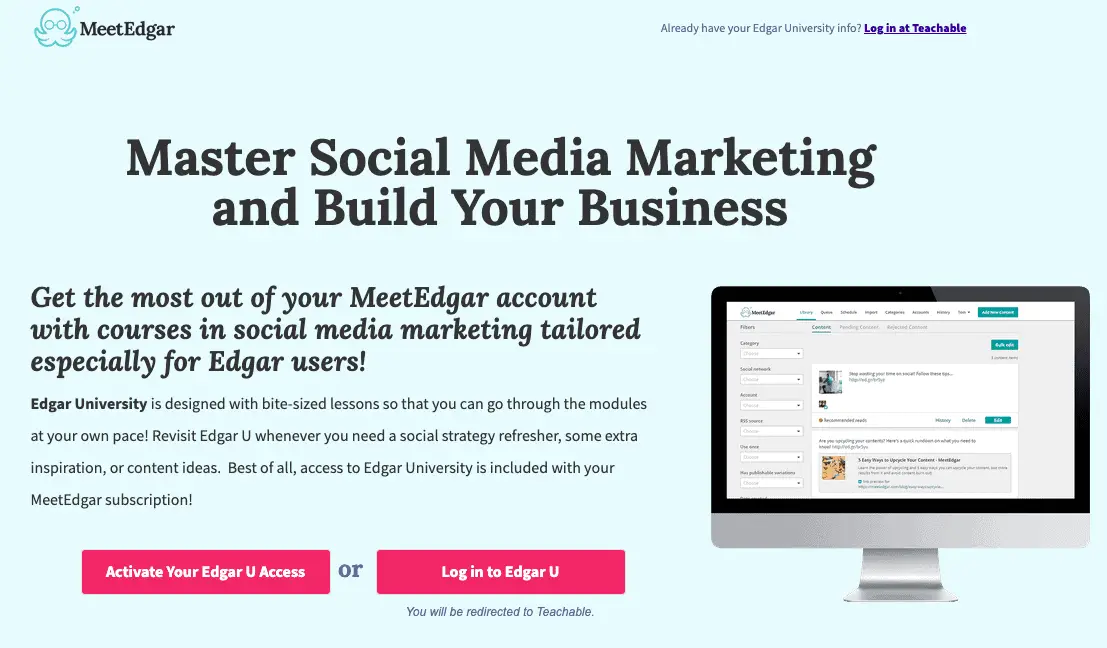 The lessons provided will help you build out a social media strategy for your business.
It's important to have a strategic approach that brings results.
Posting to IG Stories
If you post regularly to Instagram Stories then MeetEdgar has a mobile app that you can use to finish off the post.
In other words, there currently isn't a feature to auto-post to IG Stories inside MeetEdgar.
However, you will receive a mobile notification when the time arrives to publish your content.
7 Things Missing from MeetEdgar
While MeetEdgar has so many amazing features to help you save time, there are 7 things I wished came as standard.
Grid view for Instagram feed
Hashtag reminders for Facebook, Twitter and LinkedIn
Auto-post to IG Stories
Reels planner
Schedule videos to LinkedIn
IG Stories editor with stickers, text and GIFs
A better Pinterest and IG feed editor
As someone who has experience using Planoly, Later, Buffer, Agorapulse, PlannThat, Preview, Hootsuite, Tailwind and Facebook Business Suite.
I can tell you that it is difficult to find one tool that does it all really well.
An integration with Canva, Pixabay and Pexels would also be awesome.
Extended MeetEdgar Trial
If you need a full 30+ days to try out MeetEdgar for free consider doing the following.
Head over to Edgar U where there's a link to extend your trial from 7 days to 30.
Also, consider grabbing a coupon code from here.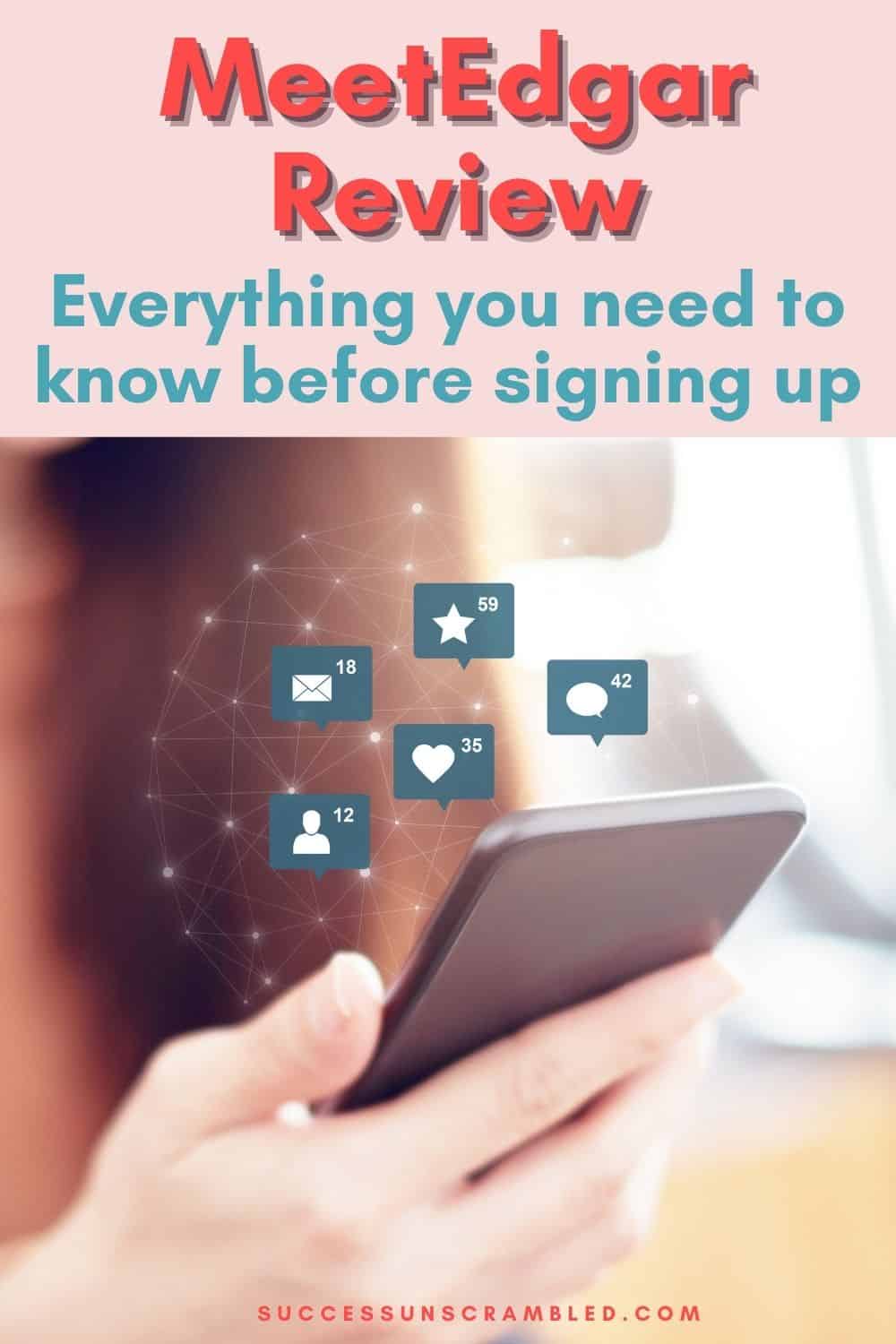 Summary
Social media planning is not the easiest task in the world.
However, this MeetEdgar review has given you a number of ways to make social planning easy.
The secret to getting more leads, visibility and conversions via social media is to show up consistently.
MeetEdgar does help as it gives you the ability to plan your social content by category and frequency.
If you are tired of the constant content hamster wheel and you suffer from writer's block.
Then you'll love the 90 Days In 90 Minutes social media bundle.
It gives you the ability to easily plan 90 days of content in as little as 90 minutes.
So, grab it quickly while the price is still ridiculously low.
Over to you, have you ever used MeetEdgar? Do you think it's a useful tool for small business owners?
Announcements
Remember to subscribe to the Success Unscrambled podcast where you will be the first to hear what's happening in the entrepreneurial and digital marketing world.
Your positive review of this podcast is vital to keeping it alive and running for the next 12 – 24 months so please leave a positive 5-star review for us on iTunes, Spotify or any of your favourite podcast players.
Planning your social media content can be a time-consuming process if you don't know what to write.
However, with the right tools in hand, you can literally plan, create and schedule an entire quarter of your social media posts in a weekend.
I started this blog in 2017 because I had a burden on my heart to reduce women illiteracy globally.
Because this is a huge undertaking I have decided to help 1,000 women over the next 10 years to become wildly successful in their online business through simplified marketing strategies.
That way we can build a strong business network of women who can donate 1% of their profit and together we can help reduce women's illiteracy worldwide.
Would you like to be part of this movement? Shoot me an email using alvern (at) successunscrambled (dot) com.