Podcast: Play in new window | Download (Duration: 21:34 — 30.3MB) | Embed
Subscribe: Google Podcasts | Spotify | Amazon Music | Stitcher | Email | TuneIn | Deezer | RSS | More
Are you thinking of starting a podcast? Looking for some amazing podcast name ideas?
The journey of becoming a podcaster is filled with questions and challenges.
Starting a podcast is still quite new when compared to blogging.
At every turn you see people like you publishing episodes weekly.
You frequently binge-listen to podcasts daily to get inspired.
However, you haven't managed to find a creative name for your podcast.
Let me know if you can relate to these.
You know roughly what your show is about
You've got a list of podcast guests already lined up
The best name for your podcast needs to be exciting
There's a fear that you might run out of topics
You're unable to create the podcast graphic until you name your show
If only there was a way to quickly choose a good name in the next few weeks so that you can launch your podcast.
In this post, you'll learn a few clever hacks to successfully name your podcast and record your 1st episode quickly.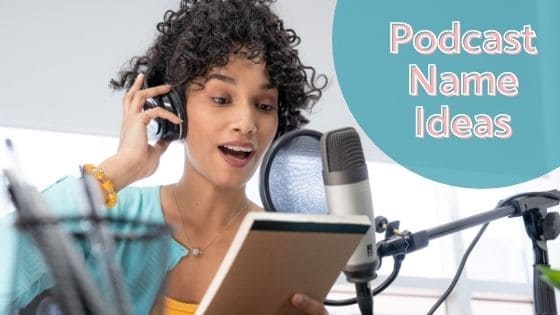 Podcasting Revenue Statistics
There's so much hype around starting a podcast because it is such a versatile piece of content to consume.
Also, because there are so many people generating an income from podcasting alone.
Let's take a look at the top 5 highest earning podcast shows for a minute.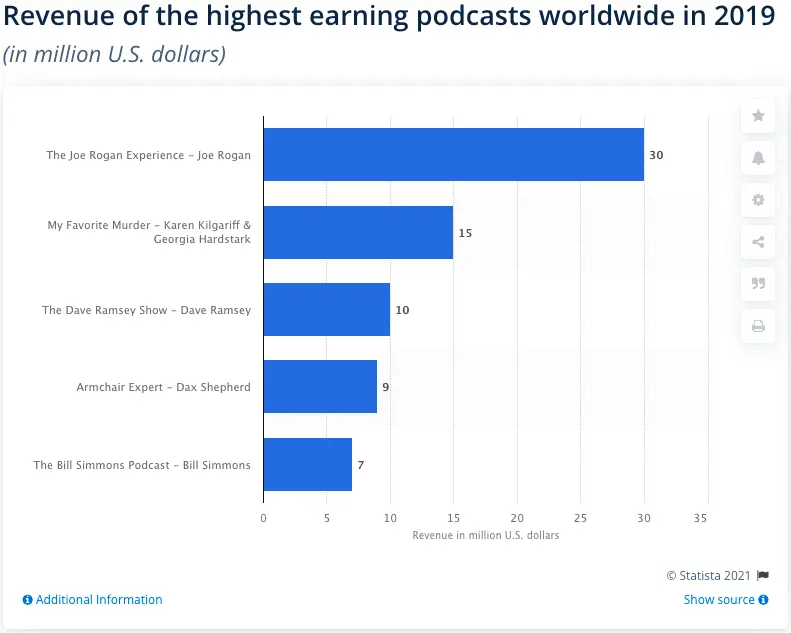 So, according to the folks at Statista, the highest-earning podcast show back in 2019 was The Joe Rogan Experience.
With total revenue of $30 million annually that is not something to dismiss readily at all.
What I find amusing is that the podcast show in 5th place is The Bill Simmons Podcast.
His podcast show brings in a cool 7 million dollars in revenue annually.
Are you wondering why I find it amusing?
Well, look at the descriptive names of the shows and you'll understand why.
Understanding Your Audience
One of the secrets to getting a clever name for your podcast right is understanding your audience.
While you may think that talking about wild blueberries on every show is exciting your listeners may not feel the same way.
If you have an existing audience on your social media accounts or elsewhere it's a good idea to survey them.
However, if you don't have an existing audience, here are some questions for you.
What problem is your show trying to solve?
Who are the people with this problem?
Will your show solve 3 levels of pain?
What kind of transformation can your listeners expect?
Do your potential listeners experience other associated problems?
How can you make your show more shareable?
What's the expected length of each episode?
These questions help you to dig a little deeper into the life of your audience.
For example, if you are doing a property podcast about buying your first house.
You'll be able to talk about all the associated challenges like finding remote work, buying a low-cost vehicle, saving for a mortgage, low maintenance gardens, etc.
Another example is my podcast focuses on digital marketing but I create episodes on mindset, time management, motivation and productivity.
I cover those topics because they are related to digital marketing.
Write Your Intro
When I first started my podcast back in 2017, I had no idea what I was doing.
I knew that I wanted to talk about digital marketing but I was unsure about the audience.
It wasn't until earlier this year that I got really clear on my ideal listener.
The reason it became clear is that I had the opportunity to work with my ideal client.
Several months after working with her it all came together for me.
Once it became clear I wrote the intro for my podcast show.
After writing the intro paragraph it helped me to come up with a list of names for my podcast.
I invite you to try this because it gives you so much clarity when you know why your show exists.
Here's a template that you can use (leave the podcast name blank for now).
Welcome to the ___________ podcast, where [name of listener] can learn [what will they learn] so that they can [what will they accomplish after listening to your podcast] and finally achieve the [what's the final dream].
Let me give you an example below.
Welcome to the _______________ podcast, where puppy owners can learn all the tricks and tips to house train their puppy so that their puppy will not chew on the furniture, go potty outside and sleep in their own bed quickly and finally have the most well-loved puppy of their dreams.
Notice how by writing what the show is about, you'll be able to get really clear on your listener, their pains, and their goals.
By the way, your show intro can also double as your podcast description.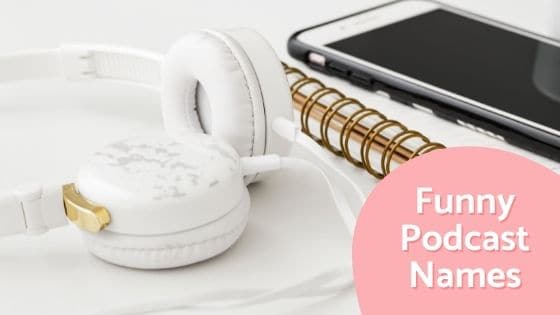 Podcast Name Ideas
Now that you have a better understanding of who your listener is and what transformation you are giving them.
Let's look at a few good podcast name ideas.
Your own name
A hero's name
The transformation
One core pain
An important experience
Your business name
Something funky
Remember that having a great podcast name will assist with brand awareness and audience growth.
You'll also be able to attract new listeners and make a good first impression with the perfect name.
Let's look at each of these options one by one.
1. Your Own Name
If you remember previously we looked at the top 5 highest earning podcast shows of 2019.
In that list, there were 3 shows that contained the personal name of the host.
As you already know Dave Ramsey was already popular before he launched a podcast.
If you are a "best selling author" then naming the show after you is easy.
2. A Hero's Name
Another strategy is developing a hero for your show.
While this is not easy it will give you a character that you can develop for your entire brand.
A good example of this is McDonald's where they have a brand character called Ronald McDonald.
If you already have a mascot or hero for your brand then you can use it as a great podcast title if it makes sense.
3. The Transformation
Focusing on the transformation of your listener is a great way to name your podcast.
Earlier I gave an example of puppy training tips and tricks.
So, if the transformation is a house-trained puppy, a catchy name for the podcast would be "The House Trained Pup".
A clever twist on this same concept is using a great name like Rufus instead of 'puppy'.
If you decide to use a cute name it will be "Training Up Rufus".
4. One Core Pain
This might be obvious but focusing on the pain that your listeners are experiencing is another great way to name your podcast.
In the example of someone who wants to buy their first house, they dislike paying rent.
So, the name of your show could be, "No More Flushing Rent Money Down the Toilet".
Another interesting name could be, "The Obstacle Course to Buying Your First Home".
5. An Important Experience
Including an obvious experience in the show name works just as well.
Here's a painful one, "When Banks Say No To Your Mortgage Loan".
Just looking at the name alone makes me want to listen to the show.
A positive spin on the same theme is "Increase Your Credit Score In Weeks".
6. Your Business Name
If your business already has a lot of authority in the market then using your business name makes sense.
This is especially true if your business clients can benefit from your podcast show.
So, for example, in the case of Yankee Candles, they can have a show called, "The Yankee Candle Melt-Down". Lol!!
You have to admit that's a clever podcast name.
In the case of Amy Porterfield, she can use a play on words like, "Porterfield of Dreams".
7. Something Funky
One final way to name your podcast show is by calling it something funky.
Take another look at your podcast intro and try to find a short descriptive phrase to name it.
Looking at the puppy training example again here's a list of podcast names:
Puppy Training for the Clueless
Train your pup and still get sleep
Puppy Love – 0 to Toddler
Puppy Trolls – The Good, Bad + Ugly
How Not to Let Your Puppy Take Charge
These 7 podcast name ideas should stirup your creative juices.
They can also help you get started on the road to choosing the perfect show title.
Best Podcast Name Generators
Now that you have at least 7 DIY ways to develop a name for your podcast, let's look at 3 podcast name generators.
Business Name ideas
First up we have the business name ideas site that comes with a podcast name generator.
Technically speaking, they're using the same business name generator to suggest creative podcast names.

I decided to take it for a spin so I entered the phrase "simple marketing" in the search box and the results were not impressive at all.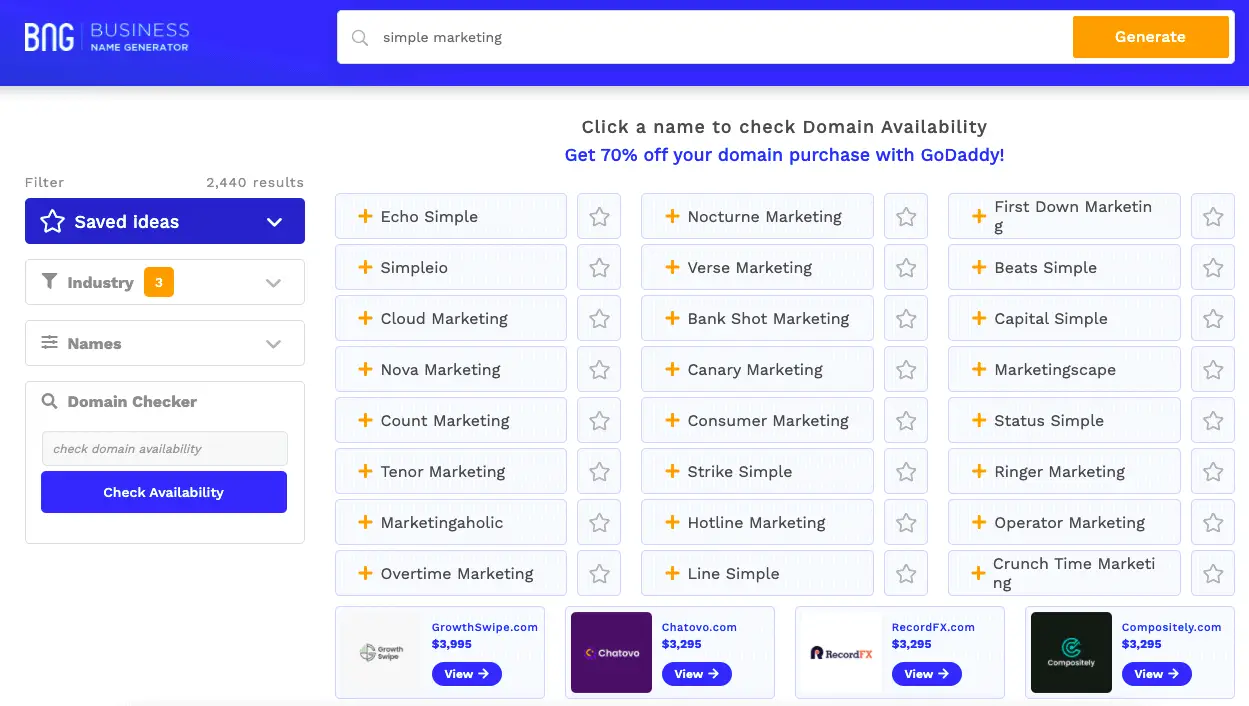 I decided to try puppy training instead and here are the results that came back.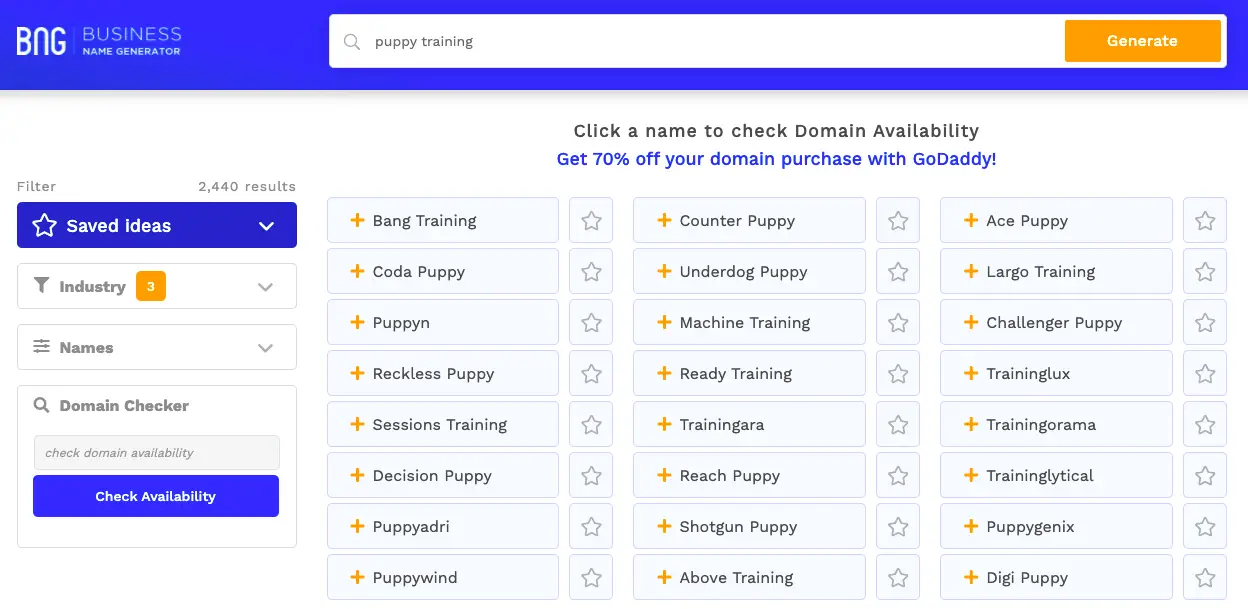 As you can see the results that came back were better compared to the simple marketing example.
Welder
The next podcast name generator is Welder which is an AI-powered platform.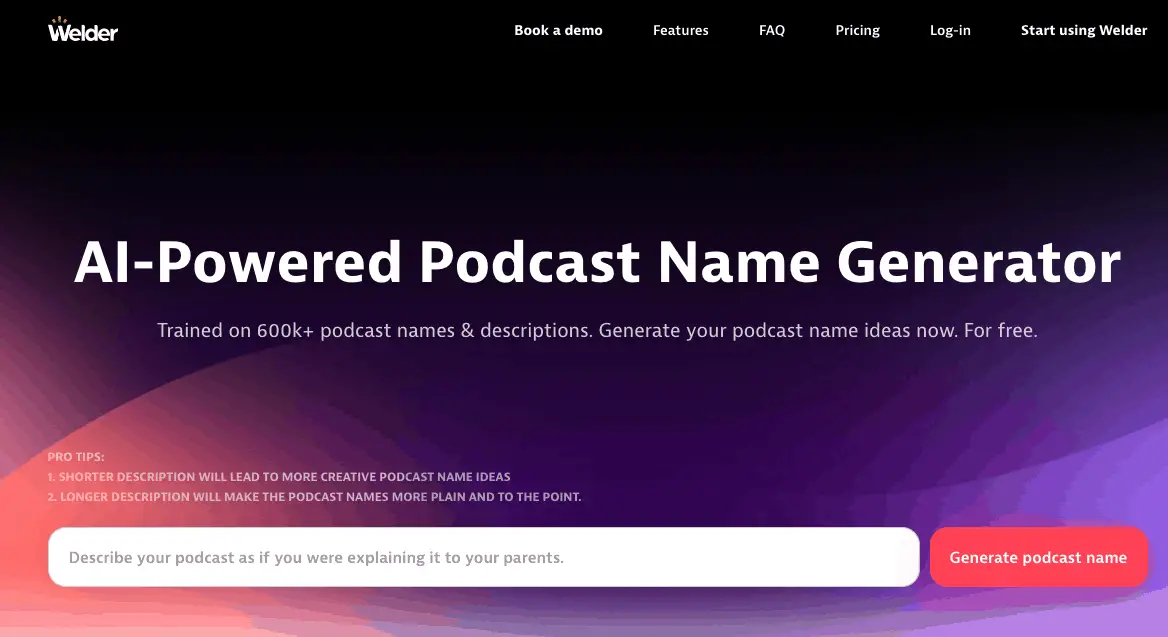 So I entered "simple marketing for coaches" and here are the results.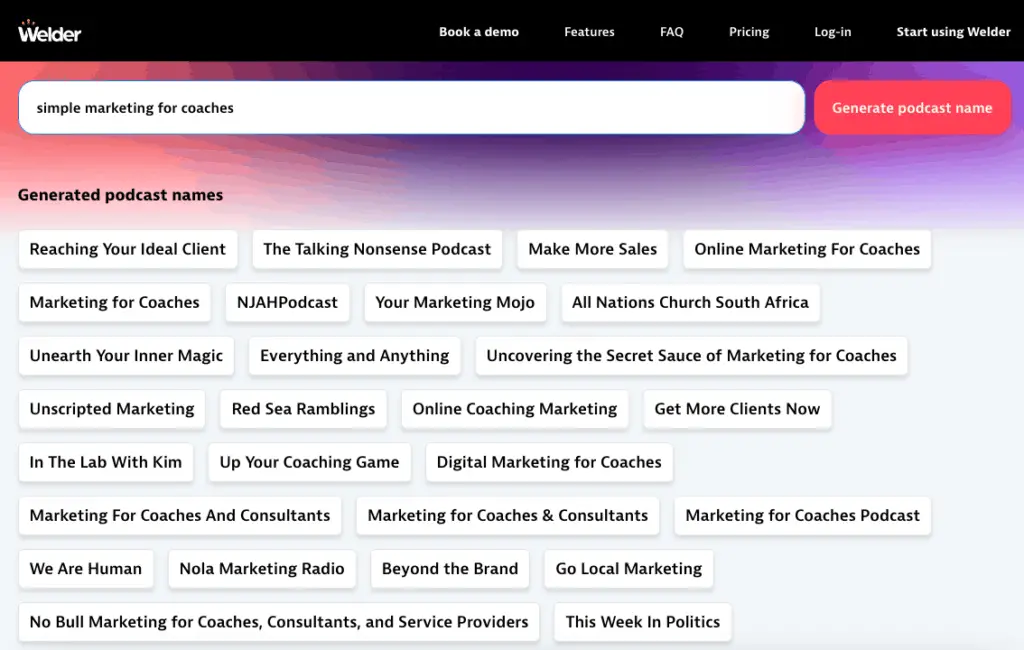 The suggestions are better when compared to the previous example.
I also wanted to try puppy training for the clueless.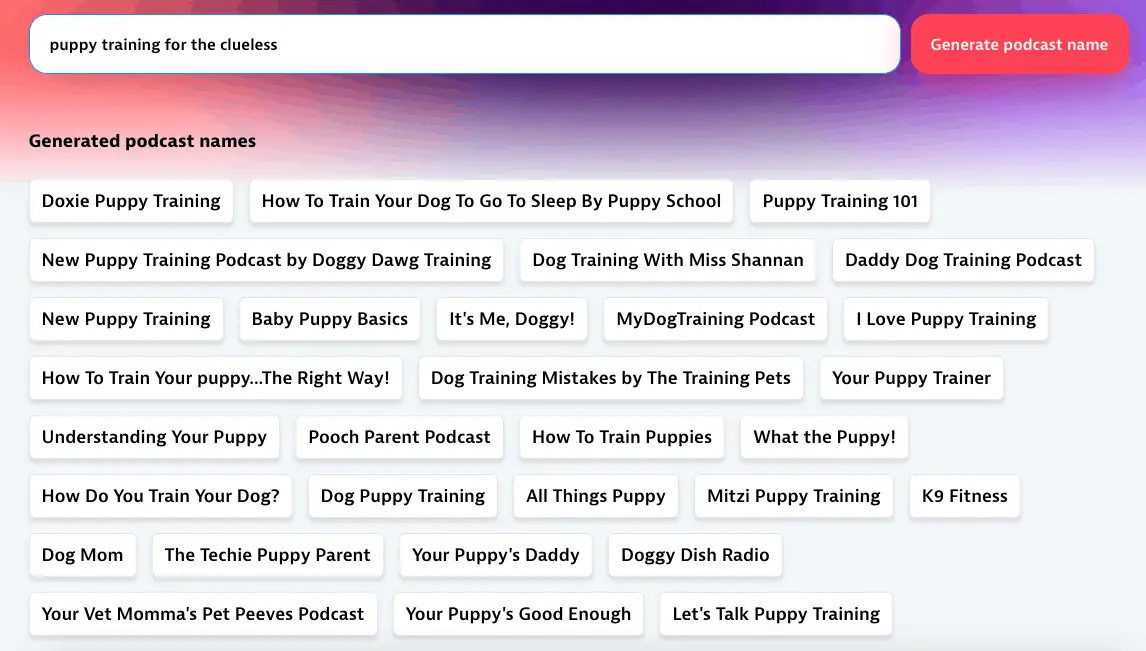 As you can see there are quite a few good descriptive podcast names to choose from on the list.
Of all the 3 name generators, I believe that this one produces the most creative names so far.
How to Start an LLC
The final one on the list is a name generator from the folks at How to Start an LLC.
It is important to note that these name generators also help you to find domain availability.
Which means you can see if the domain name is also available too.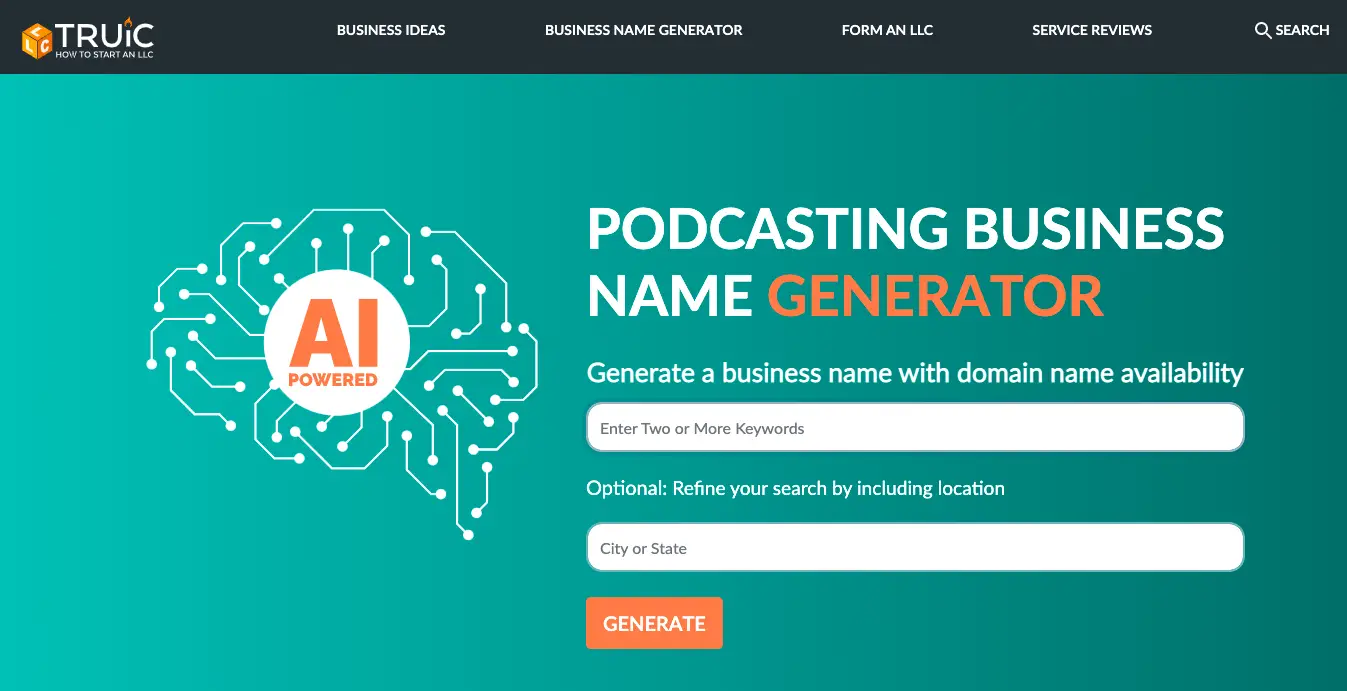 I decided to use it to find ideas for the puppy training podcast. Here are the results that I got back.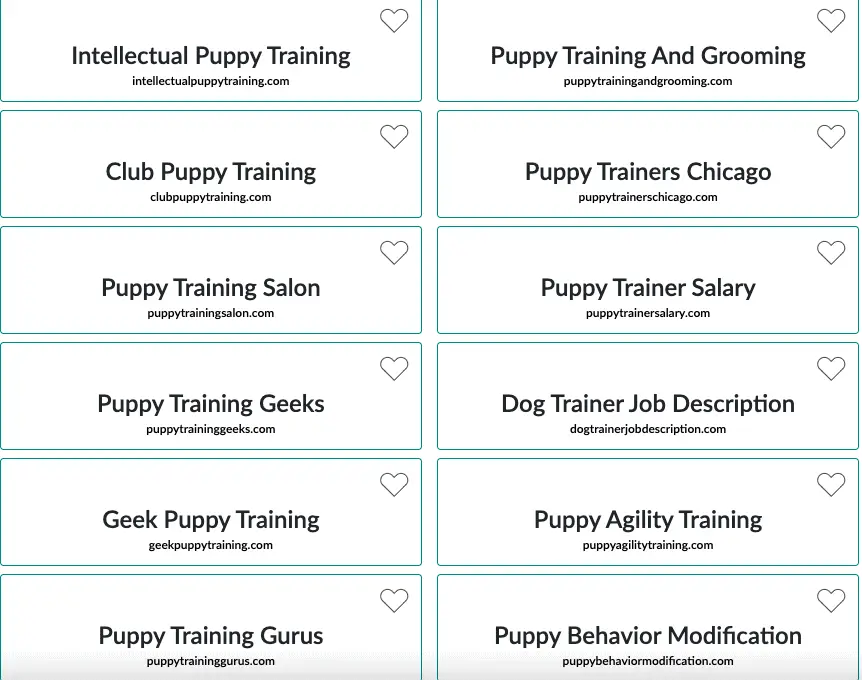 As you can see there are a few good ones like "puppy training salon".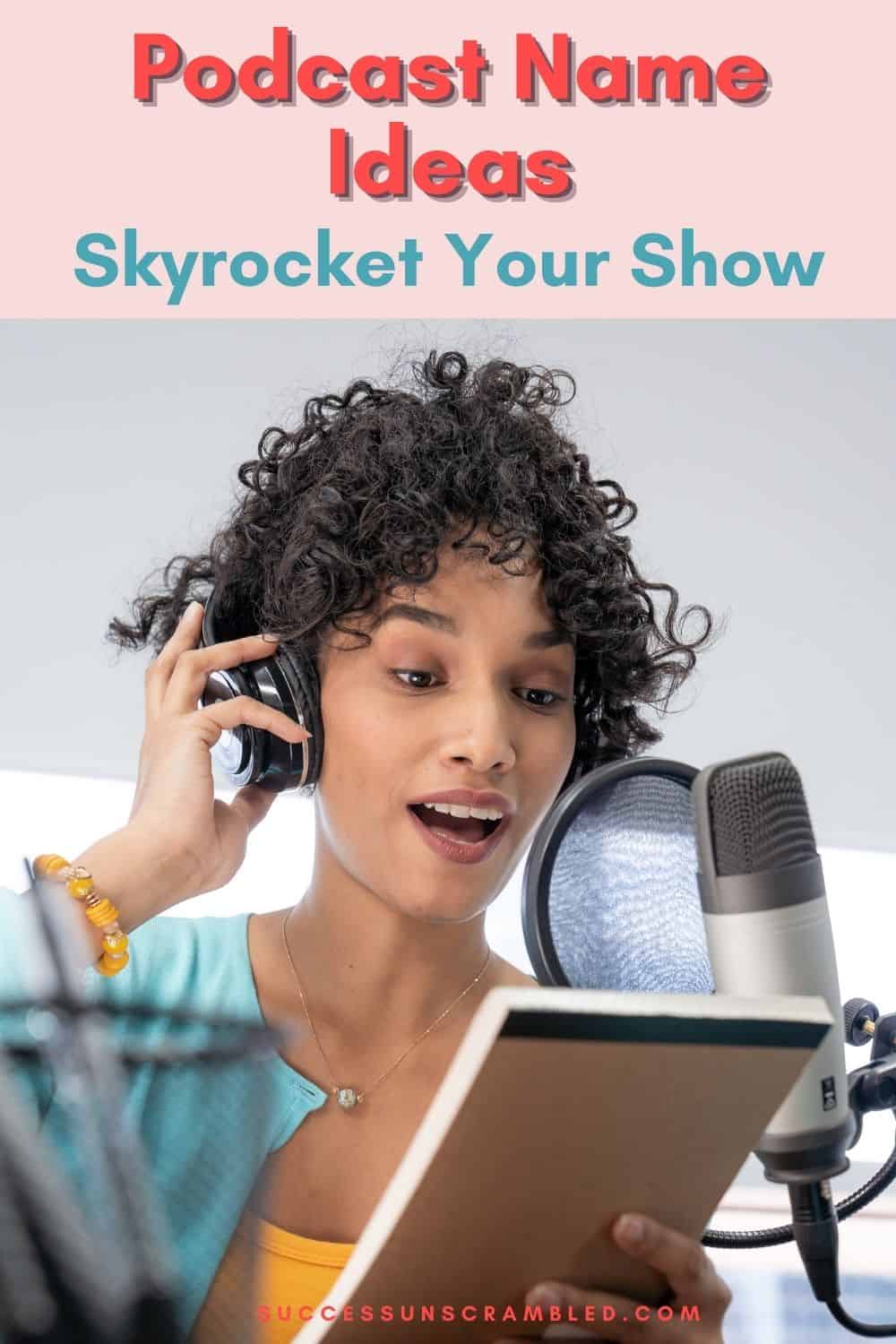 Summary
Well, I can tell you from experience that choosing a name for your podcast is not going to be easy.
However, writing the intro to the podcast is the first step in helping you generate a list of podcast name ideas.
Getting really clear on who your target audience is as well as the transformation they'll receive can give you clarity.
Be sure to use an element of creativity or fun to get your potential audience or potential customers to want to engage.
After finalising your podcast name you can learn how to start a podcast here.
If you need hosting for your podcast, check out this Libsyn vs Blubrry review as well.
Are you still on the fence about whether to start a blog or podcast?
I have a resource going through the differences between a blog vs podcast here.
Over to you, what has been your experience coming up with podcast name ideas?
Announcements
Remember to subscribe to the Success Unscrambled podcast where you will be the first to hear what's happening in the entrepreneurial and digital marketing world.
Your positive review of this podcast is vital to keeping it alive and running for the next 12 – 24 months so please leave a positive 5-star review for us on iTunes, Spotify or any of your favourite podcast players.
Being a podcast host can be a lot of fun and very time consuming as well.
If you are thinking of doing podcast interviews be prepared for the time it takes to edit the show.
Also, allow extra time to create the show notes
I started this blog in 2017 because I had a burden on my heart to reduce women illiteracy globally.
Because this is a huge undertaking I have decided to help 1,000 women over the next 10 years to become wildly successful in their online business through simplified marketing strategies.
That way we can build a strong business network of women who can donate 1% of their profit and together we can help reduce women's illiteracy worldwide.
Would you like to be part of this movement? Shoot me an email using alvern (at) successunscrambled (dot) com.