Podcast: Play in new window | Download (Duration: 27:33 — 22.7MB) | Embed
Subscribe: Google Podcasts | Spotify | Amazon Music | Stitcher | Email | TuneIn | Deezer | RSS | More
Are you a podcaster who is hoping to repurpose your podcast by turning your podcast episodes into videos?
I have some really exciting news for you.
You see, I've been wanting to do more to promote my content and business using creative formats.
However, finding a platform that is easy to use and makes promoting your business fun can be challenging.
Let me know if this sounds familiar.
You have been recording podcast episodes for 1-4 years and although you have created show notes and cute images.
Taking your precious episodes and spreading them even further has been quite a challenge.
If you have used other platforms to create video clips of your podcast.
You'll know that the user experience of those platforms has been quite blah. Lol!!
In fact, what will really light your fire is a platform that would put the merry back into marketing.
In this post, you will learn how to repurpose your podcast episodes into several different sizes.
So that you can easily promote them to wherever you like with less stress and overwhelm.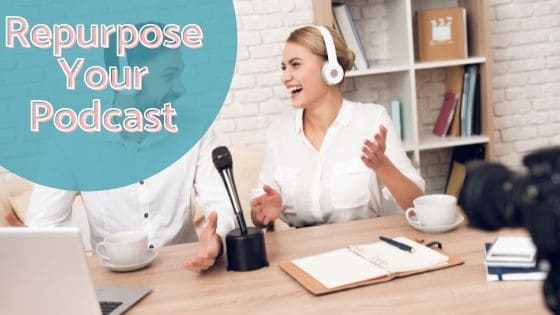 The Latest Podcast Statistics
Well, in case you haven't thought about it just yet, you are probably thinking why should you bother to repurpose your podcast.
Did you know that 75% of Americans are aware of the term podcasting but only 50% are podcast fans?
A surprising 51% of podcast listeners are male while only 27% of listeners have a college degree.
Strangely 49% of podcast listening is done from home.
The most popular genre in podcasting is comedy followed by education and news (looks like I need to change my genre, lol).
Here's the statistic that surprised me the most.
A whopping 69% of listeners said that podcast ads made them aware of a product or service.
Just when I thought that people would find out about new products or services via Google, TV or social media posts.
It looks like podcast episodes are raising the brand awareness of businesses.
Over 80% of podcast listeners spend more than 7 hours a week listening to podcasts.
Why Repurpose Your Podcasts
Now that you know more about the latest podcast statistics let's look at 5 reasons to repurpose your podcasts.
1. Increase your audience reach
You will realise that clicking the publish button and promoting once on Instagram and Twitter is not sufficient.
Promoting it for weeks in an Instagram Story to reach more people on these platforms will help to remind your audience that you exist.
2. Grow podcast awareness
Getting more people to listen to every episode will also increase the number of downloads month after month.
It's a great way to reach new audiences.
3. Reach people on different platforms
Have you ever thought about promoting your podcast episodes on other platforms using a different format?
Getting creative by converting your audio file into videos, GIFs, memes and other text formats means you have a chance of reaching more people and new listeners.
There's even the option to convert it into a blog post or long-form video content.
4. Attract potential collaborators
If one of your goals is podcast sponsorship then it would make sense to get in front of potential sponsors.
After all, the small businesses who are looking to advertise with you can be found on so many platforms.
5. Easily create social media content
One of the quickest ways to create social media content is by repurposing existing content like live streams, breaking a podcast interview into clips and turning an audio track into different formats.
You are probably thinking that converting your podcasts to video is too difficult and too time-consuming but hold on to that thought.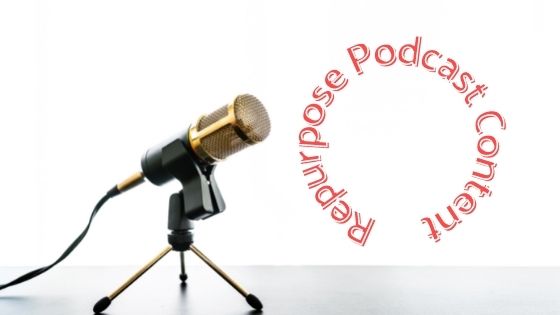 Promote Your Podcast Using Audiograms
One of the best ways to promote your podcast episodes is by breaking them down into smaller bite-sized chunks.
Depending on the platforms you use these smaller chunks are called snippets or audiograms.
Since the explosion of podcast shows many applications are now available to create audiograms seamlessly.
One such application is called Headliner.
What Headliner does is import your existing podcast feed automatically.
Once inside Headliner, you can break your podcast episode into smaller clips or snippets.
How to Create Audiograms in Headliner
Depending on your podcast host you may already have access to Headliner.
For example, I use Blubrry to host my podcast episodes and they have an existing partnership with Headliner.
Headliner does offer a free account where you can get 10 minutes of transcription every month included.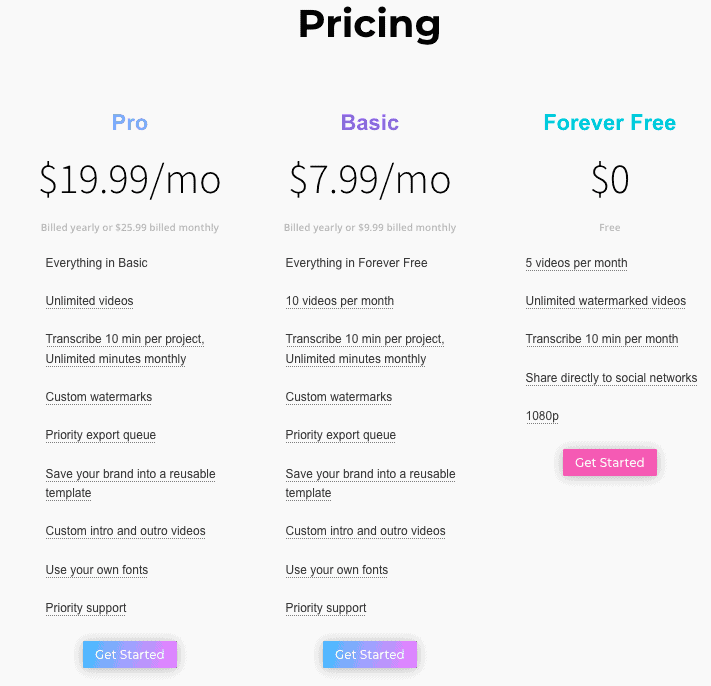 Even if your podcast host has not partnered with Headliner you can set up an account to get started.
Step 1
After logging in to Headliner you'll be presented with the option to create audiograms or caption your videos.

Choose the audiogram maker and you'll then be given the ability to search for your podcast show.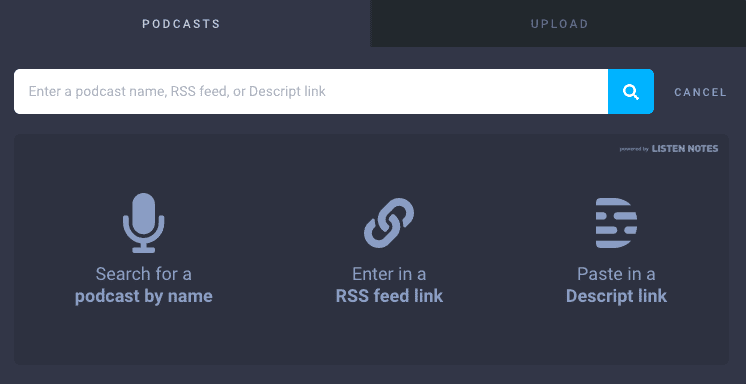 After finding your show, you should see a list of your episodes like how mine is shown below.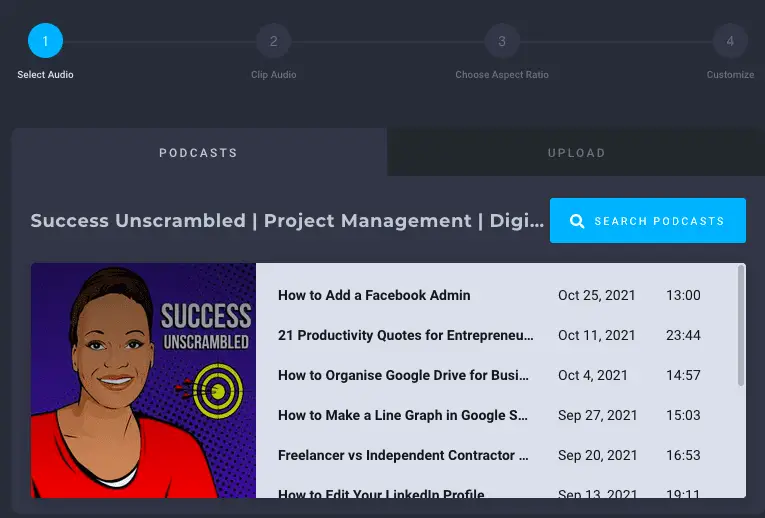 There's also the option to upload any audio recording if you can't find your own podcast show.
If your show is a video podcast then you can upload a video clip to be transcribed.
It would be better to upload a short video rather than trying to work with the entire video.
Working with the entire episode is not a good repurposing strategy unless you're using it to create blog content.
As a content creator, if you offer an online course such as a video recording you can use Headliner to create written transcripts making it more valuable content.
Step 2
Choose the episode that you would like to promote and click on it.
You'll then be brought to this screen where you decide the length of the audiogram and which audio snippet of the episode you would like to promote.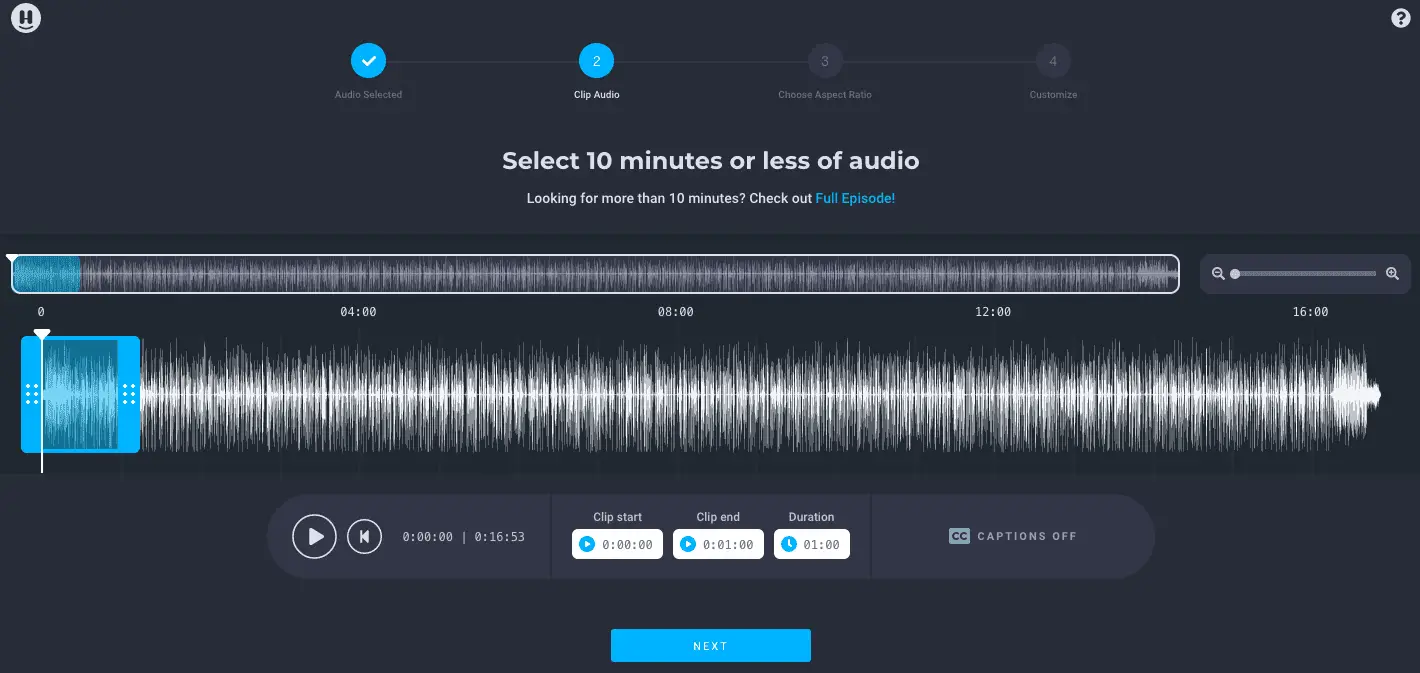 Spend some time finding the perfect 20-40 second clip that you can use to promote your podcast episode.
Pro tip: Be sure to switch on captions before moving to the next step.
Step 3
After switching on captions click next.
Your next choice will be choosing the aspect ratio also known as media size.
The available video formats include 1080×1080, 1920×1080 and 1080×1920.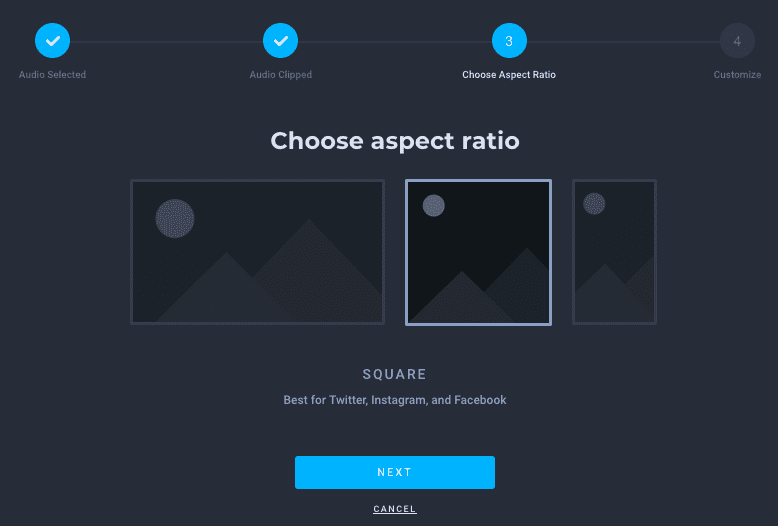 If it is a post for the Instagram feed choose the square option.
For Instagram Stories choose the portrait option.
This is the step where you set up the design of your audiogram. You can add things like a progress bar, waveforms, images and text for titles.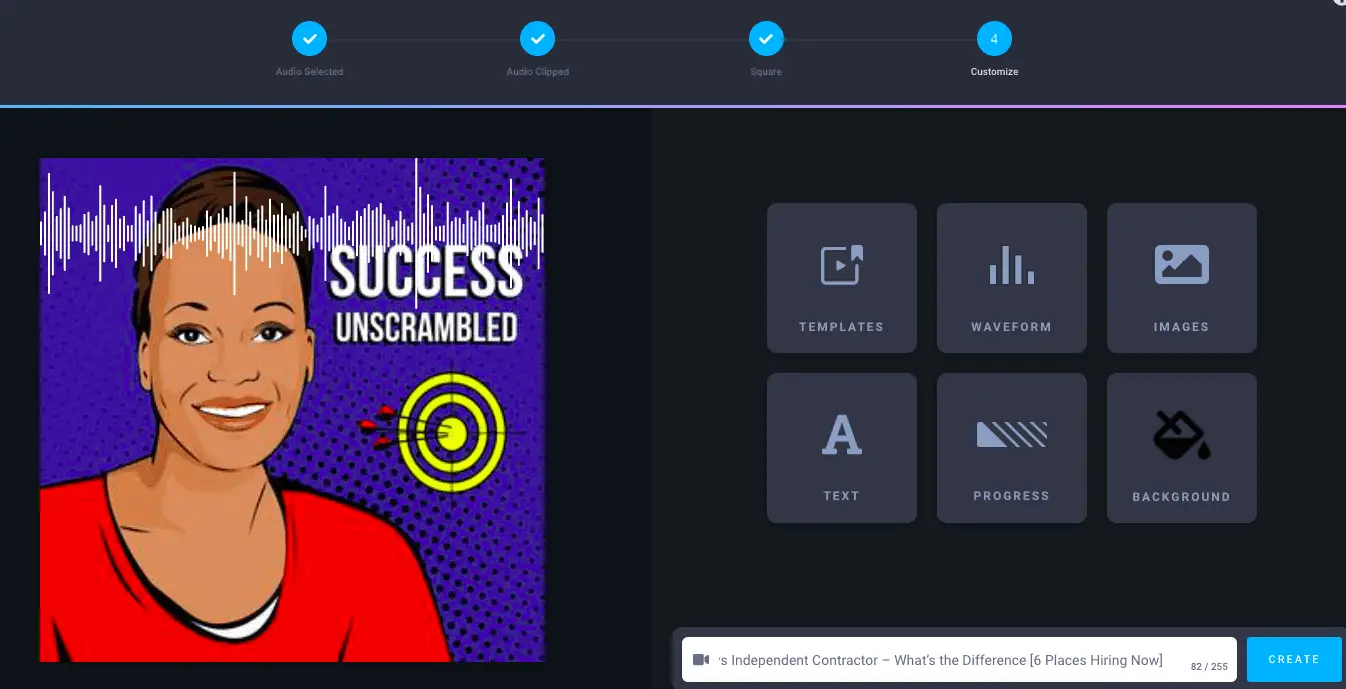 Did you know that Headliner is integrated with Canva?
It means that you can create your background image on the fly while creating your audiogram.
Step 4
Click on the image of your podcast show and choose 'replace image'.
Of course, if you want to use your podcast show image as part of the audiogram then be sure to choose an existing template.
Templates
There are several templates available in Headliner that you can use with your audio clips.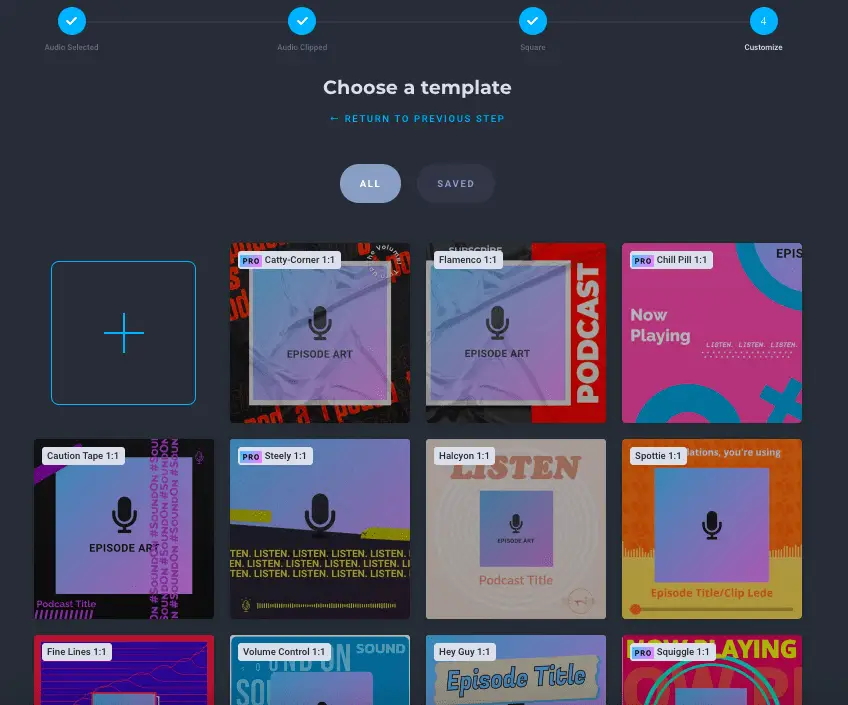 Personally, I didn't like any of them because they didn't match my brand so I chose to use Canva instead.
Canva
To access Canva just click on the image and choose the replace option.
You'll be presented with the option to upload an image or use Canva.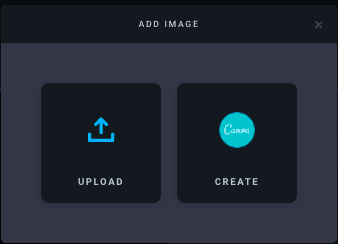 After creating your design inside Canva click 'publish'.
When your design is ready give it a name and click create and you'll see two options as shown in the screenshot below.
Step 5
Choose the option to open the advanced editor.
Choosing this option allows you to edit your captions.
You'll also have the ability to adjust the location of the captions in relation to the progress bar and waveform.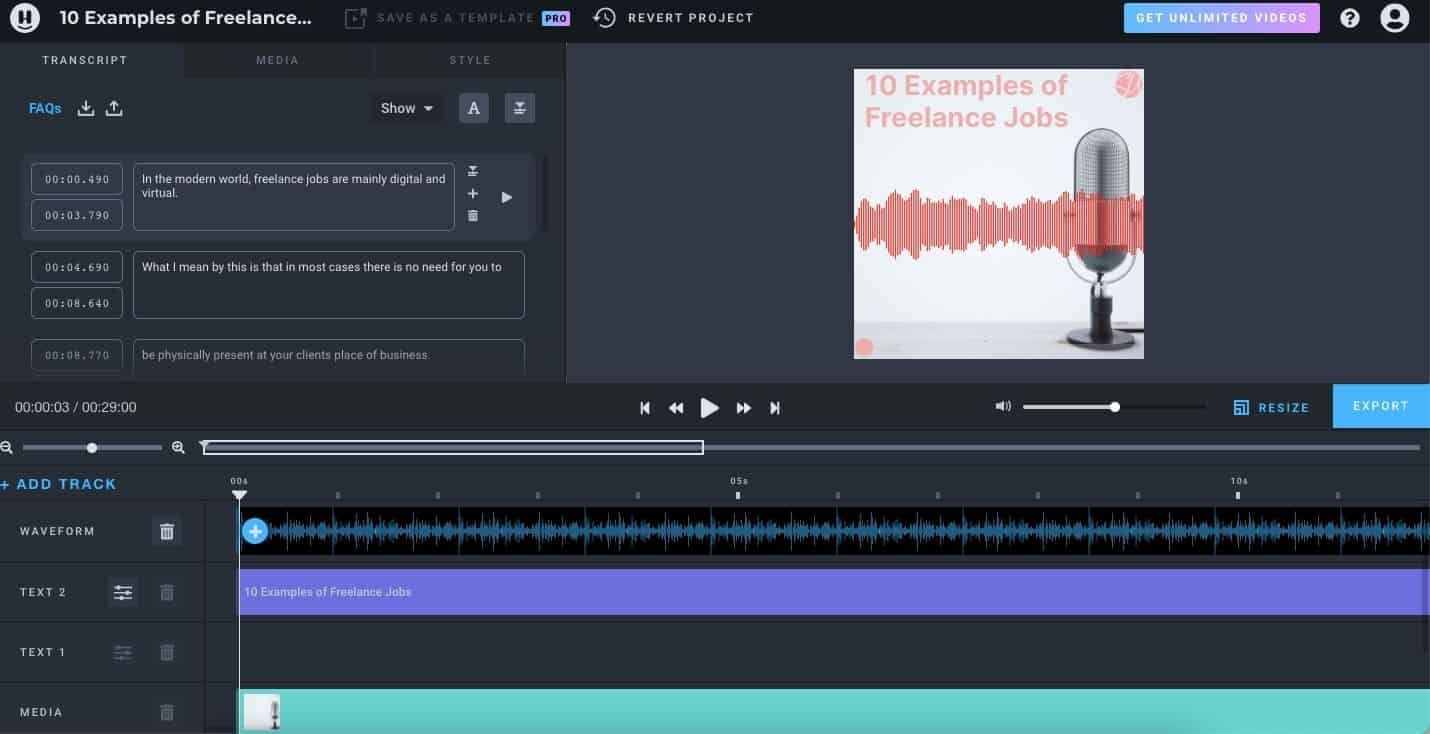 Check the written transcript on the top left to ensure that it all makes sense.
To adjust the location and background colour of the transcript on the audiogram select the 'A' in that section.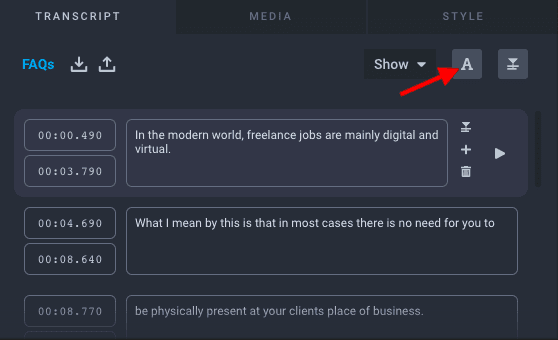 Be sure to click the play button and watch the audiogram from start to finish.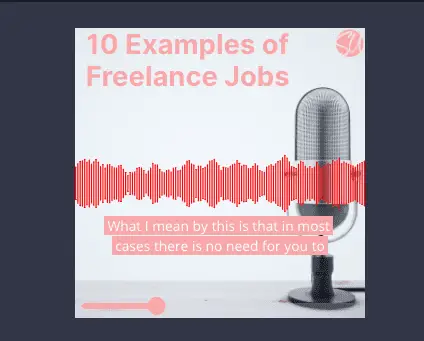 When you are happy with the look and feel of your audiogram then click the big, blue 'export' button.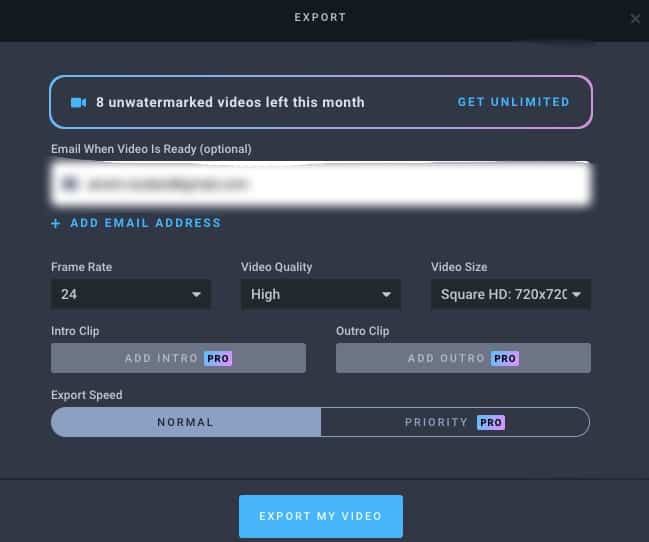 Your audiogram will take some time to be rendered but if you are in a hurry consider upgrading to Pro.
Once the video is ready you'll be presented with several options like sharing it to social media platforms like Twitter and Instagram.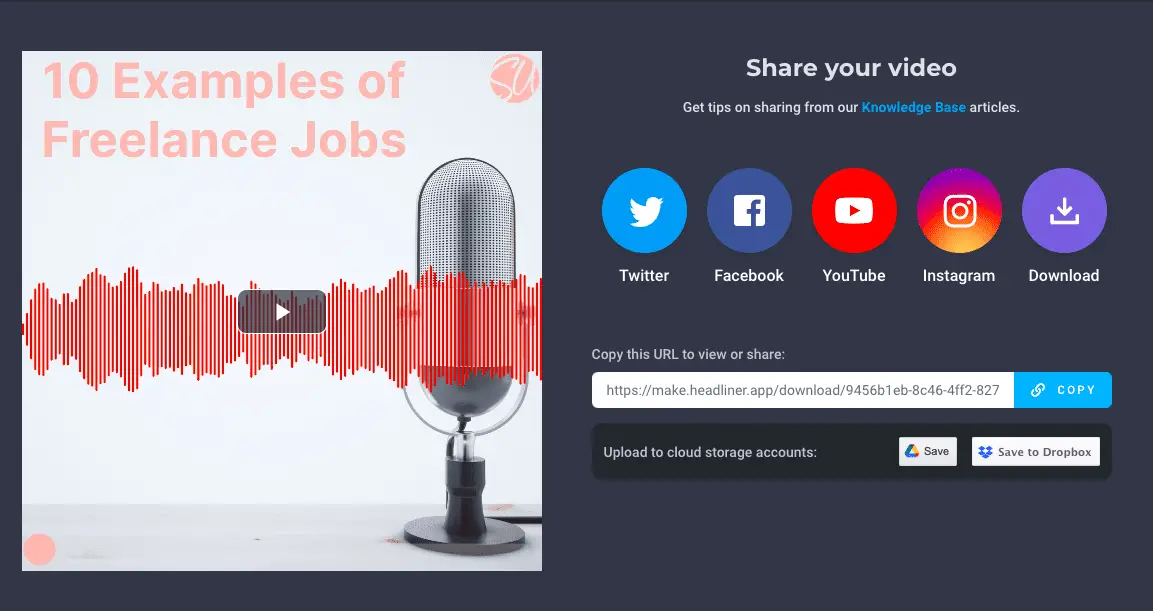 There are also options to save it to Dropbox and Google Drive.
You can also download it to your hard drive.
At this stage, you're probably thinking…
"Do I have to do all that just to create one audiogram?"
You know what?…
I had the same thought that the Headliner process can be exhausting for one clip.
Repurposing Your Podcast in a Cinch
Although Headliner is quite good at turning podcast episodes into videos one by one.
If you have 100s of episodes waiting to be repurposed then this can be a total time suck.
Recently, I came across this new software that gives podcasters like you and me the ability to repurpose podcast content more easily.
The name of this software is called Repurpose.io.
Repurpose Pricing
Let's spend some time looking at the pricing of this relatively new platform.
If you have been using another app like Headliner, you'll know that they have a free version and their basic plan is $7.99 a month.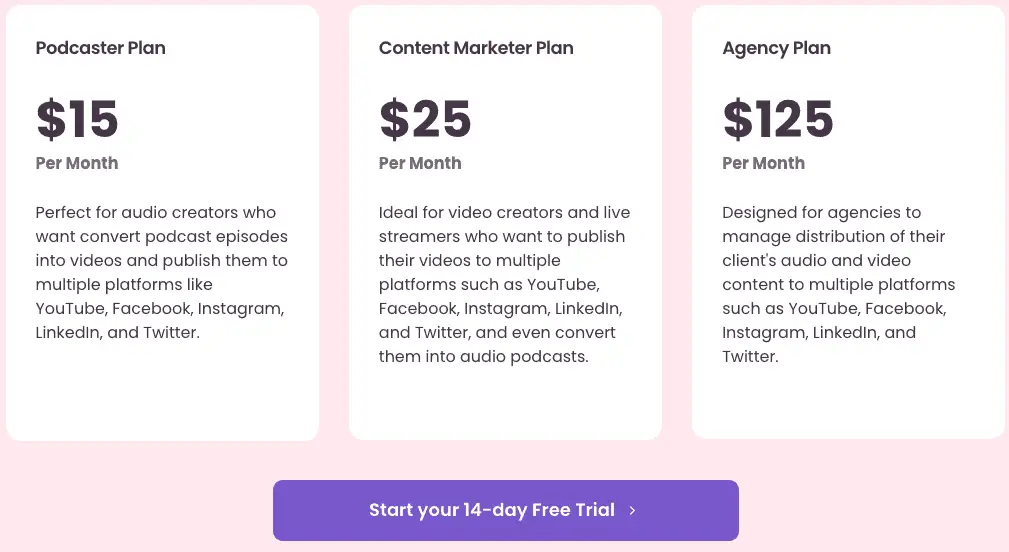 So, what does Repurpose.io offer that is over and above other software solutions?
If you have already published over 100 podcast episodes then hold tight while I show you these features.
Repurpose Workflows
One of the coolest features offered by Repurpose.io is the ability to create several workflows to run automatically.
This will come in handy if you are trying to batch create your content in one day.
You see, this software gives you the ability to create 27 pieces of content at one time.
Here's an example of their workflows in the screenshot below.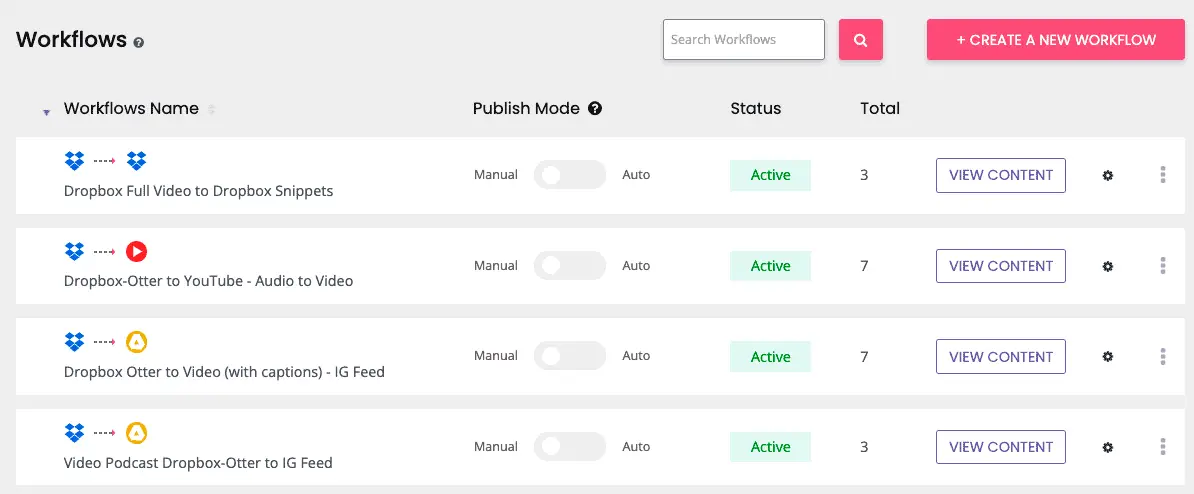 A key advantage that you will see here is the ability to work on more than one podcast episode at once.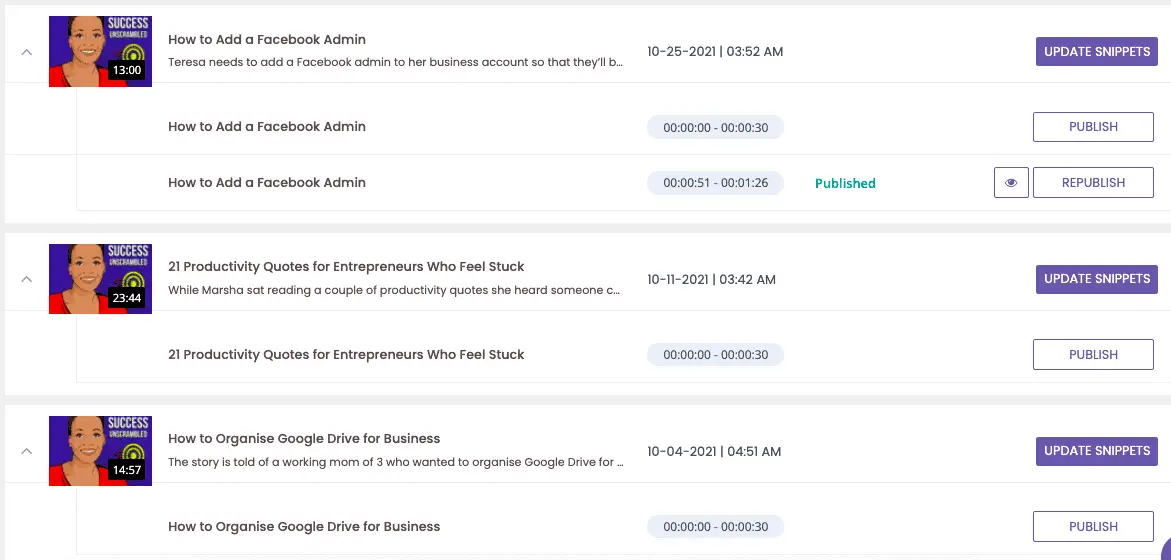 Below you will see the process for setting up these workflows using the wizard.
Platform connections
When publishing your completed videos you will have the option to publish directly to YouTube, Instagram, LinkedIn, Twitter or Facebook.
If you are planning to publish to LinkedIn, you will need to have a Company page already set up.
Or you can publish to Dropbox or Google Drive and you can use a tool like Zapier to move them to your scheduler of choice.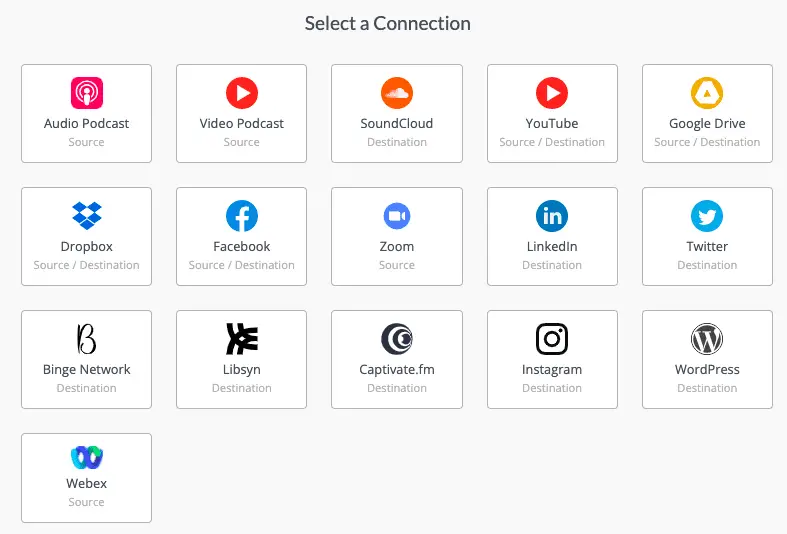 What I like is the fact that you can publish content to your Youtube channel and upload them as private or unlisted.
If you have been recording video podcasts using Zoom there is also a connection for Zoom available.
Image Backgrounds
What I find is the easiest when converting my podcast episodes to videos is if I create the templates in Canva.
It gives me more control of the branding elements like colours, image type and fonts.
For each workflow, you will have the ability to customise your settings including the colour of the waveform and image templates.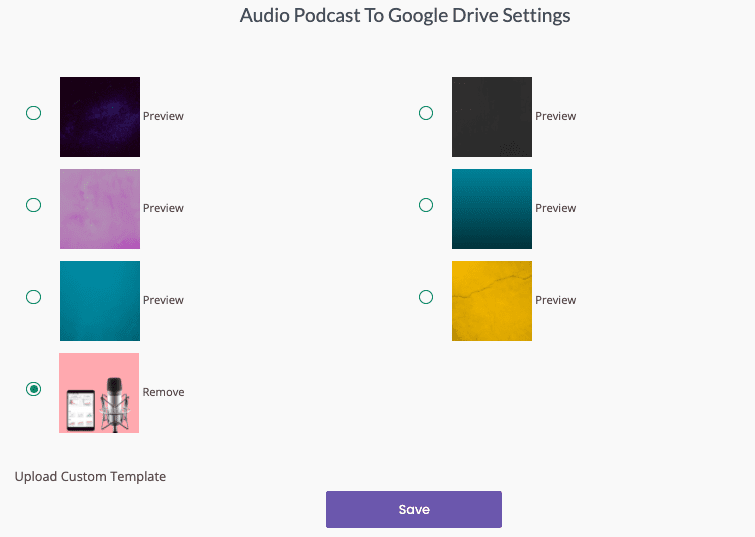 There's also the option to add a call to action and decide if you want your snippets to be created automatically.
Of course, you do have the option to use the templates provided if this is something you want to do.
Snippet Creation
The process of creating snippets manually is very simple, just click on the 'create snippet' button on the far right.
You will be presented with a view that looks like the one below.
Bear in mind that these snippets can be created automatically if that is your preferred option.
How to Create Snippets in Repurpose.io
As I mentioned previously if you have 100s of podcast episodes that need to be repurposed then this is how to do it.
Step 1
After logging into Repurpose.io it's time to create connections based on the result you want to achieve.
Click on connections on the left-hand side and then click the 'add a new connection button.
Notice that some connections are listed as 'source', while others are identified as destinations.
So, spend some time thinking of what's your source for your podcast and where do you want them to be saved.
Since I use Facebook Business Suite (FBS) to schedule my IG content I'll save my created snippets to Google Drive or Dropbox.
For this example, my source is an audio podcast and my destination is Google Drive.

Step 2
After you've set up your source and destination it's time to set up the workflow.
Click workflows on the left-hand menu and click the 'create a new workflow' button.

Give your workflow a sensible name then choose the source and destination.
If you are choosing Google drive be sure to either create a new folder or choose an existing one.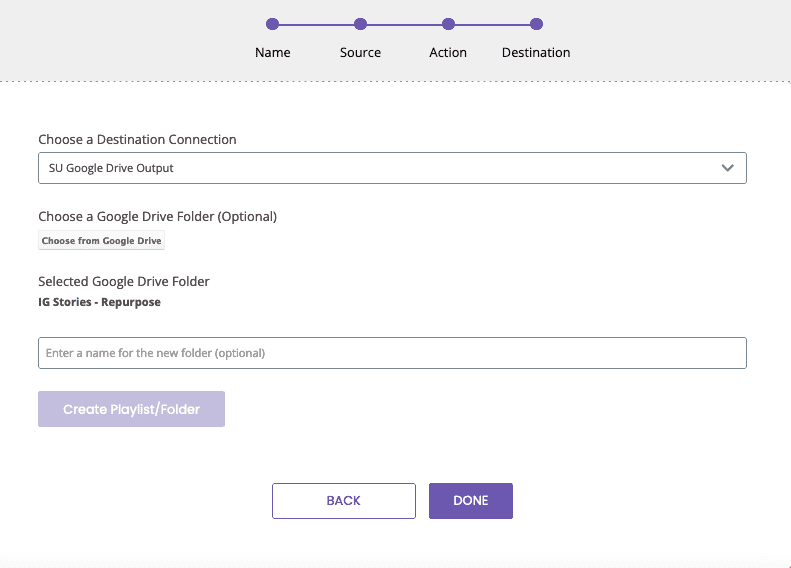 Be sure to choose snippets as opposed to the full episode at stage 3 (action phase).
Step 3
Click on view content to see your episodes ready to be transformed into audiograms.
You'll see your last 10 episodes from your podcast show.
Create snippets for each one by clicking the 'create snippets' button.
In a similar way to Headliner, you'll need to decide on the length of each snippet as well as where you want to start and end.
It would make sense to create templates inside Canva for now then upload them onto the platform.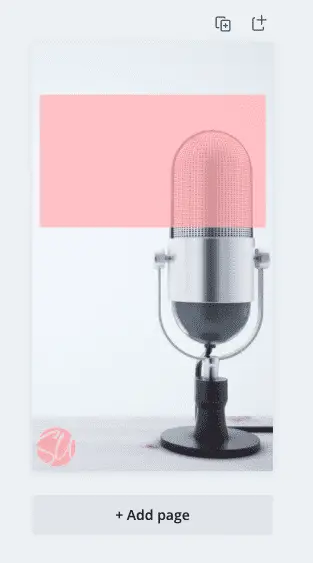 Your template should contain a dark background at the top half because the titles are white as standard (you can't customise the style of your titles yet).
Upload your template by clicking on settings and adjusting everything according to your needs.
Once you are happy with everything click the publish button.
After the audiogram/video has been published take a look at it.
If it's not quite right adjust the settings and click the republish button.
Headliner vs Repurpose.io
Choosing a platform to help you repurpose your podcast can be a difficult decision.
Especially when one of the options has a free forever plan.
To help you make a decision, I've created a side by side comparison for you to see the big picture benefits.
| Feature | Headliner | Repurpose.io |
| --- | --- | --- |
| Audio -> video | Yes | Yes |
| Square sizes (1080×1080) | Yes | Yes |
| Vertical sizes (1080×1920) | Yes | Yes |
| YouTube sizes (1920×1080) | Yes | Yes |
| Templates available | Yes | Yes |
| Upload branded templates | Yes | Yes |
| Canva integration | Yes | No |
| Audio transcription | Yes | No |
| Mass production | No | Yes |
| Social media integration | Yes | Yes |
| Schedule to social media | No | Yes |
| Progress bar | Yes | No |
| Waveform creation | Yes | Yes |
| Repurpose to other media | No | Yes |
| Live stream -> video clips | No | Yes |
| Enrol now | Use Headliner | Grab Repurpose |
Essentially, if you need to create audiograms for dozens or hundreds of episodes then the best option will be the Repurpose.io platform.
However, if you only need to create 5 or less then Headliner will suit you just fine.
If you are worried about transcription or if you need it then you'll be happy to hear that it'll be coming soon to Repurpose.io.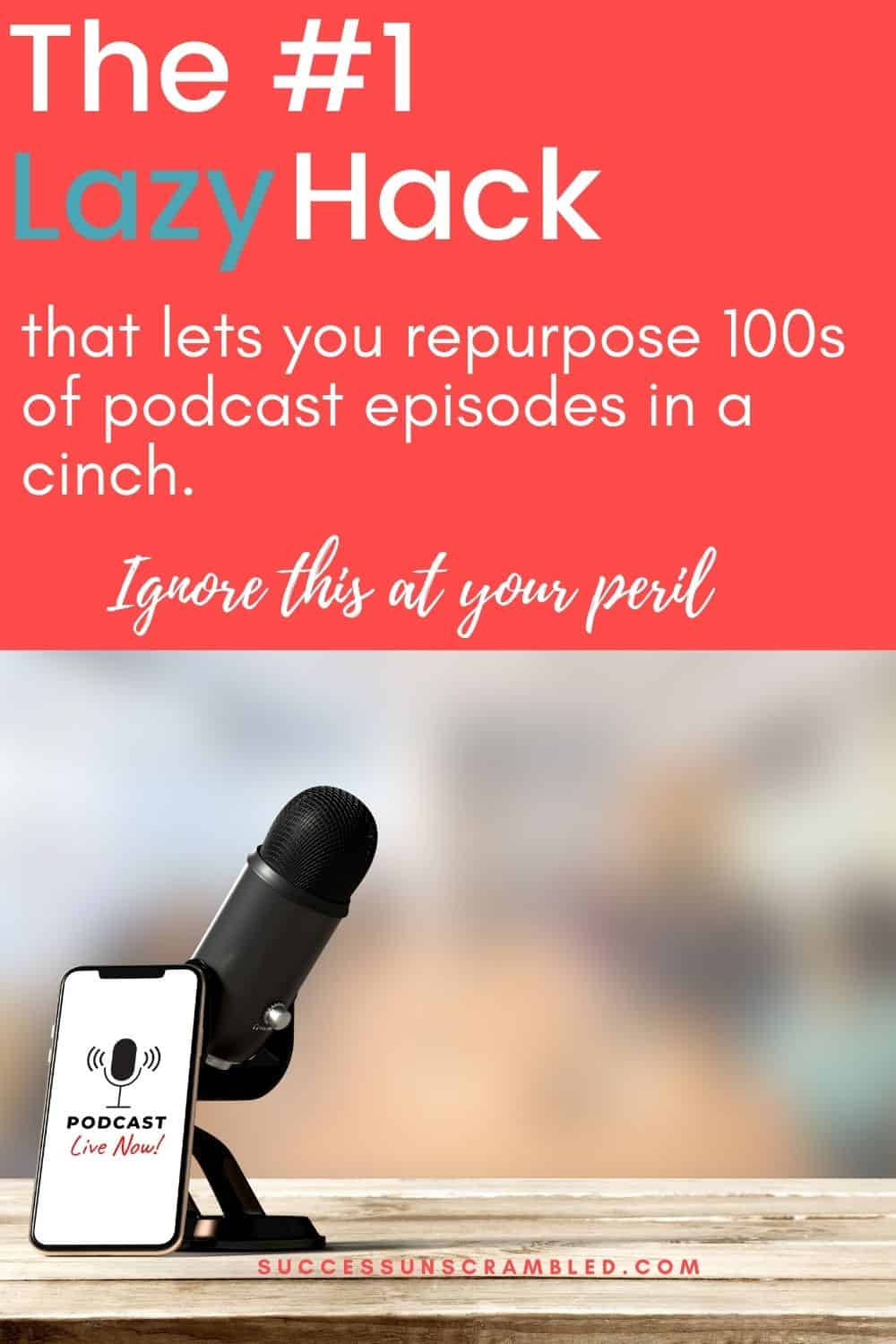 Summary
Starting a podcast can be very exciting for entrepreneurs and small business owners.
It's exciting because it allows you to connect with your target audience on a much deeper level.
However, promoting your podcast can be very challenging.
Many podcast hosts claim to give you a bigger reach because of their podcast distribution options.
I can tell you first-hand that it takes a lot more than distribution to get listeners on demand.
This is why it is important to have a podcast marketing plan in place to grow your audience size and reach.
Producing the right type of content will help you to reach a wider audience.
When you first get started in business you'll notice that you have a tiny budget but a lot of time.
As your business grows so does your marketing budget however your time availability shrinks.
So, you'll need to decide which one you have available right now.
If you have the budget available then consider outsourcing this task to someone who can take this off your plate for you.
You can also learn more about content repurposing by clicking through to this resource.
Over to you, what has been your experience when trying to repurpose your podcast.
Announcements
Remember to subscribe to the Success Unscrambled podcast where you will be the first to hear what's happening in the entrepreneurial and digital marketing world.
Your positive review of this podcast is vital to keeping it alive and running for the next 12 – 24 months so please leave a positive 5-star review for us on iTunes, Spotify or any of your favourite podcast players.
If you build it they will not come in most cases.
It still takes a lot of promoting to get in front of the right audience.
I started this blog in 2017 because I had a burden on my heart to reduce women illiteracy globally.
Because this is a huge undertaking I have decided to help 1,000 women over the next 10 years to become wildly successful in their online business through simplified marketing strategies.
That way we can build a strong business network of women who can donate 1% of their profit and together we can help reduce women's illiteracy worldwide.
Would you like to be part of this movement? Shoot me an email using alvern (at) successunscrambled (dot) com.