Podcast: Play in new window | Download | Embed
Subscribe: Google Podcasts | Spotify | Stitcher | Email | TuneIn | Deezer | RSS | More
So you've always wanted to start a service business online but you don't know how to get started.
You've watched a ton of YouTube videos and listened to several podcast episodes of entrepreneurs who've done it.
However, they make the process seem so easy and they all appear to be experts in their field.
Your steps to getting there seem more like this.
Despite the fact that you've watched a ton of content and taken loads of notes.
You're not sure if you should get a website to promote your services.
Finding your first client seems like a pretty daunting task since you're not really sure what to offer.
The fact that you don't have any testimonials is a huge obstacle that you need to overcome.
If only there was a way to get all your ducks in a row so that you can start your serviced business in a matter of months.
Enabling you to leave your corporate, 9-5 job in 1-2 years.
In this post, you will learn the steps involved in finding your strengths, pin-pointing your skills.
How to get testimonials and finally land your first client, especially for women.
Disclosure: Please note that this post may contain affiliate links which means that if you buy one of my recommended products I get paid a commission for sharing the link at no additional cost to you.  I only recommend products that I have tried myself and have experienced success.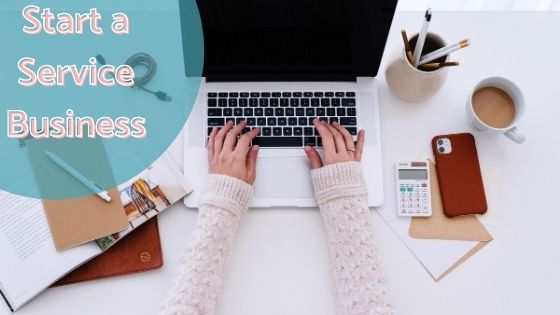 Why Start a Service Business Online this Year
Before diving into the granular details of how to get started with your online service-based business.
Here are some statistics you need to keep in mind.
66% of small businesses will outsource their services to other small businesses.
It only takes 6 days to start a business in the US.
54% of all small businesses are actually home-based businesses.
The main challenge to start up success is generating new business or finding new clients.
Did you know that 1 in 3 people start their business with less than $5,000?
Another interesting statistic is that 40-year-olds make up 3% of startups compared to 1.7% of 25-year-olds.
Tech-driven opportunities offer better pay compared to other industries as they offer a rate of $102,000 compared to the average of $48,000.
So what does this all mean?
Older people have a better chance of business success in tech-related organisations especially helping other small businesses.
Finding Your Strengths
Almost 15 years ago I started my journey into the online world and if there's one thing that stands out to me it is this.
It is super important to know your strengths.
By this I mean, get a really clear understanding of the soft skills you are good at doing.
For example, although I was in a customer facing role in my corporate role for 18 years.
I am no good at customer service or even technical support.
However, I am a great problem solver. I will keep trying until the issue is resolved.
One of the best ways to understand your strong points is by completing a personality test.
The ones available at 16 personalities is quite good as it really helps you understand yourself on many levels.
Public speaking is something else I enjoy especially when I am talking about something I believe in 100%.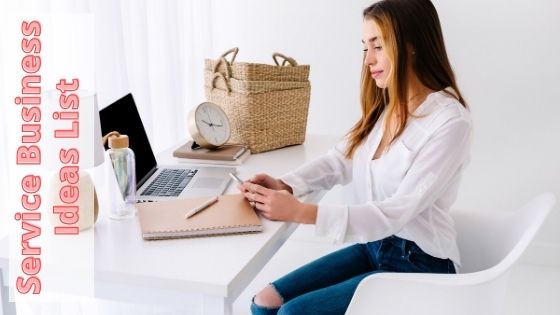 Acknowledge Your Weaknesses
This may sound hilarious initially but getting a handle on the things you dislike is equally important.
The reason why this is important is because in the service-based space you'll try many different jobs.
Doing many different things actually help you to find out what you enjoy and what you dislike.
For example, I dislike accounting and finance at all levels so it is not something I will try out.
Graphic design and those types of creative jobs are definitely not my superpowers.
I just don't have an eye for design at all so I'll never apply to do those jobs only to make clients unhappy. Lol!!
Outside of public speaking, I am an introvert so asking me to manage a community will be a nightmare for me.
Whatever you do, get real clarity on these and write them down.
Rate Your Skills
You'll discover that you probably have skills in 7-10 areas and in some cases this can make things difficult.
If you are a multi-passionate entrepreneur, like me, choosing to focus and market a skill will be torture.
A clever way to overcome this challenge is to rate your skills.
Here's how to get it done.
Write down a list of your skills and talents on a sheet of paper
Rate each one on a scale of 1-10 with 10 being the highest
Take the top 3-5 and see if there is any correlation between them
Decide which of those skills have actual market demand
Do some pro bono work around those with market demand in exchange for testimonials (you'll learn more later)
Getting clear on the skills you want to offer as an entrepreneur or small business is important.
This is essential to helping you to narrow your focus and gain more knowledge in these areas.
For example, if your best skill is customer care then it would be important for you to learn more about it.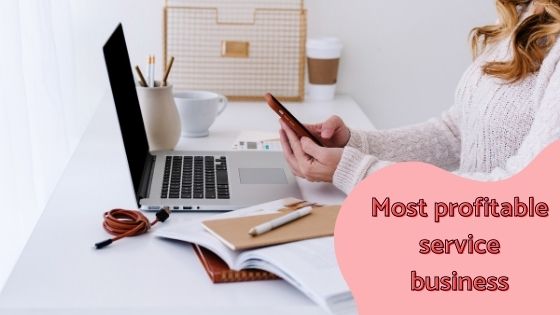 Types of Online Service Businesses and Their Profitability
Before we delve into the area of learning the technology associated with your offers.
Let's spend some time looking at a list of online service business ideas.
Depending on your skills and interest some may or may not appeal to you.
Social media management
General virtual assistant
digital marketing management
operations management
general administration
graphic design
project management
website design
business branding
copywriting
blog writing
bookkeeping
Now that you have a list of what types of services small businesses are looking for online.
I must tell you that the most profitable business model is one where you work as a consultant and you implement the service yourself.
You do have the option of building out an agency where you have other specialists who work with you doing the implementation.
However, the bigger your agency the less profitable it will become over time due to high overhead costs.
Learn the Tech for Your Specialty
In almost every online role your potential clients are expecting you to know or be familiar with the software for those roles.
ZenDesk is a software platform that many online businesses are using to manage their customers.
Learning how to use Zendesk will set you apart from other applicants for the customer service roles.
Asana and ClickUp are the latest project management software so if you are thinking of helping small businesses with projects learn these.
If you want to do social media management for potential clients then learning schedulers like Planoly and Later.
Will help you stay one step ahead of their requirements.
Maybe you have a keen interest in YouTube marketing which means you should play with tools like TubeBuddy and VidIQ.
The most important thing to realise is that potential clients are expecting you to have some level of experience with the tools.
Once you are happy with your ability be sure to create a portfolio or resume of your capabilities.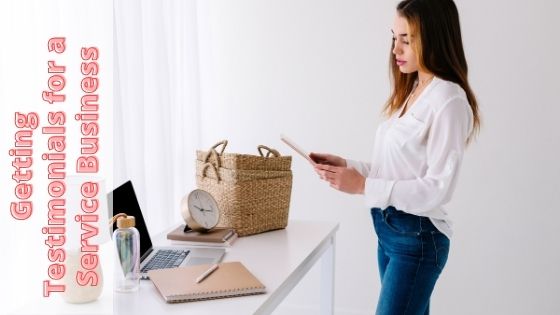 Gathering Testimonials
At this point you are probably thinking, "how do I get testimonials?"
It reminds you of what it was like to find a job when you just graduated from college or high school.
Everyone expects you to already have experience right?
Well, there are a few ways to get the testimonials that you need to add to your resume or portfolio.
If you are on LinkedIn, you can reach out to potential clients in your network and offer to do 2-5 hours of work.
While this may sound unsettling remember you are doing it in exchange for a testimonial.
However, there are 3-4 less scary places to gain these testimonials.
Publishing a post or FB Story letting your friends know that you are looking for testimonials is another way.
Creating an Instagram post and/or Story is another clever way to gain testimonials.
There are also 3-4 Facebook groups where you can offer work in exchange for a testimonial.
The Live Free Podcast Mastermind
Boss Moms
Goal Digger Podcast Insiders
Women Helping Women Entrepreneurs
Each of these groups has special posts and days where you can jump and either swap or ask for help.
Finding Virtual Assistants Jobs
One of the fastest ways to start generating an income online is by becoming a virtual assistant.
Think of virtual assistants as the lowest level job for the online business owner.
You may end up doing a wide variety of things just to get your foot in the door.
After 3-6 months you can start specialising and narrowing your focus.
The most important thing to remember is that you need to start somewhere in order to make some money.
Ensure that you have a resume and a portfolio showing off your skills.
There are a ton of places where people post jobs online including:
Inside Facebook groups
On the Instagram feed + IG Stories
Online job boards
Company websites
1. Inside Facebook Groups
While the list of Facebook groups that I gave previously will work well for getting testimonials.
You will be able to find VA jobs there as well.
Here are 4 other Facebook groups that aren't as crowded where you can find VA specific roles.
Freelancing Females
How She Did That – A Community for Virtual Assistants + OBMs
The Break Room – A Community for Service Providers
Online Job Opps by Meg K Co
As you can see the options can be great inside of Facebook groups.
2. On IG Feeds + Stories
Many people may not be aware of this but there are still a number of people hiring through Instagram feeds and Stories.
You can do a hashtag search for your job title like #virtualassistantjob.
Or you can find your dream clients and follow them on Instagram and in many cases they announce that they'll be hiring soon.
Here's one example with the associated hashtags.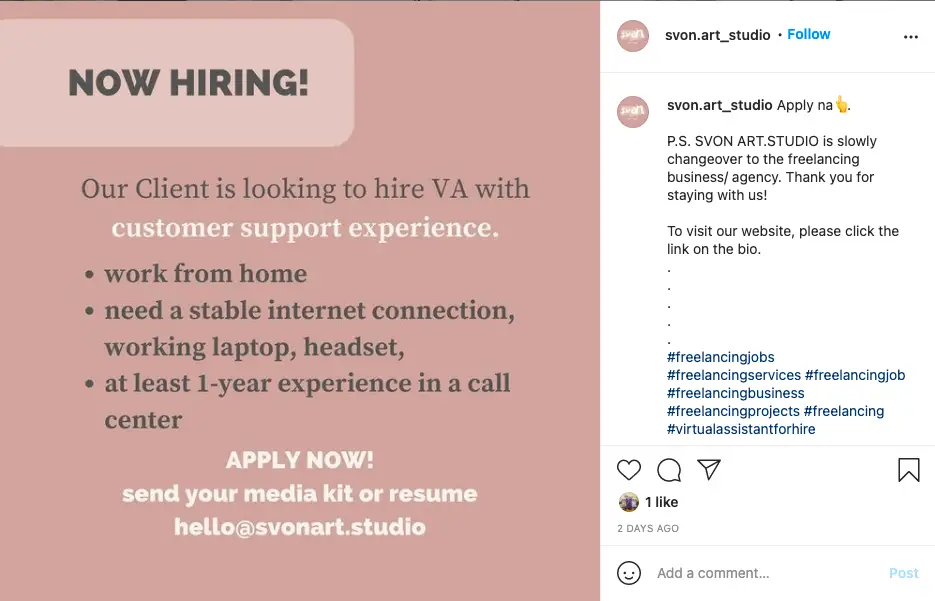 The important point to remember is that you'll need to search for these jobs using hashtags or follow specific IG accounts.
3. Online Job Boards
There are quite a number of job boards that offer VA jobs or remote jobs for many different roles.
While this may initially sound unbelievable check out this list of places where you can easily find remote jobs.
Smartrecruiters.com
Dynamitejobs.com
TheMomProject.com
Upwork.com
In the first two cases just type in the word 'remote' to find those virtual assistant jobs.
4. Company Websites
This one can be a little more tricky since companies don't always have job listings every single day of the year.
So, what you need to do is make a list of 10-20 online small businesses that you would like to work with.
Every week or 2 weeks check their websites for new job listings.
Here are a few examples of online businesses that are currently recruiting.
Mel Robbins
Amy Porterfield
HerPaperRoute
Styled Stock Society
Mariah Coz
Power Your Launch
This is a great list to help you get started so that you can land your first client in a matter of weeks instead of months.
Start a Service-Based Business Course
If after looking through these steps you still feel apprehensive about taking the plunge.
Maybe you would like to get accountability as well as group support to help you with starting a service business.
There are a few courses that I recommend and you should join one of them depending on your needs.
These three virtual assistant programs, run by women, are great to help you get started with your online business.
The first one has a very specific program that lasts 3 months where you'll get access to their Facebook group for 6 months.
They also offer weekly job postings for members only and they give you an outline to help you to create your portfolio.
You can join the free class for the first one here.
However, the second program is more expensive but you get access to the Facebook group for a year.
One cool benefit is that you also get access to the leads that come through on their hire form (I picked up a client here as well).
To get access to the second one, go here.
I find that the second one has a more personal touch to the program because the coach really cares about your success.
The Profit Plan
If you've been trying to start an online service-based business, for example, freelance writing, social media manager.
Pinterest manager etc, then The Profit Plan can help you out.
Chhavi has worked as a full-time freelance writer for over 3 years, after this, she moved into blogging, YouTube and online business coaching. 
In the Profit Plan, she helps you with the following:
Getting into the right mindset, setting realistic expectations and busting myths about online businesses
Finding your niche, creating attractive offers and portfolio
Pricing your services
Branding your business and claiming online space
Setting up processes (done for you templates)
Getting clients
Talking to the clients, how to close deals and be confident in your offers
Overview on how to grow your business
[BONUS] Overview on how to create more income streams
Right now, the course is in BETA so it will be a 14-15 day bootcamp where there will be live workshops with her. 
You'll also have 2 x Zoom Q&A sessions in between and 1 Q&A at the end of this bootcamp to answer your questions.
The most amazing part is the ONE 1-1 30 mins coaching call with her that you can claim anytime you feel ready.
That said, she advises you to take this up right after the lesson on confidence.
By that time, you'll be a lot clearer on your goals and ways to move forward.
You will also get lifetime access to the full-fledged course when it launches + all the bonuses.
There are also MONETARY awards for the BETA so if you put in the work, you stand a chance to win back your total investment.
You can enrol here and reach out to her on Instagram @mrsdaakuacademy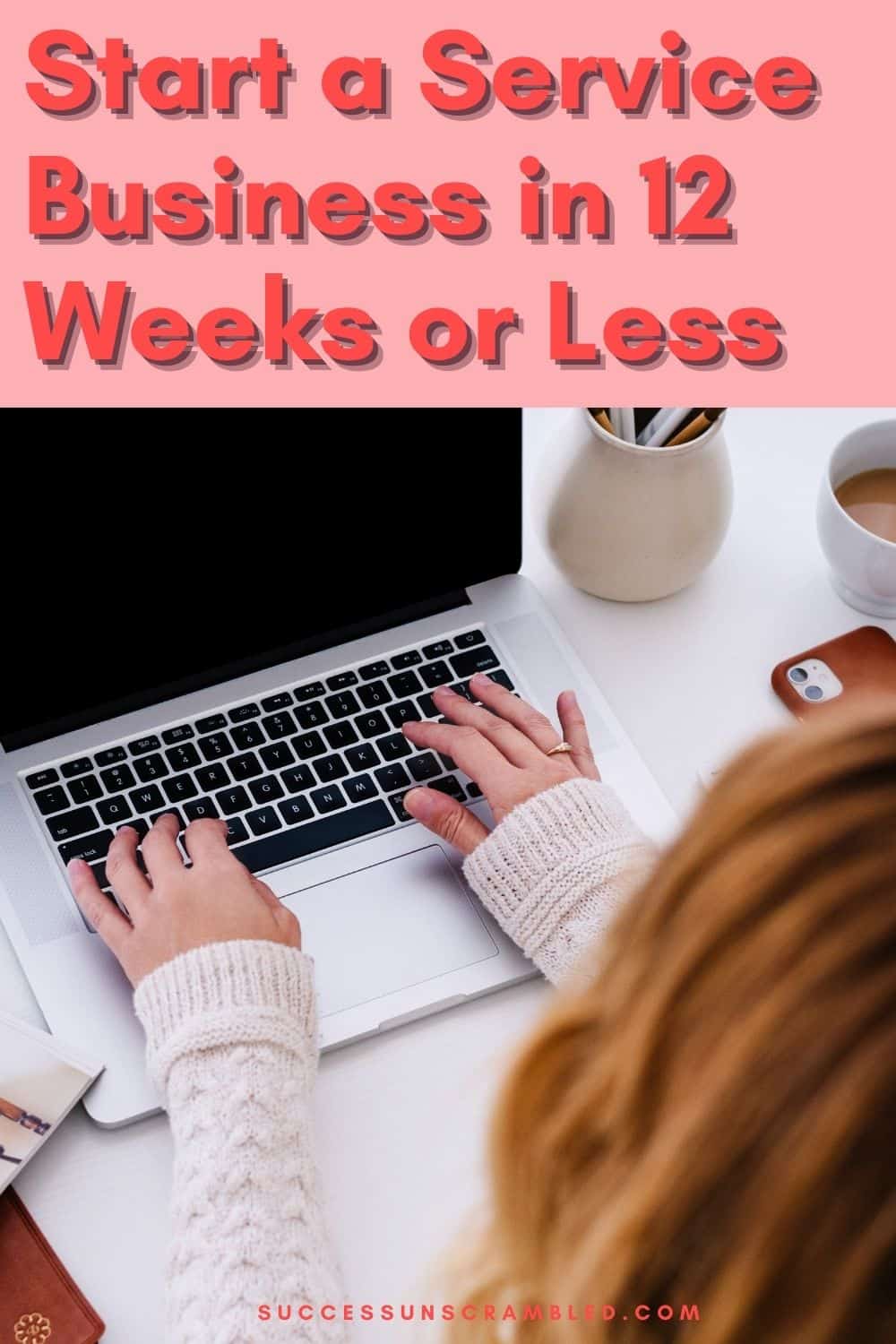 Summary
There is quite a lot that was covered in this overview about how to start a service business online.
Remember that there are other business models available such as selling products on places like Etsy, Shopify or Amazon.
You can also decide to become a coach and sell courses instead of services and the program I recommend for that is this one here.
To recap, here are the 7 steps you need to follow to get started in double-quick time.
I have made over $10,000 in revenue from offering services so I know this stuff works.
Find your strengths
Be familiar with your weaknesses
Rate your skills
Learn the tech for your speciality
Get testimonials
Find VA jobs
Join a coaching program (optional)
At this point, you are probably thinking, "Alvern that is a lot to follow through with on my own."
Yes, if you can do it then break it down into a 12-week goal and get it done step by sep.
However, you can access group coaching as well as accountability and support by joining one of the VA programs.
VA program with 6-month group access – free class
VA program with 12-month access – more personal approach
Over to you, have you ever started or do you run a service-based business?
Announcements
Remember to subscribe to the Success Unscrambled podcast where you will be the first to hear what's happening in the entrepreneurial and digital marketing world.
Your positive review of this podcast is vital to keeping it alive and running for the next 12 – 24 months so please leave a positive 5-star review for us on iTunes, Spotify or any of your favourite podcast players.
While running a service business online is exciting.
I started this blog in 2017 because I had a burden on my heart to reduce women illiteracy globally.
As you can imagine this is a huge undertaking so I have decided to help 1,000 women over the next 10 years.
I want to help them become wildly successful in their online business through simplified marketing strategies.
That way we can build a strong business network of women who can donate 1% of their profit and together we can help reduce women illiteracy worldwide.
Would you like to be part of this movement? Shoot me an email using alvern (at) successunscrambled (dot) com.
Posts related to Start a Service Business