Podcast: Play in new window | Download (Duration: 23:24 — 32.8MB) | Embed
Subscribe: Google Podcasts | Spotify | Amazon Music | Stitcher | Email | TuneIn | Deezer | RSS | More
If you are an entrepreneur or small business owner, it is easy to see why there's some confusion when looking at marketing vs sales.
While both areas are crucial to any business it is important to understand the activities associated with each one.
Traditionally, the thought of selling makes the average person cringe.
The reason for this is that certain salespeople have created a bad reputation in the mind of buyers.
Most people associate selling with the typical car or insurance salesperson.
While this is unfortunate, here are some things you need to know for your business.
What does a marketing person do?
Does your business need marketing?
Can you market without a budget?
What does a salesperson do?
Is this person essential for your business?
Can any business survive without sales and marketing?
While you may know the answers to some of these questions, you must understand the importance of each one for business growth.
In this post, you'll learn all about sales vs marketing as well as the first person you need to hire as your business grows (spoiler alert: it's not what you think).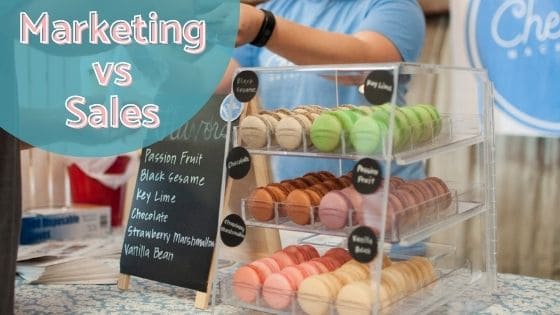 What is Sales?
According to Wikipedia, sales is the activity related to selling or the number of goods sold in a specific time period.
In one sense this can be accurate but to be fair marketing is indirectly related to selling.
I want you to think of the last item you purchased this week and you'll come to an interesting realisation.
Many of us buy without the help of a salesperson.
This is because most items with a price tag below $500 can be purchased online without direct contact with a person.
I'm sure that no one tapped you on the shoulder to ask you to shop at your local supermarket.
If you buy gifts, clothes or household accessories online, there is generally no contact with a person.
Are you now wondering what motivated you to make a purchase?
The answer to that question may lie in the definition of marketing.
What is Marketing?
So, because we got the definition of the sales from Wikipedia let's check them again for their take on marketing.
According to Wikipedia marketing is the activities that a company does to promote the buying and selling of their products or services.
Wait, what?
Yes, marketing promotes buying and selling. So, in one sense marketing involves sales.
Another way to look at it is marketing results in sales.
A marketing person is targeted with revenue outcomes.
So, everything that a marketer does must result in an action. If there is no action then that person is not accomplishing their job.
Let's go back to the analogy of you going to the supermarket to buy something like bread.
You get to the bread aisle and there are 50 different brands and types of bread.
Why do you choose to buy one compared to another?
It could be the taste, packaging, diet, price or an advertisement that you saw somewhere.
Do you understand now why marketing is so powerful?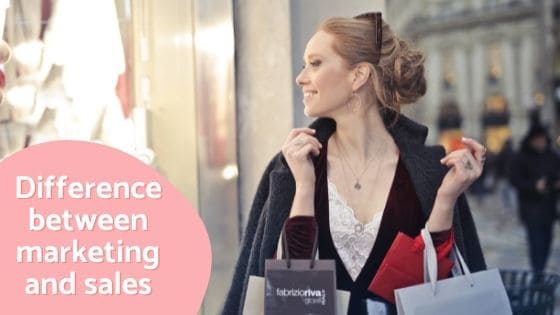 Sales Activities
As I mentioned previously, the price of a product normally dictates whether or not a salesperson will need to be involved in the buying process.
Imagine going to a car dealer to buy a car and it is 100% self-service.
That would be weird, wouldn't it? You are about to purchase a $5,000 or 10,000 dollar car.
You have a look choose one then swipe your card grab the keys and go.
Nobody likes a car salesman but everyone wants help to buy a car. Oh, the irony!
So, maybe the problem is in the behaviour of the person, do you think that there's such a thing as a good car salesperson?
Well, let's take a look briefly at the activities associated with sales.
Advisor
Must have product knowledge
Match the product's features to suit your needs
Handle objections
Build trust
Ensure a smooth buying journey
At this point, you're probably wondering who I am and what qualifies me to talk about sales.
The truth is I worked in sales for over 20 years and I did several training programs in this area.
I absolutely enjoyed building relationships with my clients.
Marketing Activities
Anything less than $500 can easily be sold online with the right process.
One of the keys to market successfully in a digital business is understanding your prospective customers.
If you are one of my existing followers, you would have seen a buyer journey before but here is a gentle reminder.
Your buyer's journey can also be called a sales funnel.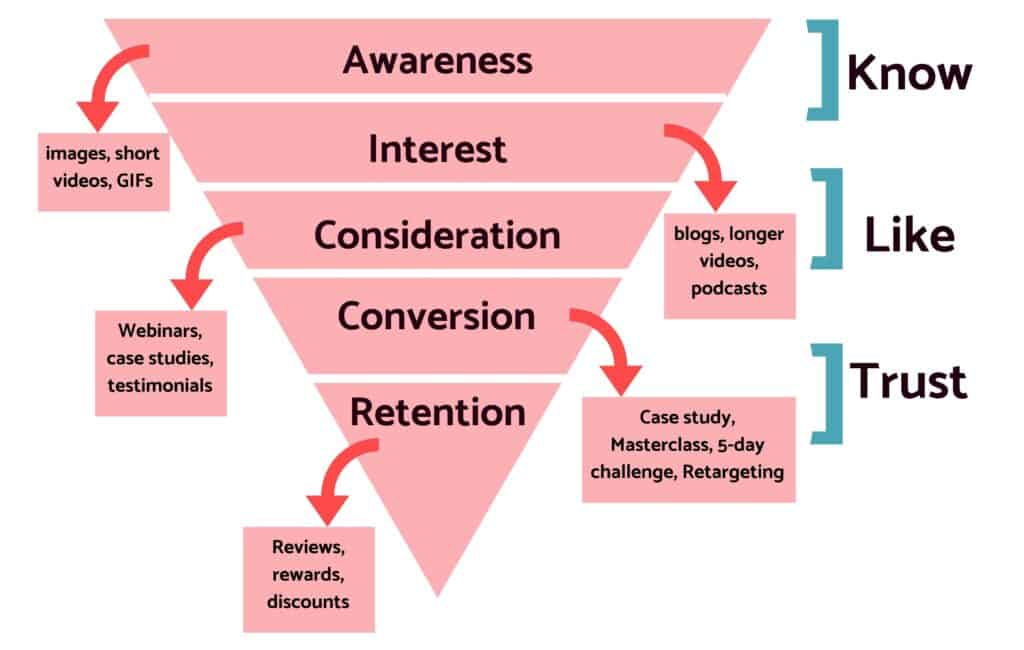 As you can see there are 5 stages in this journey. These include:
Awareness
Interest
Consideration
Conversion
Retention
Let's look at each one briefly so that you get a better understanding of what a marketer does.
This will help you to develop a marketing plan to run marketing campaigns based on your overall marketing strategy.
Awareness
Think of awareness as the first step of a buyer's journey into your world. They never heard of you before.
So, it is the job of a marketer to help this person to become familiar with your business.
At this level, it would make sense to feed them snippets of information like images, GIFs and short videos.
Interest
Now that they have seen bits of information about you here and there, it is time to open the tap a little more to keep them interested.
Using blog posts, longer videos and podcasts to educate them about who you are and what products you offer is best suited at this level.
Consideration
Things are starting to get a little more serious now because this person is at that stage where they have a shortlist of options.
They are almost ready to buy but they need to compare the features and benefits that you offer with other competing solutions.
This is why webinars, case studies, and testimonials are so effective at this buying cycle stage.
Conversion
Now your potential buyer knows everything they need to know about you in order to make a purchase.
They also see how other people just like them have experienced success with your offer.
Sometimes a fun activity like a 5-day challenge, masterclass or case study via a live interview will really help them to take that next step.
Retention
As you can see, after they make the purchase, the journey doesn't end.
They need to be encouraged to make another purchase.
This is why discounts and loyalty rewards are crucial by turning them into raving fans.
Practical Sales + Marketing Example
Now, it's time to look at a practical sales and marketing example.
If you are a blogger and you are trying to grow your email list, you'll first want to find a way to promote your blog where your target market hangs out.
In this example, let's say that they are on Pinterest and you want to do inbound marketing there.
What you would do is create Pinterest pins for each blog post and pin them frequently on Pinterest.
When your potential clients click on one of your pins they will come through to your blog and read your content.
Notice that two stages (awareness + interest) of your buyer's journey occurs here.
The Pinterest pin drives awareness
Your blog post drives interest.
In order to get them to the consideration stage, you can have a lead magnet with an email series or a webinar.
Here's an example of what it looks like in practical terms.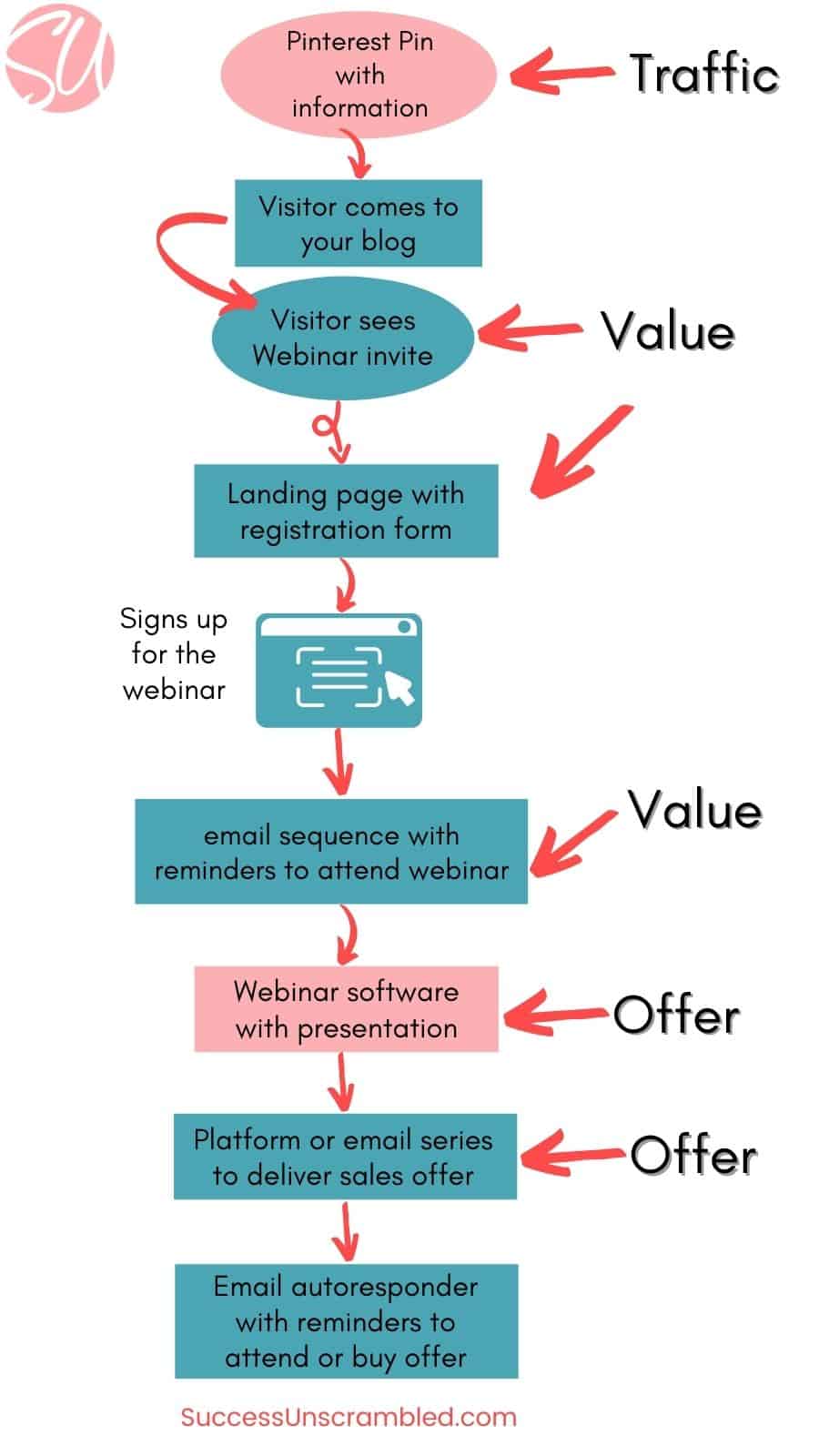 In the above diagram, you'll see that the conversion stage is also included.
Notice also that have a path to conversion is one of the keys to ensuring that your marketing efforts result in sales.
Sales + Marketing for Small Businesses
When you offer a product or service around $5,000 then it requires a different approach.
You'll need to establish a sales department that will handle your potential customers using an established sales process.
Your target audience will become qualified leads with the help of content marketing which is executed by your marketing department.
New prospects are nurtured at the right time through a combination of email marketing, phone calls and public relations strategies.
It is important to conduct market research in order to develop a sales pipeline that actually works.
At the top of the funnel, you'll need to have volume goals that target a large audience to cater for the right amount of new leads.
When you hire sales representatives they will be given sales targets that will help them convert these into sales and a larger market share for your business.
Many marketing departments depend on an external organisation like a digital marketing agency to help them generate leads for their business development team.
Your marketing specialists will develop a content strategy based on a value proposition that will generate potential leads.
Understanding your customer's pain points, how to nurture leads and using the best marketing process will help you get better results overall.
The Secret to Getting High Conversions from Marketing
When I first got started in business a few years ago I had a few ideas on what I needed to do to make things happen.
I knew that I needed to offer a product or service.
Also, I needed to have an established online presence to build authority using the right message.
The fact is that I am not a designer by any stretch of the imagination so creating images and lead magnets was difficult.
I learned how to use Photoshop, Canva and PicMonkey which led me to create social media graphics.
However, the one thing that is needed by everyone starting out in business apart from an offer is conversions.
In order to get conversions, the copy or text on all your content must resonate with your potential buyers.
This means as an entrepreneur or small business owner your first hire should be a copywriter.
A copywriter will write the copy for your website, landing pages and sales pages.
No one ever talks about this at all in business training or coaching programs.
They talk about promoting your business but getting conversions is the one thing that generates revenue.
Marketing vs Sales – Side by Side Comparison
Now that you know the key differences between marketing and sales, here's a summary of it in a table format.
| Feature | Marketing | Sales |
| --- | --- | --- |
| Drives awareness | Yes | No |
| Piques Interest | Yes | No |
| Assists with consideration | Yes | Yes |
| Generates sales | Yes | Yes |
| Needs copywriting | Yes | Yes |
| Helps retention | Yes | Yes |
| Top of funnel | Yes | No |
| Bottom of funnel | No | Yes |
While it is easy to see how anyone can be confused by the two disciplines it is important to remember a few things.
Any small business that is 100% online is a digital business.
This business type would normally need a lot of digital marketing strategies to drive sales.
Having a clear conversion path helps potential buyers to know what they should do next.
Marketing Tools
As you can imagine being an entrepreneur or small business owner can be complex as you'll need to wear many hats.
To help you promote your business in an efficient manner, here's a list of marketing tools that will help you accomplish this seamlessly.
Planoly
TailwindApp
Missinglettr
Facebook Business Suite
Canva
Filmora
Clipscribe
Flicktech
StreamYard
Agorapulse
I'll briefly go through what they are great for so that you will not be left wondering and fumbling.
Planoly
One of the best tools to schedule your posts to the Instagram feed.
It can auto-post a single image, video or GIF for you automatically without human intervention.
There's a facility to store your hashtags so that you will not need to copy and paste from a notes file. You can check out my Planoly vs Later review here.
TailwindApp
One of the best ways to keep up with marketing your content across the Pinterest platform is by using a scheduler.
While Planoly does also post to Pinterest, I prefer and have been using Tailwind for many years.
I have done a full review of Tailwind here so that you can understand how it can save you time.
Missinglettr
There are very few small business owners using Twitter because they believe that it is only great for the latest news.
While you can catch up with current events on Twitter, it is also an awesome place to get visibility for your business.
The downside is that you'll need to be posting 5-22 times a day in order to get noticed on Twitter.
One tool that can help you accomplish this is Missinglettr.
For a limited time, you can get a discount on their pricing, learn more about them here.
Facebook Business Suite
As you already know, Facebook owns Instagram so this fact shouldn't surprise you.
Using the business platform on Facebook allows you to schedule feed and Story posts to Instagram.
The best part is that you can schedule carousel posts and Stories in advance.
My stories get more reach when I use Facebook Business Suite to schedule them.
Canva
I mentioned previously that when I first got started in business I had to learn how to create social media images.
Well, Canva continues to be the graphic design software that I use every single day.
If you need help understanding the differences between the free and pro version go here.
Filmora
Recently, the head of Instagram announced that they'll be focusing a lot more on video content.
While it is not great news for entrepreneurs and small business owners, video marketing is here to stay.
A low-cost option to help you edit your videos is Filmora and it helps with all the sizes including square, vertical and horizontal.
Clipscribe
On the topic of video marketing, adding subtitles and headers to your videos will make them more engaging.
To achieve that you'll need to use software called Clipscribe which is great for helping you stop the scroll on social media.

What I really like about Clipscribe is the fact that it can work for videos on every social media platform.
Flicktech
When it comes to getting your content seen on Instagram, the one thing you need to get right is hashtags.
However, I have to admit that hashtags can be a complex topic.
That's why I'd recommend using a tool like Flicktech to help you want your Instagram ranking and reach.
StreamYard
Creating pre-recorded videos is a great way to save time for your coaching business.
However, the type of video content that gets more reach on Facebook and YouTube is live streams.
Yes, going live every week can leave you flustered but there is one software that can help you to make it seamless.
StreamYard has the ability to let you stream content across multiple platforms including LinkedIn.
Agorapulse
If your business has multiple brands or if you are looking for a way to schedule content consistently on LinkedIn then I know a solution.
Agorapulse is great for scheduling content to LinkedIn but it is also great for social listening.
While you can use it to schedule content across many social media platforms, there are a few limitations.
Check out my full Agorapulse review to learn the pros and cons.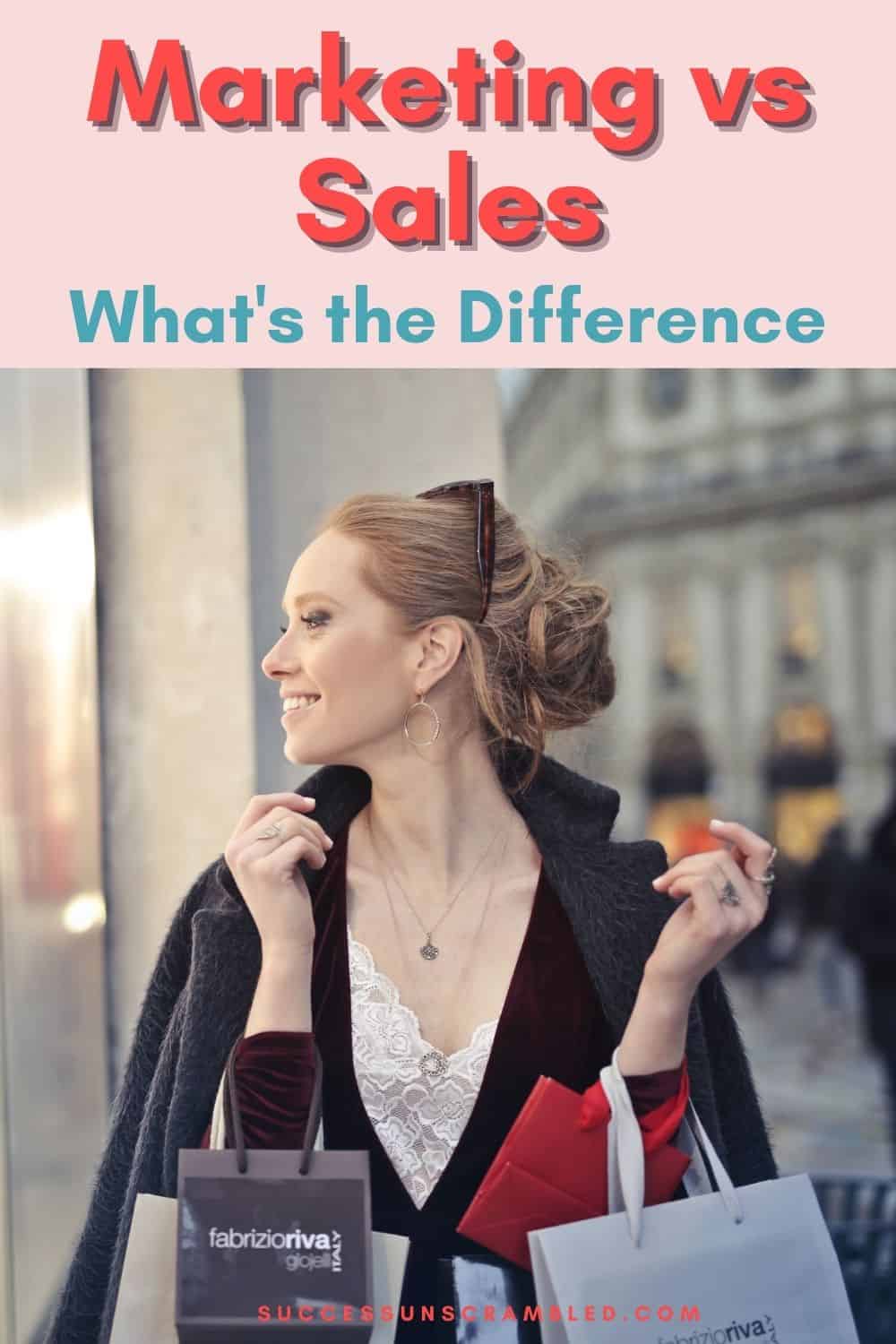 Summary
While sales and marketing can be confusing for some people, it is easy to see that the two disciplines go hand in hand.
The salesperson knocking at your front door feels intrusive without the help of a marketing campaign.
Marketing is essentially a great way to warm up your potential clients so that they are ready to buy when the offer is made.
In your business having an offer is essential to generate revenue so that your company can thrive.
If you would like to outsource the marketing side of your business so that you can stay in your zone of genius.
That's great because there are people like me who help coaches set up and optimise all the marketing and tech.
Feel free to grab my service guide here to find out more about how I can help.
Over to you, what has been your experience with understanding marketing vs sales.
Announcements
Remember to subscribe to the Success Unscrambled podcast where you will be the first to hear what's happening in the entrepreneurial and digital marketing world.
Your positive review of this podcast is vital to keeping it alive and running for the next 12 – 24 months so please leave a positive 5-star review for us on iTunes, Spotify or any of your favourite podcast players.
I've seen so many experts offer programs to help potential entrepreneurs to start a business.
While this is a good thing, beware of any "business in a box" program that doesn't educate you on the importance of copywriting.
I started this blog in 2017 because I had a burden on my heart to reduce women illiteracy globally.
Because this is a huge undertaking I have decided to help 1,000 women over the next 10 years to become wildly successful in their online business through simplified marketing strategies.
That way we can build a strong business network of women who can donate 1% of their profit and together we can help reduce women's illiteracy worldwide.
Would you like to be part of this movement? Shoot me an email using alvern (at) successunscrambled (dot) com.