Podcast: Play in new window | Download (Duration: 18:39 — 26.1MB) | Embed
Subscribe: Google Podcasts | Spotify | Amazon Music | Stitcher | Email | TuneIn | Deezer | RSS | More
The first time I tried to publish a post on Instagram was painful because I did not know how to put emojis on Instagram.
In fact, not adding spaces between the lines of text and making my text fancy made me feel intimidated.
If I'm honest it took me a long time to decide that Instagram was a place for me to promote my business.
You see, a few years ago IG was this place full of influencers making 6-figures per post.
It was also this place full of perfect, colour coordinated grids full of amazing travel and food photos.
However, something happened, it seems as if the peer pressure and mental fatigue made that bubble pop.
A few unfortunate incidents made the public realise that these pretty photos are not really what they appeared to be.
Does it mean that Instagram is a bad place? Definitely not.
In a recent video from the head of Instagram, he revealed how things are starting to change on the platform.
He mentioned that there will be a heavier emphasis on videos due to mounting pressure from TikTok and others.
There will still be a need for captions, emojis and subtitles since the space of 2,200 characters need to be filled.
In this post, you'll learn how to add emojis, fancy text and line spacing in your captions to make it user friendly for your followers.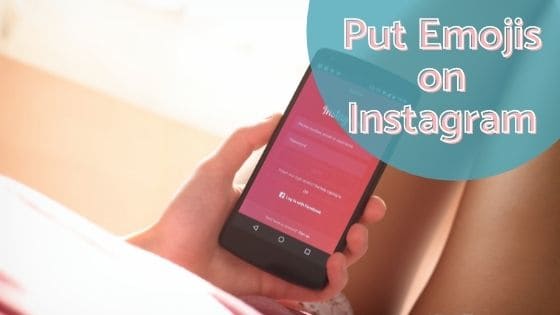 5 Instagram Tips That You Need to Know
Before diving into the step by step guide on how to put emojis on Instagram, let's look at 5 hacks or bonus features you never knew existed.
1. Adding Longer Videos to Your Feed
Did you know that it is possible to add longer videos to your Instagram feed? Currently, the limit to adding a single video is 59 seconds.
However, if take a longer video and break it into two 59 second videos you'll be able to upload it as a carousel post.
2. Auto-posting to IG Stories
One of the hardest areas of IG for me when I first started was Instagram Stories. I was super annoyed because it took 20-30 minutes to post a single story.
Now, thanks to the Facebook Business Suite I can schedule 2-3 weeks of Stories and get on with the rest of my life.
3. Recycling Story Posts
Have you ever wanted to recycle your Instagram Story posts but you felt kind of stuck on how to get it done?
All you need to do is head over to your archives using the hamburger menu on the top right.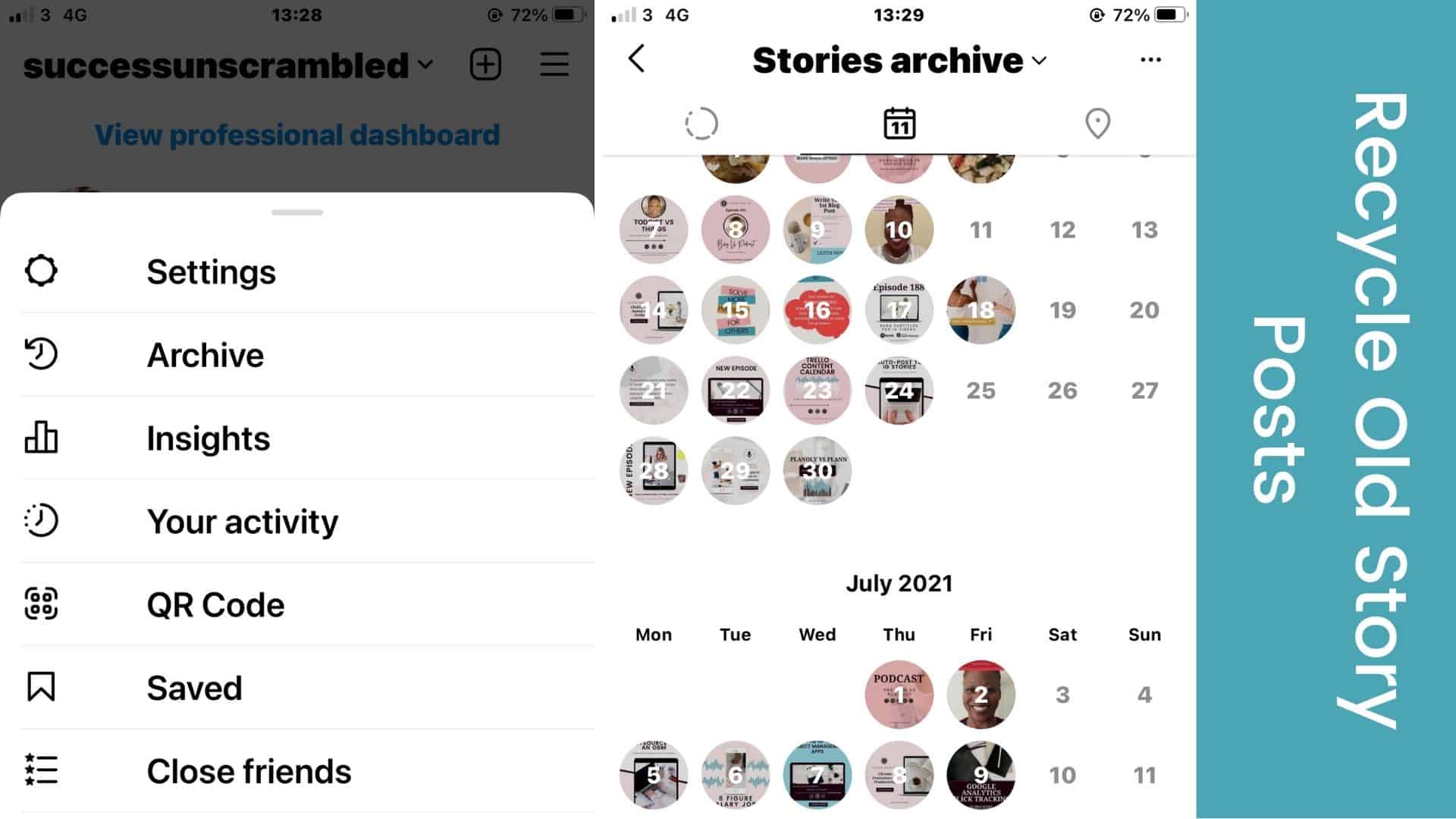 Click on archives and you'll see the calendar icon. When you click on that you'll be able to see your past post in reverse chronological order.
Simply choose the post you want and click save the photo or video to your camera roll.
4. Hiding IGTV or Reels From Your Feed
If you ever created Reels or IGTV videos you'll probably find that it messes up your feed aesthetics.
One thing that you can do to restore your grid is just to remove that post from your IG feed.
Simply click the 3 dots on that post and you'll see the option to remove it from your feed.
Creating a cover for your IGTV or Reels post is another way to restore the aesthetics of your IG grid.
5. Easiest Way Adding Subtitles to Your Story Posts
Have you ever created a video using the Instagram app but want to avoid the need to download the video to add subtitles?
Well, IG recently introduced the ability to add captions or subtitles to your video right inside the app.
Simply click on the sticker or smiley face icon, wait a few seconds and the "captions" button will appear.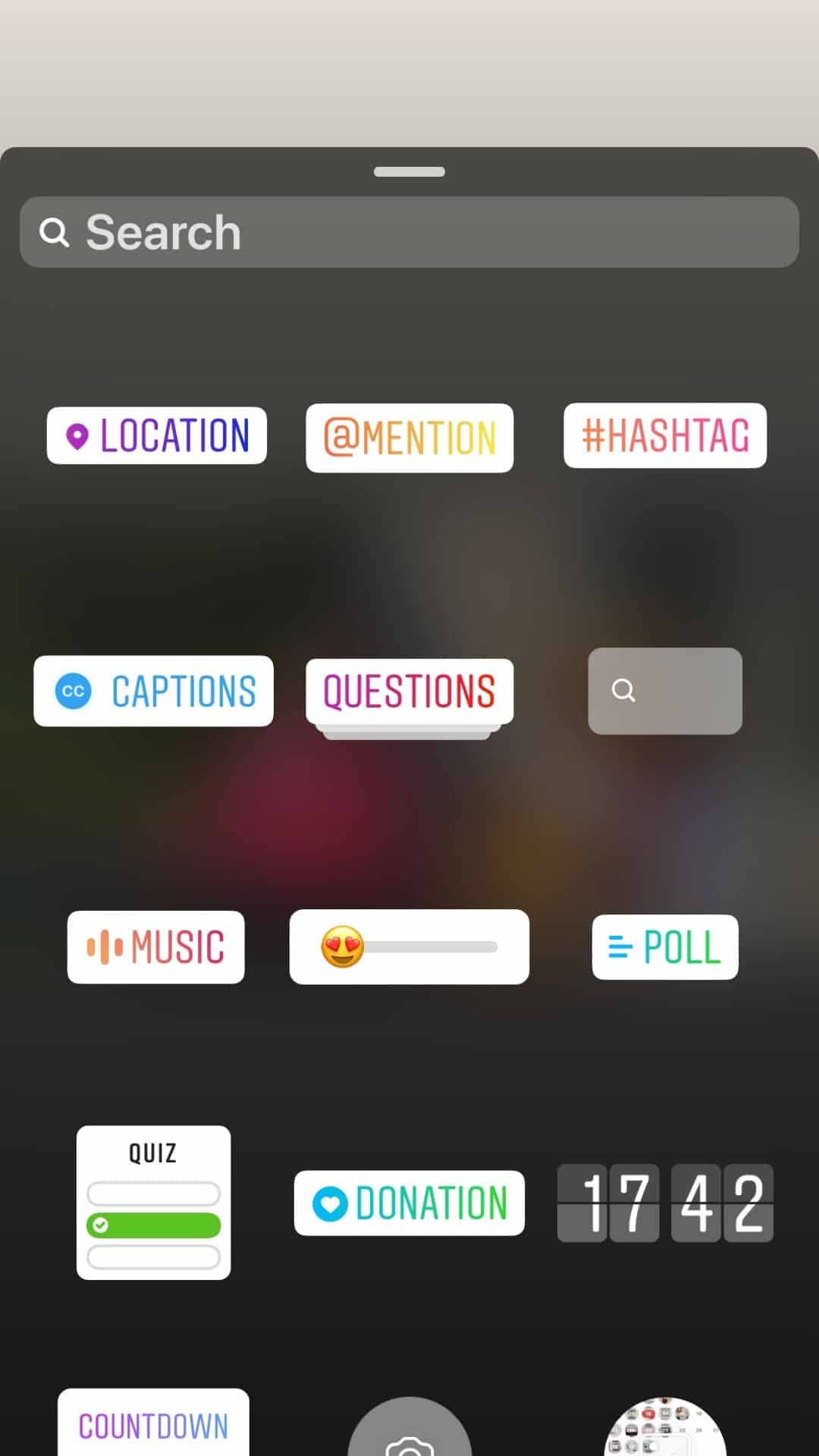 After clicking on captions, you only need to wait for a few minutes for the subtitles to auto-generate.
How to Add Emojis to Instagram
As I mentioned previously, when I first started on Instagram everything seemed difficult.
Publishing perfect content on IG felt like learning a new language altogether.
However, as time passed, I realised that taking baby steps and doing what you can makes the learning curve easier.
If you've been using Instagram for 2-4 years but still feel stuck this post is just for you.
When you are writing in the text area or captions for your feed posts it is best to use a social media scheduler.
There are several available on the market like Later, Planoly, Plann, Preview and Agorapulse.
Using a scheduler will help you be consistent and even schedule content weeks in advance.
The other important benefit of using a scheduler is that you get to write your text in a user-friendly manner.
Instead of having a huge wall of text for your audience to read you can space the text out evenly.
Using Planoly to Write Captions
To help you add emojis to Instagram as well as fancy text here's a step by step guide for you.
Step 1
Decide on the caption you'll be writing as well as its associated image. You can create your images in advance using Canva.
Head over to Planoly and upload your image.
Canva is now integrated with Planoly so you can save your images to a folder and upload them directly to Planoly.
Step 2
Save the image or images as a single post or carousel.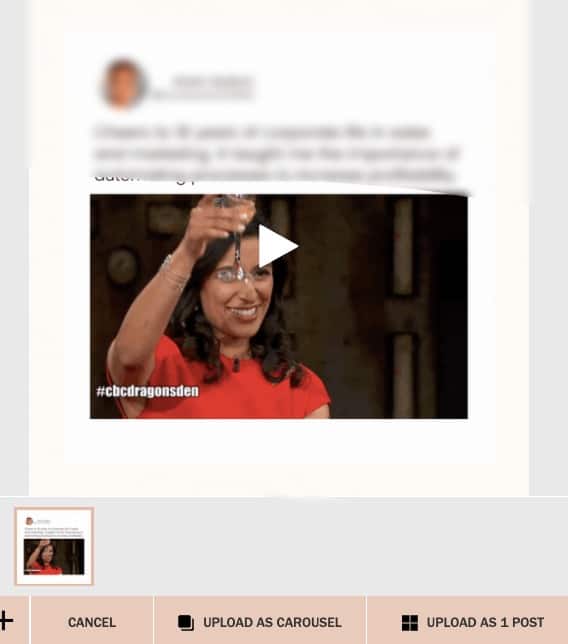 Open it up again and write your captions making a note of all the different types of emojis you'll like to add in after the fact.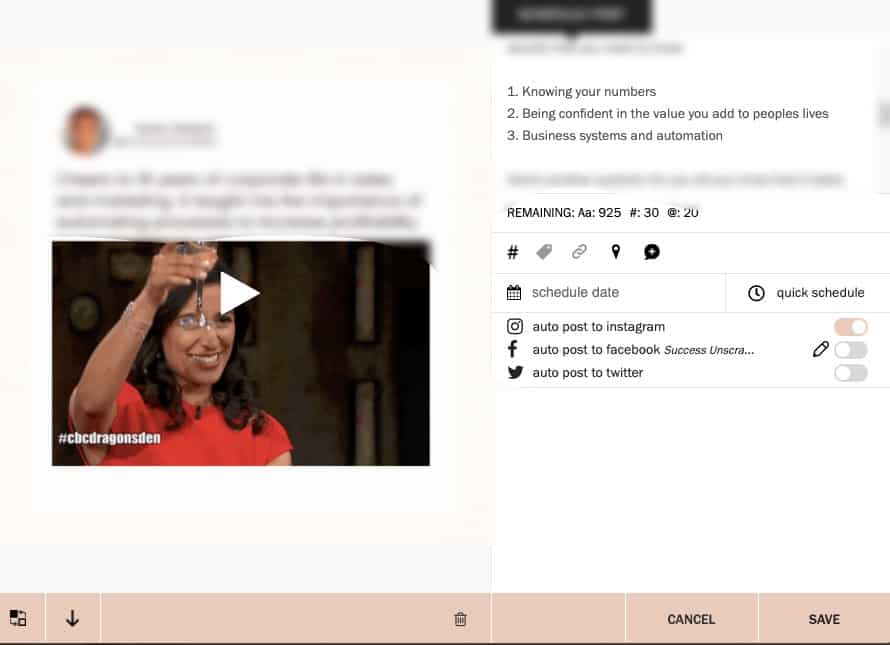 Step 3
Go to emojicopy.com and search for your emojis one by one. You can search using terms like "heart eyes" and "heart emoji".
These are custom emoji reactions that help you to make an emotional connection with your audience.
Copy each emoji and place it into the captions area. As you will see this allows you to use a special emoji code that places special characters within your captions.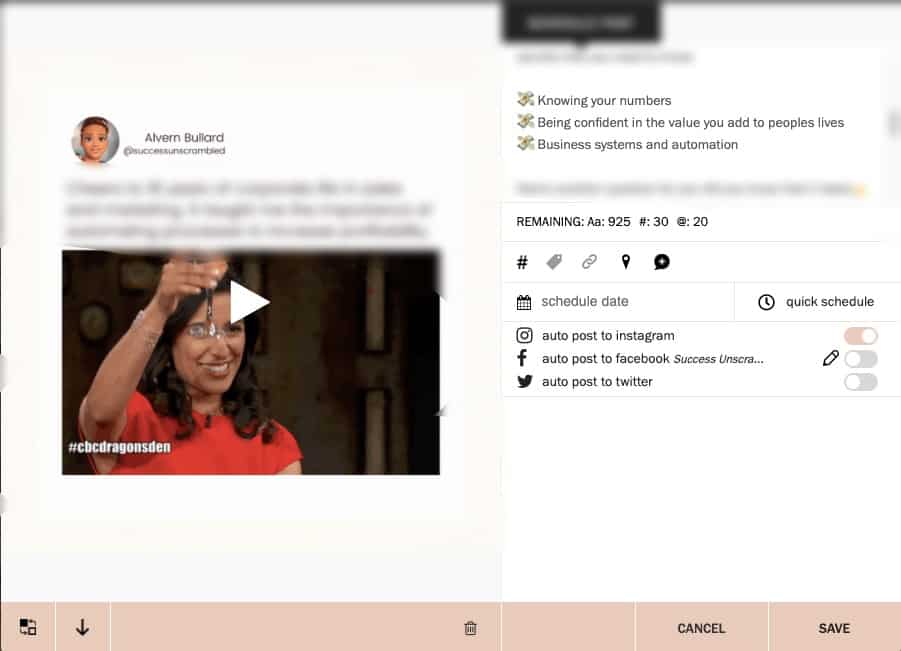 Bear in mind that there is a 2,200 character limit for the captions on an Instagram post.
If you are a Mac user, simply hold down command, control and the space bar so that the emoji keyboard pops up.
When using your smartphone to send an Instagram DM, create your Instagram bio or send Instagram messages.
There is an emoji keyboard built-in for newer phones or for older phones you can download an emoji keyboard app like the Memoji app.
Emoji specific apps can be downloaded from the app store for iPhone users or the Playstore for the Android device.
Step 4
Decide which text you would like to stand out on your posts.
Go to FancyTextPro, copy the line of text from the captions area and paste it into the text generator.
Grab the converted text from the generator and paste it into the caption area in Planoly.
Step 5
Save the post and open it again to add your hashtags.
Once completed, schedule your post to publish automatically to IG or to receive a push notification to your smartphone.
Schedule 20-30 posts in advance to save you a ton of time.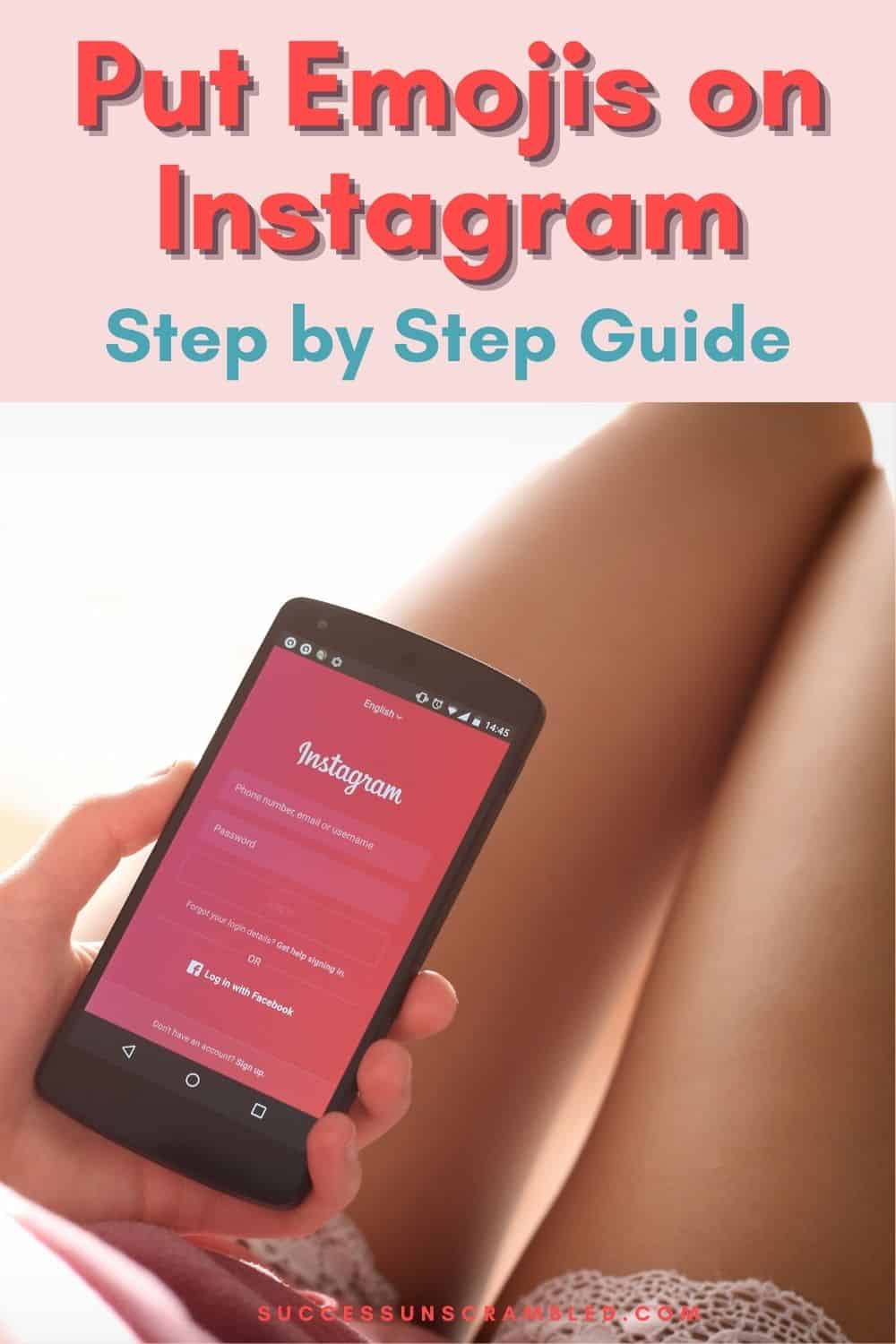 Summary
Learning how to use Instagram to get the most out of your content feels like an uphill battle when you first get started.
However, let me assure you that the journey gets easier if you post every week.
If you are thinking of getting tools or software to make posting to IG easier here are a few of my previous reviews.
You'll discover that there are a lot of tools available to assist you on your IG journey and they actually ease the content burden.
If you find yourself in a situation where you need a few pre-written social media prompts or captions.
Pre-written prompts help you become unstuck. So, feel free to grab the 90 days in 90 minutes content bundle here.
It will definitely help you overcome the constant content hamster wheel in no time.
Over to you, what has been your experience with adding popular emojis to Instagram?
Announcements
Remember to subscribe to the Success Unscrambled podcast where you will be the first to hear what's happening in the entrepreneurial and digital marketing world.
Your positive review of this podcast is vital to keeping it alive and running for the next 12 – 24 months so please leave a positive 5-star review for us on iTunes, Spotify or any of your favourite podcast players.
Avoiding the learning curve to use new technologies to promote your business can cause you to miss out on revenue opportunities.
While you may not be an early adopter, taking years to implement the latest strategies can mean slower business growth.
I started this blog in 2017 because I had a burden on my heart to reduce women illiteracy globally.
Because this is a huge undertaking I have decided to help 1,000 women over the next 10 years to become wildly successful in their online business through simplified marketing strategies.
That way we can build a strong business network of women who can donate 1% of their profit and together we can help reduce women illiteracy worldwide.
Would you like to be part of this movement? Shoot me an email using alvern (at) successunscrambled (dot) com.