Podcast: Play in new window | Download (Duration: 21:07 — 29.5MB) | Embed
Subscribe: Google Podcasts | Spotify | Amazon Music | Email | TuneIn | Deezer | RSS | More
As someone who works with several social media clients, it always surprises me when they are unaware that they can post multiple videos on Instagram.
You are probably aware of the recent announcement from the head of Instagram.
Where he said that Instagram as an organisation will be moving more towards video content.
This has caused a little bit of a panic among several small business owners.
Since creating videos requires a lot more effort on their path.
Let me know if this sounds familiar.
While creating videos is a lot of fun.
The time it takes to create videos is a lot longer than image creation.
Video requires getting dressed up to show up on camera.
Other shorter videos require a bit of humour to get engagement.
In this post, you'll learn 5 clever ways to create videos fast as well as how to post multiple videos on Instagram.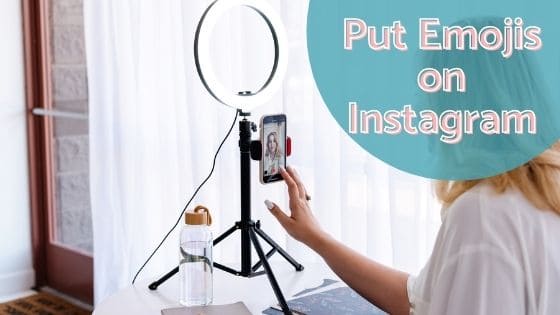 4 Instagram Video Locations
Before diving into the tips on video creation, let's first look at where you can post videos on Instagram.
If you are a regular user of the Instagram platform these 4 locations will not surprise you.
Instagram Feed
IGTV
Reels
Instagram Stories
Let's look at each area in a little bit of detail in terms of the standard requirements like video lengths and sizes.
Instagram Feed
When Instagram was first launched back in 2010 by Kevin Systrom, it came on the market as a photo-sharing app.
As time went on videos were allowed as well.
However, it wasn't until 2017 before users were able to share a mix of photos and videos in feed posts using the newly created carousel feature.
As we are specifically focused on video the requirements to publish a video in your IG feed are as follows:
Format – MP4
Longest video length – 60 seconds
Max file size – 15MB
Maximum width – 1080 pixels
Frame rate – 30 FPS
H.264 codec
AAC audio
3500 kbps bitrate
Bear in mind that you can publish a mix of photos and videos in your Instagram feed.
IGTV
I still find this difficult to believe but did you know that IGTV was only launched on Instagram in June of 2018?
It feels like it is an application that has been available to the public for a much longer time period.
In a similar fashion to the IG feed, IGTV has its own set of requirements.
Aspect Ratio – 9:16 (preferred) and 16:9
10 Minute Video – Max 650MB
Maximum length – 15 minutes from mobile, 60 minutes from the web
Max File size – 3.5GB
You can add a link in the description or caption
These videos don't expire
File format – MP4
Pre-recorded videos are fine
What's great about IGTV is that you can create longer videos which means that the video creation experience is less stressful.
When you go live on Instagram you can save the live video as an IGTV post and it will be displayed as a regular Instagram post.
One of the best ways to create content consistently is to develop an IGTV series.
Reels
The most recent addition or new feature to the Instagram video family is Reels.
If you are a TikTok user then Reels will be easy for you to use.
However, if delivering short messages is not your thing, it will take time to grow into IG Reels.
Let's look at the specific requirements for a Reels video.
Format – 1080×1350 or 4:5
Thumbnail size – 1:1 or square format
Max length – 15 seconds
Entertaining – lol!!
This reminds me of the movie, Gone in 60 Seconds. Rumour has it that Instagram will soon extend the length of Reels to 60 seconds.
Instagram Stories
My second favourite place to create content for Instagram is using Stories.
What makes Stories user-friendly is that there are so many features available for small business owners.
Let's look at the required format of videos created for Instagram Stories.
Format – MP4 or MOV
Max length – 15 second per slide (up to 2 minutes per story – 8 slides)
Aspect ratio – 1080 x 1920 (9:16)
Video size – up to 14MB
I really like the fact that videos can be up to two minutes in length.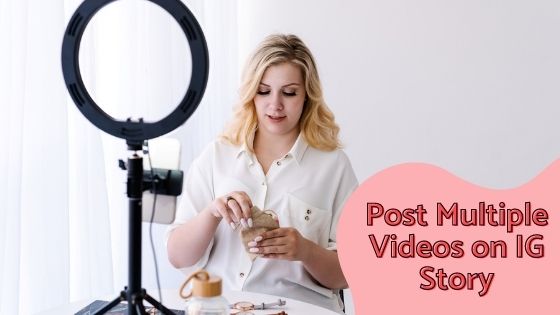 5 Clever Ways to Create Videos in a Flash
Now that you know the size and length requirements of each section inside Instagram, let's look at how to create videos quickly.
1. Doing video without makeup
You probably already know how important it is to put on makeup before shooting videos.
However, did you know that there's one quick hack to shoot video without makeup and still look good?
To achieve this you'll need to use either the "Eyelashes" or "Subtle" filter on the IG Story app.
I've included the examples in the screenshot above.
2. Screen share videos
Another clever hack to create quick videos without dressing up is to create a screen share video of a platform or software.
It could be a step-by-step guide or how-to tutorial.
The intro and outro videos can be you smiling and pointing to captions or text.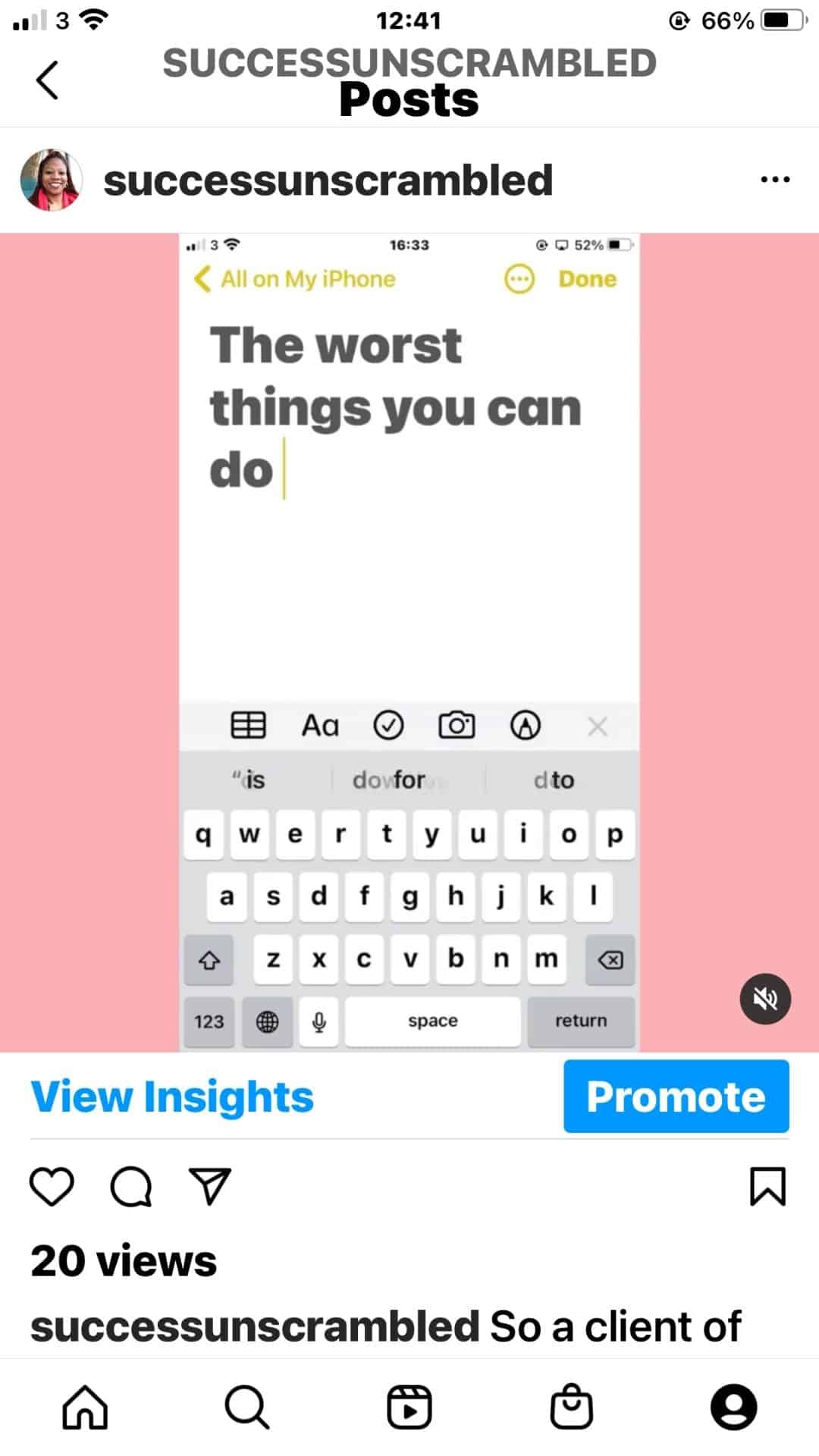 In the above screenshot is an example of a video I did of me typing a message inside the notes app on my phone.
3. Behind the scenes
A priceless way to capture real, authentic videos is by capturing some behind the scenes events.
These events could be you on vacation, walking or getting ready to launch a new program.
It means that there is no need to get dressed up and prepare a script.
In other words, you are just capturing a scene as it happens.
4. A Day in Your Life
Did you know that your dull everyday life is of interest to others?
While you sit at home on your laptop working, preparing lunch, having breakfast, doing your shopping or just driving somewhere, take a quick video.
Maybe you have pets or kids or getting your home renovated.
All these are awesome videos that you can quickly create in a flash.
5. Video Batch Creation
The next time you apply makeup, think of how you can use that opportunity to create a quick video.
Another option is to set aside one day a week or one day every month to create 13 weeks of video using Filmora, ScreenFlow or Adobe Premiere Rush.
For example, if you are creating a 15 minute tutorial for IGTV, think of how you can create 15-second videos and a 2-minute movie trailer.
Remember to add subtitles to all your videos as much as possible. You can use an application like Clipscribe to do the heavy lifting.
In many cases, it is not about working harder but working smarter to get more done in less time.
How to Post Multiple Videos on Instagram
Congratulations on getting this far in your IG video journey, now that you know what size videos to create and how to create them.
Let's spend some time learning how to post them.
Posting to the IG feed
Posting to the IG feed is simple, in many cases, I prefer to use Planoly to schedule my carousel videos.
Planoly is useful for scheduling regular posts like a single-image post, multiple image posts or Instagram carousel posts.
Just open the Planoly app on your smartphone or desktop and select up to 10 videos from your image library or camera roll or desktop.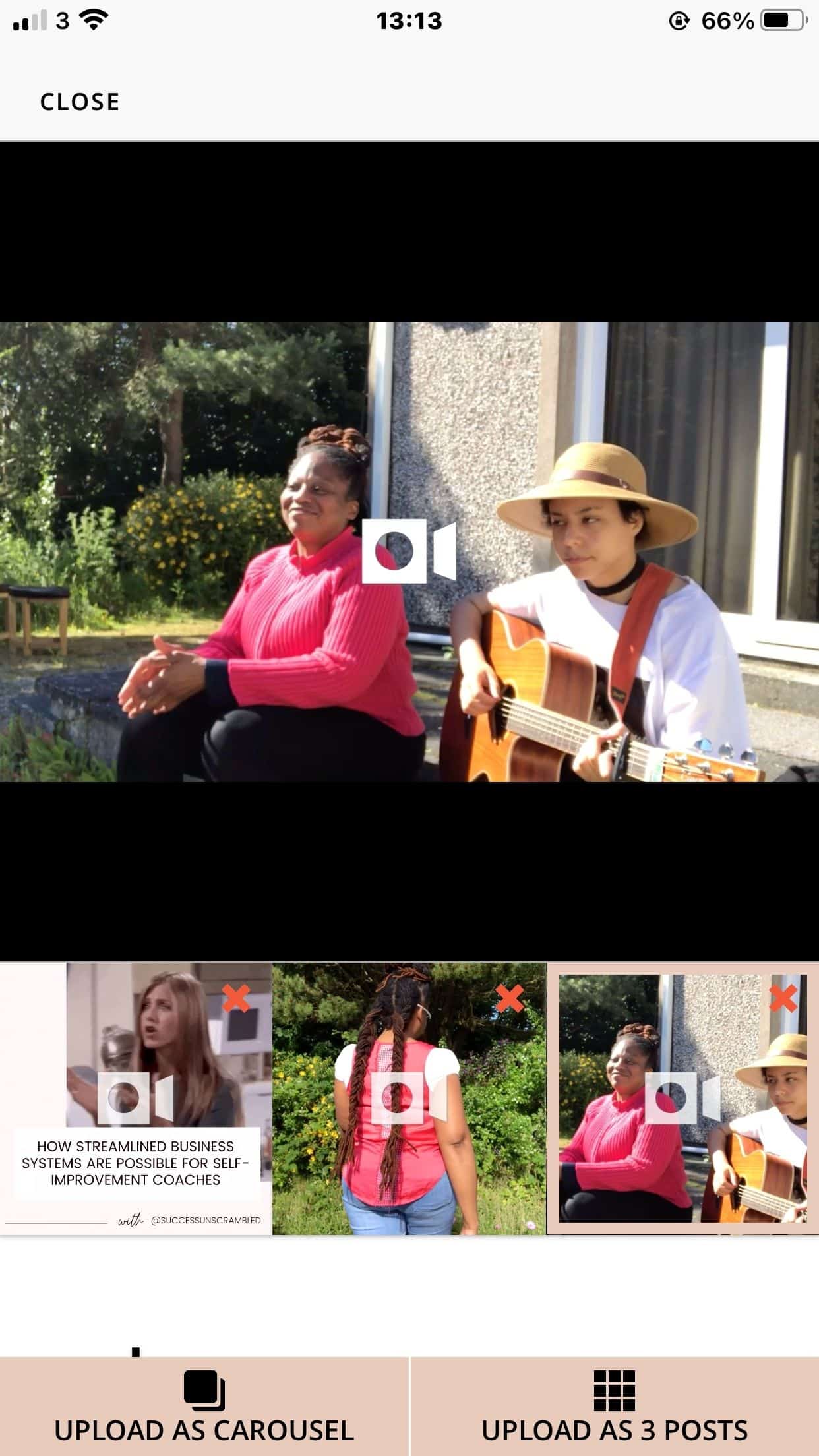 Choose the option at the bottom of the screen to save it as an Instagram carousel post.
Write your captions, add your hashtags and schedule it out. You'll receive a post notification to publish it on your chosen date and time.
Simply follow the instructions to post multiple media and publish your videos to the feed.
Remember to tag people or brands to get more reach.
Posting to IG Stories
Posting to IG Stories will be different because your video will be broken into multiple slides up to 8 in total.
When posting to Instagram Stories you have two options.
You can prepare and post it using the Instagram Story App or you can prepare it in advance and schedule it out using Facebook Business Suite (FBS).
Posting Using the IG Story App
If you decide to post using the Story app, head over to the Instagram app. You'll see a square icon with a plus symbol on the top-right of the screen.
Click on that and you'll see the "Story" option on the bottom right of the screen, choose that option
Select the images on the bottom left of your screen and click the option for multiple videos or multiple images.
All your recent photos and videos will show up for you to choose from.
Posting Using Facebook Business Suite
In order to access the FBS, you'll need to have a Facebook business page already set up.
I prefer to create 2-4 weeks of content in advance and schedule it out using the Facebook Business Suite.
Get your images ready and have them on your desktop or smartphone image library.
Instagram and Facebook will give you the option to select multiple videos that are up to 15 seconds in length each.
Follow the instructions, add your emojis and text and schedule out the post or publish it live.
Posting to Reels
Posting to Reels is a little bit complex at the moment but it certainly is worth it.
You'll need a video up to 15 seconds in length, after choosing your video, you'll have the ability to add text, music and GIFs.
The final stage before you publish it is to add captions.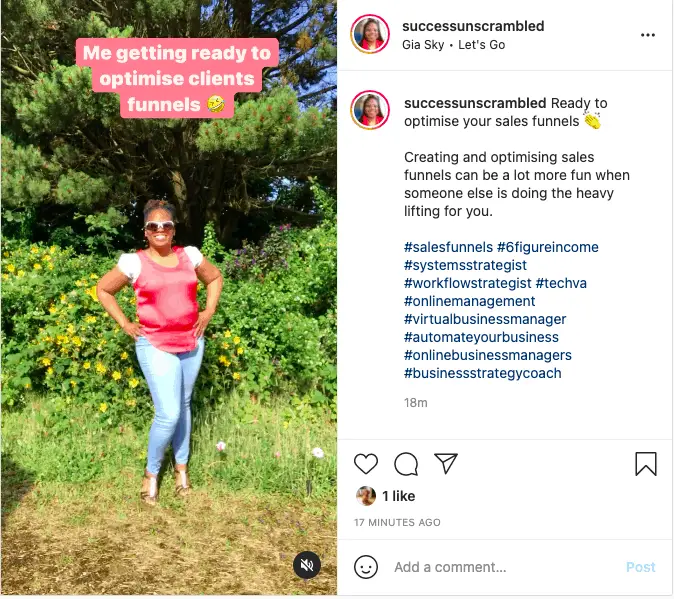 Think of Reels as a shorter Story post but with the ability to add captions. It would make sense to have custom thumbnails created for your Reels.
Here's a quick hack, create your captions in advance with text and hashtags using the notes app.
Copy to clipboard and paste it into the caption section then publish it.
If you want to get more engagement on your Instagram content, consider looking at these social media prompts that work, 50+ easy Instagram poll ideas and how to put emojis on Instagram.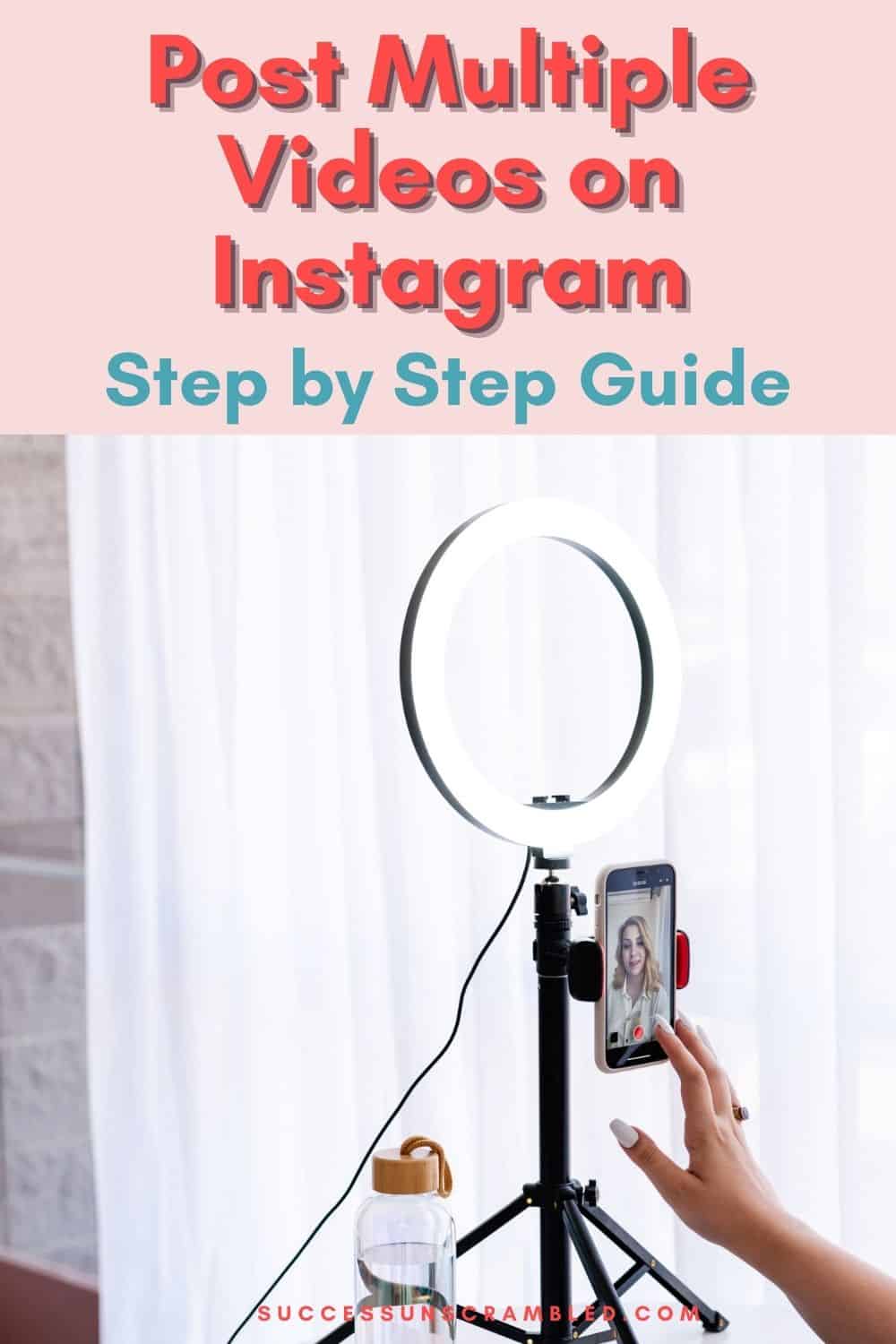 Summary
Video marketing can be a lot of fun for small business owners.
However, the creation and optimisation process can be seen as intimidating and a lot of work.
What I have noticed is that with sufficient and frequent practice it becomes part of your routine.
As I mentioned previously, creating your video content in batches can really put you ahead of the video marketing game.
Waiting until the last minute to create video content can only lead to overwhelm and unnecessary stress.
Over to you, what has been your experience posting multiple videos to Instagram at the same time?
Announcements
Remember to subscribe to the Success Unscrambled podcast where you will be the first to hear what's happening in the entrepreneurial and digital marketing world.
Your positive review of this podcast is vital to keeping it alive and running for the next 12 – 24 months so please leave a positive 5-star review for us on iTunes, Spotify or any of your favourite podcast players.
Getting started with video marketing is going to be an uphill battle because of the huge learning curve.
I promise you that it gets easier as the weeks, months and years go by with consistent practice.
When I started this blog in 2017 I wanted to focus on my purpose of reducing illiteracy among women.
Using my passion for digital marketing by helping 1,000 women excel at promoting their digital business online.
That way we can build a strong business network of women who can donate 1% of their profit and together we can help reduce women's illiteracy worldwide.
Would you like to be part of this movement? Shoot me an email using alvern (at) successunscrambled (dot) com.