Podcast: Play in new window | Download (Duration: 31:49 — 45.1MB) | Embed
Subscribe: Google Podcasts | Spotify | Amazon Music | Stitcher | Email | TuneIn | Deezer | RSS | More
So, you have heard of sales funnel stages and you may have a foggy understanding of the impact it can have on your business.
All you know is that it has something to do with the buyer's journey.
For now, you are not really sure why paying closer attention to this is super important.
After all, why all the fuss anyway? Does it really make a difference in the long run to look at your buyer's journey under a magnifying glass?
Let me know if this sounds familiar.
You have a big dream to only work 20-hours a week or less doing what you love but you are not quite sure how to achieve this goal.
Wouldn't it be great to have leisurely mornings, spending more time with friends, joining a book club, paying off the mortgage or even buying your dream house?
Your big goal is to own a 6-figure business which will give you the financial independence that you need to do all those things.
What do you think it takes to run a business that generates $500,000 every year? The answer may surprise you.
Spoiler alert! It does require you to have a deep understanding of your buyer's journey.
The truth is understanding the sales funnel stages will give you a deeper appreciation for your audience so you can provide resources for them.
At the end of this post, you'll be able to create the right resources for your audience at the right time which results in more income.
You'll also be able to get the engagement and growth you need to bring your business forwards by leaps and bounds.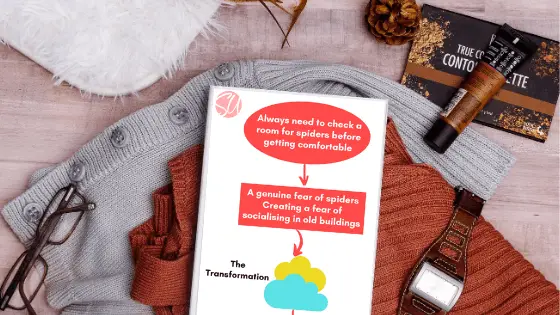 What are Sales Funnel Stages?
In case you are new to this blog and you missed the other articles in this series let me explain.
The sales funnel stages are closely linked to the buyer's journey because the funnel cannot perform without the buyer.
When I wrote the article explaining what is a sales funnel I gave this example of a sales funnel stage.
Traffic
Deliver value or warm-up
Offer
While this is a simplistic way to explain it there are actually a lot more intricate details when it comes to a sales funnel.
Think of it as taking the scenic route on a journey from Los Angeles to New York.
If you have 10 families going on a road trip from San Francisco to New York will they all have the same experiences along the way?
Will they arrive at their destination at the same time? If not, why is that the case?
Everyone of us is on a journey to achieve goals, fulfil needs and meet obligations.
Each of us have the freedom to choose how this is accomplished.
This is the same with your potential customers.
Some are ready to get the product or service they need while others need to think about it.
Ideal Client Avatar
I know that I mentioned this in a few articles previously but it would not hurt to revisit it again.
One key secret of deeply understanding the sales funnel stages is first knowing who your ideal client is and what they are going through.
Here are those key details that you need to know about your potential client.
Age
Gender
Where do they live? (country, city)
Do they live in a house or an apartment?
Their neighbourhood, what does it look like?
What are their daily, weekly, monthly or annual challenges?
Outline their biggest needs?
The kind of problems they are trying to solve personally, financially
Their deepest desires and dreams for them and their family, what are they?
In terms of their biggest fears, what are they? (not spiders, emotional ones?)
Do you get their short-term and long-term goals?
Any idea of their good and bad habits?
What gets them excited?
The stuff that annoys them, what are they?
Their passion projects, what are they?
Where do they spend the most time online?
List the kind of items they spend their money on when they get paid?
What type of podcasts do they listen to?
Which software and/or apps do they use?
As you can see it is very detailed and it is that way for a specific reason.
If you don't know them intimately then your messaging will not resonate with them.
The Buyer Journey
Let's spend some time looking at the buyer's journey in some more detail as you need to understand each level so you can win at each stage.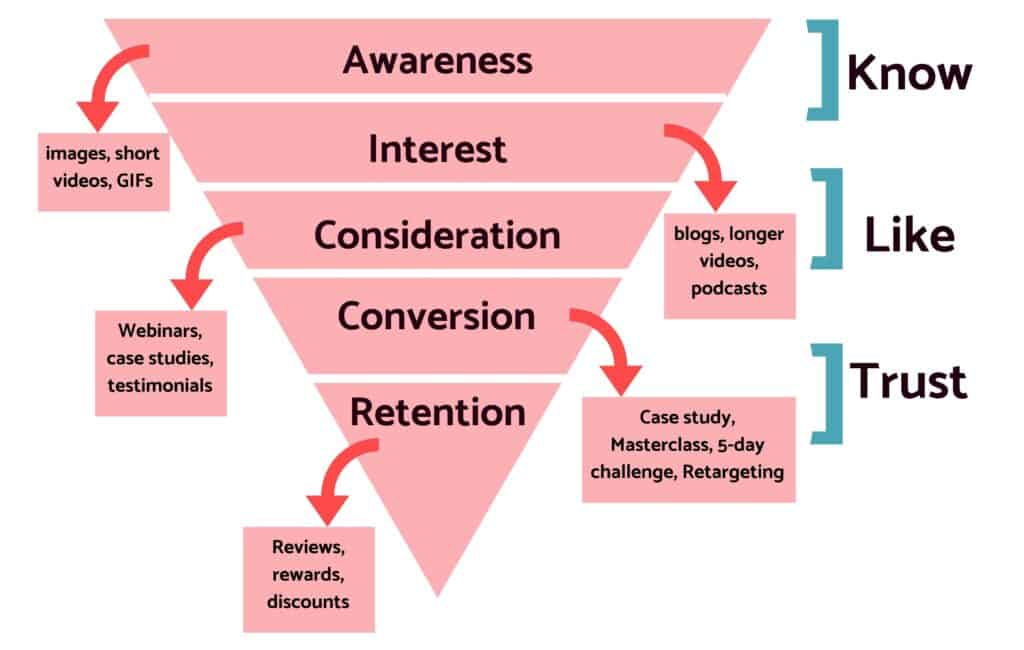 Awareness
The first stage of the buyer's journey is awareness which meshes really well with the traffic level of the sales funnel stages.
Where your potential clients are hanging out determines which platform you will use to drive awareness.
Have you taken the time to create content that will help your potential clients be more aware of your business?
Think of it as giving them a taste of your ice cream or a smell of your number one selling perfume.
Some of your clients may be ready to buy at this stage and that is okay.
Interest
Now that they have been officially introduced to you and they know that you exist what can you do to keep them interested?
A cool way to achieve this is by taking the time to explain more about your business.
Some topics to cover include, why you exist, who can benefit from your products or services, your unique selling proposition and the transformation.
Giving a timeline of how you came into business as well as the pivots you made is a great way to gain attention from potential clients.
Consideration
In some businesses, interest and consideration all blends as one level.
This is your opportunity to give your potential client a lot of value which lines up really well with the value funnel stage.
Think of it like an education piece where they get to understand more about what they need and how you can fulfil this need.
Now is a great time to also showcase some testimonials of how your offer has transformed the lives of other people.
Conversion
Now it is time to offer them the solution to their challenge.
So far, they have enjoyed a trusting relationship with you.
They are ready to go all in and make that commitment for you to help them with the transformation.
As I sit here writing this article I realise that you may think again that this journey is a straight forward walk in the park.
Here is an example of the freedom transformation map that my clients face on their journey.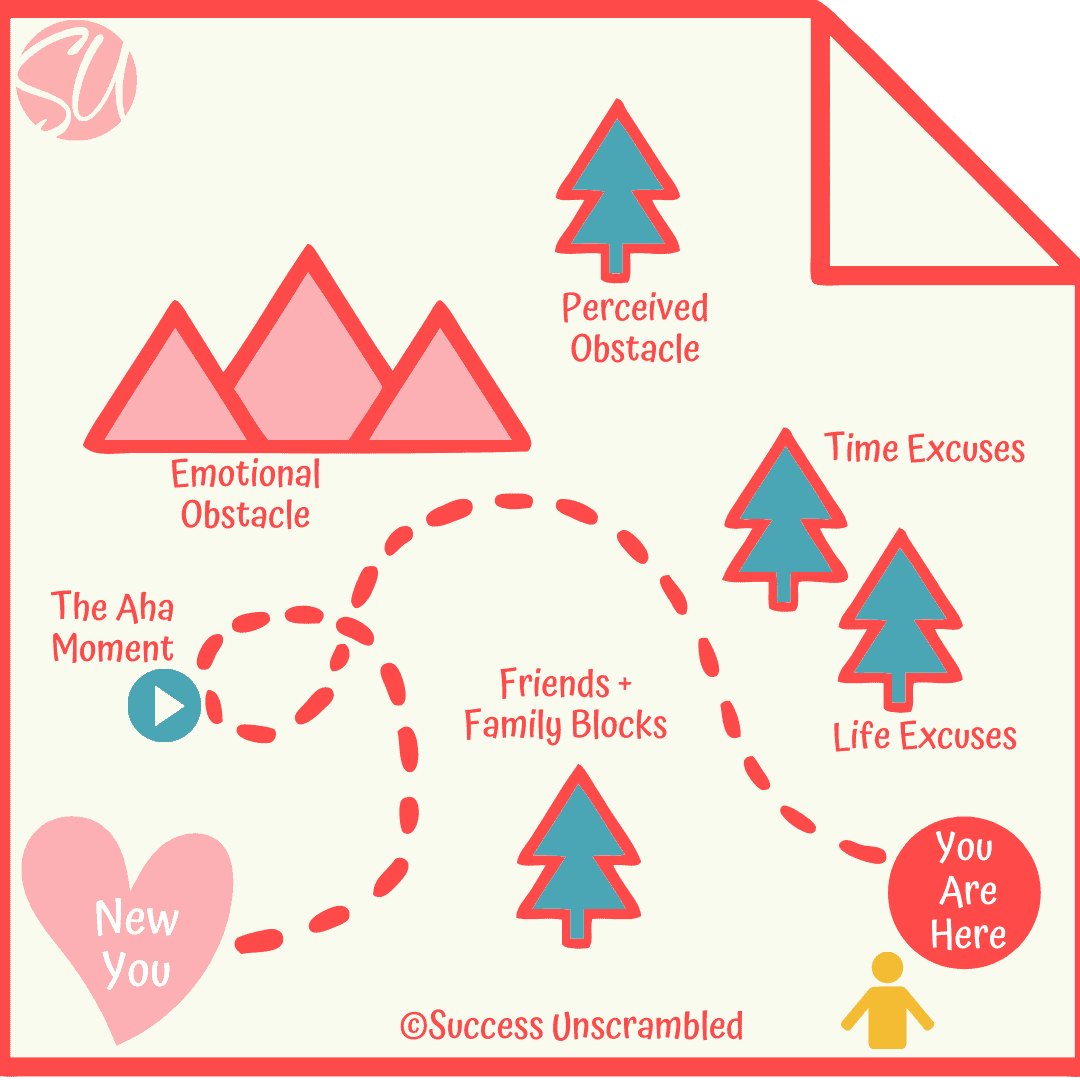 Can you relate? Any change you embark on involves a struggle just like the caterpillar becoming a butterfly.
Notice that there are several obstacles on the journey to transformation including time and resources.
External obstacles include your family, friends and circumstances.
Remember that some obstacles are internal like emotional and perceived limitations due to mindset blocks.
Retention
When your potential client purchases your product or service there is another struggle to get them to use it or implement the teachings.
You are probably thinking why do they make the purchase if they are not planning to use it.
People procrastinate all the time for so many different reasons.
It is important as a business owner to keep reminding them of the great decision that they made and how others are becoming successful.
Practical Sales Funnel Stages
Now that you have a handle on the buyer's journey it is time to look at a practical example using the automated webinar funnel.
Let's say that the product in this case is a Pinterest course.
A business owner looks at her end of year results and wants to improve the amount of traffic to her website but she never used Pinterest.
She wants to know what else she can do to gain more visibility of her products and services.
While on Twitter one day she sees a post about the amount of daily users on Pinterest.
After popping over to Pinterest she notices a pin about a free webinar presentation on how Pinterest marketing can impact her business.
Here is what that diagram of the sales funnel stages look like for this example.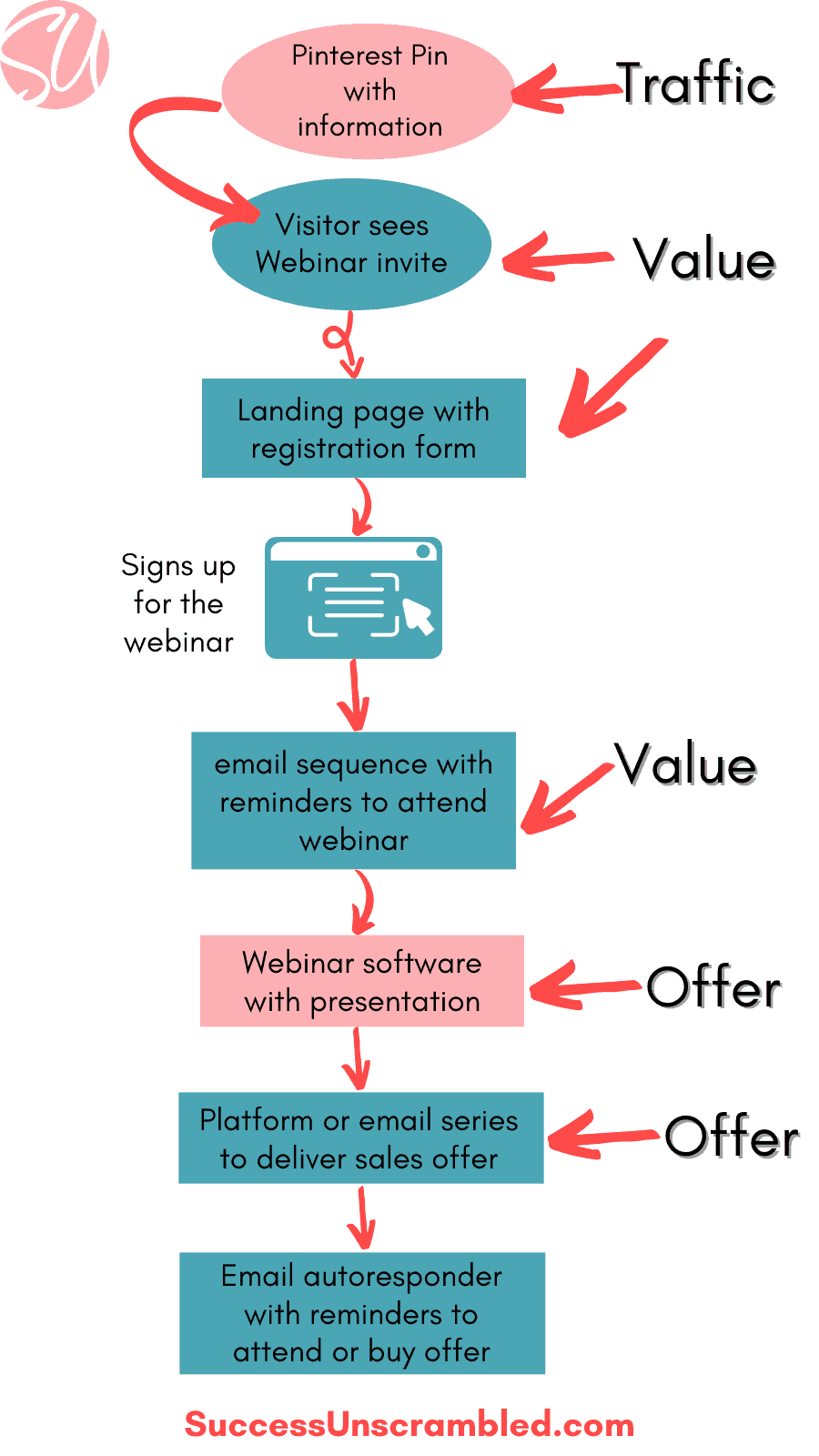 As you can see the three main elements of traffic, value and offer have been included to help you understand how it all works.
The Transformation Journey Example
One of the best ways to make this as practical as possible is to take you through a transformation journey step by step.
I showed this illustration journey in a previous article but I am showing it here again because this time it relates to sales funnel stages.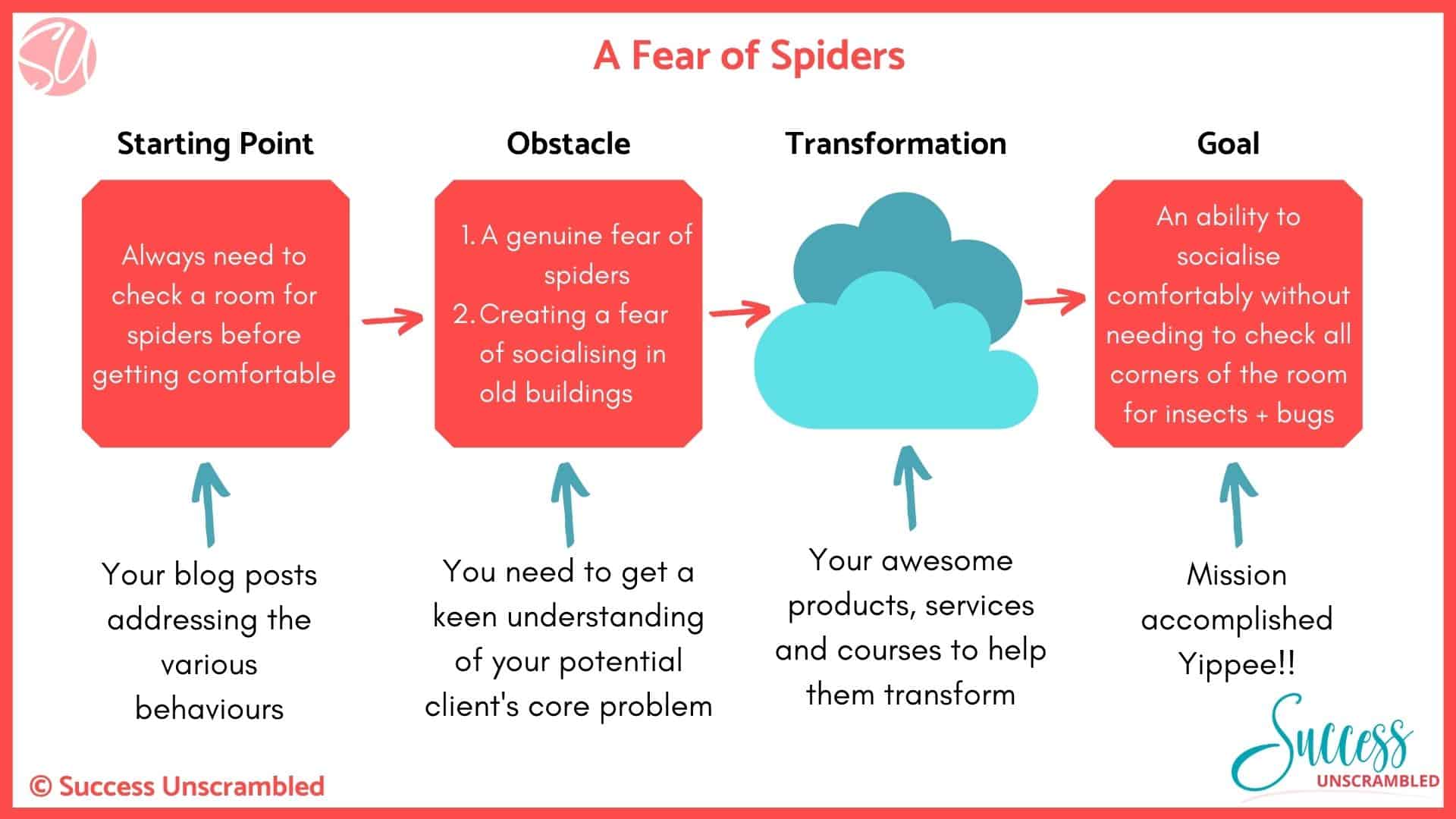 As you can see in the above diagram the potential client has a fear of spiders.
The only way to know how to deliver value is by developing a very detailed client avatar.
I know a lot about people who have a fear of spiders because my daughter was extremely terrified of them.
It has taken over 10 years for her to significantly reduce her fear of spiders.
The way you develop interest and consideration during the sales funnel stages is by demonstrating that you understand how they feel and react.
Only by having this amount of detail on your potential client do you have a chance of winning at creating sales funnel stages that convert.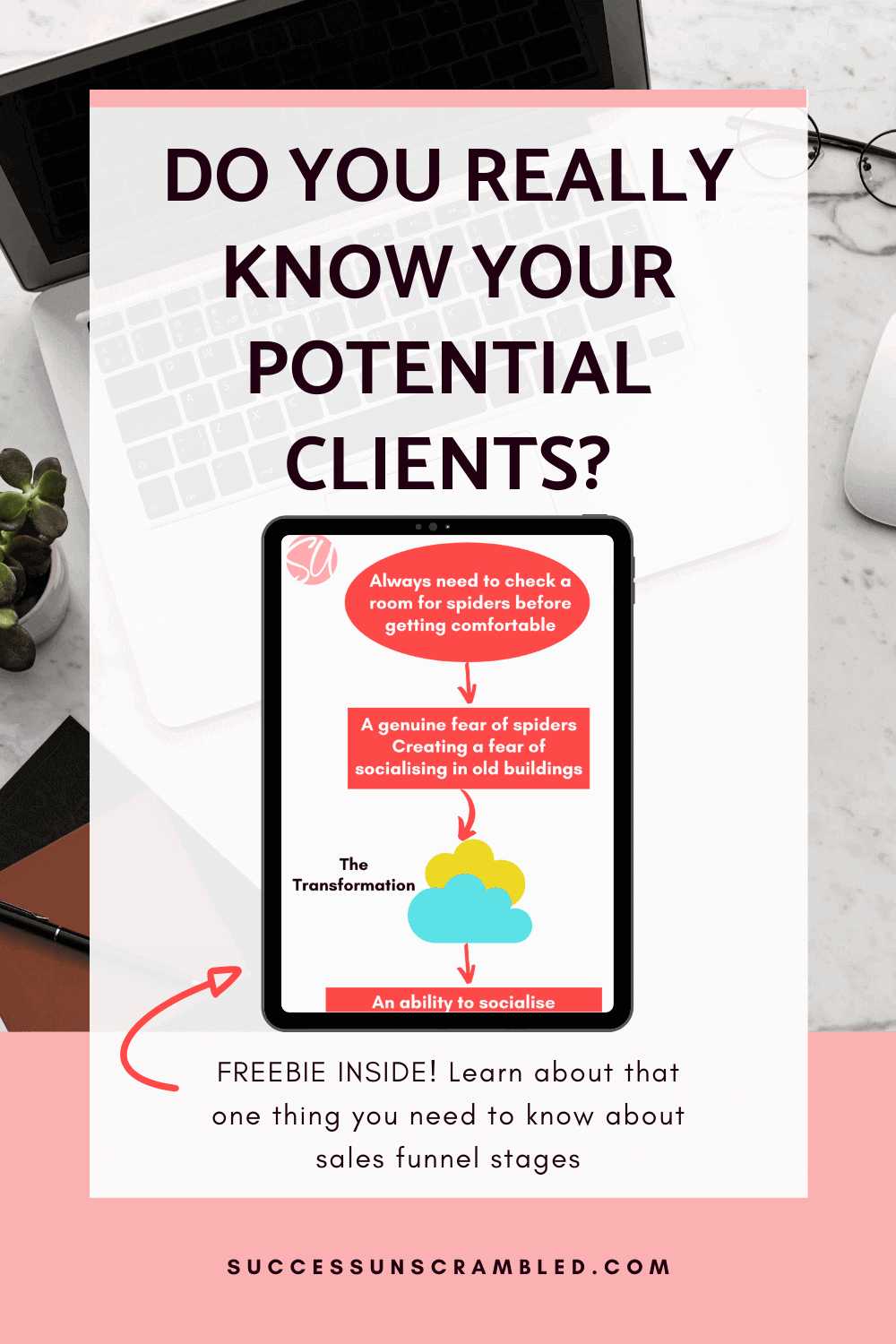 Summary
Developing sales funnel stages can be as simple as sitting down and having a chat with a potential client.
Get to know their fears, struggles desires and goals.
Then taking that information and using it to map out a process of how you can help that person with that specific struggle.
The more specific you are with your offer the higher the conversions you will receive.
If you have 7 solutions then make 7 different journeys.
There is no point speaking to everyone or to generally address the problem because it just falls on deaf ears.
Maybe you now understand why developing specific sales funnel stages are important but you need help and that's okay.
This is a service that I offer to my clients and you can book some time in my calendar by following this link here.
Over to you, what has been your experience developing your client avatar, understanding your buyer's journey and setting up your sales funnel?
Let me know in the comments below.
Announcements
Remember to subscribe to the Success Unscrambled Podcast where you will be the first to hear what's happening in the entrepreneurial and digital marketing world.
Your positive review of this podcast is vital to keeping it alive and running for the next 12 – 24 months so please leave a positive review for us on iTunes, Spotify or any of your favourite podcast players.
If you are struggling to achieve your goals on a regular basis then knowing why you are not achieving your goals may be helpful for you.
Are you stuck when it comes to finding the right lead forms for your sales funnels? Check out my review of the Thrive leads plugin here.
Want to get more visitors to your blog using Pinterest? Take a look at the list of Pinterest courses here and the advanced Pinterest course here.
My focus continues to be helping creative entrepreneurs skyrocket the results in their business by helping them with their sales funnels.
These services include visibility, funnel creation and optimisation as well as helping them to get a better understanding of their client avatar.
So that they can get back to their zone of genius and have the time and freedom that they need to spend with their loved ones.