Podcast: Play in new window | Download (Duration: 28:59 — 41.1MB) | Embed
Subscribe: Google Podcasts | Spotify | Amazon Music | Stitcher | Email | TuneIn | Deezer | RSS | More
If you ever came across the automated webinar funnel and wondered how you can set up one then this resource is for you.
It is possible that you have attended several webinars over the years. Some were great and others were not so good.
You probably even thought to yourself that setting up one of these can take a lot of work.
I have to tell you that I set up an automated webinar recently and the most difficult aspect was the presentation.
While the technology may seem complicated at first, it is all about logistics.
For any small business, entrepreneur or solopreneur, setting up an automated webinar funnel is like cloning yourself.
By the end of this post, you should have a better understanding of webinar sales funnels in order to use them in your business.
It will help you reduce errors and get your own automated webinar funnel up and running in double-quick time.
So that you can skip the stress and heartache of starting from scratch.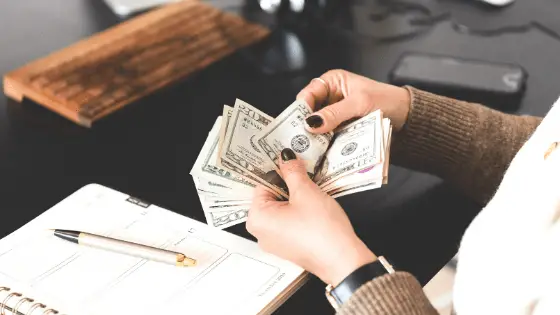 Disclosure: Please note that this post may contain affiliate links which means that if you buy one of my recommended products I get paid a commission for sharing the link at no additional cost to you.  I only recommend products that I have tried myself and have experienced success.
What is an Automated Webinar Funnel?
If you are brand new to sales funnels and webinar funnels don't worry I covered an entire post on this topic recently.
You can see what is a sales funnel here and all about the different types of sales funnels here.
Can you recall the last time you attended a webinar what the experience was like?
You probably clicked on a link or entered a special code and you selected your preferred option for the audio.
Most webinars last for at least an hour. So, you probably also saw slides and heard the person talking and in some cases, you saw them.
During the webinar you learned a few fascinating things and you were given the option at the end to join a program.
Well, an automated webinar is just like that except for the fact that it is recorded and the entire thing runs on autopilot.
Does that mean that it is all fake? Not at all, in fact, the benefits of automated webinars suits both parties and I will explain this later on.
Why Use an Automated Webinar Funnel?
At this point, you are probably thinking how on earth can this benefit your business.
Well, remember earlier I mentioned about the ability to clone yourself?
Let me put things into perspective for you.
Imagine for a few minutes you wanted to do a webinar to generate sales for your business and you decided to do it over a 5 day period.
You decide to do it twice a day for 5 days and at the end you were able to sign up 20 new clients.
This is excellent news!! You get 20 new clients and you are tired because doing a webinar 10 times in one week is not an easy task.
Wouldn't it be great if you can sign up 10-20 more clients every week of the year without the stress and exhaustion?
The good news is that you can do it using an automated webinar funnel.
One of the reasons why webinars work so well is that you are able to develop the know, like and trust factors with your ideal client in 60-90 minutes flat.
Other methods of achieving this are using blog posts, Instagram Stories, YouTube videos and Facebook live events.
However, these other methods take a lot longer than 60-90 minutes as a general rule.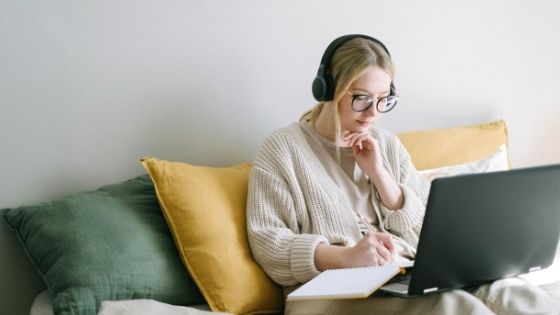 Items Needed for an Evergreen Webinar Funnel
Another name for an automated webinar funnel that runs 24/7 is an evergreen webinar funnel.
In other words, not all automated funnels are evergreen because some of them are only available for a few days or a few weeks.
Let's look at a list of items that you need to have in order to set up your very own automated webinar sales funnel.
Landing page for registration with a countdown timer
An email autoresponder
A lead magnet for those who attend
Slides for the presentation
Your signature offer
The recording of your presentation
Webinar software
Thank pages for post-registration and for those who purchased
Platform to deliver your product or service offering
Now that you have a fair idea of what you need to create your very own automated webinar funnel.
Let's look at the process of getting it all set up.
1. Landing Page for Registration
This may sound a little bit scary at first but trust me on this one.
It is okay to set up your landing page and let it go live 2-3 weeks before the webinar is ready for the first viewing.
So, go ahead and choose a date 2-3 weeks into the future. Write that date down and then create your landing page so people can sign up.
You can use a landing page creation software like Elementor to create your webinar sign up page.
Here's an example of a template that is available in Elementor that you can modify to suit your requirements.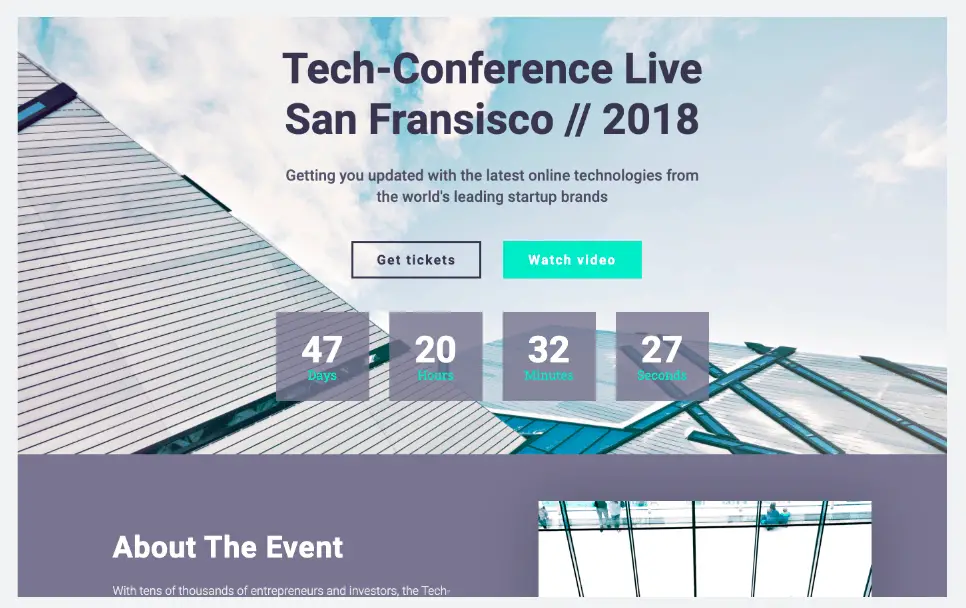 If you are looking for one that is easier to use then you can check out this one from ClickFunnels.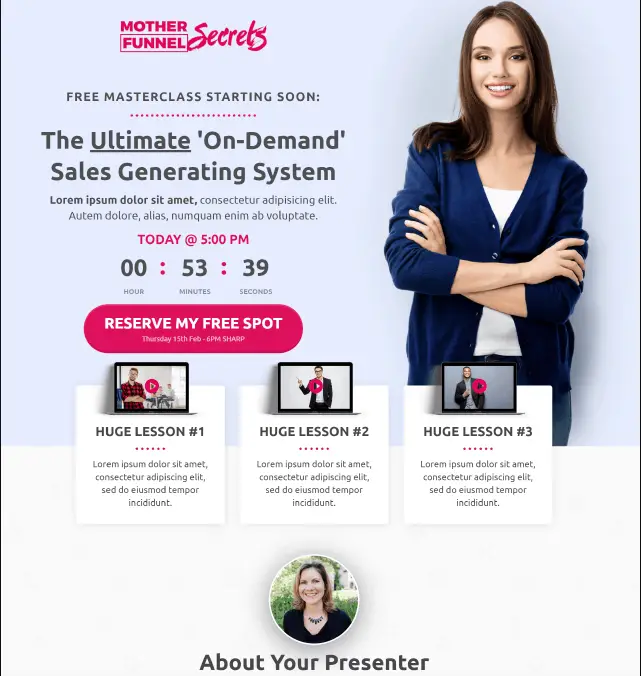 The difference between the two platforms is, of course, the price.
Elementor has a free version or if you want the pro version it costs $49 per year.
Feel free to grab your pro version of Elementor by going here.
ClickFunnels has a 14-day free trial but it is $97 a month and you can sign up and start using it here.
2. Email Autoresponder
After your potential clients sign up they would need an email telling them what to do next.
This can be automated using an email autoresponder like ConvertKit, MailChimp or MailerLite.
Feel free to check out my detailed review of ConvertKit vs MailChimp here.
It would make sense to set these up before you publish your webinar registration page so that the email is sent to them right away.
If you are on a low budget then it is okay to use MailerLite because it is free for up to 1,000 subscribers.
However, for a more savvy autoresponder, you can check out ConvertKit and all it has to offer here.
Remember that you will also need emails sent to remind registrants to attend the webinar on the dates and/or times they chose.
As well as reminders for those who did not attend that they can watch the replay.
Yes, you'll need another set of emails for those who attended but did not purchase so that they can avail of that special bonus within 'X' days.
The final email type is the one that delivers the lead magnet or bonus for those who did attend and stayed until the end.
You can also leave a link to the free gift in the chat window of the webinar software.
3. Lead Magnet or Bonus for Attendees
It would make sense to have a reward to encourage people who sign up for the webinar to attend the full presentation.
This is because they most likely will not purchase until they see your signature offer.
The only way for them to see your signature offer is if they attend the webinar and stay until the end of the presentation.
Your lead magnet could be anything that will help them use the knowledge that they gain during the presentation.
Some ideas include a cheatsheet, checklist or even a Trello board.
Whatever you decide ensure that it is relevant and irresistible.
4. Slides for the Presentation
After so many years since the first PowerPoint presentation you will think that there was another way to present your content.
Since this is what has worked for a countless number of marketers, you might as well stick to what works.
It does mean that you will need to create content that delivers value to your audience.
These presentation topics are normally focused on the what but excludes the how.
Here are a few examples.
What you need to know before starting your chart-topping podcast
Five places to find popular blog topics
7 Deadly sins of small business owners
3 Reasons why your blog is not ranking on Google
I think you get the idea from these example topics.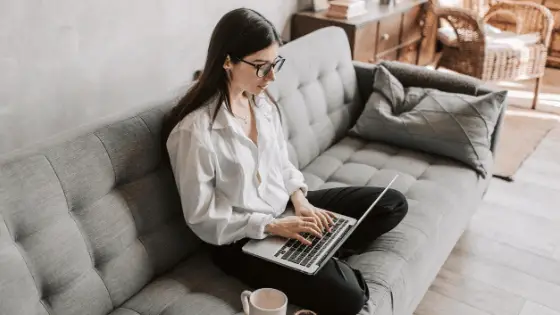 5. Your Signature Offer
Now that you have the content ready and placed onto slides it is time to consider your signature offer.
At the end of your webinar topic you will ask the audience permission to show them a way how they can work with you using your proven system.
One of the areas I struggle with the most when creating my signature offer is making it look good.
A secret to achieving an offer that looks good during a webinar is to hire a graphic designer to do it all for you.
However, if you are on a tight budget you can check out Monica's Practical funnels templates by following this link.
Remember that people buy from the way the things look as well as the ability to solve their pressing need.
6. Recording the Presentation
Once you are happy with the way your slides look and feel it is time to record it without errors.
I laugh writing this because in the past when I recorded a presentation, I had to redo it a few times because of simple mistakes on the slide.
My advice to you is that you read it aloud a few times and even pretend to do a recording before hitting the record button.
I use Keynote to create my presentations, because I am on a Mac, and then I do the actual recording using Quicktime.
To get the best quality I then upload it to Filmora9 to edit and render it. I do this after I am happy with the recording.
Then I head over to Auphonic to take care of the audio quality.
Other solutions include Screenflow and Camtasia if you have the budget available.
7. Webinar Software
If you completed the last 6 steps then this next step involves signing up for the webinar software which is simple.
There are so many webinar applications on the market, it is amazing that they are all profitable.
Not all of them come with auto webinar capabilities but here is a list of the ones that are available at the time of writing this post.
EverWebinar
Easy Webinar
Blue Jeans
LiveStorm
Webinar Ninja
Sealth Webinar
WebinarKit
Many of them come with prebuilt landing page template for registration and thank you pages.
With the help of ThriveCart, you can include upsells, downsells and order bumps to increase your return on investment.
To save time and help you choose the best overall pre-made template package, check out my review of sales funnels templates here.
8. Program Delivery Platform
Of course, you will need a way to deliver your signature offer.
It is possible that you decided to offer a live Masterclass as your signature course or even a coaching program.
Whatever you decide here are some great platforms or tools that you can use for delivery.
Thinkific – video course delivery
Teachable – video course delivery
Podia – great for video course delivery
Kajabi – great for video course delivery
Kartra – online course
Acuity – one-to-one coaching
Gumroad – ebook, workbooks, cheat sheets
PayHip – downloadables
As you can see the options are endless and it is up to you to decide the media that suits your audience the best.
I wrote an extensive post where I did a review of Teachable vs Thinkific which you can find here.
Webinar Funnel Example – Visual
If you are a visual person it can be hard to read all the steps that I outlined in this post when you cannot see it in action.
In a previous post, I gave a visual example of a webinar funnel but just in case you missed that post here it is again but with more details.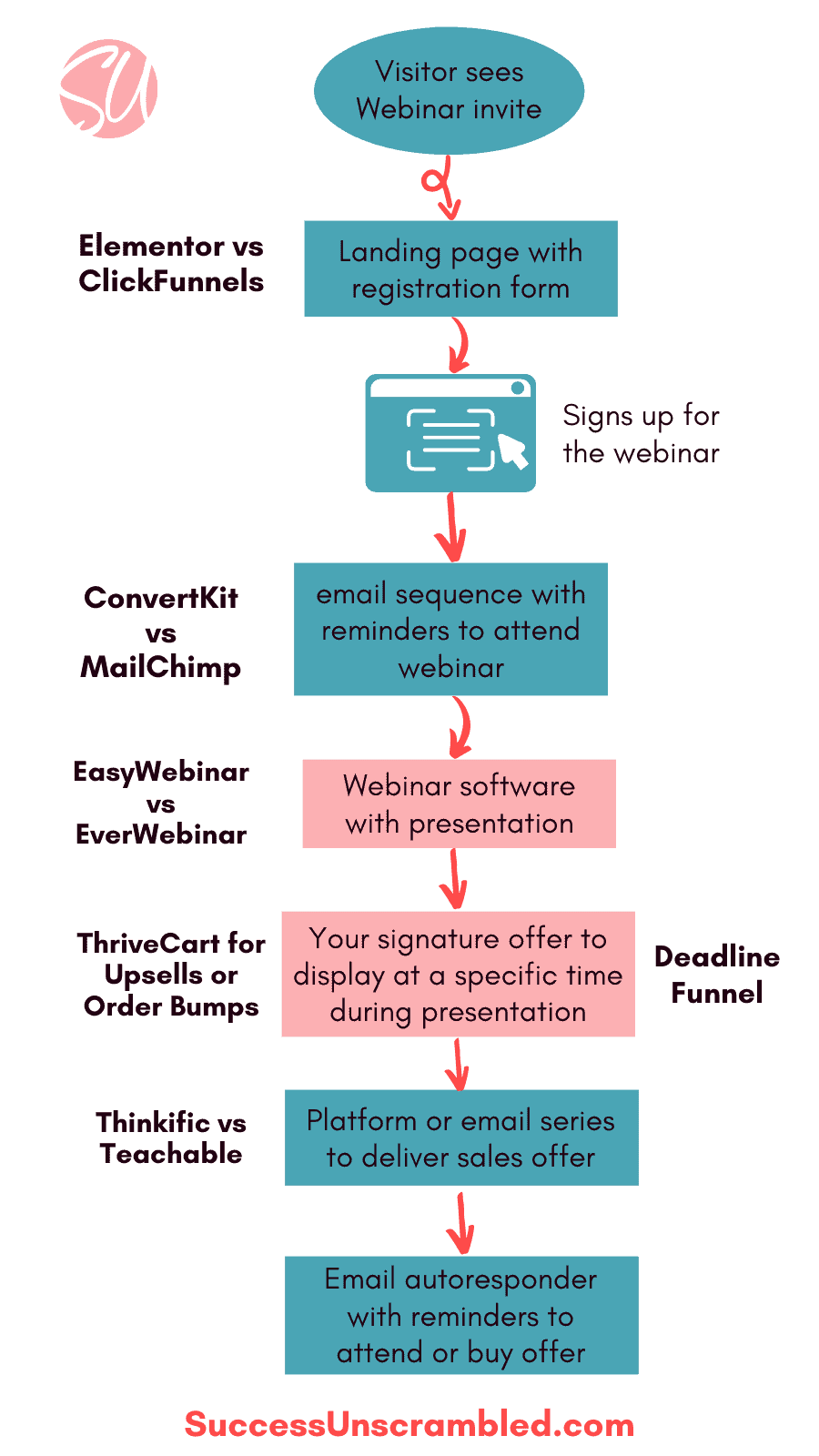 As you can see it is not necessarily a complex funnel type at all.
In fact the most complex part of the funnel is knowing what to talk about during the first 45 minutes of the presentation.
You just need to remember that it is all about delivering unbelievable value without giving away the 'how'.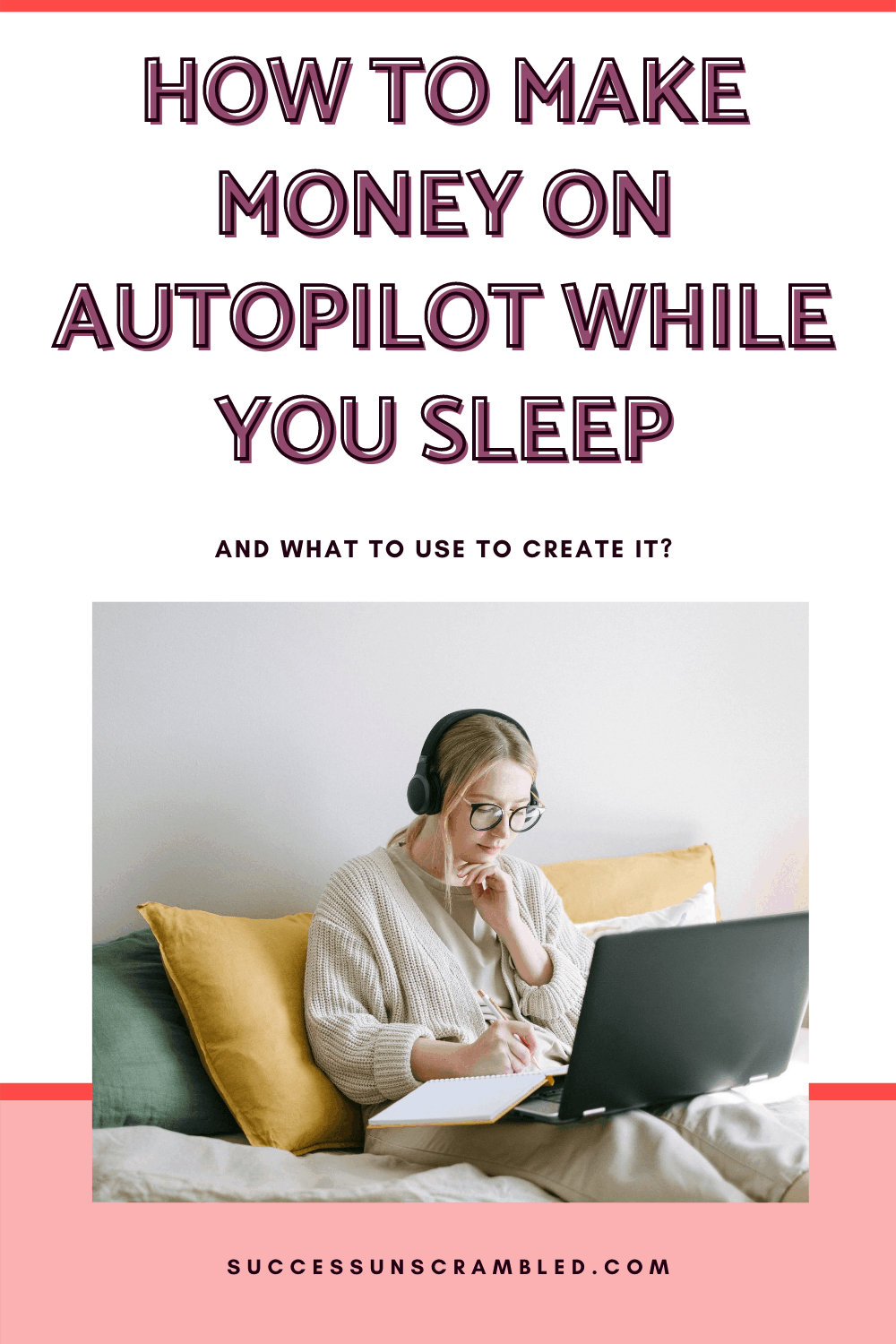 Summary
While the procedure for creating an automated webinar funnel may not be an easy one.
The rewards that you reap can be endless simply because it is like cloning a version of yourself that does not get tired or stressed.
One key consideration is that you may need to update the recording every few months if the information you deliver changes over time.
It is also a great way to build your email list with fresh leads every day of the year.
When you decide to launch a new program it will be easy to contact those on your existing email list with your new offer.
At the end of the day it will take a bit of trial and error to get your funnel working like a well oiled machine.
So, remember to implement tracking software and take a look at your analytics to optimise everything.
Over to you, what has been your experience with creating automated webinar funnels? Let me know in the comments.
Announcements
Remember to subscribe to the Success Unscrambled Podcast where you will be the first to hear what's happening in the entrepreneurial and digital marketing world.
Your positive review of this podcast is vital to keeping it alive and running for the next 12 – 24 months so please leave a positive review for us on iTunes, Spotify or any of your favourite podcast players.
If you are wondering how to get visitors to your webinar funnel using Pinterest traffic then take a look at this Pinterest resource.
Do you prefer to use organic traffic from Google for your funnel but need to improve your SEO skills? Then grab this SEO resource while it's free.
Want to get paid traffic using Pinterest promoted pins? Then you need to grab this course from Monica here.
Each day you wait to start achieving your a goals is a day wasted that you can never replace.
My focus continues to be helping creative entrepreneurs to get the visibility and assistance that they need to take their business to the next level.
So that they can get back to their zone of genius and have tons of free time left over to cuddle their loved ones.