Podcast: Play in new window | Download (Duration: 32:39 — 45.3MB) | Embed
Subscribe: Google Podcasts | Spotify | Amazon Music | Stitcher | Email | TuneIn | Deezer | RSS | More
Ever wished that you could increase website traffic by 100%? What do you think needs to happen for you to achieve this goal?
As a part-time blogger, you probably have less time available to make a blog promotion strategy.
Tell me if any of these options sound slightly familiar or if you can relate to them at all.
You have spent countless hours watching YouTube videos from many well-meaning 'traffic experts' who would give you lots of free secrets.
Searching Google for answers to several of your questions has become your second favourite activity every week.
Your hard-drive is crammed with 1,000s of freebies, checklists and cheat sheets. These freebies promised to help you become more efficient and productive.
The truth is many bloggers struggle just like you because there is so much information available for free.
In this post, I am going to give you 11 key things I did to increase my website traffic by over 500% in just 7 months.
Disclosure: Please note that this post may contain affiliate links. This means that if you buy one of my recommended products I get paid a commission for sharing the link at no additional cost to you.  I only recommend products that I have tried myself and have experienced success.
Why Website Traffic Is Important?
For many bloggers and small business owners selling their products and/or services online is vital to their success.
In order to get sales, they need leads. These leads will eventually convert into buyers at some stage during the buying cycle.
To get leads they first need to have potential buyers in the form of readers to come to their website or blog.
However, the biggest skill is knowing what needs to happen to attract readers or potential buyers to their website.
At this point, you are probably wondering how you can develop this skill. You want to really understand where and how to find potential customers.
Readers and website traffic are one and the same. So, if you want to increase your website traffic here are a few things that will help.
1. Get Really Clear On Your Ideal Client
One of the first things that you need to do if you want to attract your perfect potential client is to know them really well.
Do you know who your potential client is? If your answer to this question is everyone then you really need to dig deeper.
Here is an example of a list of things you need to know about your ideal client in detail.
Age
Gender
Where do they live? (country, city)
Do they live in a house or an apartment?
What are their daily, weekly, monthly or annual challenges?
Outline their biggest needs?
The kind of problems they are trying to solve personally, financially
Their deepest desires and dreams for them and their family, what are they?
In terms of their biggest fears, what are they? (not spiders, emotional ones?)
The stuff that annoys them, what are they?
Where do they spend the most time online?
List the kind of items they spend their money on when they get paid?
What type of podcasts do they listen to?
Which software and/or apps do they use?
If you have a good handle on these items then you can move on to the next step on how to increase website traffic or even increase readers to your blog.
2. Write on Popular Blog Topics
If you have chosen to use content marketing as a way to get the word out about your blog or business then this step is important.
Not all blog topics are created equal. So, it is important to make a plan and outline the top 20-50 popular topics in your niche.
Finding these popular topics every week does take time and patience to get it done. It is a skill that is developed over time.
As a part-time blogger, you don't have many hours available every week to spend time doing a lot of research.
In fact, you are wishing that there is a 'done for you' service available. One where you can purchase this at a reasonable price.
It will save you hours of research every week. Plus you will be able to map out 12 weeks of content and spend more time being creative.
If you are interested in a 'done for you' solution then I may have something for you. Just read until the end of this post.
3. Blog Consistently
Finding a big list of popular blog topics will give you instant pro-blogger status. This is because you will go from freaking out to flourishing.
The ability to blog consistently is every part-time blogger's dream because it will help you to reach your goals faster.
After you get that big list of topics you will need to develop a schedule for creating content and promoting it.
Bearing in mind that you will discover that you need to spend more time promoting compared to the time spent creating content.
Here is an example of a blogging schedule that you can use as a guide. The question is do you have a content promotion plan?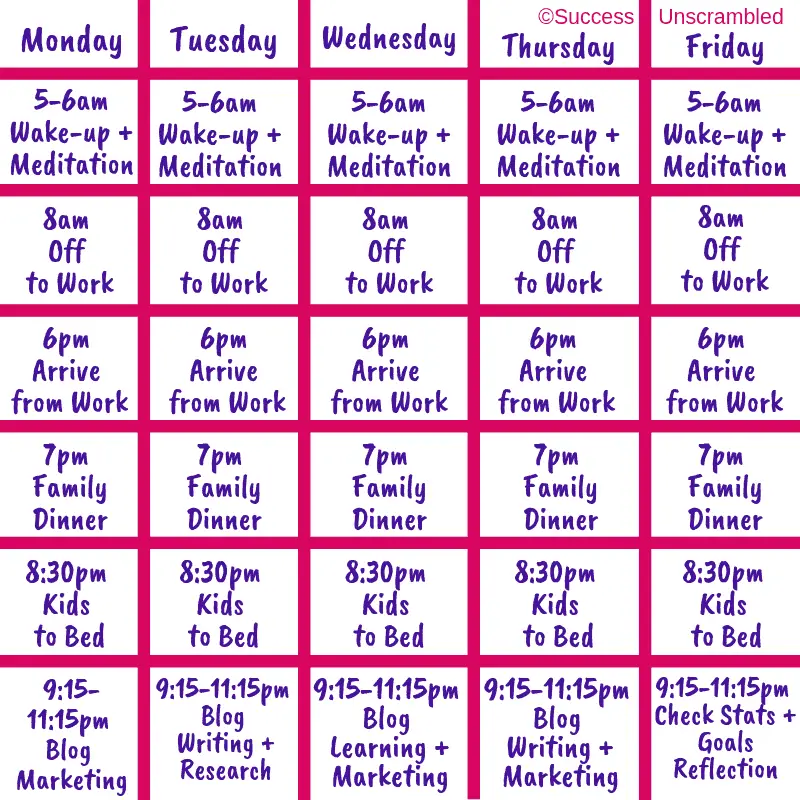 If only there was a 'done for you' content promotion plan that is more or less plug and play that you can easily implement.
There is a chance that I may also have a 'done for you' content promotion plan so read until the end of this post.
4. Update Old Posts
One of the smartest ways to increase website traffic is by updating the existing content on your blog or website.
According to Search Engine Journal, Google has this Freshness Algorithm that they use to determine the ranking of your content.
This means that ideally, you need to keep the content on your blog as fresh as possible to increase your chances of appearing on page one.
Another key factor is that if a blog post that you wrote over 12 months ago is not getting the traction you wanted you can give it new life by updating it.
There is no need to re-write the entire post from scratch at all. You can simply update a few paragraphs, the title, the keyword and meta description and click the update button.
It may also mean that you need to add a few more paragraphs to an existing blog post in order to improve the comprehensiveness of your answer.
I did this with two of my top ranking blog posts because when I looked in Google Search Console I noticed that visitors wanted more detailed answers to their questions.
So, those two posts went from 1,700 and 1,900 words to over 2,400 words as I needed to include more information in those blog posts.
5. Guest Posting
Just reading this title may cause you to cringe and I can tell you that I had a major mental obstacle when it was time to do guest posting.
I made several excuses why I did not think it was a great idea and I even filled up my calendar with things that I perceived as being more important.
After writing my first guest post I was hooked and did 4-5 in a row with one pending to get done.
The benefit of doing this is that you will get exposure to your blog from other people's audience.
Yes, you will also get a very coveted backlink to your blog which is great for your domain authority.
What really helped me was doing extensive research so that I was able to write 5-6 guest posts in a single week.
Many blogs request that your post should be unique and should not be about something that was written before.
They prefer if you come up with a unique angle on a similar topic as well.
6. Changed WordPress Theme
This may not seem like such a big deal but let me give you a bit of context. After changing from my old theme to the new one my daily traffic doubled.
I know it sounds ridiculous, how can changing a theme increase website traffic so drastically.
My old theme was slowing my site down so much and I was not aware of it. At the time I was using the Newspaper theme.
It was so professional looking and it offered so many amazing features but it had a negative effect on mobile devices.
In case you are not aware of it, Google favours blogs that are mobile-friendly or ones that scores at least 50 on their page speed index.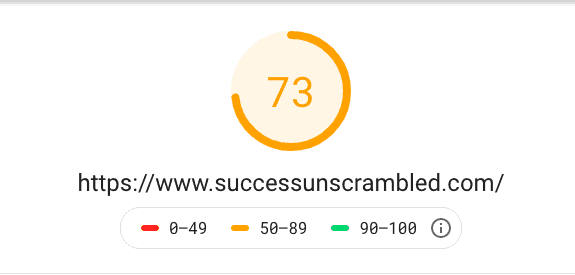 If you have not done this yet, head over to the page speed insights tool and see where your blog currently ranks for mobile speeds.
The new theme is great. Feel free to check out at GeneratePress here.
7. Swapped Caching Plugin
You probably looked at the title and your brain switched off altogether. There is no need to get all dizzy on me.
A caching plugin simply stores the information on your site in a temporary place locally so that it does not have to make that long trek to your website server.
This helps because it serves up your most frequently used pages or posts quickly when a reader requests them.
Think about it like a restaurant that has a special meal or dessert of the day. They make a big batch of that special so they don't have to make it from scratch each time.
When someone comes in and orders the lunch or dinner special then they get it served to them in 5-10 minutes.
However, if someone orders from the a la carte menu the chef will need to cut up the ingredients and cook it all from scratch.
The caching plugin serves the same function. It serves up the 20 most frequently requested pages because they are stored in a temporary local memory via the plugin.
Anyway, I changed over to WP Rocket which helped to make my popular pages and posts load faster.
8. Moved to a New WordPress Host
In the last 7 months, I also moved to a new WordPress host because my old host could not do anything to increase the speed of my blog.
I did ask what else they can do and they could not offer any other way to improve the speed.
So, I was looking around for a few weeks and one of my mentors recommended BigScoots.
I had a discussion with them using their online chat facility before I made the move because their standard plans did not fit my required storage size.
What I really like about BigScoots is that they are very knowledgeable when it comes to WordPress.
I do not need to log a lot of tickets but when I do the issue is resolved almost immediately.
Yes, they did have an outage since I moved but they were quick to send a message to their customers about the issue.
Feel free to take a look at BigScoots here.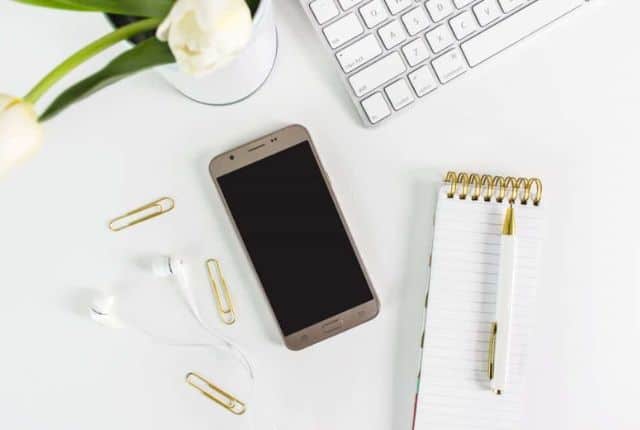 9. Switched Image Optimizer
One of the reasons I had difficulty moving to BigScoots is because my blog is full of images that were not being fully optimized.
At the time I was using a plugin that promised to optimise my images better than any available plugin.
So, as you probably guessed I decided to run a test on four different plugins that all promised that they offer the best image optimization in the industry for WordPress.
The three plugins in this race were:
EWWW Image Optimizer
WP Smush
ShortPixel
Imagify
Test Each Image Plugin
Unfortunately, the only way to test each plugin is to install it and run it on your entire WordPress blog.
After installing it I needed to look at the results in terms of the percentage of the image optimised.
I also needed to check the page load speed using the Google Page Speed Insights to see if it improved.
This all sounds extremely tedious and long but I needed it because my site uses a whole lot of images for those tutorial and review posts.
In the end, ShortPixel worn above all the other plugins. I decided to pay for the one time 30,000 credits to optimise all my existing images.
If you need to optimise your images then grab some ShortPixel credits here.
10. Re-Engineered Pinterest Pins
A clever thing that I did is to take a look at my old posts, especially the ones that had pins that never gained traction on Pinterest.
Each Pinterest pin image was analysed for colour, image, font and message. In terms of the message, I would ask a simple question.
How can I say it simpler? What can I say that will ensure that the message appealed to a wider audience.
Is there a way not to use jargon even if it meant not using the keywords? When the answer is yes I would try to find the simplest phrase possible.
After finding the simple phrase I will create a new pin and take into account all the other factors like colour, image and font.
In many cases, the new pin just took off without the need to re-pin it several times or too many group boards.
Sometimes the simplest things in life are the ones that have the biggest impact when it comes to marketing.
11. Frequent Pinning in Tailwind Tribes
Another great strategy that worked well for me is pinning to Tailwind Tribes more regularly.
If you never heard of Tailwind before or you just need to know more about it you can check out my Tailwind App Review here.
About 8-9 months ago I noticed that whenever I submitted a new post to Tailwind Tribes there was a higher chance of it being re-pinned compared to my own or group boards.
In other words, the new post will show up in my Pinterest activity feed within 24-48 hours after pinning it to Tailwind Tribes.
When I pinned it to group boards or my own boards it takes much longer to get re-shared or re-pinned across the Pinterest platform.
As a result, I incorporated this new habit into my Pinterest strategy which helped me to increase website traffic by 537% in only 7 short months.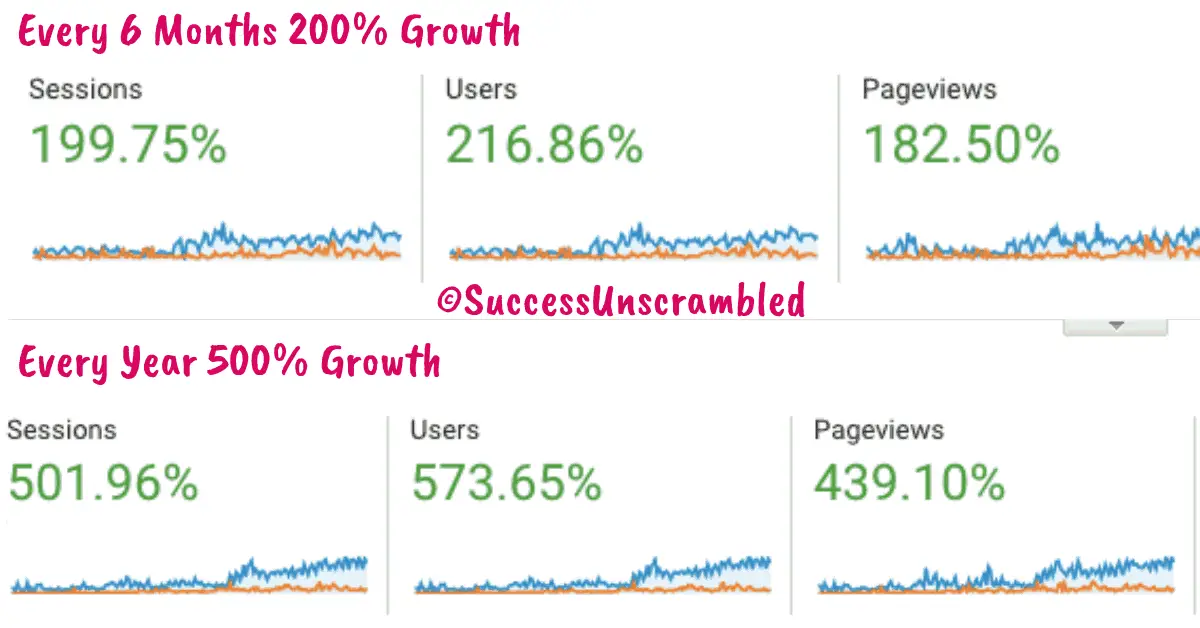 Blog Traffic Samurai
Rather than spending time writing a 10,000-word article with a step by step guide. I outlined exactly what you need to do to increase website traffic by 537% in a course format.
I know that not everyone is on the same level when it comes to understanding instructions.
So, to help you to get the results that you need for your blog I developed a simple course called Blog Topic Samurai.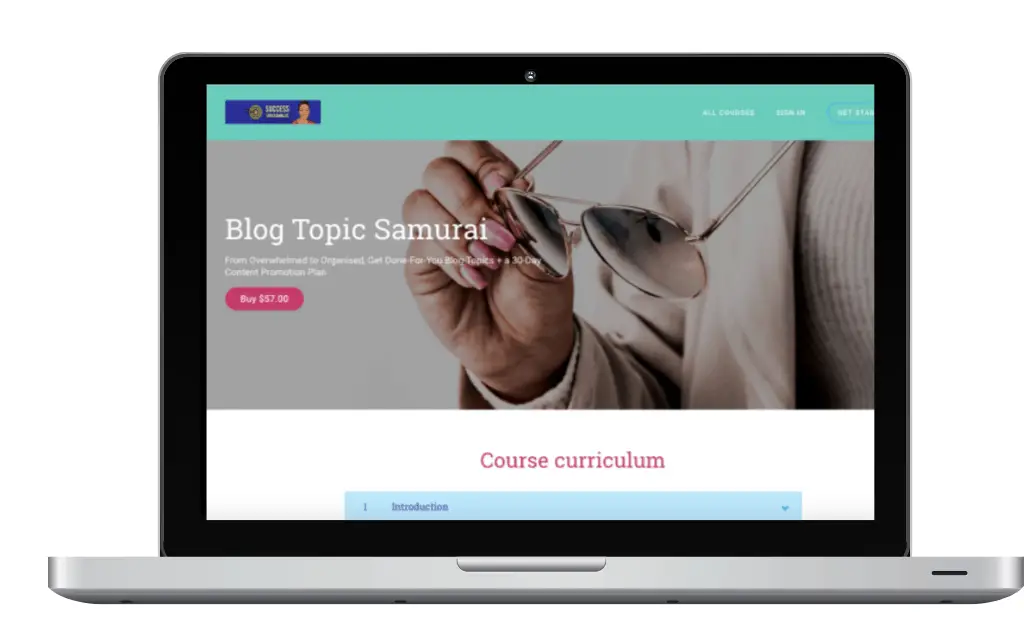 You may have guessed that it is super focused on popular topics. You get over 52 weeks of 'done for you' blog topics across 10 different niches.
These are the most popular topics by niche and it comes with an actual traffic score for each topic that helps you drive traffic to your website.
Course Curriculum Outline
Here is a brief look at what's included in the curriculum as standard so that you know what to expect.
What's the Cost?
52-Week Blog topic list – Valued at $97.00
30-Day Content Promotion Plan – Valued at $97.00
Ultimate Blog Planner video walkthrough – Valued at $47.00
The Lazy Blogger's Guide to Video Marketing – Valued at $67.00
Get Established Bloggers to Promote Your Content – $67.00
The total value of $375.00
---
Conclusion
Look I know that trying to increase website traffic can be a big struggle for many people and this will work for you even if you…
Are behind on everything
Suffer from Mom guilt frequently
Have a hard time staying focused
Get distracted with a bazillion things
Are feeling overwhelmed or clueless
Don't know where to start
It is not your fault that you may not have achieved the goals you had in mind at the start of your blogging journey.
This course will help you get traffic to your website without the need to have a PhD in marketing.
You can make up for the lost time by grabbing this done for you system that will help you get into a good blogging routine for the next 12 months.
If you want to increase website traffic through Google be sure to grab this handy SEO checklist as well.
See you on the inside…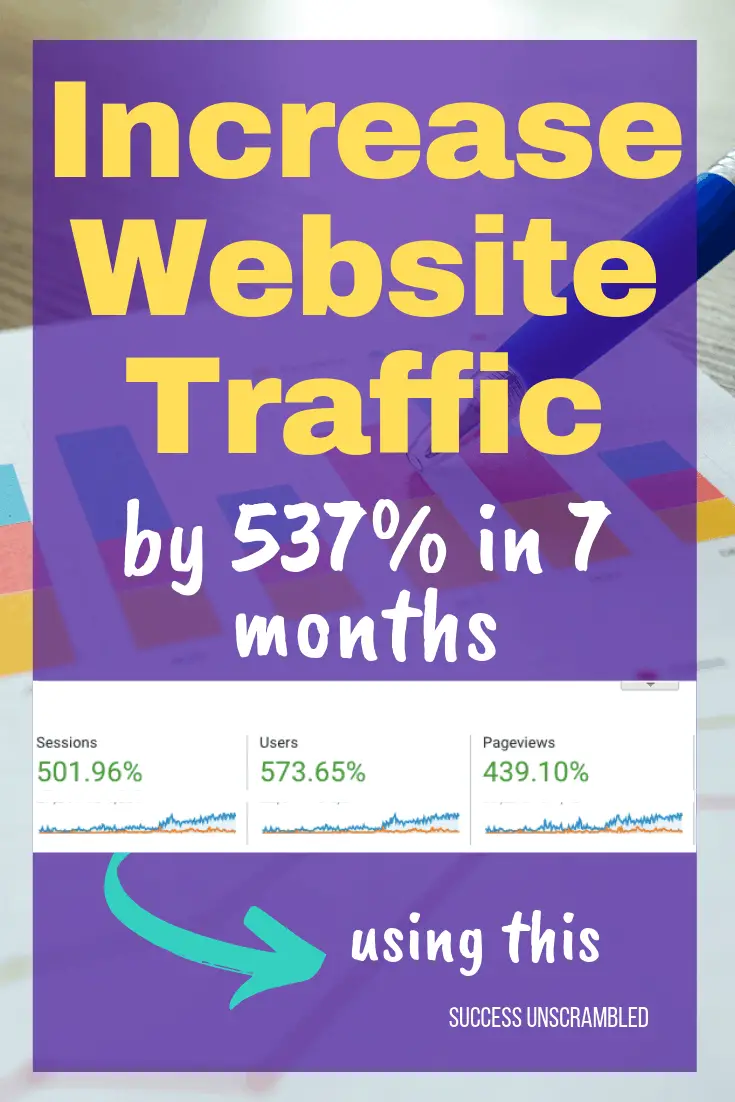 Announcements
Remember to subscribe to the Success Unscrambled Podcast where you will be the first to hear what's happening in the entrepreneurial and digital marketing world.
Your positive review of this podcast is vital to keeping it alive and running for the next 12 – 24 months so please leave a positive review for us on iTunes, Spotify or any of your favourite podcast players.
If you are looking for a way to take your blog from a barren wilderness to a populated city then grab the Promotion Ninja course here.
Are you having difficulty trying to get your blog to show up on Google? Then you need to check out the SEO for beginners resource.
Already getting traffic from Google but need to improve your current rankings? Check out my how to rank higher in Google resource.
If you are a startup or small business and you need to hire a virtual assistant to complete tasks such as social media marketing, blogging, keyword research or Pinterest account management then take a look at these packages.