Podcast: Play in new window | Download (Duration: 27:19 — 38.0MB) | Embed
Subscribe: Google Podcasts | Spotify | Amazon Music | Stitcher | Email | TuneIn | Deezer | RSS | More
Are you looking for techy gift ideas for bloggers? The kind of gifts that will make the holiday period stress-free with so many people at home?
Whether you celebrate Christmas, Easter, New Years, Mother's Day, Thanksgiving or Independence Day it is best to be prepared for a full house.
Maybe you can relate to this but have you ever received a gift small or big that just does not make sense?
It is almost like the person did not spend a lot of time thinking about you the individual and just purchased the gift as an afterthought.
If you are like me you probably don't like doing this to anyone whether a colleague, boss, friend or family member.
You listen to cues all year long knowing what they would like for their birthday, special occasion or the holidays.
This can be especially true for someone who is blogs part-time for full-time because they require technology to make things work.
They are always stretched for time. So, getting them something that keeps them productive or makes them more efficient is a definite plus.
In this post, you will be able to see 9 gift ideas for bloggers that will keep them and their families ready, productive and stress-free.
Disclosure: Please note that this post may contain affiliate links. This means that if you buy one of my recommended products I get paid a commission for sharing the link at no additional cost to you.  I only recommend products that I have tried myself and have experienced success.
Egoelife LB-BBPHF18 Unisex Messenger Bag
One of the things we all need as bloggers is a bag to carry all our stuff around. Of course, mom bloggers may also need a different type of bag for the kids.
I saw this messenger bag on Amazon and I instantly thought 'hands-free'. Nothing is more annoying than to have a bag that is a burden.
Many purses and bags for ladies have straps that constantly fall off the shoulder which is just annoying.
This bag is unisex and it comes complete with pockets for your smartphone and notebook.
It can hold tablets and laptops with 13-inch or 14-inch screens which is just music to the ears.
Best of all the strap is adjustable and detachable and is 5 feet in length if this is a big requirement for you.
In terms of material, it is made of canvas and leather and comes in two colours, black and coffee (his and hers).
Pick up your bag from Amazon today while supplies last.
Laptop Desk Stand for PC and Macbook
Whether you are a food blogger or you just like working on your laptop from the comfort of your home office this laptop desk stand is nice.
It is much better for ergonomics because it raises the laptop 6.1 inches off the desk which means you can decide to stand while working to stretch your legs.
Being a food bloggers means that you need to stand and make recipes and this is very possible using a laptop desk stand.
This laptop stand is made from a single piece of metal and weighs 4.4 pounds so it is not a flimsy or cheap option.
It comes with a cable organiser and is compatible with Macbook Pro 13-inch, Apple Macbook, Mackbook Air. As well as other laptops that are less than 9.4 inches in depth.
The available colours are black and silver which you can pick up here.
Netgear Nighthawk Smart WiFi Router (R7000)
There is nothing more annoying than experiencing wifi problems just when you have an important blog post to publish or video to upload.
Depending on the design of the home that you live in there may be different levels. So, you may get wifi problems in certain bedrooms.
Where I live there are many neighbours who use the same company. So, depending on the time of year the congestion on the broadband network is high because everyone is home.
One clever way to handle this potential challenge is to have a smart wifi router that is highspeed.
Did I mention the fact that it comes with parental control? This may be the year that you are planning to get a smartphone or tablet for your teenager which makes you nervous.
The parental control feature comes in the form of an app that only takes 5 minutes to set up.
You get one-month free-trial, after that, you pay $4.99 a month for peace of mind. It is easy to pause and view internet access remotely.
The added benefit is that it offers seamless wifi access for up to 30 devices. In case you think that it is a lot of devices, remember most people will have two devices connected at the same time.
It has a range of 1,800 sq.ft. and even comes with its very own firewall called Armour Advanced Threat Protection. So, no need to buy more anti-virus software.
The good news is that it works with Alexa so you can add voice control. What a great gift idea for bloggers.
Echo Dot (3rd Gen) – Smart speaker with Alexa
Speaking of Alexa do you have one in every room yet? Who would have thought that Alexa would have been such an essential part of life?
You can enhance your hands-free experience to a new level by having a device that can save you a lot of time.
It is especially good if you dislike climbing up and downstairs. Simply because you forgot to turn on the heating plug-in a device or any excuse really.
The beauty of the echo dot speaker is that they come with fabric design and they can fit into small spaces.
Instantly get surround sound in your bedroom or living area by pairing two echo dot speakers together.
Just in case you have not used Alexa before it is good for ordering takeaway, getting news updates, finding out the latest weather forecast.
You can use her for locking doors, adjusting thermostats, turning on lights and playing music.
Easily connect every room in your house and make announcements or call your kids for dinner.
Secure one for every room using this link.
UtechSmart Triple Display USB Type C Adapter
If you decide to get Alexa you may come to realise that you are quickly running out of sockets or ports at home.
Don't worry, I have you covered with this triple display USB type C adapter from UtechSmart.
During the holidays you will come to realise that you are suddenly short on USB ports or HDMI sockets. This can be challenging and annoying.
Maybe you recently got a new laptop or device that comes with the new USB type C port and nothing fits together anymore.
Now is a good time to get ready for these tech challenges before it happens. It comes with the following ports.
Gigabit RJ45 port
4K HDMI ports x 2
USB 3.0 ports x 2
USB 2.0 ports x 2
VGA port
SD/TF Card Slot
PD USB C port
Micro SD card slot
It has blazing fast speeds so that you can download movies quicker and charge phones faster.
Get ready for the holidays by grabbing two here.
TP-Link Deco Whole Home Mesh WiFi System
Will there be a big family event at your crib? Do you need wifi for dozens of devices?
Maybe you are planning on a big family reunion in the next few months which means that you will be having lots of people over.
There will be siblings and their children, cousins and their children even aunts, uncles and close friends.
They are all tech-savvy so you expect that they will be showing up not only for some good food but with their latest and greatest tech gadgets.
From wifi dependent cameras to the top of the range smartphones and everything in between.
Keep family and friends happy with a wifi system that not only covers a range of 5,500 sq.ft. (with the 3 pack) but can connect up to 100 devices and is as reliable as you.
The TP-Link Deco Whole Home Mesh Wifi System does just that and it comes with parental controls and anti-virus built-in as standard.
The good news is that this system also connects with Alexa which means that you will have voice control.
Instead of spending time figuring out the tech you can now give your valuable time catching up on family gossip and remembering the good old days.
Ensure that your family reunion is a blast by picking up your pack here.
Beats Solo3 Wireless On-Ear Headphones
As a blogger, you know how important it is to not only invest in yourself but to consume your online courses.
Absorb every word from those online videos and webinars using the latest and dependable headphones.
If you are like me, you probably take notes during the online training. Most likely you also like to stand up or stretch your legs a bit.
A set of wireless on-ear headphones is just what you need to remain mobile. So you can grab a refill of popcorn for those long training sessions.
The Beats Solo3 Wireless On-Ear Headphones comes with up to 40-hours of battery life and is suitable for everyday use.
Are you the type that forgets to charge your headphones, no problem. These sleek headphones can be charged for 5 minutes to get 3 hours of battery life.
You can take calls, control music and even activate Siri using the multifunction on-ear controls.
Time is precious so get the most out of your training time so that you can implement what you learned and achieve goals quicker.
Grab your pair of wireless headphones here.
Apple Watch Series 3 (GPS, 38mm)
When it comes to saving time one of the best gift ideas for bloggers is a watch that syncs with your other devices.
Rather than having to log around a heavy smartphone in your hand. Just throw the phone in your backpack so you are hands-free everywhere you go.
You can now keep up-to-date with what is happening and never miss a notification again using this smartwatch.
The Apple Watch Series 3 (GPS, 38mm) comes with 18 hours of battery life and is swim-proof. So that you can complete your morning routine without missing a beat.
No longer will you suffer from a fear of missing out because you will know what is happening by just glancing at your watch.
Need to leave your heavy phone at home on a regular basis? Then take a look at the Apple Watch Series 3 (GPS + Cellular, 38mm) instead.
You will have the ability to make and receive calls without the need for your phone to be nearby.
Both watches are available in two different sizes and finishes. You also have the ability to change the wristband to match each occasion.
Grab the GPS only here or the GPS + Cellular via this link.
Rode NT-USB Versatile Studio-Quality USB Cardioid Condenser Microphone
Are you thinking of starting a podcast? Maybe you are already a podcaster like me and you want to upgrade to a pro microphone.
Well, look no further because when it comes to audio recording technology there are very few companies that can compete with Rode.
The Rode NT-USB Cardioid Condenser Microphone comes as standard with a premium pop-filter, tripod desk-stand and carry-pouch.
It connects to your computer or laptop via the USB port. It also comes with a 6m USB cable so no need to have the microphone close to the computer.
You will be happy to know that it is fully compatible with Windows and Mac as well as the Apple iPad (USB connection adapter required).
Ideal if you have a dedicated space for recording podcasts or if there aren't too many noisy items in your recording room as the mic is quite sensitive.
Rode Podcaster USB Dynamic Microphone
Looking for something more upmarket? Check out the Rode Podcaster USB Dynamic Microphone.
It is more suitable if you prefer to get the radio voice effect when recording a podcast. You would need to be quite stationary while recording.
However, if you are like me and you tend to wiggle and move a lot when recording a podcast then the Rode NT-USB Cardioid Condenser Microphone would be more suitable.
Bear in mind that while the Rode NT-USB Microphone comes with all accessories as standard the Rode Podcaster does not.
You would need to purchase all the additional accessories (like a pop-filter, studio boom arm and shock mount) separately.
Grab the Rode NT-USB Microphone here and the Rode Podcaster via this link.
Conclusion
Just when you thought that you could not find a present for that blogger who has everything you now have 9 options to chose from.
As long as there is a market there will always be items by suppliers to meet that demand.
The beauty is that many of these gift ideas for bloggers are plug and play so no need to have a PhD to get them up and running.
You will notice that the messenger bag is just the right size as it does not allow you to carry everything and the kitchen sink.
What is your favourite item from this list? Can you think of anyone on your list who can benefit from a few of these items? Share it with your friends.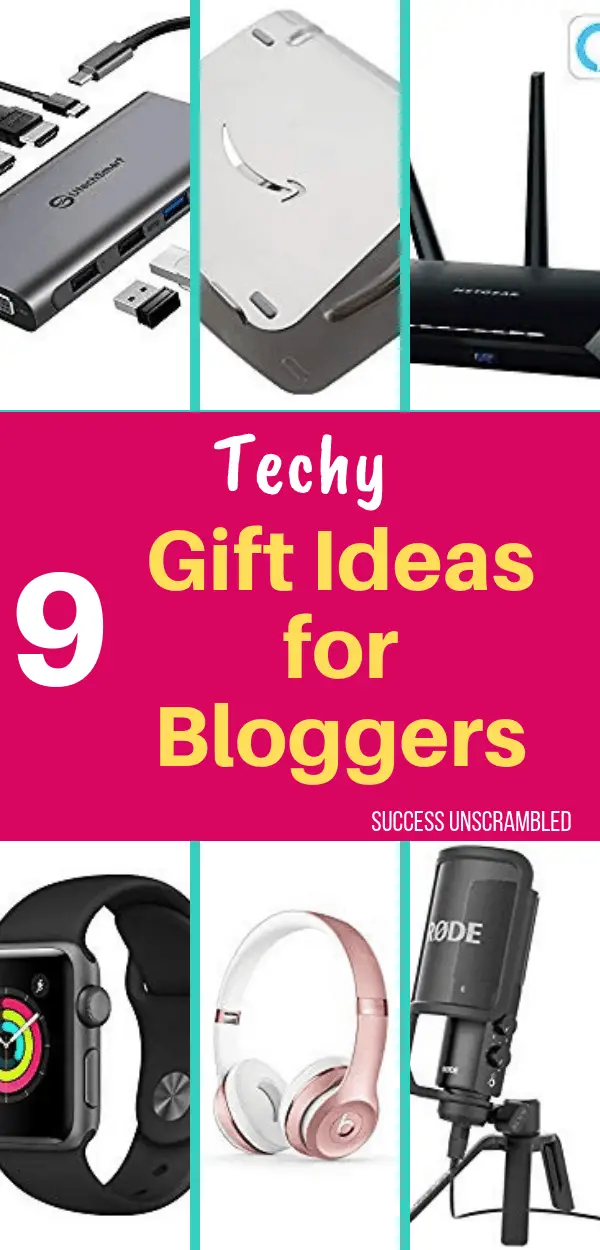 Announcement
Remember to subscribe to the Success Unscrambled Podcast where you will be the first to hear what's happening in the entrepreneurial and digital marketing world.
Your positive review of this podcast is vital to keeping it alive and running for the next 12 – 24 months.
So, please leave a positive review for us on iTunes, Spotify or any of your favourite podcast players.
If you are hoping to have a well organised holiday season where you can plan everything in advance why not start a bullet journal to plan your weeks?
Are you thinking of creating your very own podcast soon? Take a look at this start a podcast resource with step by step instructions.
Want to find a way to increase your productivity while blogging? Check out these productivity tools that will help you work smarter.
If you are a startup or small business and you need to hire a virtual assistant to complete tasks such as social media marketing, blogging, keyword research or Pinterest account management then take a look at these packages.