Podcast: Play in new window | Download (Duration: 12:00 — 17.2MB) | Embed
Subscribe: Google Podcasts | Spotify | Amazon Music | Stitcher | Email | TuneIn | Deezer | RSS | More
Gina wondered how to italicize on YouTube in less than 5 minutes without learning to code.
After starting her YouTube channel a few weeks ago Gina wanted to find unique ways to make a channel stand out from the competition.
So far she was learning how to create better thumbnails, increase her retention time as well as get more views.
However, she really wanted to take things to a new level by making her copy pop.
Let me know if you also face these challenges.
You've always wanted to create a YouTube channel but you don't know where to start
You know that YouTube is a great long-term investment to generate leads
YouTube is difficult to learn as the platform is quite complex
You know that tweaking a variety of small things will drive your channel forward
If only there was a way to master the small things that'll move the needle for your channel that would be awesome.
In this post, you'll learn how to italicize the text in the comments and description of your YouTube videos.
Plus you'll learn a few other tips and tricks along the way.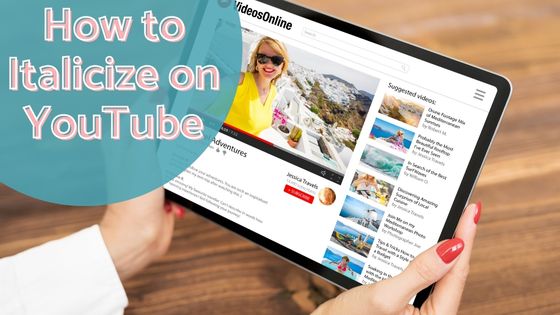 Latest YouTube Statistics
Before we look at how to italicize on YouTube let's first look at the latest statistics for the platform.
Did you know that YouTube gets 1.7 billion unique visitors every month? This statistic came from the folks at Hootsuite.
To put that into perspective that equates to 2.3 million visitors every hour or 39,351 visitors every minute. Essentially it's 655 unique views a second!!
What's even more interesting is that 54% of users are male.
In the US alone 62% of people access YouTube every day.
On average visitors to the platform spend 19 minutes a day and it is the 2nd most visited website in the world.
Here's a crazy statistic for you, 694,000 hours of video are streamed every minute on YouTube.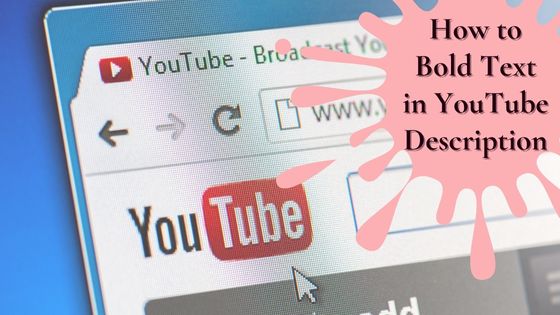 How to Italicize on YouTube – Description
Now that you have a better understanding of the complexity and competitiveness of YouTube.
You'll be able to empathize with Gina on her need to make her content pop in the YouTube feed.
When it comes to grabbing the attention of potential subscribers there are a few things to consider.
Yes, an eye-catching thumbnail is important to get the click.
However, the most important things that help you to rank are the description and tags.
In order to get your video descriptions italicized on YouTube, you need to use a fancy text generator.
You can either use this one here or conduct a search on Google for a YouTube text generator.
Head over to the description of the video text you'd like to italicize.
Grab the copy and place it inside the fancy text generator.

Notice how you'll get a variety of different fonts.
Copy the formatted text that suits your need and paste it into your YouTube description area.
You can also apply these formatting options to your YouTube video titles too.
Using the above steps you can add italics font to important text or other specific words. The rest of the title can remain in simple formatting.

It's interesting that you can also apply italics & strikethrough in order to highlight a sarcastic joke.
How to Italicize on YouTube – Comments
There are many opinions as to whether or not adding the first comment to your video would improve your results on YouTube.
If you want your comment to stand out below your video you can make it bold, italicize it or even do a strikeout just for fun.
Especially if you want it to look different from other YouTube creators.
Below is one of the very first videos on my YouTube channel from 2018.

If you look at the comment section you'll see that there aren't any comments on it just yet so let's add a few of them.
So, I would like to write the following… "Have you found stumbled upon your passion?"
In order to do this in italics, I'll need to add a few special characters (text markup) to the words.
You can do the same by including the following. Remember that you can format entire comments or just one word in the comments section.
When I'm about to write a bold comment, I notice the text formatting box shows up just below the line.
Notice how it displays different formatting styles.

This only shows up because I've got the TubeBuddy plugin installed on my channel.
If you don't have access to this plugin then all you need to do is include the following symbols.
Dashes for strikethrough text. Placed on both sides of the text.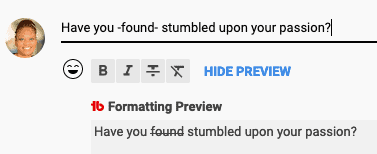 2. Underscores for italicized text

3. Asterisk symbols are used to bold a single comment.


Finally, after clicking the comment button, we can see the comment with all the formatted text including bold, strikethrough and italicized text.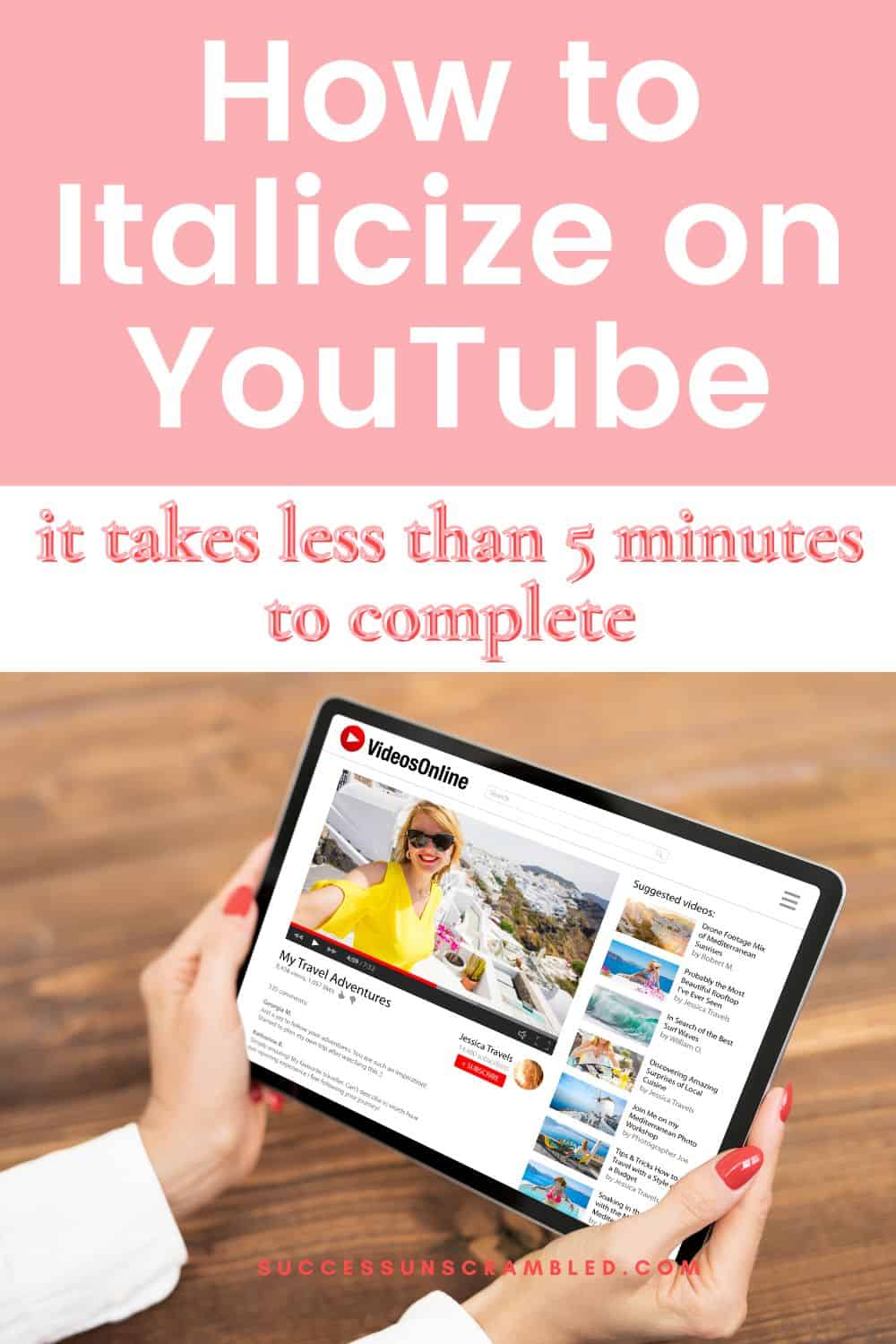 Summary
As you can see the process of formatting your description and comments on YouTube can be done in a matter of minutes.
At the end of the day, it is the little things that will help you move the needle in every area of your business.
To improve your targeting with better tags and keywords consider taking a look at VidIQ and TubeBuddy.
When uploading new videos on Youtube setting a default description can help save you hours of optimisation.
One of the best ways to grow your business overall is by adding social media links to your YouTube channel.
The most popular question I encounter all the time when it comes to YouTube videos is one about adding movie clips.
Here's a resource on how to add movie clips to your YouTube videos.
Over to you, what has been the most effective hack you used on your YouTube channel?
Announcements
Have you subscribed to the Success Unscrambled podcast yet?
If yes, then what about leaving a review? Leaving a positive review will help me to understand what's working as well as how I can produce more value for you as a listener.
The shocking truth about growing an audience on autopilot is that it's about 90% possible.
Two of the best growth strategies are blogging and video marketing via YouTube but it does require you to be involved in creating content once a week.
I started this blog in 2017 because I had a burden on my heart to reduce women's illiteracy globally.
Because this is a huge undertaking I have decided to help 1,000 women over the next 10 years to become wildly successful in their online businesses through simplified marketing strategies.
That way we can build a strong business network of women who can donate 1% of their profit and together we can help reduce women's illiteracy worldwide.
Would you like to be part of this movement? Shoot me an email using alvern (at) successunscrambled (dot) com.