Podcast: Play in new window | Download (Duration: 38:10 — 53.4MB) | Embed
Subscribe: Google Podcasts | Spotify | Amazon Music | Stitcher | Email | TuneIn | Deezer | RSS | More
Sheila turned things over in her mind, sales page vs landing page? Which one did she need for her upcoming course launch?
You see, for many years Sheila taught Art programs at her local university.
Now she wants the flexibility of working her own hours from home.
In order to do this, she needs to find a way to generate an income teaching Art online.
She discovered that she can develop a course by teaching Artists how to improve their skills.
The problem is that Sheila has little to no knowledge when it comes to launching and selling programs online.
Let me know if you can relate to these challenges.
You're really good at what you do but self-promotion makes you cringe
When it comes to technology, you would prefer to outsource this task
You are not familiar with all the marketing lingo which is a huge obstacle
Although you have a sizeable marketing budget you wouldn't know what to spend it on
If only there was a way to get a better understanding of the basics of what's required to set up, market and launch a program.
In this post, you'll learn the main difference between a sales page and a landing page. You'll also get access to other resources to help you launch your signature offer.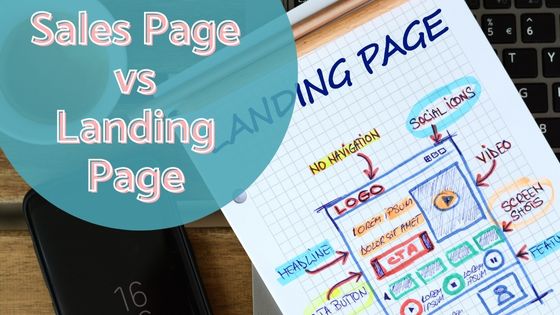 Landing Page Statistics
Before giving you a better understanding of the sales page vs landing page question.
Let's first look at the latest statistics when it comes to landing pages.
This is so important because you need a profitable landing page in order to launch your offer.
If you already have a website then you'll be happy to hear that 77% of landing pages are home pages, this is according to the folks at Klient Boost.
In other words, you probably already have a landing page without knowing it.
The average conversion rate of a landing page is 9.7%, which means that if 100 people visit your landing page only 9 people take action.
Very often this is a scary reality for most course creators.
Here are some other useful statistics about landing pages.
At least 58% of them have clickable graphics (including buttons)
48% of landing pages contain more than one offer
You can increase leads by 55% by having 15 landing pages
37% of top landing pages include testimonials
58% of landing pages are optimised for mobile devices
You can increase conversions by 86% if you include a video on your landing page
Long landing pages generate 220% more leads (there's a reason for this)
Now that you have a few tips on how to develop a more profitable landing page let's look at what exactly is a landing page.
What is a Landing Page?
A landing page is a web page designed to achieve a specific objective or goal for a business or entrepreneur.
In many cases, a landing page is used to encourage site visitors to give their information in exchange for a digital item.
It's also a great way to build brand awareness.
Landing pages are also normally part of a funnel which is part of a larger marketing campaign.
In fact, landing pages are located at the top of the funnel in a marketing campaign.
These pages can be created in various lengths depending on the goal that they are trying to achieve for a business.
Normally, landing pages are quick and easy to create because they don't require a lot of copy.
This is because the visitor is not required to make a very high level of commitment on a landing page.
Landing pages are great for capturing leads from Facebook ads or as a link to the CTA from a social media post.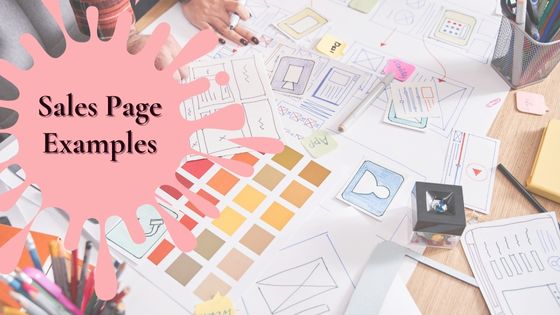 Types of Landing Pages
As you can imagine landing pages are useful for many different lead-generation campaigns.
By the way, a marketing campaign is basically a timed project where you are promoting a specific event or offer.
For example, you may have noticed retailers advertising a special offer during each season or holiday of the year.
These can include; New Year's Day, Valentine's Day, Easter, 4th of July, Summer, Back to School, Labour Day, Autumn and Christmas.
The marketing strategy used to promote the offers dictates the type of landing page needed for the campaign.
Here's a list of different types of pages.
A squeeze page for a lead magnet
Webinar registration page
Lead generation page
Waitlist page
Free trial page
Click-through landing page
Demo page
The type of landing page needed depends on the objective of the page itself.
A lead generation page is usually used to build an email list of prospective customers. A squeeze page is a short-form landing page designed to achieve a single objective like clicking a button.
Depending on the price of your offer you may want to consider running a webinar as the main hype or promotion event.
You can get people to sign up for your webinar using a webinar registration page.
Waitlist pages are great to use at the end of a promotion or event allowing potential clients to express their interest in the next launch or event.
For a more detailed explanation of landing pages check out this resource.
You'll get to choose a landing page example that works best for you.
The Anatomy of a Landing Page
For the purposes of this resource, I'm going to outline the anatomy of a good landing page that's a maximum of two pages long.
In order to do that let's look at a list of the elements required for a high-converting landing page.
headline
sub-headline
value proposition (what's in it for them)
social proof
pain points
main goal
a CTA button
testimonials or case studies
privacy policy
a single offer
To see all of this in action let's look at a screenshot of a landing page that includes all these elements.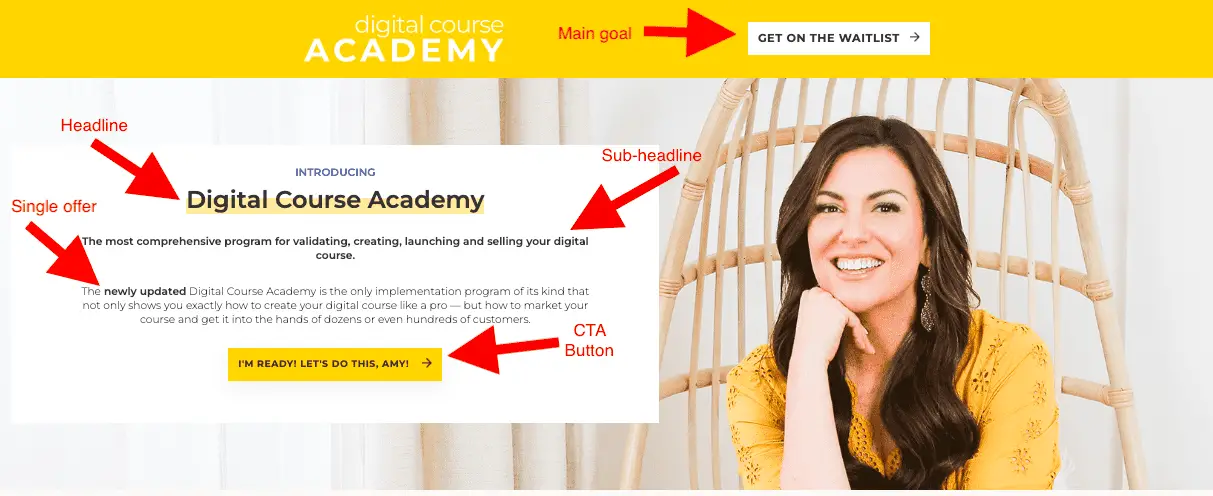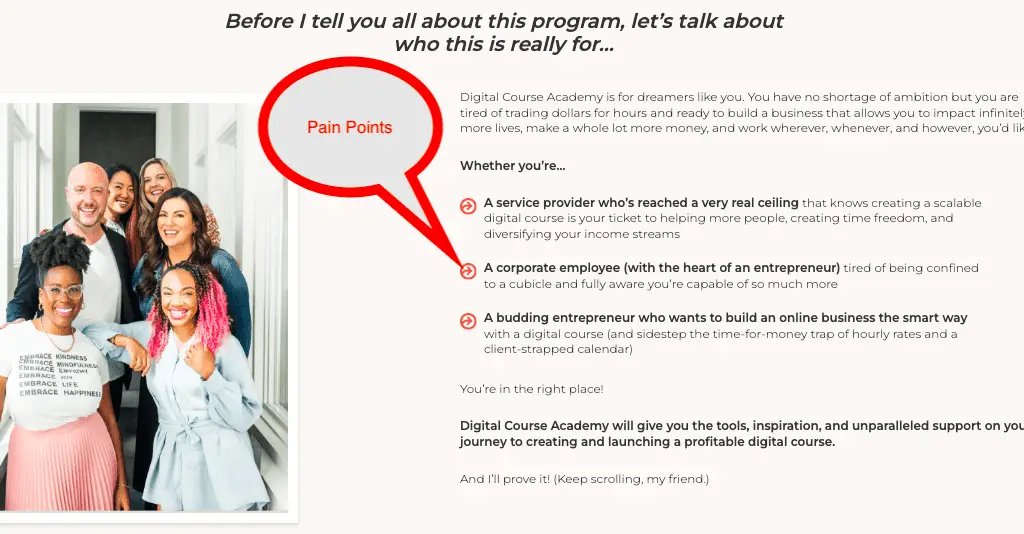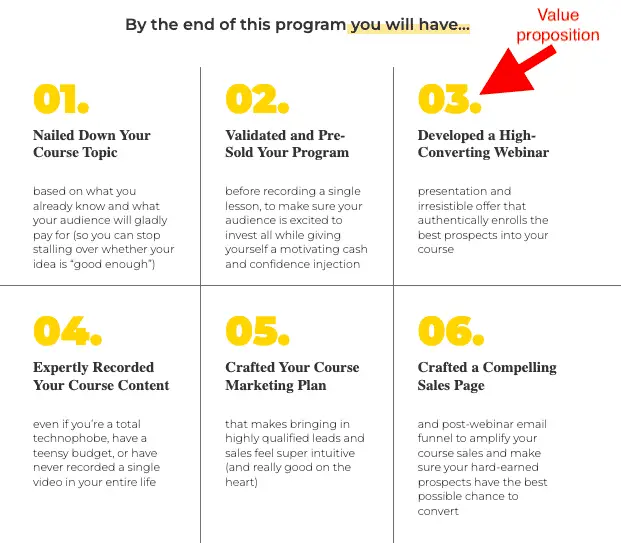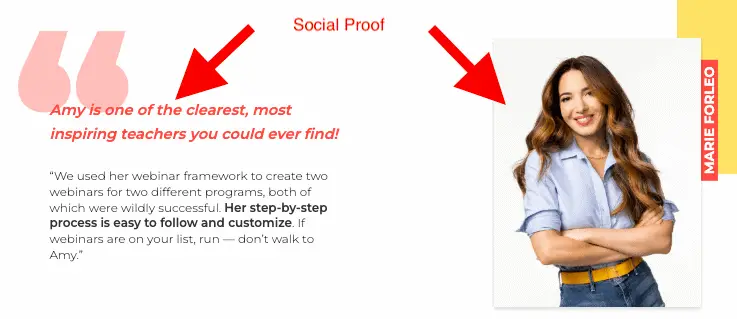 As you can see there are so many moving parts to a good landing page.
The one item that brings a level of fear and uncertainty for course creators launching for the first time is the absence of testimonials.
Another aspect is the fact that they believe they have no social proof.
These can be easily accomplished by using testimonials from colleagues, associates and business partners.
Essentially, a testimonial offers proof that you can be trusted.
3 Reasons Why You Need a Landing Page
If you are still on the fence still wondering if you need a landing page for your business, consider the points listed below.
Sales or income is the lifeblood of any business and in order to generate revenue, landing pages can be used to automate part of the process.
Here are 3 reasons why you'll need a landing page.
1. Grow an email list
When I first got started in the world of online marketing, I often heard the phrase "the money is in the email list".
Research has shown that you should be making $1 for every person that is on your email list.
The reason that growing an email list is important is that in case social media shuts down or Google releases an update.
If paid marketing goes away the one thing you'll always own is your email list.
It's just a great way to generate new leads for your business.
2. Determine Interest in a Product or Service
One popular type of landing page is a webinar registration page. Can you imagine what life would be like without those pages?
You decide to host an information session about a new product and tell everyone to show up on your Facebook page on a specific date and time.
However, you have no idea who is interested because you didn't ask them to register their interest.
Also, you have no way of reminding them of the event. It may sound bizarre but it helps you realise the importance of this type of landing page.
3. Testing the Pain Points
One thing that every business owner wants access to is the thoughts of their potential leads.
Marketers know that the key to attracting more potential buyers is by matching their messaging to the buyer's language.
This is one of the reasons why conducting surveys or hosting focus groups is so important to understand what potential customers really want.
When the messaging is spot on conversion rates skyrocket between 30% to 80% because your potential customer feels heard.
By now, you should have a more solid understanding of a landing page so let's look at the sales page.
What is a Sales Page?
A sales page is a web page that is designed to sell a product or a service.
It would normally contain detailed information about the product and/or service as well as testimonials.
There's also the "buy now" or "add to cart button" on a sales page encouraging the visitor to make a commitment.
Typically a sales page will also lead to an order form or shopping cart where the user is asked to enter their payment details.
Effective sales pages tend to be quite long ranging from 2 pages up to 50 pages.
One key aspect to realise is that a sales page should cater to the 5 buyer types in order to get a high conversion rate.
These 5 buyer types are as follows:
Analytical – motivated by logic and information
Need – they have an immediate problem that needs to be solved
Bargain Hunter – loves to feel they're getting a deal
Driver – motivated by power and respect
Expressive – motivated by recognition and approval
As you can see there's more to a sales page than throwing together words on a page.
This is the reason why copywriters charge lots of money to write a sales page.
Types of Sales Pages
If you conduct a cursory search online you'll see that there are many opinions when it comes to sales page types.
For the purposes of this resource, we will look at 6 different types of sales pages.
The 6 sales page types include:
Short form
Long-form
Video sales letter
Application
Upsell
Downsell
Let's look at each one briefly to help you understand the basics.
1. Short Form Sales Page
The short-form sales page is as the name suggests a short sales page with a maximum of 2 pages in length. It is great to use this when your audience or buyer already knows you and has purchased from you in the past. It's normally used to achieve a specific goal (make a purchase).
2. Long-form Sales Page
Long-form sales pages seem to go on forever. I personally don't read through them at all. However, they serve a specific purpose which is catering to the 5 key buyer types. If your sales page is catering to all buyer types then it will need to be very long to incorporate all the necessary elements to encourage conversions.
3. Video Sales Letter
The video sales letter is very similar to the long-form sales page except that it is in video format which means it is appealing to all 5 senses. In many cases, it is used in conjunction with the long-form page and research has shown that it increases conversions.
4. Application Sales Page
The application sales page is used when a business is selling a high-ticket product or service. Anything above the $5,000 price normally requires an application sales page. What makes it unique is the fact that it has all the similar elements of a long-form and/or video sales letter except that there isn't a "buy now" button. There will be a button to apply to join the program.
5. Upsell Sales Page
As the name suggests an upsell sales page is one where the buyer already purchased an offer and they are now being encouraged to buy something else straight away. An upsell only makes sense if it compliments the first offer. For example, if your client purchased a 52-week email newsletter package then the upsell could be a done-for-you version or a 1-hour coaching call or a VIP done-in-a-day option.
6. Downsell Sales Page
The downsell sales page comes in handy when someone decides not to buy the upsell offer but you still want to give them something useful. This something useful could be a sales email template package or a mini-training on how to use affiliate marketing in your newsletter emails.
3 Reasons Why You Need a Sales Page
At this point, it is important to understand the reasons why you would consider getting a sales page at this stage in your business.
Let's first address the elephant in the room. Does your business model align with the need for a sales page?
For example, if you are a plumber or electrician and you don't sell any standalone products then you wouldn't need a sales page. This is because your service is priced at the time of implementation.
Electricians and plumbers can ask for an upfront booking fee to secure an appointment which can deter tyre kickers.
However, if you are selling a course, products or a fixed fee service like a VIP day then it would make sense to have a sales page.
Here are 3 reasons why you'll need a sales page.
To sell a product or service – a sales page can be your 24/7 selling machine enabling you to make sales while you sleep
Build the know, like and trust factor – a sales page is a great way to allow potential customers to get to know you more before making that important decision. It's like a relationship builder as it allows you to tell your story and explain the value proposition.
Increase and/or automate sales through retargeting – over the course of time you can optimise your sales page to increase conversions and use retargeting ads to get in front of those potential buyers who visited your offer but did not buy just yet.
The Anatomy of An Unusual Sales Page
So, you've gone through the anatomy of a landing page and you have a fair idea of what yours should include.
Now, you're wondering about the anatomy of a sales page. The truth is that sales pages can be very diverse.
However, there are a number of elements that you will always find on a sales page.
One thing to note is that if you are selling a solution in a competitive niche (other similar solutions on the market) then you'll also need to include a section outlining why you're different from the rest.
Here's a list of elements that you'll find on most sales pages.
headline
sub-headline
value proposition (what's in it for them)
social proof
pain points
main goal
a CTA button
testimonials or case studies
privacy policy
a single offer
images of the product or service
pricing
about the course creator
a breakdown of the value of the features
bonuses
payment options
FAQ
guarantee
contact information
credit card logos
Let's take a look at a few elements in action on the popular Course Chemist sales page.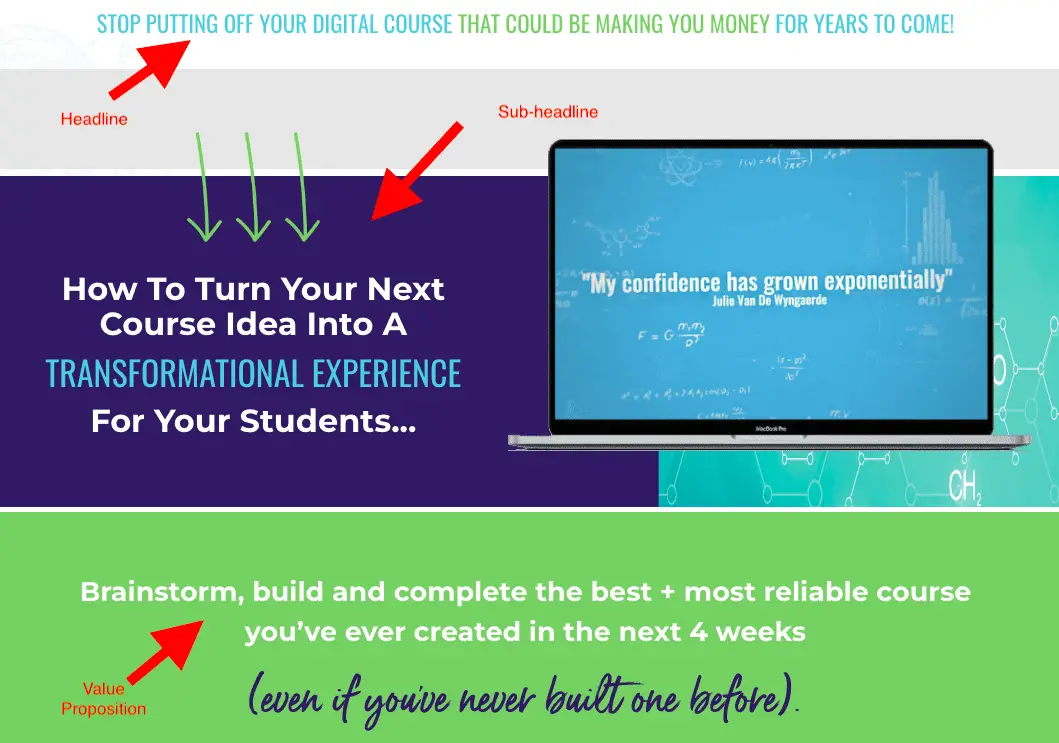 After seeing all these key elements (no pun intended) that are usually found on a sales page, you'll never be able to unsee them. (Lol!!)
From now on you'll be able to almost dissect any sales page that you come across in the future. Lol!!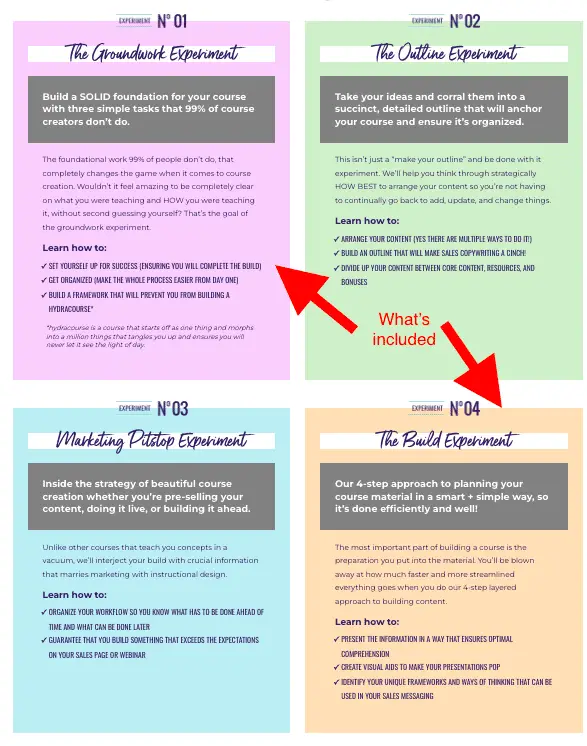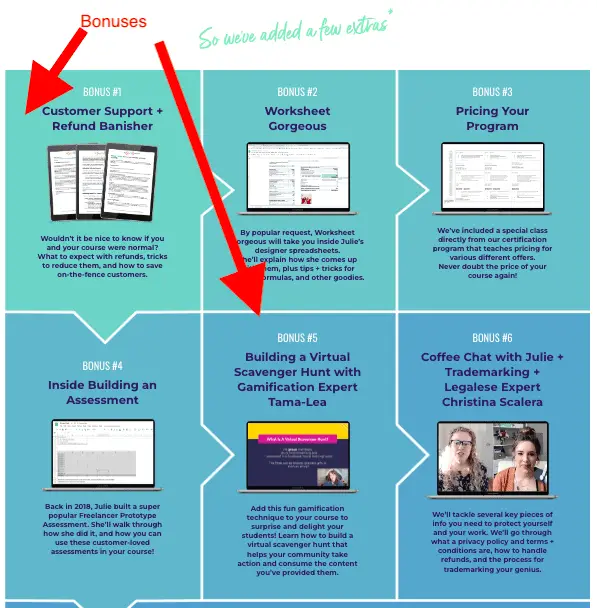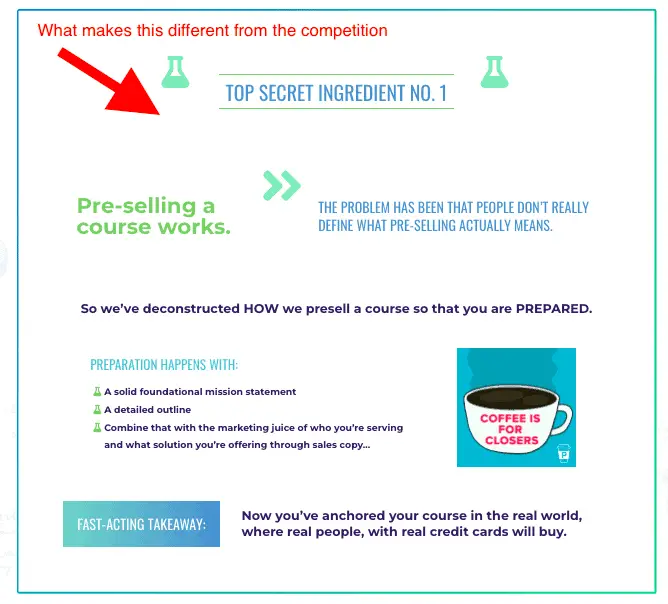 As you can see, when it comes to designing a sales page you can be as creative as you want to be in an effort to stand out from the crowd.
Of course, creating a sales page like this doesn't come cheap.
In fact, sales pages can be expensive to create.
Hiring a copywriter to craft a high-converting sales page can set you back between $1,500 to $10,000 on the low end.
The Key Differences of Sales Page vs Landing Page
Now that you know what are the essential elements of a sales page and a landing page.
Let's look at a side-by-side comparison between the two web page types.
| No. | Element | Landing Page | Sales Page |
| --- | --- | --- | --- |
| 1. | Headline | Yes | Yes |
| 2. | Subheadline | Yes | Yes |
| 3. | Value proposition | Yes | Yes |
| 4. | Social proof | Yes | Yes |
| 5. | Testimonial | Sometimes | Yes |
| 6. | About the creator/author | Sometimes | Yes |
| 7. | What's included | No | Yes |
| 8. | Bonuses | No | Yes |
| 9. | FAQs | No | Yes |
| 10. | Call to action (CTA) | Yes | Yes |
| 11. | Buy Now or Add to Cart | No | Yes |
| 12. | Guarantee | No | Yes |
| 13. | Value of items | No | Yes |
| 14. | Pricing | No | Yes |
| 15. | Pain points | No | Yes |
| 16. | Images of product | No | Yes |
| 17. | Privacy policy | Yes | Yes |
| 18. | Main goal | Yes | Yes |
| 19. | Expensive to craft | No | Yes |
| 20. | Navigation menu | No | No |
| 21. | Credit card logos | No | No |
As you can tell there are a lot more elements to a sales page when compared to a landing page.
This is because the commitment level on a sales page is much higher.
On a landing page, a potential client is asked to surrender a name and email address.
While a sales page requires a potential student or customer to pull out their credit card and part with some money.
The risk is therefore higher on a sales page.
Which One Should You Use?
At this point, you should have a very good understanding of when to use a landing page vs when to use a sales page.
If you need to refresher on which one is which feel free to bookmark this resource so you can come back as many times as you need.
In a nutshell, if you want to generate leads for a free resource like a checklist, PDF, webinar or another free event.
Then a landing page is the best option for you.
However, if you want your web page visitors to make a purchase or apply to join a high-ticket program then a sales page is what you'll need.
Remember that both landing pages and sales pages are normally part of a marketing campaign or funnel.
If you've never heard of a funnel, then take a look at this resource I created called "what is a sales funnel".
Summary
Marketing your products and services can be as simple or as complex as you want it to be.
One of my coaches always says that the fastest way to get sales is by having more conversations.
The fastest way to automate your sales process after it has been proven is by creating a funnel with landing pages and sales pages.
It takes time, energy and patience to create high-converting pages but the rewards are worth it.
I helped one of my clients to generate $50,000 in a single month by tweaking and optimising her funnels.
So, I'm talking from experience when I say it takes time. I can help you increase the profitability of your pages, book some time in my calendar here.
Over to you, what has been your experience with creating sales or landing pages?
Announcements
Have you subscribed to the Success Unscrambled podcast yet?
If yes, then what about leaving a review? Leaving a positive review will help me to understand what's working as well as how I can produce more value for you as a listener.
Every business is different in the way they do business so a landing page that works for one may not necessarily work for another.
Landing page templates are just that, "templates". They cut back on the amount of time needed to create a page from scratch.
I started this blog in 2017 because I had a burden on my heart to reduce women's illiteracy globally.
Because this is a huge undertaking I have decided to help 1,000 women over the next 10 years to become wildly successful in their online businesses through simplified marketing strategies.
That way we can build a strong business network of women who can donate 1% of their profit and together we can help reduce women's illiteracy worldwide.
Would you like to be part of this movement? Shoot me an email using alvern (at) successunscrambled (dot) com.