Podcast: Play in new window | Download (Duration: 24:48 — 34.7MB) | Embed
Subscribe: Google Podcasts | Spotify | Amazon Music | Stitcher | Email | TuneIn | Deezer | RSS | More
Marsha is looking for the best apps for Instagram aesthetic because she wants to increase engagement on her profile.
As a photographer, Marsha understands the importance of displaying her work as images.
However, due to the recent changes in the IG algorithm where there's a huge focus on Reels.
Marsha wants to find creative ways of making her photographs posts pop in the Instagram feed.
Let me know if you can relate to these challenges.
Your bread and butter income is in the photography niche
The new Reels rollout is causing you to switch up your marketing
Video marketing is not as impactful as images for your business
Finding new photo editing apps is eating up your precious time
If only there was a way to still do social media marketing using images that would stop the scroll
In this post, you'll learn about 9 cool apps that will take your photo editing to a whole new level.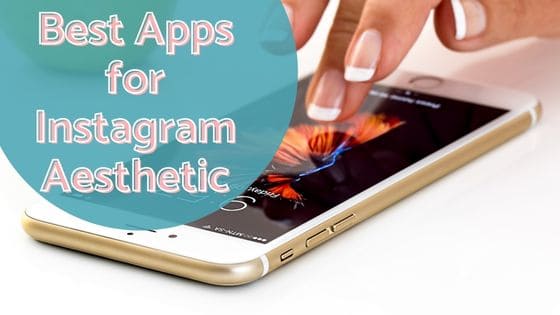 Social Media Today
In our increasingly digital world, social media platforms have become a staple in the lives of many.
Among these platforms is the Instagram app. A photo and video content-sharing app that has taken the world by storm.
While it can be great for sharing everyday moments with friends and family, Instagram can also be used for more creative purposes.
One way to use Instagram more creatively is by using different apps to edit your photos and videos. This resource will explore some of the best apps for editing your Instagram aesthetic.
These apps offer a variety of great features. Including basic editing tools to more advanced options like colour correction and video editing.
So if you're looking to take your Instagram posts and stories to the next level, check out some of these great apps!
1. Colorcinch
In addition to the standard photo editing capabilities, Colorcinch (also known as Cartoonize) has a lot to offer.
Its features include text editing, layers with blend modes, effects and filters, access to stock photos, and more.
Even better, Colorcinch is available without charge, though some features do call for a paid subscription.
Here's a list of features.
Cropping
Resizing
Exposure and colour modifications
Vignetting
Sharpening and clarity enhancements
A full-featured text editor
Masking
Layering
Blending, and many other necessary built-in tools are all included with the Colorcinch app.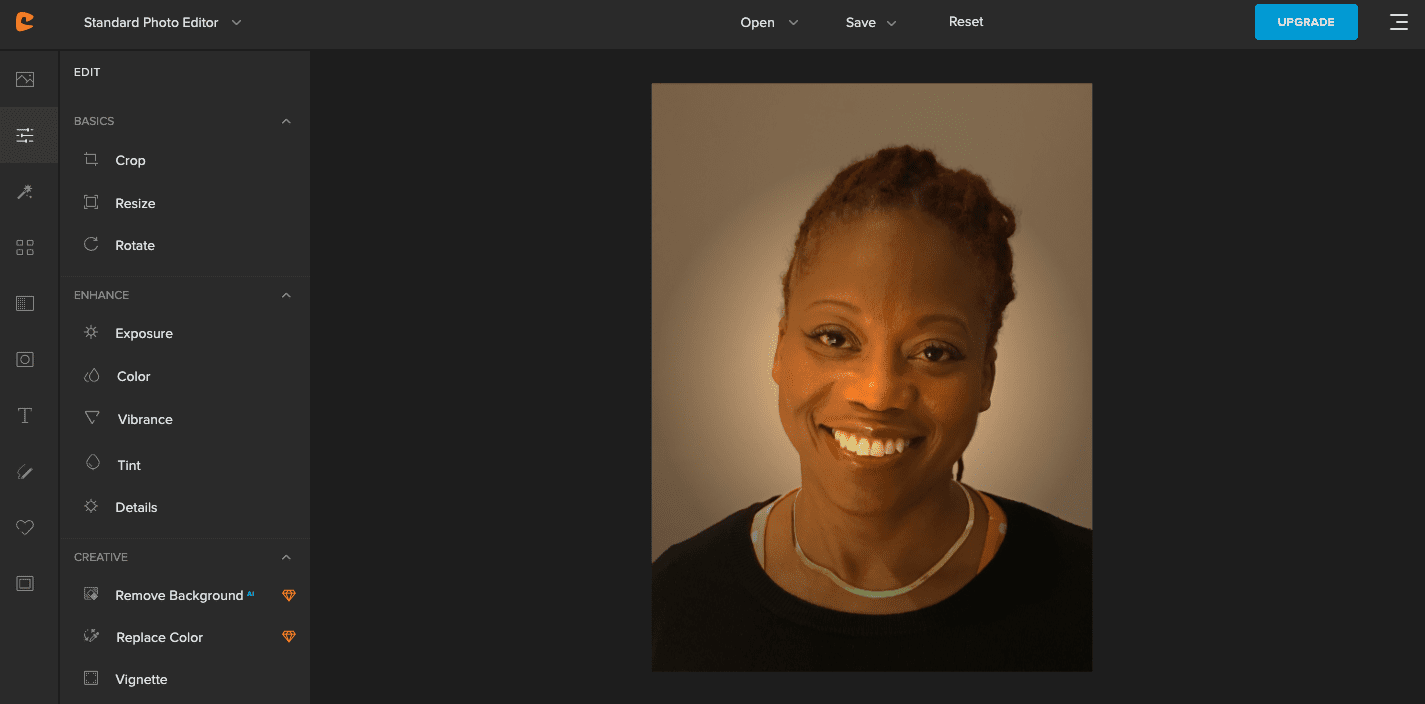 The free edition of the editor has a lot of capabilities, including photo editing tools. When paying annually, Colorcinch Plus costs $3.99/month, while month-to-month payments cost $5.99/month.
You can use the Colorcinch app on their website, or it is available for download in the Google Play Store. Unfortunately, it does not seem to be available for IOS devices at this time.
2. Remove.bg
Your photos' online background removal solution is called Remove.bg.
It is simple to use and removes any image backdrop in 5 seconds.
This is thanks to the artificial intelligence technology that powers it.
This technology is taught to recognize foreground features and separate them from the background.
The features that you can take advantage of with the Remove.bg app include a drag & drop automated background removal.
Also, uploading multiple images and folders, creating transparent or coloured backgrounds, and selecting the output size of your choice.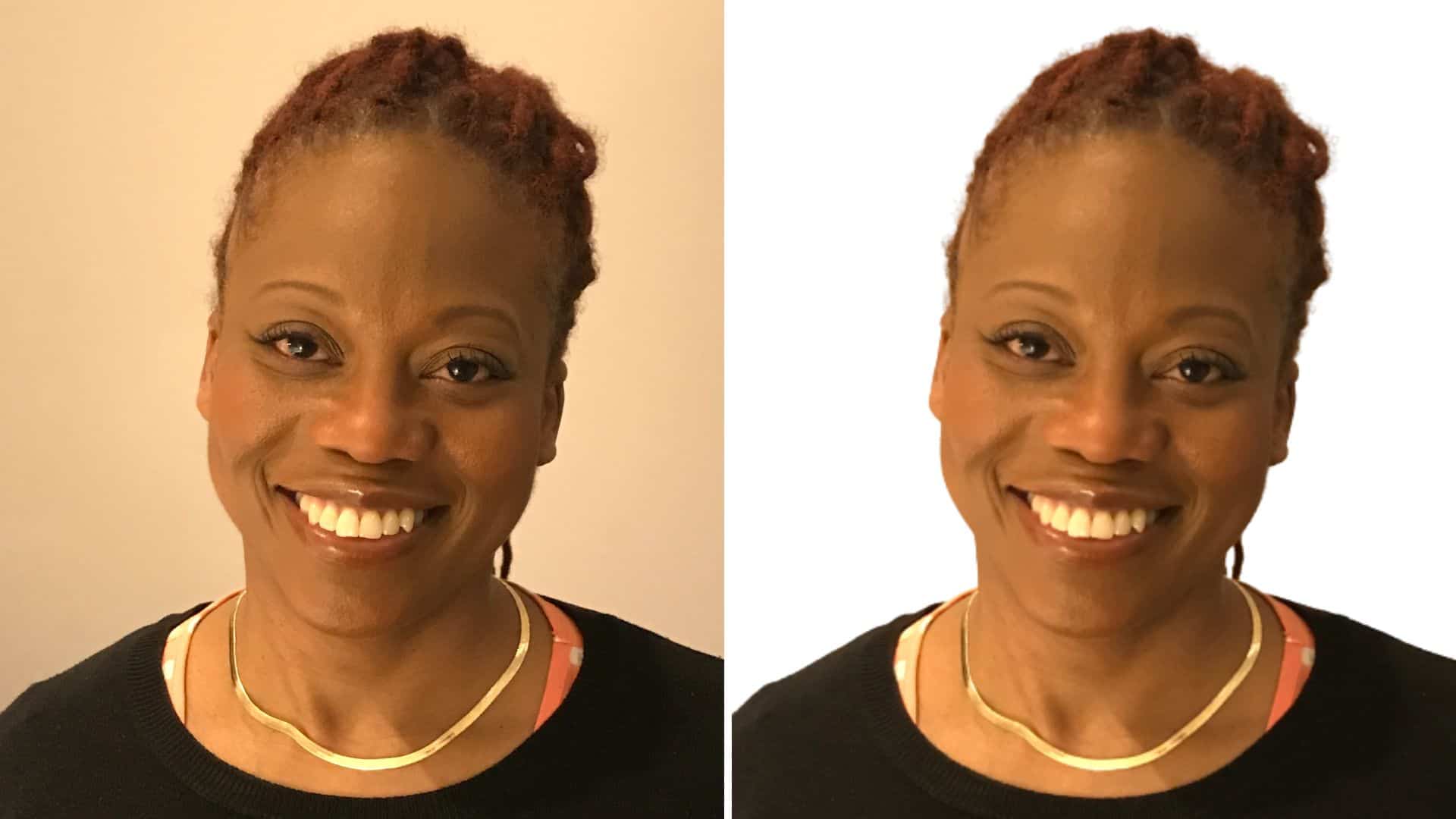 On their website, Remove.bg is always available without charge. They support low-quality photos (previews) with a maximum resolution of 0.25 megapixels for free background removal.
A free account also comes with 50 free previews each month via API and applications plus one bonus credit to test high-resolution downloads.
They have streamlined pricing where you only need to enter the quantity and size of photographs you need, and on their new pricing page, they will recommend the best plan for you.
Along with various additional plans and alternatives, Remove.bg now offers a 14-day money-back guarantee and can accommodate any budget or image requirement.
You can use the Remove.bg app on their website, or it is available for download on Android devices in the Google Play Store or IOS devices in the IOS App Store.
3. Fotor
Fotor is a great app that is straightforward and user-friendly.
It has a desktop version of the photo editor that enables you to modify photographs without needing to be a Photoshop guru.
You may easily edit photographs using Fotor by changing the exposure, brightness, contrast, white balance, saturation, sharpening/blurring, adding a vignette, cropping, straightening, rotating, adding text, removing red-eye, and more.
The basic version of Fotor is available right now and will always be free. For light to moderate photo editing, the free version's many tools and capabilities are more than sufficient.
If you're thinking about upgrading to the paid version of Fotor, you'll be pleased to learn that the pricing is very fair and competitive. The annual membership fee for Fotor is only $39.99, and there is also an $8.99 monthly payment option.
You can use the Fotor app on their website, or it is available for download on android devices in the Google Play Store or IOS devices in the Apple App Store.
4. VSCO
VSCO is a well-known photo and video editor because of its top-notch tools, creative community, and premium filters. You can express yourself, share your creativity, and explore with confidence using VSCO.
Members of VSCO are able to capture photos using the in-app camera, and photos can be instantly uploaded from the phone's camera roll to the app.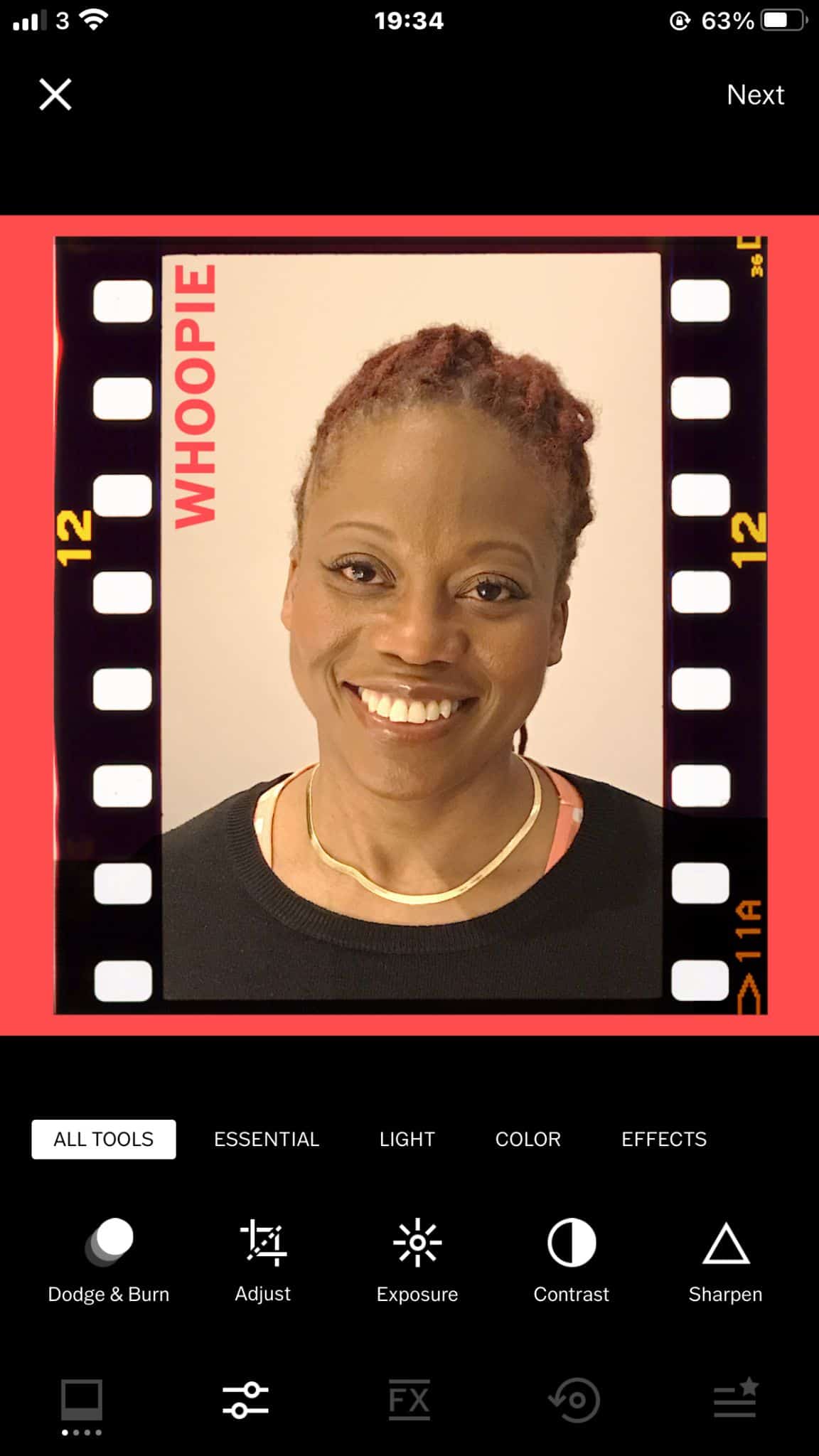 In addition, users may post their photos straight from VSCO to other platforms and apps, such as Instagram, Facebook, Snapchat, and WhatsApp, as well as to the app's feed.
There is a free 7-day trial and a $19.99/year subscription fee for VSCO. The app is likewise free to download, but its features are restricted to community content browsing, a few simple filters, and editing tools like contrast and saturation.
The VSCO app is available for download on android devices in the Google Play Store or IOS devices in the Apple App Store.
5. Facetune Editor by Lightricks
Facetune is a popular app that will transform you from a photographer into an artist by providing amazingly strong photo-editing tools and effects that are inspired by cinema.
This iOS and Android picture editing app, which is optimised for most devices, offers a wide variety of unique filters, actions, special effects, camera tools, and overlays.
You may use the Facetune app's numerous aesthetic filters and effects, and save your aesthetic edits as actions for rapid application to other photographs.
It means adding overlays to your photos to an image, colour, or pattern, share high-resolution photos on social media is done in a snap.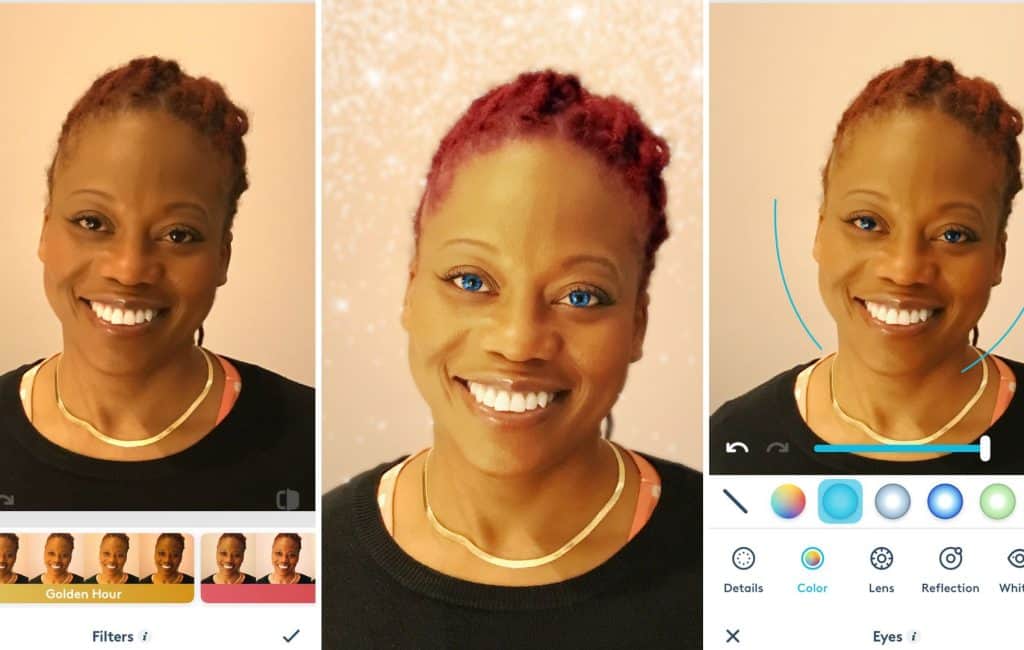 100s of the features in Facetune are available for a free 7-day trial, and all of these are available after you subscribe.
The whole sets of premium filters and effects are available for $11.99 a month or can be purchased annually for $71.99.
Since the Facetune Editor by Lightricks is a mobile app optimised for mobile devices, it is not available for download on PC or Mac computers.
6. Adobe Photoshop Express
You have everything you need with Photoshop Express to edit and modify photographs rapidly, so they stand out on social media and elsewhere.
Whether you are editing professional photos or just ones that you shot with your phone, you can quickly make advanced modifications if you choose to add premium features.
With Adobe Photoshop Express, you have the ability to rotate and flip photographs both horizontally and vertically.
You will also be able to fix perspective distortions that are horizontal and vertical and make necessary exposure, contrast, and white, black, and shadow adjustments. As well as adjust the saturation, vibrancy, tint, and temperature.
Paying for a Premium subscription, which costs $4.99 per month, $34.99 per year, with a first-year offer of $9.99, is necessary to access some of the product's more endearing features.
The software is accessible through the app stores for mobile devices and Windows 10, but there isn't one for Chrome OS, Mac OS, or Amazon Fire tablets.
7. Adobe Lightroom
Adobe Inc. created Adobe Lightroom, a program for artistic image management and image editing, as a member of the Creative Cloud subscription family.
You can import, manage, organise, and find your photographs with the aid of this powerful editing tool.
In contrast, Lightroom is a product that combines photo management and photo editing. In addition, since Lightroom is a non-destructive picture editor as opposed to Adobe Photoshop, you won't need to bother about that annoying "save as" option.
With Adobe Lightroom, you may batch process images using the Quick Development panel to save time and develop a style, effortlessly transfer adjustment settings from one image to another, quickly crop pictures, and more.
An annual subscription to Lightroom is available for as little as $9.99 per month or $119.88 per year. You can also purchase a Creative Cloud Photography plan that includes Lightroom, Lightroom Classic, and Photoshop.
Adobe Lightroom is currently available for Windows, macOS, iOS, Android, and tvOS.
8. InShot Video Editor
With InShot, you can quickly create both simple and complex video assets, including reverse video, video collage, slow motion, and more.
To increase the number of likes on your vlogs, you can easily share them on social media or make a video with music and a picture for TikTok.
Video splitting, video cutting, merging video clips, importing images or pictures, applying a variety of filter effects, adding voice-over effects, adding sound effects or music, and adding stickers, text, or animations, to movies are just a few of the functions offered by InShot.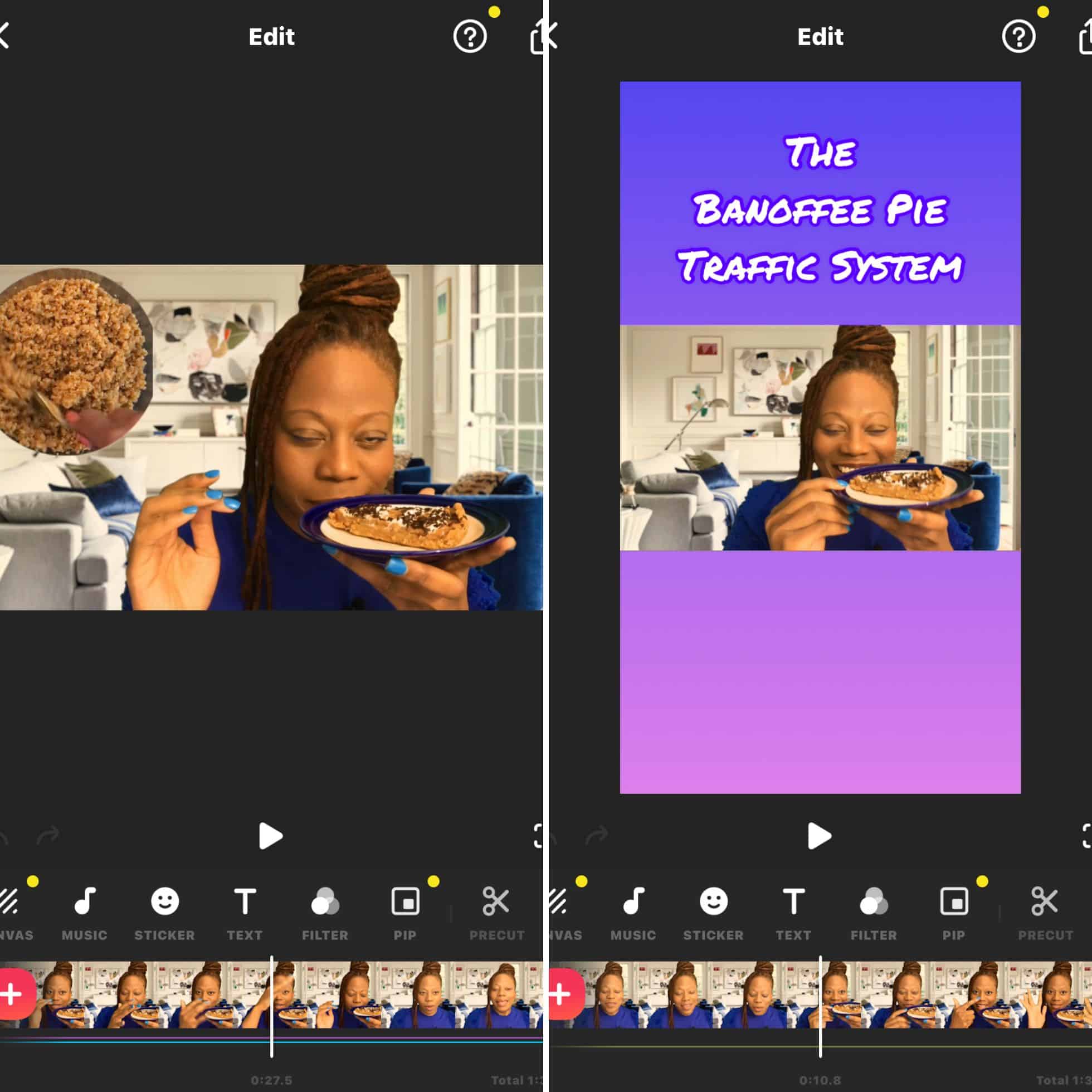 InShot Pro is available for three different price points: $3.99 per month, $14.99 per year, which includes a three-day trial, or $34.99 for lifetime access.
Plus, there are no advertisements or the InShot watermark to deal with on your creations.
The InShot app is available for download on android devices in the Google Play Store or IOS devices in the Apple App Store.
9. Canva
With the help of expertly created templates, you can quickly and effortlessly create invites, business cards, brochures, lesson plans, Zoom backgrounds, and more using the free visual design site Canva.
Using a drag-and-drop interface, you can even upload your own photographs and apply them to Canva's layouts.
Some of Canva's most notable features include combining images and building stylish montages, adding music to video, converting a GIF to a video, circle crop, mirror images, B&W image filter, photo borders, merging videos, and much more.
Canva is a great tool that has an excellent free version, but if you would like to unlock all of its features, you can pay for the pro version.
Users and their team may use all of Canva Pro's features for just $12.99/month for up to 5 individuals.
For an in-depth honest review of Canva pro check out this resource.
Canva is also available for download on android devices in the Google Play Store or IOS devices in the Apple App Store.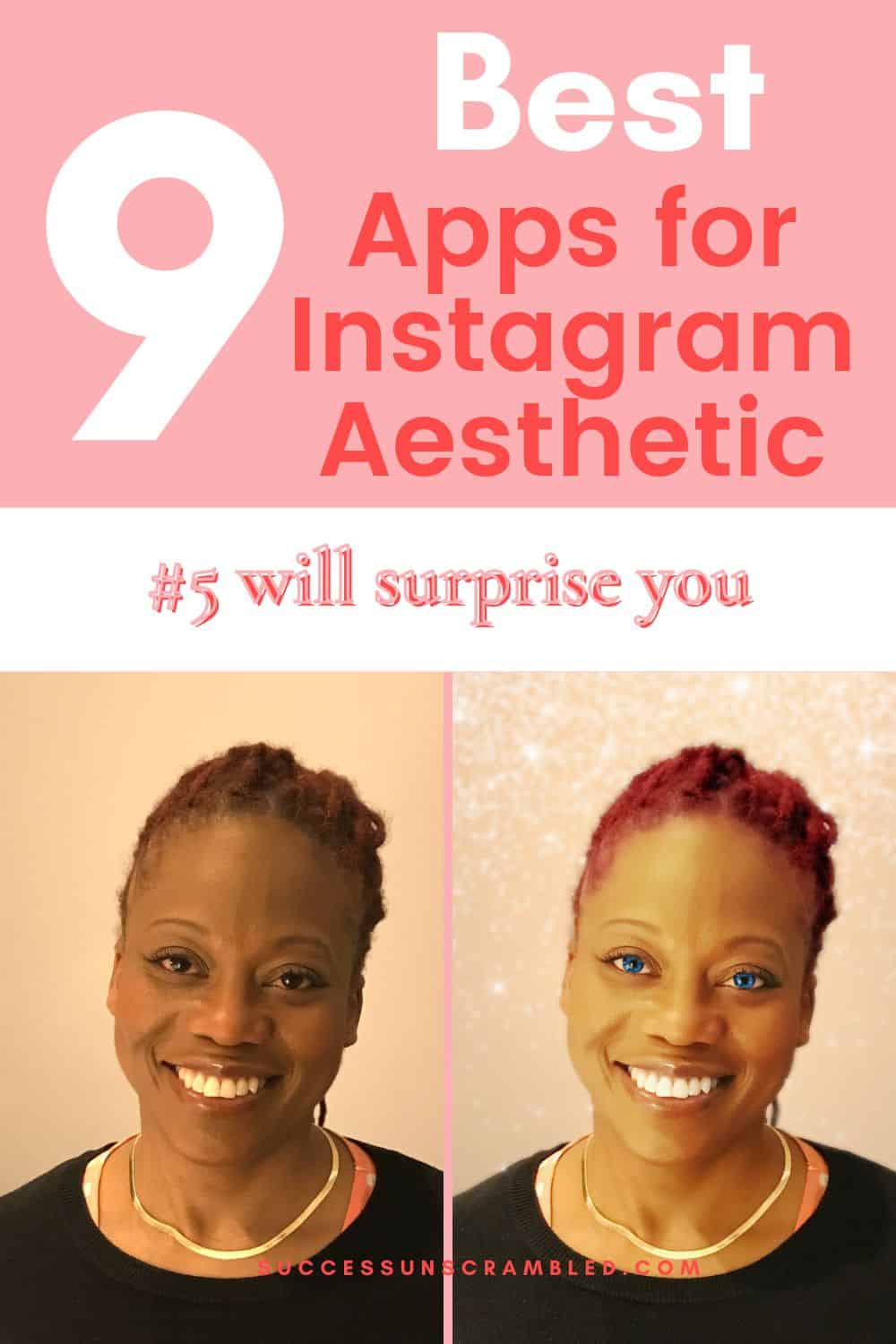 Summary
Now that you have a better idea of which apps to use to boost the effectiveness of your photos.
Remember that there are other areas on Instagram that you can use to reach your audience effectively.
These include Stories, IG Videos (formerly IGTV), Reels and IG Live.
If you need help with creating scroll-stopping Stories, check out these editing apps for Instagram Stories.
There are a plethora of options available for Instagram users and content creators that are looking to create an Instagram aesthetic.
In this resource, I have highlighted some of the best app options, ranging from free to paid services.
Each app has its own unique set of features, so it is essential to find one that fits your needs.
I hope that you find the perfect app for you and enjoy creating beautiful content on your Instagram account!
Over to you, what are the best apps you've ever used to edit photos for Instagram?
Announcements
Have you subscribed to the Success Unscrambled podcast yet?
If yes, then what about leaving a review? Leaving a positive review will help me to understand what's working. As well as how I can produce more value for you as a listener.
With the invention of short-form video, we all know that video marketing is taking the world by storm.
Platforms like YouTube shorts, TikTok, Snapchat, Reels and a few others are getting the fasting growth on social media.
I started this blog in 2017 because I had a burden on my heart to reduce women's illiteracy globally.
Because this is a huge undertaking I have decided to help 1,000 women over the next 10 years to become wildly successful in their online business through simplified marketing strategies.
That way we can build a strong business network of women who can donate 1% of their profit and together we can help reduce women's illiteracy worldwide.
Would you like to be part of this movement? Shoot me an email using alvern (at) successunscrambled (dot) com.