Podcast: Play in new window | Download (Duration: 32:16 — 44.9MB) | Embed
Subscribe: Google Podcasts | Spotify | Amazon Music | Email | TuneIn | Deezer | RSS | More
Brenda is wondering if it is possible to get paid to type documents while working from home at her age.
You see, Brenda's mother has been ill for a few years and now needs someone to care for her in the long-term.
In her corporate role as Executive Assistant, Brenda really enjoys typing up documents for all kinds of scenarios.
On a daily basis, Brenda would type up documents such as memorandum, minutes of board meetings and official company agreements.
Now that her mother needs long-term care Brenda is exploring the possibility of working less hours with the ability to still do what she truly enjoys.
Because Brenda is a fast typist this could be a side hustle for her or a part-time typing job.
Tell me if this sounds like you:
You want to make some extra money or start a new career,
You want to work from home,
You are a quick and accurate typist,
You manage your time well,
and you want to get paid to type documents from the comfort of your own home.
If so, you're in luck! There are a number of websites that will pay you to do just that.
In this post, you'll learn about 51 places where you can get started.
So whether you're looking for the best ways to find part-time work or a full-time career, we have something for everyone.
I also provide tips and tricks on how to get the most out of these opportunities, as well as resources to help you get paid higher rates. Let's jump in.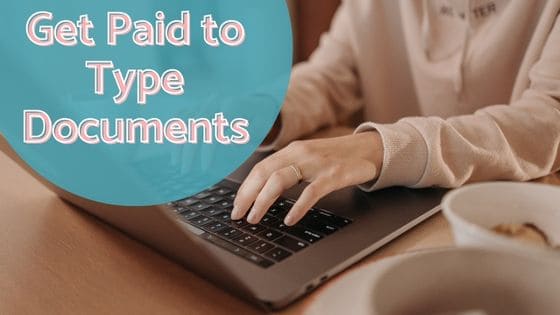 The Requirements for a Career as a Typists
If you ever wished you could get paid to type things all day, your dream job may be waiting for you as a typist!
Typists typically need to have strong keyboarding skills and be able to type quickly and accurately.
They must also be able to read and understand written instructions. The ability to create an original document is really important too.
Typists may be required to work with specific software programs or formatting requirements, so it is important that you are familiar with these tools.
In some cases, typists may also be responsible for proofreading and editing their work.
So, if you have a passion for the written word and want to get paid to type all day long, then a career as a typist may be right for you!
Key statistics for Typists in the United States
If you're considering a career as a typist, here are some interesting and relevant statistics to keep in mind:
According to Zippia, as of 2021:
There are more than 21,754 typists currently working in the US.
Women make up 88.8% of all typists, while 11.2% are men.
The average starting salary for a Typist is $26,000.
The average annual salary for a Typist is $31,263.
The top 10% of highest-earning typists make $37,000 or more.
Typists are more commonly hired by private companies as an independent contractor rather than public companies.
As you can see from these key statistics only 0.00006% of the population are typists which is shocking in one sense.
What this means is that there are lots of room for growth in this career.
It also means that it's not overcrowded.
Wondering what tools you need to become a typists? Let's look at this next.
The Equipment Required to be the Best in Your Field
To get paid to type documents, you may need a few things to get started.
First, you must have a computer–it's the most basic need to work as a typist.
A laptop is ideal for busy typists who want to be able to work anywhere.
If you are exploring audio transcription, the process of converting audio recordings into written documents, then you will need a high-quality recording device and headphones.
This may be obvious but connecting to a high-speed internet or broadband service is essential for this type of job.
Finally, you should invest in setting up a comfortable working environment from home with equipment like a desk, and office chair.
How to Improve Your Words Per Minute
There's no denying that typing speed is an important skill to have as a typist.
Whether you're typing up an email, essay, or completing a transcription job, being able to do it quickly and accurately can make a big difference in your productivity and client retention.
In other words, the top earners in this kind of remote job are able to charge higher rates because of their high accuracy.
So how can you improve your words per minute (WPM)?
Here are a few tips:
First, practice makes perfect. The more you type, the faster you'll get. Many people find it helpful to set a goal of typing a certain number of words each day. Once you reach your goal, you can take a break or move on to another task.

Second, focus on accuracy as well as speed. It's important to be able to type quickly, but it's just as important to be able to do it without making mistakes. Make sure you proofread your work before hitting send.

Third, use keyboard shortcuts. If you're using a word processor, like Google Docs, or other software that has keyboard shortcuts, take advantage of them! Learning even a few can save you time in the long run.

Fourth, utilise free online typing sites, like OnlineTyping.org, for lessons, games, and tests to constantly work on and improve your WPM.

Finally, practice using all different types of work like typing from scanned documents, old books, transcriptions, listening to audio files and much more.
By following these tips, you can gradually increase your WPM, become a more efficient typist, and charge more for faster turnaround times.
You'll be able to gradually increase your hourly rate as well as develop the easiest ways to earn extra income as a freelance writer.
Here's another resource to help you to improve your hourly rate for medical transcription jobs.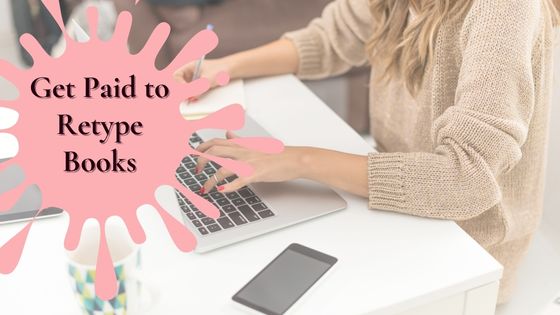 51 Best Sites to Get Paid to Type Documents
Now that you have a better understanding of the marketplace for typists as well as how you can get paid more for your work.
Let spend some time looking at the 51 best places to get paid to type documents.
It's important to realise that this list is not exhaustive as there are many other ways to find a good opportunity.
Also, there's no need to feel desperate and accept the first job that you encounter.
These are the best websites to earn money by typing.
So, let's dive in and look at these work from home jobs.
Editor's Choice: Top 20 Picks
Upwork
Fivver
TranscribeMe
PeoplePerHour
Typist Doctor
SigTrack
Amazon Mechanical Turk
Clickworker
BabbleType
Aberdeen
SpeakWrite
Lionbridge
WeLocalize
Microworkers
Scribie
CyberDictate
Quicktate
CastingWords
Xerox
Rev
Upwork
Upwork is a freelancing platform that connects businesses with independent contractors from all over the world. And whether you're looking for typing jobs or any other kind of work, Upwork is a great place to start your search.
With its vast array of job listings and easy-to-use search interface, Upwork makes it simple to find typing jobs that are a good fit for your skills and experience. So if you're looking to make some extra cash by putting your typing skills to work, be sure to check out Upwork.
Fivver
Fiverr, is a freelancing platform that allows you to offer your services to other businesses. For typists, it's a great way to find work.
There's a wide range of typing-related gigs available, from transcribing audio files to creating captions for videos. And since Fiverr is a global marketplace, you can find work from clients all over the world.
Best of all, Fiverr takes a mere 20% commission on each job, so you can keep more of the money you earn. So if you're looking for an easy way to find typing work, Fiverr is definitely worth a look.
TranscribeMe
TranscribeMe is a website that connects typists with businesses that need transcriptions completed. Businesses can post their audio or video files on the site, and then typists can claim the files and transcribe them.
Once the transcription is complete, the business can then download it and use it however they want. TranscribeMe is a great way for businesses to get their transcriptions done quickly and easily, and it's also a great way for typists to find work.
PeoplePerHour
PeoplePerHour is a website that offers a simple way for businesses to find freelance workers for one-time projects or ongoing work. Typists can use the site to search for typing jobs by keyword, location, or category.
Once you find a job that interests you, you can submit a proposal outlining your qualifications and bid for the job. If the client chooses to award you the job, you can begin working immediately and get paid directly through the PeoplePerHour platform.
OneSpace
OneSpace is an online marketplace that connects businesses and individuals with skilled workers. Typists can sign up for free and start bidding on projects immediately.
OneSpace is a great way to find work because it offers a variety of typing jobs, from data entry to transcribing audio files. And because businesses and individuals can post projects from anywhere in the world, there's always a need for typists.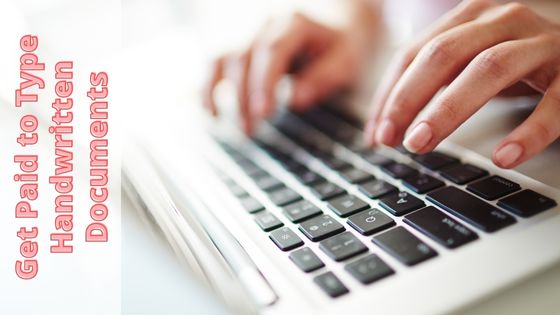 Working Solutions
Working Solutions offers many data entry jobs to freelance typists.
They do have a selection of assessments that must be completed before landing a job opportunity. But once you pass, you can easily swing jobs that pay fairly well for your services.
The application process can take up to 3 weeks to complete and they pay via direct deposit or checks in the mail.
It's important to note that they only offer contractor positions to people in the US and Canada at the time of creating this resource.
SigTrack
SigTrack provides transcription and data entry services. They hire for positions in many languages including: Spanish, Portuguese, French, Italian, German, and others.
Finding part-time and full-time work comes easy with this company since there are always open positions  posted on the site.
The majority of your job involves transcribing information from a variety of sources, including phone calls, emails, letters, etc. The more you submit quality work, the better your chances increase at landing job opportunities.
Amazon Mechanical Turk
Amazon Mechanical Turk, or "mTurk", is a website where you can do everything from transcribe audio recordings to taking surveys too, yes, even data entry.
This is perfect for typists looking to make money for typing jobs.
Though, the pay isn't the highest on this job site, since the jobs do not take long to complete, you can always load up on tasks to take home more pay.
Clickworker
Clickworker is a website that offers a range of online jobs, including typing and data entry.
The appeal of Clickworker is that it offers flexible working hours and the ability to work from home. This makes it an ideal option for typists who are looking for more work opportunities. Plus, the pay is usually good and there are no fees to sign up.
It's important to note that this option is more strict with their requirements and requires all their typists to be at least 18 years with a minimum of two years of experience working as a legal transcriptionist.
BabbleType
BabbleType is a well known company that offers work from home transcription job opportunities even if you're just starting out.
Their pay rate starts at $0.40 per audio minute which is great for longer transcription jobs you may land.
In order to qualify for these jobs, you have to go through a formal recruitment process. You will also be required to complete a transcription test and interview along with other assessments before being considered for hire.
But once a part of the team, you have the ability to earn at least $96 a week for your typing services.
Aberdeen
Aberdeen is a leader in providing closed captioning, subtitling, and translation services to broadcasting companies. They ensure that all viewers have access to quality programming, regardless of their location or ability.
To achieve this they hire and pay others to type these assets for them. Typists, called Captioners by Aberdeen, are required to have a minimum of 180 WPM and write captions in real-time.
They do have a stricter equipment requirement. To work here you will need a real-time captioning software, as well as three phone lines, and backup internet.
Aberdeen offers both remote position and on-site positions for Captioners just starting out. So, you have flexibility depending on your location.
SpeakWrite
As a transcriptionist with SpeakWrite, you'll be responsible for transcribing audio from a variety of sources, including police departments, law offices, and protective services. 
To qualify for these job opportunities you'll need a minimum of 60 WPM. You'll also be required to have a Windows-based PC with Microsoft Word and a foot pedal. 
To apply you must pass an assessment and complete the provided training. And once hired, you'll be able to work from home and set your own hours.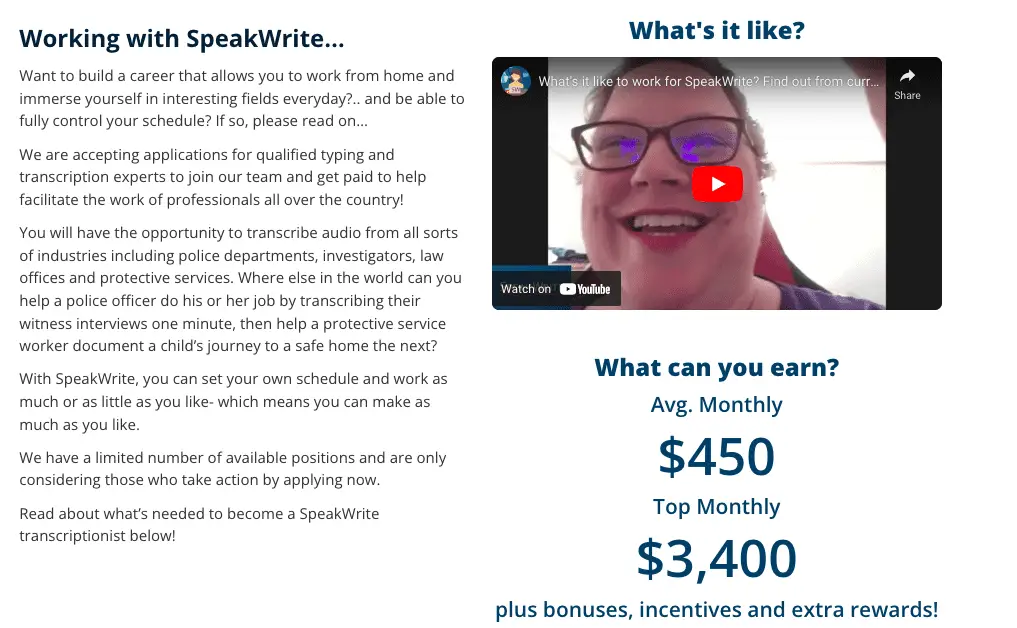 Lionbridge
Lionbridge hires independent contractors to fill positions for jobs, like their online data analyst.
Online data analysts are responsible for researching and verifying information; perfect for a typist looking for work.
To qualify to work for Lionbridge you will need to pass an assessment. But, once you are hired, pay is around $12-$14 per hour with some jobs providing up to 20 hours of work per week.
WeLocalize
If you love music, WeLocalize is a great opportunity to get the best of both worlds.
WeLocalize is a company that transcribes songs into lyrics (along with other forms of content) and hires freelance typists, like you, to get it done.
To work with WeLocalize you must be proficient in English and must transcribe at least 50 songs per week. This is great news since they are said to pay $4 per song, allowing you to earn at least $200 a week.
Microworkers
Microworkers is a website that connects businesses with workers from all over the world who are willing to perform tasks for a small fee. And, yes, one of those tasks is typing.
So, if you're looking for a new opportunity to show off your typing skills and make money in the process, then Microworkers is definitely worth checking out.
Just keep in mind that the tasks found on this site are, as the name suggests, micro-tasks.
So, they are not time consuming and do not offer huge earnings individually. The best way to make money using Microworkers is to accept several tasks to accumulate your earnings.
Scribie
Scribie is a platform that helps freelance typists find work. The platform allows businesses to post audio files that need to be transcribed, and typists can then bid on the projects they want to work on.
Once a project is completed, the client can rate the typist's work, which helps to build up a reputation on the platform.
So how much can you earn as a Scribie typist? It depends on a few factors, such as the length of the audio file and the difficulty of the transcription.
However, most typists earn between $5 and $10 per hour. And since Scribie allows typists to work from anywhere in the world, it's a great way to earn some extra cash if you're looking for flexible work.
CyberDictate
CyberDictate is a transcription company that specializes in legal transcriptions only. This does mean their requirements for employment are much stricter than other platforms.
CyberDictate requires all typists to have a minimum of three years of experience working in a law firm with the last 5 to 7 years. You must also know legal terminology and how to format legal documents.
Also, a minimum of 85 WPM is the required typing speed.
Working with CyberDictate you can expect to complete tasks like putting together formal correspondences and court documents. And because of the need for more experienced typists, you can expect to receive higher than average pay rates working with them.
Quicktate
Quicktate is a company that hires freelance typists to type out news articles. This can be a great way to make some extra money, especially if you have good typing skills.
Quicktate does not typically pay a great deal for each article, but if you are a fast typer you can complete several articles in a day to increase your earnings.
CastingWords
CastingWords is a company focused on transcribing audio files into text documents. As a freelancer, you can make up to $1 per audio minute working with them.
You will need to have a Paypal account in order to receive payment for your tasks. They are also limited to the states they can outsource work in. This means that residents of CA, DC, HI, IN, MA, NC, NY, or WV cannot apply to work with CastingWords.
Xerox
Xerox is a technology company that provides a range of document management services, including photocopying, printing, and scanning. It also offers data entry services, which can be performed either on-site or remotely.
For freelance typists looking to land employment, Xerox can be a valuable resource. The company regularly posts job openings for data entry specialists, and the pay is typically competitive.
The minimum requirements to work as a data entry specialist for Xerox include a high school diploma or equivalent and strong keyboarding skills.
However, preference is often given to applicants with previous experience in the military.
Rev
Rev is a popular transcription and translation services company. They have a large client base including individual users, small businesses, and corporations.
As of 2021, they have over 100,000 clients and has an A+ rating with the Better Business Bureau.
Rev employs freelance typists from all over the world. All you need is a computer, an internet connection, and strong English language skills. You can work from home or anywhere else that is convenient for you.
The company pays every Monday through PayPal or direct deposit. You can earn up to $1 per minute of audio transcribed, which is higher than average for the industry.
The minimum requirement to work as a typist for Rev is a typing speed of 40 words per minute. However, they prefer applicants who can type at least 60 words per minute. If you are looking for a flexible and well-paying job, Rev is worth considering.
Quick tip: to get your transcription jobs completed quicker consider obtaining a foot pedal specifically designed for this task.
More Sites Where You Can Make Money Typing Documents
Frequently Asked Questions
1. What qualifications do I need to be a typist?
There aren't any specific entry requirements for a typist. Though, there are a few things you can do to increase your chances of landing employment or a freelance contract.
First, it is important to have good grammar and punctuation. After all, as a typist, you will be responsible for ensuring that written documents are free of errors.
Also, practice makes perfect. The more you type, the faster and more accurate you will become.
Finally, depending on the industry you wish to enter, it might be helpful to take some specialised courses in computer usage or office administration.
2. Do typists make good money?
Many people think that being a typist is a low-skill, low-paying job.
However, the reality is that typists can earn a decent wage, especially if they have experience and are able to type quickly or specialise in specific industries.
In fact, some typists can earn over $50,000 per year.
3. Is a typist a good job?
If you're the kind of person who takes pride in their speed and accuracy when typing, then a career as a typist might just be the perfect opportunity for you.
Typists play a vital role in keeping businesses and organisations running smoothly. So if you're looking for a career that will let you put your typing skills to good use, then becoming a typist is definitely worth considering.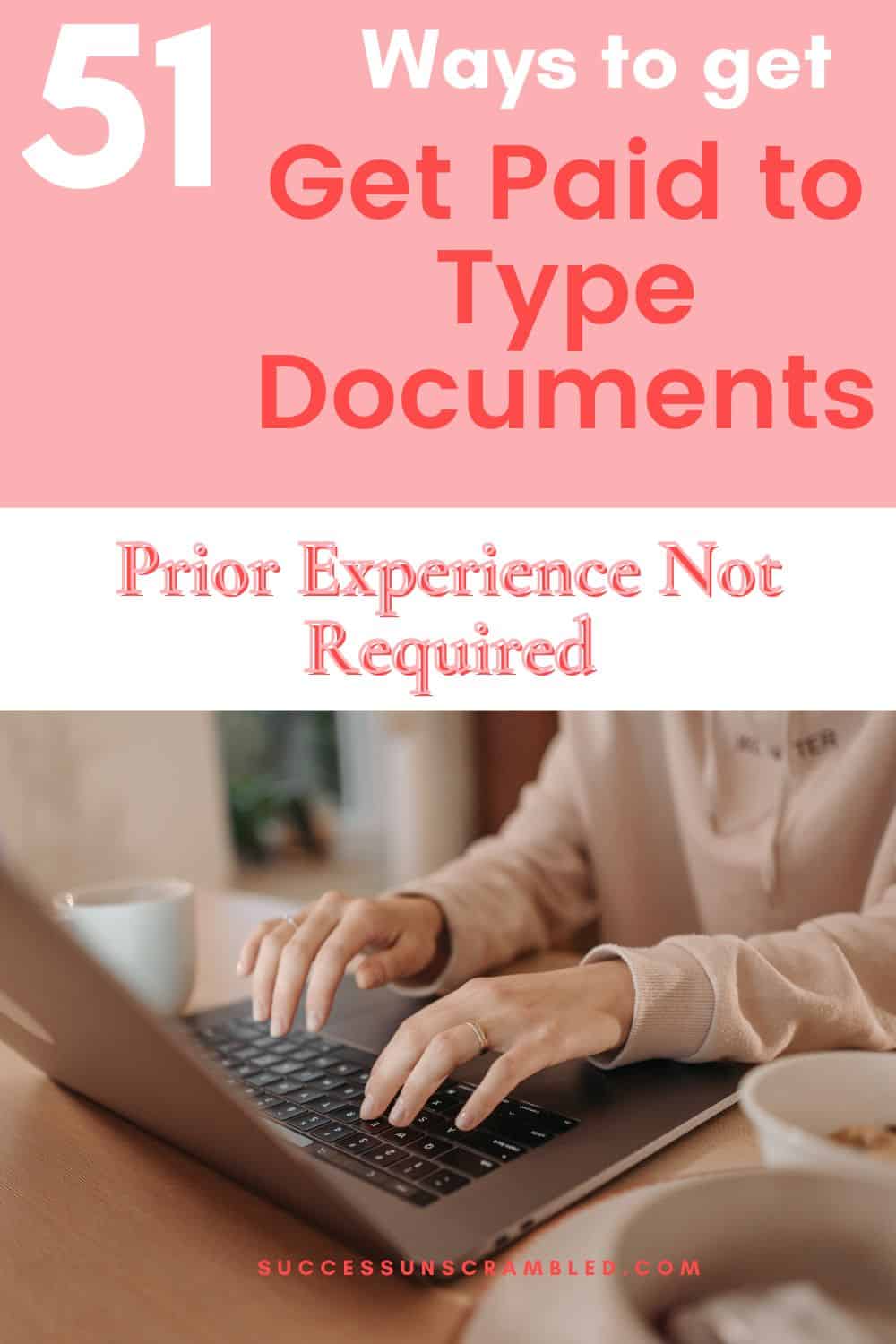 Summary
As you can see getting paid to type as a virtual assistant on a weekly basis from different online platforms can be a reality for you.
Whether you are a college student without prior experience and you're looking for additional information on these remote jobs.
Or you are on medical leave looking for freelance jobs where you can offer text transcription.
Be sure to check out the data entry work I mentioned previously in this resource.
Remember that you can either work with a company that hire many typists regularly or choose to find smaller clients.
Finding those smaller clients can be a challenge but go here to find out how to find clients on Instagram.
Over to you, what has been your experience with online typing jobs?
Announcements
Have you subscribed to the Success Unscrambled podcast yet?
If yes, then what about leaving a review? Leaving a positive review will help me to understand what's working as well as how I can produce more value for you as a listener.
Earning $4,000 a month by typing documents online is totally achievable if you spend time mapping out an income plan.
It makes sense to chose the typing jobs that you truly enjoy in order to earn consistent income every month.
I started this blog in 2017 because I had a burden on my heart to reduce women's illiteracy globally.
Because this is a huge undertaking I have decided to help 1,000 women over the next 10 years to become wildly successful in their online business through simplified marketing strategies.
That way we can build a strong business network of women who can donate 1% of their profit and together we can help reduce women's illiteracy worldwide.
Would you like to be part of this movement? Shoot me an email using alvern (at) successunscrambled (dot) com.