Podcast: Play in new window | Download (Duration: 31:13 — 43.4MB) | Embed
Subscribe: Google Podcasts | Spotify | Amazon Music | Email | TuneIn | Deezer | RSS | More
Angela sat looking at her Instagram bio wondering how to get clients from Instagram.
You see, she has been using the platform for a number of years and she knew her potential customers used it too.
In fact, Angela has an Instagram business account and she doesn't consider herself one of those influential content creators.
It has been a struggle for her to come up with Instagram posts 3-5 days every week of the year.
What else can she publish apart from personal photos and talk about her new products and services?
Are you facing the same struggles as Angela?
As a freelance business owner, you know that marketing is key to your success. And while there are many different marketing channels you can use, Instagram is one of the most effective.
With about one billion active users, Instagram is a goldmine for finding potential clients. But how do you go about it?
In this post, you'll learn the closely guarded secrets to finding your dream clients on Instagram to exponentially grow your business.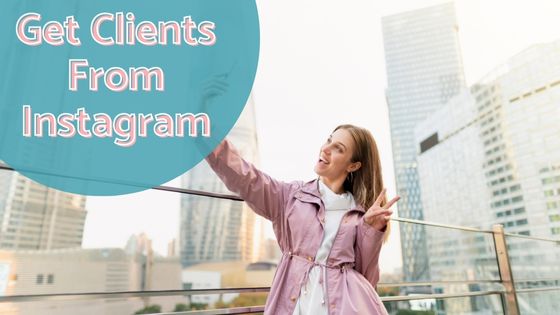 Latest Instagram Marketing Statistics
The latest Instagram marketing statistics this year show that:
There are now one billion active users on Instagram
More than 80% of users follow a business on Instagram
200 million Instagram users visit at least one business profile every day
60% of users say they have become more interested in a product or service after seeing it on Instagram
75% of people take action, such as visiting a website after looking at an Instagram post
How to Know if Your Clients Are on IG
The first step is to determine if your ideal clients are even on Instagram. If you're targeting consumers, the answer is most likely yes.
However, it's not quite as clear-cut if you're targeting other businesses.
Here are a few questions to ask yourself to help determine whether your target clients are on Instagram:
Do they use other social media platforms?
If your target clients are active on other social media platforms, there's a good chance they're also on Instagram.
What kind of business do they have?
If your target clients are in a creative field or are running a lifestyle business, they're more likely to be on Instagram.
Do they have the time and resources to be active on Instagram?
If your target clients are small business owners or entrepreneurs, they may not have the time or resources to be active on multiple social media platforms.
Once you've determined that your target clients are indeed on Instagram, it's time to start reaching out to them. And the best way to do that is through your Instagram profile.
The Science Behind Hashtags
When using hashtags on Instagram, it's important to use ones that are relevant to your business and industry.
You also want to make sure you're using popular hashtags.
The reason for this is that the more popular a hashtag is, the more likely it is to be seen by potential clients.
So, how do you find popular hashtags? There are a few different ways:
First, you can use a hashtag research tool like Flick or Tailwind.
You can check out the "Top" section of Instagram.
Finally, you can look at the hashtags used by businesses similar to yours.
Once you've found some popular hashtags, it's time to start using them in your posts.
Again, make sure you're using a mix of popular and relevant hashtags to attract the most clients possible.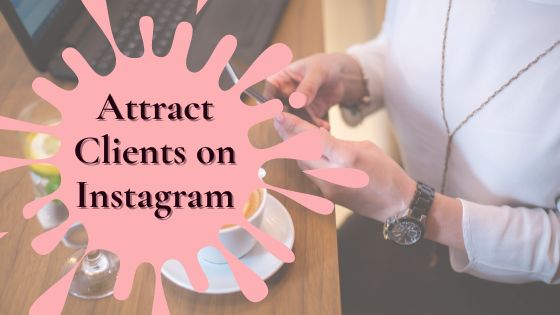 The Different Content Areas on IG (Reels, Feed, Story, IGTV, Live)
There are different content areas on Instagram that you can utilise to lengthen your list of clients.
These content areas include Reels, Stories, IGTV, and Instagram Live. Each content area has its own unique benefits that can help you get more clients.
Instagram Reels
Reels is a short-form video feature on Instagram that allows you to create fun, creative videos.
You can use Reels to show off your talent or highlight your work process. This is a great way to attract potential clients who may not have otherwise seen your work.
Instagram Stories
Stories are another short-form video feature that allows you to share snippets of your day-to-day life.
You can use Stories to give your followers a behind-the-scenes look at your business.
This is a great way to humanise your brand and attract potential clients who can relate to you on a personal level.
Instagram IGTV
IGTV is a long-form video feature that allows you to share videos up to 60 minutes in length.
You can use IGTV to give in-depth tutorials or share your expert knowledge on a particular topic.
This is a great way to attract potential clients who are looking for more comprehensive information.
Instagram Live
Live is a live-streaming feature that allows you to share your thoughts and experiences in real-time.
You can use Live to answer questions from your followers or give them a tour of your office.
This is a great way to engage with potential clients and build relationships with them.
Why IG is the Best Place to Find Clients
There are a few reasons why Instagram is the best place to find clients. First, it's a visual platform.
This means that potential clients can get a quick and easy look at your work. Second, it's a highly-engaging platform.
It means that potential clients are more likely to see and remember your work. And third, it's a platform with a global reach.
The reality is that potential clients from all over the world can see your work.
No matter what industry you're in, Instagram is a great place to find potential clients.
So, if you're looking to attract more clients to your freelance business, use these 16 secret tips.
16 Secret Ways to Get Clients From Instagram
After setting up your Instagram account be sure to add a friendly profile picture of yourself as opposed to a logo.
In order to get your first few followers, you'll need to engage with the accounts of your potential clients.
By implementing the following tips into your strategy, you'll be well on your way to attracting more clients and growing your business.
1. Use relevant hashtags
Hashtags are a great way to get your content seen by more people, including potential clients.
As there are millions of posts using hashtags every day, you need to be strategic about which ones you use.
Research popular hashtags in your industry and make sure you're using a mix of popular and relevant hashtags in your posts.
You could also make a list of 5-10 hashtags your ideal client is using when searching for the products and services you offer.
Then, use these hashtags in your posts to make sure your target audience is seeing you.
2. Publish high-quality content
If you want to attract potential clients, you need to post high-quality content.
This means content that is well-crafted, visually appealing, and informative. If your content is lacklustre, potential clients will scroll right past it.
So, take the time to create quality content that potential clients will want to see.
In order to publish high-quality content consistently consider using the following 3rd-party tools to assist with scheduling.
Planoly
PlannThat
PreviewApp
Agorapulse
Hootsuite
Later
Buffer
If you're not sure where to start, check out some of the popular accounts in your industry and see what type of content they're posting.
3. Give your IG feed a makeover
You also want to pick specific content themes when it comes to quality content. This means having a cohesive feed that tells a story.
Potential clients should be able to look at your feed and get an understanding of who you are and what you do. 
To do this, start by picking a colour palette. Then, stick to this palette for all of your content.
Here are a few apps that will help you to improve the aesthetics of your IG feed.
VSCO
InShot
Lightroom
Filmic Pro
ClipScribe
Photoshop Express
Headliner
Canva
Doing this will help create a cohesive look for your feed that is visually appealing.
Be sure to keep your posts on-brand as it will help potential clients understand your business and if you're a good fit for them.
4. Focus on your ideal target audience
One secret to getting clients from Instagram is to focus on your ideal target audience.
By narrowing your focus, you'll be able to create content that appeals directly to your target client.
To do this, start by creating a buyer persona. This is a semi-fictional character that represents your ideal client.
Once you have this persona, you can create content that resonates with them.
For example, if your ideal client is a busy mom, you could create content about how to manage work and motherhood.
This type of content will speak directly to your target audience and attract them to your business.
5. Establish a posting cadence
When it comes to posting on Instagram, frequency is key. Potential clients are more likely to engage with businesses that post regularly.
So, if you want to attract potential clients, you need to establish a posting cadence and stick to it.
This doesn't mean you need to post ten times a day. But it would help if you aimed to post 1-2 times a day, every day.
By being consistent with your posting, you'll stay top of mind with potential clients and increase their chances of reaching out to you.
6. Utilize your Instagram profile
Your Instagram profile is the first thing potential clients will see when they come across your account.
If it's not up to par, they're likely to move on without giving you a second glance.
That's why it's so important to make sure your profile is optimized to attract clients.
Here are a few things you can do to make your profile more client-friendly:
7. Use keywords and CTA in your bio
Just like with any other kind of marketing, using the right keywords is essential for attracting clients on Instagram.
When potential clients search for those keywords, your profile will appear in the results.
Make sure your bio is keyword-rich, and make sure it sounds natural. You don't want it to come across as spammy.
Your bio is also the perfect place to include a call to action (CTA). This could be something like "Click the link to learn more" or "DM me for rates."
Make sure your CTA is clear and concise. You want potential clients to know exactly what you want them to do.
8. Use a professional photo
Your profile photo is another important element of your profile.
While it doesn't necessarily have to be a professional headshot, it should be a high-quality photo that accurately represents you and your brand.
Choose a photo that is clear and easy to see.
If you're using a headshot, make sure it's a recent one. You don't want potential clients to think you're out of date.
9. Show off your work
Your Instagram feed is the perfect place to show off your work.
When you do, make sure to use hashtags and include a CTA in the caption.
You can also share behind-the-scenes photos and videos, client testimonials, and anything else that would give potential clients a better idea of what it's like to work with you.
10. Get creative with your content
When it comes to attracting clients on Instagram, your content is key.
While you want to make sure your content is high-quality, you also want to make sure it's creative and unique.
Don't be afraid to experiment with different types of content.
For example, you could try out IGTV videos, Instagram Stories, live videos, or even just regular posts.
The important thing is to find what works best for you and your brand. And once you've found it, stick with it.
Consistency is key when it comes to attracting clients on Instagram.
11. Interact with your target clients.
If you want to attract clients on Instagram, you need to interact with them. And the best way to do that is to comment on their posts.
When you leave a comment, make sure it's sincere and relevant. No one wants to be bombarded with generic comments or spam.
You can also try interacting with potential clients with Instagram Stories. This is a great way to start a conversation and get to know them better.
So, if you really want to go above and beyond, you can even try sending them a direct message (DM). Just make sure you don't come across as too sales-y.
12. Build relationships with other businesses
If you want to attract clients on Instagram, you need to build relationships with other businesses. And the best way to do that is to collaborate with them.
There are a few different ways you can collaborate with other businesses:
You could guest post on their blog or have them guest post on yours.
You could do a joint giveaway or contest.
You could even just share each other's content.
No matter how you choose to collaborate, make sure you're only working with businesses that are relevant to your industry.
This will help ensure that you're reaching your target clients.
13. Use Instagram ads
If you really want to attract clients on Instagram, you need to use Instagram Ads. This is a paid form of advertising that allows you to target your ideal clients specifically.
When you create an Instagram ad, you can choose your target audience based on factors like age, location, gender, interests, and more.
You can also choose how much you want to spend on your ad and how long you want it to run.
Instagram Ads are an extremely effective way to attract clients using Instagram. But they can also be quite costly.
So, if you're on a tight budget, you may want to stick to other methods of attracting clients.
14. Grow your email list
One of the best ways to attract clients to your business is by giving them something for free in exchange for their email addresses.
When you do this you can nurture them over a short or long period of time until they are ready to invest in your product or services.
Remember that your potential clients are at different stages of the buyer journey so they will not all be ready at the same time.
Using an email service provider to help you manage subscribers is a great way to develop your unique nurture sequence.
If you need help writing email newsletters every week then check out this awesome resource for less than $10/month.
15. Set a Goal
While this may sound weird, setting a goal to get clients on Instagram has a profound effect on the actions you take each week.
If you map out your goals like this, you'll be surprised at your achievements 12 months from now.
Grow to 1,000 followers on IG in 12 months
Grow my email list to 1,000 subscribers
Get one discovery call each week from Instagram
Grow to 10,000 followers in 24 months
Win 1 brand deal every month
When you turn your dreams into goals followed by consistent actions the resulting achievements are shocking.
Need help setting and achieving goals? Grab this business goals resource here.
16. Hire an Engagement Specialist
Depending on your budget you may want to hire an Instagram engagement specialist or Lead Generation Specialist to help you to find clients.
While this may seem intimidating at first there are agencies out there who train this skillset so that you can onboard them easily.
Carly Shortland runs an agency where she trains virtual assistants to be experts at engagement on social media.
Platforms they are skilled in include Facebook, LinkedIn and Instagram.
As far as I am aware it costs less than $1,000/month to hire this VA and they can also do CRM management and content creation for you.
You can check out her FB group here and her website over here to learn more.
They'll help you book clients in the first 30 days which will give you a great return on your investment.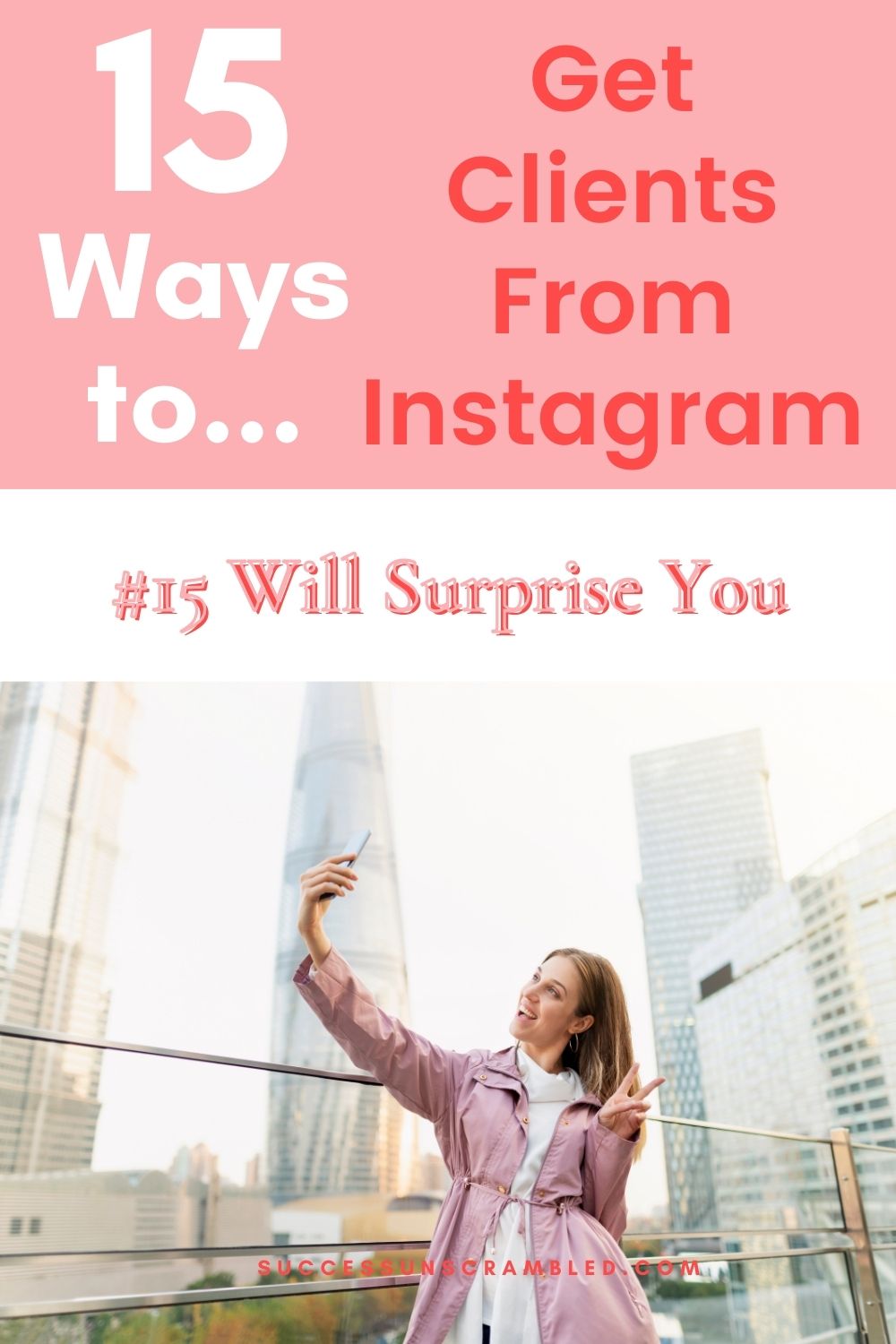 Summary
Now that you know the 16 secret tips for attracting clients on Instagram, it's time to get started. And don't forget, consistency is key.
Be sure that you post regularly and interact with your target clients.
You also want to be sure to nurture the relationships with your current clients. If you do a great job for them, they're more likely to recommend you to others.
With these tips, you'll be well on your way to attracting new clients and growing your freelance business.
So what are you waiting for? Get out there and start networking!
Announcements
Have you subscribed to the Success Unscrambled podcast yet?
If yes, then what about leaving a review? Leaving a positive, 5-star review will help me to understand what's working as well as how I can produce more value for you as a listener.
Any content creator publishing images and/or videos on IG each week should be getting a return on their investment.
The three main ways to generate money on Instagram include:
Finding high-quality clients
Selling a product or service
Getting paid as an influencer
It is only by implementing a growth strategy on your Instagram account that you'll be able to achieve your goals.
I started this blog in 2017 because I had a burden on my heart to reduce women's illiteracy globally.
Because this is a huge undertaking I have decided to help 1,000 women over the next 10 years to become wildly successful in their online business through simplified marketing strategies.
That way we can build a strong business network of women who can donate 1% of their profit and together we can help reduce women's illiteracy worldwide.
Would you like to be part of this movement? Shoot me an email using alvern (at) successunscrambled (dot) com.