Podcast: Play in new window | Download (Duration: 33:47 — 47.2MB) | Embed
Subscribe: Google Podcasts | Spotify | Amazon Music | Stitcher | Email | TuneIn | Deezer | RSS | More
Kerri wanted this year to be different. She heard friends using a business goals template to scale their businesses.
However, she has never used this methodology before so she wondered how to pull it off.
You see, previously Kerri's approach to getting results in her business was a bit ad-hoc.
She would attend a few networking events, speak at summits and even engage with potential clients on Instagram.
None of her activities had any strategy behind them.
Kerri decided that this year she wanted to be intentional about her business activities.
No more hoping that things would work out.
Let me know if you experienced any of these.
You never had a strategic approach to business growth
Your first set of clients were family and friends
You're tired of all the dry spells in your business income
You need more clarity around income-generating activities
You're aware that strategic effort brings results
If only there was a defined process that you can use to bring in more clients.
In this post, you'll learn the secrets that successful businesses use to exponentially bring in more income every single week.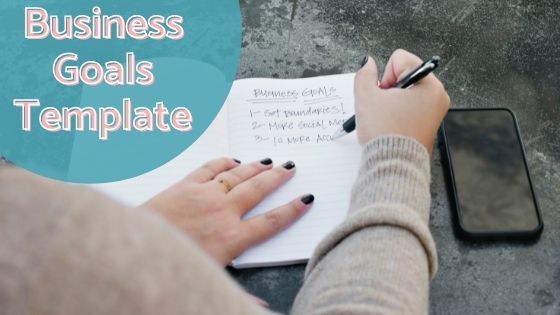 Business Goals Statistics
Before looking at those closely guarded secrets it's important to take into account industry standards.
When you have a point of reference you'll have a better chance of doing what works.
Did you know that only 5% of businesses achieve their yearly goals?
What makes this even worse is that only 65% of business owners met half of their objectives, according to Small Biz Trends.
In another article by Stitch and Shutter 14% of those who have goals are 10 times more successful compared to those without.
The one thing I found strange is that 83% of the population don't have goals.
How is that even possible? Do people start their year, month, week and day just hoping that things would fall into place?
There is a glimmer of light because 77% of small businesses said that they are confident about strategy execution.
According to Boardview, 36% of companies have an established standard for goal setting.
Did you know that 40% of people who write down goals don't check to see if they achieved them?
Thankfully 46% of companies review and revise their goals throughout the year.
Those who set actionable tasks against their goals tend to achieve 40% more than those who don't.
Finally, 90% of people perform better with relevant and challenging goals.
Business Vision
Even though Kerri is a small business owner it doesn't mean that she shouldn't have a vision for her business.
Creating a vision for a business can be hard work mentally because you'll need to take a 10,000-foot view of the business.
A few years ago I went through the exercise of developing a vision and mission statement for my business.
I also took the time to develop a brand promise.
Before setting any goals for a business it's important to have an established vision.
For example, the vision for Starbucks is as follows.
"To establish Starbucks as the premier purveyor of the finest coffee in the world while maintaining our uncompromising principles while we grow."

Starbucks Vision
Before we look at how this relates to business goals let's look at their mission statement too.
"to inspire and nurture the human spirit – one person, one cup, and one neighborhood at a time."

Starbucks Mission
Now that you know both their vision and mission statements it will help you better understand how they set business goals.
In order for Starbucks to offer the finest coffee and grow what are the things that they need to do with their team members?
Well, here's a shortlist.
They need to source the best, sustainable, conflict free coffee
They'll need to open new branches to show growth
Provide the best coffee service using uncompromising principles
What about you? Have you thought about your business vision and how it relates to your business goals?
Kerri's Business Goals
I'm not going to spend time going through a vision development exercise for Kerri.
For the purposes of this blog post, we're going to assume that Kerri's vision is as follows.
"To establish Kerri as the finest copywriter in the health and wellness niche by creating high-converting, authentic copy leading to sustainable business growth through profitable revenue."
Now that we have a fair idea of Kerri's vision let's pull 3 major long-term goals from it.
To provide the best copywriting service through authentic copy
Year on year business growth through consistent 5-figure income months
Get results for her clients through high-converting copy
Based on these business goals we now have a rough idea of what Kerri's S.M.A.R.T. goals need to include.
It's much easier to map out quantifiable goals like client acquisition and business revenue.
So, we'll spend some time looking at what Kerri needs to do to grow the business consistently through 5-figure months.
We are now going to develop smart goals for Kerri to help her with her business revenue.
Smart Company Goal Setting
When it comes to setting clear goals, there's a right way to do it and a wrong way.
Let's look at the right way to set goals. Hint: it involves setting specific goals with an action plan for each one.
You've probably already heard of the acronym SMART before.
S – specific
M – measurable
A – achievable
R – realistic
T – time-bound
Specific
Using the SMART methodology, Kerri needs to create a specific goal monthly income.
Back to Kerri's example, she wants to generate income in her business every week/month.
Measurable
Taking the previous example, let's make measurable goals so that they can be managed.
Kerri wants to generate $1,000 in her business every week by offering copy audits for clients.
Achievable
So, is that primary goal achievable? If yes, how will she achieve it?
Generate $10,000 in her business in the next 30 days by offering copy audits to potential clients. It means that she'll need to have copy audit packages of $1,000/audit. She'll also need to do 1 discovery call every 1-2 days and have a close rate of 30-60%
Realistic
At this point, on behalf of Kerri, you'll need to consider if this goal is realistic and relevant compared to all her bigger goals.
If her bigger goal is to get her copy audit business to generate a full-time income then you'll need to help her develop a realistic plan with smaller tasks.
Generating $10,000 in her business in the next 30 days by onboarding 10 clients at $1,000/audit for copy audits. This can be achieved by doing a discovery call every 1-2 days ensuring a minimum close rate of 30% is realistic because many small business owners need this service urgently to promote their services.
Time-Bound
Like many things in life, ensuring that your goal has a deadline sets a countdown timer in motion.
In other words, it is important to add a date to your SMART goal.
By X date, she'll generate $10,000 in her business by onboarding 10 new clients at your $1,000/audit on the copy audit package. She'll do this by doing a discovery call every day or every other day and ensuring a close rate of 30%.
All she needs to do now in order to achieve her key results is to find those potential clients.
Another way to look at smart goals is to label them as key performance indicators (KPIs).
You can also use this process to map out personal goals.
Also, remember that you can use short-term goals as a way to achieve the bigger long term goals.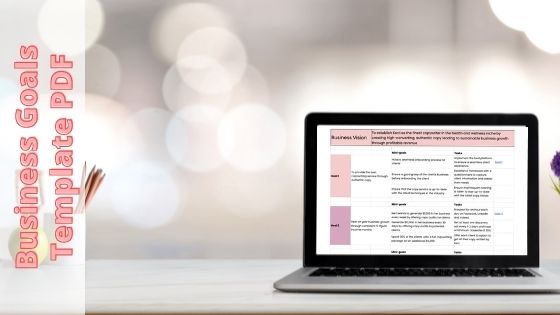 Working Smarter Not Harder
Have you ever wondered what needs to happen in order for Kerri to work less and earn more?
As it stands, Kerri's $1,000 audit package includes the following:
Audit 5 pieces of content
Make recommendations on how each piece can improve
Write 1-2 pieces of alternative copy
Bonus advice for a more cohesive approach
These clients who are buying the audit package would save a lot of time in their business if they let Kerri write the content.
What Kerri can do is offer an upsell where each client can let her write all of the copy for a launch for an extra $6,000.
This is a simple marketing strategy as well as a smart goal example to achieve key metrics.
Now, that may seem like a lot at first glance so let me break it down into smaller sections so that you can see the value.
Her $7,000 copy package includes the following:
All email copy for the launch – welcome sequence, nurture + launch sequence
All landing pages – webinar page, lead magnet page, thank you pages
Sales pages – sales page for the offer, upsell pages
Industry standards show that Kerri should get a 33% conversion rate from this upsell offer.
It means that 3 out of every 10 clients should say yes to the upsell offer.
If Kerri follows her daily tasks to get a discovery call every 1-2 days and has a close rate of 30%.
Let's say she signs on 10 clients a month @ $1,000/audit then she'll generate $10,000 a month.
Also, if 3 of them say yes to her upsell offer then she'll be looking at $6,000 x 3 = $18,000.
Which means her monthly income will be $10,000 + $18,000 = $28,000/month.
Where to Find Copy Clients
Would you like to help Kerri find those copy clients?
Where do you think she should look?
If you are one of my regular readers you'll know that I've said this previously.
One of the first people a new business needs to hire is a copywriter.
However, the reality is that most new businesses don't have a big enough budget to hire a copywriter.
Basically, Kerri is in a very unique position because all businesses need her services.
There are 5 broad strategies that Kerri can use to find clients.
Those who are ready to hire
Any business that's rebranding
A business launching a new offer
Larger businesses hiring copywriters
Those who don't know that they need a copywriter
Let's look at each one briefly so that you can see the world through Kerri's eyes.
1. Those Ready to Hire
When someone is ready to hire a copywriter they would normally advertise in a few locations like Facebook groups, Instagram, Twitter, Slack channels, etc.
2. Businesses That's Rebranding
A business that is rebranding would normally start by looking for a new name for its business or new brand colours.
They advertise for a website redesign, ask opinions on new brand colours and hire a photographer to do a photo shoot.
3. Launching a New Offer
Whenever a business owner is thinking of launching a new offer what do they do?
They conduct market research inside Facebook groups to help them crowdsource ideas for the new product.
Kerri can use these opportunities to reach out to them and introduce herself and her services.
4. Larger Businesses Looking for Staff Writers
Depending on what niche Kerri decides to specialise in she can also offer her services to larger organisations like fortune 500 companies.
All she needs to do is head over to Indeed or LinkedIn and look up the existing copywriting jobs.
I decided to have a look at copywriting jobs on LinkedIn and I found over 6,100 in the US alone.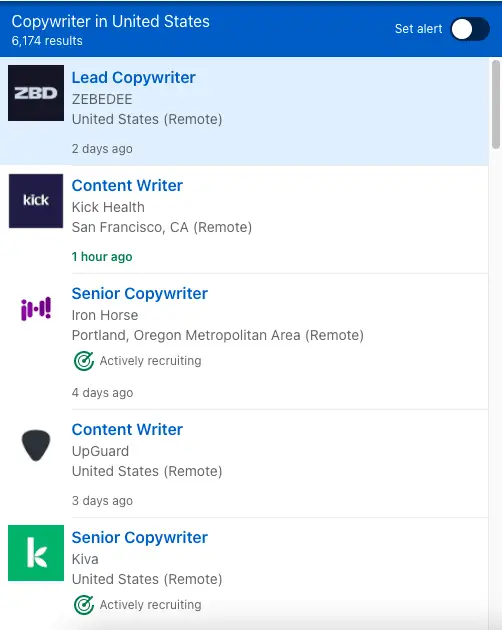 I narrowed down the search to only those looking for a copywriter on contract only compared to full-time.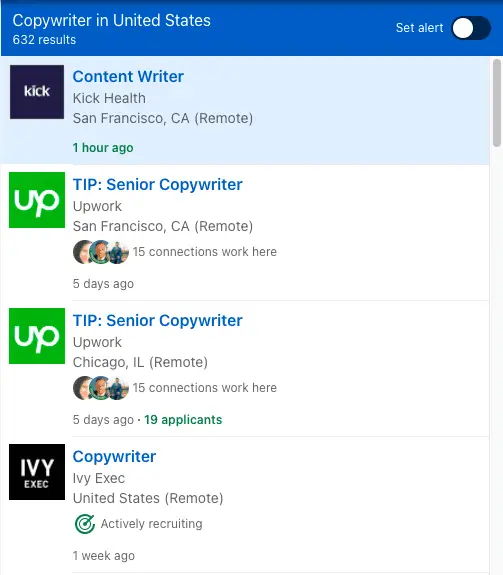 As you can see there are 632 jobs available based on that filtered search. Did I mention that all of these jobs are remote?
5. Those Unaware of a Copywriting Need
You're probably thinking how is it possible for a business owner to be unaware of the fact that they need a copywriter.
All I can say to you is this when you don't know you just don't know.
Kerri can easily have a look at their website, ads, social media posts or any public-facing content and she'll know if they need her help.
She can then send them a message or an email offering her services.
Business Goals Template
Now that you have a solid understanding of all the key elements needed to develop a business goals template.
Let's spend some time creating one.
I cannot emphasize enough the importance of having a business vision.
Without a business vision, you can face potential problems with achieving those important goals.
On the flip side of this, you may find yourself with lofty goals if you're not using the SMART methodology.
In order to help us expedite this template, I created a temporary vision for Kerri.
"To establish Kerri as the finest copywriter in the health and wellness niche by creating high-converting, authentic copy leading to sustainable business growth through profitable revenue"

Kerri's Business Vision
As a reminder, here are Kerri's 3 main goals again.
To provide the best copywriting service through authentic copy
Year on year business growth through consistent 5-figure income months
Get results for her clients through high-converting copy
I'll take Kerri's three main goals and plug them into the business goals template.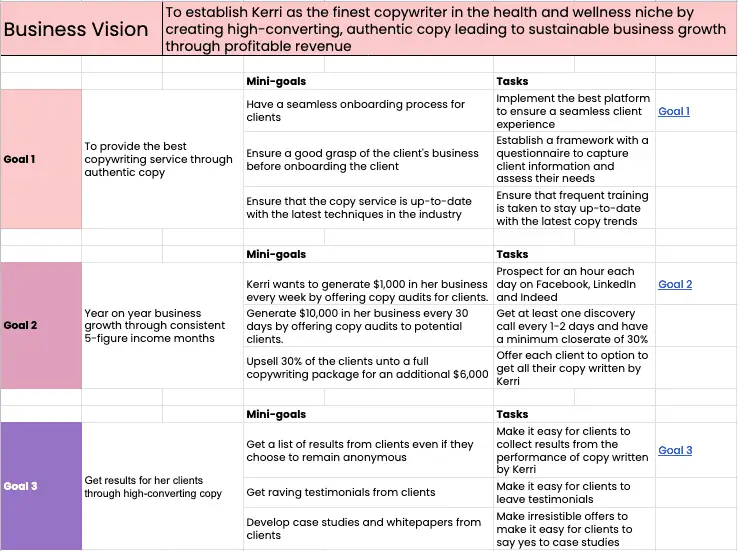 So, here are the steps you'll need to take to map out your own business goals.
Write out your vision
Pull the key action points from your vision and turn them into 3 main goals
Take each main goal and break them into 3 mini-goals
Turn each mini-goal into a big task
Turning your vision into mini-goals is not an easy task.
When you complete these main steps it starts to get very practical from here onwards.
Notice how the business goals template can be used as a goal framework to transform your vision into actionable steps.
Goal 1 – Task 1 – Subtasks
Take each big task and break them into actionable steps.
Here are examples for you so you can see how this works.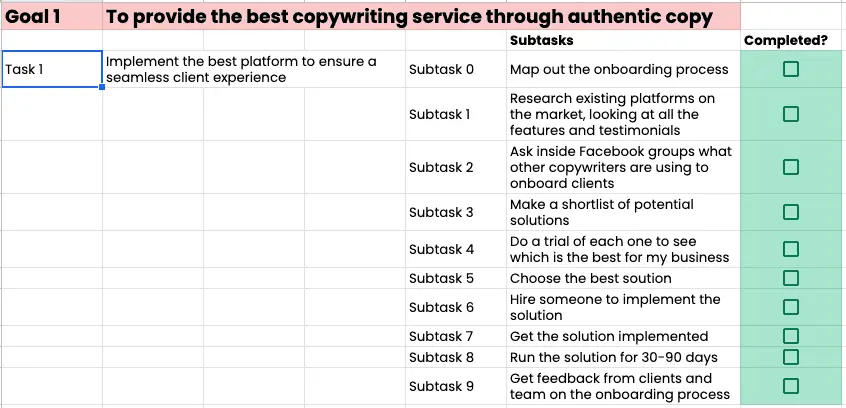 Notice how simple and relevant it is compared to the huge chunk of the main goal.
The main goal doesn't feel doable until you break it down into manageable chunks like tasks and subtasks.
Goal 1 – Task 2 – Subtasks
Here are the subtasks for the second task.
What I really like about using Google's spreadsheet is that you can insert columns and rows as needed.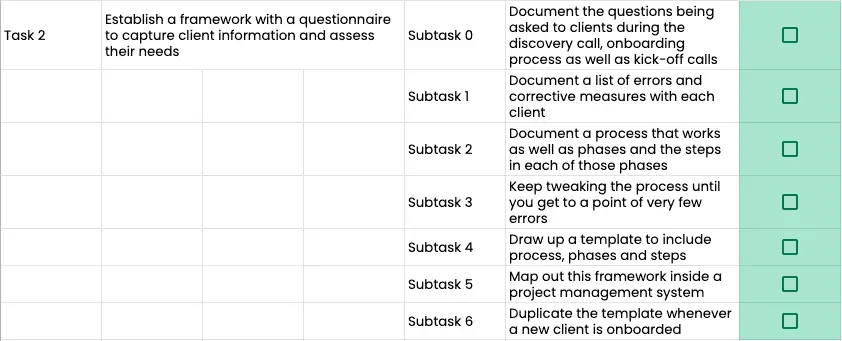 It means that you'll never run out of space.
You can also customise it to suit the way you prefer to work.
Goal 1 – Task 3
Finally, here's a look at the subtasks associated with task 3.

Notice how closely the subtasks align with the main goal as well as the main task.
The main goal is to provide the best copywriting service and Kerri can only continue to do this by staying up-to-date and the latest industry practices.
Would you like to get your hands on a copy of this template? Grab a copy here.
Do you see how using a business goals template enables you to write down specific actions?
This template is like a digital planner and best of all you can download it in pdf format.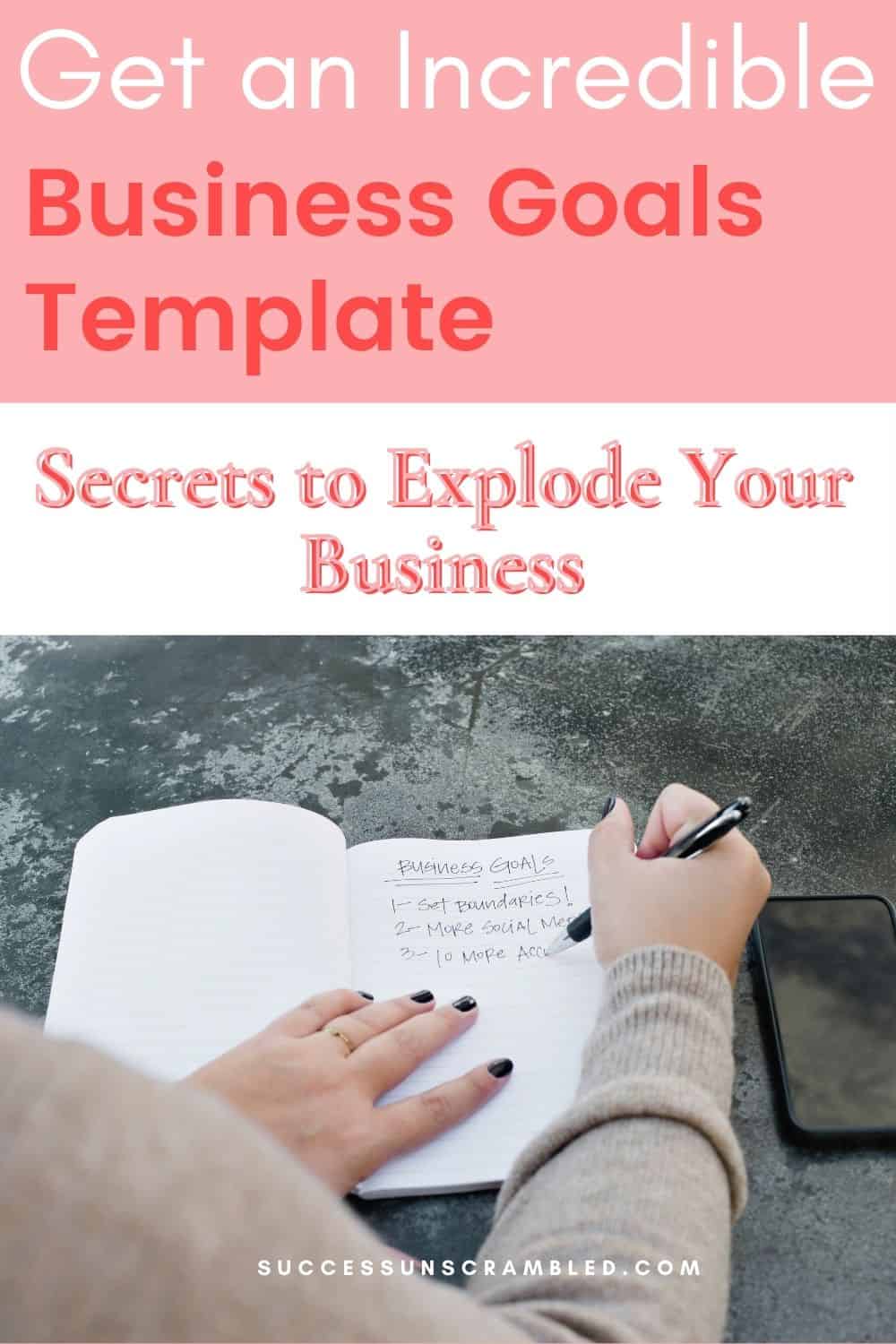 Summary
Achieving business goals starts with having a long-term vision all mapped out for your business.
Think of your vision as the reason why your business exists as well as the roadmap that gives you the direction where your business needs to go.
Once your business vision is established then it's important to break it down into small bite-sized chunks.
I like to call these small chunks mini-goals.
You'll come to realise that some of the goals may take weeks, months or years to achieve.
Just remember that the secret to achieving these goals is to start small.
These mini-goals are then broken into major tasks as well as smaller tasks or subtasks.
Placing them all into a yearly habit tracker will help you take action every day.
One thing to remember is that if your goals don't scare you they are probably not big enough.
Over to you, what has been your experience with turning your business vision into goals?
Announcements
Have you subscribed to the Success Unscrambled podcast yet?
If yes, then what about leaving a review? Leaving a positive review will help me to understand what's working as well as how I can produce more value for you as a listener.
One thing I learned on this entrepreneur journey is that you need to be intentional about what you do in your business.
It is only by implementing a growth strategy in your business that you'll be able to achieve your goals.
I started this blog in 2017 because I had a burden on my heart to reduce women's illiteracy globally.
Because this is a huge undertaking I have decided to help 1,000 women over the next 10 years to become wildly successful in their online business through simplified marketing strategies.
That way we can build a strong business network of women who can donate 1% of their profit and together we can help reduce women's illiteracy worldwide.
Would you like to be part of this movement? Shoot me an email using alvern (at) successunscrambled (dot) com.