Podcast: Play in new window | Download (Duration: 49:57 — 69.1MB) | Embed
Subscribe: Google Podcasts | Spotify | Amazon Music | Email | TuneIn | Deezer | RSS | More
Jannessa wanted to get paid for posting ads online but there was one problem.
She had no idea how to get started.
Being a mother of 3 under 5 years old, Jannessa wanted the flexibility to work her own hours from home. She also wanted financial independence.
How on earth would she be able to get paid to post ads? Yes, she has a diploma in marketing and she just enjoys communications and public relations.
A regular 9 to 5 job just would not work as she would need either a full-time nanny or expensive childcare for her kids.
She was listening to Nick Loper's podcast called "The Side Hustle Show" where someone just like her was posting ads online and getting paid 6-figures.
Does this sound like you?
You're interested in making extra money online
You want to know more about getting paid to post ads online
You're looking for the best methods to start posting those ads
If this describes you, then you've come to the right place!
In this post, we will discuss 17 of the best ways to make money by posting ads online.
Whether you're a stay-at-home mom or dad, a college student, or just someone who wants to make some extra income, these methods are sure to help you get a head start!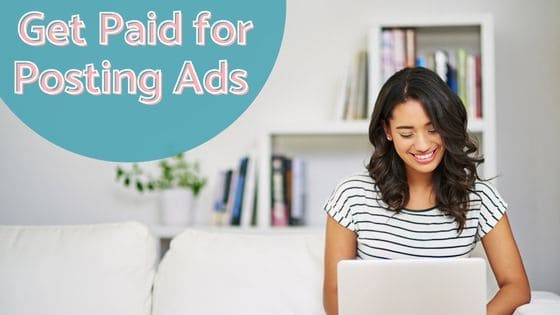 Why Consider Posting Ads as a Career
There are plenty of benefits to posting ads for a living.
For starters, there is a low barrier to entry.
This means anyone who spends 30 to 60 days learning the craft can easily jump in and get started.
Posting ads is also a top way to earn some extra money or replace your income altogether.
And since you're doing it from home, you can work as much or as little as you want–you get to be your own boss.
Plus, if you're great at it and generate enough income you can travel the world and live a nomad lifestyle and still earn great money!
It gives you the financial independence to develop a lifestyle of your choosing.
You'll also have the ability to look after your immediate and extended family members.
Latest Statistics on Ad Spend in the Business World
The online advertising industry is a rapidly growing market. In 2022, the industry was projected to spend an estimated $566 billion.
This is expected to grow to $770 billion by 2025. That's a lot of money!
People see between 4,000 to 10,000 ads per day. And that number is only going to continue to grow.
Advertisers are spending more and more money on online advertising as it becomes increasingly more effective.
This is a great opportunity for anyone looking for work from home jobs.
There are plenty of opportunities in the online ad space for people with all types of skill sets and expertise.
The online advertising industry is booming, and there's plenty of money to be made!
The Best Personality and Skillset to Thrive at Posting Ads
In order to thrive in the online advertising industry you'll need to be two things: empathetic and analytical. Let's talk about why…
In order to create ad visuals and copy that resonate with target audiences, you'll have to be great at understanding their pain points, wants and needs to optimise conversions.
You'll also have to be awesome with data and numbers so you can analyse and adjust ads to convert better over time.
The ability to think creatively is also important, as you'll need to come up with new ways to stand out from the crowd.
Of course, you'll need to be able to handle a fast-paced environment and juggle multiple projects at once.
If you've got all of these qualities, then you're well on your way to becoming a successful ad manager!
What Tools You Need to be Great at Your Craft
Are you looking to be great at posting ads online? You're in luck! There are a few tools you'll need to get started.
First, you'll need a computer and a great internet connection. These will be your main tool for posting ads.
Second, you'll need a good client management system if you're working with clients.
Systems like Dubsado and Honeybook are great to get started.
Finally, you'll need a good understanding of how to post ads.
There are a lot of different methods to post ads online, so make sure you know what you're doing.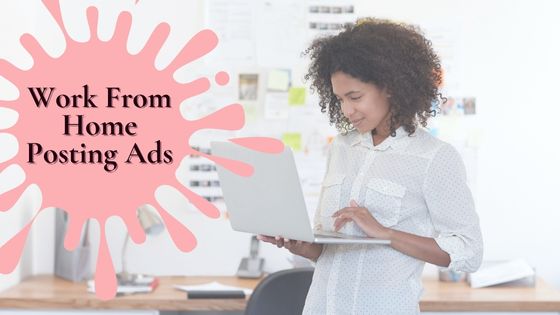 17 Ways to Get Paid for Posting Ads Online
Now that you have a good idea of the advertising industry, what you need to get started as well as the benefits.
Let's spend some time looking at the various options available for posting ads online.
The most excited part of this career is that there are many options.
Some would involve assisting clients and hiring staff.
Others would be focused on passive income.
Having a mix of both means that your business would be more recession proof.
1. Ad Networks
In a nutshell, an ad network is a company that connects advertisers with websites that agree to host their ads.
The ad network typically provides the technology and support needed to run the ads on the website.
Advertisers pay the ad network to place their ads on websites. The ad network then pays the website a commission for hosting the ads.
The amount of money that each party earns varies widely.
It depends on the size and popularity of the website and the type of ads being placed.
However, ad networks generate a lot of revenue. In fact, they are responsible for billions of dollars in advertising spending each year.
Some of the best ad networks to check out include:
Google AdSense
Media.net
PopAds
PropellerAds
BidVertiser
Adcash
AdThrive
Amazon Affiliates
2. Blog Posts
These days, it seems like everyone has a blog. And that's for a good reason!
You can make good money by posting ads on your own blog which means a blog is a valuable asset.
That's right – companies are willing to pay good money to have their ads placed on popular blogs.
So, if you're looking to earn some extra cash, posting ads on your blog is a great way to do it as a content creator.
In order to make money posting ads, you need to have a popular blog that gets a lot of traffic from a target audience in the United States.
On average, advertisers pay $2-$3 per thousand page views with Google Adsense ads.
However, if you join Ezoic, Monumetric or Mediavine you can expect to make between $15 and $50 per 1,000 page views each month.

So, if your blog gets a lot of traffic, you can easily make several hundred dollars or thousands per month just by posting ads.
I always thought that your blog needed to have a minimum of 50,000 page views to make money online.
However, as you can see from the screenshot above that is not the case at all.
Blogging is a great way to earn a passive income stream.
3. Affiliate Marketing
Affiliate marketing is a type of online advertising in which businesses promote their products or services through affiliated websites.
When an affiliate link gets clicked and a purchase is made by a customer, you earn a commission.
Some of the largest companies in the world, such as Amazon and eBay, use affiliate marketing to drive sales.
While affiliate marketing can be a great way to earn money, it's important to remember, you'll need a strong online presence to be successful.
The other option is to have an engaged email list of several thousand subscribers.
Additionally, you'll need to choose the right affiliate program and make sure that your ads are targeted at the right audience.
4. YouTube Channel Sponsored Posts
If you're a YouTuber with a decent following, you've probably considered advertisers reaching out and asking you to promote their products in your videos.
After all, getting paid for posting ads seems like a dream come true – who wouldn't want to get paid to do something they're already doing?
But before you say yes to that sponsored post, there are two things you should know.
First, not everyone can get paid for posting ads – only YouTubers with a certain number of followers and views are eligible.
Second, the amount you can earn varies depending on your audience size and engagement levels.
However, if you have a large following, sponsored videos are definitely worth exploring to earn money.
You can also monetise your channel by getting to 1,000 subscribers as well as the stipulated watch hours as outlined by YouTube.
5. YouTube Advertising
Making money through YouTube advertisements is really straightforward.
All you need is a GoogleAds account, a YouTube account, a product or service in high demand and a video you can use to advertise it.
It would make sense to have several YouTube videos in order to run a split test to see which one converts.
So, how much can you actually make from posting ads on YouTube?
Well, it depends on a lot of factors, including the type of ad, the length of the ad, your audience, and more.
But it's common to earn up to $3 per click on ads for mainstream brands.
6. Facebook Ads
Facebook ads have become a major player in the online advertising industry. Many businesses are now using Facebook primarily to promote their products and services.
To get started posting ads on Facebook, you'll need a Facebook account and a Page for your business.
Once you've set up your account and a Facebook Page, you can start creating ads.
The average earnings made by Facebook advertisers vary depending on many factors, such as the type of ad, the targeting options used, and the amount spent on the ad campaign.
However, some of the best practices to earn money by posting ads on Facebook include using relevant keywords, targeting a specific audience, and creating compelling ad copy.
After running a winning advertising campaign you'll be in a better position to know what works for your offers.
7. Become A Virtual Assistant
Virtual assistants can earn a good income by posting ads for businesses. However, it is important to note that there are a few things to consider before getting started.
First, it is important to make sure that you are comfortable with the technology that you will be using.
Second, you should have a good understanding of how online advertising works.
Finally, it is also important to understand the terms and conditions of the platform on which you will be posting ads.
With that said, if you are comfortable with the above-mentioned requirements, then you can start earning money by posting ads as a virtual assistant.
Simply set your online ad set up fee and find clients who need your services! It's as easy as that!
Becoming a Facebook Ads Manager is a great way to earn money by posting ads. As a FB Ads Manager you can earn between $997 and $4,997/month by assisting clients.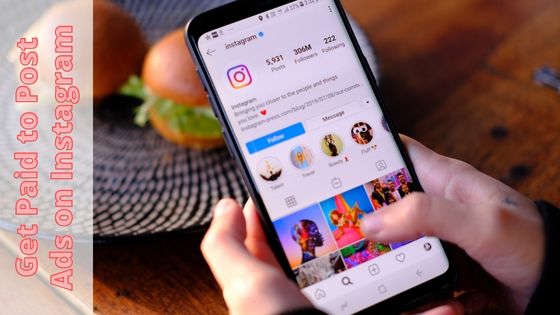 8. TikTok Advertising
TikTok is a creative video-focused social media platform that's become increasingly popular in recent years, especially among Gen Z and Millennial users.
In addition to being a fun way to pass the time, TikTok can also be used to make money by posting ads.
The best part is anyone can earn money by posting ads on TikTok.
To get started, all you need is a TikTok account, an affiliate link and a willingness to post creative content.
While there's no guarantee that you'll get rich quick by posting ads on TikTok, it is possible to make a decent income if you're willing to put in the work.
9. Pinterest Advertising
If you're looking for a new way to make money, you may want to consider posting ads on Pinterest.
For those who don't know, Pinterest is a creative, visual search engine platform where users can share information in the form of "Pins".
Plenty of businesses use Pinterest to promote their products or services by paying people, like you, to post ads on their behalf.
Businesses will typically create an ad campaign and then provide individuals with a specific amount of money to post the ad on their Pinterest account.
The best part about being hired to post ads on their behalf is you aren't getting paid based on how well the ad performs, but for the ad set up.
You get to determine your ad set up fee and any royalties based on how the ad performs.
Since this is considered a freelance opportunity you are in full control over how much you make.
Unlike many other social media networks Pinterest ads offer a better user experience when it comes to digital marketing.
So if you're looking for a new way to make some extra cash, posting ads on Pinterest for other businesses could be worth considering.
10. Pay-Per-Click Business
Paid-per-click businesses are paid by clients each time one of their ads is clicked on.
In order to start a paid-per-click business, you'll need to have a strong understanding of how the ad industry works, as well as good marketing and sales skills.
Additionally, it's important to have a robust online presence so that potential clients can find you.
The average earnings for PPC experts vary depending on a number of factors, such as the size of the business and the services offered.
Here are some best practices to help you succeed:
1. Offer a variety of services. Paid-per-click businesses can be very successful by offering a wide range of services. This way, you can appeal to a larger audience and generate more revenue.
2. Stay up to date with industry changes. The world of online advertising is always changing, so it's important to stay up to date with new trends and technologies. This will help you stay ahead of the competition and provide better services to your clients.
3. Have a strong online presence. In order to attract new clients, you'll need to have an impressive online presence. This means having an active website, social media pages, and blog.
11. Audit Advertisement Services
An ad audit company is an organisation that reviews and audits the advertising for businesses to ensure that they are getting the most for their money.
While you aren't exactly posting ads online, you can still make money in the online ad industry with this opportunity.
Ad auditors track where ads are placed, how they are performing, and make suggestions on how to make them more effective.
Ad audit companies typically make money by charging a commission on the advertising that they help sell. They may also charge a monthly retainer for ongoing services.
To start an ad auditing business, you'll need some basic business skills, a knowledge of online advertising, and a good network of contacts in the industry.
You'll also need to be able to manage and analyse data.
The average earnings for ad auditors varies depending on the size and complexity of the business, but can be anywhere from $50,000 to $200,000 per year.
The best practices for making money through an ad auditing business include building strong relationships with clients, being up-to-date on the latest advertising trends, and being able to provide valuable insights into how advertising works.
12. Experiential Consultant
An experiential consultant is a professional who helps businesses plan and execute unique events, advertising opportunities, and gimmicks to increase foot traffic. They may also help with creating brand awareness and strengthening customer loyalty.
To make money as an experiential consultant, you need to be creative and have a lot of experience in event planning and marketing. You should also be knowledgeable about the latest online advertising trends.
Most experiential consultants charge by the hour or project, so your earnings will vary depending on your experience and the type of work you do.
However, the average earnings for experiential consultants who post online ads is around $50 per hour.
There are a few best practices that can help you earn more money as an experiential consultant.
First, make sure you have a strong online presence, including a professional website and social media profiles.
You should also offer free resources, such as white papers or e-books, to potential clients.
Finally, always stay up-to-date on the latest marketing trends and techniques.
13. Instagram Influencer
An Instagram influencer or brand ambassador is a user on the photo-sharing app who has built up a following by posting high-quality photos or videos on their instagram account.
They do this on one or many social media accounts.
These users are then able to leverage their social media following to score sponsored posts and share affiliate links to earn money.
Sponsored posts are basically when a brand pays you to post about their product or service on your feed.
This can be in the form of a photo, video, or even just a written mention.
As for affiliate links, these are simply links to a product that you love and endorse. If someone clicks on the link and ends up purchasing the product, you earn a commission.
It should be noted that not everyone can be an Instagram influencer. To be successful in this field, you need to have not only a large following, but also an engaged one.
Additionally, it helps to post high-quality content on a regular basis. That being said, it is possible to make a decent amount of money as an Instagram influencer if you play your cards right.
14. Start A Podcast
Podcasts offer a unique opportunity for advertisers to reach a highly engaged audience. Because listeners are often doing other tasks while they listen, such as driving or working out, they are less likely to skip over ads.
Additionally, because podcasts are usually delivered in a serial format, listeners build up a strong relationship with the hosts and are more likely to trust their recommendations.
As a result, ads on podcasts have a high rate of conversion.
There are several ways to make money with ads on a podcast. The most common method is to sell ad space directly to businesses.
Alternatively, some podcasts use affiliate links, which means they earn a commission on any products purchased by listeners who click through from the show. There are also opportunities for sponsorships and product placement.
Finally, many podcasts build up valuable mailing lists of listeners that can be used for future marketing efforts.
Podcasts offer a great way to make money sharing ads with a highly engaged audience.
However, there is no one-size-fits-all solution for monetising a show. The best approach depends on the type of content being produced and the audience it is targeting.
15. Instagram Advertising
If you're one of the many people out there wondering how to make money running ads on Instagram, you're in luck.
While it's not exactly a get-rich-quick scheme, there are some definite benefits to be had by running ads on this popular social media platform.
In order to start running ads on Instagram, you'll need to have an existing account. Once you've got that sorted, you can sign up for an ad account through Facebook (which owns Instagram) and start running ads.
There's also the option to boost a post right from inside the IG feed (see screenshot below).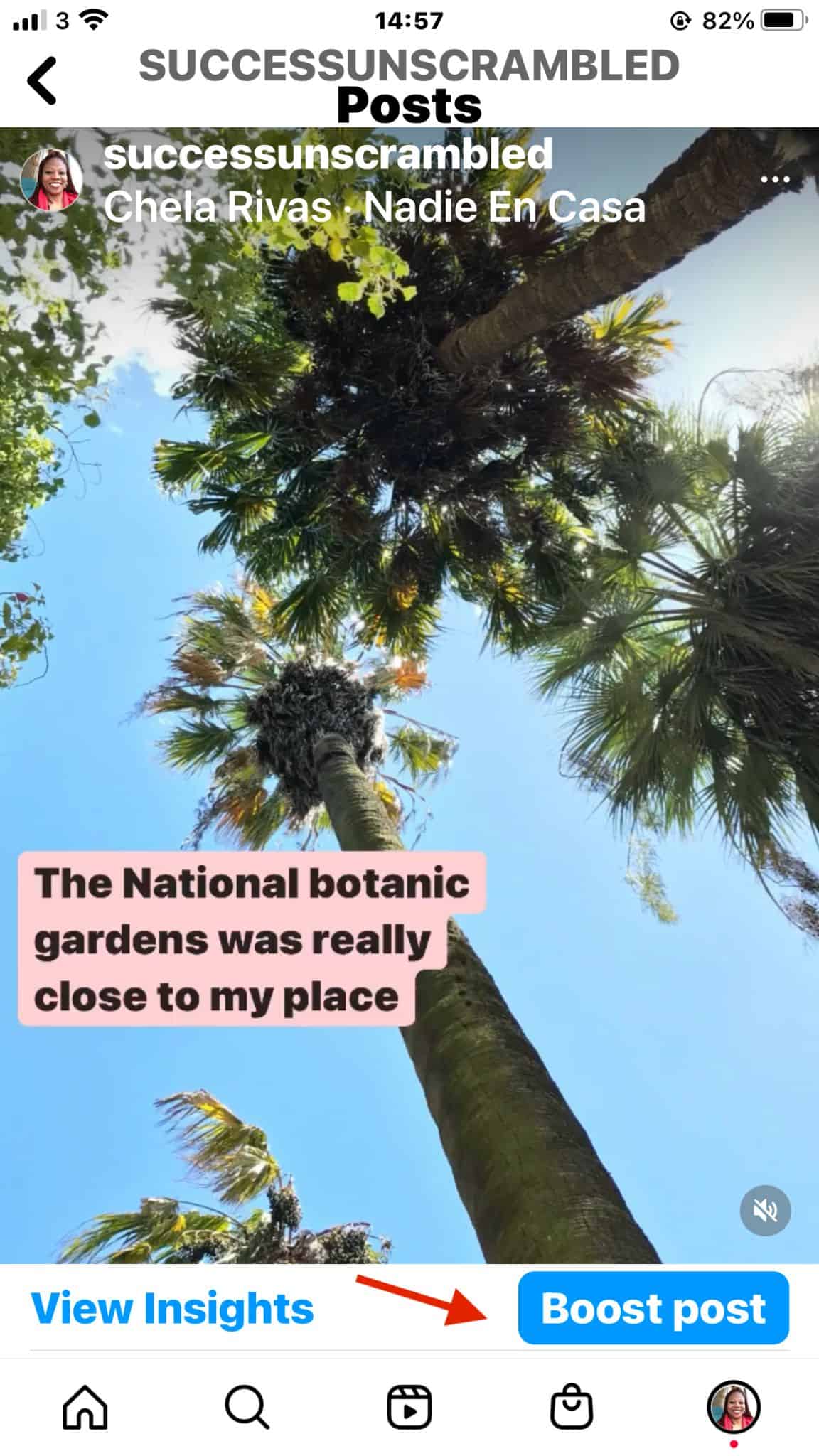 The average earnings made from Instagram ads vary depending on a number of factors, but you can earn into the thousands per week.
To maximise your earnings potential, it's important to use quality ad creatives and target your ads carefully.
Wondering how to find clients on Instagram? Check out this resource that outlines finding clients on IG in great detail.
16. Advertise On Your Car
That's right, you can actually get paid to advertise for digital companies on ad networks by putting their logos or messages on your car.
The best part is, you can do it without having to spend any money to get started.
All you need is a car that's in good condition.
So how much can you expect to earn?
It depends on a few factors, such as the size of your car and how much driving you do.
But the average earnings range from $100 to $400 per month. And there are even some people who have made over $1,000 per month.
17. Etsy Advertising
Etsy is a great opportunity to earn money with ads. You can get paid for posting ads on Etsy in a few different ways.
For one, you can sign up for an Etsy Ads program and get paid per click. Or, you can become an Etsy affiliate and get paid a commission for every sale that you generate.
Finally, you can post sponsored ads on your Etsy shop and get paid either per click or per sale.
The average earnings made from posting online ads on Etsy vary depending on which method you choose, but all three are great ways to earn money through posting ads online.
How to Grow Your Business to 6-Figures
Though it won't be overnight, with a little effort, you can grow your ad posting business into a six-figure operation. Here are a few ways to make that happen:
Educate yourself: You only become great at what you understand and the same goes for posting online ads as a career. There is a method to the madness so invest in your education with online free and paid courses and programs to help you understand the ins and outs of the industry.
Find the right platform: There are dozens of ad posting platforms out there, so it's important to find one that fits your needs. Do some research and read reviews to find a platform that's easy to use and has a good reputation.
A/B test for optimization: A/B testing ads is important to optimize the amount of traffic you drive to an end product or offer. Over time you will learn what works best and use those methods to scale.
Use keywords wisely: Keywords are essential for getting your ads seen by potential customers especially with Google Ads. Do some research to find popular keywords related to your product or service, and incorporate them into your ad copy.
Track your results: Keep track of your ad posting activities and monitor your results so you can see what's working and what's not. Make changes as needed to optimize your campaigns and ensure you're getting the most out of your efforts.
Outsourcing: Outsource tasks to contractors and freelancers so you can take on more clients per month and grow your agency quickly.
By following these tips, you can take your ad posting business from zero to six figures in no time!
Frequently Asked Questions
How do I get paid for advertising online?
You can get paid for advertising online by:
Advertising your own products or services to increase sales
Advertising other businesses products or services
Using affiliate marketing to advertise products you endorse
Partnering with brands in the form of sponsored content
How much money can you make from online ads?
The sky is the limit when it comes to something like online ads. Though, there's no simple answer on how much you'll make starting out, you do have the potential to earn six and seven figures yearly if you invest in educating yourself, learning the craft, and applying best practices.
How do I get paid for social media posts?
Well, on social media there are generally speaking two different kinds of posts which are;
Organic
Paid/sponsored
As a social media manager you can get paid for organic social media posts. As a Facebook Ads Manager you can get paid for sponsored social media posts.
You can learn all about getting paid as a social media manager here.
There's also a 3rd option where you can become a social media influencer by growing a good-sized social media following that engage with your content.
Brands pay social media influencers handsomely to post ads on your feed.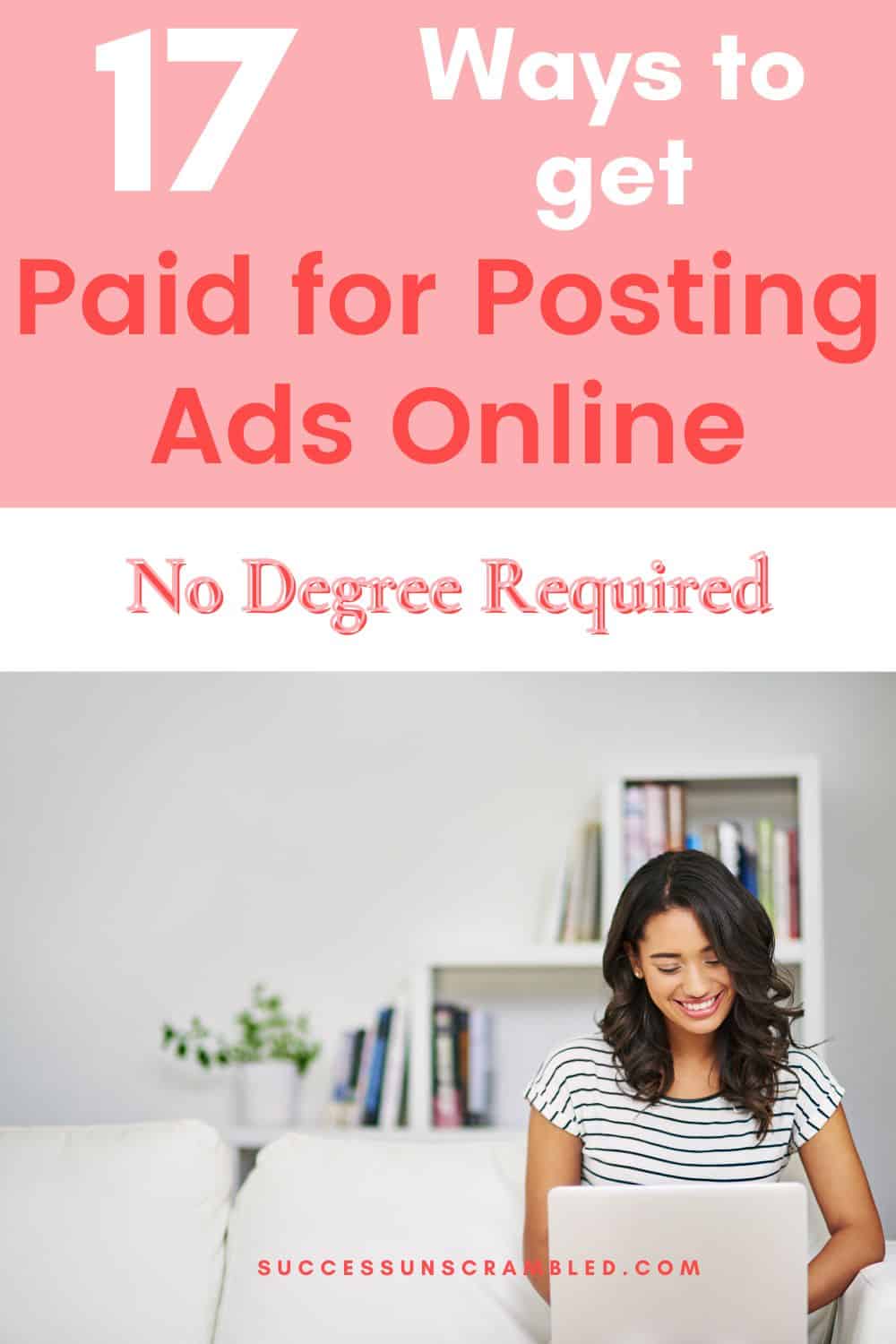 Summary
Posting ads for small businesses is not for the faint of heart. However, it is a skill that can be learned over a few months.
In order to standout from other people who post ads you need to offer something unique.
Maybe your unique selling point is your entire package offering.
It is important to find out what your potential clients need before developing a package.
For example, clients need copywriting, images, video, high-converting landing pages, a funnel and a strategic approach to ad campaigns.
The most important aspect about posting ads online is getting results for your clients.
Over to you, what has been your experience when it comes to getting paid to post ads for a small business?
Announcements
Have you subscribed to the Success Unscrambled podcast yet?
If yes, then what about leaving a review? Leaving a positive review will help me to understand what's working as well as how I can produce more value for you as a listener.
There are so many ways to build a lucrative career in the digital business world.
I've noticed that the biggest struggle for many women is finding an online career that they enjoy which aligns with their life goals.
I started this blog in 2017 because I had a burden on my heart to reduce women's illiteracy globally.
Because this is a huge undertaking I have decided to help 1,000 women over the next 10 years to become wildly successful in their online business through simplified marketing strategies.
That way we can build a strong business network of women who can donate 1% of their profit and together we can help reduce women's illiteracy worldwide.
Would you like to be part of this movement? Shoot me an email using alvern (at) successunscrambled (dot) com.