Podcast: Play in new window | Download (Duration: 23:51 — 33.4MB) | Embed
Subscribe: Google Podcasts | Spotify | Amazon Music | Stitcher | Email | TuneIn | Deezer | RSS | More
If you ever wondered how to track clicks for free using Google Analytics you've come to the right place.
She looked at me squarely in the face and said, "I didn't touch the skittles cookies at all." So, I asked her to stretch out her tongue.
A few seconds went by and it seems as if the wheels in her head started turning rapidly.
What happened next I'll explain in a bit…
Have you ever had a situation where you wished that you had sufficient evidence as to exactly what brought you success in your business?
If you've struggled with tracking clicks using Google Analytics then you'll love this.
Many years ago when I first started in the online world I was told that success depended on my ability to track everything.
Does hearing that make you feel lazy? Lol!!
I know that I felt super lazy to put tracking in place for everything.
However, I have learned that if I cannot track it I might as well not be in business at all.
Ever wondered how to set up an effective system to track potential buyers in your business for free?
In this post, you will learn how to use free tools to set a system or even several systems that will enable you to track your successes effectively.
What is Google Analytics?
There are effectively two systems set up by Google to track organic traffic to your website.
One is called Google Search Console and the other is Google Analytics.
The main difference between the two systems is that Google Search Console tracks the traffic from search engines.
Whereas Google Analytics tracks search engines, social media, email, direct and referral traffic.
Sometimes you may see one segment called 'Other' because Google has not yet determined a name for the source of that traffic.
Google Analytics may not be 100% accurate.
However, it is the only free tool that offers traffic statistics that is almost correct and it is trusted by everyone in the industry.
Because Google is the number one search engine platform in the world it would be difficult to trust another provider.
How to Set Up Google Analytics
For the purposes of this blog post I will only be focusing on setting up Google Analytics on a WordPress.org website.
These same instructions would apply to a WordPress.com environment as well as I set one up for a client in the last few weeks.
Step 1
Head over to your WordPress dashboard and click on 'Plugins' then go to 'Add new'.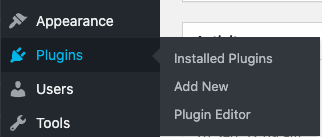 ---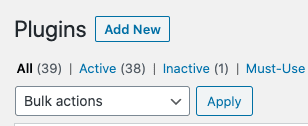 Step 2
Search for the 'GA Google Analytics' plugin by typing in the name. You will notice that there are several plugins on the market that can do this job.

However, this plugin by Jeff Star has been proven to be very lightweight and it would not slow down your website or blog.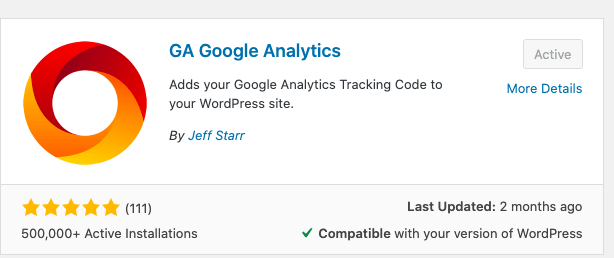 Next head over to the settings area of this Google Analytics plugin and you should see these options.

---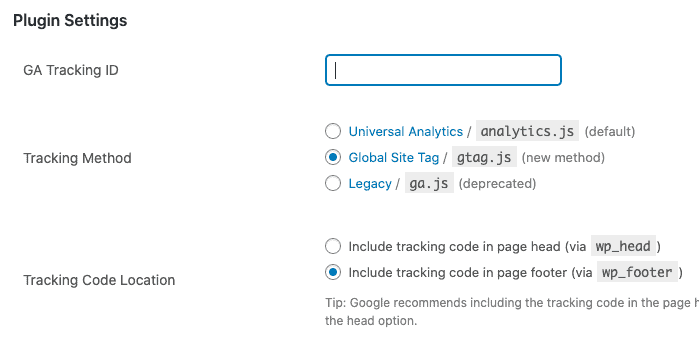 If you don't already have your Google Analytics (GA) tracking ID then you will need to get one.
Step 3
Head over to analytics.google.com and login using your existing Google account.
If you don't already have a Google account then this is a great time to create one.
You will need to create a new account and property. Be sure to follow the instructions that you see on the screen after logging into GA.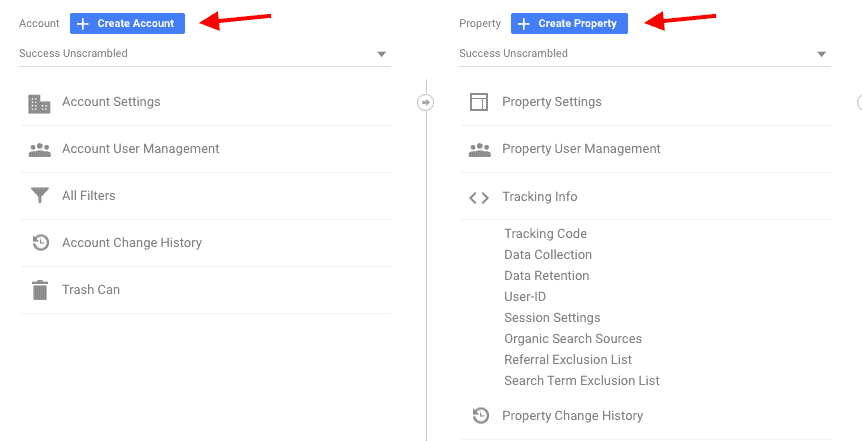 ---
Step 4
Click on tracking info and Google will automatically assign you with a GA tracking ID.
Grab it and put it somewhere safe for now.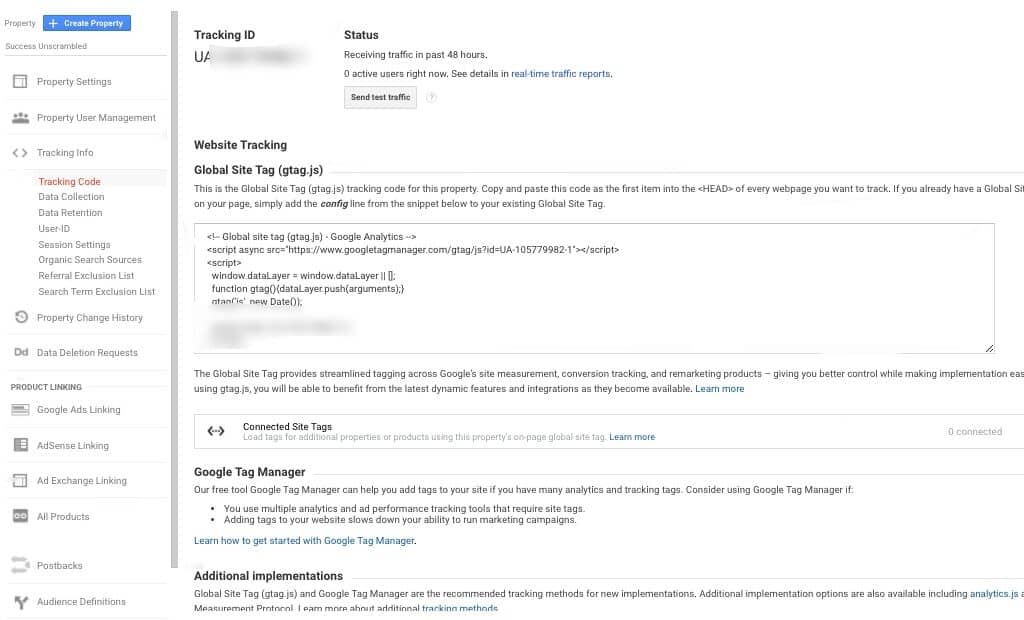 Step 5
Enter your tracking ID into the section called GA tracking ID in the settings section of your GA Google Analytics plugin.
You will need to wait 24-48 hours for the data to populate into the dashboards.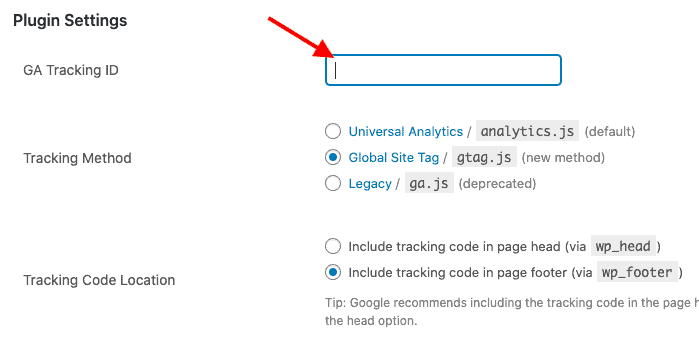 Also, if you have not already done so, take the time to set up your Google Search Console as well.
It would make sense to use the same Google account for both also be sure to submit your site map after setting this up.
Why Do you Need to Track Clicks
Once everything is set up in Google Analytics the click tracking is more or less automatic.
However, if you want to track a specific action or several actions you will also need to set up goals.
For example, if you decide to have a freebie like a checklist or cheat sheet to giveaway for free.
People are signing up for it which is amazing but how do you which source of traffic is giving you those conversions.
Also, you may want to know specifically which keyword is converting better via Google search compared to another keyword.
Another scenario could be that you want to know which social media platform and/or post is converting better compared to others.
There are a number of ways to set this up so let's spend some time looking at this in some detail.
How to Track Clicks
In order to track clicks, you'll need to decide on what outcome you want to track and why.
For example you may want to split test two different Pinterest pins against each other to see which one converts better.
Or you may want to see which post on Twitter performs better compared to the other.
Here's a step by step process to get this set up.
Step 1
Go to Google and enter "URL builder" you will see results that look like the screenshot below.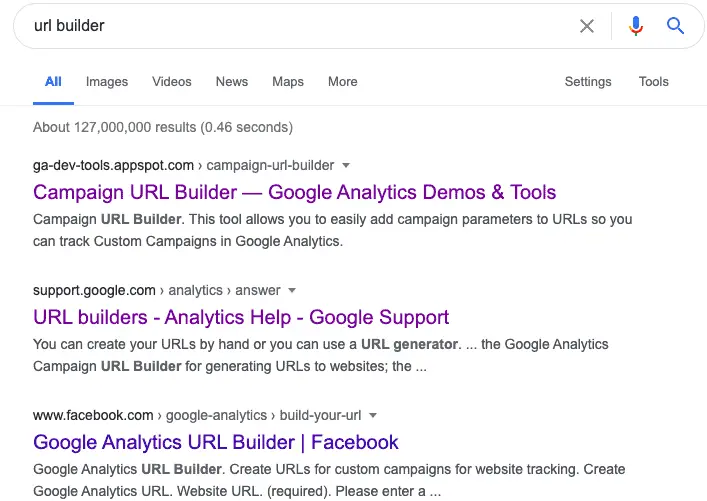 Just click on the first link and you will be brought to a screen that looks like the one below.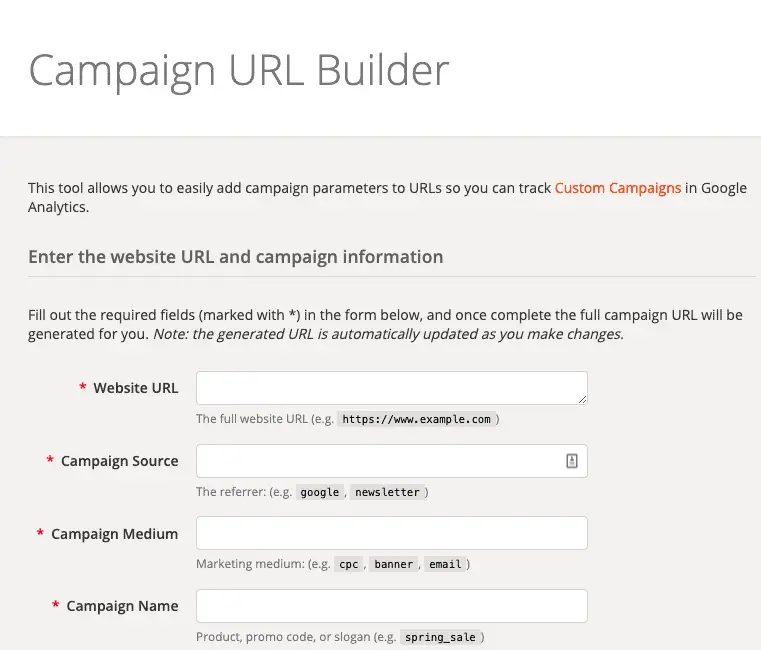 Step 2
Enter your desired details like your website URL, campaign source (you could put Pinterest), medium (manual pinning) and campaign name (give it a name of your choice).
The secret here is to be as specific and as clinical as possible so that when you pull a report in Google Analytics you'll be able to know what worked.
Or more importantly what did not work.
Step 3
Copy the URL that shows at the bottom of the URL builder and put it somewhere safe so that you can find it when needed.
Here's a screenshot showing my made up URL.
You will notice that the URL builder is also giving you the option to create a short version of that link depending on where you want to use it.
Step 4
Use the generated URL in the post that you want to track.
Instead of putting the original URL for the blog post, landing page or web page use the one that you specifically generated.
It is also known as a campaign URL.
How to Track Conversions
As I mentioned previously you may also want to know which keyword, pin or social media post is actually causing people to convert.
The best way to track this is by using the 'Goals' feature inside of Google Analytics.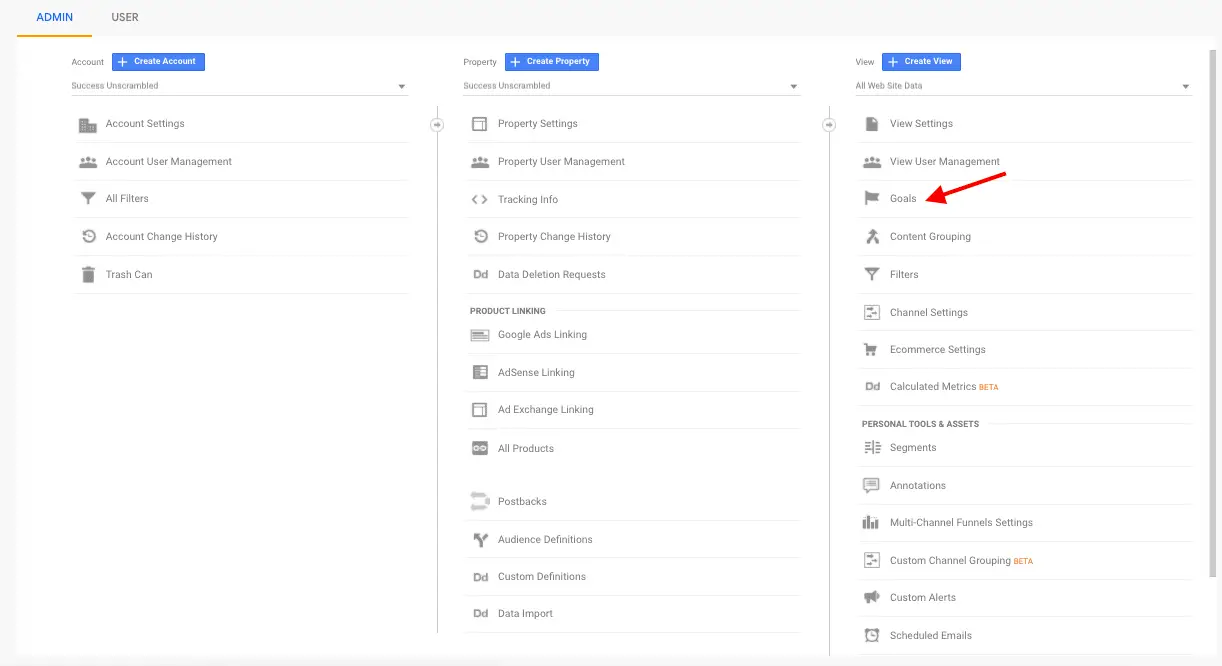 Step 1
Head over to the admin section of Google Analytics and click on Goals under the 'view' section.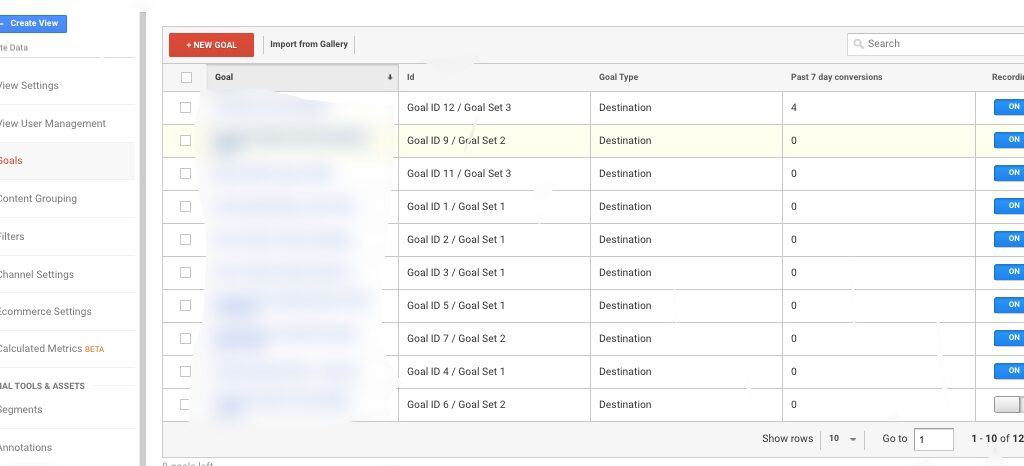 If you already have a list of existing goals you will see them there. Just click on 'new goal'.
You should see a screen that looks like this one which is the goal set up view.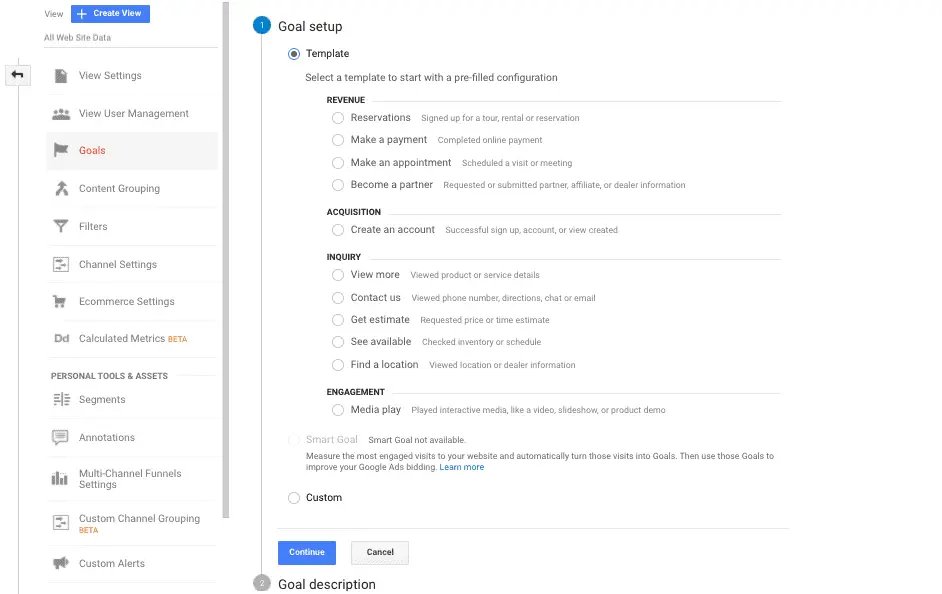 Step 2
Select the type of goal that you would like to set up. If you are tracking conversions from a freebie then it would most likely be the 'custom' option.
Nearly every time I visit this section of Google Analytics the templates seem more and more weird.
Select custom and click continue.
Step 3
Give your goal a name and enter a destination page on your website.
It is important to note that most likely a thank you page or upsell page will be the destination page in this scenario.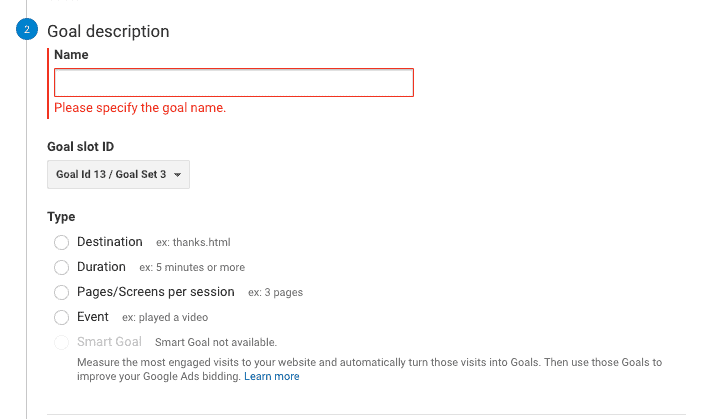 Every time you create a freebie opt-in form or landing page, create a redirect page.
It is important to have a redirect to another page like a thank you page so that you can track conversions.
Step 4
Enter the specific page that visitors who sign up will land on after they avail of your irresistible offer.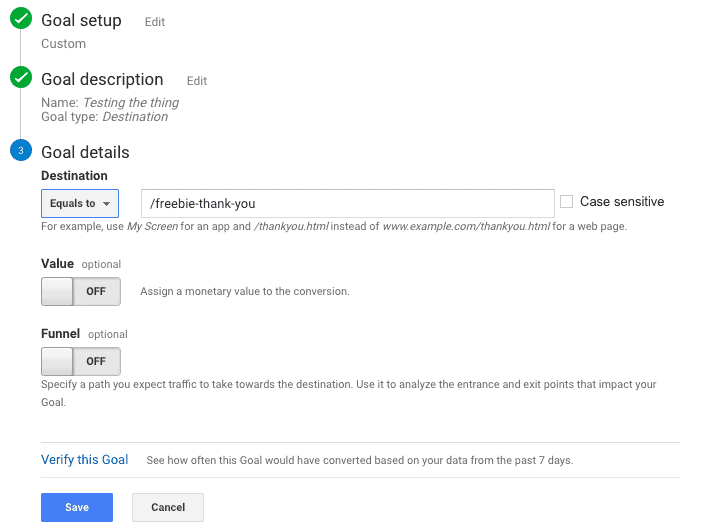 If you had any conversions in the last few hours and you click 'Verify this goal' you will see a result.
You also have the ability to specify if this is part of a funnel so that Google Analytics can show you leaks in your funnel.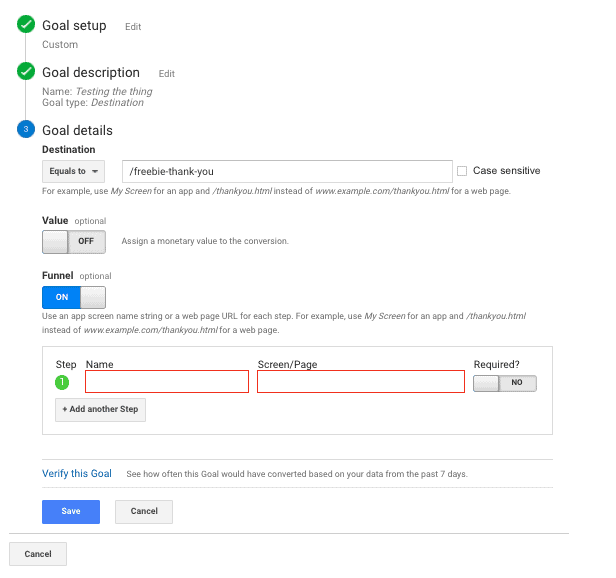 If you are not that advanced yet then don't even look at the funnel option just yet.
Conversion Results
Would you like to see one of the conversion results showing me the exact pin that produced a lead?
I know that may sound impossible at first but it is true that if you set up Google Analytics correctly you will be able to see this in action.
Are you getting goose bumps?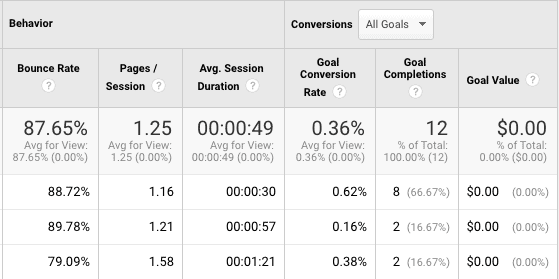 In the above screenshot you can see my goal conversion results that is being tracked over a specified period.
Here's a screenshot showing the exact Pinterest pin that generated a lead for my business.

I know it is quite small but if you are on your mobile phone you can zoom in to take a closer look.
You can do some digging as well after you get some conversions by going to Acquisition -> All traffic -> Channels -> Social -> Pinterest.
The next thing you'll need to do is choose a secondary dimension of 'referral path'.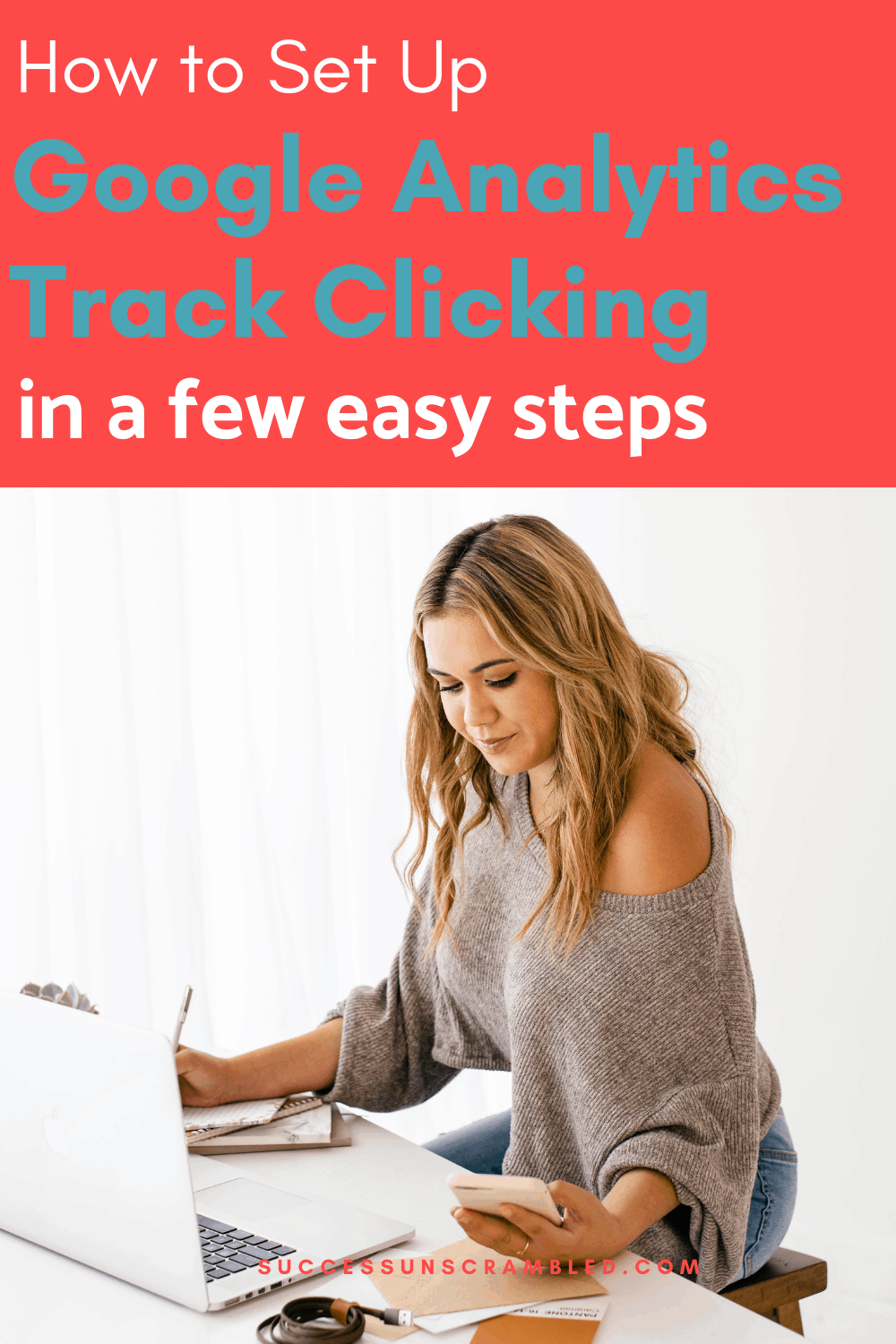 Summary
There is no point running a small business if you have no idea which activity is bringing you results.
That is why it is super important to use Google Analytics click tracking and goal conversions to give you the visibility that you need.
At first it will feel foreign, difficult and not necessary.
However, I can tell you that this is so important when you want to ramp up your efforts to increase revenue.
Getting back to the story of the skittles cookies, if you are a parent or teacher you can guess what happened next.
After sticking out her tongue there was a rainbow of multiple colours on it and one must wonder how did it get there.
What are you using to track clicks and conversions in your business or blog presently?
Let me know in the comments.
Announcements
Remember to subscribe to the Success Unscrambled podcast where you will be the first to hear about simplified and fun marketing strategies.
Your positive review of this podcast is vital to keeping it alive and running for the next 12 – 24 months so please leave a positive review for us on iTunes, Spotify, Deezer or any of your favourite podcast players.
I started this blog in 2017 because I had a burden on my heart to reduce women illiteracy globally.
Because this is a huge undertaking I have decided to help 1,000 women over the next 10 years to become wildly successful in their online business through simplified marketing strategies.
That way we can build a strong business network of women with a purpose.
These women can donate 1% of their profit, time and resources and together we can help reduce women illiteracy worldwide.
Would you like to be part of this movement? Shoot me an email using alvern (at) successunscrambled (dot) com.
Click Tracking and Google Analytics Related Topics
Easily Set Up Link Tracking with Google Analytics In an Afternoon