Podcast: Play in new window | Download (Duration: 29:51 — 41.5MB) | Embed
Subscribe: Google Podcasts | Spotify | Amazon Music | Stitcher | Email | TuneIn | Deezer | RSS | More
Hello you! As promised this post will be looking at LinkedIn vs Facebook.  It is a very popular query for freelancers, speakers, consultants and coaches alike.
One of the reasons it is so popular is that people use these two platforms to find clients or customers.  Depending on your niche one platform would be more suitable compared to the other.
In other niches, both platforms are on an even keel and so you will need to decide on your approach when it comes to finding clients.
If you are an Entrepreneur, Blogger, Coach or Speaker as yourself this question, have I ever been pitched to on LinkedIn or Facebook?
Which one do you feel is more appropriate as a B2B lead generation tool?
Let's take a look at each one in turn to discover the similarities and differences as well as investigate which one will give you a higher return on your investment.

1. LinkedIn Statistics
In order to look at the LinkedIn vs Facebook argument properly, we'll need to look at the structure of LinkedIn in some amount of detail.
If you are brand new to LinkedIn then a good explanation is that it is a business networking platform. Some people use it as an online resume, others use it to build their brand.
Companies use it as a way to showcase who they are to prospects and investors.  They also use it to recruit new employees.

Find more statistics at Statista
In the chart above you can see the LinkedIn quarter on quarter growth from 2009 to 2016. Which currently stands at over 500 million worldwide.
In terms of monthly active users, you will be looking at around 250 million so if you are ever worried that there are not sufficient users on LinkedIn then perish the thought.
When compared to the most popular social media sites worldwide you can see from the chart below that LinkedIn is not very high on the list.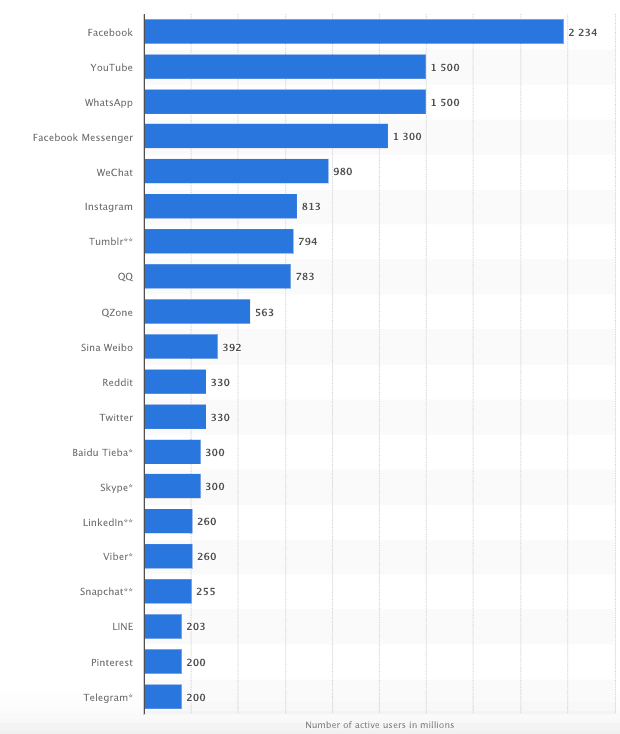 What makes LinkedIn a valuable argument is that the platform is full of decision makers sharing valuable content. Anyone in a decision-making capacity of a reputable company can be found on LinkedIn.
2. LinkedIn Structure
Companies are encouraged to set up a company page outlining employee size, website address as well as a physical address location.
Each employee of that company can then create their profile and associate themselves with the company by choosing it from the list.
For larger enterprises, with head offices spanning across the globe, they may decide to have a company page for each head office location.
Every employee including the CEO is given the option to layout their profile like a resume or CV so that potential clients or recruiters can get a feel for who they are based on their past and present roles.
Entrepreneurs and bloggers can take advantage of the LinkedIn profile feature and use it to attract potential clients.  There is no need to set your profile up like a resume.
In fact, you will have the freedom to be as creative as much as you need to be.  The standard sections include:
Headline
Summary
Experience – Past and present roles
Education
Volunteer experience
Skills and Endorsements
Recommendations
Accomplishments
Interests
These are pretty straight-forward to set up and can be optimised to attract the right clients.  If your LinkedIn profile needs a revamp or if you need help with optimisation you can take advantage of my LinkedIn Make Over services.
I can do a one hour LinkedIn strategy session with you here.
3. Build Your Brand on LinkedIn
One of the key benefits of LinkedIn in the LinkedIn vs Facebook comparison is the ability to build your personal brand but if you never heard this term before let me explain.
This era of social media does not only involve building the brand of a business but also building your personal brand.
Your personal brand is essentially who you are, what you stand for, what you represent and what you are passionate about. It is like painting a picture in the mind of your audience.
Here are six key ways to build your brand on LinkedIn:
Write articles
Contribute through posts (text + image)
Participate using video messages
Engage with other peoples content
Join groups
Build a tribe – followers
Let's look at each of these in a little detail before looking at Facebook.
4. Write Articles
LinkedIn gives you the ability to write an article on a topic of your choice quite easily.  Once you decide on a specific topic you just need to go to the platform and you will see the button labelled 'write an article'.

The great thing about articles is that it allows you to share your thoughts, beliefs and morals to your audience.  You can use it as a way to add value to people's lives.
Articles that are over 1,000 words long and includes images and video then to get more engagement compared to shorter articles without any media.
The title of your article is also very important as it dictates if someone would click through to learn more.  Avoid clickbait type articles.
For best results cover a nice variety of topics in your niche and focus on solving a problem rather than writing for the sake of putting content out there.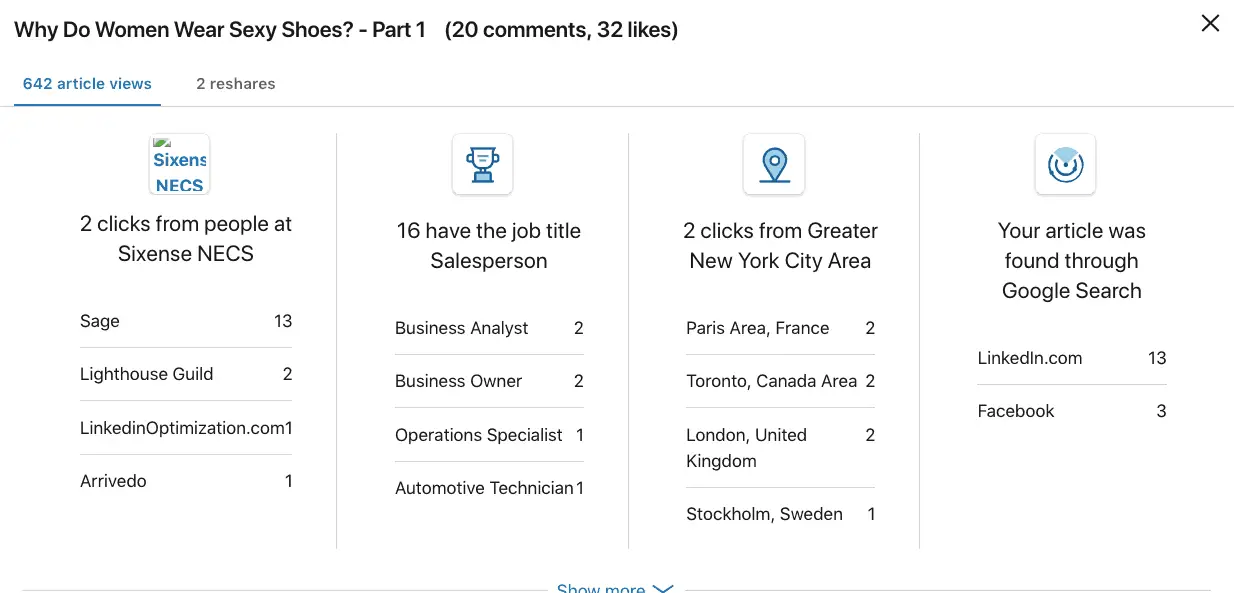 As you can see people found my article via different routes including the Google search engines which is cool.
5. LinkedIn Posts
Another way to share your knowledge and build your brand is by using a LinkedIn post.  A post is different from an article because it can appear frequently in the feed and it is more mobile friendly.

Find more statistics at Statista
The above chart shows how often people in the US use LinkedIn via a mobile device every month.  The key message here is to ensure that your content caters for mobile users
LinkedIn posts can be text only, text + images or video plus text.  Posts that include an image or a video tend to receive higher engagement when compared to text only posts.
6. Join Groups
One of the best ways to engage with like-minded people is to hang out in the LinkedIn groups.  There are over 1 million groups on LinkedIn.
Some of the groups are dying while others are very active.  Depending on your interests there are groups across several niches endorsing passionate reasons for their existence.
One of the groups I belong to is Social Media Marketing with over 1.8 million members.  What is great about this group is that it is quite active.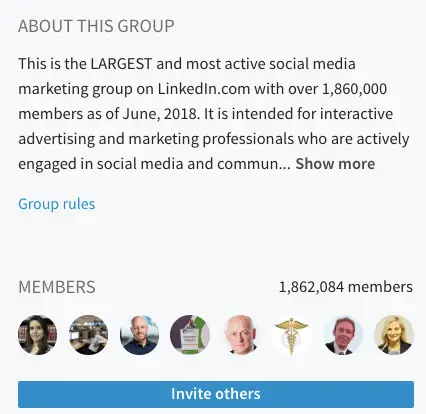 People are always in there asking questions and getting answers to those pertinent questions.  Of course as a member of the group you get a chance to respond and share your business page.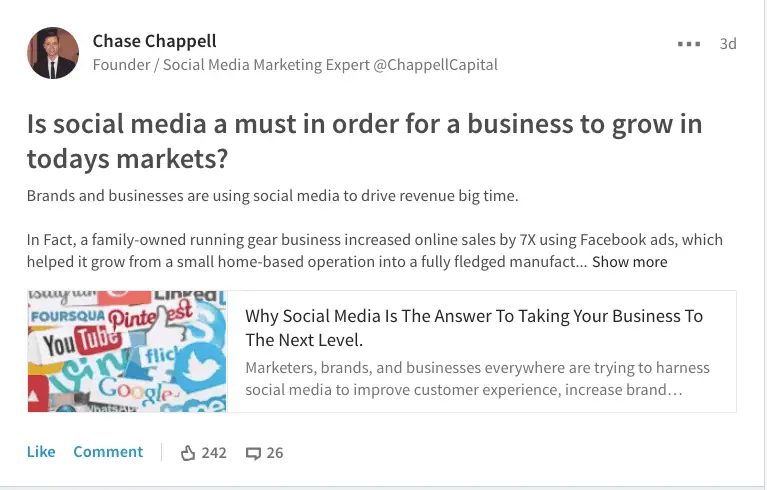 The groups can range from the interesting and pragmatic like the After Work Network group with over 154 thousand members.

There are also groups that can be described as weird and wonderful such as the Rugby Business Network group with over 34,000 members.
By far the biggest advantage of joining these groups is the fact that you can message these members directly without having to pay for inMail.
If you never heard of InMail it is the terminology used to send a paid message to someone outside of your LinkedIn network for purposes of prospecting or connecting.
7. LinkedIn Messaging
As I already alluded to in the previous paragraph LinkedIn has its own messaging platform where you can send direct messages to anyone on LinkedIn.

You will be able to message any of your direct connections for free.  If you would like to send a message to someone that is outside of your direct network you will need to be:
In the same group with them
The person would need to have their profile set to open
Pay for InMail credits
If you would prefer not to pay for credits and they are in your 2nd or 3rd level connections you can ask for an introduction this means you can ask one of your direct connections for an introduction.
This feature alone gives LinkedIn a star in the LinkedIn vs Facebook discussion as this is not available as a feature on Facebook.
8. LinkedIn Search
One of the most powerful features of LinkedIn vs Facebook investigation is the ability to perform very granular searches to find your potential audience.
Here are a few screenshots that show the many people filters that are available as part of the LinkedIn search.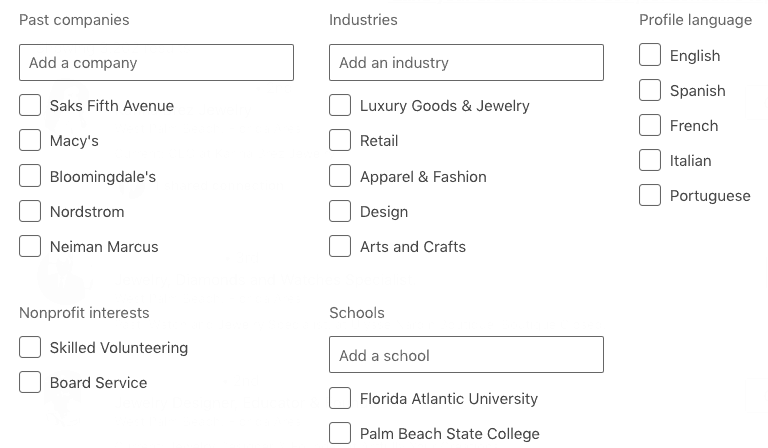 An example of this is if you are looking to connect with all the business owners who are in the jewellery business based in West Palm Beach, Florida you can do that quite simply on LinkedIn.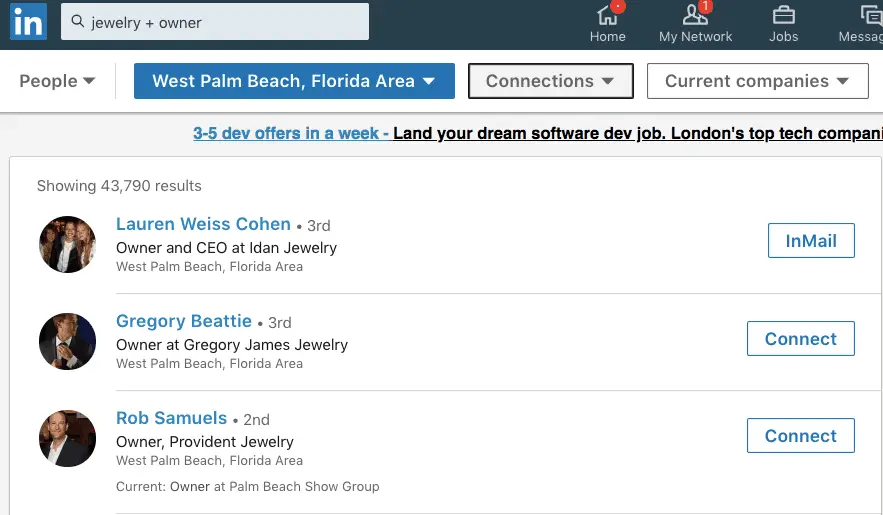 As you can see from the above screenshot there are 43,790 results which I find incredible, how can so many jewellery shops thrive in that one area?
It may be real or may require further research.
9. LinkedIn vs Facebook
In a previous post where I looked at Pinterest vs Facebook, there was a lot of background information covered around the basics of Facebook.
So I will not cover the basics here again but focus on the specific differences of LinkedIn vs Facebook. In the below figure you will get a small insight into these key difference which I can explain in further detail another time.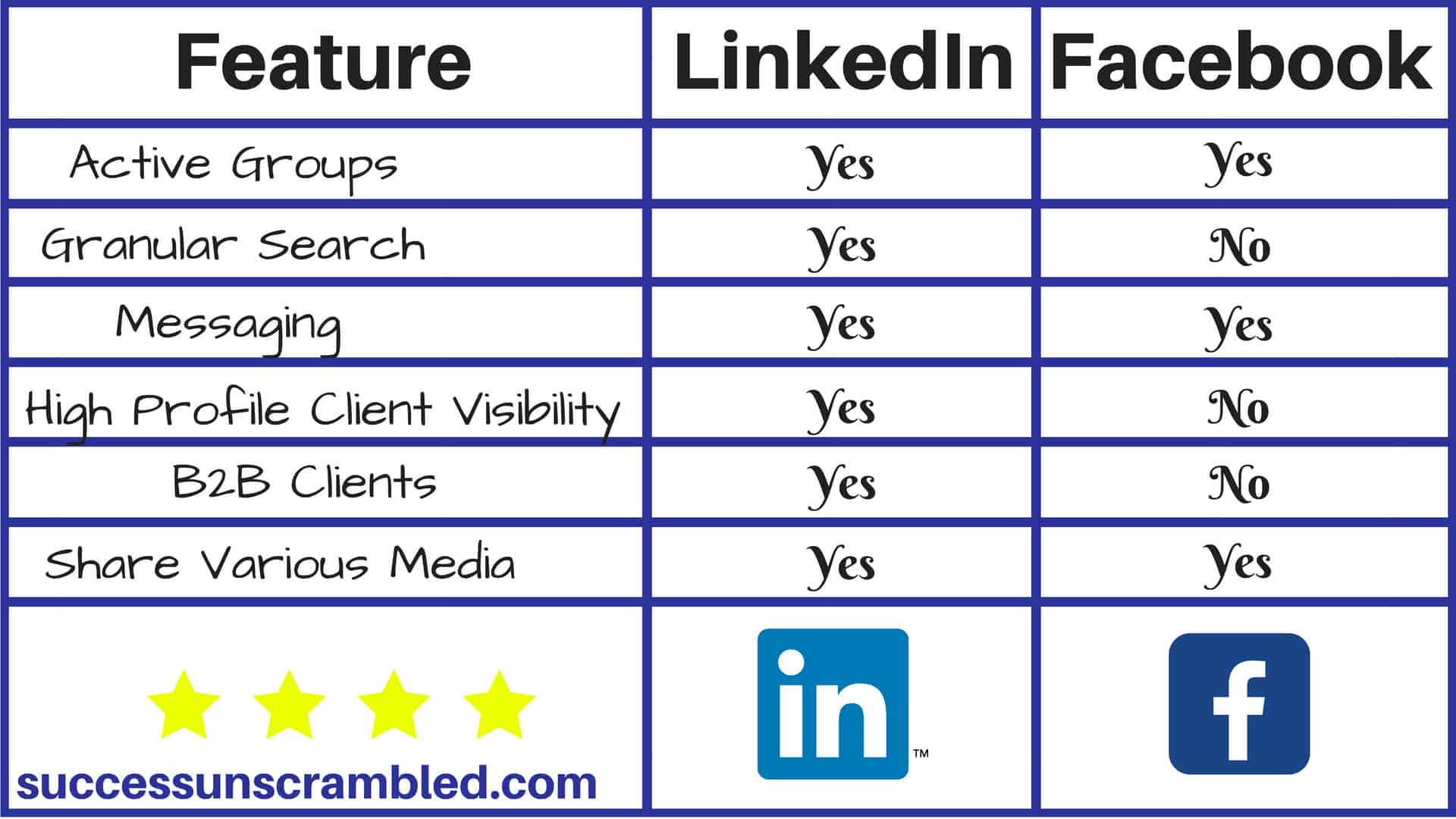 As you can see LinkedIn has some clear advantages when it comes to sourcing high-end clients.  If you are trying to decide which platform is best for your business here is what you need to consider.
Who are you selling to?
Where do they hang out?
What is their title?
Is your package price 4-5 figures?
Can you search on LinkedIn or Facebook to find them?
Is it possible to message them directly with a value proposition?
Do you need to build your brand to help them know, like and trust you?
Depending on your answers to the above questions you will quickly realise which platform is best to find your ideal client.
Recap – LinkedIn vs Facebook
So we looked at the basic features of LinkedIn and compared it to Facebook in terms of helping you to find your audience or ideal client.
Here is what we covered
LinkedIn statistics
Linkedin structure
Build your brand on LinkedIn
Articles
Posts
Groups
Messaging
Search
Linked vs Facebook – comparison
Of course, there is so much more about the LinkedIn vs Facebook discussion that I have not mentioned but that is where we'll leave it for today.
Announcements
You can subscribe to our podcasts to get notified when more success stories become available.  In case you missed it check out the 10-Day Start your Blog on a Budget Challenge.
It covers blogging for beginners, showing you how to become a blogger and also offers blog niche ideas with 20+ HD videos and over the shoulder tutorials.
Need help generating leads online using Facebook marketing?  Still uncertain about the differences between cold and warm audiences?  Check out this Facebook lookalike audience video.
If you need help setting up a marketing plan for your blog feel free to book some time in my calendar and I will be happy to spend an hour with you going over specifics.
If you need help setting up your profile on Pinterest or you need someone to manage your Pinterest account on a monthly basis you can work with me here.