Podcast: Play in new window | Download (Duration: 39:06 — 54.2MB) | Embed
Subscribe: Google Podcasts | Spotify | Amazon Music | Email | TuneIn | Deezer | RSS | More
Hello You! Are you struggling to get the most out of LinkedIn InMail?  Well, struggle no more because I have great news for you.
Before I dive in I wanted to ensure that you understand what I am talking about.  What is LinkedIn InMail?  Well, it is a paid service from LinkedIn to help you reach out to clients.
If you are not connected with someone on LinkedIn one of the ways to message them is using InMails.  There are other ways of course which I will show you later.
The only way to get access to these InMails is through a paid or premium account which I will explain in a short while.
I have been using LinkedIn InMail for many years and I can show you a thing or two.
The alotted LinkedIn InMail credits assigned to your premium account may seem small but I have 7 hacks to help you stretch it all together.
LinkedIn Messaging
Let's start at the very beginning, when it comes to LinkedIn InMails we need to take a step back and look at all the available options.
In order to get a message to someone on LinkedIn you can do one of the following:
Engage with their post or video
Comment on their article
Send them a direct 'free' message
Write an InMail (paid option)
If someone shares a post in the LinkedIn feed you can engage with that post by liking it or leaving a comment.  Just like any other Social Media platform that person can respond to your comment.
This kind of comment is public and everyone who comes across the post can see the interaction between you and the Author of that post.
Members also have the option to write an article instead of sharing a post.  The difference is articles are not really surfaced frequently by the algorithm so chances are you may not see it in the feed.
In any case, you can react to the article by leaving a comment and liking it.  You can also share it to your network.
Upon joining LinkedIn you would have connected with friends, colleagues, family, business acquaintances or groups.  These people would be in your 1st level connection so you can message them for free.
If you are not connected to this person and you want to send them a direct private message then the only option you have apart from sending a connection request is to use your premium credits.
LinkedIn InMail Plans
You are probably wondering how much is an InMail credit?  Well, it doesn't quite work that way for you see there are various packages available depending on what you want to achieve.
Assuming you are an entrepreneur and you want to start slow and steady here are your options.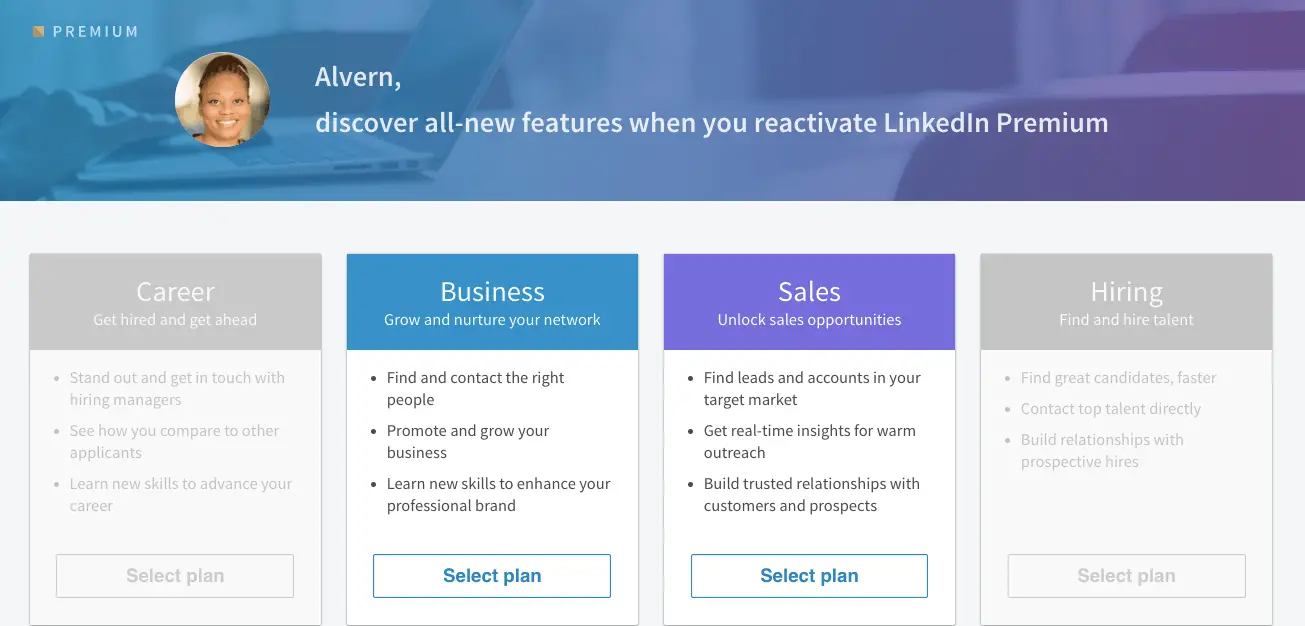 As you can see there are four plans available which two of them relating to job search or recruiting.  The other two plans can be classified as growing your brand and generating leads.
With the premium business only plan here is what you can expect to get included in the package.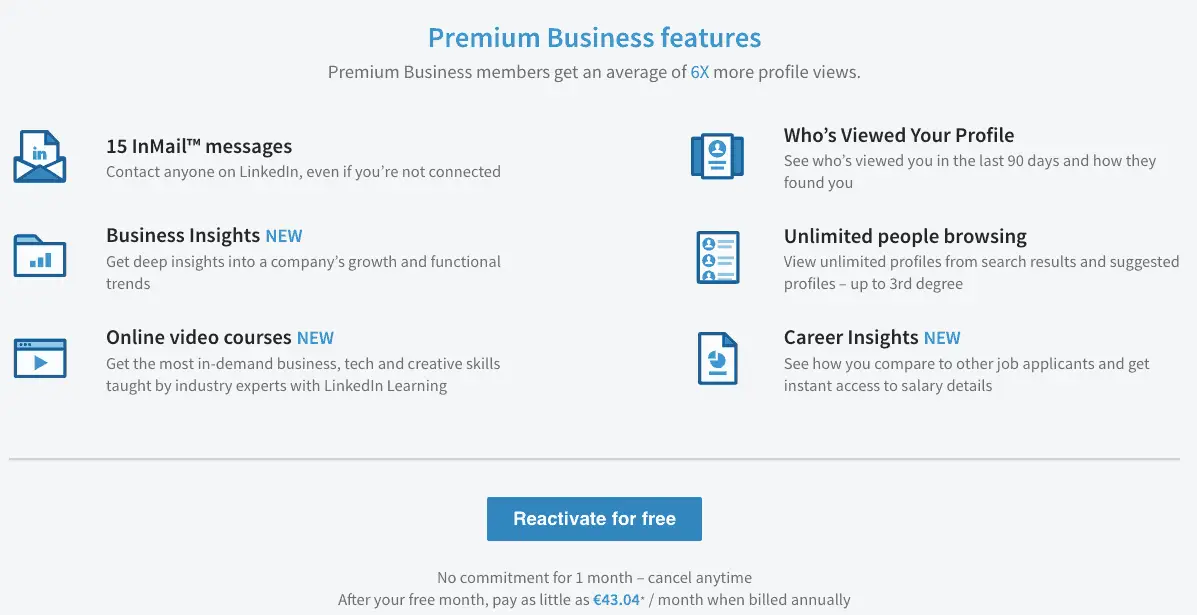 The Sales Navigator plan, however, offers more attractive features and is priced accordingly.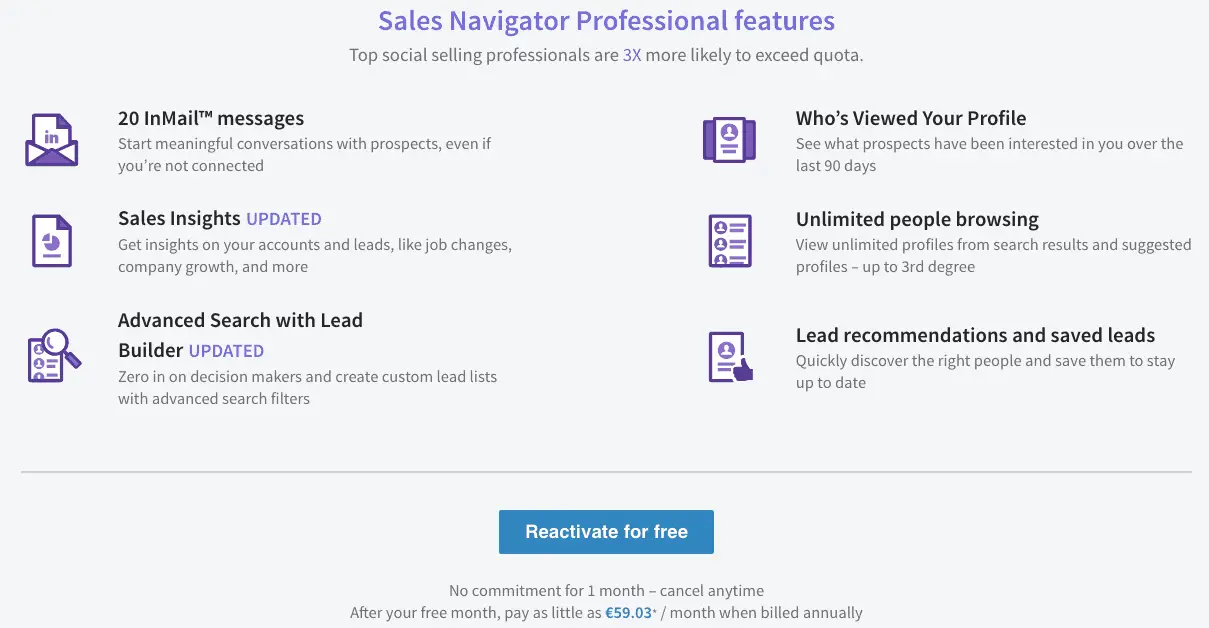 I personally prefer Sales Navigator because it gives you a big advantage over non-premium users and I will show you want I mean in a bit.
So you get only 15-20 credits a month and you are still probably wondering how can you generate leads with so little credit.
Let's take a look at the best way to get your LinkedIn Inmail credits to last an entire month.
LinkedIn InMail Credits
The best way to address this question is to look at a scenario.  You have a list of prospective clients who you need to contact to drum up some business.
The list has 100 people on it and you have only 15 credits who will you send InMails too?  Yes, I know you think that I am crazy but you need to give me a few paragraphs to explain.
In one of my previous post when I compared LinkedIn vs Facebook I spent some time looking at the free LinkedIn search.
Let's look at the example again of the owners of Jewelry shops located in West Palm Beach in Florida.  I found 992 results so here is a screenshot.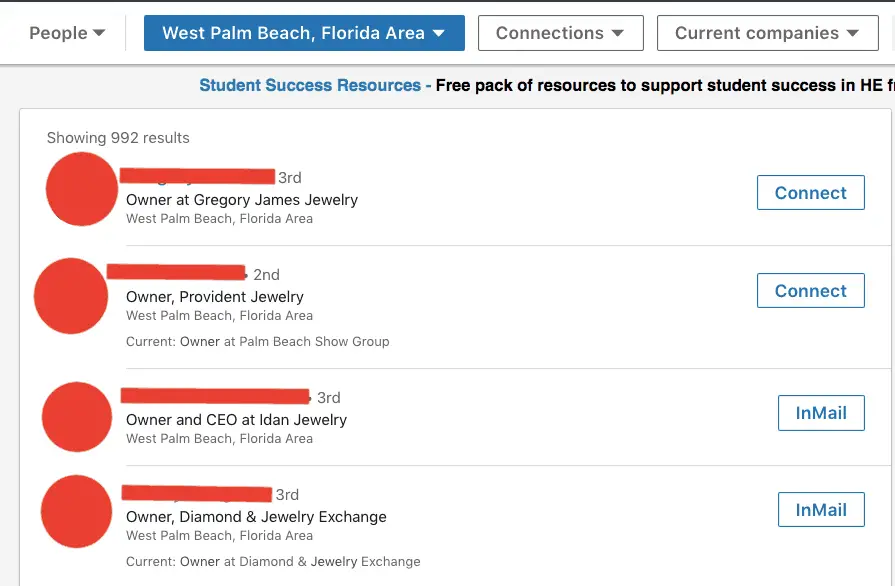 As you can see I am given two options here.  I have the option to connect with these individuals or send them an InMail.  I would advise that you exhaust all other free options before sending an InMail.
Free Options
In order to think about these free options, you need to realise what value are you bringing to the table.  In order words why would someone be interested in connecting with you?
Here are some of the free options available before deciding to use your credits:
Can you join a group that this person belongs to?
Did they post something in the last 30 days that you can comment on?
Do the two of you have a common connection?
Are you able to write a post to get their attention?
In my opinion, the fastest and easiest first option is by joining a group that where there is a shared interest.  Groups are great and can be fun.
Engaging with their most recent post can get you a profile view then you can request a connection. If you are not comfortable connecting then go with option 3.
Asking for an introduction is like being at a networking event and getting a chance to meet your hero.  Okay maybe not so exciting but you get the idea.
Did you see the post about the video of the guy who connected with the Prime Minister of New Zealand?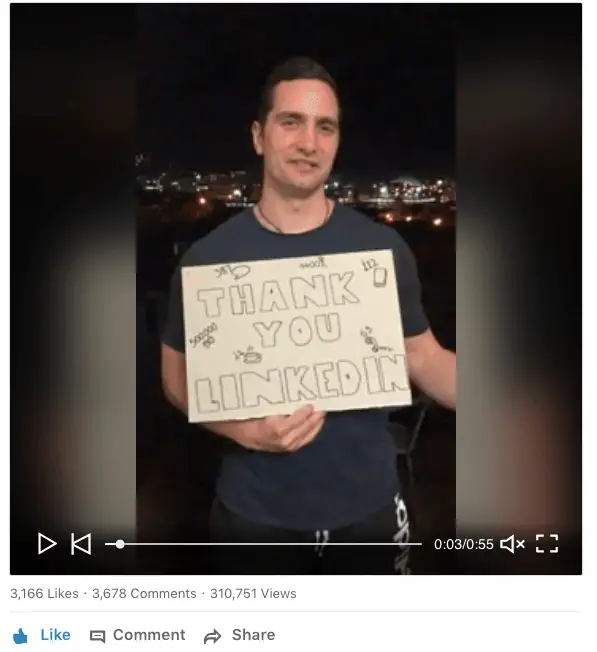 Yes, Linkedin continues to be a great place to connect with great people and personalities.
Using LinkedIn InMail Credits
So you have used your free options and you still have a number of people left on your list.  You now want to take some time and prioritise the people on your list.
Rank them from the most important and urgent to the least.   Those that are at the bottom of the list try and reach out to them on Twitter.
Sometimes one of the best ways to connect with people is just by sending them a direct message on Twitter. On each person's profile on LinkedIn is a contact info button.
This is the best place to find their Twitter handle if they included it.  Sometimes you can even find their phone number or email address.
After trying these options you'll most likely have fewer people on your list where you have no choice but to use your LinkedIn InMail credits.
The good news is that if that person responds you get back the credit. Yippee!!
I have more news for you, if you don't use all of your credit in one month it then rolls over to the next month.  Also, if someone eventually responds to you months after you still get back that credit.
Sending LinkedIn InMails
The art of getting a good response rate from LinkedIn InMails depends on your ability to personalise your message.  Don't take my word for it check out the advice from LinkedIn here.
The cool thing about the premium package is that it gives you suggestions on the best path to reach out to your potential client as well as a good few suggested icebreakers.


As you can see in the example above myself and my potential client have 12 common connections and one of my 1st level connections and the prospect belong to a group.
So before you decide to craft an InMail you can see various angles where you can personalise your message to the prospect.
7 LinkedIn InMail Hacks
To help you think outside the box here are 7 hacks to get higher response rates from LinkedIn InMails.
Get a 360-degree view of the prospect. Use LinkedIn in conjunction with Twitter to get higher response rates.
Leverage events to get warm prospects to respond to you.  If there is a major upcoming industry event use it as a way to break the ice.
Take advantage of their recent activity on LinkedIn.  The more active your prospect is on LinkedIn the higher the chances of them seeing your InMail.  
A 2nd InMail is never a bad idea. Depending on the value of this prospect to your business you may want to send them a 2nd InMail which will cost you 2 credits.
In 2016 57% of traffic to LinkedIn was from a mobile device.  This means that your messages need to be succinct and your subject lines intriguing.
Add the persons name in the subject and body of the message.  Grab an awesome swipe file of email subject lines and article titles and include the prospect name in the subject as well as the body of the message.
Follow up your InMail message with a phone call. The human touch wins every time, hands down.  People tend to respond better to you when you pick up the phone.
Reach out to those who engage with your content.  People who engage with your content on LinkedIn will often accept a connection request and InMails from you.
Words like talk, chat, call and connect in the subject line tend to get a higher response rate compared to other words. Take a look at this article.
Recap Time
LinkedIn InMails can be as simple as you want it to be if used correctly.  Here is a quick recap of what we covered in this post.
LinkedIn Messaging
LinkedIn InMail Plans
InMail Credits
Free Options
Using Credits
Sending InMails
InMail Hacks
Announcements
There is a free webinar coming soon where I will go over a number of traffic attraction hacks across LinkedIn as well as Pinterest, Twitter and Facebook so get ready to join.
You can subscribe to our podcasts to get notified when more success stories become available.  In case you missed it check out the 10-Day Start your Blog on a Budget Challenge.
It covers blogging for beginners, showing you how to become a blogger.  It also offers blog niche ideas with 20+ HD videos and over the shoulder tutorials.
If you need help setting up a marketing plan for your blog feel free to book some time in my calendar and I will be happy to spend an hour with you going over specifics.
If you need help setting up your profile on Pinterest or you need someone to manage your Pinterest account on a monthly basis you can work with me here.