Podcast: Play in new window | Download (Duration: 16:53 — 23.9MB) | Embed
Subscribe: Google Podcasts | Spotify | Amazon Music | Stitcher | Email | TuneIn | Deezer | RSS | More
Are you trying to understand the difference between a Freelancer vs Independent Contractor?
You know what? The answer might surprise you in this gig economy.
The world as we know it is finally changing and with it comes the complexity of new working conditions.
Many of us were born into a world where it was normal to go to school for 12-15 years (all of our young lives).
This was necessary to obtain a piece of paper that would give us the confidence to say that we are qualified to do a job.
Never mind the fact that the very piece of paper is sitting in a box somewhere growing old.
It's even possible that you don't even know where that piece of parchment paper with the fancy writing is.
Together with signatures of people you never met or will never meet.
Did I mention the fact that the piece of parchment paper is worth thousands of dollars? Lol!!
Anyway, let's not talk about the joy of going to college for 6-10 years so that we can avoid the tears altogether.
In the post, you'll learn all about the terms freelancer vs contractor and why you need to understand the difference.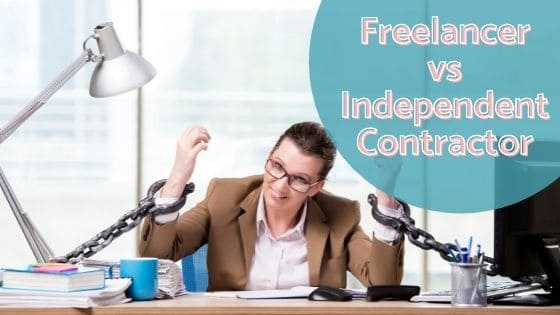 Freelancer Definition
So, in order to keep this as objective as possible, I'm going to use a well-known source.
According to Wikipedia, a Freelancer is someone who is self-employed and not tied to any particular employer over the long term.
In some cases, freelancers work with agencies that represent clients.
These agencies resell freelancers labour to these end clients for a profit.
So, from the look of this definition, Freelancers can choose who they would like to work with to a certain extent.
You're probably thinking that this sounds a little bit like heaven on one hand.
However, it feels like it is lacking some level of security.
Later on in this resource, I'll spend some time looking at the pros and cons.
Up next, let's look at the contractor.
Contractor Definition
Now that you have a rough idea of who a Freelancer is and what they do.
Let's look at the definition of a Contractor.
Again Wikipedia states that a Contractor is a person or company that performs work on a contract basis.
While it is not as exciting as you thought it would be at least it gives you some insight into contract work.
You are probably thinking that the definition of a Freelancer sounds a lot more exciting.
There's also the question of how this compares to a regular employee.
In one sense a contractor is a temporary employee without employee benefits.
In a short while, I'll go into the pros and cons of being a contractor.
For now, let's spend some time looking at the Freelancer in more detail.
Types of Freelance Jobs
In the modern world, freelance jobs are mainly digital and virtual.
What I mean by this is that in most cases there is no need for you to be physically present at your client's place of business.
So, here are 10 examples of freelance jobs.
Executive Assistant
Digital Marketer
Bookkeeper
Accountant
Social Media Manager
Facebook Ads Specialist
Web Designer
Graphic Designer
Web Developer
Customer Service Representative
Do you notice something that is common among these 10 job roles?
I'll give you a hint, they can all be done virtually.
You can meet your clients online and discuss the terms of the role.
They'll discuss in detail what's involved with the project each week or each month.
The actual work can be carried out on your computer.
In some cases, clients require their freelancer to come into a physical location a few days a week.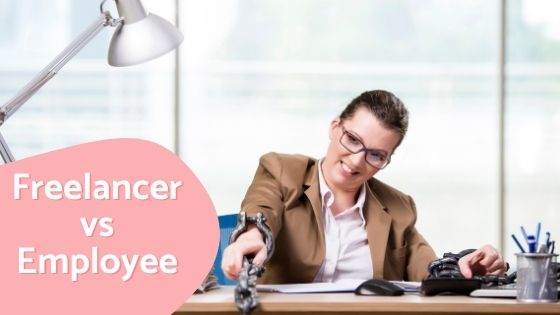 Types of Contractor Roles
After checking out that list of Freelancer roles you're probably wondering what about Contractor roles.
Let's spend some time looking at a number of Contractor roles.
Technical Program Manager
Senior Test Engineer
Tax Accountant
Senior Systems Analyst
Recruitment Coordinator
Online Marketing Manager
Office Administrator
Senior Software Developer
Law Enforcement Analyst
IT Program Manager
As you can see I've pulled these roles from a recruitment site in order to keep this as realistic as possible.
What did you notice in terms of similarities and differences between the two types of roles?
In case you didn't pick it up, the roles for Freelancer and Contractor are more or less the same.
The key differences include the employment status, contract type, hours worked and work restrictions.
Now we'll spend time looking at the differences when it comes to Freelancer vs Independent Contractor.
Freelancer vs Independent Contractor
Right, let's roll up some sleeves and get down to the nitty-gritty of what makes these two roles different.
In order to do this let's first confirm the core characteristics of an employee.
Employee
Hired with a view to being made permanent after a predefined period
Receives paid time off
Entitled to benefits like health insurance, pension, life insurance, gym membership, dental care, etc.
Is expected to work for a single client in a 9-5 role
Will be in full-time employment
Signs a non-compete agreement
Represents the company and that company only
Many of us are very familiar with this model because in some cases we went to college and spent $1,000s to get that beautiful parchment paper.
Independent Contractor
I guess the muddiest one of all three types of workers is the Independent Contractor.
Here are the reasons why.
Hired with a view to work with a company for a specific period of time (1-2 years)
Don't receive paid time off
Is not entitled to any benefits or perks
Signs a non-compete and non-disclosure agreement
Represents the company and that company only
Is expected to work full-time
Annual pay rate is often $10k-20k higher than an employee
As you can see an Independent Contractor has some security of a permanent employee due to contract length.
However, the fact that there are no perks makes it a less attractive option.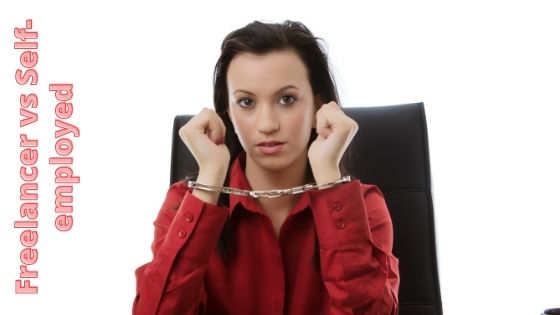 Freelancer
The one worker with the most freedom is the Freelancer.
Although they'll need to sign a freelance contract, they are essentially their own boss.
However, it is also the one with the least amount of security. Let's look at the Freelancer in detail.
Hired on for short term projects like a few weeks or months
Don't receive paid time off
Is not entitled to any benefits or perks
Signs a non-disclosure agreement
Represents various organisations
Not paid for sick leave
May need professional liability insurance
Is expected to work part-time
Receives an hourly rate of pay (in some cases it can be a monthly retainer)
Invoices the client based on hours worked or retainer agreement
While a Freelancer appears to be the worst off when compared to the Employee and Independent Contractor.
There are a number of positive aspects of being a Freelancer.
Freelancer Pros
Work from any location in the world
Adopt various job titles
Sources independent contract work
Set your own rates
In charge of the business relationship
No need for office space at the start
Decide your work hours or own schedule
Progress really quickly up the pay scale
Dictates the amount of time needed for a single project
Complete control of project work
Build out an agency
As you can see the benefits of being a Freelancer can be a very attractive proposition for anyone in need of time and freedom.
4 Places to Find Freelance Jobs
Well, if you are one of those people like me looking to achieve time and freedom in your daily life.
Then I'll let you know 4 places where you can find Freelance jobs.
Facebook groups
Instagram Feed and Stories
Online Job Boards
Company websites
If you need more details about those 4 places I created a resource earlier this year that went into a lot of detail.
In fact, that resource talks about how to start a service business and find clients fast.
There are even two courses included in that resource if you need coaching and/or a support group to help you.
The most difficult part of becoming a freelancer is knowing what services you want to offer clients vs your skills.
Head over here to learn how to become a freelancer and make your first $10K online.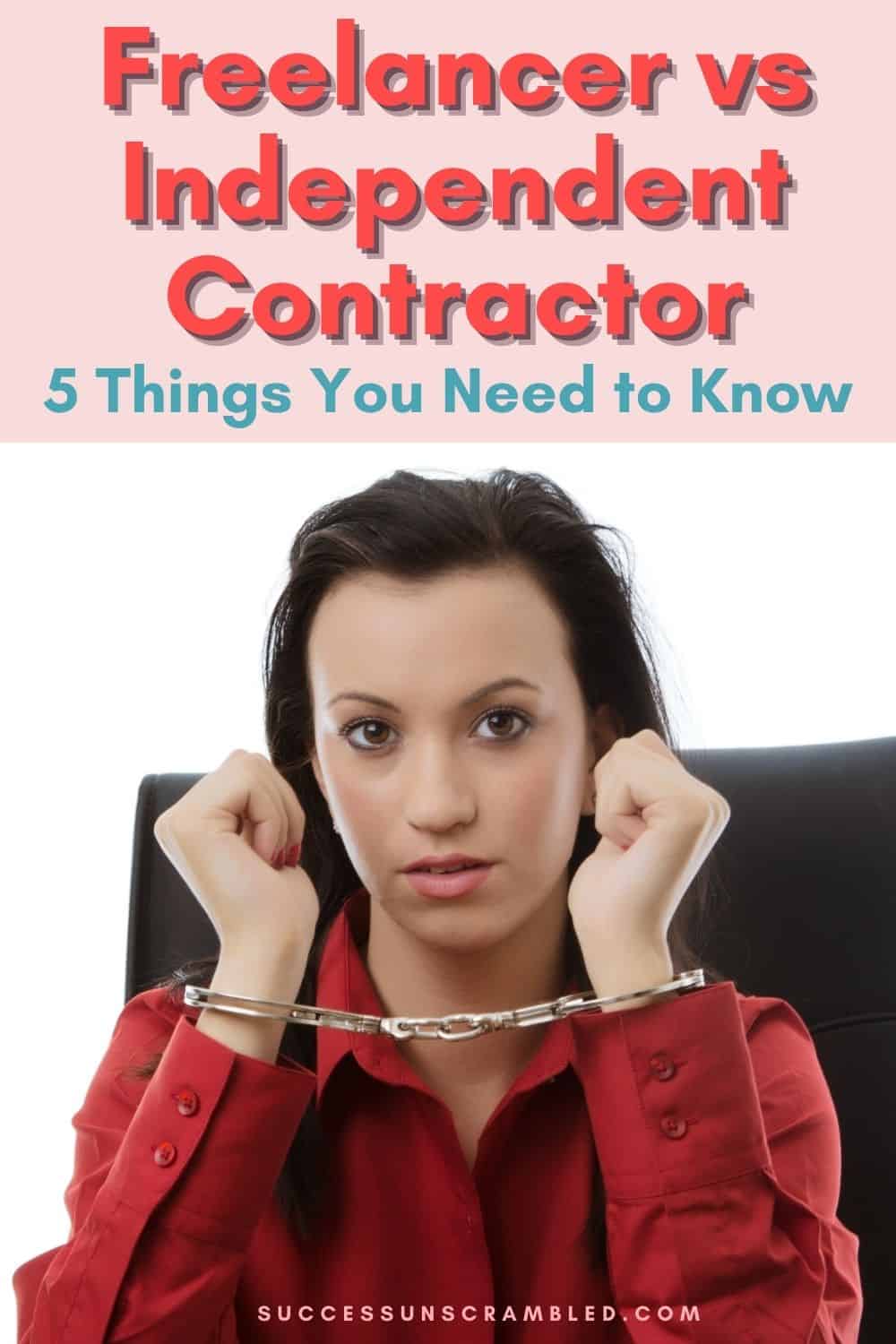 Summary
At the start of this resource, you had a lot of questions about the differences between a Freelancer vs Independent Contractor.
It is my hope that your questions have been answered.
I also hope that your eyes have been opened to the many options available to you in your career.
As I mentioned previously, so many of us believe in the safety and security of a 9-5 job.
However, that safety net does have a lot of downsides including slowing your progress.
Let me warn you that the journey of becoming a freelancer is not easy.
It can be easy if you get clients really quickly.
Another aspect that makes the transition easy is if you step into a consulting role.
There are several agencies that have vacancies available.
These include:
Profit Factory
Belay
Freedom Makers
Boldly
Instant Teams
Squared Away
I'm now going to confuse you even more because there are some workers who function in a hybrid model.
Many call it virtual assistants but technically that's just the entry-level name.
For example, I started as a virtual assistant but now I'm a Launch Manager.
Over to you, what has been your experience with Freelancing?
Announcements
Remember to subscribe to the Success Unscrambled podcast where you will be the first to hear what's happening in the entrepreneurial and digital marketing world.
Your positive review of this podcast is vital to keeping it alive and running for the next 12 – 24 months so please leave a positive 5-star review for us on iTunes, Spotify or any of your favourite podcast players.
It has been my experience that not everyone is cut out to be a Freelancer. Technically speaking it involves starting your own business.
What's really attractive about this career option is that you can progress a lot faster when compared to being an employee.
I started this blog in 2017 because I had a burden on my heart to reduce women illiteracy globally.
Because this is a huge undertaking I have decided to help 1,000 women over the next 10 years to become wildly successful in their online business through simplified marketing strategies.
That way we can build a strong business network of women who can donate 1% of their profit and together we can help reduce women illiteracy worldwide.
Would you like to be part of this movement? Shoot me an email using alvern (at) successunscrambled (dot) com.