Podcast: Play in new window | Download (Duration: 19:11 — 28.1MB) | Embed
Subscribe: Google Podcasts | Spotify | Amazon Music | Email | TuneIn | Deezer | RSS | More
The world has finally woken up to the reality that work, as we know it, is shifting and you are wondering how to edit your LinkedIn profile.
It's amazing to be alive at a time when the standard 9-5 jobs are being questioned.
When employees are demanding more flexibility from their employers.
The dream of a cushy corner office is a thing of the past.
Employers and business owners are finally realising that everything that employees have been demanding for years is truly possible.
So, as an employee, contractor, freelancer or small business owner you want to make the most of your LinkedIn profile.
You are wondering what you should write now.
How to improve your LinkedIn profile to attract to right employers or clients.
What needs to happen to stand out from the crowd.
Is it possible to list a side hustle as well as your current job title?
In this post, you'll learn the different sections of LinkedIn and how to edit them to attract the right leads to your profile.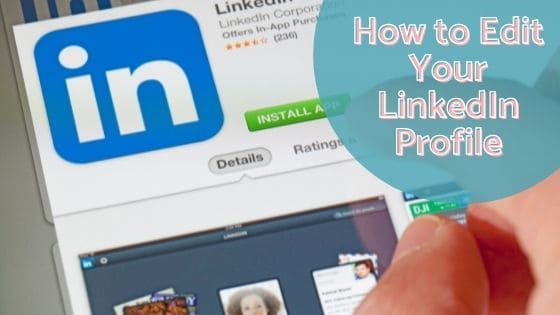 About LinkedIn
If you are one of my regular readers or listeners you'll understand the importance of looking at the history or background of social media platforms.
Did you know that LinkedIn is a professional networking site that launched as a company back in 2003?
It feels like it was always there as a company but it is only older than Facebook by 1 year.
There are around 750 million registered users of the LinkedIn platform across 200 countries.
What's even more interesting is that the key revenue generator of LinkedIn is selling information about its LinkedIn members.
Earlier this year I also created a resource about Facebook and its revenue generation.
You can take a look at how Facebook generates 28.5 billion dollars here.
The sad truth is that LinkedIn became a subsidiary of Microsoft back in 2016.
In case you are wondering how much revenue LinkedIn generates it is 10 billion dollars a year.
There are over 20,000 people working at LinkedIn and their IPO occurred back in January 2011.
LinkedIn Sections
So, let's spend some time looking at the various sections in your personal profile on LinkedIn.
There are several sections that make up your profile page.
Top Section
At the very top of your profile, you'll have the following details.
Name
Title/role
Current company
Country
Total Connections
Banner
LinkedIn Profile picture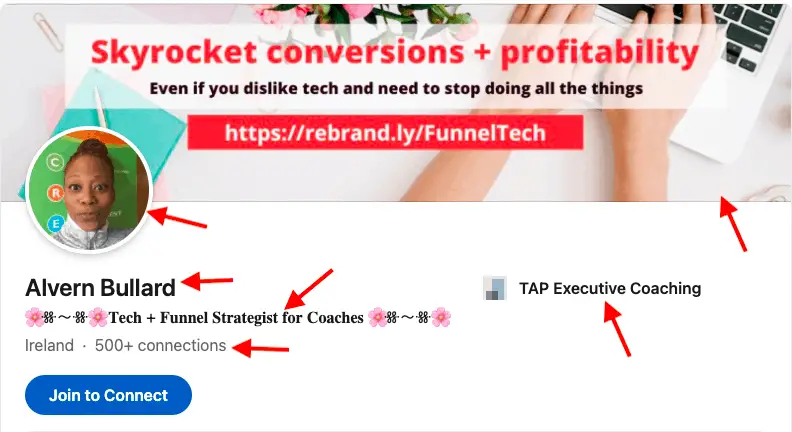 As you can see in the above image all of these items are essential in order to paint a picture or tell a story about yourself.
About
The about section or LinkedIn summary gives your potential employer or client some more information about you.
It is also a great place to talk about what you can bring to the table and the results you achieved for your clients.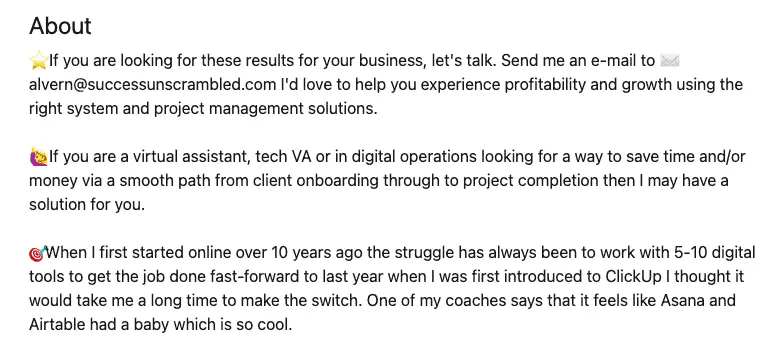 Work Experience
The next section is about your actual projects at each company or client where you executed tasks in order to achieve goals.
You can think of it as the sections of a real resume or curriculum vitae listed in reverse chronological order.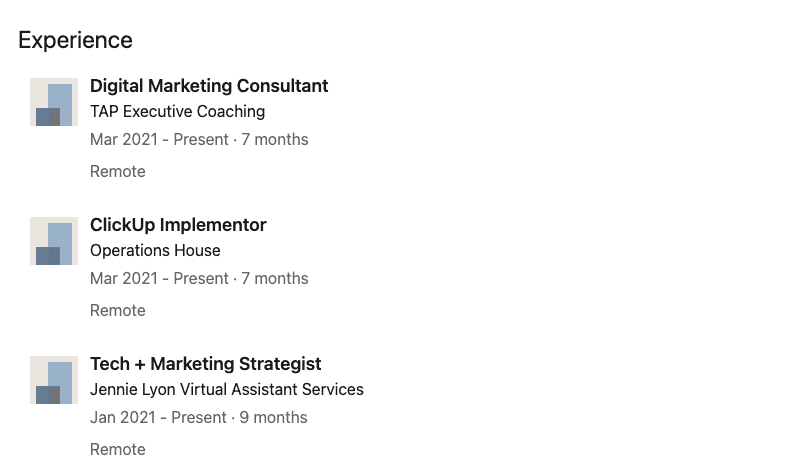 Featured
If you are a blogger you'll understand the idea behind the featured section.
It basically allows you to highlight important aspects of your professional career.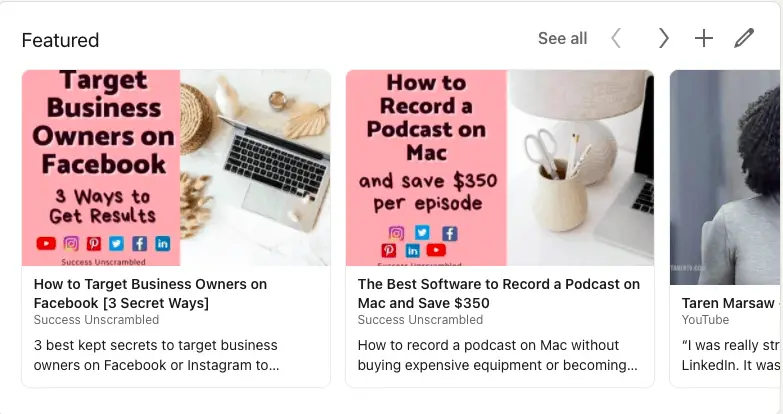 I like to use the featured section to share blog posts, articles, testimonials, etc.
Recent Activity
There's even a section that showcases all of your recent activity which is great if someone wants to see if you are active on LinkedIn.
Recent activity includes anything that you published, commented on or shared across LinkedIn.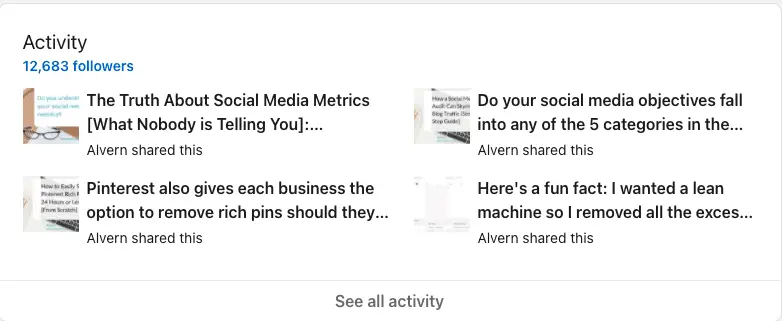 Licenses and Certifications
Another area that you may find useful is displaying a list of your licenses and certifications.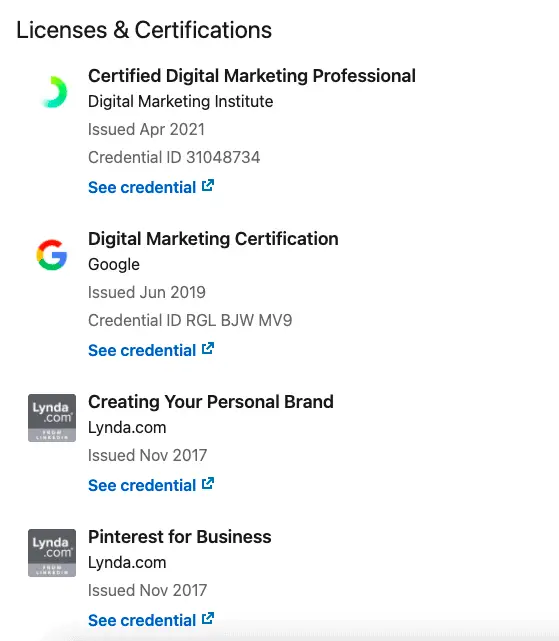 This is especially great if they are relevant and will help you get the next job or acquire a new client.
Education
Of course, having a list of your educational achievements can also be useful because some prospective employers like hiring people with a degree.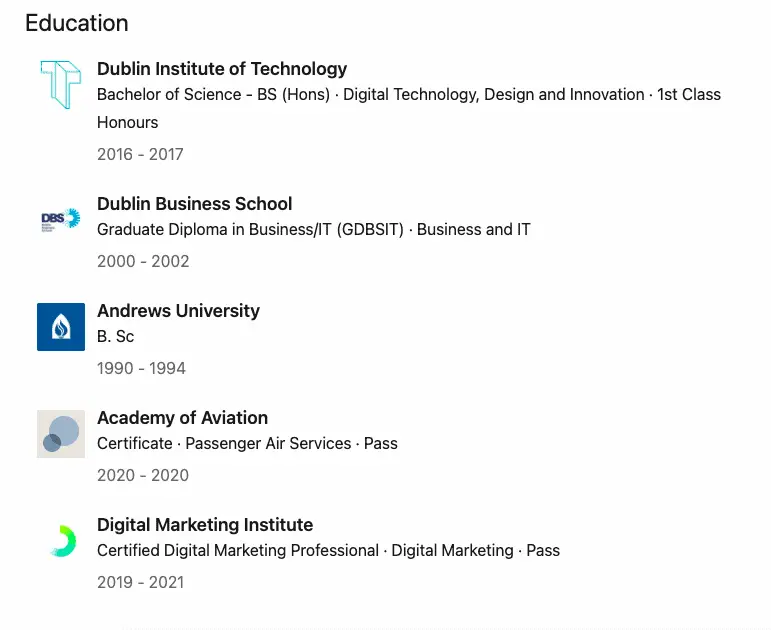 As you'll see I have a mixture of degrees and other professional diplomas listed.
What to Write in Each Section
One of the most important things to understand about LinkedIn is what you should be writing in each section.
While you may be thinking that it is obvious, it really isn't.
Let's start by looking at the top section.
As I mentioned previously, there are 7 things in this area.
Name
Title/role
Current position
Country
LinkedIn connections
Banner/header image
Profile photo
Here is one thing that people misunderstand.
Title/Role
One thing that is not immediately obvious is the title/role area. In many cases, people just put their current work position.
However, the real name for this section is a "headline" if you've ever visited landing pages or sales pages on company websites.
You would have noticed that their headline is a benefit statement.
For example, instead of writing Nurse or Dietician, you should be writing a benefit statement for your audience.
So, if you are a Dietician for mothers then your LinkedIn headline could be "Dietician for Busy Moms" or "Helping Mothers to Stay Healthy and Look Their Youngest".
Do you see the difference?
Your headline is searchable in the Google search engine and across the social network and it's the one thing that generates profile views.
About
The most underrated section on your LinkedIn account is the about or summary section.
It is the first place potential clients and employers go to get a summary of who you are as a person.
Think of it as a mini advertisement for your career potential.
You'll notice that you have the ability to write 2,600 characters which is great.
I learned a long time ago that this section is very similar to a sales page about a person.
It's a great place to talk about your client's pain points, the results that you've achieved for your clients as well as what you can do to help them.
Experience
This same concept will apply to the current experience section.
I've had to change and add so many things to my experience section recently because my business is growing.
I am also quite busy so I haven't had the chance to be as creative as I need to be in the "experience" section of my LinkedIn profile.
For example, if you had 5-10 jobs/roles in the past, write a headline for each one as well as the results that you achieved at each role.
How to Edit Your LinkedIn Profile
Now that you know the sections available, what's contained in each section and what you should be writing.
Let's look at how you can edit your LinkedIn profile.
You'll need to log into LinkedIn and click on view profile. From there click on the drop-down menu at the top right near your profile photo.
Click on Settings + Privacy then Visibility and finally edit your public profile settings so that you'll be able to see what others see.
Header/Banner
Using software like Canva, head over there and create a header image for your LinkedIn profile.
Step 1
Just search for "LinkedIn banner" inside Canva and you'll see dozens of templates available.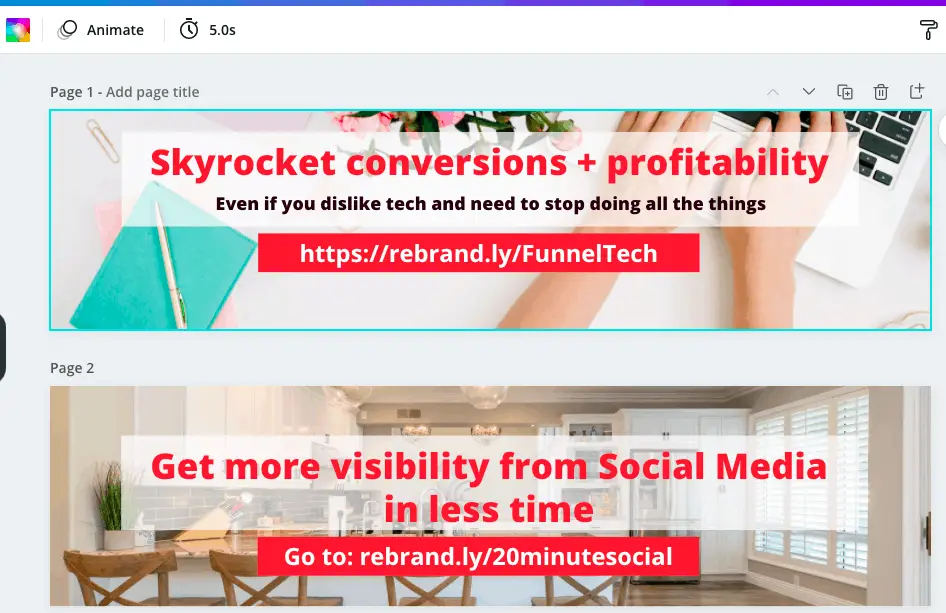 In the above screenshot, you'll see my headers from last year and this year.
Step 2
Upload your new header into LinkedIn as well as a professional profile photo of yourself.
When I say professional just be sure that it's not a photo where you are at the beach on vacation or at a party with friends.
Look for the pencil icons in the top section of your profile.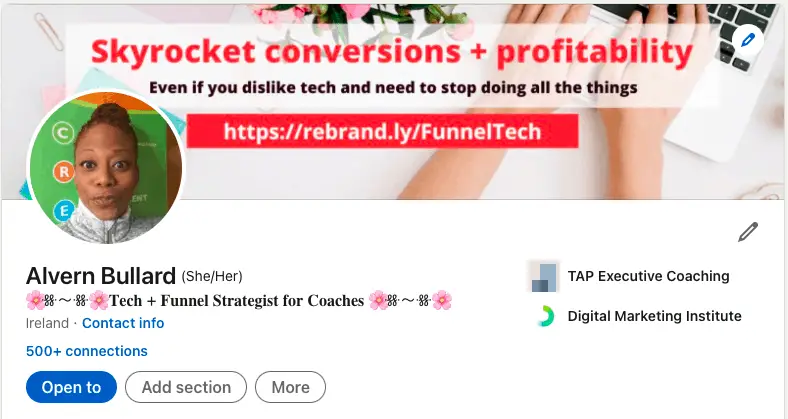 You'll need to click on the photo itself to change it and the edit icon to make adjustments.
Step 3
Update your headline or title to include a benefit statement by clicking the pencil icon.
So, mine will go from Tech + Funnel Strategist for Coaches to "Increasing conversions + profits in launches for coaches".

About
Spend some time writing out the summary or about section for your LinkedIn profile.
Remember that it is not set in stone and you can update it at any time.
You don't have to wait 2 weeks to update your title like the restrictions on Instagram.
Feel free to include emojis to bring your summary to life.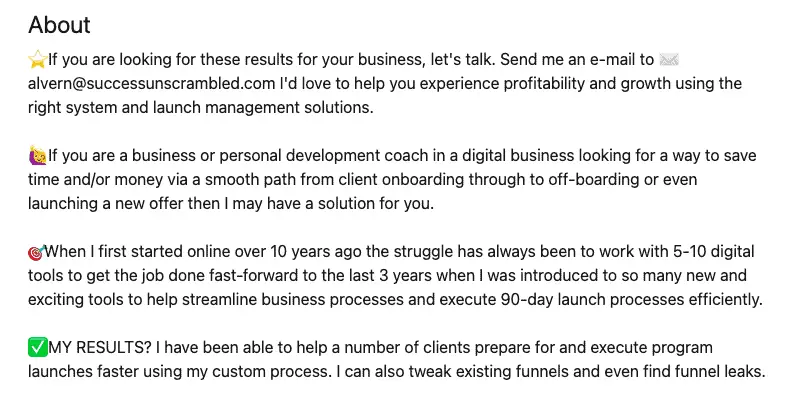 Experience
It would be best for you to spend time updating the latest 3-5 roles on your LinkedIn profile.
That way you can be sure that they all have headlines as well as results-focused items listed under each one.

Above you'll see an example of one I updated.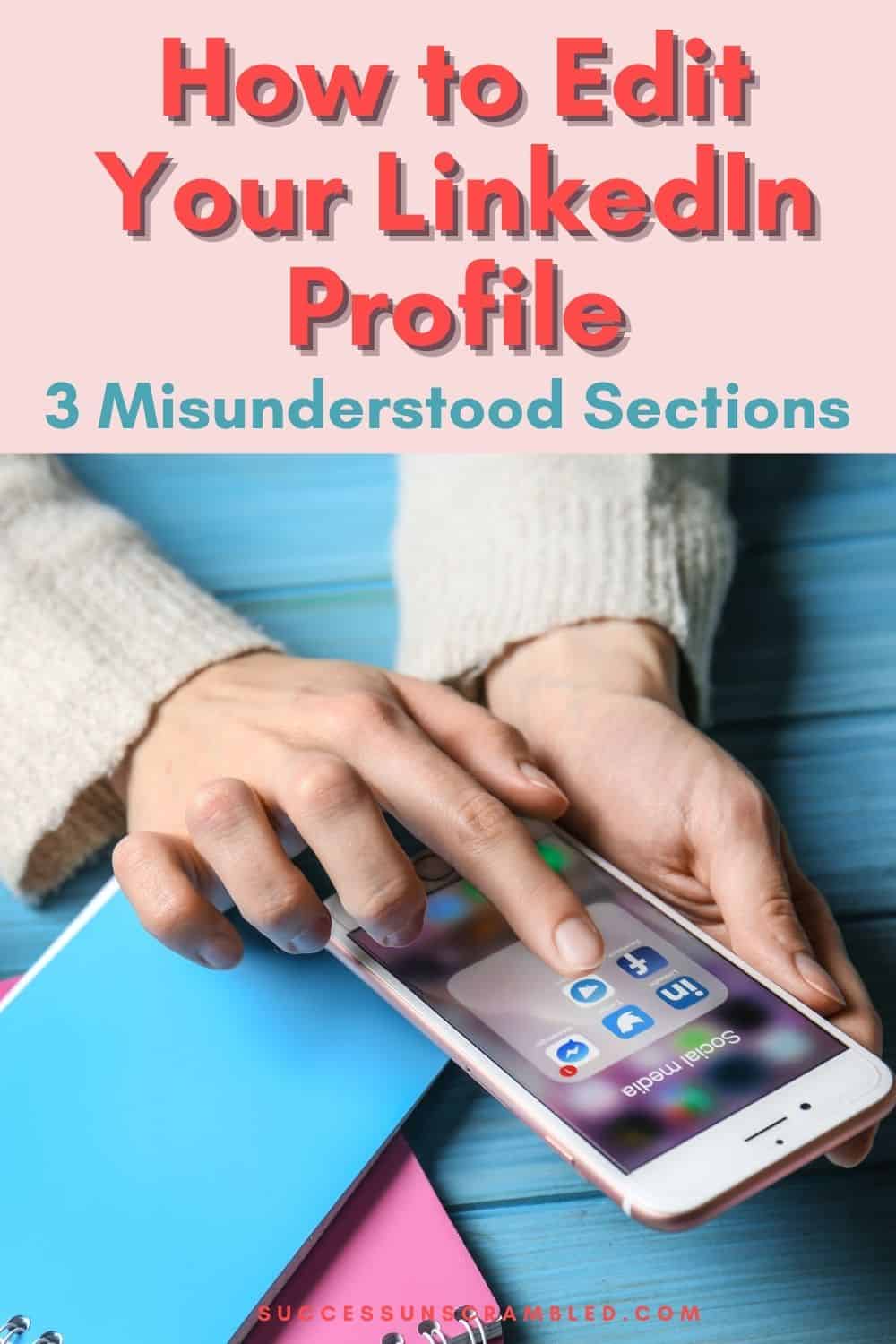 Summary
LinkedIn can be your most powerful method used to advertise your relevant skills and expertise to the world.
The reason for this is that LinkedIn profiles rank in the top 3 in the Google search engines for very important keywords.
After updating your profile wait at least 24 hours to see if your profile show up in the top 3 results for your title or role.
Never underestimate the power of LinkedIn, if you have 3 different roles where you are doing more or less similar things.
Be sure to vary your titles to match Google search results.
For example, I'm a digital marketer, funnel strategist and launch manager.
So I can use these keywords to get in front of my potential clients right when they are ready to invest.
Never leave for tomorrow what you can do today.
Over to you, what has been your experience when it comes to editing your LinkedIn profile?
Announcements
Remember to subscribe to the Success Unscrambled podcast where you will be the first to hear what's happening in the entrepreneurial and digital marketing world.
Your positive review of this podcast is vital to keeping it alive and running for the next 12 – 24 months so please leave a positive 5-star review for us on iTunes, Spotify or any of your favourite podcast players.
Before I left the corporate world to start my own business I remember that my previous 3 jobs fell in my lap because of my optimised LinkedIn profile.
It was a constant game of saying no to potential hiring managers who wanted to interview me.
I started this blog in 2017 because I had a burden on my heart to reduce women illiteracy globally.
Because this is a huge undertaking I have decided to help 1,000 women over the next 10 years to become wildly successful in their online business through simplified marketing strategies.
That way we can build a strong business network of women who can donate 1% of their profit and together we can help reduce women illiteracy worldwide.
Would you like to be part of this movement? Shoot me an email using alvern (at) successunscrambled (dot) com.