Podcast: Play in new window | Download (Duration: 27:55 — 39.9MB) | Embed
Subscribe: Google Podcasts | Spotify | Amazon Music | Stitcher | Email | TuneIn | Deezer | RSS | More
Susie has been running an online business for about 3 years and she's looking for the best refillable journal.
While watching a show on entrepreneurship, Susie learned about the power of journaling.
Finding the perfect journal that will suit her daily routine is important to developing a new habit.
Let me know if you can relate to these points.
You've always heard that journaling is a great habit to develop
Understanding why journaling is important will help you pick up this habit
You are not quite sure if you're a paper journal person or if digital is better
Knowing what to write has been a huge obstacle for you
If only there was a way to get your head around the importance of journaling as well as when to do it.
In this post, you'll learn how journaling can help you achieve your revenue and life goals quickly and easily.
You'll also learn about over 10 different journaling techniques and when to apply them.
Disclosure: Please note that this post may contain affiliate links which means that if you buy one of my recommended products I get paid a commission for sharing the link at no additional cost to you.  I only recommend products that I have tried myself and have experienced success.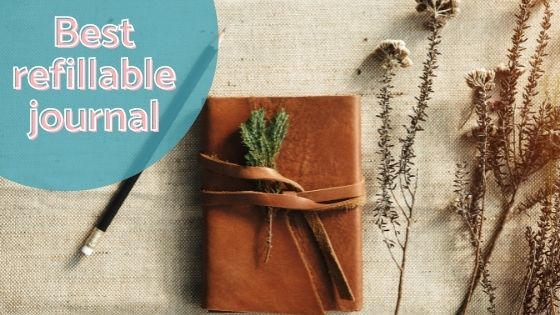 Why Journal
If you're like me you've probably been thinking of journaling for a few years.
However, you've never got into it because it didn't seem to be a necessity until now.
Did you know that there is scientific evidence that shows the health benefits of journaling?
According to PsychCentral, here are 5 health benefits of journaling.
Solve problems more efficiently
Know yourself better
Reduce stress
Resolve disagreement with others
Clarify your thoughts and feelings
The two that jump out at me from this list are problem-solving and clarifying my thoughts and feelings.
If there isn't anything on that list from PsychCentral that you find motivating, here are 6 more benefits of journaling from Kaiser Permanente.
Gain self-confidence
Find inspiration
Achieve goals
Strengthen memory
Track progress and growth
Improve writing and communication.
You have to admit that these 11 benefits of journaling are mind-blowing.
A lack of goal achievement is something that you might have encountered at different stages in your life.
It is also something that you hear friends and family experience regularly.
Looking back, do you think that you might have experienced more successes if you were journaling?
Types of Journaling Techniques
Did you know that there are several different types of journaling?
Depending on the technique you would like to use will dictate the best refillable journal that will suit your needs.
Let's spend some time looking at a list of journaling techniques.
Art journal
Dream journaling
Reflection journal
Morning pages
Gratitude
Unsent letter
Free writing
Lists
Worst case scenario
One line a day
Plan your day
Reading journal
Bullet journaling
At this point, you're probably surprised by the big list of journaling techniques available for you.
In order to understand the best one to use for your needs, let's take a closer look.
Art Journal
As the name suggests, having an art journal will allow you to express yourself better using visual pieces.
These pieces can include sketches, collages, scrapbooking, doodles, experiments and inspiration.
So, if you're more inclined to express yourself visually then art would be a great option for you.
Dream journaling
This would be one that will rarely ever work for me because I forget my dreams all the time.
Actually, it is advised that with dream journaling you write down whatever you can remember and over time your memory will improve.
The challenge I find with this journaling technique is that my dreams are too weird and I prefer not to remember them. Lol!!
The best refillable journal for this technique would be the one with many pages.
Reflection Journaling
As you can imagine, reflection journaling can be very helpful when you document a summary of your day's accomplishments.
I can certainly do this with no problem because I enjoy taking note of what I got done from my list.
It's also a great way to outline areas where you can do better.
Morning Pages
This journaling technique is a bit hilarious. It was developed by Julie Cameron back in 1992.
The goal of Morning Pages is for you to write 3 pages of content in the morning before doing anything.
Here comes the funny part, the content on these pages are the things that you forgot to do, complaints, grumpy thoughts, etc.
It's like if you get everything off your chest before getting into a productive mode.
Gratitude Journal
A gratitude journal can be so much fun because there are just so many things to be thankful for.
Personally, I think that it should be done once a week because doing it every day would make it a bit boring.
Remember to be thankful for the small stuff like a kind taxi driver, a playful cat that made you giggle and a meme that gave you hope.
Unsent Letter
Did you ever write a letter complaining about something or someone but you tore it up and threw it away? Lol!
I can think of one such letter that I wrote and did not send.
This is great for fostering forgiveness, bringing closure and clarifying emotions.
Remember that it's important not to have enemies in life so forgive, forget and move on.
Free Writing
I have to admit that I do a lot of freewriting (thinking) in bed every morning for about an hour before getting out of bed.
If my writing is anything like my thinking it could be a weird experience reading what I wrote.
The goal of freewriting is to set a timer and write whatever comes to mind without editing what you wrote. Yikes!!
Lists
If there's one journaling type that I've mastered is making a list.
I make lists between 7-10 times a week.
You'll be relieved to know that I made a list of what I wanted to say before I started developing this resource.
The types of lists that you can write include.
vacation plans
favourite movies
meal plans
daily activities
fitness routine
favourite snacks
Worst Case Scenario
I don't know about you but I'm not a fan of writing down what's the worst thing that can happen.
As a business owner, I need to take risks almost every week.
One of the things I need to do before taking any risk is to take stock of the worst that could happen which is normally one thing.
If writing a list of worst-case scenarios brings you satisfaction then this journaling technique is for you.
One Line a Day
If you're pressed for time or if you just need to jot down a special moment each day then you'll enjoy doing the one line a day technique.
As the name suggests it involves writing a single line every day.
This is especially good if you are a person of a few words.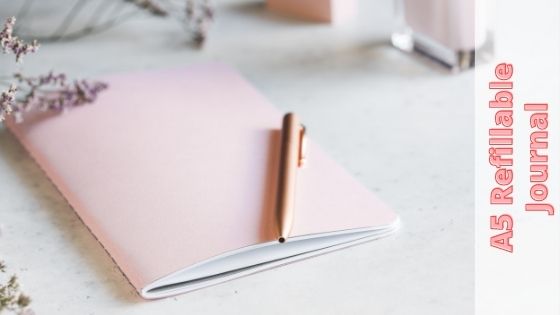 Plan Your Day
I personally use the plan your day technique when I have a stressful day ahead and I need to remember essential items.
For example, if I'm moving house or assisting a client with launching then I need to write things down.
This technique is really helpful with goal achievement too.
"A dream written down with a date becomes a goal. A goal broken down into steps becomes a plan. A plan backed by action makes your dreams come true."

― Greg Reid
Reading Journal
Reading a book and journaling important points throughout can help you apply what you've read.
While I do not have a reading journal, I like to take notes of profound gems that I encounter daily.
I'll either write a note about what I found, bookmark the link or save it in the notepad on my phone.
Living in a world full of information can make you suffer from information overload in a matter of seconds.
Bullet Journal
Hands up if you purchased a bullet journal but never used it? Lol!
When compared with all the different journaling techniques, bullet journaling allows you the ability to make a unique design.
You can have a combination of different formats, layouts and styles with a bujo.
Check out a few of these bullet journal weekly spreads here.
Wealth Journaling
One of the journaling techniques that I did not include in the previous list is wealth journaling.
I wanted to deal with it separately because it's a touchy subject for some people.
The word 'manifesting' has left a bad taste on many hearts and minds around the world.
In its basic form wealth journaling involves journaling with the expectation of gaining a financial increase in your life.
The most effective method is writing as if it has already happened.
Here are 5 examples.
I have a 6-figure business
I am the owner of a beautiful home on 5th avenue in Manhattan
Clients book discovery calls with me daily Monday to Thursday
My gratitude overflows as I'm thankful that I made $10,000 in the last 14 days
I am so thankful to be the owner of a new, burnt orange, Tesla model 3
I think you get the picture of what wealth journaling is about and how it can help you get to 6-figures.
For a more in-depth guide to wealth journaling head over here.
7 Best Refillable Journals
By now, you should have a better idea about the importance of picking the right journal for your chosen journaling technique.
Let's look at the best refillable leather journals on the market.
1. Refillable Journal – Italian Genuine Leather – by Unika Keep IT Closer
This refillable journal by Unika Keep IT Closer comes with a number of irresistible features that are suitable for all types of journaling.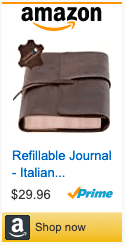 These features include:
390+ 5 star ratings
4 different colours
Handcrafted 100% leather Notebook
Leather Strap Closure System
Refillable with a 320 page blank journal diary
Day to Day calendar
A classic journal
It is reasonably priced and with 4 colours to choose from you'll definitely find a colour that you like.
One reviewer said, "Welcome me to my new, forever journal cover. It's gorgeous!" This made me feel so warm and fuzzy on the inside.
2. Komal's Passion Leather Journal Refillable Lined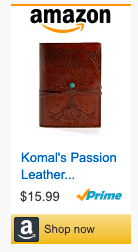 Another beautiful refillable leather journal this time by Komal Passion with a number of practical features, including:
2,930+ 5 star customer reviews
Available in two sizes
100% Genuine Buffalo Leather
Eco-friendly recycled paper
Lined paper is 200 pages in total (not sheets)
Perfect size to carry in your bag
It is a number 1 bestseller with eco friendly paper and it is also reasonably priced.
Here's what a reviewer said about this journal. "What a very pleasant surprise! I gave this journal to my wife as a stocking stuffer. The craftsmanship and design are wonderful."
3. Refillable Leather Journal Writing Notebook – Poromo Store
About the same size as the previous two journals this refillable journal is great for art journaling. Here's why.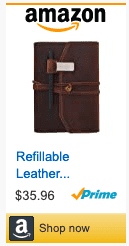 780+ 5 Star ratings
Lay flat
Blank notepad
100 paper sheets
Handmade leather
Convenient pen holder
Inner card pockets
A5 size
Leather strap closure
The review written by this buyer put a smile on my face. "This leather handcrafted journal cover arrived at the perfect time, midday on a holiday. The time of arrival was simultaneous to me snuggling into my chaise lounge with a cup of warm Earl Grey tea."
4. Vintage Refillable Journal, MALEDEN Premium Leather
The Maleden is the first refillable journal in ring binder format which makes it easy to fill it with new pages.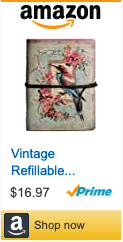 Other cool features include:
Traveler Notebook or Sketchbook
2290+ 5 Star ratings
180 Blank pages
Vintage journal
Ring binder
Zipper pocket
Refills lined paper (sold separately)
I was wondering if it had thick paper or good quality paper that didn't bleed onto another page.
In answer to my question, here's what one reviewer said. "I like this little journal! It is sturdy and the brown paper is of good quality. Paper is not thin and stands up to pens and markers. I use it to keep all my notes corralled in one place!"
5. Refillable Leather Journal Travelers Notebook – Newestor
Wow!! The Newestor refillable journal takes the idea of refillable to a whole new level.
So far it has a lot of amazing features, including: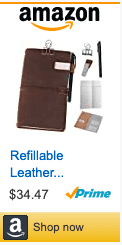 Compact, portable design
1,800+ 5 star ratings
Pen holder
Binder clip
Travel diary with 5 inserts
4 elastics on the spine
Ability to add 8 inserts
1 zipper pouch
96 double-sided sheets
1 Kraft folder
What blows my mind about this leather journal is that refillable inserts, filler paper or notebooks are readily available.
Also, they are available in lined, grid, blank, dot grid and mixed formats which is suitable for almost every journaling technique.
Is the leather any good?
Here's a 5-star review from a verified buyer. "I'm really impressed with this journal kit. It came with everything to get started, and the quality is top-notch! The leather, oh the leather, has that wonderful smell and is very thick, yet still soft and pliant."
For me, this one is the best choice as it comes with refillable pages, a professional look and great features.
6. Beyong Leather Writing Journal, Refillable Travelers Notebook
This leather writing journal from Beyong is designed for someone who is looking for a minimalist journal.
Here are some of those features.
Great for teen girls and boys
2,650+ 5 star ratings
High quality PU leather
Perfect size for handbag
Blank paper
Travelers notebook
7 inch
Ring binder spine
Easy to refill
Affordable price
It is also available in 5 different colours and 2 different sizes, 5-inch and 7-inch.
If you are wondering about the quality, here's 5-star feedback from a buyer.
"Gorgeous journal! It is refillable, and absolutely incredibly made! The paper is thick and the cover is absolutely gorgeous!"
7. Le Vent Refillable Leather Journal for Men and Women
This refillable journal by Le Vent comes with two notebooks as standard as well as a few other features.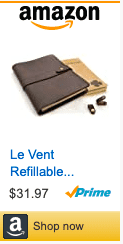 2 bound notebooks – 200 pages each
980+ 5 star ratings
Genuine leather
A5 notebook
2 x cord wrappers
Brown vintage
Pen holding clasp
Lay flat notebooks
Each hard cover notebook has different types of paper.
Like me, you're probably wondering what other people thought of the Le Vent journal.
"After a lot of thought, I decided to take a chance and buy the Le Vent leather cover because it seemed so beautiful.
Well, I'm glad I took a chance because my planner ended up fitting nicely in the Le Vent cover."
Can Journaling Be Harmful?
Have you ever wondered if journaling can be a bad thing?
Well, I've got news for you, there are times when journaling can be harmful and here are 4 ways.
Too much journaling without getting on with life
Writing about negative things can take you in a downward spiral
If someone finds your journal it can cause distrust
Journaling can cause you to overthink about life itself
It's important to develop a healthy journaling habit.
One way to assess if journaling is healthy for you is to check your results.
Are you achieving your goals? Is your life in a much better place?
Can your family, friends and loved ones see the difference in your life?
Be sure to have an end goal mapped out before starting any journaling technique and check your results regularly.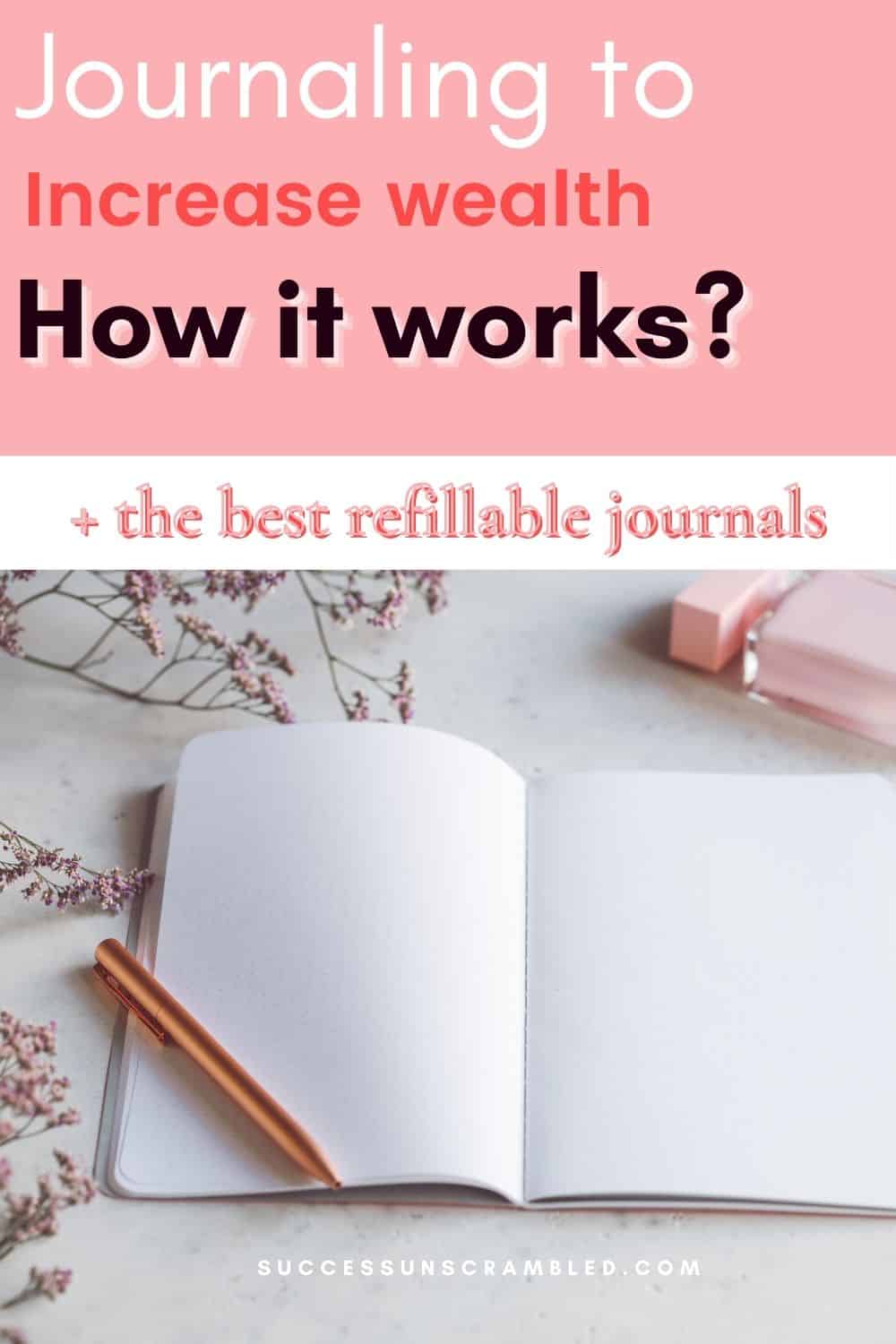 Summary
No matter where you are in your life's journey you'll notice that there'll always be areas where you need to improve.
The best way to assess which areas of your life can benefit from some improvement is by measuring where you are on the wheel of life.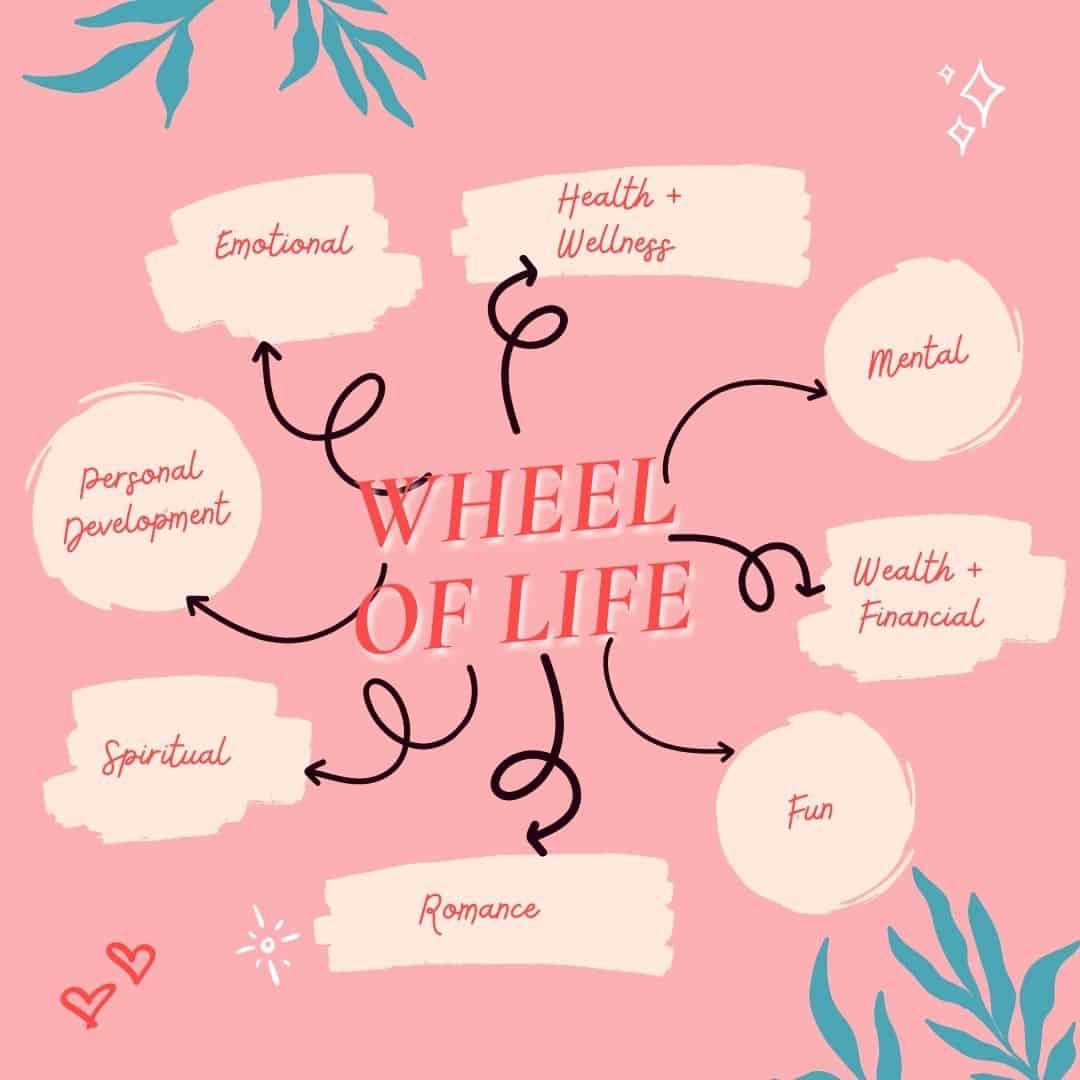 Rate each area of your life on a scale of 1 to 10 in order to get a better understanding of what you can improve.
Some areas are dependent on others.
For example, you may want to improve your ability to earn a higher income but you may need to hire a coach or enrol in a course.
Wealth journaling, freewriting, list journaling and gratitude journaling can all help you improve your financial situation.
Over to you, how has journaling helped to improve your life?
Announcements
Remember to subscribe to the Success Unscrambled podcast where you will be the first to hear what's happening in the entrepreneurial and digital marketing world.
Your positive review of this podcast is vital to keeping it alive and running for the next 12 – 24 months so please leave a positive 5-star review for us on iTunes, Spotify or any of your favourite podcast players.
Journaling is the one thing that I did not practice early in my entrepreneurial journey.
After learning that many successful 6, 7 and 8 figure income earners spend time journaling regularly I decided it was time to adopt this habit.
I have decided to help 1,000 women over the next 10 years to become wildly successful in their online business through simplified marketing strategies.
That way we can build a strong business network of women who can donate 1% of their profit and together we can help reduce women's illiteracy worldwide.
Would you like to be part of this movement? Shoot me an email using alvern (at) successunscrambled (dot) com.