Podcast: Play in new window | Download (Duration: 23:54 — 33.5MB) | Embed
Subscribe: Google Podcasts | Spotify | Amazon Music | Stitcher | Email | TuneIn | Deezer | RSS | More
Lisa wanted this year to be the year that she achieved a major goal.
However, Lisa had one problem, she needed a daily goals template that'll help her to break her big goals into manageable tasks.
You see, it has been 10 years since Lisa has been trying to leave her 9-5 job.
Every time she started a project or program that would change her life she got distracted or lost hope along the way.
Let me know if you too can relate to any of these points.
You know that you need to become an entrepreneur
You've achieved the coaching certification needed to start practising your skill
The one thing holding you back is getting your first client or 10th
Imposter syndrome is your biggest obstacle right now
If only there was a way to finally get your business off the ground or earn 5-figures in your business so that you can quit your job.
In this post, you'll learn the tricks and tips needed to become a full-time entrepreneur as well as how to map out the goals daily.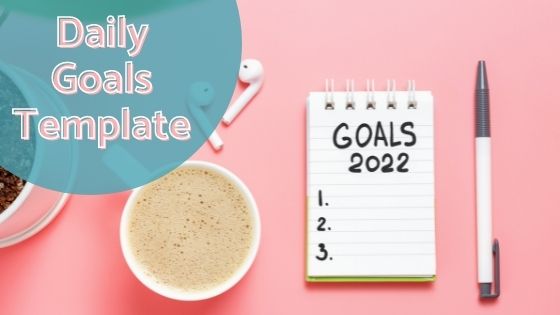 What Nobody Is Telling You About Goals
If you are like me you've probably set goals or written down your dreams in the past.
However, those goals never became a reality.
What you need to know is that writing down your goals is not enough.
To achieve goals you need to put some action behind them.
If you find yourself like Lisa where you feel stuck in a rut.
Maybe you've invested in a coaching program, hired a VA or even started a blog.
After taking some action you became depressed after 6 months or even 2 years because the results were inadequate.
Here's what you need to know about goals.
In order to achieve resounding success, you need to keep taking action even though the results are disappointing.
Of course, if you've been taking consistent action for 10 years without results then you are doing something wrong.
Have you been taking consistent action for 10 years without results?? If yes, it's possible that you need a helping hand to get you success so feel free to book a call with me here.
If you're experiencing mindset blocks then these journaling tips and refillable journals will help you big time.
Let's spend some time looking at goal setting so you can get an idea of how to do it right.
Goal Setting
When it comes to setting goals, there's a right way to do it and a wrong way.
Let's look at the right way to set goals. Hint: it involves setting specific goals with an action plan for each one.
You've probably already heard of the acronym SMART before.
S – specific
M – measurable
A – achievable
R – realistic
T – time-bound
Specific
Using the SMART methodology, your goal needs to be specific.
For example, you want to generate a liveable income in your business in 30 days.
Measurable
Taking the previous example, let's make it measurable so that it can be managed.
Generate $1,000 in your business in the next 30 days by offering social media management to potential clients.
Achievable
So, is that goal achievable? If yes, how will you achieve it?
Generate $1,000 in your business in the next 30 days by offering social media management (SMM) to potential clients. It means that you'll need to have a social media management package of $300/month that you can offer. You'll also need to do 1 discovery call every 1-2 days and have a close rate of 20-30%
Realistic
At this point, you need to consider if this goal is realistic and relevant compared to all your bigger goals.
If your bigger goal is to leave your 9-5 job or get your coaching business to generate a full-time income then you need a realistic plan with smaller tasks.
Generating $1,000 in your business in the next 30 days by onboarding 4 clients at $300/month for social media management by doing a discovery call every 1-2 days ensuring a minimum close rate of 20% is realistic because many small business owners need this service urgently to promote their services.
Time-Bound
Like many things in life, ensuring that your goal has a deadline sets a countdown timer in motion.
In other words, it is important to add a date to your SMART goal.
By X date, you'll generate $1,000 in your business by onboarding 4 new clients at your $300/month social media management package. You'll do this by doing a discovery call every day or every other day and ensuring a close rate of 20%.
All you need to do now is find those potential clients.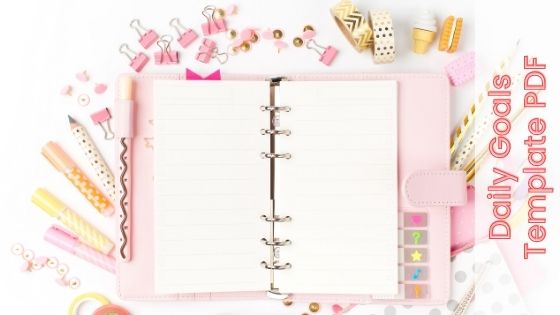 Where to Find Clients
One of the fastest ways to generate an income online is by offering a service.
Whether you are a certified coach, social media manager, web designer, graphic designer or a general VA you need clients to make money.
So, where can you go to find these clients?
Well, where are your clients hanging out online?
A great place to find potential clients is on social media platforms like Facebook.
Other places include Instagram, Upwork, Fiverr and many other places.
As a service provider, it would make sense to join Facebook groups where your clients are already asking questions.
Here are 10 Facebook Groups where you can find a list of job opportunities or potential 365 days a year.
Boss-Moms
Virtual Assistant Savvies
How She Did That
The Virtual Entrepreneur
Thrive: A List Building Community
Women In Marketing
Freelancing Females
Digital Nomad Girls Community
Virtual Assistant Tribe Job Board
Virtual Assistant Jobs
The Virtual Assistant Connection
In order to get potential clients to book discovery calls with you, be sure to have a portfolio or resume outlining your packages and pricing.
Also, make it easy for them to book time in your calendar by using a service like Calendly, Acuity Scheduling (my favourite) or Dubsado.
Daily Activities
Now that you know how to set SMART goals and where to find clients, what should your daily activities look like?
My advice would be to set aside 1-2 hours every day to check on the jobs or potential clients inside your chosen Facebook groups.
This is something I do every morning in order to generate leads.
When I find a suitable lead, I'd leave a comment as well as a link to my resume (you can save your resume in Google Drive or Dropbox).
Be sure to use a link shortener to make the link to your resume more attractive.
Sometimes the person offering the job asks potential job seekers to email them.
So, I'll send an email to them as soon as possible.
Another cool way to get noticed as an expert inside larger Facebook groups like Boss-Moms is to add value by answering questions.
Be sure to head over to Instagram and follow your potential clients.
The reason for doing this is that they advertise jobs in their IG feed and Stories.
Also, search through hashtags like #wehiring, #hiring, #jobopportunity, #adminhelp and your specific role tags like #socialmediamanager or #smm.
Finally, do a search on Upwork for projects and save jobs that interest you and respond to them while they are still hot.
I can assure you that if you are doing these daily activities you'll be able to hit your goals in no time.
Daily Goals Template – Notion, Airtable and PDF
Starting a new habit can be very hard.
Some days you'll remember and other days you'll forget.
So, I've created a number of daily planner templates that you can use to start a new habit.
The first two are free templates that are much better than using a sticky note.
It doesn't matter the types of goals you are trying to achieve.
They are great for personal goals, simple goals, weight loss goals, career goals or monthly goals.
Check out these motivational quotes that will help you to stay focused on taking action.
Using the smart goals template together with these goal planning strategies will help you with time management.
Daily Goals Template Notion
The first tool I used is called Notion and it is very easy to implement.
Here's a screenshot of the template.

As you'll see, I'm using the board view to arrange my goal cards.
Each card represents a goal.
Here's what a single card looks like in more detail.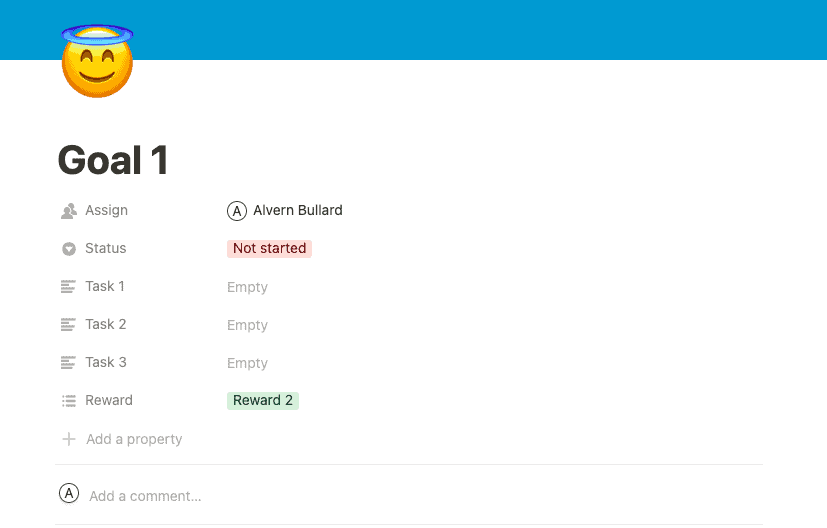 Daily Goals Template With Real Goals – Notion
To help you to understand how this works, here's an example with real goals included.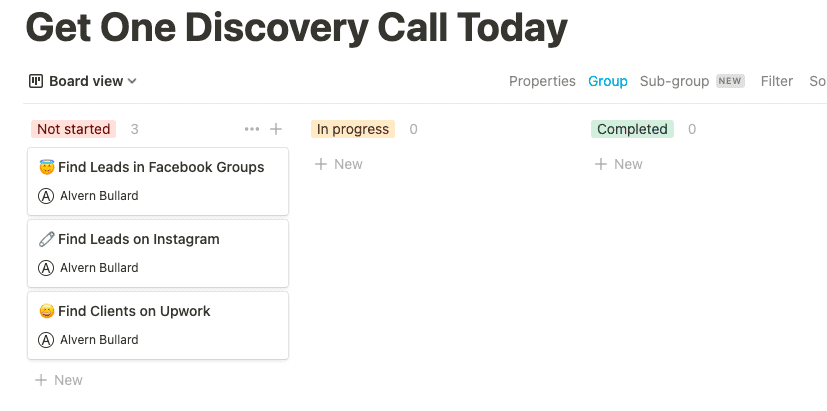 If you remember the example I gave earlier of generating $1,000 in 30 days by onboarding 4 new clients.
The daily goal involves having 1 discovery call every 1-2 days.
In order to have those discovery calls, you'll need to generate leads.
Here's what the daily tasks look like to generate discovery calls every day.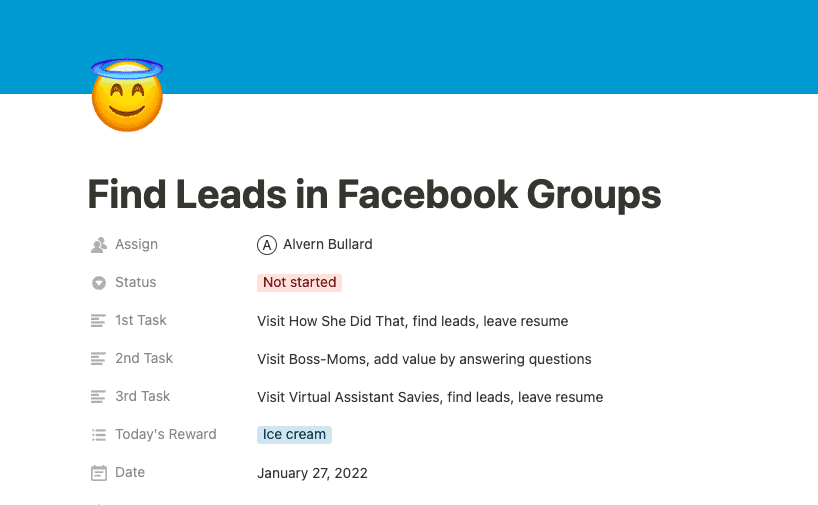 Notice how I've included action steps as well as a reward for completing the assigned tasks.
Would you like access to this template in Notion? If yes, click here.
Daily Goals Template Airtable
If you prefer to use Airtable you'll be able to develop a daily goals template similar to the one shown below.

Notice how you can have your primary goal or high-level goals on one side followed by your secondary goals and daily goals or smaller goals.
Feel free to grab this goal planner so that you can make a list of achievable goals.
Airtable recently introduced something called interface and this is what it looks like with the daily goals implemented.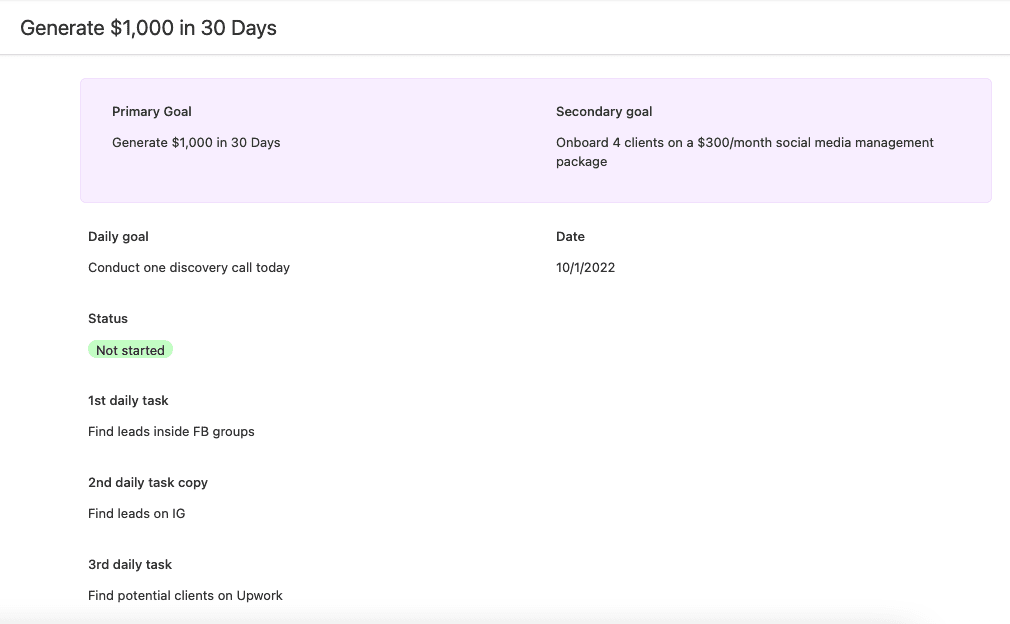 Over time you'll be able to look at your success rate and see which daily tasks are giving you the most results.
To access this Airtable click here and make a copy.
Daily Goals Template PDF
Are you someone who prefers a pretty printable version of the daily goals template?
Or better yet, a pretty template to help you with your daily goals in the form of a fillable PDF document.
I've created a PDF version of the daily goals sheet in the form of a 4-page booklet.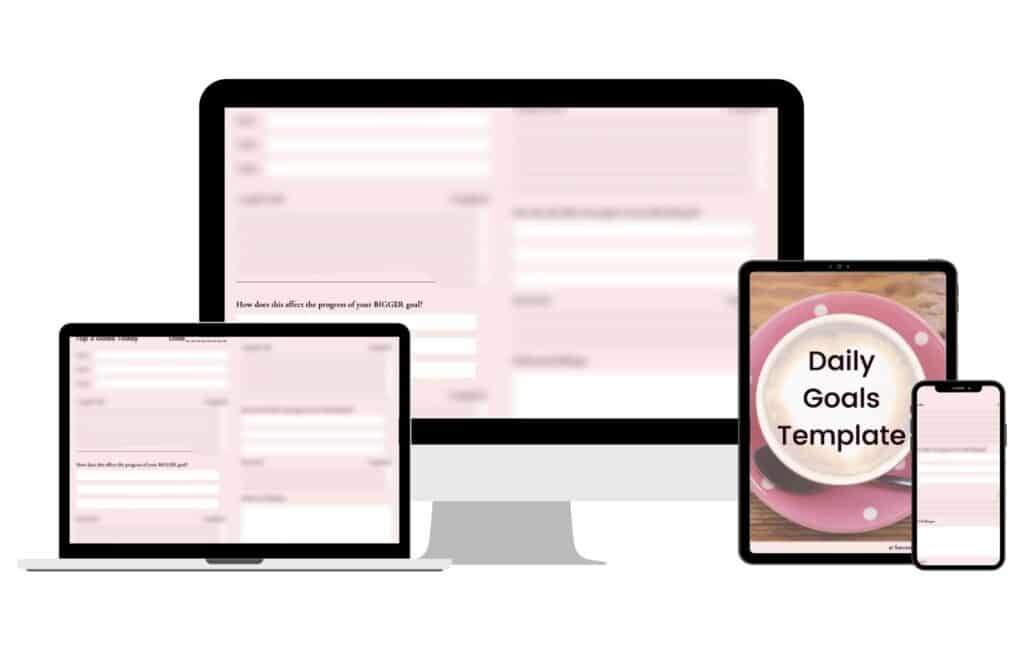 It gives you the ability to focus on your top 3 mini-goals for the day so that you'll know exactly what you need to do each day.
The daily goals template PDF comes with different sections to enter your rewards, tasks, thoughts and reflections.
There's also the ability to verify how these actions affect or influence your bigger long-term goals inside this printable template.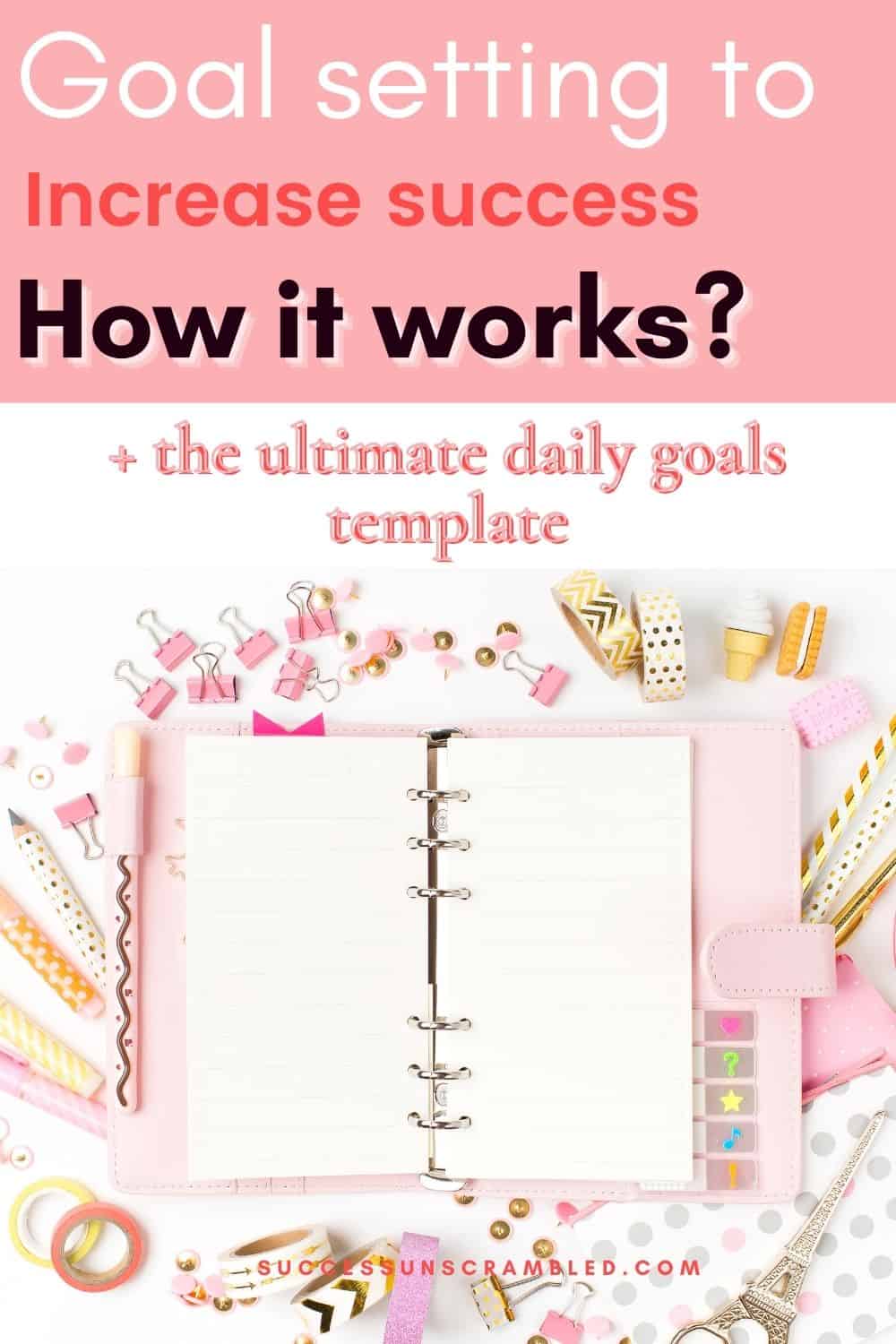 Summary
You can either spend the next 3-5 years struggling to achieve your big dreams.
Or you can do what it takes to really achieve success in your life.
Looking back at what was covered in this resource, here's a brief summary.
Write down your big goals
Use the SMART goals technique to get clear on the actions needed to achieve goals
Make a list of places where your potential client already hangs out
Set aside 1-2 hours each day to complete the tasks that lead to goal achievement
Use a daily goals sheet or booklet to track the progress of your goals vs tasks
The process of goal achievement is a daily routine that can be applied to different areas of your life.
Like you, I always thought that turning my dreams into reality was difficult.
That was until I discovered that achieving goals is easy when broken down into tasks.
Decide what is your ultimate goal for this year and what it would look like to have a successful year.
Set the right goals, adopt positive habits and use these powerful tools to map out your actionable steps.
Grab your copy of the daily goals template PDF here so that you can make your dreams come true.
Upon checkout, you'll receive a printable PDF file.
Over to you, what has been your experience of taking action on your goals?
Announcement
Remember to subscribe to the Success Unscrambled podcast where you will be the first to hear what's happening in the entrepreneurial and digital marketing world.
Your positive review of this podcast is vital to keeping it alive and running for the next 12 – 24 months so please leave a positive 5-star review for us on iTunes, Spotify or any of your favourite podcast players.
It's possible that you may still need to hire a coach to help you gain clarity in your business.
I offer business advice if you're still stuck and you want to make your first $1,000 online.
Feel free to book a one on one call with me here.
I have decided to help 1,000 women over the next 10 years to become wildly successful in their online business through simplified marketing strategies.
That way we can build a strong business network of women who can donate 1% of their profit and together we can help reduce women's illiteracy worldwide.
Would you like to be part of this movement? Shoot me an email using alvern (at) successunscrambled (dot) com.