Podcast: Play in new window | Download (Duration: 20:44 — 29.0MB) | Embed
Subscribe: Google Podcasts | Spotify | Amazon Music | Email | TuneIn | Deezer | RSS | More
Nancy wanted to grow her audience quickly but she had one question…
How to make a 60-second Tik Tok video with music.
Like many other entrepreneurs, Nancy has been hearing that you can build your audience quickly using Tik Tok.
However, Nancy considers herself a technophobe so she finds it difficult to adopt new technology.
Even though Tik Tok might be easier to use compared to other platforms.
Nancy still had her reservations.
Let me know if you can relate to these.
You are an introvert or camera shy
Like Nancy, you too have been hearing about Tik Tok a lot
The thought of publishing 2-4 times a day puts you off
You haven't a clue what software to use to edit videos
If only there was a way to get started on Tik Tok quickly and easily.
In this post, you'll learn how to get started on Tik Tok in a matter of minutes as well as what tools are available to help with your success.
Disclosure: Please note that this post may contain affiliate links which means that if you buy one of my recommended products I get paid a commission for sharing the link at no additional cost to you.  I only recommend products that I have tried myself and have experienced success.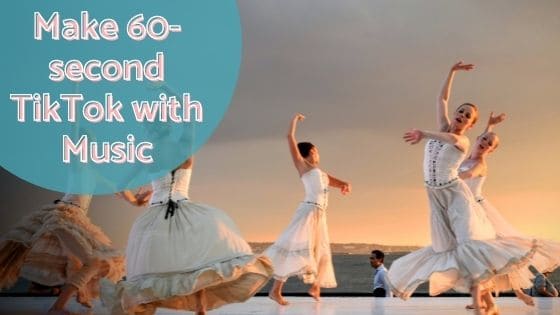 The History of Tik Tok
As a platform, Tik Tok started only a few short years ago in September 2016 and since then it has grown from strength to strength.
It's a social media platform specifically designed for short videos also known as short-form videos or short clips.
Video lengths range from 15 seconds to 3 minutes and users have the ability to add filters, music, effects and much more.
According to Wikipedia, It is owned by a Chinese company called ByteDance.
As of October 2020, Tik Tok has surpassed 3 billion downloads worldwide.
In China, Tik Tok is known as Douyin, it has similar features but they are not exactly the same.
Tik Tok was launched outside of China in 2017, however, it was only after it merged with Musica.ly that it became available worldwide.
There are 3 video formats available on Tik Tok including the following aspect ratios.
1280×720
720×1280
640×640
The minimum video length is 5 seconds.
Tik Tok Statistics
For many entrepreneurs like you, it's important to know that a social media platform will give you a return on investment before using it.
This is why I'd like to spend some time looking at the statistics as they stand.
According to 2022 statistics from Backlinko, Tik Tok has 1 billion monthly active users.
Of those 1 billion users, between 73 to 100 million of them are in the US.
Tik Tok has 50 million daily active users in the US alone.
US users spend an average of 33 minutes a day on Tik Tok.
Annual revenues in 2019 were $17 billion.
Tik Tok is the 7th most used social media site globally.
41% of Tik Tok's active users have an age range between 30 and 49 which is quite surprising.
Many people assume that Tik Tok is for teens but that doesn't appear to be the case.
How to Make a Content Plan for Your Tik Tok Videos
When it comes to video, it is more difficult to produce compared to still images.
This can be true for Tik Tok as well depending on the type of videos you want to create.
For example, do you want your videos to be more formal, funny, talking head or environmental clips?
The first step in developing consistency around your Tik Tok videos is to develop a strategy.
You can easily develop a strategy by focusing on 5 content pillars.
Here's an example of what I'm talking about.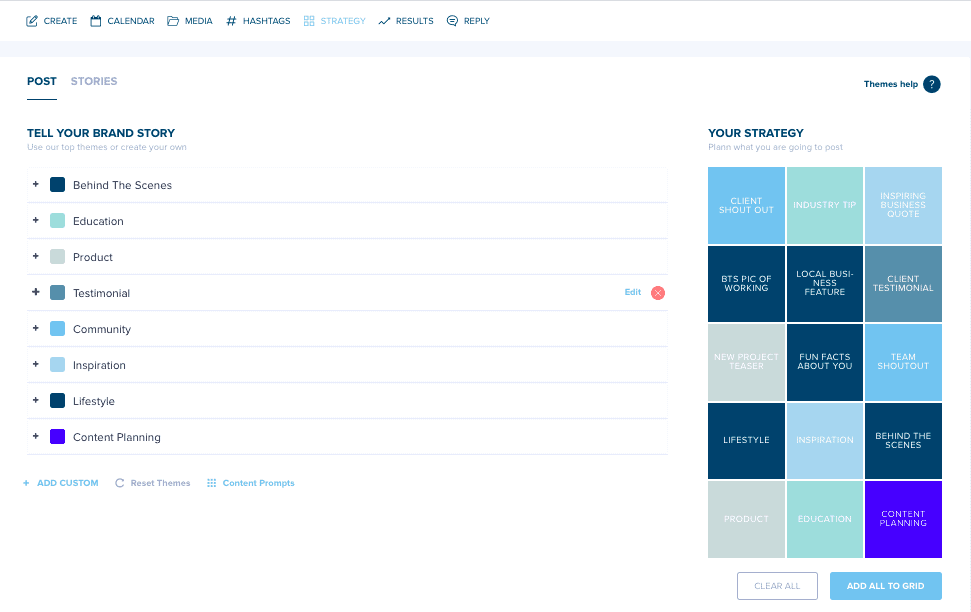 Using a social media planner like Plann will give you prompts to formulate a strategy.
In the screenshot, you'll see content pillars like behind the scenes (BTS), client testimonials, featuring another business and much more.
Feel free to take Plann for a test run here.
How to Make 60-Second Videos Fast
Uploading video content can be pretty easy when you have the content already created.
So, how do you create short-form videos every day to use on Tik Tok?
Again, looking at your strategy, decide on the look and feel of how you want your brand shown online.
Do you want it to be more formal, funny, scrappy, casual, eating, walking, running or just telling a story?
You'll really need to decide on consistent brand energy in order to get into a rhythm.
Here are 7 ways to make 60-second videos fast.
Doing a screenshare (over the shoulder)
Talk about what you want to accomplish today (your to do list)
Show how you prepare a meal for your family
Take your followers on a hike/walk with you
Share the highlights of a story that you heard or love
Talk about a lesson you learned
Share you favourite office gadget
As you can see it doesn't take a lot of effort or even brain surgery to develop content ideas for Tik Tok.
The next main challenge you'll have is the post-production of your videos.
Post-production is also known as video editing.
5 Apps to Edit Your 60-Second Tik Tok Video
Video editing can be difficult especially if you are working with longer videos.
Thankfully, Tik Tok videos are shorter in length so video editing should be more fun.
Here are 5 apps to help you with Tik Tok video editing.
FilmoraGo
Adobe Premiere Rush
Inshot
Canva
Clipchamp
Let's look at each one briefly to give you a working knowledge of their features.
1. FilmoraGo
It's an app that you can download to your smartphone. The full version is about $35/year.
The available features include special effects, transitions, stickers and music.
You also have the ability to use their existing templates.
2. Adobe Premiere Rush
I've been hearing about this app for years because one of my coaches is a YouTuber and this is what she uses for editing on the go.
Adobe Rush allows you to shoot video right inside the app using their pro camera.
You'll have the ability to adjust the speed of the video, combine multiple clips and access 1,000s of soundtracks,
Other features include sound effects, animated titles, adding voiceovers, enhancing the colour of your videos as well as using pan or zoom.
3. InShot
It seems like everyone and their marketing department are using InShot for video editing.
The reason why it's so popular is that it comes with a number of unique features. You can access these features for only $15/year which is amazing!
These features include themed stickers for a wide range of needs.
For example, items for a hair salon, study time, summer vibe, birthdays, black and white, flowery patterns and much more.
4. Canva
If you've been using Canva for a while you'll probably be aware of the fact that it has Tik Tok templates available as standard.
What's even more amazing is that Canva now has a video editing timeline built-in as standard.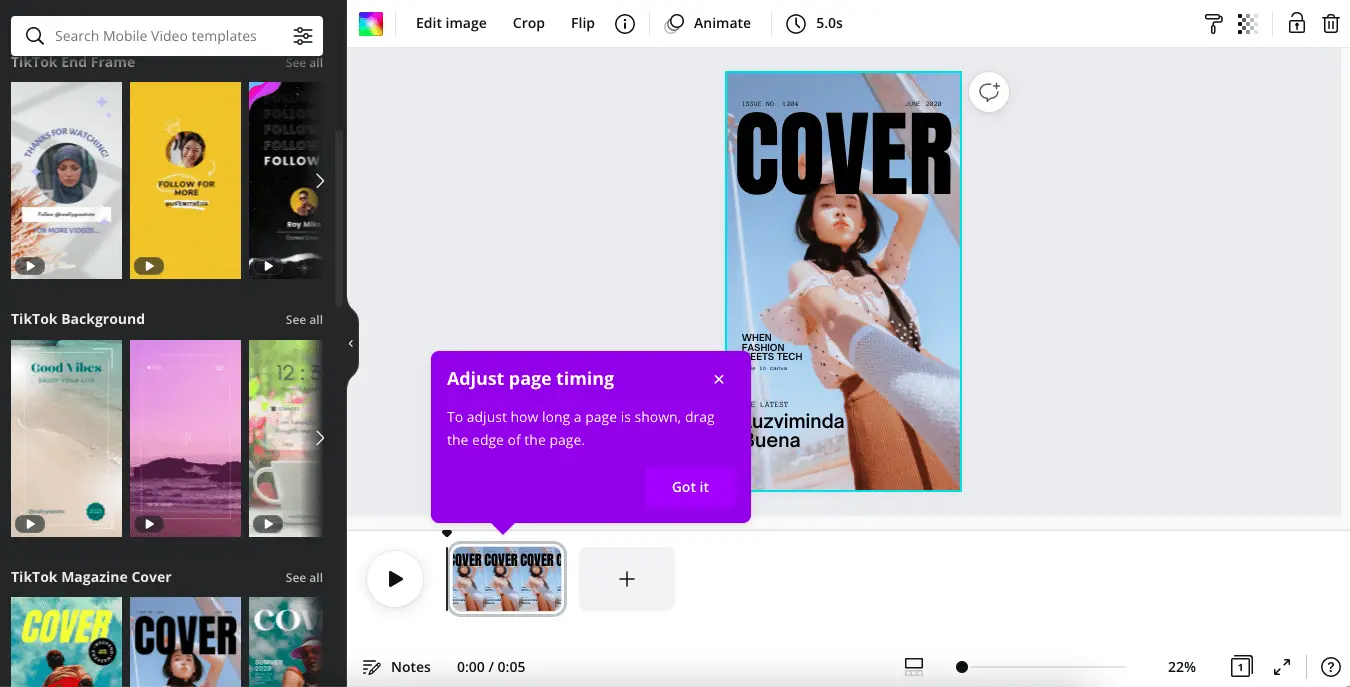 Simply upload your videos and add them to the timeline.
Clipchamp
There's a new kid on the block called Clipchamp and it's being called the video editing version of Canva.
Clipchamp offers a huge stock library of images, audio clips and videos but as you can imagine there's a catch.
The free version of the platform doesn't offer any stock material. You'll need to pay $39/month to access all that amazing content.
How to Make a 60-Second Tik Tok Video with Music
Now we've come to the most important part of this resource, making that 60-second Tik Tok video.
Let's dive in and I'll show you how to make a 60-second video with music step-by-step.
Decide if you want to record the video inside Tik Tok or use another method (smartphone camera, Filmicpro, DSLR camera).
You'll need to access your TikTok account using the TikTok app on your smartphone to make the video.
There's the option to upload a single video or multiple videos which TikTok combines into a single video.
However, bear in mind that the overall length of your video should be no longer than 3 minutes.
Step 1
If you want to record the video inside Tik Tok, open TikTok on your smartphone.
At the bottom of the screen, you'll see the plus button, click on that and you'll be brought to a view that looks like the one below.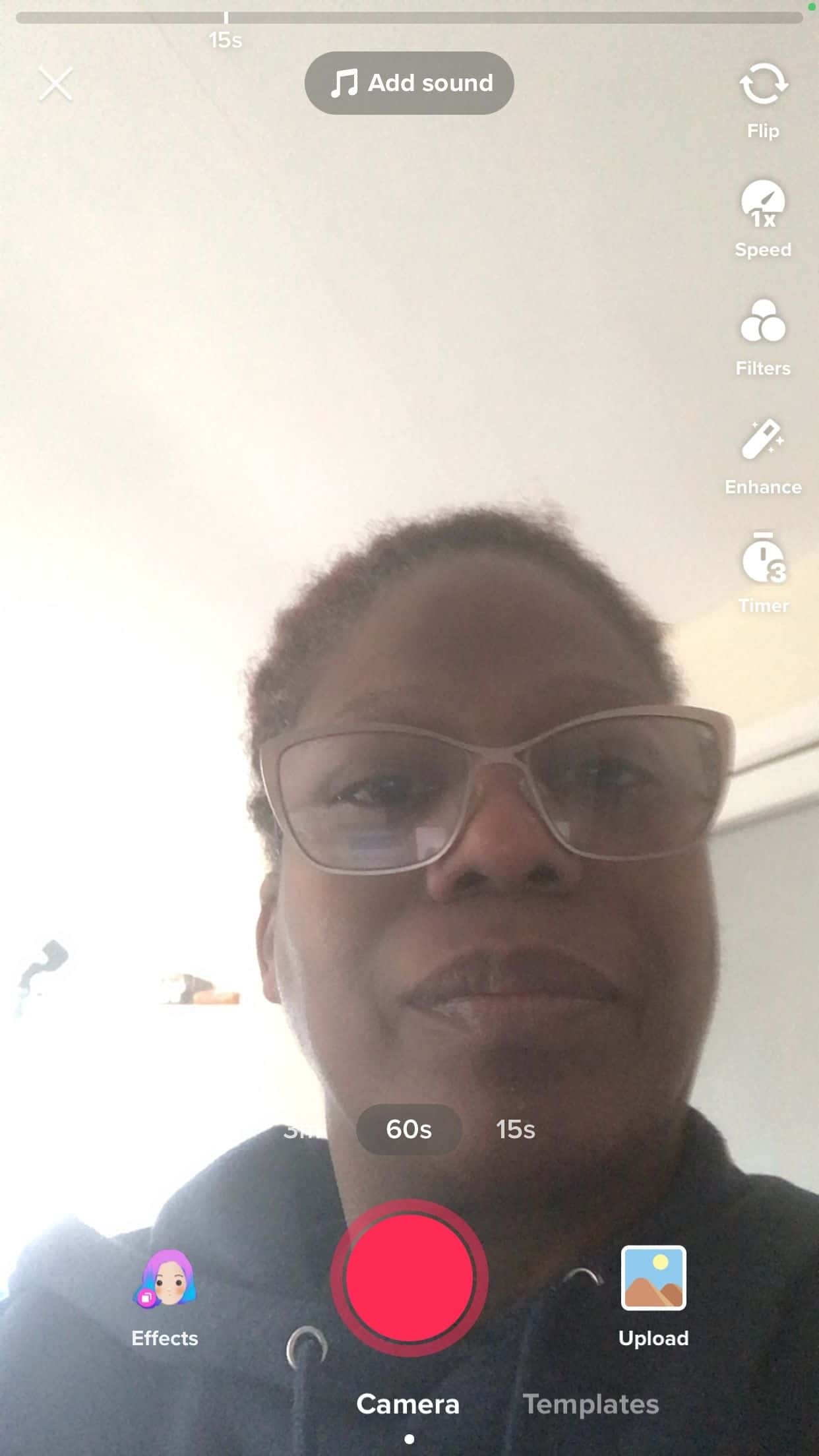 Notice that there is a red button or red circle just like any other device.
You'll also see the upload icon next to it.
If you export videos from other platforms this is where you'll have the ability to upload them to Tik Tok.
At the top of your screen, you have the option to add sound at this stage.
To be honest, I prefer adding sound while editing on the next screen.
Step 2
If you prefer to upload a set of photos to make a video then hang tight.
The great thing about Tik Tok is that they've got dozens of templates to choose from.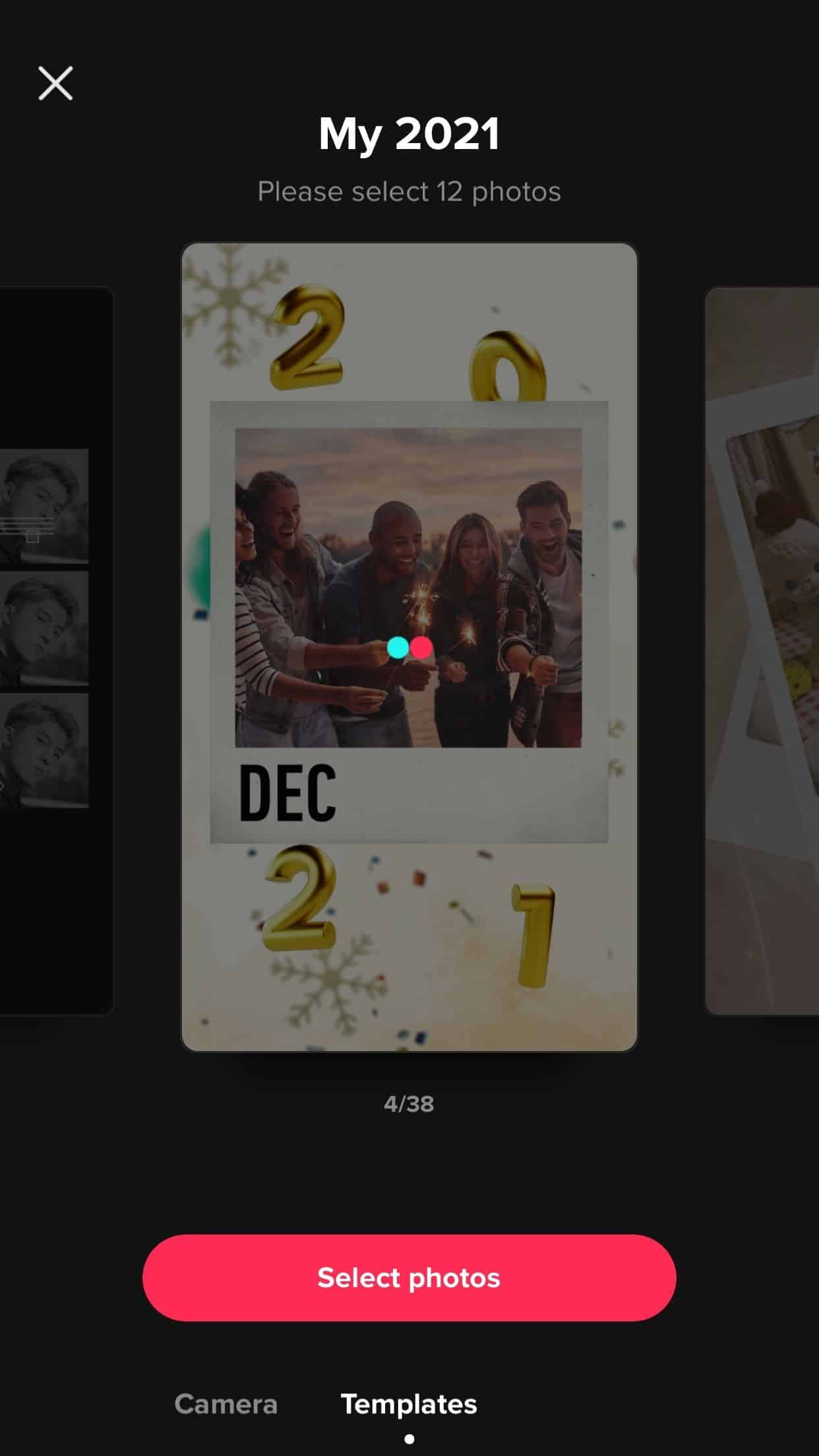 Before uploading your photos click through the available templates to see if there's one you like.
Notice how each one tells you the number of photos required for that template.
Move to step 3 if you want to record a video instead.
Step 3
You'll notice that the default option is 15s for your video length.
Be sure to select the 60s option before hitting the record button
Press the big red record button to start recording.
After you're finished click the red button again to stop the recording.
Click the red checkmark to review your recording.
Step 4
You'll be brought to a screen to make your necessary edits like adding text and music.
On the bottom left of that screen, you'll see a music icon.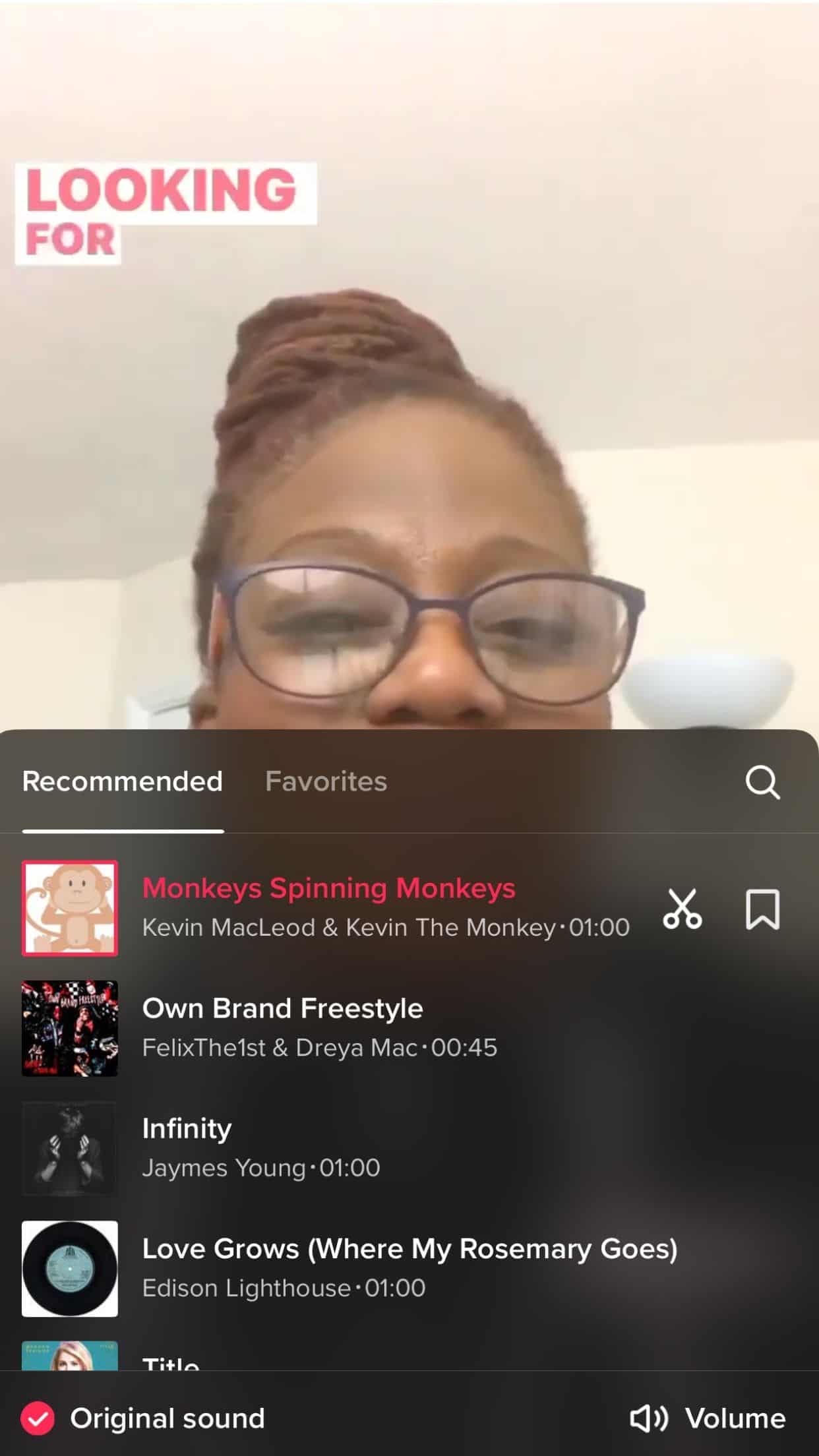 Click on the music icon and browse through the list of options in the music library.
You can also use the search bar to find a song title that you know.
Notice the volume icon inside the music section. One of the unique features of TikTok is that you can reduce the audio clip volume to use it as background music.
When you find a song that you like, select the audio clip by clicking the scissor icon.
Your chosen song will play and you can choose to start at a different point by dragging it.
If you prefer to use your own sound on your video clip be sure to avoid copyright infringement.
Using a third-party service like Epidemic Sound will help you get great music for your videos.
Epidemic Sound is a good option for long TikTok videos.
Step 5
Add other items to your video like text, effects, voiceovers, stickers and filters.
If you need a colour hue applied to your video then check the filters section on the right-hand side.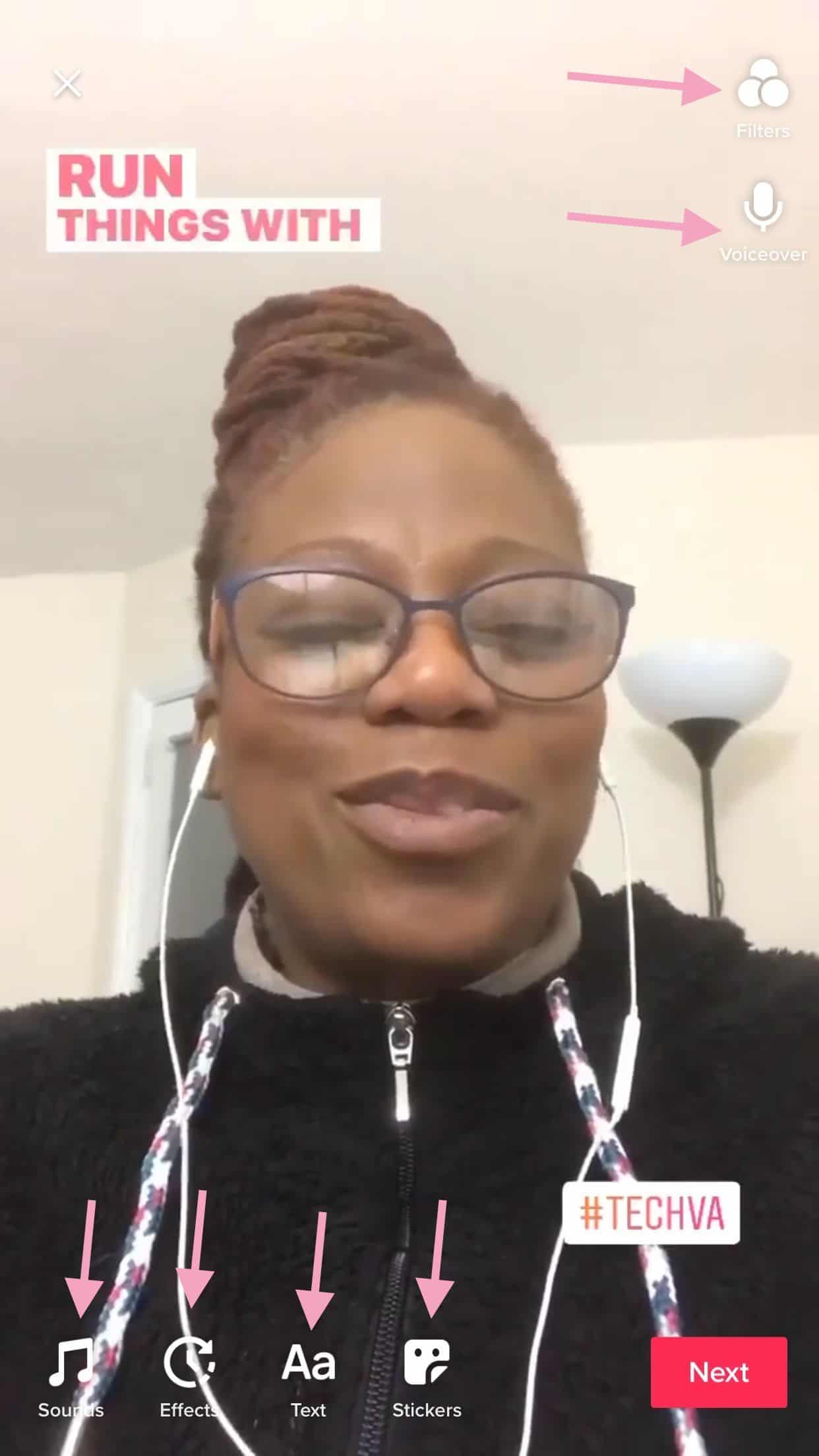 Remember that you can find hashtags and emojis inside the sticker section on the bottom menu.
You can also do a voice over by choosing that icon on the right side of the screen.
As you can see the editing options are endless.
However, remember that there is also a third-party app like Adobe Rush to create more professional-looking videos.
When you're happy with all the edits click next.
Step 6 – 60-Second Tik Tok Video
In the next screen, Enter a description, hashtags and a link to your lead magnet in the caption box.
Select a cover image by choosing a snapshot frame from your video after clicking on 'select cover'.
If you're not quite ready you can save it in the drafts section.
Once you're happy click the post button.
As you can see the process of creating a video inside Tik Tok is so easy.
All you need to do is develop a series of videos or 13 weeks of video content to showcase your business.
The secret to publishing on Tik Tok consistently is creating your videos in batches.
Even if it means that you'll need to change outfits for each video.
Set aside one day each month to create all your videos for 15-20 days.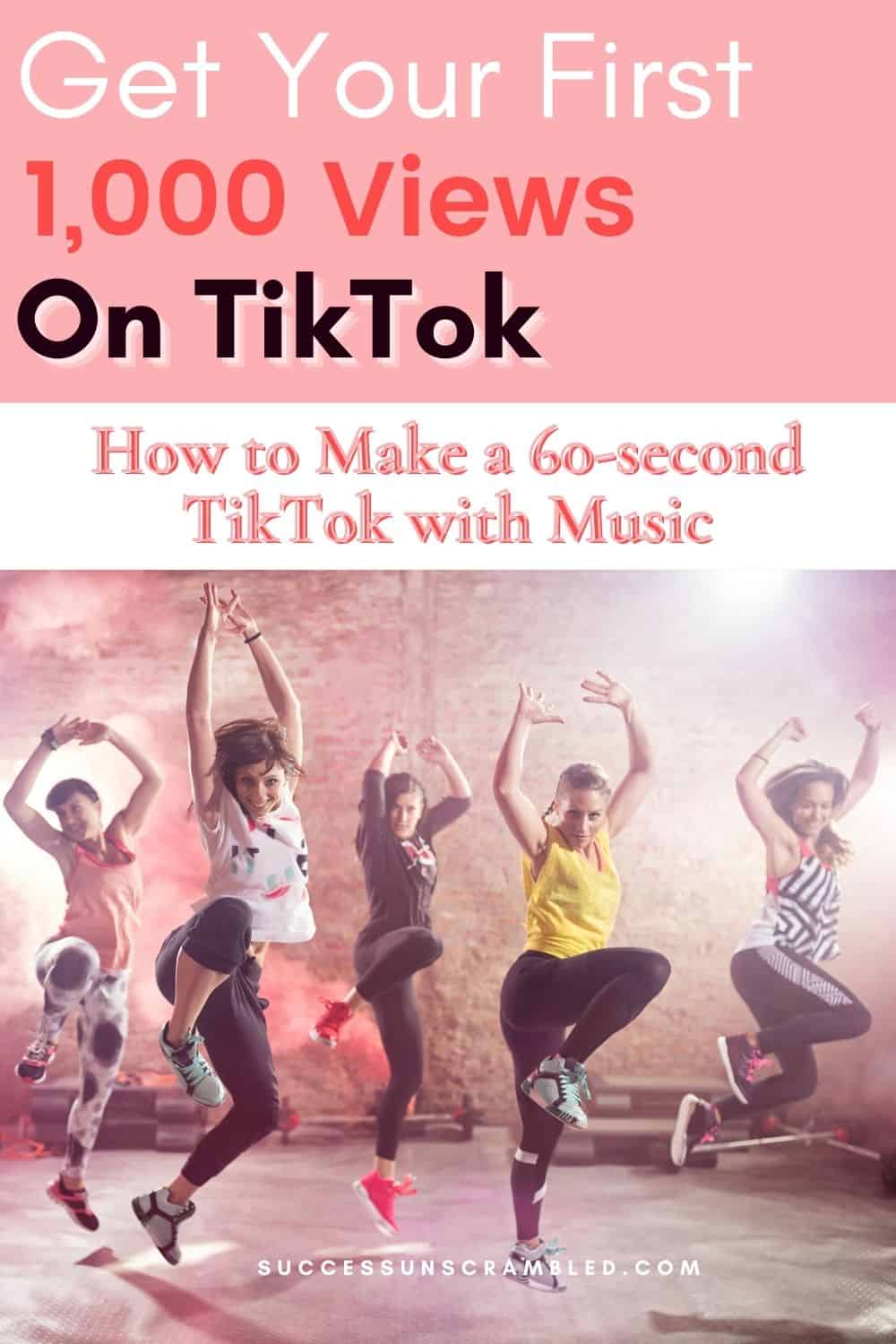 Summary
Getting traction on your 60-Second Tik Tok video seems to be pretty easy.
I published my first two videos and within 24 hours I had 4 likes and 700 views.
The important thing to remember is that you need to have an objective in mind or a strategy before publishing on Tik Tok.
You can start by repurposing your IG Story or Instagram Reels videos to Tik Tok just to see what kind of response you get before making a commitment.
It's easy to upload a batch of 5-10 videos, save them in draft mode then edit them as you see fit.
Remember that you can also use Plann's Tik Tok planner to organise your videos.
If you need to plan 30 days of content but you're short on time.
Grab this social media content bundle to avoid the blank screen syndrome.
Over to you, what has been your experience making 60-second videos on Tik Tok?
Announcements
Remember to subscribe to the Success Unscrambled podcast where you will be the first to hear what's happening in the entrepreneurial and digital marketing world.
Your positive review of this podcast is vital to keeping it alive and running for the next 12 – 24 months so please leave a positive 5-star review for us on iTunes, Spotify or any of your favourite podcast players.
The one thing to remember as an entrepreneur is that consistency brings results.
I started by publishing to one marketing platform consistently until I got results then I moved to the next one.
I'm on a mission to reduce women's illiteracy by 2% in my lifetime.
Because this is a huge undertaking I have decided to help 1,000 women over the next 10 years to become wildly successful in their online business through simplified marketing strategies.
That way we can build a strong business network of women who can donate 1% of their profit and together we can help reduce women's illiteracy worldwide.
Would you like to be part of this movement? Shoot me an email using alvern (at) successunscrambled (dot) com.