Podcast: Play in new window | Download (Duration: 20:42 — 28.9MB) | Embed
Subscribe: Google Podcasts | Spotify | Amazon Music | Email | TuneIn | Deezer | RSS | More
Betty needed a flexible way to keep on top of her marketing content.
So, she wondered if there was a Google spreadsheet calendar template that was versatile enough.
You see, like many entrepreneurs and small business owners, Betty had a lot on her plate.
She also knew that grabbing a regular freebie calendar that she found online may require too much customisation.
What she needed is a calendar developed for marketers by a marketer who understood the importance of editorial calendars.
Let me know if you find these points relatable.
You've used dozens of tools to map out your promotion calendar without success
You're a planner who likes to map things out weeks or months in advance
If you get an idea for content 12-24 months in advance you'd like to put it on the calendar
You've searched high and low for the perfect editorial calendar but none was perfect
If only there was a Google sheets calendar template that'll help you develop content ideas for the next 3-5 years successfully.
In the post, you'll learn how to customise your very own editorial calendar template.
You'll also get the opportunity to grab the best Google spreadsheet calendar template on the market.
Disclosure: Please note that this post may contain affiliate links which means that if you buy one of my recommended products I get paid a commission for sharing the link at no additional cost to you.  I only recommend products that I have tried myself and have experienced success.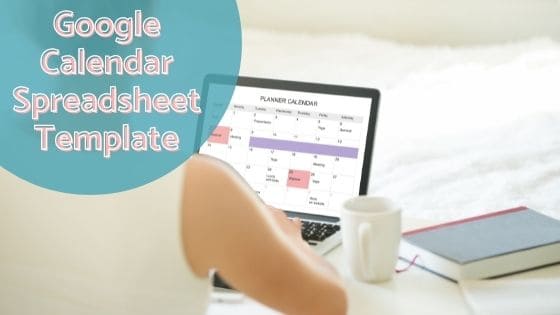 What is an Editorial Calendar
In case you've never heard the term before, let me first explain what is an editorial calendar.
An editorial calendar is also known as a publishing schedule or content calendar.
Normally it is a 12-month calendar that has important dates, public holidays and calendar events.
It is normally used by bloggers, teams, small businesses as well as an editorial team to manage and control the publication of content.
This content is published across various platforms like a blog, magazine, newsletter, social media, etc.
One reason why people use an editorial calendar is that they have a team of people producing the content.
For example, they'll have graphic designers, video producers, copywriters, photographers and editors.
Other team members include social media managers and at least one marketing strategist.
The bigger the team the higher the need for a single source of truth or a central repository.
Essentially, an editorial calendar is a project management tool used to manage entire marketing campaigns.
It means that a content calendar template is a powerful tool for marketing campaigns.
If everything is not in one location then it gets difficult to manage the content effectively.
Content Marketing Statistics
At the end of the day, the main reason for creating an editorial calendar is for content marketing.
So, before investing time and energy in developing one it's important to look at the content marketing statistics.
According to Ahrefs, 82% of marketers are investing in content marketing.
51% of businesses that invest in content marketing publish content daily.
Interestingly, 60% of marketers report that content marketing generates leads for their business.
Blog research conducted by Hubspot said that 48% of companies who leverage content marketing use blogging.
Also, 60% of marketers say that they measure content marketing success through sales.
When it comes to content formats the number one content type on the list is video.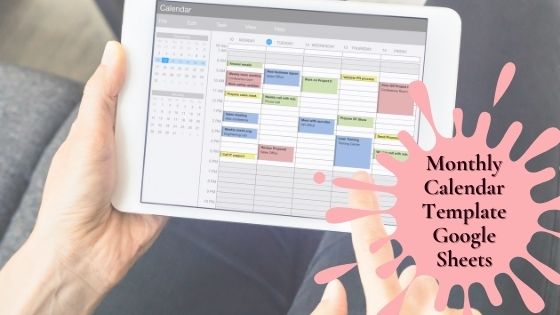 The content marketing institute conducted research that showed that many marketers are planning to increase their spending on video this year.
What's even more interesting is that 80% of the marketers surveyed said they used content marketing to build awareness and credibility.
After video content, the area with increased spending for marketers is events (in-person, hybrid and virtual).
The Customer Journey
When developing an editorial calendar it's important to take into account the customer journey.
As mentioned previously, 80% of content marketing is used to grow awareness and credibility.
So, how do you plan to grow awareness with your audience or build credibility?
Here's an example of the customer journey in case you've never seen it before.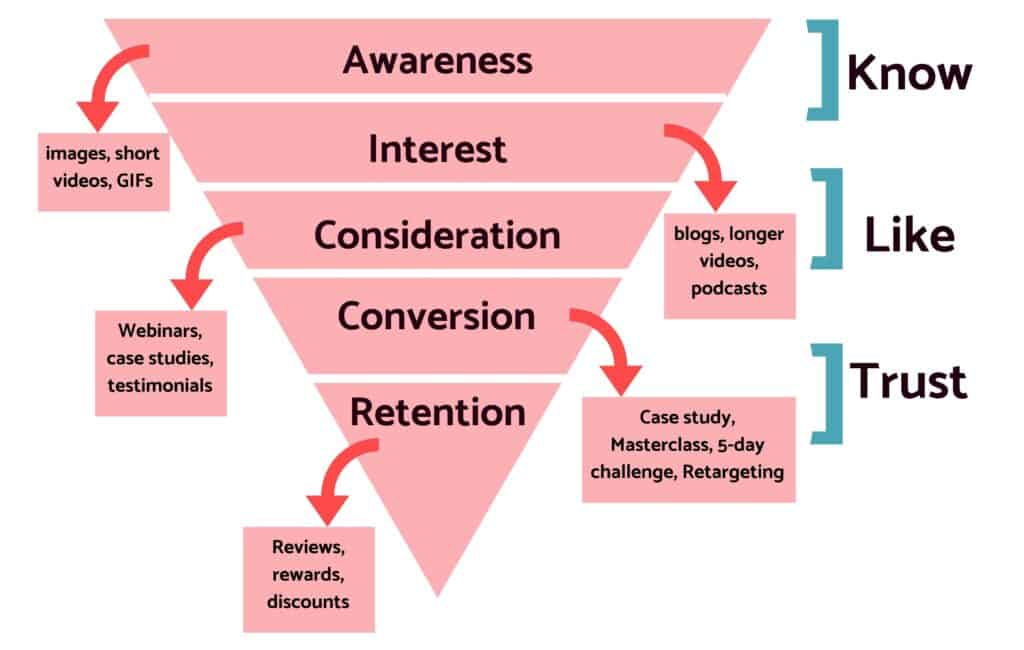 The stages are awareness, interest, consideration, conversion and retention.
As you can see at the very top of the diagram (which is a funnel), you'll notice that it's the start of their journey.
This is where your audience gets to know who you are and what you are offering.
You can call this the appetizer stage of their journey.
They become aware of your existence that's why it's called the awareness phase.
Credibility is developed when you deliver value to them.
This can be achieved at all stages of the customer journey.
Did you notice the content marketing elements at each stage of the funnel?
Do you now see why having an editorial calendar is important?
What Makes a Good Editorial Calendar
Before looking at all the tools available on the market to develop your custom Google sheets templates.
Let's look at what each of them needs to have as a standard to qualify.
As I mentioned previously, when you are working with a wider team you'll need a central repository.
So, here's a list of items that your editorial calendar should contain.
A central place to manage all your content
The ability to quickly map out 13 weeks of content
Ease of use
Ability to protect content from being edited
Reasonably priced or low cost
Flexibility to make it your own
Ability to restrict access (view only, etc)
Adjust the view to only see specific months or an entire year
External integrations
You were probably expecting to see more complex requirements but keeping it simple makes it easy for the team.
The best thing about a Google spreadsheet calendar template is that you can have it up and running quickly.
This is because there isn't a steep learning curve.
Google Spreadsheet Calendar Template
So, does a Google spreadsheet calendar template meet all of the items on the list?
Let's peel back the layers and see how this works with Google.
1. A Central Place
As I mentioned previously, having a central place to store all your content is one of the keys to setting up your editorial calendar.
In a Google spreadsheet, you can organise your content by weeks, months and years.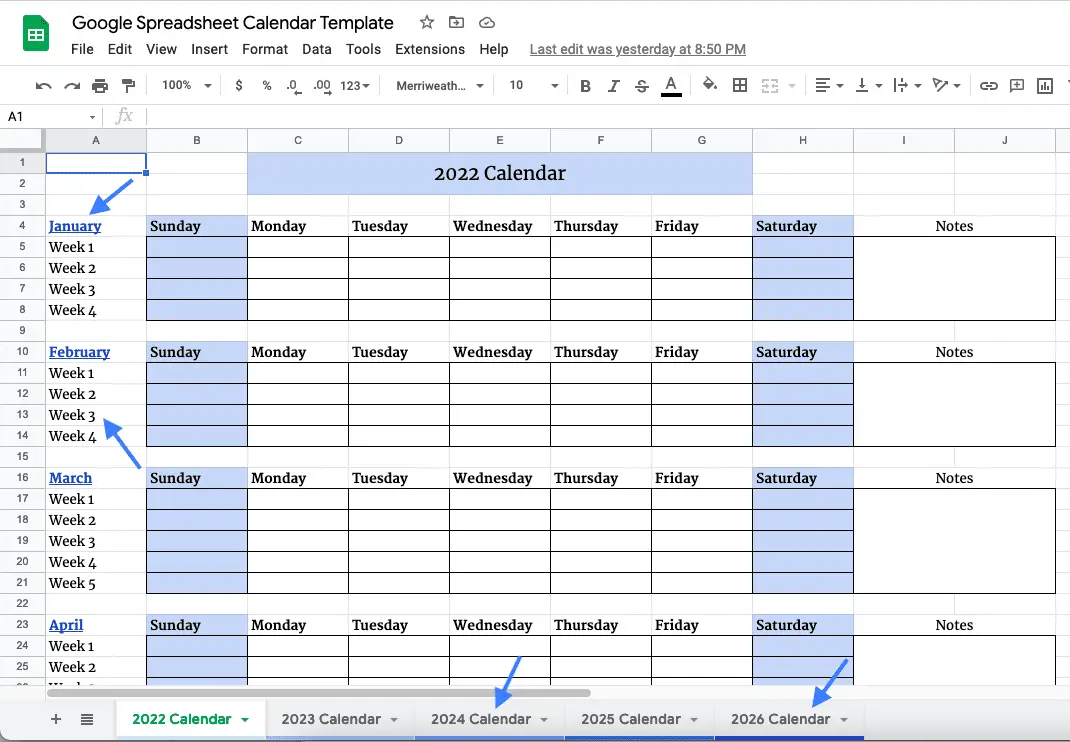 2. Map 13 Weeks of Content
One of the easiest ways to have content published daily for your business is to map out 13 weeks of content in one go.
It gives you a 10,000-foot view of your buyer's journey and how your content resonates with them.
Another great benefit is the ability to launch your offers every quarter and grow your revenue.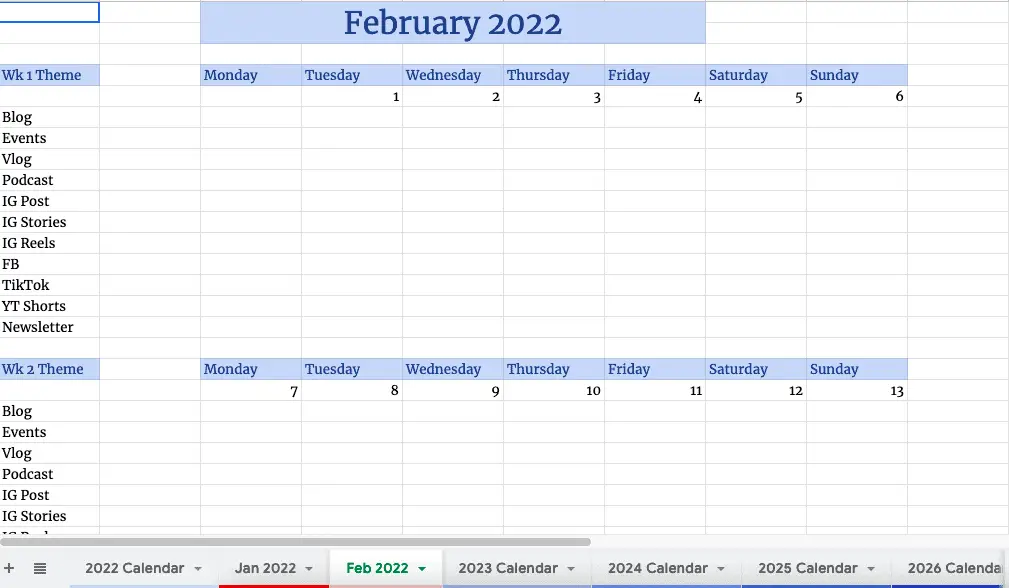 As you can see this weekly calendar gives you the ability to map out content across 11 different platforms.
3. Ease of Use
A Google spreadsheet calendar template is easy to use because you can copy content from an external source into the sheet.
You can easily fill in the blanks as the content inspiration comes to your mind.
Notice how you can see everything at a glance.
For example, if your topic for a specific week is spring cleaning then everyone on the team can take the topic and adapt it to their content format.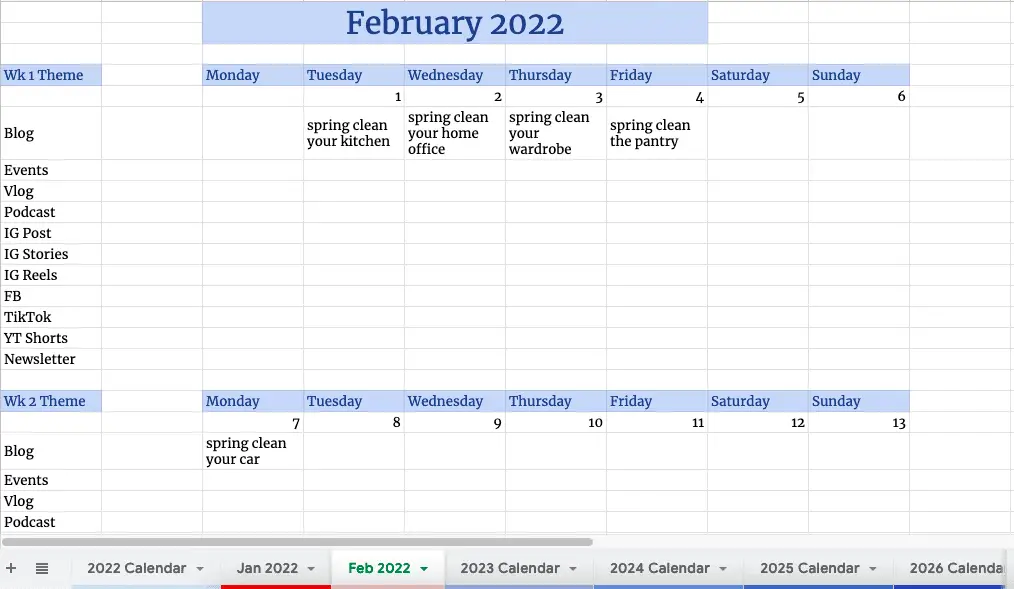 Notice how the topic idea starts with the blog post which then trickles to the other areas.
In your case, you can switch things up and start with a newsletter and then trickle down to all the other areas.
4. Protect Content From Mishaps
When you are working with a team the possibility of human error is multiplied.
For this reason, using the built-in data protection features in Google sheets will give you the peace of mind you need.

Notice how simple it is to protect data inside your calendar from accidental deletion.
Did you ever imagine accessing all of these features in a simple calendar?
5. Reasonably priced
A basic Google account gives you access to Google sheets as standard.
However, it will cost you either time or money to develop your own Google spreadsheet calendar template.
If you like my version of the spreadsheet templates, you can grab your copy here.
I've included videos in the Google docs calendar template showing you how to make it your own.
6. Make It Your Own
You have to admit that starting a template from a blank spreadsheet can be quite daunting, especially using free templates.
However, taking an existing simple template and adjusting it to suit your needs is very exciting.
The one thing about a Google spreadsheet that makes it different from other platforms like Coschedule or MeetEdgar is flexibility.
If you want a 5 day week or work week then delete the extra columns.
You also can hide past or future months and years.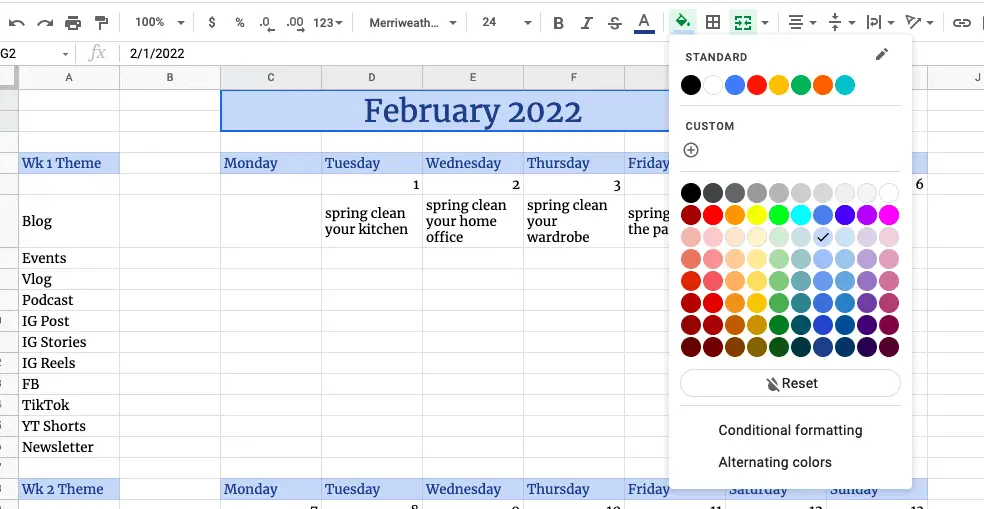 If you want the design to match your brand you can change the fonts and colours.
You can even select different fonts depending on social media posts.
7. Restrict Access
It might be the case that not everyone on your team will need access to edit the content.
The beauty of this Google spreadsheet calendar template is that you can grant view-only access.
You can also give access to allow people to comment only or full editing rights.

8. Adjust the View
Another clever aspect of these Google calendar templates is that you can adjust the view to only see the entire year.
There's also the option to see an entire month or special event in a single place.
Reduce the clutter by hiding the sheets that you are not working on right now.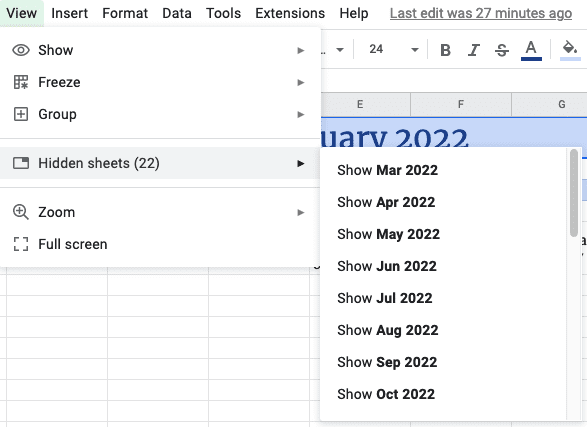 Notice how you have the ability to work on future content so that you can stay ahead of the game.
On completion, you can hide the sheet so that you can only see the content for the current month and week.
9. Google Sheets Integrations
Because Google is a household name you'll be happy to hear that there are many established integrations.
Having integration with external software means that you can push the data to publishing platforms.
Here's a list of software that integrates with Google sheets.
Slack
Salesforce
Hubspot
WordPress
Trello
Zapier
ActiveCampaign
Box.com
ClickUp
Asana
Social media schedulers like Plann allow you to upload content directly from Google drive.
It's fabulous news because it allows you to upload your images and videos easily.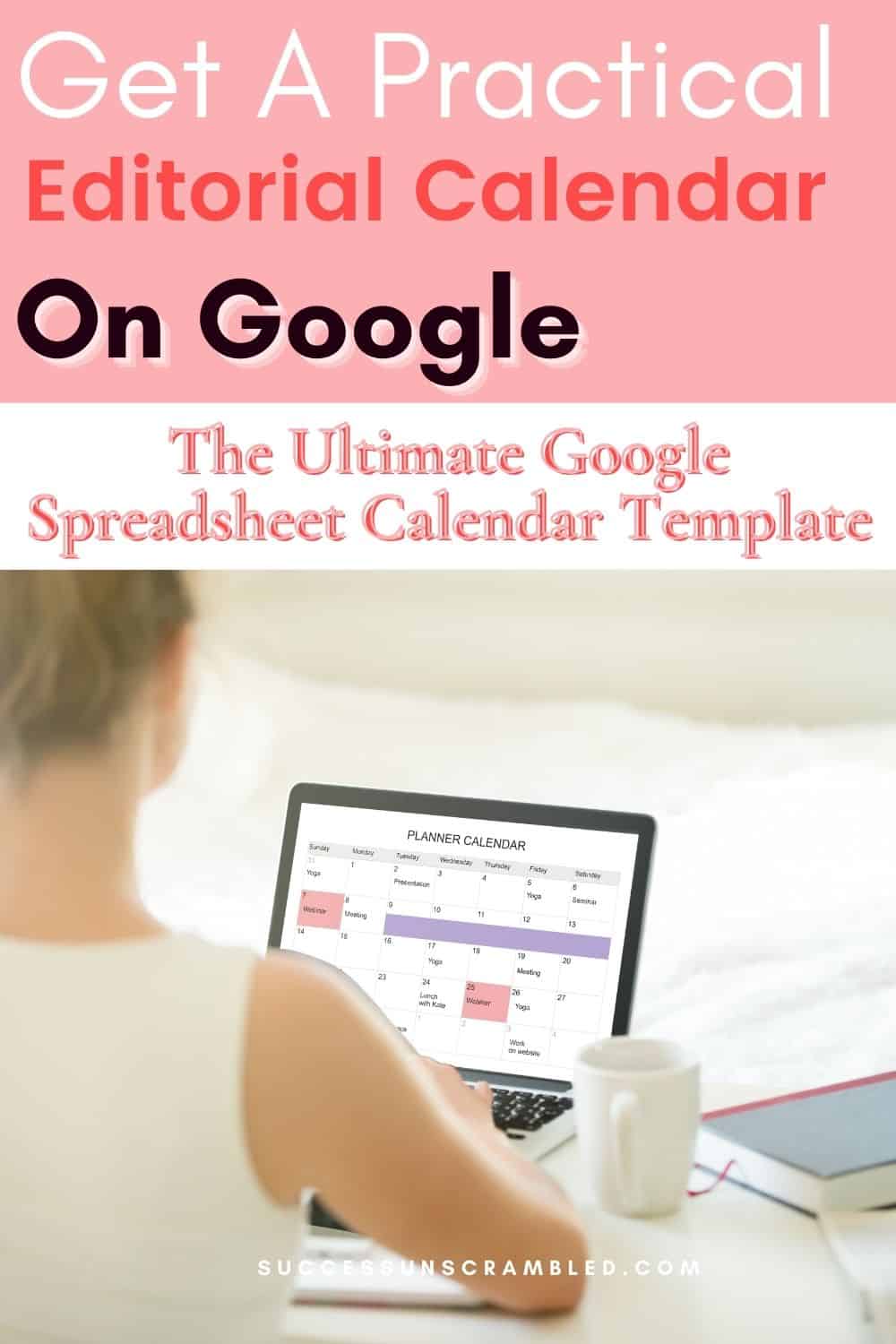 Summary
It goes without saying that the best way to get the most out of content marketing is by making a plan.
After making a plan it's important to take action by developing an editorial calendar.
You can start promoting your business in 4-6 weeks just by mapping out everything.
Using tools like Canva to secure and create your social media images will only propel your forward.
If you are new to Tik Tok check out this post outlining how to get started.
Be sure to include hashtags and captivating captions.
The hardest part of getting it done is getting started.
You can start with a blank Google sheet or grab a copy of my Google sheet calendar template here.
After you start remember to remain consistent with your efforts.
Over to you, have you ever created an editorial calendar? What tool did you use to create it?
Announcements
Remember to subscribe to the Success Unscrambled podcast where you will be the first to hear what's happening in the entrepreneurial and digital marketing world.
Your positive review of this podcast is vital to keeping it alive and running for the next 12 – 24 months so please leave a positive 5-star review for us on iTunes, Spotify or any of your favourite podcast players.
When I first started with Instagram I found it extremely difficult to keep up with posting every single day and week.
Investing in a social media bundle like this one has given me the freedom to publish on Instagram 5 days a week.
I started this business to help 1,000 women over the next 10 years to become wildly successful in their online businesses through simplified marketing strategies.
That way we can build a strong business network of women who can donate 1% of their profit and together we can help reduce women's illiteracy worldwide.
Would you like to be part of this movement? Shoot me an email using alvern (at) successunscrambled (dot) com.