If you're an aspiring course creator, you may wonder about the best online course platform.
You want to choose one that will work best for you and your students, is easy to use, has excellent features, and is affordable.
You also want a platform with a good reputation and a responsive team that's willing to help you every step of the way. Nothing beats this.
That being said, there are many different platforms to choose from, and it can be tough to decide which one is right for your business situation.
You are going to be introduced to the top 31 platforms to create online courses and what they offer in terms of experience to your students.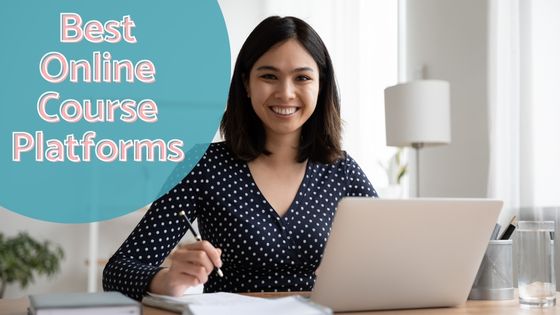 Online Course Platforms: What Are They?
With increasing numbers of people looking to expand their skill set and knowledge, online course platforms have become popular among those who want to share their expertise through digital products.
There are a variety of different platforms to choose from when you create your online course. These platforms allow course creators to build and host online courses, manage students, and track progress.
So, what exactly is an online course platform? An online course platform is a website that provides a space for online courses to be hosted. These platforms typically offer tools for instructors to create and deliver their courses and for students to access courses and participate in them.
Many different online course platforms are available, each with its own features and capabilities for online classes. Each platform has strengths and weaknesses, so choosing one that best fits your needs is essential. And as a course creator, you want to make sure you're using the best online course platform for your student's needs as well.
There are a few basic things you should keep in mind when choosing an online course platform; they include:
Ease of Use
You'll want to choose a platform that is easy for you to use and navigate. If it's too complicated, it will take longer to create your courses. Choose platforms with inbuilt tools that help you edit with ease. How you build a course, upload it, and interact with students are elements you must consider before making a choice.
Course Delivery
Choose a platform that offers the ability to use different content types to deliver your courses, such as video, audio, or text-based formats. 
This way, you can serve all the different learning styles and increase engagement. Using only one format can become boring and redundant for your students. Having the ability to offer variety is better.
Engagement
The best online learning platforms foster student engagement and make it easy for them to feel fulfilled after taking the course. Without proper engagement, your students might not finish the course you create. 
If they do finish they might not feel they gained enough from the experience. Choosing an online course platform that fosters engagement will help you avoid these problems. 
Pricing
Of course, you'll need to consider your budget when choosing an online course platform. You have to find a balance between features and capabilities and what you can afford. Be on the lookout for hidden fees that might pop up after you create your course to avoid wasting your time and resources.  
Marketing Tools
You are interested in creating an online course because you want students to take your course. That requires marketing. 
You can market via your social media platforms and mediums like Facebook Ads. However, some online course platforms are themselves a marketplace where your course can reach students via their marketing.
Different Types of Online Course Platforms
Are you surprised that there are different types of platforms for creating an online course? Let's look at them now.
Standalone Course Platforms
These platforms offer you a domain to help you create your courses. If you're just starting as a course creator, this is a great way to start. However, you cannot customise most of the features on a standalone course platform.
The courses on these platforms have similar features, although they differ in their branded feel. This option is suitable for solo course creators and small business owners.
All-in-One Course Platforms
An All-in-One course platform offers everything you need to create an exceptional learning experience for your students. 
In addition, you're in charge of handling your website presence, including features such as the content management system (CMS), email marketing, landing pages, customer relationship management (CRM), and automation.
WordPress Online Course Platforms
Are you wondering what the relationship between WordPress and online platforms is? WordPress has plugins and themes that allow you to sell courses online. 
This option is suitable for you if you want to host courses on your website. Using WordPress as an online course platform requires technical skills and knowledge. This is a great option for those who already have successful websites and WordPress skills.
Marketplace Online Course Platforms
Platforms like Udemy fall under this category. Although they're popular among students because they help them learn without having to spend much, they're not a great option for course creators. This is because it gives no control to creators and also reduces the revenue you can generate from your courses.
The advantage of using these platforms lies in their wide reach and their market for your course. However, it is difficult to get these students to your personal website. They usually do not share student details such as e-mail addresses in addition.
Since you're now familiar with the different types of online course platforms, it's time to take a deep dive and find the one that will best suit you.
31 Best Online Course Platforms For Course Creators
1. Thinkific-Best Overall Online Course Platform
Thinkific stands out as the best amongst the crowded field of online course platforms. It is beginner-friendly and easy to navigate and customise. 
Although it has paid plans, you can get started with the free version. You can keep most of your income without paying transaction fees to keep your course running. 
Thinkific has more than 51,000 instructors with about 100 million enrollments and has generated around $340 million in revenue for course creators.
Features:
Inbuilt Themes: With only one click, you can load themes on Thinkific and customise them to your preference.
Intuitive Interface: Thinkific uses visual aids that make the dashboard easy to understand even for beginners.
Certificates: Students can get certificates after completing the course to showcase on their social media platforms.
Templates: You don't have to build your course from scratch, Thinkific offers numerous templates that will help you save time and cost. It requires no knowledge of coding to customise a distinct look for your site.
Marketing Tools: Course creators can achieve a high level of success using this platform because they have access to coupons, course bundles, and sales widgets to boost sales. Thinkific also allows you to build a membership community and interact with students on different levels.
2. Udemy – Best For Your First Course Launch
If you're worried about succeeding with your first online course, Udemy is a great platform to start out on. Online course creation without a built-in audience to scale can be daunting, with Udemy you don't have to worry about that.
Udemy has more than 54 million students, which helps you to market your course and make sales in no time. This platform is popular among students because it allows them to learn conveniently without much pressure.
Udemy vs. Lynda
Udemy requires that you pay for every course that you take individually. Lynda, on the other hand, requires that you pay a specific amount monthly to access a wide range of courses. 
Udemy covers a broad range of topics as opposed to Lynda, which is mostly for business-related subjects.
Coursera vs. Udemy
A key difference in becoming an instructor on Coursera vs Udemy is that Coursera is limited to experts and professionals whereas Udemy is open to everybody. 
Coursera offers more cost-effective courses than Udemy for students and even offers financial aid to students who cannot afford to pay. Udemy offers students a broader range of topics as opposed to Coursera.
Find out more about the comparison between Coursera and Udemy.
3. SkillShare-Best For Teaching Creative Skills
SkillShare is a great platform for you if you have vast knowledge about writing, photography, art, design, or other creative skills. 
This platform is friendly and gives off a community feel where teachers and students enjoy close interaction. It has an organised structure that favours short and compelling content. Students pay every month to access a wide range of courses. 
Let's compare Udemy versus Skillshare in more detail here.
4. Lynda (LinkedIn Learning)
LinkedIn Learning, previously known as Lynda, is a high-end online course platform for building professional social networks. 
Most courses on LinkedIn Learning are related to customer service, technology, leadership, accounting, project management, and other business fields.
Like Coursera, you need to apply to be an instructor on LinkedIn Learning before selling your courses. It's selective in choosing tutors because of its focus on top-notch quality and proven experience in your field. If selected, you will reach millions of students and possibly earn a lucrative income. 
5. Mighty Networks – Best for Establishing Communities
Mighty Networks is an excellent platform for building your online course and professional network. It enables you to create a private community space for your learners. It has unique community–establishing features, including live events, direct messaging, and live streaming.
Mighty Networks also has a highly custom experience for students. They can create their own profiles and content is customised to them. Their Discovery and Welcome System will help new students find your content. 
6. Learn Worlds -Best for Interactive Learning
If you are looking for an online course platform with interactive learning, Learn Worlds should be at the top of your list. It has tons of interactive features, giving you a unique experience. 
Like most platforms, Learn Worlds is designed to assist you in creating your course and making sales. It has a simple drag-and drop-editor that helps you complete your course efficiently; hence no experience is required. 
With Learn Worlds, you can quickly increase sales and conversion rates due to an optimised sales page for your course and payment process. Other outstanding features include an assessment engine for creating quizzes and a mobile app builder.
An app for your course will increase student access and Learn Worlds' note-taking feature will also improve their learning process.
7. Kajabi
Kajabi is the best online course platform for education entrepreneurs and is suitable for both beginners and experts. You can use it to conduct all the steps of creating an online course, like building your website, implementing marketing strategies, and making sales.
It has an internal CRM and a complete suite of marketing systems that you can apply in managing your learners and advertising your products.
You can create courses easily and swiftly with their well-designed templates. The templates allow you to create a course without any website-building experience. To top it off, your site is SEO-optimised so you rank higher on search engines.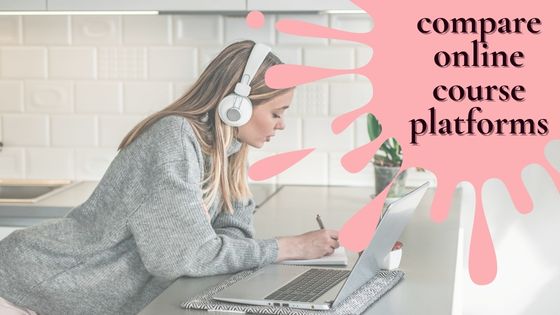 8. Teachable – Best Online Course Platform for Beginners
Teachable is an excellent platform with over 100,000 instructors and is convenient for beginners. It has all the necessary tools to assist you from creating your website to driving sales.
Marketing tools you need to promote your courses, like affiliate marketing, referral marketing, and email marketing are available with Teachable. It also supports more payment methods than most platforms, including Google Pay, PayPal, Apple Pay, and more.
Teachable has recently adjusted to accommodate more beginners by emphasising training. Professional instructors are a part of this training emphasis. These coaches will guide you to create your online course. Their drag-and-drop creator is also highly intuitive. 
Teachable also has extensive integrations. It merges with software solutions like Mail Chimp, Google Analytics, and more. 
9. Podia – Best All-In-One Online Course Platform
Podia is one of the most powerful platforms with a simple interface and advanced features.
It supports several media types, enabling you to add videos, quizzes, audio, PDFs, and links to boost your courses. With podia, due to its limitless video hosting feature, you will not need to depend on other sites when hosting your video. This allows you to maintain control of your content. 
You can also build customised landing pages for the courses you create and sell them separately or as drip courses. Podia is customised, enabling you to have complete control of your site and landing pages with flexible layouts.
Podia also stands out for its payment experience for both course creators and students. It has no transaction fees which allows you to save more of your income. 
Podia also has instant payments. For students, numerous payment options are available. They are also able to create payment plans. 
By the way, I also have a piece contrasting Podia with Kajabi.
10. Learn Dash – Best Online Course Software LMS for WordPress Users
Learn Dash is the best WordPress plugin platform that enables you to manage and create all your courses in your website dashboard. You will easily create and manage your lessons and oversee your creation and personalization process.
Learn Dash blends well with other add-ons like Zapier, Stripe, and Woo Commerce-enabling you to meet all of your course platform requirements.
It creates an instructor role that allows you to authorise many instructors for your site and develop online courses with several trainers in other course market platforms.
11. Ruzuku
Ruzuku is a complete option that gives you all you need for a course site. 
You can create free or paid courses and receive payments through PayPal and Stripe.
It enables you to host and lay out numerous file formats like PPT, Word documents, and PDFs; hence you can comfortably use various file types in your course creation.  
It offers your learners various response options such as videos, images, and PDFS, encouraging them to participate fully. On the instructor side, their course track features allow you to track your student's progress. In addition, you can schedule live sessions and send automated notifications. 
Their customer service is superb. You can receive assistance via email, phone, or Skype whenever necessary. 
12. Academy of Mine
Academy of Mine helps you build your personalised learning system. It is the best for continued learning, certifications, and professional advancement. It is also a great platform for B2B training since you can use your courses to train if needed. White-label portals are another exciting B2B feature.
The Academy of Mine is customizable and great for starters and experts since it's user-friendly. Sharing your knowledge with learners is also easy.
It enables you to build a complete website to host and promote your online training session. You are also able to utilise native integrations. The platform is among the best for trainers and businesses to promote their courses.
In addition to courses, you can create a customised e-commerce storefront as part of your Academy of Mine experience. This is an interesting area of growth for online course creators.
13. WizIQ
WizIQ has more than 400000 instructors who teach millions of students across different countries. Its popularity is due to a range of features that allow timely delivery of courses and also improve student engagement. 
It offers the best, most unique, and most advanced teaching tools, enabling collaboration between trainers and learners. WizIQ allows you to set up online classrooms for live interactive sessions with your learners.
WizIQ provides up-to-date live training tools like video streaming, assessments, discussion forums, and analytics. It also offers a free 14-day trial, so you can use its offer to reach your learners worldwide.
14. Teachery
Teachery is the best online course platform for beginners because it has few complex functionalities, unlike other platforms. 
It is also user-friendly and helps beginners build their courses and sell them quickly to their target students. Teachery has zero transaction fees so you can maximise your profits. 
The platform is straightforward and automatic, making it easier to upload, and it supports unlimited files. It gives you a number of options for creating your content, including videos, text, and audio. 
It also schedules your sessions in a drip course, so your learners can access them even after the fixed period.
15. Kartra
Kartra is a great platform that offers great functionality, like the ability to host your affiliate program, checkouts, and create a membership site. It is excellent for anyone who aspires to build a true community.
You can use modern tools for promoting your course, like creating automatic emails and marketing messages to engage your potential students.
They have a survey and quiz feature that helps you find the best way to give quality services and analytics to satisfy your users' needs. If you want to grow a business and your course platform, Katra would be the best choice.
16. Systeme.io- All-in-one platform
Systeme.io is fantastic if you want an all-in-one platform to create, market, and sell courses online. The good thing about this platform is that it can do a variety of things and save time. 
Some of the things you can do with systeme.io include the following:
Create a sales funnel
Automate workflow
Create email campaigns to reach more people
Segment your email campaign to ensure it reaches the right people
Several custom domains
Systeme.io is convenient and easy to use, giving you absolute freedom when creating an online course. There are no limitations, and you can add as many lectures as needed.
Moreover, it comes with a drip feature that you can set up if your student has not mastered certain skills and wants to move to the next module. This feature gives you control over when the student has access to other parts of the course.
With Systeme.io, you can provide digital downloads for students, create webinars, and run blogs to update learners. 
17. Graphy
What sets Graphy apart is its ability to help creators design and build virtual courses effortlessly. You get a chance to teach students seamlessly and build your brand simultaneously. The best part is that you don't have to be an expert to use Graphy, as it is tailored to serve course creators at all levels of experience. 
The desire of every course creator is to connect with their students and leave an impact. You can achieve this by using Graphy, as it is designed to help creators deliver the best content. Additionally, it facilitates interactions which enables you to know whether students understand the course. 
Processing payments with Graphy is fast, with no delays or unnecessary hiccups. There are integrated payment systems to facilitate both local and international transactions. 
Other cool features of Graphy include the ability to create mobile courses, award certificates, and conduct polls. You might be excited about Graphy's 500-participant live-streaming as well. 
18. Yondo
Yondo is a platform that allows educators and other creators to provide classes and lessons with the click of a button. What makes it special is the control it gives you as a course creator. Moreover, it has unique features that eliminate boredom and stress from content creation.
One unique feature of Yondo is the ability to host webinars for 1,000 attendees. You are also able to integrate with platforms like Slack, Hubspot, and Salesforce as well as your existing website. 
 With Yondo, you are sure to create meaningful and engaging content for your students. Also, it has a built-in payment wall which means that you don't have to worry about creating different payment methods while using the platform. Your students can access course materials from anywhere, anytime. 
Yondo makes it easy to create and share course content with your students anytime you want. 
19. Digital Course Hive
Digital Course Hive is a cloud-based solution that allows you to create custom online courses. It is ideal for course creators, web designers, and entrepreneurs. If you are searching for a compelling and versatile platform, Digital Course Hive is the one. 
Build advanced courses, pages, and memberships with the easiest course platform there is. Digital Course Hive allows you to create courses, customise domain websites, grade quizzes, and upload custom fonts. Its versatility makes it suitable for different occasions and allows you to switch up or improve your content creation. 
It has built-in tools that facilitate webinars, email broadcasts, funnels, and automation. It also allows you to upgrade the quality of your course content and engage with learners.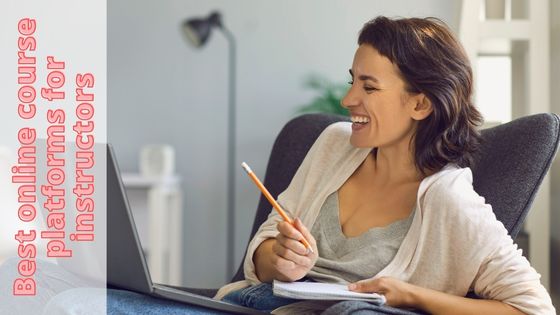 20. Pinlearn
You can integrate PinLearn with other popular business tools to elevate the learning experience making it an excellent choice for potential course creators who have a business already operating. 
Pinlearn has a lot of other interesting features as well. You are able to build your own online course marketplace with Pinlearn. 
Having your own online course marketplace lends itself well to expanding the courses you offer. To help you do that Pinlearn allows you to include tutors under your account that offer their courses in your marketplace.  
 The ease of use and convenience of using Pinlearn makes it ideal for you. It has one of the best live-streaming services you will ever come across. This feature enables one-on-one lessons and group webinars. You can use Zoom or Lesson Space on the platform after getting permission. 
Pinlearn also has an integrated email notifications feature that lets you and your students stay updated with current events. 
21. TrainerCentral
TrainerCentral transforms your knowledge and ideas into impactful content. It allows you to pass your knowledge on in the way you want without restrictions. Options available on the platform include live virtual sessions, self-paced modules, and in-person programs.
TrainerCentral's live virtual classrooms are an interesting factor to consider. They allow you to have real-time engagement with your students, a feature that can be scarce on other online course platforms. 
Within your virtual classroom, you can enable features like learner screen sharing and group video sharing to take your online teaching to a new level. 
Getting insights into students' course progress is essential for progress analysis and corrections. TrainerCentral comes with a comprehensive dashboard that provides detailed analytics on course feedback and learner progress, which can be used to gauge the impact of the course. 
The features of TrainerCentral give you control of the learning process and give you tools to assess whether you are on the right track or not. It allows you to manage your class effortlessly and produce the desired results. 
22. Payhip
Payhip allows you to create and sell courses with ease. Selling course content on the platform is easy and convenient. All you have to do is choose a topic and cover it extensively to educate students on the platform. 
 Things you can do with Payhip include:
Build a course page
Track learners' progress
Add quizzes, texts, videos, or downloads to lessons
Video hosting and analytics
Payhip is versatile and has tons of features that make course creation fun. Students are always searching for content that meets their needs on different platforms. You can take advantage of this opportunity as a creator and research various topics that appeal to students.
It connects you with students and is free, unlike other platforms out there. It is not just free for an introductory period; you will never pay to use the platform. There are numerous features that make it exciting and different from similar platforms. 
23. FreshLearn
This knowledge commerce platform allows you to build, market, and sell courses. Notable features include customizable emails, bulk member enrollment, and referrals. 
FreshLearn lets you gamify your online courses. Gamification is an exciting new area of learning that makes learning fun by using game techniques like displaying point totals and allowing competition. Another cool feature of FreshLearn is the ability to award certificates. 
FreshLearn connects you with students across the world. Make the most out of the platform by diversifying your content to appeal to students. 
24. iSpring Market
If you want a platform that allows you to sell courses online, track revenue and build a customer base, the iSpring Market is here for you. It allows you to connect with students and build trust. It comes in handy if you need to sell eLearning courses and webinars fast. 
iSpring Market comes with instant deployment and analytics to check progress. With iSpring Market, you can sell your courses confidently, knowing that everything is verifiable. 
It has many features which you can use to find the right market for your course materials. One of those options is creating your own marketplace with other tutors. Gamification is also available with iSpring Market. 
The number of people creating and selling course materials online has increased rapidly. There are several platforms that promise good returns and security to creators, but few do what they say. iSpring Market is a secure and trustworthy platform that prioritises your well-being as a creator. 
25. Uscreen
Uscreen assists creators like you build and sustain their online presence through its features and performance. It is especially geared toward health and fitness coaches and designed with them in mind. 
Features:
Community and course features
Membership sites for subscribers
Live streaming events
Branded apps
Other options to sell video content
This platform helps you by eliminating the hassle that comes with finding a market for your videos. Creating videos is stressful enough, let alone convincing people to purchase them. 
Here is where Uscreen comes in handy to help you deliver educational content and engage with learners. Similarly, it allows you to monetize with the model that matches your audience. 
There is no need to create content that does not resonate with anyone. Uscreen analyses how your video is performing and gives feedback to help you improve accordingly. 
26. New Zenler
New Zenler is an all-in-one course creation platform that provides everything you need as a creator. It is easy to set up a social network-style community for your page, which promotes interaction with learners. There is a live chat room that supplements the existing community to build strong connections. 
New Zenler values community interactions and has tools and features to facilitate the process. It gives you power over your community as you get to decide who gets to see chats. You can choose to include the community in the pricing plans. 
The platform allows you to send scheduled emails without needing third-party services. It is secure, dependable, and efficient. You can run live webinars to connect with your community and share additional information. Also, the platform is very interactive and helps you to foster close connections with learners. 
27. AccessAlly
AccessAlly is a WordPress plugin that you can use to scale your group coaching, online courses, and membership programs. It allows you a wide range of options for your membership site. It offers an impeccable user experience by eliminating restrictions and compromises that may hinder you from getting value from using the site. 
AccessAlly allows you to create order forms for downloads, courses, memberships, and coaching programs. Some other key features of AccessAlly include an abandoned cart follow-up, upsell and order bumps, and bulk course enrollment for teams and corporations.
The platform has different payment options, which are ideal for users. There are payment plans, free and paid trials, and subscriptions. You are free to cancel your subscription anytime you want without penalties. 
You can enrol your community members as affiliates with one click to help them start promoting with their affiliate links. Payment is offered in multiple currencies, which makes it convenient and favourable to use. You can track progress with the dashboard and create the learning environment you desire. 
28. LifterLMS
This platform helps you convert your expertise and life experiences into an income-generating opportunity by creating meaningful courses. There are countless topics that you can research and share with learners on the platform. 
Students have different learning styles, and educators who cater to multiple types make the most impact. LifterLMS allows you to appeal to different learning styles through audio, video, text, or image-based lessons. 
LifterLMS allows you to create dynamic multimedia quizzes to track learning progress. You can create and use quizzes to test the learning progress of your students and reinforce learning competencies. You can also include quiz timers. With LifterLMS' prerequisite functionality, you can also keep students from progressing through the course without a passing grade. 
LifterLMS comes with a course builder which helps you create course material from scratch and sell it to your students. You can also utilise its private coaching upsells to generate income. 
29. TalentLMS-B2B Course Platforms
Training is deemed successful when it meets your student's needs. However, learners have different needs, and one approach rarely works for everyone. TalentLMS' versatility sets the stage for training success. 
Features:
TalentLMS makes it easy and possible to provide the right training for teams. You can use it in different environments, and it is easy to adopt. 
It can be switched to match the needs of trainees to generate desired outcomes. You don't have to worry about using a fixed or precise platform for all training programs. 
If you are a B2B agency offering training courses for several clients, TalentLMS enables you to deliver personalised and quality service for every client. You can use individual client branches for courses that are relevant to learners. Additionally, you can add your learner's preferred colours or logos. This feature allows you to create course content that resonates with your audience.  
30. Xperiencify
The key selling point for Xperienceify is that it helps students complete the course content more effectively by creating an amazing experience (via email, SMS messages, voicemail, celebrations, badges, tags and more) for your students.
Also, it helps course creators create surprises, open new content tracks, show Easter eggs, and utilise "self-destruct" content. These features will really up the excitement level of your course and keep students engaged. 
Another feature of Xperiencify is its free-to-create system. Build your course for free until you're ready to launch. Your charges will not start until after your course goes live.
31. Simplero
Simplero gives you all that you require to run an online business and allows you to cultivate strong connections with clients. It can help you create courses, build websites, send emails, manage affiliate programs, and automate services. 
You can create a great online course with the help of Simplero and manage it effectively. It is possible to run the course in one place and avoid the stress of accessing things in multiple places. It also boasts done-for-you campaigns, forum functionality, and group features.
The platform has an integrated payment system that allows you to pay with any option gateway you choose. There are more than 120 options! It offers an assisted integration with Zapier. It also handles EU VAT if applicable. 
As the name suggests, Simplero is simple and easy to use. 
How to Select an Online Course Platform
You have knowledge and skills you want to share. You know you need a platform to build your online course. There are tons of online course platforms to choose from, and you may end up picking the wrong one if you don't pay close attention. 
There are hidden elements in course platforms that can throw you off guard. You may think that you have finally found the one, only to end up disappointed. 
Key Factors When Choosing a Course Platform Include:
There are many factors to consider when selecting your online course platform. It is important to understand your skills and existing structures and choose a platform that suits them and compensates for areas you may be lacking in. 
Creating an online course is possible for those with extensive coding experience and those who may not be as tech-savvy. The key is to choose a platform that has a course builder that balances customization and ease of use in a way that suits you. 
Your online course needs students. You created it to be interacted with! Consider the marketing features available when evaluating an online course platform. Those with a built-in audience are going to have different marketing needs than those starting from scratch. 
You want your students to learn! Consider their experience as well when selecting a platform. Look for student engagement features and a variety of supported content. 
Your budget is also a factor in your selection. There are options at all price points. You can also consider a free trial for a premium service to assess whether the cost is worth it for you. 
Dangers of Choosing the Wrong Course Platform
Picking the wrong course platform is costly and denies you an opportunity to provide a great experience to your learners. Losses you may incur as a result of choosing the wrong course platform include:
Paying through the nose for features you won't use
Wasting time switching between different platforms
Realising too late that some important features are missing
Giving learners a bad experience and taking the fun out of learning 
If the course platform does not provide the best experience for students, it is not serving its intended purpose. The best way to give your students the best course experience is to create an interactive and engaging course. 
What is the Average Completion Rate of Online Courses?
The average completion rate of online courses is fairly low, standing at about 13%. The low rate discourages course designers from creating more online content. Many students who enrol in online courses are eager to start classes but fizzle out after some time. 
Some of the reasons for the low completion rate of online courses include the following:
Lack of engagement and interactivity
Lack of motivation
Interest in other activities
Students feeling overwhelmed with the content
The path to success is not clearly defined
Just because students enrol in a class doesn't mean that they will complete it. Creators must ensure that they create quality, fun, and interactive course content to captivate students.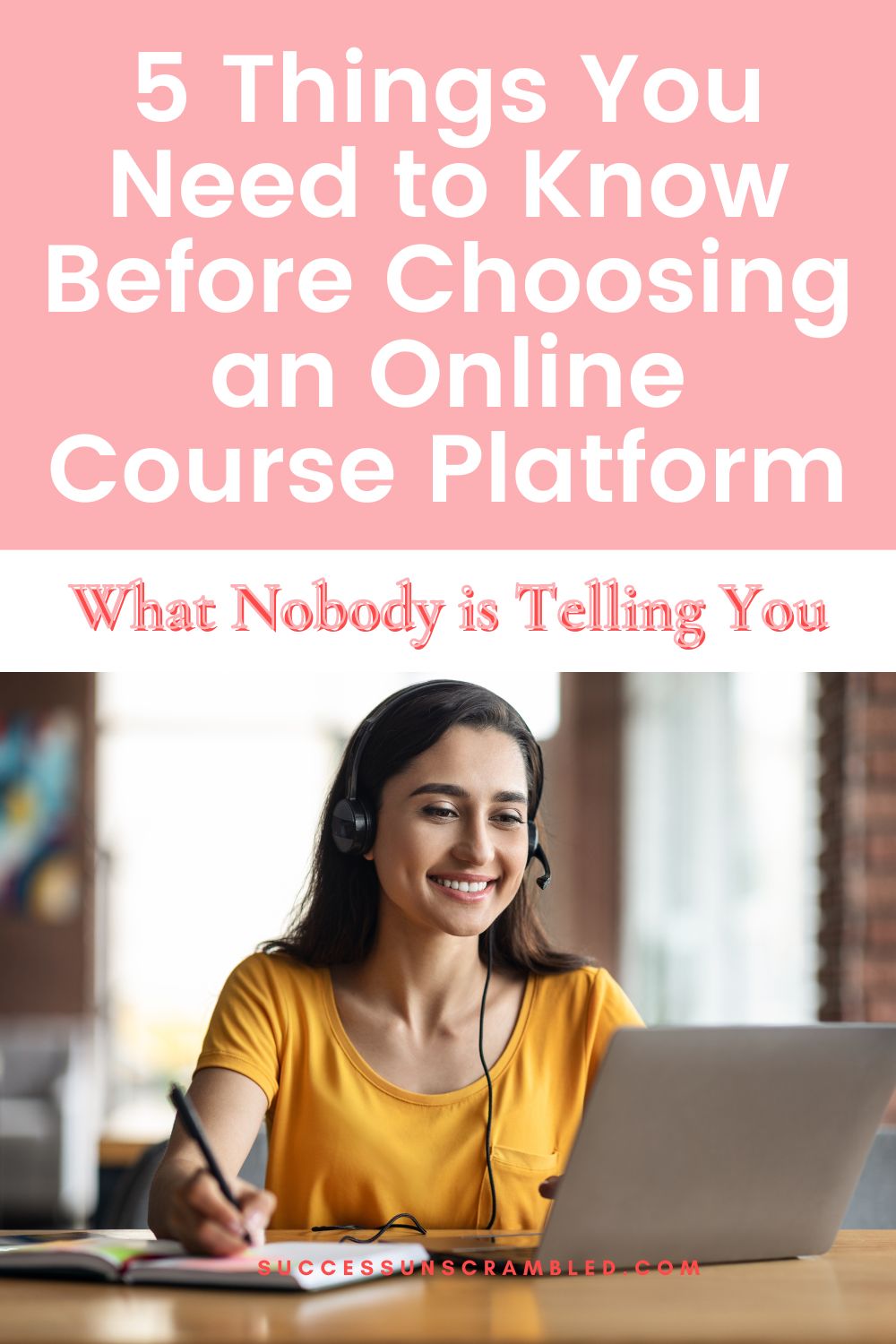 Which Online Courses are Most Profitable?
The most profitable online courses are web design, arts and crafts, personal development, business, and academics. Learners are thrilled to learn new things from different online platforms.
Make gains from existing demands in the above areas to connect with learners and earn an income. Ensure that you conduct thorough research on trendy topics and encourage your audience to share their opinions. 
This way, you will not only be creating impactful content but also know what the audience thinks of it to guide you in further course creation.
Online Course Platform Commonly Asked Questions
Who Uses Online Course Platforms?
Online course platforms are used primarily by students to search for learning materials. They provide course materials that cover a wide spectrum and aid learning. 
How Does Online Education Work?
Online education works by providing educational course materials for students on a digital platform. Learners can simply go online and search for content that meets their needs. 
Can You Earn From Posting Course Materials Online?
Yes. You can earn tons of money from posting course materials online. Increase your earnings by creating quality and engaging online course content for your community. 
What Kind of Content Is Offered on Online Course Platforms?
Different topics are covered in online course platforms. Some of the popular topics covered include welfare and wellness, coaching, and personal management. The types of content available on course platforms are almost limitless. 
Conclusion
From our research, it is evident that there are countless online course platforms that you can use to create meaningful courses for your students. 
You can discuss any topic you wish on online platforms and make gains from them. All that matters is that you choose a topic that resonates with you and give it your all. 
Because of the large number, you must be extra cautious when choosing platforms to avoid making a choice that doesn't suit your needs. 
All in all, online course platforms offer an opportunity to turn your passion into a profitable venture.
Make the dream a reality today by identifying topics that interest you and choosing the right platform to sell your material. If you are ready to launch your course let me help you develop a launch strategy for your ideal student.