Podcast: Play in new window | Download (Duration: 17:04 — 24.2MB) | Embed
Subscribe: Google Podcasts | Spotify | Amazon Music | Stitcher | Email | TuneIn | Deezer | RSS | More
Eva sat in front of her desktop, contemplating how to set up the online classes she dreamed of launching.
'But how long should an online course be?' she thought. She didn't want to prepare online content that would be too cumbersome for students to complete.
For over two years now Eva has been a digital marketer, and quite successful at it, but now she wants to launch into the online course space. For what exactly? To bring her knowledge and skills to students who want to learn. 
She glanced over at her email list to see the number of emails requesting her to start already; it made her more determined.
If you are also like Eva, seeking to also put your course out there in the online space, you might find yourself asking questions like these:
What is the ideal class length?
How long should I make courses, so that my students can enjoy the lessons?
Will people appreciate a longer course, or do they prefer shorter ones?
Will my prospective students be willing to pay for the course if it's too long or too short?
How long are master classes?
Will I make more sales if I make the course a bit longer?
Will people feel my teaching won't have value if it's short? I think I need to increase it a bit, say 8 hours or more.
All these are valid questions, so stick to this resource if you want good answers that will guide you through.
In this post, you'll learn everything you need to help you determine the ideal length of your online course including lessons and modules.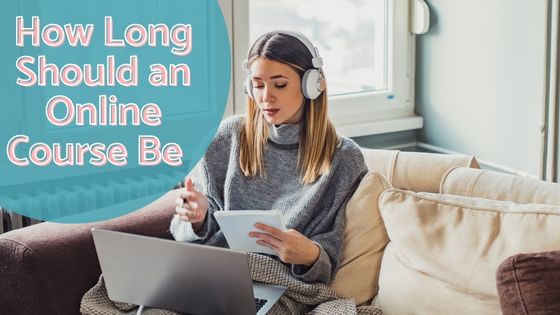 Factors That Affect The Length of Your Online Course
It's not just about putting out online programs. You want your students to get value from what you will teach them in your e-learning course. Depending on the course and the technicality, course content shouldn't be less than 30 minutes or more than 4 hours. 
There is no set rule on what the length of an online training should be. However, from the process of course creation, you will understand how teaching goals affect online course length.
There are other things you might want to consider about the length, which include activities you will provide, what course material you will use, how thoroughly you will dwell on the subject, and so on. An ideal online course length can depend on a variety of factors.
In all, your course should be long enough to cover everything that your students need to know without taking much time.
What Course Material Will You Use
Before putting together a course for your online training, you need to keep these things at the back of your mind: 
Check the content material you are putting together and ensure it's not too complex for the learners.
Knowing a particular subject well doesn't automatically translate to knowing how to put that knowledge together to teach someone else via online learning.
Why this? Most course creators make the mistake of thinking their students are at the same knowledge level as them.
They make the course so complicated and too long to the point that it is too difficult for students to understand. You have to identify common gaps in your student's knowledge.
Put yourself in their position and ask, as a beginner with little or no knowledge about this subject, will I need all of these?
Your aim shouldn't be to make sales but to impart knowledge, skills, and valuable information, so let your priority be the students.
How Do I Spread Out The Modules and Lessons
At the time of compiling the course, if it's getting too long, then you should consider dividing it into modules and lessons.  Covering your course topic by spreading out learning materials can help your students reach their learning objectives in less time.
Spreading out the information in this way will help the lessons be concise for better comprehension. Ideally, the range of each should be between five to twenty minutes, a maximum of twenty-five minutes.
As earlier stated, your students do not want anything that is unnecessarily long or complex, so there is no need to make video content that lasts five hours
Also, consider that your students have their schedules. Some might have active jobs or run a business. Think about what their day would be like and make videos that they can cover at their own pace.
Students appreciate it when lessons are in smaller bits rather than having the whole chunk of it all at once. This method is also an excellent way to help the brain grasp information better.
How To Create a Good Course Outline
Spreading out course activities is a great way to facilitate better learning. It is good practice to put the basics of the course first.
If your students need to learn about the terminology used in the field of study, then it should be in the introductory section for easy access.
Let them be appropriately introduced to the lesson plan. It will keep them excited and have an end result of helping them anticipate more information. 
The introduction should also contain the instructions they must follow. This includes how to follow through with the remaining modules and how to carry out the activity lessons collected in the course.  
Each lesson activity should be coordinated to give the best learning experience by using invaluable learning techniques.
You might want to also include an interactive section in between lessons, say a video of about 2- 5 minutes, that requires them to take a quick test to check their understanding of the online course so far.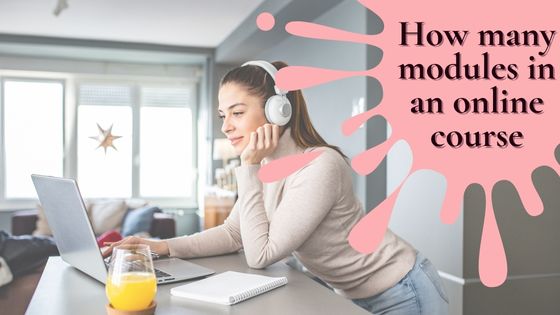 What Factors Affect How Long A Student Can Concentrate?
According to studies, many factors affect attention spans. Factors can range from things on the student's end to the course itself. Let's look at some of them.
#1 Passion for Knowledge
How seriously a person takes something will largely depend on how interested they are in it. The same applies to learning courses. 
If the lessons are essential to them, or of great interest, they will be more willing to engage. In addition, the better designed your course is the more willing they will be to pay attention. 
Let your course be captivating as well as educational, it will capture your student's interest, and they will appreciate what you offer in online education.
#2 Engaging Courses
If you want to get maximum concentration from students, choose activities that will get them to participate. Even though you know the courses are for learning, you can also incorporate a way to teach the lessons that will make them more fun for students.
You can make some lessons interactive. It could be a 2- 4 min video. Get them to complete a question-and-answer section. 
You can also give them practical classes, tests, and personal research projects to carry out, let them be actively involved in the class, and you will see an increase in engagement and interest.
#3 Easy To Achieve
Students want to start and finish a lesson without fail. If you're going to get the best from them, don't make them afraid by painting a picture of a very tough and complicated course that they are bound to fail. 
This will give them cold feet as they already have the mindset of a challenging course. Instead, find the right way to communicate that it's something that can be done if they put their mind to it.
#4 Quality Video and Audio
Since you are creating an online class, you should use high-quality graphics and videos. 
High quality improves the appeal to students, don't forget that people leave reviews online about the courses they attended.
The best way to do this is to invest in quality visuals. The recommended video quality is 1080p.
#5 A Class That Sparks Enthusiasm
Switch things up a little bit. Instead of the conventional way of introducing the topic of a new module, add some suspense by revealing some clues about what to expect in the previous class. 
This creates a mystery that generates enthusiasm for the next class.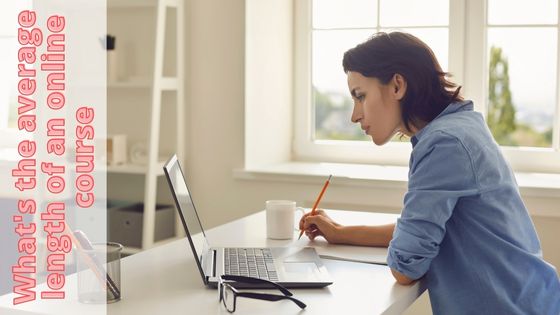 How Long Should Your Videos and Lessons Be?
Now, the big question is, what is the easiest way to structure your lessons and videos so that they won't be too long or too short?
Even though you want to create great content, you should also consider determining how long your videos and lessons should really be to ensure student engagement.
This will also determine whether people will appreciate the time they've invested in taking the course and if they would buy it at an even higher price tag.
Relevancy and Quality of The Course
The main objective of an online course is to educate and provide needed information to people. If people are going to appreciate what you do, then it must be relevant to them, and it must answer the questions in their hearts. 
To have a large quantity of content, course builders make the mistake of stuffing information that is not necessarily relevant to their courses. This degrades the quality of the course. You want to make your class the best thing that has happened to them.
Attention Span
The attention span of the average human keeps decreasing, and especially with the constant use of technology, people are used to getting things done in a shorter length of time. 
Think of it this way. People will move away from a video that doesn't capture their attention in at least 8 seconds. That's how short attention spans have become, so to get your student's attention, don't put out lessons that are too long.
Even in psychology, it's easier to understand a lesson when it comes out in smaller portions than taking a long lecture.
Long vs. Short Courses
Point blank, people tend to like shorter videos, people are busy with so many schedules and deadlines to meet, and if, in the midst of all that, they want to take up a course, they don't want one that will take up too much of their time.
Students want a well-put-together video that they can watch and understand quickly without wasting extra time. So, how long is a short online course? It's a point to consider.
A study that analysed the watch time of video courses considered a sample set of 7 million videos from various learning platforms. It was found that learners found videos that lasted six minutes are more engaging than videos that take a longer amount of time. 
If you are a course creator and you want the best engagement and positive feedback, then you should look at best practices. It would be best if you prioritised making videos below five minutes or, at most, five minutes. 
This method has been tested and proven as an effective way to get the highest engagement from students.
Effective Ways To Keep Your Students Interested
Create Short Videos
As we've discussed, people don't want to spend too much of their time on online lessons. They want to be able to manage their time, so rather than making long videos that last for hours, make videos students can engage with quickly.
Think of yourself in the classroom listening to a long, boring lecture. In that scenario, you are forced to wait until the end. Not so in an online course. It's just you and your screen, so you might as well switch it off.
Help your online students have a better learning experience by decreasing the time they must invest to complete your course. Please give them the modules and lessons in more digestible chunks. It will facilitate the engagement you want to see.
Throw in Quizzes
The main goal of introducing quizzes, practicals, and tests is to increase the interactivity of the course. When it's more interactive, it's more engaging for students in the long run.
Make them do a compulsory quiz or test at the end of each module. This should be an expected part of the course so students are transformed as they complete the module. Their scores at the end of each quiz will tell you if they are following the course or not.
Conclusion
Your online course should be practical and relatable. You want your students to complete the course so make sure it fits into their lifestyle by breaking up content into manageable pieces and keeping the overall length of the course manageable. 
Once you have set your goals for your course you can begin considering the most effective way to present your materials to manage time. You are encouraged to schedule a call with me to assist you in planning your course.