Podcast: Play in new window | Download (Duration: 22:34 — 31.7MB) | Embed
Subscribe: Google Podcasts | Spotify | Amazon Music | Email | TuneIn | Deezer | RSS | More
While Nisha sat wondering how to structure an online course the doorbell rang.
It must be the delivery from Amazon she thought.
Because Nisha was planning to shoot videos for her online course over the next 2-3 weeks she ordered studio lights and a good-quality microphone.
Did you know that the e-learning market is currently worth $215 billion?
As a course creator, you and Nisha are facing stiff competition. So, you must have a well-planned course structure to remain relevant. 
One essential step in creating a profitable online course is to structure the online course content. It creates clarity and allows you to focus on the most vital content and elements of your course. 
In this post, you'll learn about the kind of content to choose, how to organise ideas, tips to structure an online course, and what makes a good online course. 
This expert guide will walk you through the journey and process of structuring an effective online course that will attract and keep your online students engaged.
What Is The Purpose of Structuring Your Online Course?
You structure your online course to ensure the topics are well-organised.
 A clear online course structure helps learners understand the course expectations, outcomes and what you expect from them each week. 
A well-structured online course provides learners with a clear path to progress. 
What Topics Do You Want To Cover?
Before creating a well-structured online course, you must consider the topics to cover. You should have ideas about what you would like to teach before you begin creating a course outline. 
Then you must be knowledgeable about the approach to use and how to tailor your online course to align with your target student's needs.
An effective way to help online learners to get their desired results is to offer a step-by-step course.
What Kind of Content?
There are a variety of different content types to consider during online course creation.
The most commonly used content types are written (e-books and PDFs), voice-only, voice-over slides, and talking head videos.
To increase student engagement with your online course you can use more than a single kind of content. 
When presenting the information you're teaching, always consider what is best for your students. Consider their needs and also the type of material you are presenting.
For example, a course that references graphs would not be suited to audio-only. 
In this case, you could support the audio with PDFs or consider voice-over slides. If possible, you can include step-by-step written instructions, an audio format, or a video for visual learners and those who find reading PDFs and other content cumbersome.
The online training you're offering should be considered thoroughly when selecting the content type.
Always remember that the types of content directly influence the style and structure of your online course material. 
Organising Your Ideas
After brainstorming your ideas and determining the content type(s) and course scope, your next step is to organise your ideas into groups.
All the brainstormed ideas should be rearranged into a logical structure to ensure that your course outline is consistent and professional.
Here are step-by-step guidelines that you should follow when making a course plan.
Create a timeline for your course. For example, the course can take seven days, two or even four weeks, depending on the content. 
Determine the learning and instructional styles that best help students understand the content.
Group and divide your course content into sections or modules.
Ensure all similar ideas in a module expressing the same thoughts are grouped into subtopics
Consider the type of content when creating your course curriculum. For example, video content should be short and supported with catchy graphic designs.
Keep your writing style and content as direct, simple, and clear as possible.
Create an evaluation or exercise at the end of each module or after completing the course. 
Develop and employ ready-made templates for the learners.
Consider including extra resources, your website, reference, articles, and social media accounts
Ensure a discussion forum like a Facebook group is included in the course for interaction purposes. The audience should be able to engage with one another, ask questions, provide student feedback, and create meaningful relationships that enhance their learning outcomes.
Ensure Easy-to-Use Navigation
Make sure that your course is easy to navigate and use. Easy course navigation is an essential element of a good online course. To make your course easy to use and navigate, provide a home page, edit course navigation, and use modules. 
An online course should have a consistent and clear structure. Each module should be well-organised, and the location for assignments, downloadable files, and projects should be placed in the same spot. 
Use modules to organise your content in sequential order. Also, place all the course content in one location. 
Understanding Your Audience's Learning Style
According to current research, 59% of the e-learning community in the US is composed of active online course creators. Also, 50% of learners acknowledged that online learning was more engaging than in-person classroom learning. 
Your student's learning style can be synchronous, asynchronous, or a combination of both styles. Synchronous learning ensures real-time learning and interaction between students and instructors. The asynchronous style is more flexible and allows students to access materials from different locations at different hours.
The rule of thumb when creating an online course is to put yourself in your student's shoes and consider the methods that would benefit them when undertaking the online course. You can ask yourself the following questions:
What content are you presenting to the student?
Who is my target student, and what's their age range?
What teaching methods and aids are the students going to be attracted to?
Will the students be willing to engage in all the practical activities included in this course?
How much time are the students willing to sacrifice to pursue this course?
You have to understand the most effective learning style for your students. Examples of synchronous learning styles include:
Instant messaging
Live webinars
Video conferencing
Virtual classrooms
Synchronous styles you might consider include: 
Email
Blogs
Online courses
Pre-recorded videos, audio, and webinars
Discussion boards and online forums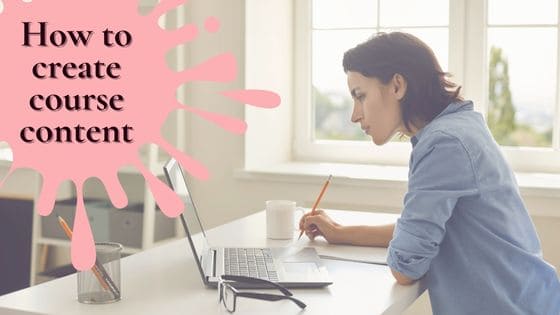 Tips on Structuring An Online Course
Designing your online course structure can be an overwhelming and daunting task. You might have helpful skills and ideas you want to teach others, – but structuring the online course could be a problem for you.
Below are some tips on structuring an online course that is appealing and attractive to your students. 
#1 – Maintain Consistency
When structuring your online course, ensure you are as consistent as possible. Consistency is key to retaining your students and increasing subscriptions to your online course. Successful course organisation improves student learning. 
There are various ways to improve consistency in online courses, including guidelines, templates (syllabus and course outline), standardised feedback and responses, and quizzes.
The benefits of consistency in your online course include easy navigation for students, easy understanding of course materials, and enhanced ability to assess and evaluate students. 
#2 – Keep it Interesting
An engaging online course should be effective, appealing, and interesting to the students. Consider more than one kind of content to produce an ideal online course. Consider including graphics to break up text and aid learning. 
The most preferred teaching format is videos because they make an online course dynamic and interesting. Videos have become an increasingly popular format for delivering online courses. 
Videos provide the best approach for demonstrating skills and content and allow you to give easily-digestible presentations. It also has the benefit of being closest to in-person classes when done right. 
Other types of valuable formats for interesting content include: 
Slides
Although the video format provides better engagement levels, slides provide text and images that are more convenient for all. Slides also include speaker notes for a better understanding of ideas and concepts. 
If your course is complex and you use videos, consider adding slides. Slides act as a text-based supplement that assists visual learners in following and comprehending content more easily without losing focus and personal touch. 
Live Broadcasts
You can use live broadcasts in the form of a webinar or Facebook Live and interact with your students in real-time
PDFs
Most of the supporting materials for the online course needed by students are usually provided in PDF documents. Such documents can be used to enhance learning and knowledge among students. 
Audio Files
We at successunscrambled.com recommend using audio to provide additional brief explanations of the content.
Students need visual anchors to retain complex ideas and information, while audio formats support short clips from instructors. A teacher's voice is a relatable and useful experience for students. 
#3 – Regular Projects and Assignments Should Be Included
An effective online course measures the knowledge acquired by the students through assignments and projects.
You can measure student knowledge levels by giving regular projects and assignments that are completed before continuing to the next module. 
Ensure all assignments are submitted on the due day to promote consistency and commitment. Also, provide easily accessible links to assignments, projects, and quizzes. 
What Makes a Good Online Course?
Online learning and teaching have become prevalent following the global health event. There are a lot of online courses available for different audiences. However, what makes an online course good for the student?
Engaging and Challenging
A good online course is engaging and provides value to the targeted student. It motivates students and invites them to participate and contribute. The course also captures their attention, concentration, and attention. 
Good online courses are challenging. Students are cognitively challenged by new ideas and the learning content. It challenges them to analyse, critique, and think beyond the course's contents.  
Interactive and Objective-based
A good online course is objective-based and interactive. It provides adequate information to the students, including readings or lecture videos.
Also, the course entails interaction among learners as well as between learners and instructors. The interactive nature of online content allows students to receive personalised support, feedback, and guidance. 
The foundation of online course effectiveness is online discussion among instructors and learners.
You can place direct links for the students at the end of each lesson to encourage high interaction levels. Ensure the discussions cover the content in the module and learning activities. 
Interaction with course materials is associated with multiple benefits, including but not limited to the following: 
Creating an unforgettable and immersive learning experience.
Reflecting reality through learned content and simulations.
Enhancing learners' interests and attention towards the online course materials.
Letting students practice in real-time the lesson learned in the online course 
Interactive elements make your online course more engaging and interesting, and your students will feel they're receiving value for their time and money.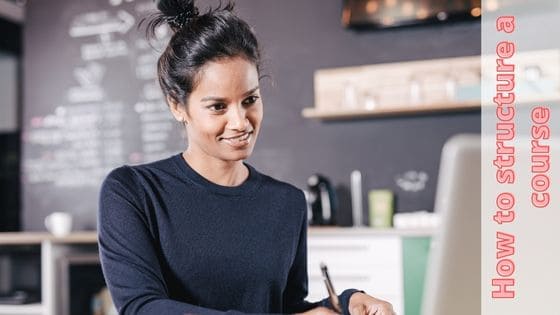 Effective
An excellent online course is designed to be effective. A well-designed online course should help to identify the knowledge, abilities, and skills gained after completion. They should also provide activities to assess if your students have successfully gained the required knowledge and skills. 
Online courses are more effective than in-person courses. For example, online courses release less CO2 than traditional in-person courses, releasing 85% less per student and consuming 90% less energy.
A good course promotes urgency and commitment. It gives you the autonomy to pursue personal goals, including blogging and social marketing. Such a course encourages learners to put into practice what is learned. 
Appealing and Practical
A good learning course is appealing because each one of us learns differently. Any good course appeals to kinesthetic, visual, and other learning styles through various carefully crafted content. It should allow you to learn in the best way that works for you.
Good courses are involved and allow the students to practice rather than just watch and read. Ensure that the course is engaging and allows the students to be practical.
Exams
Some online courses encourage students to take an assessment or exams after completing the learning process. You can provide exams through different learning platforms to measure the knowledge and success of the online course. 
Here are commonly used methods to encourage engagement during online training courses:
Graduation bonuses
Badges
Leader boards 
Weekly Q and A sessions
User assignments and exams that are completed before participating in the next module
Quizzes and short-answer questions 
Supportive Content for Students
A good course provides additional resources to enable the students to complete their course on time.
For example, support can include a single page of content, including the tools required for the course. It could also entail a series of worksheets, a 5-day challenge, co-working sessions, videos, and PDFs that help students learn and support their journey.
You can also provide free bonuses to the students as part of the assurance of the support provided. Pitch the additional resources to students to assure them more value for money and their time. 
Support and additional extras are important, ensuring your online course remains distinct and competitive from others and increasing conversion rates.
Consistency is Paramount
After choosing your course outline strategy, you need to be as consistent as possible in delivering the course's objective. A good course is designed to reduce barriers to learning by ensuring all students have access to your online courses. 
Learners undertaking an online course engage in self-directing and independent learning. During in-person teaching, learners are normally expected to attend class at a specified time.
However, online learning can take place even during office hours. For consistency, ensure that your teaching style aligns with the course idea. 
The end goal is that the online content should offer new knowledge to the learners. 
For example, ensure assignments are provided and submitted on the same day. Make sure all the online course modules start as presented in the course outline 
Students are hard-wired to appreciate knowing about each module, including the learning activities and content.
Always provide an overview for the learners at the start of each module. Your overview can include quizzes, assignments, a list of reading material, and discussion posts. 
What Is the Difference Between a Course Syllabus and a Course Outline?
People confuse a course syllabus and a course outline. In some cases, the two are used interchangeably, but they're two different learning elements.
So, what are the differences between a course syllabus and a course outline?
A course outline provides the fundamental components of the course needed by all instructors when teaching students.
Conversely, a course syllabus is more elaborate and guides the learner. An outline benefits tutors and students without giving too many details. 
An outline is a guide for the course instructor and learners as to where they are in the course whereas a syllabus may include additional information.
For example, an individual instructor could use a course syllabus to lay-out rules of conduct, due dates and grading standards versus just course content and assignments. 
A course syllabus contains elements used to communicate to your learners the course description, subject matter, assignments, topics to be covered, and assessments at the end of the course.
Common components included in a course syllabus are a course description (content and learning objectives), course assignments and topics (assignments, exams, projects, readings, and topics), and course values and policies. 
Conclusion
It can be a challenging and daunting task to come up with a good online course structure. However, know that structuring the course might be easier than some might think.
It starts by first knowing the intended audience, the subject matter, how the topics will be covered, and applying a logical course structure.
A successful course enables learners to easily access your course materials such as modules, exams, podcasts, and lectures. 
Use our free Course Outline Template to help you organise your course and ensure a smooth course experience for your students.