Are you looking for a way to create courses without spending thousands of dollars? Or maybe you want to create courses from scratch but don't know where to start? 
Get ready for this Podia vs Kajabi breakdown. Once you know all the important details of both systems, you can make up your mind on which online platform is best for you.
Choosing an online course creation platform might seem a bit tedious but that's why I'm here to help!
Now you don't have to open multiple tabs and go through every feature on your own.
Let me compare these two platforms' key features, and I'll give you my honest opinion on whether Podia or Kajabi is better suited to your business needs.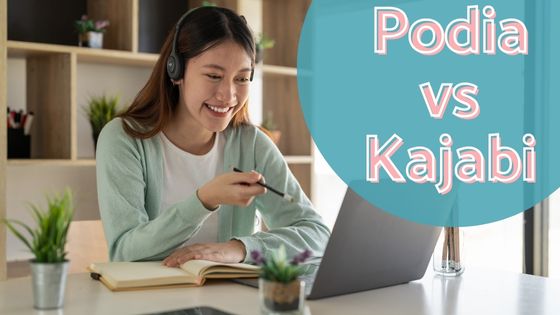 Surveys and Quizzes
You can use surveys to collect feedback from members, assess knowledge gaps, or simply gauge interest in certain topics.
Surveys are a great way to get quick responses from your community. They're also an effective tool for collecting data on the effectiveness of digital marketing campaigns.
Quizzes are a great tool for you and your students to see how they are doing in your course.
They can be used as an assessment or learning activity, but most importantly, quizzes help you gauge the level of understanding that your students have achieved. Students can also see if they are progressing well in the course and where they might need a little extra revision. 
Podia offers multiple-choice surveys and quizzes. These are easily created with their editing tools. However, these quizzes are extremely basic. You aren't even able to add images to the questions. Keep in mind you also aren't able to set a minimum passing grade. 
Kajabi also offers surveys and quizzes on its platform but with more flexibility. Students are able to answer in short form or upload images as answers, for example.
You can also add images to your quiz questions. You can set a minimum score to progress past the quiz, offering you some control over student progression. 
Tracking Student Progress
Tracking students' progress is handy for course creators. It allows you to see whether students are progressing through your course as designed or if they are getting stuck at any particular place.
This knowledge is essential to improving your course offerings. Without knowledge of where students struggle you aren't able to meet their needs. 
Podia lets you track student progress over time. You can view individual learners' performance on any given topic, along with overall scores.
You can see which lessons they have and haven't looked at by clicking on student profiles. The tools are basic but useful. 
Kajabi offers more functionality in this area. Their analytics tool really lets you dive into how students are progressing and interacting with your content.
You can apply filters to segment students or look at an overall snapshot. You are also able to view progress within specific lessons if you want to analyse whether any particular lesson is working for your students overall.
Themes and Design
Themes and designs help you create a course that is visually appealing and easy to follow. Customization allows you to create a product that fits your brand and personal style. A well-designed, effective course will be more likely to get results for you and your students.
A good design can make or break the success of your online course. It's important to have a clear vision of what you want your course to look like before you start designing it and also a platform that helps that vision come to life. 
Podia starts with one layout and lets you use their editor to customize from there. You can customize a few basic things like colours and fonts. 
This is all done simply and without any coding knowledge required. You are not able to access the backend of your course for any further customization you might like to do. This is a great option for those who don't want to complicate the creation process. 
Kajabi again offers more flexibility. They offer a template library for you to select from. From there you can customize your theme with their template editor or their much more powerful code editor.
While this allows you more flexibility over design it also requires a bit more technical know-how. The payoff comes with a site that meets your vision. 
Email Marketing Tools
Email marketing is an essential part of any online course business. You need to be able to interact with your students via email, convert potential students via email marketing, and present further course opportunities to current students. Again Kajabi comes ahead with more functionality.
Podia and Kajabi both allow you to track analytics, automate emails, and send emails. From there Kajabi's functionality grows.
Kajabi allows you to segment your email list and target different students in different ways. With Podia it is all or nothing. In Kajabi you also have more automation triggers like course inactivity or clicking a specific link.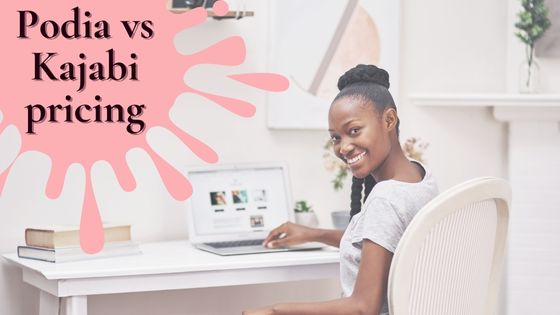 Sales Funnels
A sales funnel is a visual representation of a customer journey. It shows the steps customers take to become buyers.
A typical sales funnel has three main stages: awareness, interest, and action. In a nutshell, with a sales funnel, you build familiarity with your potential student to entice them to purchase your course.
Both Podia and Kajabi offer sales funnel features in the form of automated email drip campaigns. Podia, in a running theme, keeps it to the most simple.
Your email sequence is activated when someone downloads a lead magnet or purchases a course. Your emails begin sending and you build to a sale with your email content.
Kajabi offers a bit more. With Kajabi you get templates for drip campaigns for things like product launches or freebies. You are also able to start your own funnel from scratch.
The sales funnel also includes things like landing pages which are available through Kajabi.
Automation
Both Podia and Kajabi offer automated emails and drip campaigns. With both platforms, you can send emails automatically after certain events occur. 
For example, you could set up an autoresponder series that sends a welcome email to new students once they sign up for a class. Or you could automate a sequence of messages that starts off with a reminder and then transitions into a survey before ending with a thank you message.
Again Kajabi comes ahead here. It offers more events to trigger automation. They also offer templates for different types of automated email campaigns.
Automating pieces of running your course business will greatly improve your experience. Managing the process of sending out all of these emails would really eat up your time.
By automating the process you can focus on engaging your students and creating your course content. 
Support Team
Though Podia and Kajabi both claim to have easy-to-use features to set up your online course you know that nothing is failproof.
While creating your online business you should consider how you will access customer service when things go wrong. Nothing is more frustrating than having a problem you can't solve and having nobody to help. 
Podia and Kajabi both have knowledge libraries to help you search for answers to your questions. Email support is also available on both platforms. 
They both host online communities where you can seek answers from other course creators. All of these features are awesome tools for solving any issues that might arise as you create and run online courses with either platform. 
Where Podia and Kajabi differ is live chat support. Kajabi live chat is available from Monday to Friday for all subscribers during business hours. 
Once you upgrade beyond their basic plan you receive 24/7 live chat support. The Podia team has limited-hour chat support seven days a week without the ability to upgrade to 24-hour support.
Affiliate Marketing
Affiliate marketing allows you to have others sell your course for you. You can connect with podcasters, bloggers, influencers, and more in your area of focus and provide them with links to your course to share with their audience. If someone purchases through their link they receive a commission.
Both Podia and Kajabi offer this powerful marketing feature. You can enrol your marketers, track links, and set commissions with both platforms. Kajabi offers slightly more control over the enrolment process and better tracking features, however.
Keep in mind that both platforms require you to move beyond their basic subscription to access affiliate marketing tools.
If access to affiliate marketing is important to you be sure to check out the other features you gain access to in the higher subscription tiers to see whether Podia vs Kajabi offer more benefit. 
Integrations
Integrations allow you to add functionality to any course creation platform. If you already have a system that works you want to be able to extend it to your online course platform. 
Both Podia and Kajabi offer a variety of third-party integration. Additionally, they both support Zapier. It functions as a sort of bridge.
If you can't integrate something directly through Podia or Kajabi you can do it through Zapier. Neither Kajabi nor Podia are offering anything extra in terms of integration.
Ease of Use
Both platforms are fairly simple to use. To begin creating a course, you simply need to sign up for an account and choose a template. From there Podia has the edge in ease of use. Podia's course creation tools are incredibly easy to use with their drag-and-drop features.
Kajabi offers some customization via its editor but its true magic in customization shows in its coding functionality. While you might value the ability to tinker in more depth it does require more skills to use.
Which one is better for you is going to come down to your needs. While Podia might be simpler to use, frustrations could emerge if you can't achieve your desired result with their tool.
Meanwhile, if you find the Kajabi editor baffling, the increased function won't help you. Check out both before you make a decision about which is right for you.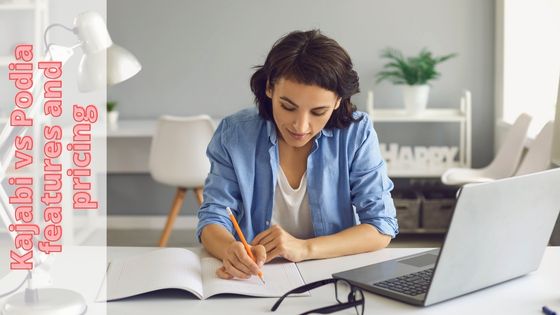 Payment Plans
Let's get into the nitty-gritty folks. How much are all of these features we have discussed going to cost you? 
Podia's cheapest subscription is the Mover plan which is priced at $39 per month and offers access to most of Podia's services. 
From there you can upgrade to the Shaker plan at $79 per month. The Shaker plan adds features like affiliate marketing and a migration service that moves your course from another platform to theirs.
How much is Kajabi charging its users? Kajabi offers three different subscription tiers. Their entry-level Basic Plan is $149 a month. You are capped at three products, three pipelines, and 1,000 members at this price point. 
The next level is the Growth Plan at $199 a month. This increases your potential size to 15 products, 15 pipelines, and a cap of 10,000 members. You can also remove Kajabi branding at this tier and start using affiliate marketing tools. 
Their top tier is the Pro Plan at $399 per month. This will raise you to 100 products and pipelines and 20,000 users across three websites.
If you are looking for the cheapest option it is definitely Podia, making it a great choice for those just starting their online business. Kajabi could be the better choice if you have a larger budget or require its increased features.
Website Builder
Both Kajabi and Podia have made it easy to build websites and online stores that are eye-catching yet professional-looking. But which platform can make your site stand out among the rest?
If you like to keep things fast and simple, Podia offers a basic set of templates for your website creation, and you can load up FAQs, testimonials, bio, newsletter subscriptions, products and columns. You also have the option to start building from a blank page.
If you have an eye for detail and you want a more personalized design for your own website, Kajabi is the way to go. Kajabi offers more advanced site-building tools and it allows you to make some styling tweaks by accessing the backend of your website.
You can present your brand, your courses and your quality content by adding a site header, video background, sales pages, blog pages, opt-in forms, calls-to-action and testimonials.
Landing Pages
A landing page is one of the most important components of your online business as it serves as the first point of contact between your potential customers and your brand.
To get more discoverability and sales conversions, your landing page has to be catchy, straightforward and engaging. It's where you put your calls to action, ultimately leading your visitors to do business with you.
Podia has all the basic functions to set up a landing page. Just use the default template, choose your preferred fonts and colours, and as easy as that, you're done!
Kajabi, on the other hand, offers high-level designs that you can customize in order to create a stunning landing page.
With more options, you will have more creative freedom, enabling you to come up with catchier styles to get your visitors to subscribe, enrol, buy, or book a call with you.
Limitations
Both Kajabi and Podia spoil their users with unlimited course creation included in their paid plans.
Podia used to offer a 14-day free trial, but they recently rolled out a free plan that lets you make one coaching product, and draft courses and webinars.
If you want unlimited courses, you have to go for any of their paid plans between $39 – $199. There's one downside though – Podia doesn't have course templates available.
Kajabi does not offer a forever-free plan like Podia, but you can contact them to claim a 30-day free trial to enjoy creating unlimited courses with their available course templates. After that, you can either cancel or proceed with their paid plans ranging from $149 – $399. 
Course Types
Kajabi lets you create online courses for long-form content, mini-courses for launching new products, drip courses for scheduled content and memberships.
With its advanced features, you can easily create high-quality courses and build a strong community around your brand.
Podia lets you make online courses, webinars, product bundles, digital downloads, and coaching sessions. 
While both platforms have a few differences, only Kajabi is the clear winner of this round because it provides users with product templates.
Every beginner creator is going to look for a sample template to get them started. With Kajabi, beginners need not look any further.
Product Pricing and Enrollments
What is Podia's product pricing setup? Product pricing on Podia is more straightforward compared to Kajabi, making it easier for creators to understand and manage their pricing strategy.
Also, Podia lets you bundle your products to upsell to your students. That gives you more chances to increase your overall revenue. There's a slight little hiccup though.
It doesn't provide multiple payments in case your student wants to pay for the total amount using 2 payment methods. This can make the enrollment process more difficult for some students and potentially impact the overall enrollment numbers for you as a creator.
With Kajabi, you can provide your students with multiple payment options. Those who don't have enough money to use just a single payment method to purchase your course or your digital product will still be able to enrol if they have an extra credit card or if they have some funds in another e-wallet.
Not only that, Kajabi has a comprehensive pricing setup that allows you to do a scarcity marketing strategy, wherein you can limit the number of offers and the redemption period of each product. It will be easy to offer your students discounts that expire, so they'll grab the opportunity to enrol right away.
Limited offers are a great way to have recurring sales, because you can schedule them in different seasons, such as Christmas, Black Friday and more.
Key Differences: Kajabi versus Podia
Kajabi and Podia are both popular platforms for a reason. They offer automation, integration, and intuitive course creation features. 
However, they do have their differences. Kajabi offers more functionality for customization, while Podia offers a more straightforward approach at a cheaper price. Let's break down what might entice you to one or the other.
| | |
| --- | --- |
| Pick Kajabi if you want to: | Pick Podia if you want to: |
| Have a high degree of control over website design. | Enter the online course market with a smaller start-up cost. |
| Have access to high-powered analytics tools. | Use simplified page creation tools. |
| Use easy references and templates when creating courses, landing pages and more. | Migrate an existing course to the platform. |
| Promote limited-time offers and discounts to your students. | Bundle your products together for upselling. |
| Make your course accessible on mobile devices through its iOS and Android app. | Have a built-in course completion certificate to award your students. |
Is An App Available for Podia or Kajabi?
One area where Kajabi clearly has the edge over Podia is mobile applications. Simply put, Kajabi has one and Podia does not.
The Kajabi app offers great value to your students by allowing them to take your course on the go. App access can be a great selling point for your course. The Kajabi app is available for both iOS and Android. 
Can Physical Products Be Sold on Kajabi and Podia?
Yes! You can sell any kind of product on Kajabi. Their creation tools offer a lot of functionality to build pages for it as well. They allow Shopify integration or you can choose another tool and integrate with Zapier.
Podia offers the ability to sell physical items as well. However, they don't offer as much design flexibility as Kajabi so it might not be practical to use Podia this way.
While selling physical products isn't the main focus of an online course business it can make sense for some creators. Perhaps you sell macrame sets if you are running a fibre arts course for example. 
Books are also a popular physical offering for digital course creators. Neither platform offers inventory management so remember to factor that into your decision or opt to engage in dropshipping.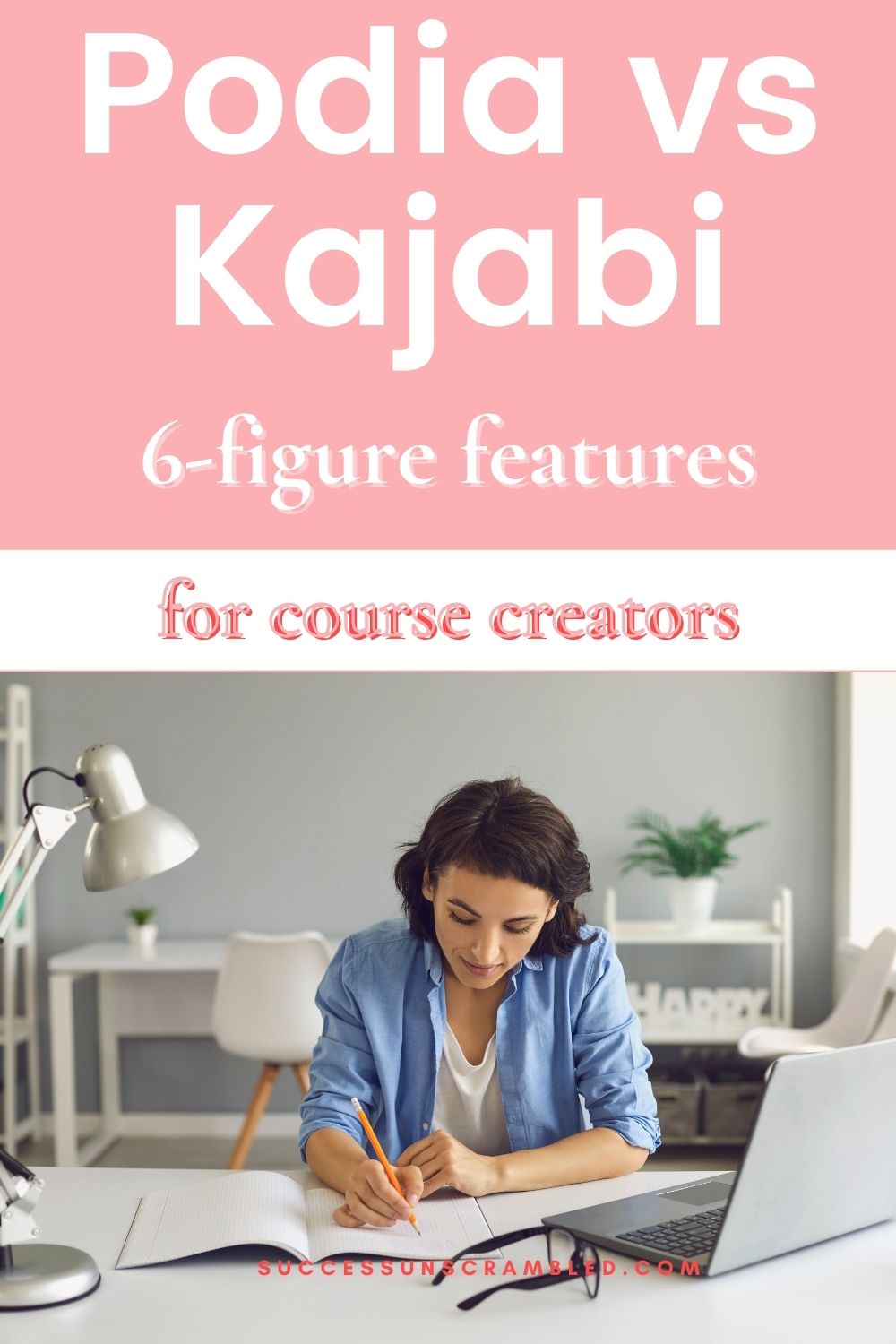 Can I Switch Currencies using Kajabi and Podia?
Since you're marketing your courses globally, your students should be able to buy your products in the currency they prefer.
Both Podia and Kajabi support changing currencies. This comes in handy when you are a course creator outside of the United States or you have a large student base outside the US.
You can switch currencies on Podia and Kajabi through their dropdown tools.
Though there's one thing to note: When you change currencies on Podia, the update applies to all products, and cannot be changed per product. With Kajabi, you can set up the currency separately per product.
Conclusion
Kajabi and Podia are both excellent options for creating, launching and selling digital products. They offer templates and customization features.
You can also use email automations and tracking features to monitor your student's progress. You will have a fully functional course using either of the two platforms.
Where the differences come in are primarily in price and customization. Podia offers a simple editor with less customization.
Kajabi's editing tools may be more complex than Podia's, but they give you more opportunities to get creative and represent your brand in the best way you can.
Kajabi also offers more customization with its automation features, although the increased functionality comes with an increased price. The platform you choose to create and host your course is a big decision.
If you would like to go over your options with me, book some time in my calendar and I'll help you decide.