Welcome to the course creators' showdown, where we pit Coursera vs Udemy to see which is the best online course platform.
In one corner, we have Coursera. The 2012-founded platform aims to make high-quality education accessible to everyone, regardless of location or ability to pay.
Coursera offers over 7,000 courses in 10 categories from top universities and companies, like the University of Michigan and Duke University. Courses are available in business, computer science, data science, and more.
In the other corner, we have Udemy, two years older than Coursera and developed to help anyone learn anything online.
Udemy offers over 200,000 courses in 12 categories, including business, design, development, marketing, and more. Courses are available in multiple languages, including English, Spanish, Portuguese, and more.
So, which of these (Massive Open Online Courses) MOOC platforms is the best option for course creators? Let's find out.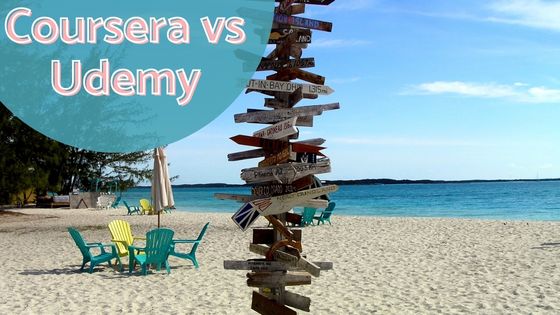 Coursera and Udemy – A General Overview
Short on time? Check out the key features of Coursera and Udemy below.
Coursera 
Udemy 
Best For
Course creators who want to reach a global audience through affiliation with recognized universities and companies.
Course creators who want fewer authentication procedures and want to focus on a specific topic for personal development available in more languages
Teachers
Top institution professionals
Anybody
Pricing
No fee is needed for course hosting
1. Single course from $29.99
2. Coursera plus – year-long unlimited access at $399
3. Monthly subscription –  $59
Course hosting is free
1. Individual courses: $12.99 onward
2. Monthly subscription: $29.99
Accredited Certificates
Yes
No, but there is an uncredited certificate of completion for paying learners
Pros
1. Many tools for new courses that are simple to use and offer lots of customisation

2.  Superior customer service

3. Worldwide users (almost twice as many as Udemy) providing an extensive audience

4. Includes accredited certificates, attracting more users

5. More free courses than Udemy, which may attract more students
1. A vast library of resources to create new courses

2. Marketing tools are available to reach a wider audience

3. Generous revenue split for course creators, giving them a good percentage of the sale price of their courses

4. There are more languages to teach available courses than Coursera
5. Easy process to enrol as a creator

Cons
1. The evaluation and approval process for courses can be lengthy and complicated

2. Revenue-sharing is done with institutions and not course creators
1. Variable course quality

2. Unaccredited certifications (only available to paid learners).
About Coursera
Coursera began operations in 2012 under two Stanford professors (Daphne Kohler and Andrew Ng), and its course offerings have been increasing in recent years.
Coursera offers a wide range of courses in many subjects. Examples include web development, business, computer science, machine learning, data science, humanities, artificial intelligence, and more.
It's not just for universities – organisations can create a course on Coursera too.
Coursera is a great platform for course creators. It's easy to use and has plenty of features that make creating and teaching a course easy. For example, Coursera has an integrated video player that makes it easy to add video lectures to your course.
If you're not a person for video lectures, you can also add audio lectures or even just slides.
Coursera also makes it easy to create quizzes and assignments for your students. You can grade these yourself or use Coursera's built-in grading system. If you want to give your students extra help, you can add discussion forums to your course.
So, what's the downside to Coursera?
The biggest downside is that Coursera is a bit more expensive than some platforms. Coursera doesn't pay instructors but shares its revenue with the universities and organisations under which that course is available. Some of these entities share the revenue with their instructors.
About Udemy
Udemy came earlier than Coursera in early 2010. The brand was the work of Gagan Biyani, Eren Bali, and Oktay Caglar. Udemy headquarters are in San Francisco, with over 50 million students, 71,000 instructors, and a higher number of courses than Coursera.
Udemy instructors earn money through Udemy's revenue-sharing program. Under this program, instructors earn a percentage of the revenue.
There are two revenue channels from Udemy's courses. One is from each student who takes your course and another is from the engagement the course gets.
As for course creation simplicity, this eLearning platform offers lots of features that make creating a course easy. For example, you can add video, audio, and text lectures to your course. You can also add quizzes, assignments, and discussion forums.
Udemy also offers a course preview feature. So, it allows you to give your students a taste of your course content. That helps them determine whether the course suits their professional development goals before enrolling.
So, what's the downside to Udemy?
The biggest downside to Udemy is that it's not as well-known as Coursera. That means that your course might not get as much exposure as it would on Coursera.
Another downside of this online platform is that it's not as prestigious as Coursera. That's because Udemy is open to anybody, whereas Coursera is for universities and companies that provide recognized certificates.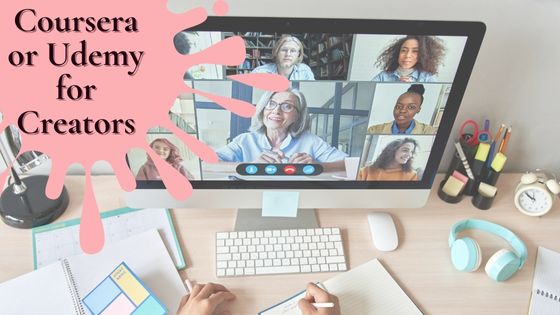 Available Languages
A good thing about Udemy is its impressive language selection. The platform offers courses in 75 languages. There are many language options to choose from. Some of the most popular languages on the platform include English, Spanish, Portuguese, and French.
Coursera has courses in nine main languages, including
German
English
French
Japanese
Spanish
Korean
Chinese
Russian,
Portuguese (Brazilian).
There are also Coursera courses in Chinese (Traditional) and other languages, but these aren't as widely available.
Pricing
Who wouldn't love free courses? If you're looking for a platform that offers more no-cost learning options, Coursera is the way to go.
With over 2500 free courses, Coursera far surpasses Udemy's 550. Another good thing is that you can audit a paid course on Coursera for free.
Udemy's courses range in price from $19.99 to $199.99, while Coursera courses typically cost between $29 and $99. Both provide a free trial. However, some Coursera courses are part of Specialisations or MasterTrack programs, in which a module in the latter costs $2,000 or more.
One can get into Coursera degree programs starting at least $9000.
If you're looking for a platform that offers more specialised programs, such as degrees and masters, Coursera is the clear winner.
Udemy offers a 30-day money-back guarantee, while Coursera provides a 14-day refund policy. So, if you need a better grace period, Udemy is the way to go.
One of the best perks of Coursera is getting a year-long subscription at $339. Interestingly, this doesn't limit you to a handful of courses; you can access course materials for almost any course on the platform. Plus, you get a certificate for all courses completed within the year.
Keeping this pricing information in mind can help you choose which platform will most appeal to your target students. 
Instructor and Course Quality
Coursera only deals with top universities and companies, which means they have some of the best courses. Course creators must meet strict quality standards, and courses undergo review by Coursera's team of experts before publication.
This immense due diligence ensures that Coursera provides better courses than Udemy when it comes to credibility.
That said, Udemy courses are also excellent. However, there are no strict course quality standards for course creators to follow.
Anyone able to follow Udemy prerequisites can create a course on the platform, making it a hub for industry experts. That means that courses can vary in quality, which can be a downside.
However, Udemy does offer a course preview tool. So, potential online learners can get a taste of what a course is like before they enrol to learn a new skill. This will help your students know that you have a quality offering. 
Certificate
Signing up for a paid Udemy experience lets you get a certificate of completion upon a successful learning experience.
While a Udemy completion certificate helps demonstrate what courses a student has taken and their level of achievement, it's unaccredited.
Udemy certificates may help students add to their professional skills on their Linkedin profile. However, besides personal development, they may not be as valuable as Coursera certificates.
When seeking career opportunities that prefer candidates with a professional certification, a Coursera completion certificate will give your students a competitive edge.
Additionally, Coursera certificates of completion are from well-known universities and companies. So, they may be more widely recognized and respected by a potential employer than Udemy certificates of completion.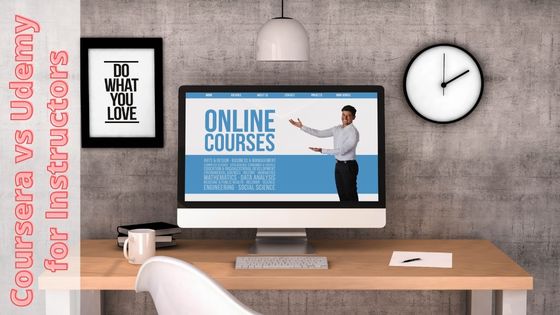 Customer Support
It's important to consider customer support when choosing an e-learning platform for your courses.
Both course platforms offer customer support through a knowledge base of FAQs. Besides these, they also have some of the most beautiful resources in their blogs to help creators. If you cannot get your specific answer from either, there are live chat and email options on both.
However, Coursera is a better choice for attending to course creator needs, from our point of view. Its affiliation with top companies and universities like Stanford means it goes to extra lengths to support its creators.
Interface and Usability
Creating a course on the Coursera website is straightforward. The platform offers various tools to help you get the particular structure you desire, including
Templates
Branding guidelines,
Support from the Coursera team.
Once you create a course, Coursera takes care of the rest, including hosting, marketing, and payment processing. You can focus on creating quality content and leave the rest to Coursera.
Udemy also gives a good user experience when creating your online classes. You don't have to undergo stringent acceptance protocols. The user interface provides everything you need to get started, including
Video tutorials
A course creation checklist,
A course preview tool.
Udemy also offers numerous tools to help you promote and sell your course, including
Coupons and discounts
Affiliate marketing
Udemy ads.
Both have a mobile app if you want to do things on the go.
Alternatives to Udemy and Coursera
Besides these two, you can also pick an online learning platform to host your courses from one of these alternatives.
MasterClass
Work alongside A-list instructors like Neil deGrasse, Donna Farhi, and Jon Kabat-Zinn. MasterClass provides content creators with many tools to host high-quality courses in HD video and interactive exercises.
MasterClass values prior experience over academic learning and is excellent for those seeking basic skills.
Skillshare
Another superb learning platform for online education where you can share your skills is Skillshare. On Skillshare, you can upload your courses in videos, slideshows, and even PDFs to subscribers. Unlike Udemy and Coursera, there aren't individual course purchases here. Please take a look at the comparison I wrote between Skillshare vs Udemy.
edX
This platform offers the closest learning experience to Coursera. edX provides courses from 140 top universities and colleges worldwide. On edX, you can host classes in nearly any subject, including business, computer science, humanities, and more.
The biggest letdown is that edX doesn't have as vast a learner population as Coursera. Nonetheless, it still has an impressive audience of 42 million.
Need more platform options? Check out our Lynda vs Udemy comparison.
Which Is the Better Option for Businesses?
There is no clear winner when it comes to Coursera vs Udemy for businesses. It depends on the specific needs of the business. If a business is looking for an extensive catalogue of courses and the ability to customise classes, then Udemy would be the better option.
If a company is looking for job-based learning programs and authoring tools, then Coursera would be the better option.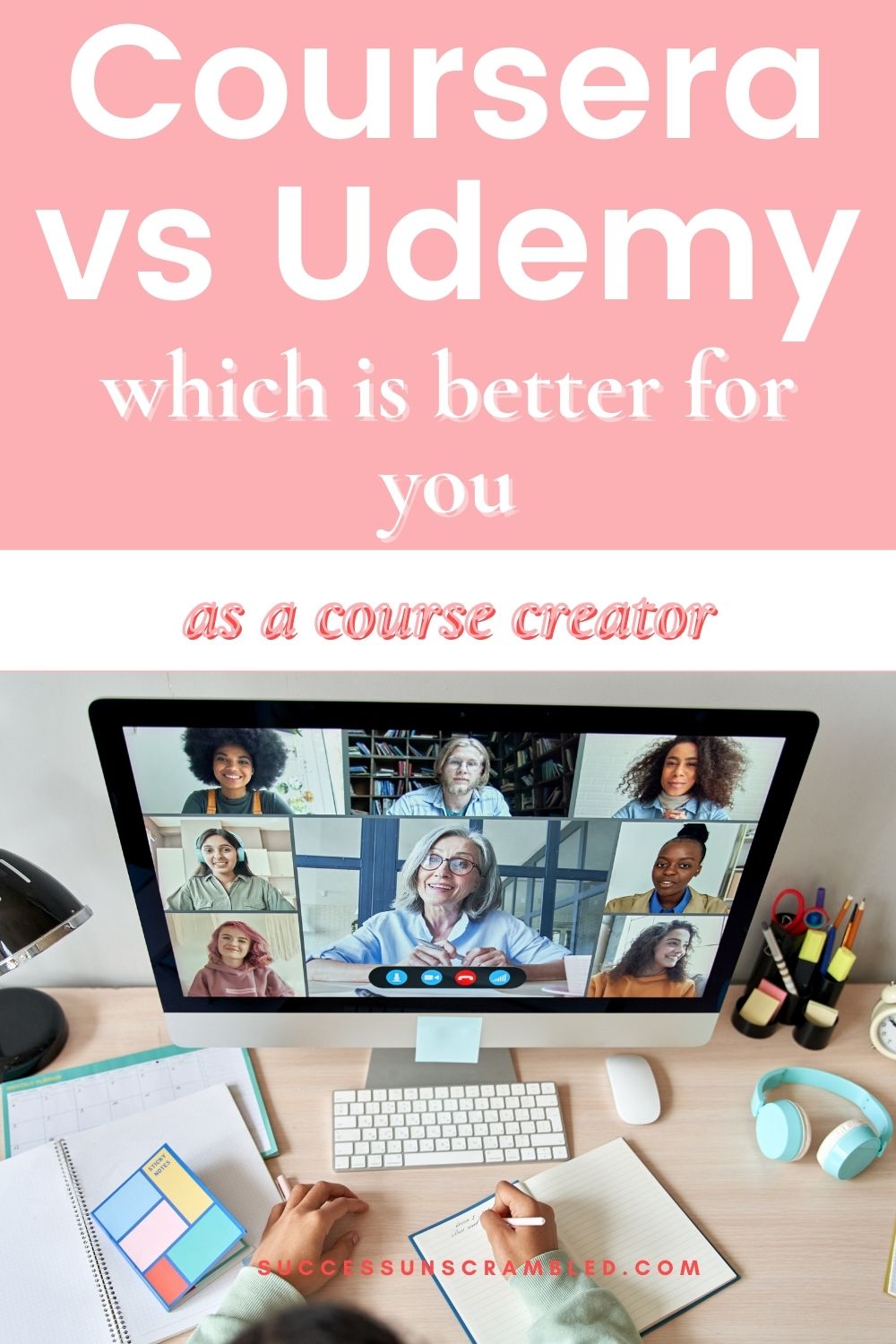 Which Is Cheaper, Udemy or Coursera?
You don't need to pay to create courses, though you may have to get your material authenticated.
Regarding which platform has lower prices for students, it depends on the chosen course. Both providers have free classes, with Coursera having more massive open online courses than Udemy.
For businesses, Udemy is better in terms of price. For instance, their team plan (up to 20 members) retails at $360 per participant.
Meanwhile, Coursera charges $399 for the team plan for year-long unlimited access.
Moreover, Udemy has the cheapest individual-paid courses between the two, starting at $12.99, compared to Coursera's $29.99. However, whereas the priciest Coursera courses are $99, Udemy goes up to $199. Still, you can take advantage of Udemy flash sales that can slice prices by 90%.
The free trial option is a good way for new subscribers to get started on both platforms.
Conclusion
Coursera and Udemy are both online learning platforms that offer some of the best courses from various universities and instructors. Both platforms are convenient and allow you to learn at your own pace. However, there are some critical differences between the two.
So, which is the best platform for you?
If you want a more traditional online teaching experience under well-known educational institutions, Coursera is a great option.
Meanwhile, Udemy is excellent for those seeking to handle specific skills while having more categories and languages to tutor.
Still unsure which of these learning platforms is the best choice for a course creator? Reach out to me. I'll help you find the right home for your course.