If you are looking to create a course just like my ex-colleague Debra, you might have heard about different online learning platforms. Most likely you would have come across two of the most popular options, Udemy and Skillshare.
Both of these platforms are excellent resources for aspiring teachers of all experience levels, but which one is the right choice for you? This article throws light on Udemy Vs Skillshare
Both platforms come with various features and benefits. To identify which works best for you, here is a comprehensive review highlighting the similarities and differences between Udemy and Skillshare so you can make an informed decision about which online course platform is best for course creators.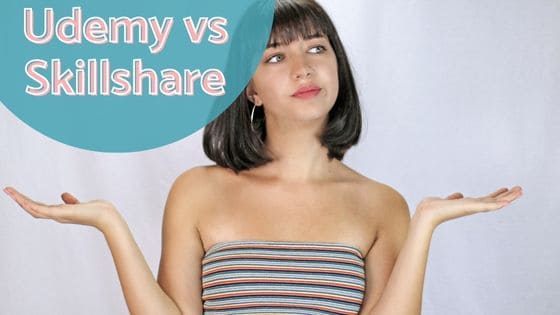 Udemy vs Skillshare – An Overview
An Overview of Udemy
Udemy, a well-known platform in the online learning space, was founded in 2010 by Eren Bali, Gagan Biyani, and Oktay Caglar.
It is now considered a perfect platform for any online course creator who wants to share their knowledge with the world. The platform makes it easy to create courses and upload video content.
With over 54 million students and around 75000 instructors on the Udemy marketplace, you can reach a wider audience around the world.
Udemy has an enormous user base, so your course content could be seen by people from all corners of the globe.! Not to mention you can set your own price and keep up to 97% of the revenue from your course sales.
Udemy offers free and paid courses. Paid courses usually cover topics in depth, unlike free courses that provide basic tips. Udemy is known for its pay-per-course model but recently launched its subscription-based model known as Udemy for Business. 
Skillshare Review
Skillshare is the home of online classes. Based out of New York, it was founded in 2010. From top-tier universities and leading industry experts, Skillshare empowers its users to discover, learn, and teach the skills they need to succeed in life.
It is the place to be if you want to learn something new and show off your creative skills. With over 35000 video courses from photography to coding to graphic design, you can find a course for just about anything!
Skillshare is quickly becoming the go-to platform for creators. It's easy to use, straightforward, and incredibly versatile.
Plus students can learn practical skills via video lessons that they can easily apply to their lives everyday.
Students can enrol in courses on Skillshare via an annual or monthly subscription which gives them unlimited access.
Course Development
How To Become an Instructor With Udemy
If you have been thinking of creating an online course and making 6-figures, you are not alone. Udemy is a great platform that allows anyone to become an instructor without much hassle.
To become an instructor with Udemy,  you need to sign up for a free Udemy account. Once you've done that, you'll need to create your course.
You can use Udemy's tools to create the content and upload it to your course page. Then, you'll need to set the price for your course and promote it to get the word out. 
Finally, once your course is live, you can start collecting payments from your students. Becoming an instructor on Udemy takes time, effort, and dedication but is a rewarding experience. 
Udemy is a welcome-to-all platform, so ANYONE with knowledge in their field can teach. You may get invited to Udemy for Business if your courses attain a certain level of popularity. 
How To Become an Instructor With Skillshare
If you have a skill you want to share with the world, become an instructor on Skillshare. To become an instructor at Skillshare you don't need to have teaching experience. ANYONE with experience in creative subjects and the ability to teach can join and become a teacher. 
All you need to do is create and log in by clicking "Get Started For Free". Once you are on your dashboard, you need to visit the "Become A Teacher" page. You will then need to create your course and fill in the required details. 
You can include videos, slides, and other materials to make the class interesting and engaging. Once you've finished creating your class, you can post it on Skillshare.
And then the fun begins! You'll start to get students and reviews, and you can start making money as you help others learn something new. 
Skillshare is great for first-time teachers due to its Skillshare Teacher Programs. Once you apply for Skillshare's teaching program, your application will be reviewed for either of the two programs – Teach Challenge or our Teach Lab Residency.
For some courses, the Skillshare team uses the Staff Pick badge to denote exceptional classes that provide students with an engaging experience.
The Curation Team selects Staff Picks based on quality, appropriateness of the topic to the Skillshare audience and editorial standards relating to Skillshare's pedagogy and branding.
Only some of the excellent classes are chosen as Staff Picks. You will be notified if your course is chosen.
Udemy Vs Skillshare – Popular courses and niches
When it comes to niches and courses, both Udemy and Skillshare offer a variety of courses but as a course creator, it is important for you to identify your target audience. 
Udemy is an online platform with courses for every interest, from business to tech to art and design, with its main focus on in-demand courses like technology, coding, IT, Crypto etc.
You would notice a more serious and vast audience on Udemy when compared to Skillshare. A major plus is that Udemy courses are available in more than 65 plus different languages.
This is one of the unique features of Udemy when compared to Skillshare which offers courses in English only. 
Popular niches on Udemy
To learn creative skills like photography, illustration, graphic design, etc, people prefer to visit Skillshare.
Both these online course marketplaces offer easy access to students so that they can for a great learning experience.
Skillshare offers a wide variety of creative, design, personal development, etc courses. Popular niches at Skillshare are 
Fundamentals of social media
Establish your writing practice 
Visual thinking 
Logo design essentials
Hone your culinary craft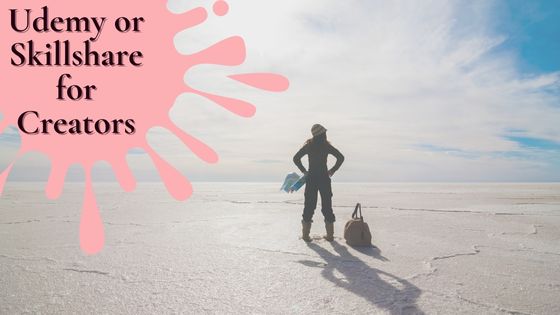 Tracking Student Progress
Udemy and Skillshare both offer a dashboard to monitor your students' performance and see how students are reacting to your courses. 
On Udemy, you can access your student list for any course and export the list using the export option on your screen. The student list covers details including Name, enrollment date, progress and any questions asked or answered.
You can even message your student directly. You can also check when the user last visited your course and if he or she completed the course. 
On Skillshare, you can view stats on individual classes by visiting the Teach Dropdown menu. You can review your stats for each class including students, visitors, watch time etc
Themes and Designs
Udemy offers an interactive and well-organized interface to both content creators and students. You can create your own 'Collections' of courses by topic. The video player is user-friendly and also allows you to add notes to the video at any point.
It is also simple to navigate the course material by clicking the 'Lessons' button in the sidebar. You can use your internet browser on a laptop or desktop, or you can download the iOS or Android app to watch courses on the go. It also allows the users to tick or untick a session and keep a tab on their progress. 
Skillshare does offer quite an organized and user-friendly design when it comes to course lists but the video player is not as up-to-date as compared to Udemy. You can't set the video quality or manage captions with Skillshare's video player.
In addition to desktops and laptops using browsers, you can use Skillshare's apps for iOS and Android devices. Courses are available for free on desktops and laptops, but you cannot watch them offline.
Interface
You can look through Udemy's classes by filtering through the left sidebar filters or by searching directly through the filter bar. Classes are almost always video-based and cover a variety of subjects. They may include worksheets, quizzes, and completion certificates, among other things.
Skillshare allows you to narrow down courses by keyword search or by filtering for options such as class type, level, creation time period and class length. You can also browse through a wide range of categories or search by course, popularity, or hotness. 
Every category is also divided into subcategories. The 'Staff Picks' category provides courses of high quality and ensures that course creators maintain a high standard.
There is also the 'Skillshare Originals' category, which includes courses created directly by Skillshare.
It appears that the instructor quality on Skillshare has a higher perceived value leading to high-quality courses.
Email Marketing Tools and Automation
Udemy and Skillshare both allow you to promote your courses using various techniques that can benefit you and their platform. 
You can promote your course in various ways which give you the freedom to choose your marketing strategy.
With each course, Udemy offers a referral link that allows you to refer students. With the Udemy deal program, if you use a referral link, it doesn't affect the price of your courses. 
Udemy also allows you to create a discount coupon or distribute free coupons for your courses. This will allow you to market your courses to the right target audience and grow on the platform. 
If you have multiple courses, Udemy allows you to send promotional emails to your students with information about your courses. These promotional emails can allow more students to purchase your course. 
Skillshare's promotional strategy varies from Udemy. Every class has a referral link and you earn a referral bonus of $10 for any student that uses your referral link to join Skillshare.
The best part about this is If a student cancels membership during the trial period, you still get paid the bonus.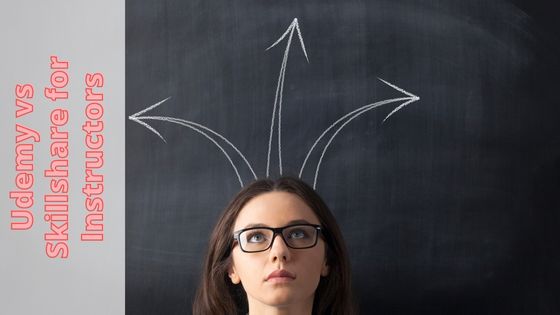 Affiliate/Referral Links
Udemy and Skillshare both offer affiliate programs for brand ambassadors around the world.
Both Udemy and skillshare offer a referral link to instructors for them to promote their classes. This not only allows the instructors to earn but also helps the platforms to grow.
Another way to earn through the platform is to become an affiliate. To become an affiliate with Udemy, you need to submit your application with an approved affiliate network.
Each application is reviewed since they have stringent requirements for publishers and influencers. 
You can become an affiliate with Skillshare and earn almost 40% on each subscribed user. Joining the program is free. So, you can share your unique tracking link on your website, blog, and social media platforms and earn commissions. 
Help and Support
For any platform to survive in the market, it is important for them to offer best-in-class support. Udemy and Skillshare both have their pros and cons when it comes to technical support.
Udemy offers a variety of support and resources for both teachers and students under its well-designed knowledge base. The knowledge base covers almost everything from video creation support to payments etc. You can also reach Udemy support via email, [email protected] which is a time-consuming process. 
Meanwhile, Skillshare offers a knowledge base which might or might not be helpful depending on your queries. It is quite a standard resource but their support centre available via email is quite effective and efficient. 
Pricing Plans
Udemy is an online learning platform that works as an online marketplace for self-paced and instructor-led courses.
The price of courses ranges from $20 to $200. With discounts running on various occasions, you may pick a course for as little as $6 to $10. Once you purchase a course, you receive lifetime access to it. 
Udemy instructors get monetary compensation for every course sold. Since there are no approval or upfront fees to become an instructor, Udemy is an excellent choice. 
Skillshare is a subscription-only platform that allows experts in a variety of fields to post courses and teach their skills.
Skillshare Premium is an annual subscription that costs $167.88 a year or $32 monthly.
Please review the terms and conditions carefully as the subscription is automatically renewed. SkillShare does offer a free trial for a student after logging in.
Instead of having several team plans, Skillshare also offers a single team plan which is currently priced at $159 per person per year. 
Key Differences: Skillshare versus Udemy
When it comes to the best online learning platforms, Udemy and Skillshare are two of the most popular options. So what are the main differences between the two?
It is important to review and compare the two before you plan to publish and market your course. 
| | |
| --- | --- |
| Pick Udemy if you want to: | Pick Skillshare if you |
| Sell your courses individually | Prefer creating a course and selling them on a subscription basis. |
| Publish courses in other languages than English | Want to publish your course in English only |
| Sell a Business oriented and professional course | Want to sell a more creative course |
| Have some experience in coaching people | Are teaching for the first time |
How Much Do Course Creators Make on Udemy?
Creating and publishing a course on Udemy is quick and simple. You can be approved in a couple of days and then create, publish, and advertise your course.
Every instructor has a unique referral code. If the purchase is made through your referral code, you earn 97% of the money, but if it is done through other codes, you take 37%.
Teachers at Skillshare get paid through the Teacher's fund and you get paid based on the watch time.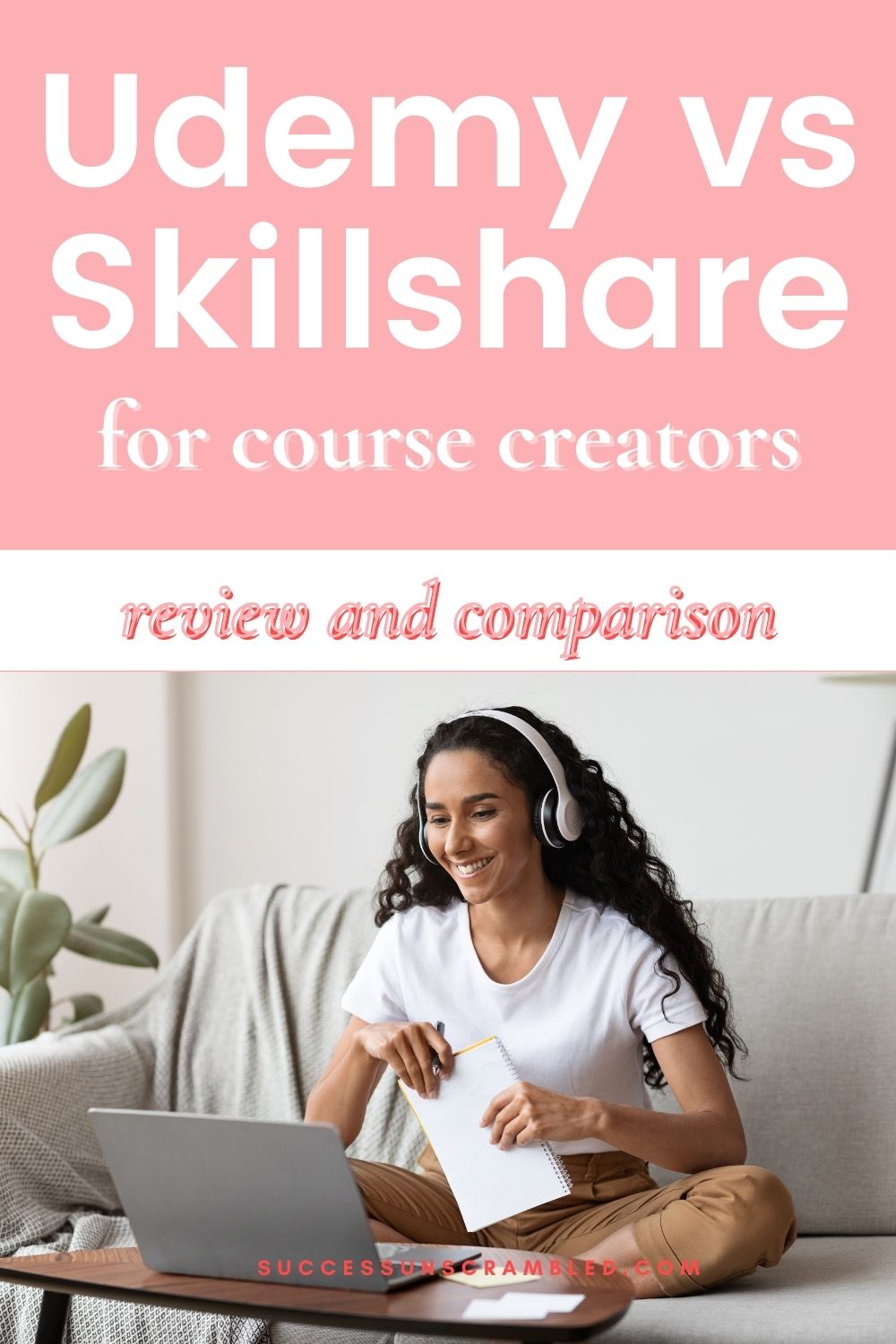 Is Skillshare Free for Creators?
Yes, Skillshare is free for creators. Also, you can offer your classes for free by creating a free access link. Both new and old members can access your free class without paying. 
Conclusion
Udemy and Skillshare offer a wide range of courses, from language learning to coding. But if you're trying to decide where to teach, there are some key differences to consider.
The people at Udemy focus mainly on providing educational content, while Skillshare is more focused on creative courses and business skills. 
Udemy has a wide range of courses and instructors, while Skillshare has a smaller selection of carefully curated courses. Udemy also has regular sales, so you can get some great deals on courses.
But Skillshare offers a subscription model so you can access all courses for one price. Both platforms have their pros and cons, but the one you choose will depend on your teaching needs.
Based on your target audience, if you are publishing a course in the English language, there is no harm in teaching on both platforms and expanding your reach. Both platforms are widely known and have a dedicated target audience. 
Struggling to which platform to choose? Let's talk! I might be able to steer you in the right route based on my own experiences.