Podcast: Play in new window | Download (Duration: 26:53 — 37.5MB) | Embed
Subscribe: Google Podcasts | Spotify | Amazon Music | Stitcher | Email | TuneIn | Deezer | RSS | More
Lily felt lost because after spending days searching through content about how to presell a course she wasn't any wiser.
You see, Lily heard inside a Facebook group that it was better to presell a course rather than invest lots of time building it out.
She wanted to be able to gauge interest in her signature offer before investing time and energy.
The problem though is that preselling a course is not as easy as she expected it to be.
All the information in blogs and in YouTube videos seems to be oh-so vague.
Let me know if you can relate to these points.
Creating an online course is a labour of love.
You know your topic well and are excited to share your knowledge with others but it is still a lot of labour.
Learning how to presell a course can help you feel like the work you are putting in is worth it. 
You want to have students and make an income.
That is why you are learning about online course creation after all.
If you can generate presales you can work on that content knowing that eyes will see it! Make sure the labour in your labour of love is worth it.
In this post, you'll learn why pre-selling is important as well as 9 incredible tips that will help you to sell out your course in no time.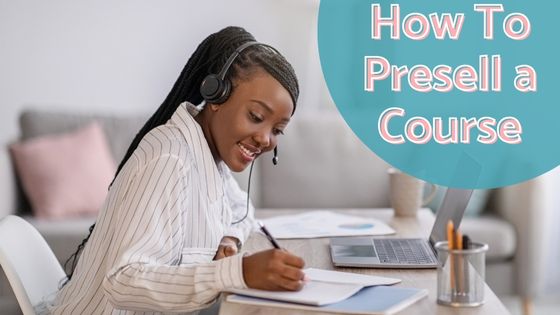 Why Pre-Selling is Important
You are passionate and knowledgeable about your field. So much so that you can teach others about it and you want to! But of course, you want the time you spend making a course to be worth it for you financially. You aren't giving away your hard-earned skill for free after all. 
Pre-selling before and as you create means that your course will be generating income even as you invest time and effort in creating it. You are being paid for your work upfront. Not only does this ease your pocket it can also help incentivise you to work when that cup of coffee isn't cutting it. 
All the tips outlined in this resource will help you with creating pre-sales for your course. Online innovative business owners now have all the information they need to start pre-selling to their target students. Use this info to get the pre-sales for your next course. 
Tips on How To Sell a Course
Tip #1 Layout Your Digital Product
Navigating through the entire course shouldn't be difficult for students. The first section starts with the basics like the course title.
The introductory part of the lessons should carry all the needed information about what to expect.
You can start by giving out a sneak peek of what to expect in each module, the topics, class activities, quizzes, and the time frame for completing the course. 
Through pre-sales, you can be selling your course as you are creating it however it is essential to create a great online course. Students can refer other students or leave reviews. You want to make sure your pre-sales students have a great online course after you launch. 
Tip #2 Figure out Your Target Numbers
You do not want to price your online course so high that people do not sign-up but you also want to recoup the investment of your time and resources in creating a course. 
Conduct market research, calculate your cost during production (value your time too!) and use that to guide you in pricing your new online course. This is important in pre-selling as you do not want to over-price or even under-price your course.
The next step is to know that you are not marketing your product to just anyone but to people who need or would be interested in your online course, so just like any other venture, you need to figure out who your potential customers are, including where and how to find them. 
Don't make the mistakes some course creators make, thinking people will be more interested if they offer their course at a lower price. This is not true at all. If your course is worth it, you will make sales effortlessly.
When you determine the people your course is meant for and set the price appropriately, it will be easier to plan your strategies. 
Tip #3 Identify Your Launch Date
One of the reasons you might not have a profitable online course as a new course creator, even though you have great content, is that you didn't consider timing. 
First, you need to make sure there's enough demand for your course. If you fix your launch date when there is no demand for online classes, you'll have a hard time making sales. Imagine selling Christmas lights in May. Yikes!
You'll be in the same boat if you launch a digital product at a time when it's not in demand. There is a lot of competition out there already, so you have to make sure yours sells.
Look at your own schedule. Perhaps use our planner! Start early enough to put together your materials. Even though the course is on pre-sale, you do not want your customers waiting for a long time before getting it. For all we know, you might have a great turnout. Think about this.
Don't put a date too soon when you know you're not ready to deliver or too late when the demand is over, and you know that there are many competitors already in the market launching the same course, so you don't want to be left behind.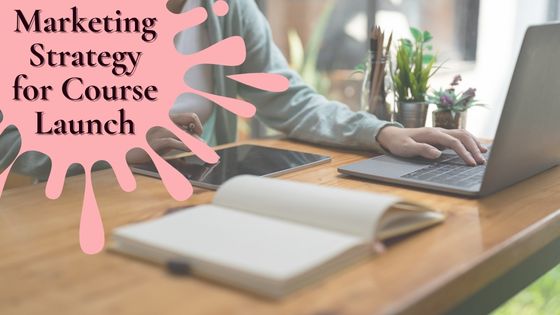 Tip #4 Pick Your Pre-Sell Strategy
Outline the pre-sales strategy you want to use for your upcoming course launch. Consider whether you want to use a video format or webinar sign-ups. Perhaps something else!
You can make a video for your pre-sales page to spell out the importance of the new product and how it would be of great value to your potential students and their career, job, or business. Outline the benefits to show the great things they would be getting from it.
You can host a webinar with your potential students to find out what their interests and expectations are for the course and have a question-and-answer session with them. It will show them that you have their interests at heart and are ready to give them great value.
There is also the option of using social media to share snippets of what you're creating. Your potential students can read about it across various social media platforms.
Make teaser videos that give an insight about the course, and share highlights and thrilling aspects of the course. Make them realise they would miss a lot if they don't sign up. This will keep them anticipating the course release date.
Most people taking an online course like to check the reviews for a course before purchasing because, for all they know, you might be making fake promises online.
So, this is an excellent opportunity to include past reviews and testimonies from previous students attesting to your capability. You gain trust if they see examples of the impact your teaching has made in the past. 
If this is your first online course and you don't have student testimonials from any other source, you can highlight testimonials from people who have seen you put the skills you will be teaching into practice. 
Tip #5 Create a Waitlist Opt-In Page
A Strong Headline
An essential aspect of pre-selling is making a powerful headline. Your headline is like an intro to the course, and remember that people's attention spans are short, so you have to create something that will keep them hooked and interested in a short time.
Your headline should be short but powerful, explaining the course outline, the problems it would solve, and why it is the next best thing to happen in their life.
A Detailed Overview of the Course
Use a detailed format to explain the content of your course. This overview will give your potential students a deeper view of what to expect, plus the advantages of the course.
Don't write long speeches. Keep them as short as possible to avoid confusing the reader.
Communicate as if you are speaking to someone you see physically. Make use of a simple, friendly tone when writing. Avoid the use of terminology and technical jargon that would put off the reader.
Use a Strong Call to Action
The call to action you use should be compelling enough to encourage them to make a purchase. Your call to action should be convincing but not manipulative.
Don't give them room for options. Make them act immediately. You can do this by offering a discount price to the early birds, or you can offer them free course material or, better still, a money-back guarantee if they don't get value from the course content.
Tip #6 Create Content
This is when you want to create content around your product to increase the course conversion rate. At this point, you have successfully put together all you need to start the presale. The next thing you want to do is your advertising.
It's time to create awareness and inform people about what is coming up. Let's look at some of the ways you can create content around your course topic.
Make Youtube Videos
The number of people who spend time on YouTube videos is estimated to be about 2 billion. From watching live streams, movies, and music videos to learning skills, YouTube has it all and you can use the platform to promote your course. 
Making videos on YouTube is an excellent way of reaching out to your potential students. Start by creating short videos. Each video talks about a new topic, don't give out all the information, just snippets of it, then ask them to sign up if they want to know more. 
You can offer one of your courses for free as a lead magnet to attract a lot of people. You can also leave a link in the description box that will lead them to your course landing page, where they can fill out the checkout page.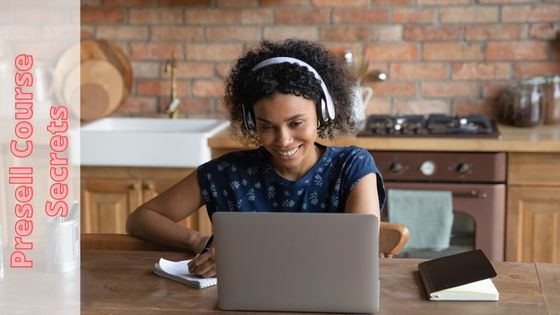 Start an Email Campaign
Start email marketing. Make an email list of all the emails of the interested persons that you have, and you can start sending them emails about the upcoming course. Create a compelling landing page and insert the links to the presell page in the email.
Create a situation of urgency to let them know they don't have much time before the course launch date and they need to be among the first beneficiaries of the goodies to come. 
After sending the email, always follow up by sending a reminder to their email address to ensure they haven't forgotten.
Put it on Your Blog
People spend a lot of time on various blogs, so if you can't reach them via email, they can read about your pre-sell on your blog.
Writing a blog post either on your blog or someone else's blog for social proof would help you expand your marketing strategy and give you the leverage to reach more people. 
People who love to read would appreciate it if you could put down all the benefits they would get by registering. This would convince them to click the call to action button to get the course.
You can also encourage people to become an affiliate with you. They earn a commission when someone clicks on their affiliate link to purchase the course.
Use Social Media advertisements
All the social media platforms can be turned into your marketing channel. Apart from sending emails and making YouTube videos, use various social media platforms like Facebook, Instagram, LinkedIn, and Twitter and turn them into your marketplace.
When doing your promotions, don't be too salesy. Customers want to know that you are interested in their pain point first, don't sound like all you want is to collect money from them. Learn how to create compelling social media content here
If they end up showing interest, reply to their messages and comments and show appreciation for their interest.
Tip #7 Close Your Offer
The best presales are those that are only offered for a brief period of time. This creates a sense of urgency, which motivates customers to pull out their credit cards.
To get people to make haste and register for the course, you need to let them know you have a special offer for them to get it at a lower price now or get it at the full price later, as the offer won't be there for a long time. 
It would help if you offered a massively discounted price for the first round of people to sign up and close the offer as soon as the pre-sales are over. 
Tip #8 Keep Your Customers Engaged After The Pre-Sale
As a countdown timer for the launch date is approaching, you must keep in touch with your new students. You do not want to leave them hanging, wondering what to do next until the release date.
Make them realise they have come to the right place, and create a series of activities to keep them busy with your course creation process until the day of the launch.
Start by sending them thoughtful inspirational quotes, not necessarily about the course, just something to motivate them to succeed. You can also give them a free ebook about one of your courses. It will help to make the whole process worthwhile.
Create a platform where you can ask them about their expectations about the course, even as the day approaches. 
Lastly, you can create a Facebook group for your online students. This is an excellent way to bring all the students together for social interactions, and they can ask questions and seek clarification about anything.
Tip #9 Gather Feedback
When creating your course, you want to hear what your potential customers have to say. This will help your online business because customers feel like you listen to them. Their feedback will give you insight into what to fix and what corrections must be made before the final release of the full course.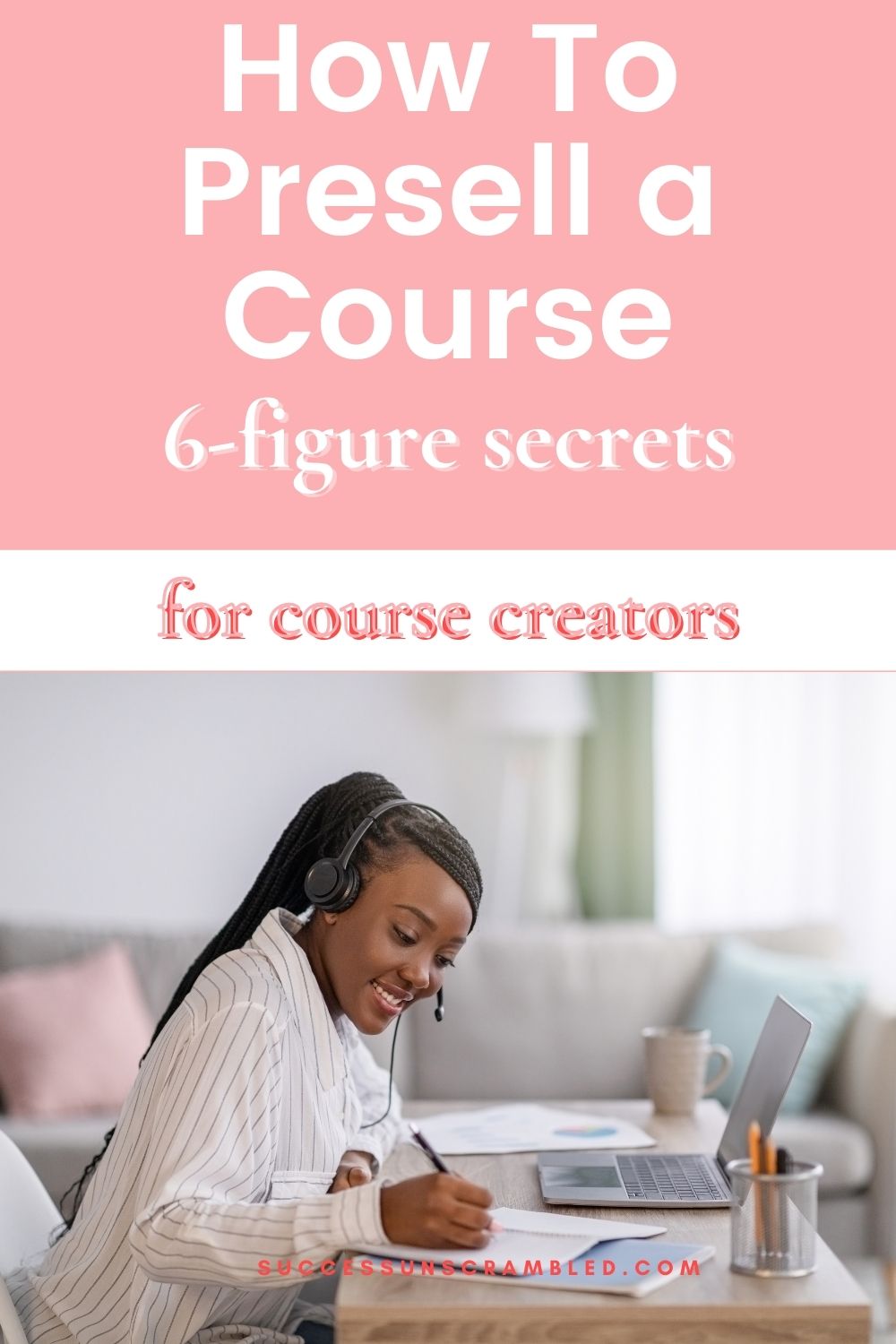 Advantages of Pre-Selling
If you have never heard of pre-selling and you are asking how presales work and if it is important, you will find your questions answered here. 
Pre-selling a course means that your course is available for purchase before it launches.
Perhaps even before it is finished. Students who sign-up during a pre-sale are often rewarded with freebies or a discount. 
Here are the advantages of pre-selling an online course.
1. Make a List of Your Potential Customers
Creating awareness for your upcoming course will help you know the people interested in the course so that you can add them to a list of prospective customers. 
You can do this by creating an email list that you would use to send bulk messages to your email subscribers, telling them when the launch date for the course is approaching.
If you want to know how to make an online course sell, then you need to look at advertising strategy. And if you have the money, you can go all out on this, as it would yield significant returns of reaching as many people as possible, which is an excellent advantage in the long run.  
Depending on your budget or expectations, it is up to you to decide how long the email list will be before your launch date. 
2. Receive Constructive Criticism From Your Students
Students who have first-hand access to your course as soon as it launches will help you by generating reviews early. The feedback they give you will also tell you where you can improve the course or advise you of any glitches in your course. 
Please encourage them to give you feedback. You'll use their reviews, whether positive or negative, to improve the course content and make it worth it for the students.
Remember that your aim is to put out educational content that will satisfy your student's needs.
3. Raise Money in Advance To Build the Lessons
You could be spending money developing your course, depending on what you will put out and what resources you already have. 
Running a pre-sale will help you gather a little bit of income to help with your course creation costs. Pre-selling is a way of receiving advance payment for the course.
4. It Allows You To Know if Your Ideas Are Great
If you are wondering if you have valuable information and if it is something people would appreciate, selling your course before it comes out will help you know if students find the lessons educating and engaging. 
If you receive lots of positive responses from them, it's a good sign because you don't want to waste resources on a futile venture. 
You can then use the feedback to make changes where necessary to give your students nothing but the best learning experience.
Conclusion
You have spent a lot of time on your course content creation but haven't launched yet (or maybe you just have an outline!).
Either way, pre-selling is for you! Selling an e-learning course before the release date requires careful planning and I'm here to help with launch management services.