Podcast: Play in new window | Download (Duration: 22:02 — 30.8MB) | Embed
Subscribe: Google Podcasts | Spotify | Amazon Music | Stitcher | Email | TuneIn | Deezer | RSS | More
Hello You!  I hope you found a lot of value in the post last week around finding your perfect domain name. 
I didn't want to leave you hanging for too long that is why the topic of today's post is 9 Awesome Tips To Find The Best Wordpress Hosting.
Having a domain is all well and good but creating your website is very important.  How else will the world or better yet your audience really understand what your business is all about?
I have a friend who constantly buys domain names with the hope of one day having the perfect domain name before she starts her blog. 
I can assure you that 5 or even 10 years will pass and all she will have to show as an end result is a list of wonderful domain names.
Analysis paralysis is when you wait for everything to be perfect before you start your business or side hustle or blog.  Don't wait anymore just get started.
The first step after buying your domain name is finding a WordPress hosting provider.  Here are 9 things we will look at to check to see if this website host is a good provider for your needs.  These are:
SSL Cert
SSD Drive
Storage size
Cpanel
Wordpress hosting
Unlimited emails
Support
Free migration
Unlimited bandwidth
1. SSL Cert
SSL stands for Secure Socket Layer.  I don't want to bore you with technical jargon so let me explain it in a way that you can understand.  As ladies we love shopping, okay, not all ladies like shopping but I know a few who do.
The Internet has opened up the world and given many people the ability to shop online.  Over 10+ years ago I purchased my wedding dress online and I did not get to try it on until 2 weeks before the wedding.
You may think, that is not so special but picture this in your head that was before the year 2000 and I lived in Europe, purchased it online from a US website and had the dress shipped to the Caribbean.
Why was I so brave (or crazy)? Lol! Because I had trust in that website and they had a big padlock on their payment page assuring me that my payment was secure.
I honestly cannot remember if I paid via Paypal or not but the point is that padlock in green on most websites, even if you don't sell anything online is what is called an SSL cert.

Google has made it an absolute requirement that every website should have this if they want their site to be indexed and ranked on the first page of the search engine results page for their chosen keyword.
The Internet Security Research Group is a non-profit organisation that is providing free SSL certificates via a program called Let's Encrypt.  Check out the screenshot example below from WPEngine.  I will not recommend them for newbies.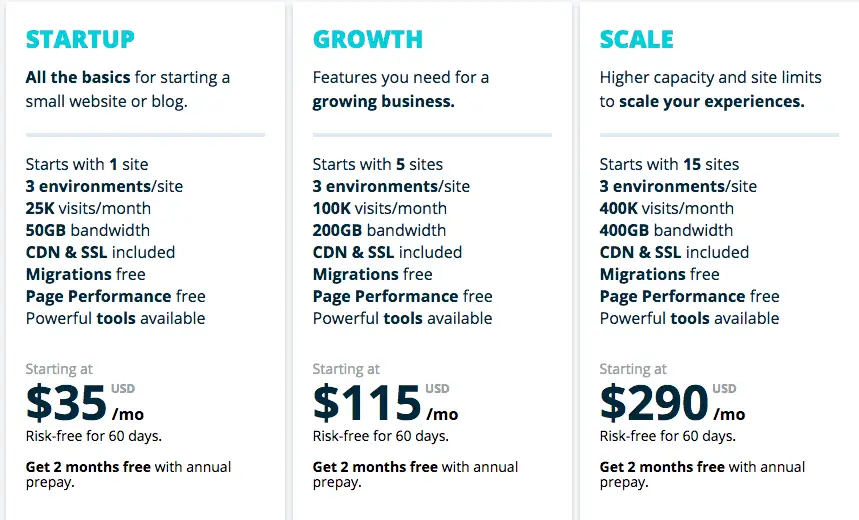 All you need to do is find a Wordpress hosting provider who includes this as part of the package and you will be golden.
2. SSD Drive
SSD stands for solid state drive.  I am trying to find the best way of explaining this to you without causing you to fall asleep altogether.
The best way to help you is by explaining what the old hard disk drives (HDD) did to access storage.  The older drives consisted of a lot of moving parts, spinning disks and a removable read/write heads.
These newer drives (SSD) are solid throughout which means that they are silent and they tend to use flash technology so they don't generate heat as much as the old technology.  See the below example from Inmotion Hosting.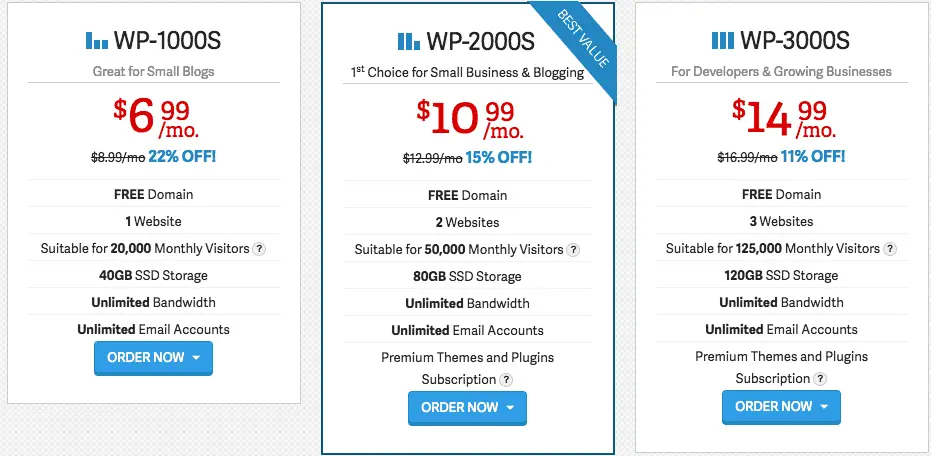 They also access the data much quicker when looking for that file that you stored this time last year.  So the bottom line is to check to see if this Wordpress hosting provider offers SSD as one of the items on the list.
What's in it for you? Faster access to your website.  A faster website means higher rankings and more traffic.
3. Storage Size
Did you know that the allowed storage size is important if you are looking to have a multimedia website or blog?  What I mean by this is if you are planning to have articles, videos, images, photos, attachments, etc. on your site these things take up space on your host.
Based on my experience I would recommend having 20-30 Gb of storage on your host.  This will give you the ability to easily write 100 blog posts that is 1,200 words long with images and photos and still be comfortable.  Here is an example below from Siteground.

You are probably thinking why can't I start with 5Gb and move to another host when I need more.  The truth is you can easily do that no problem but what you will discover is that moving too frequently can cause stress and can hurt your rankings.
Let me put it to you this way.  If you publish a blog post once a week and spend 5 days of that same week promoting the newly published post.
While creating more content upgrades or images for your new and/or unpublished posts where will you find time to do a website migration?
The other scenario is when your site is being migrated from one host to another you will experience a little bit of downtime which can have an effect on your bounce rate and you can lose a few visitors as well as drop slightly in rankings.
With this in mind, my best advice is to change your Wordpress Hosting very few times unless you absolutely need to do so.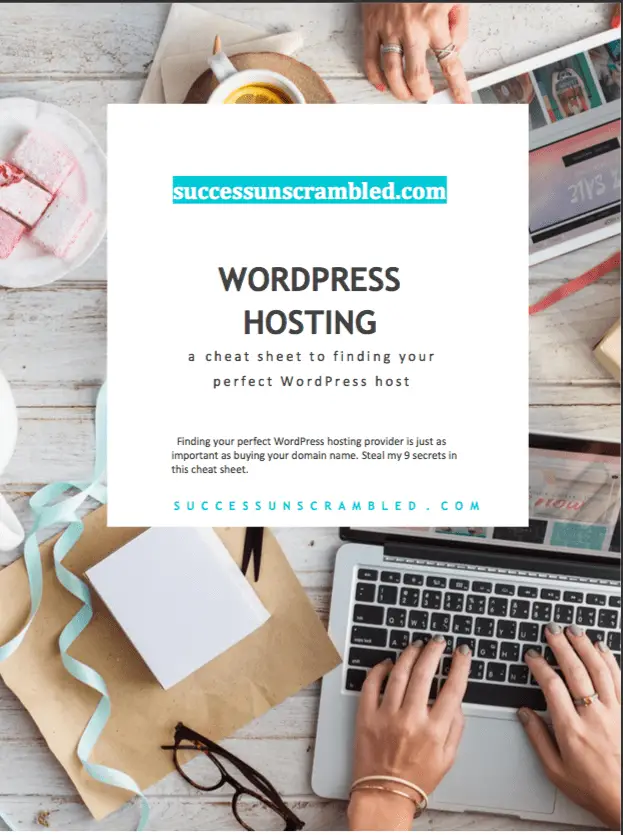 Grab The WordPress Hosting Workbook
4. Cpanel
Cpanel stands for Control Panel.  The best way of describing this to you if you have no idea what I am writing about is that you think of it like as a bit of software to help you manage the hosting of your website.
You can also think of it like the dashboard in a car but think of it as an interactive dashboard where you can drill down further.
I have probably used close to 20 different hosting companies over the last 10 years and I have used all sorts of interesting dashboards including WHMCS, Reseller, Plesk and Cpanel plus a few other strange ones but let me tell you, stick with Cpanel.
Here is a video that gives you a brief overview of Cpanel so you can get some experience before you purchase hosting.
Most hosting companies offer Cpanel as standard but others either make it optional or give you the ability to exclude it altogether but it really depends on your technical ability and understanding of hosting.
It is just a bit of software that gives you a simple user interface to access your special corner of the server that you share with everyone else.
I never knew that I can write so well about a super boring topic. So let's move on.
5. Wordpress Hosting
You are going to come across a number of hosting providers that have this label on one of their packages.  Please be aware that some of them are very simple packages while others are not for the newbie.
There are quite a few of web host that offer WordPress hosting packages starting at less than $10.00 a month which is great but be sure to read the features.
Other web hosts offer a serious hosting package specifically designed for Wordpress sites ranging anywhere from $24.00 a month to $150.00+ a month.  These are affectionately known as Managed Wordpress Hosting so if your site has very little traffic you don't need this yet. See example below from LiquidWeb.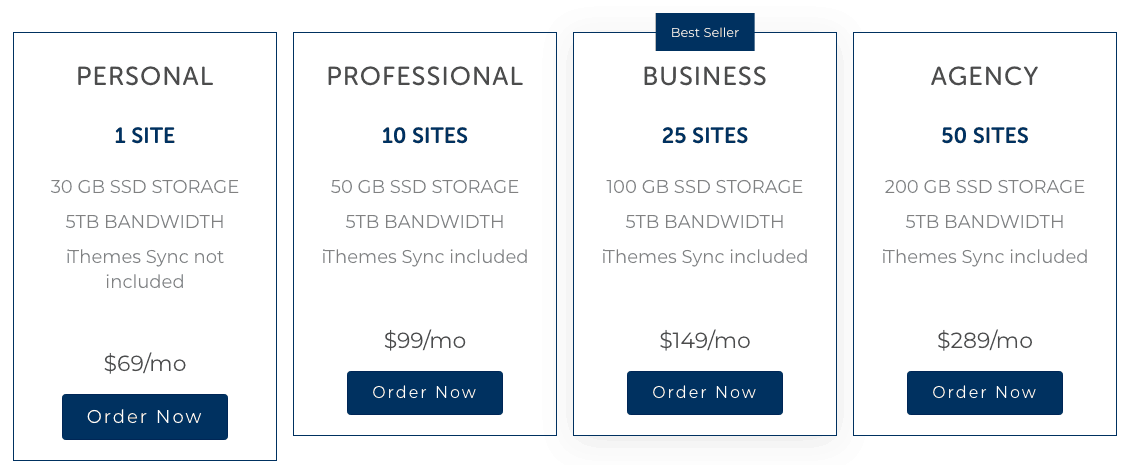 These may seem innocent to the newbie but I can tell you that the objectives of many of these hosts are to make your site as fast as humanly possible and to achieve this they would remove your ability to add whatever plugins you want as well as heavily dictate what you can or cannot do.
They do it for the good of the site because they are giving you a service of lightning-fast sites in spite of the number of visitors to your site.
In other words, if you are getting 100,000 visitors a month you would want to ensure that your site is not negatively impacted by this much traffic so these hosting providers help by ensuring you only use the fastest plugins on your site and they do everything to continuously optimize it 24/7.
If you are just starting out on a shoestring budget you would not need this level of sophistication that comes with these pricey Wordpress Hosting packages.
6. Unlimited Business Emails
Having a business email is super important if you want to appear professional among your peers.  It looks quite unprofessional to have a Gmail address or a Hotmail address especially when you have your own domain name.
You can decide if you and your virtual assistants use your name @ yourdomainname.com or even a department like sales @ yourdomainname.com
The only way to ensure that you have this cool option available to you at no additional cost is to make sure that your Wordpress Hosting provider has it included as standard in the package price.
Unlimited email is the best option even if they limit you to having only 100 that is still good enough.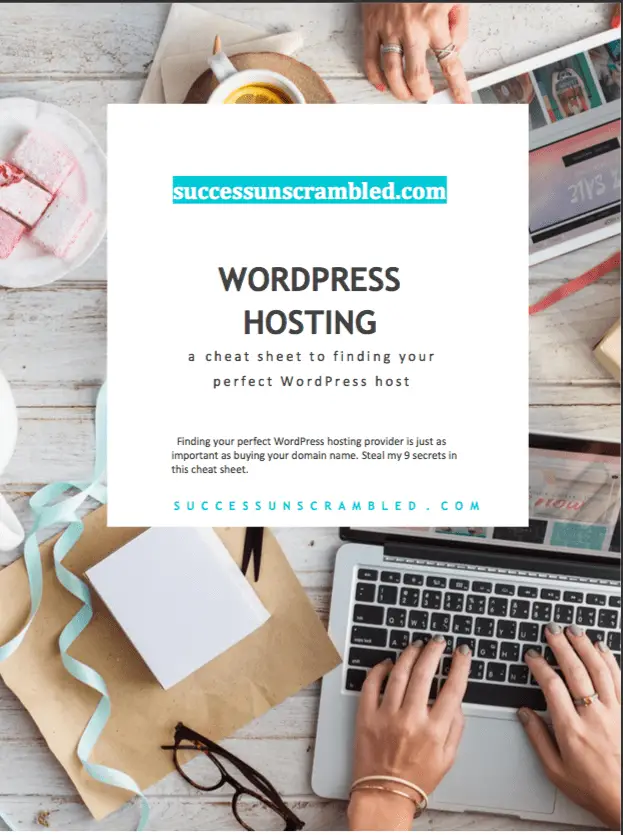 Grab The WordPress Hosting Workbook
7. Support – Phone, Email and Chat (24/7)
One of the most important elements for me is that my hosting provider not only provides support via phone or email but also via chat.
I cannot tell you the number of times in the past when something wasn't working and it felt like it was impossible to reach out to someone for technical support and the only two options were phone and email.
Who has time to sit down and write a big long email when you can easily reach out via chat?  However, this might just be me 'nit-picking'.  After all, you may prefer email or phone and hate chat.
One of the most modern support sites I have seen in recent times is the one from Inmotion Hosting.  The not only offer phone, email, a support centre and chat but they have Skype support as well.  Check out the screenshot below.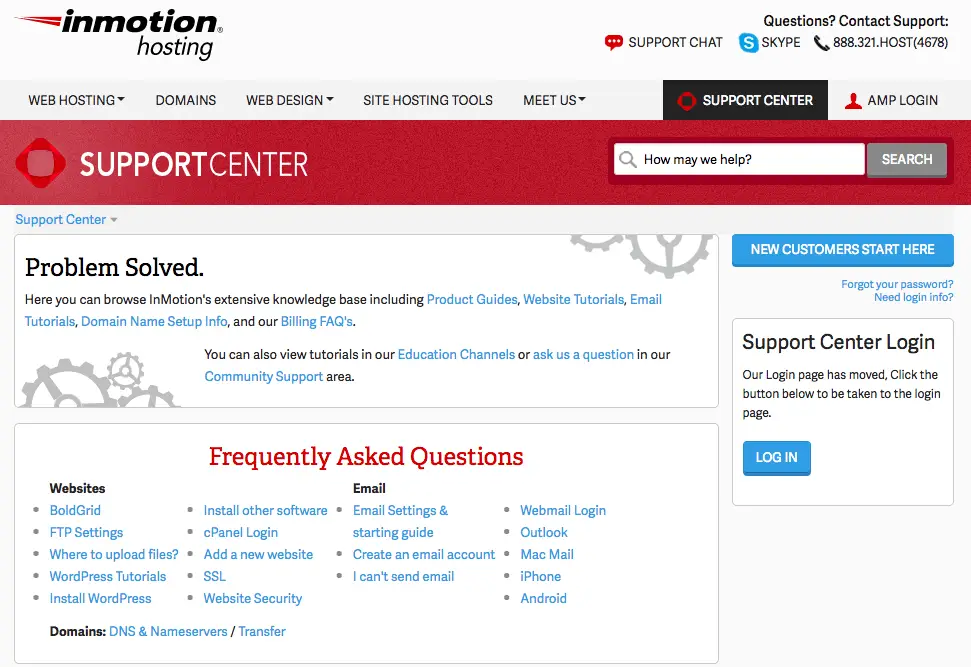 The key question you need to ask yourself is what method of communication do you prefer?  Whatever your preference just ensure that it is available with your hosting provider.
8. Free Migration
This option may not be attractive to you if you don't have a website yet.  Don't worry it will come in handy when you have precious content that you need to move from one hosting provider to the next.
You may not understand the importance of why this matters a lot so let me put it to you this way.  By the time you get your blog or website up and running, you will discover that there are a lot of elements like databases, images, files containing your content like plugins, themes etc.
If I ask you for the most straightforward way that you can move your site you probably will not have a clue.  If your Wordpress Hosting provider does not provide it you will need to pay someone externally to do it. Would you trust them?
Yes, there is an element of risk to get your host to do it but you will need to trust them at some point so why not start with a free website migration package.
9. Unlimited Bandwidth
Bandwidth basically means the number of visitors allowed on your site at the same time.  If you reach that limit they can decide to throttle you or the number of people gaining access would have a negative site experience with errors loading the content.
Some of the great companies restrict your bandwidth to 100k or 200k visitors a month while others offer you, unlimited visitors.
Sometimes you would come across what seems like an amazing hosting package but if it is too good to be true it probably is as the hosting provider may have removed or reduced some important features.
When visitors to your website have a bad experience they will click on the back button on their browser quickly which ultimately increases your bounce rates and decreases your rankings in the search engines over time.
Another aspect that can affect you negatively is if you are using Pinterest to pin your content and the user clicks through and then click back to Pinterest within seconds it sends a notification to Pinterest which affects your ranking in the Smartfeed.
You are probably thinking now that there is a lot more to Wordpress Hosting than you originally thought and the truth is that there is a lot.
Look on the bright side I just saved you a ton of heartache, headache and time by shortening your learning curve and letting you in on these golden secrets that very few people teach if any.
After you purchased your hosting package why not check out how to start a blog in 10 days or less so that you can shorten your learning curve on getting your blog up and running?
10. Free Domain Name – (Bonus)
What? I thought there were only 9 tips! Yes, but this is important.  Some Wordpress hosting providers may entice you to join them by offering a free domain name for 12 months.
I personally would not recommend taking them up on this offer because their year 2 pricing may be exorbitant and they have full control over your domain which should not be encouraged.
You are in a much better position keeping your domain name provider and hosting company separate as much as possible to keep you in control of your business.
Over the last 10 years I have turned down their generous offer and I still have no regrets.  Here is an example screenshot below from 1and1.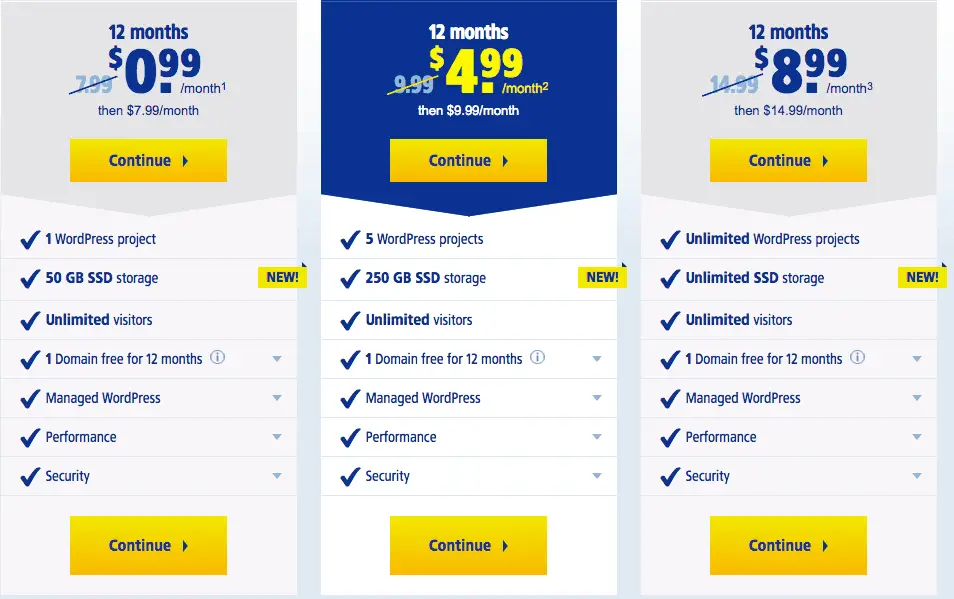 Announcements
I hope you found these secrets useful to your business.  You can subscribe to our podcasts to get notified when more success stories become available.
In case you missed it check out my free 15-minute mini video training about how I went from zero to over 21,000 views in 30 days on Pinterest.
If you need help setting up your profile on Pinterest or you need someone to manage your Pinterest account on a monthly basis you can work with me here