Podcast: Play in new window | Download (Duration: 30:26 — 25.2MB) | Embed
Subscribe: Google Podcasts | Spotify | Amazon Music | Stitcher | Email | TuneIn | Deezer | RSS | More
If you're looking to become better at project management, this Todoist vs Things comparison might be just what you need.
The ability to work from home has presented awesome advantages to many of us.
One of these is the ability to manage projects on a global level.
While you're not going to learn how to become a global project manager in this post.
You'll definitely pick up a few techniques that are common in every project.
Let me know if these sound familiar.
Managing projects is not one of your strong points so you are looking for a clever way to improve.
The thought of managing dozens of tasks on a single project overwhelms you.
Using a simple solution will help you get your feet wet.
Access to a tasks list on your smartphone will boost your productivity.
In this post, you'll experience a Todoist and Things 3 review first hand as well as how to break down a large project into bite-sized chunks.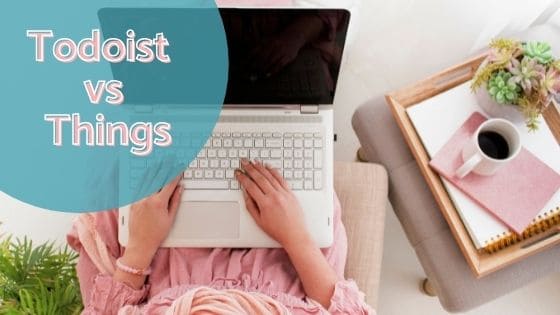 What is Project Management?
Before diving into the review of these two project or task management tools it would make sense to look at what it's all about.
Project management involves achieving the goals of a defined project by leading a team to help you get there within the agreed parameters.
Let's break this down a little bit more. What are the typical constraints of a project?
These constraints will include the following:
Time
Budget
Scope
Goals
A typical example of a project could be a trip to somewhere nice for 2-3 weeks.
If you were planning a trip with your family to Greece and that trip is in 6 months time then your constraints will be as follows:
Timeframe – 6 months
Budget – $5,500
Scope – visit Greece with family
Goal – family time and making memories
You probably never thought of a long-haul family trip as a project but technically speaking it is.
Someone or a small team (if it is a family reunion) will need to manage all the moving parts.
Of course, using a smartphone app to manage this project would make sense since there are so many variables.
The Core Elements of a Project Management Solution
As you can imagine there are several tools, productivity apps and applications available on the market that assist with project management.
Therefore it would make sense to look at what are the features necessary to manage projects successfully.
Let's revisit the family vacation example briefly, what do you think is needed to ensure this venture becomes a resounding success?
Here are a few hints to help you.
reminders
due dates
start dates
lists of things to do
the ability to collaborate
a calendar view
assigning tasks to someone else
sharing lists
recurring items
attaching items
The initial reaction when someone is asked to manage a project is one of fear and overwhelm.
However, when you look at it from a 10,000-foot view you'll soon realise that it's not as scary as it sounds.
In layman terms, it is simply grabbing a list of to-do items and assigning dates to them. Finally, ensuring that each one gets completed to achieve goals.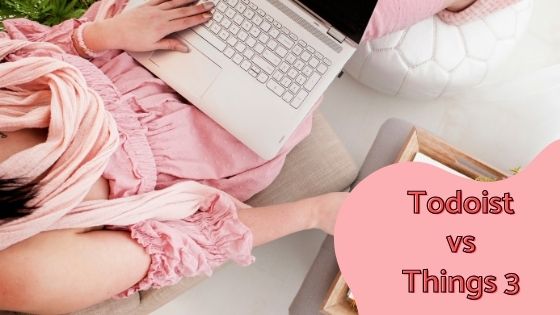 Todoist Review
Now that we have a fair idea of what project management is and the useful features needed to complete a project.
Let's look at our first tool called Todoist.
Did you know that this tool was founded way back in 2007? There are over 20 million users on the Todoist platform.
Long before working remotely was popular Todoist was born. What's amazing about this platform is that they did not raise any VC funding.
They bootstrapped the growth of the company and they are profitable.
Todoist Pricing
Speaking about profitability, there are 3 pricing plans available. These include a free version as well as pro and business.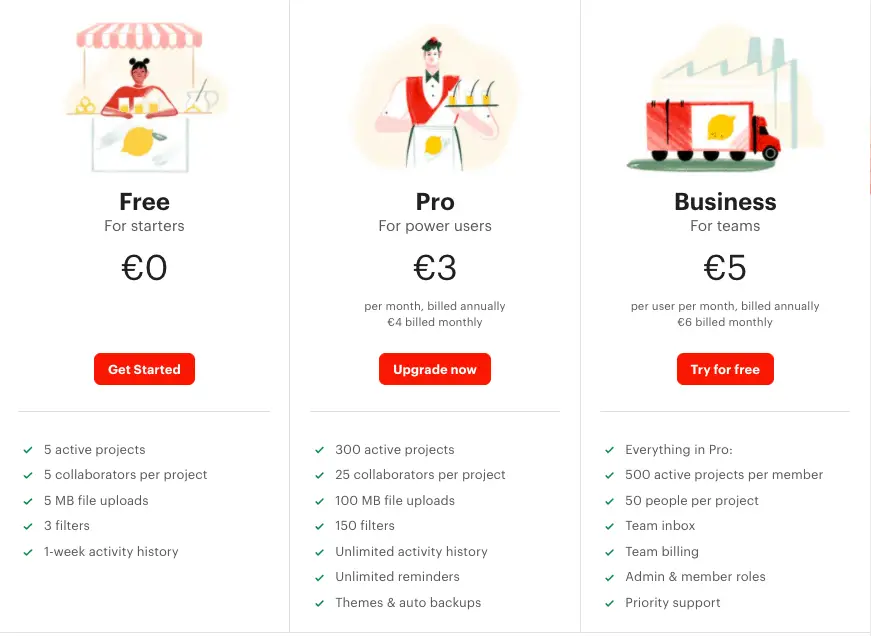 What makes each pricing package different is the total number of active projects, collaborators, filters, history as well as available storage.
If you are new to managing projects I suggest you start with the free plan.
The free plan will work really well for you if you'll be using this infrequently for family events.
Todoist is available on iOS, Android and Windows devices as well as Mac Os, Windows and Linux as desktop or browser applications.
With 300 active projects, the pro plan would be more beneficial for a business environment or more complex projects.
A key reason to use the business plan is that you'll have access to a team inbox and billing.
This premium version also comes with the ability to assign admin and member roles.
Getting Started with Todoist
Signing up for the free plan or free triis pretty straightforward.
Click on the "get started" button, enter your email address and password.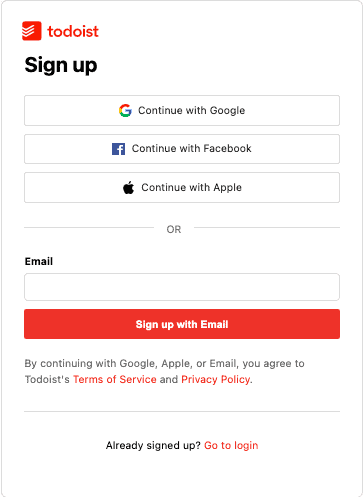 Step 1 – Choose a Theme
You'll see the option to pick a theme. Choose any one of the options available or you can just click on "Open my Todoist".

After clicking on "open my Todoist", a screen like the one below is what you'll see next.

Step 2 – Give your project a name
Coming to a blank screen can be exciting for some people while it may cause anxiety for others.
To make Todoist your own, let's name your first project.
Looking again at the example of the family trip to Greece, I'll give my project that name.
Hover over the tab on the left labelled "Projects" and you'll see a plus button. Click on that and you'll see a screen like the one below.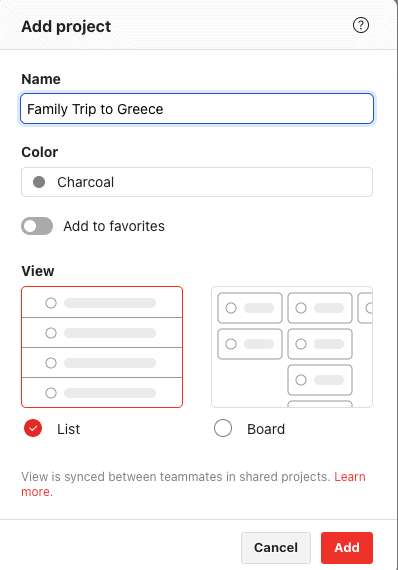 There are two more options before adding your project. These are choosing a colour for your project and deciding if you prefer a list view or board view.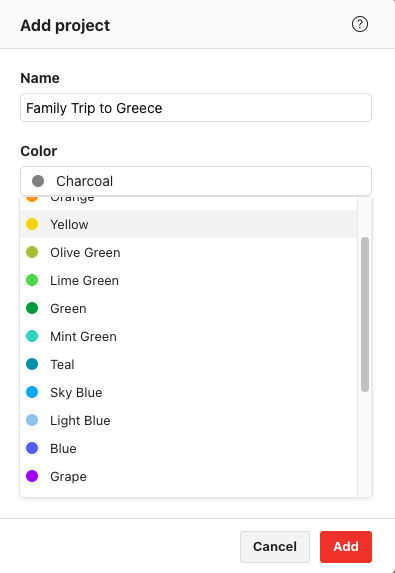 Personally, I prefer the board view but for this review, I'll leave it as a list just to keep things simple.
Once you've decided on your colour and view, click on "add".
Step 3 – Adding Tasks
One of the keys to successful project management is breaking down the whole venture into manageable tasks or lists.
This is important because it helps you see what needs to get done as well as if there are any gaps in your project.
Looking at the family trip again, what are some things that will be needed for it to be a success?
Passports
Suitcases
Vacation clothes
Accommodation
Money for food
Activities
Date of trip
Tickets
Equipment to bring
I'm adding these as tasks to my project. Remember to add tasks to your project as well.
Step 4 – Adding Subtasks
It may not have occurred to you yet but in order to make these tasks more manageable it would make sense to break these down into smaller tasks.
These small tasks are known as subtasks in the project management world.
In order to create a list of subtasks you first need to know what has to happen in order to complete the main task.
For example, in the task labelled "passport" you'll need to ensure that every family member has one. Each passport should have at least a year before the expiry date.
Also, what are the Greek entry visa requirements for each passport holder?
There is the ability to break these subtasks down further.
For example, each adult member of the family can be assigned smaller tasks of renewing their passport.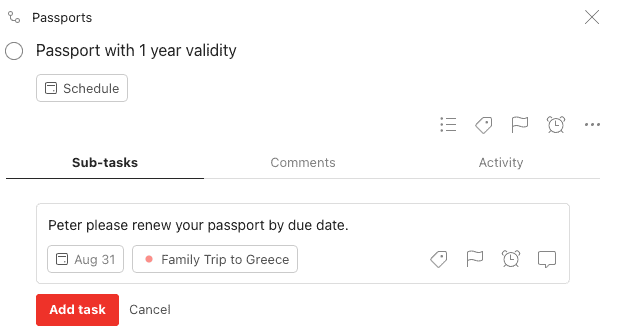 Step 5 – Adding collaborators
After creating all the tasks, subtasks and sub subtasks it's time to add your team members also known as collaborators.
On the top right of the platform you'll see the share button.
Click on that button to add your team members to Todoist.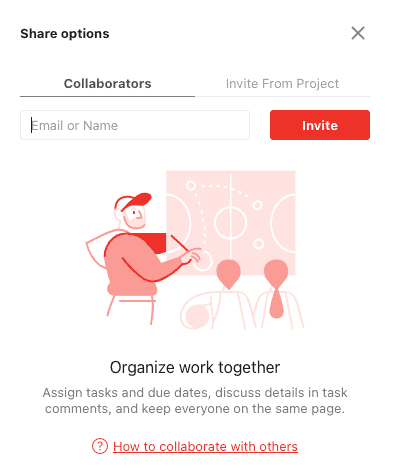 After adding team members you'll see the collaboration features appear in the form of an assign button appear in tasks and subtasks.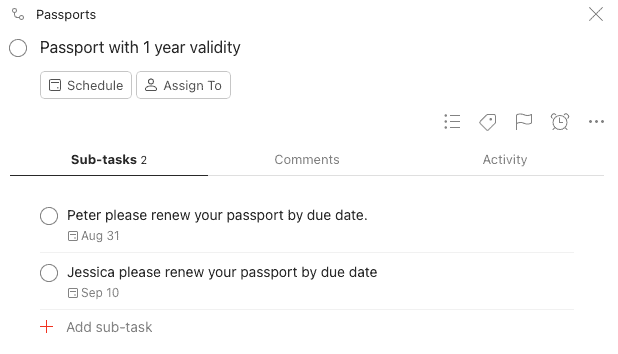 Simply click on the person button next to each subtask and assign it to the respective team member.
Step 6 – Project Collaboration
After everyone has received their specific tasks it would make sense to meet regularly like once a week.
The reason for doing weekly meetings is to ensure that the project is on track to get done on time.
Also, it is a good idea to meet regularly to address any bottlenecks.
For example, Peter may be having difficulty updating his passport or getting an entry visa to Greece.
What's really cool about Todoist is that everyone involved in the project can set reminders, leave comments, set priorities, use custom filters and add labels to the tasks and subtasks.
Setting priorities will come in useful to prioritise more important tasks.
When you use these priority levels you'll be able to focus on the most important daily tasks.
Another amazing benefit of the collaboration tools inside Todoist is the ability to add file attachments in the comments tab.
You'll have the ability to upload files from Google Drive, Dropbox and your computer.
Other Todoist Features
There are a number of additional features available in Todoist that will help to simplify your life.
These include:
Syncing the tasks to an external calendar
Calendar integration
Switching between board view and list view
Duplicating the project
Exporting your project as a template
Filtering the tasks by priority or label
Quick add feature
Upcoming views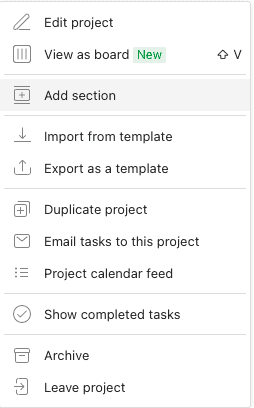 When it comes to syncing with external calendars you'll be happy to know that you can sync with Google calendar.
At the end of the day, Todoist is a very simple tool to manage projects efficiently.
Todoist Integrations
Are you wondering if Todoist integrates with other productivity tools?
Well, it actually integrates with a relatively large number of software platforms.
These apps include:
Alexa
Automateio
Dropbox
Gmail
HourStack
Pipedream
Slack
Trello
Toggl Track
Zapier
Zendesk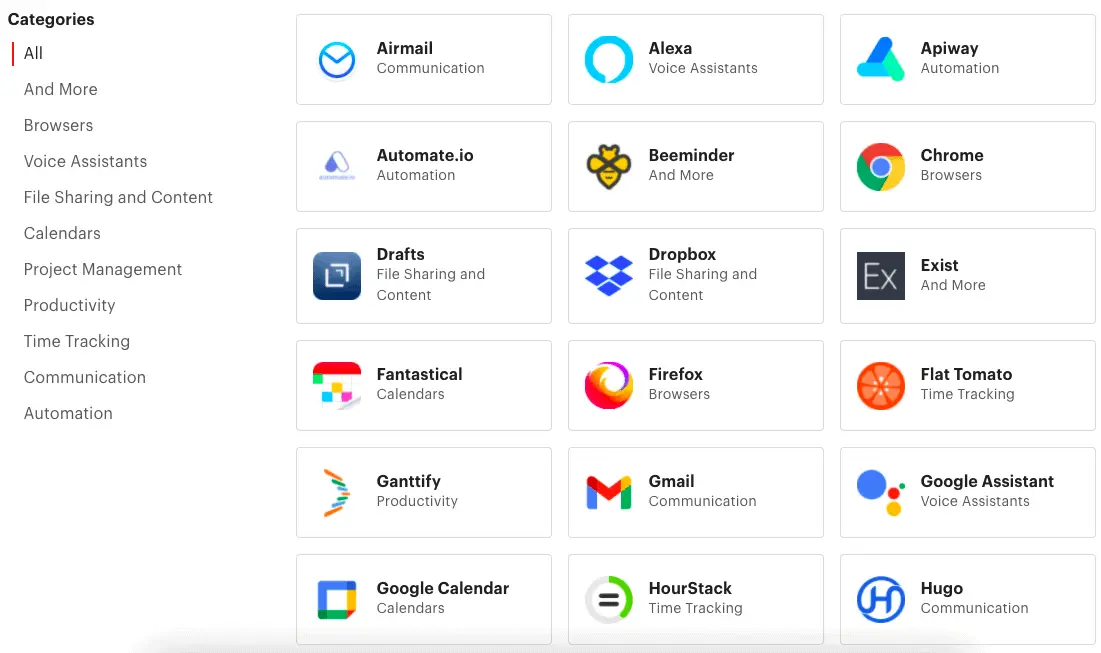 When I saw Alexa on the list I had to giggle because I've been planning to integrate it with a number of productivity tools.
Todoist Templates
There is a chance that you may be in a hurry to get a project started or you are looking for inspiration.
The good news is that Todoist comes as standard with a template library that you can use for your projects.
These templates include:
One-one meeting
Annual review
Accounting tasks
Business travel packing
Book writing
Class planning
Content pipeline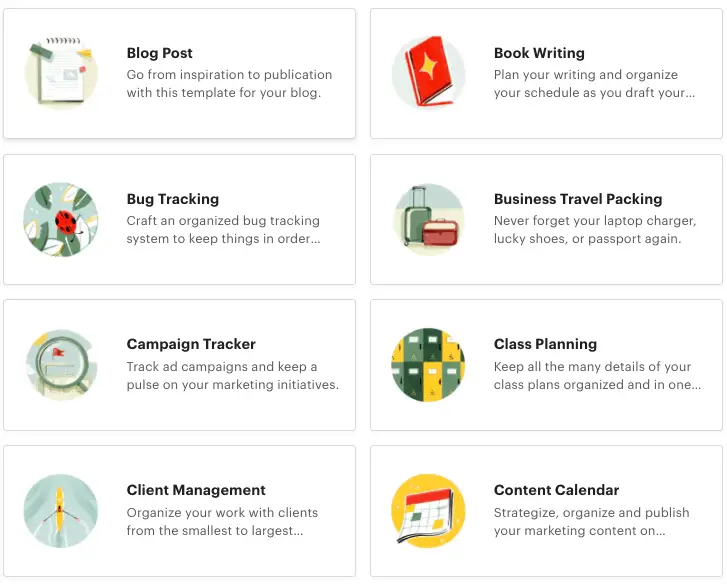 User Experience
After using Todoist to set up a project I have to say that the user interface and ease of use are great.
As someone who has used different apps or project management software, Todoist is one of the best apps to complete various tasks.
It is a great way to get rid of a paper system and use it to keep track of your tasks.
Things Review
Now that you've seen all the features available in Todoist let's look at Things.
The head office for Things is in Stuttgart, Germany and they have 11 people at that location and they are from 7 countries around the world.
It's so interesting because Todoist have a much bigger team in their organisation.
One obvious feature is that Things is only available for use on Apple devices.
Things Pricing
Because Things is only available on Apple products their pricing is based on the device.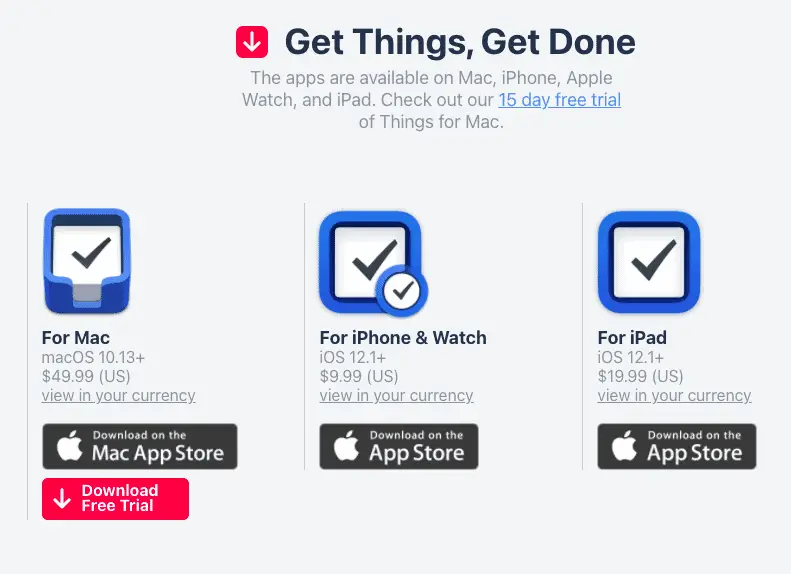 I was actually surprised that the price for the iPhone and Apple watch was so high since it would be obvious to sync your smartphone with your laptop.
However, if the price is a one-time purchase then it works out a lot cheaper than Todoist Pro and Business plans.
Plus you have the ability to use their free 15-day trial to ensure that you like it before making a purchase.
Go ahead and download the free trial from the app store and let's get into your first project.
Step 1 – Create a project
After downloading Things onto your laptop or desktop from the AppStore, you'll see a screen that looks like this one.
It has a very simple interface.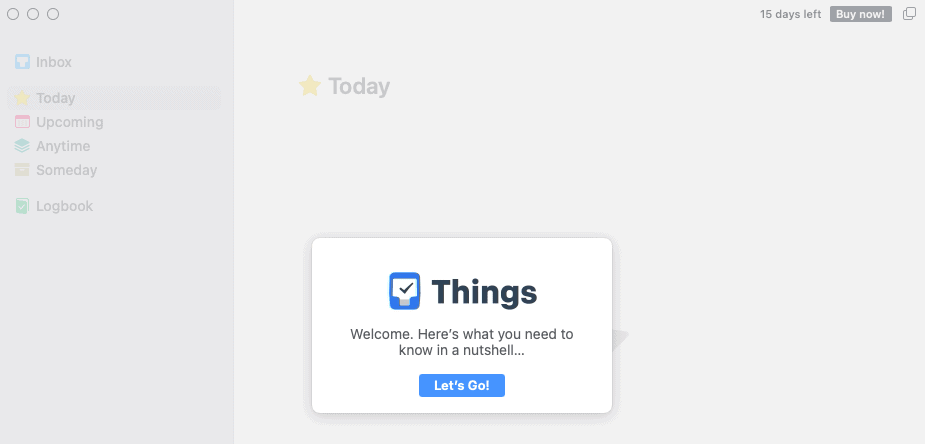 To create your first project click on the "new list" button at the bottom left.
You may want to group projects by areas like family and work.
It means that you can be working on several different projects at the same time.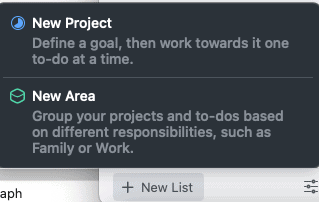 I've decided to create an area called work and after doing this you'll notice a new plus button at the bottom middle of that view.
Click on that to create a new project.
For this project, I am going to do the launch of a group program.
Give your project a meaningful name.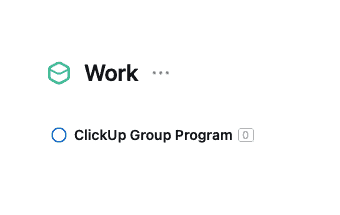 Step 2 – Add Tasks
It's now time to add your list of tasks to your project.
As I am doing the launch of a group program my tasks will be different compared to the previous example.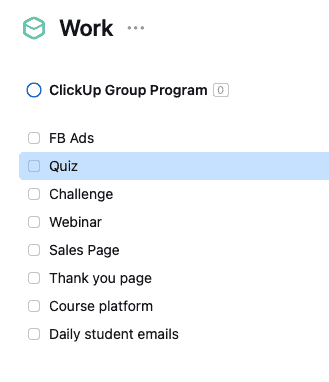 Step 3 – Create a Checklist
So, unlike Todoist, there isn't the ability to add subtasks.
However, you can create a checklist with the sub items needed to complete the task.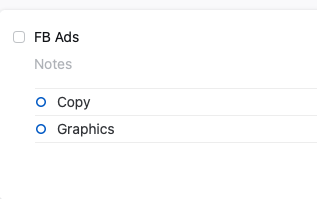 As I mentioned previously, breaking your big tasks into smaller chunks makes it easy to accomplish amazing goals.
Step 4 – Add due dates
Always remember to add due dates to your tasks.
If you don't add a due date then it will not get done on time.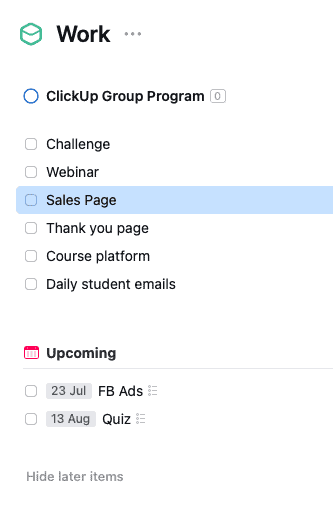 Step 5 – Collaboration
As you've probably guessed already, true collaboration is not really possible using Things.
You have the ability to share a project or task with someone via email.
However, you cannot invite them into the project.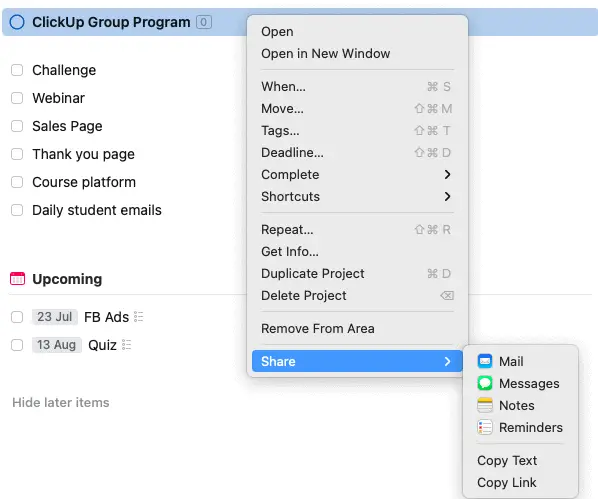 If you remember the definition of project management involves getting you and your team to complete tasks.
These tasks need to be completed within the constraints of the project and these limitations are normally time and budget.
So, technically speaking Things is not a great contender for a project management app.
It can be used to help people achieve personal goals without a team by setting up weekly tasks.
Things Integrations
All is not lost if you want to integrate Things with 3rd party apps.
However, I need to stress that the way these integrations work is that they help you to create to-do lists inside Things.
As you'll see from the screenshot below, there are 41 apps available to integrate with Things via Zapier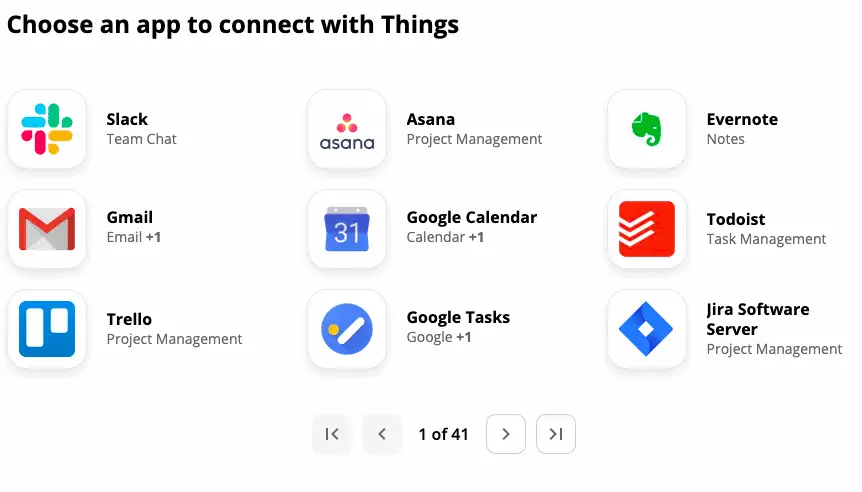 What I find hilarious is that Todoist integrates with Things via Zapier.
It's great to see Slack, Asana, Trello, Evernote, Airtable, ClickUp and Alexa on the list of tools available for integration.
Other Features in Things
In terms of positive features that are available on Things, I was looking at the tab labelled "Someday".
Nearly everyone I know has something on what I call a bucket list.
You can view Things as this app that would bring you closer to your long term goals.
Many times you'll write a bucket list or items that you want to do in 5-10 years because they seem out of reach right now.
Things can help you keep those things front and centre without a specific due date.
I believe that is the coolest feature for personal goals.
If you've been following me for a while, you'll know that I have a 50th birthday bucket list of things I'll love to accomplish.
Logbook
For those who get anxiety whenever a completed task disappears you'll be happy to hear about a tab called Logbook.
A few clients that I work with when implementing ClickUp get very worried when they don't have visibility on completed tasks.
This is why 'Logbook' is a great feature. All completed tasks can be found inside this tab.
Todoist vs Things – A Side by Side Comparison
In case all of that content made you feel overwhelmed here's the TL;DR version.
| Feature | Todoist | Things |
| --- | --- | --- |
| Projects | Yes | Yes |
| Tasks | Yes | Yes |
| Subtasks | Yes | No |
| Sub subtasks | Yes | No |
| Checklists | No | Yes |
| Invite Collaborators | Yes | No |
| Assign tasks to the team | Yes | No |
| Bucketlist | No | Yes |
| Completed task visibility | No | Yes |
| Native integrations | Yes | No |
| Zapier integration | Yes | One-way |
| Project Areas | No | Yes |
| No date option | Yes | Yes |
| iPhone App | Yes | Yes |
| Android App | No | Yes |
7 Tips to Rock at Project Management
You now have at least one awesome tool to help manage projects from your smartphone or laptop.
Here are 7 clever tips to help you ace project completion.
Keep the planning fallacy in mind
Give each team member 33% more time
Allow a 25% extra for the budget
Be an awesome team leader
Do everything possible to help your team succeed
Triple check for gaps in your project
If it's not in the project it doesn't exist
I hope these project management hacks will help you help your team members make dreams come true.
If you run a small business and you're ready to outsource project management to a digital business manager.
Book some time in my calendar below.
Summary
As you can see this "Todoist vs Things" comparison can save you a lot of time and money.
You no longer need to guess which platform will be best suited for you and your team.
By simply looking at my step by step review, you'll be able to decide which platform will work for your business.
If you are working with a team and you need more automations around task creation then you may want to try using ClickUp instead.
It is possible that you are struggling to choose between ClickUp and Asana or Trello, if this is the case take a look at my full comparison here.
There are quite a number of project management tools on the market and I have experience using Trello, ClickUp, Teamwork and Asana.
So, if you need first hand feedback on any of these tools feel free to contact me.
Over to you, what has been your experience using Todoist or Things?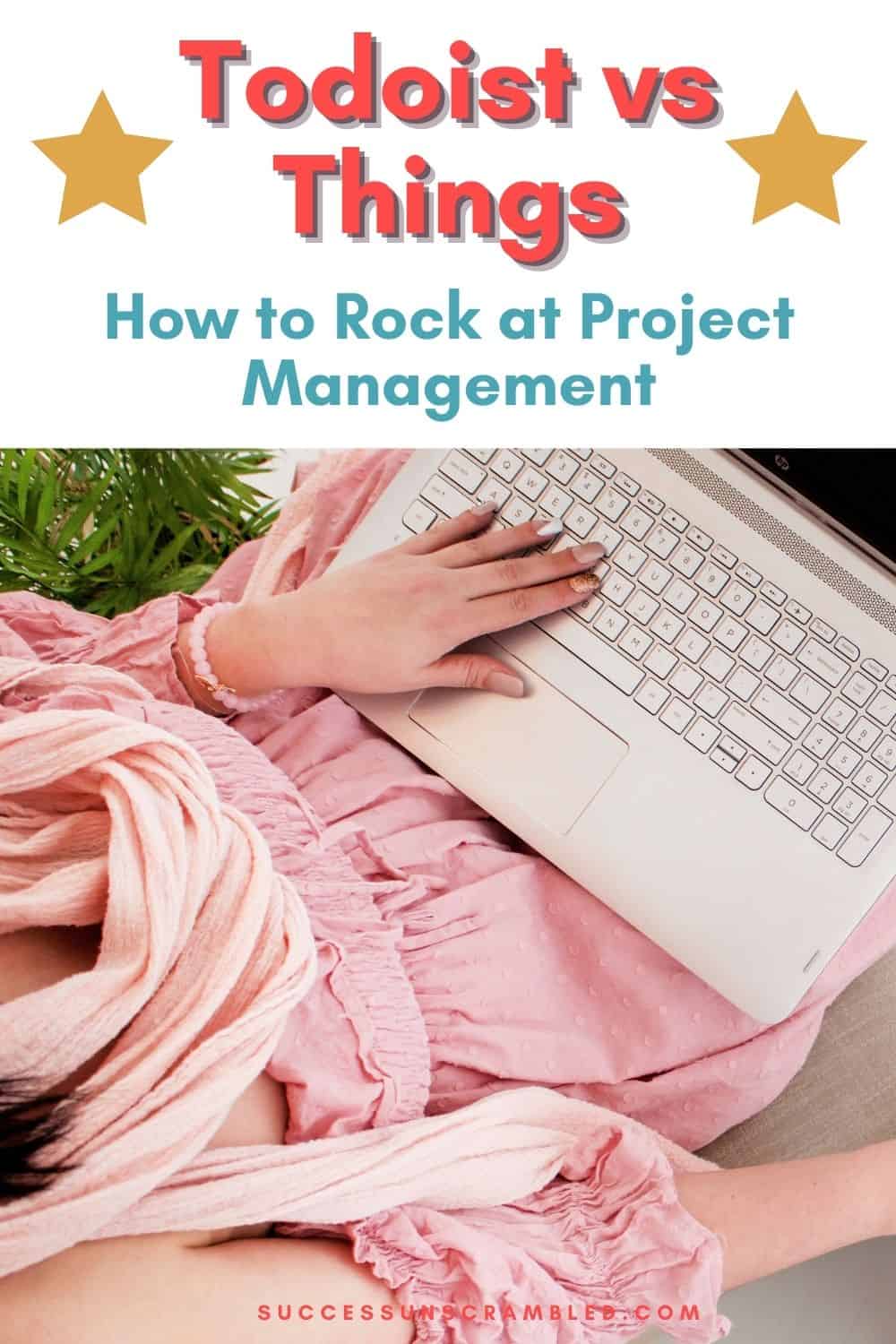 Announcements
Remember to subscribe to the Success Unscrambled podcast where you will be the first to hear what's happening in the entrepreneurial and digital marketing world.
Your positive review of this podcast is vital to keeping it alive and running for the next 12 – 24 months so please leave a positive 5-star review for us on iTunes, Spotify or any of your favourite podcast players.
It takes quite a lot of patience and tenacity to become a project manager and to keep your team on track.
Project management can be a lot of fun because I see it as taking dreams and making them a reality.
I started this blog in 2017 because I had a burden on my heart to reduce women illiteracy globally.
Because this is a huge undertaking I have decided to help 1,000 women over the next 10 years to become wildly successful in their online business through simplified marketing strategies.
That way we can build a strong business network of women who can donate 1% of their profit and together we can help reduce women's illiteracy worldwide.
Would you like to be part of this movement? Shoot me an email using alvern (at) successunscrambled (dot) com.