Podcast: Play in new window | Download (Duration: 30:27 — 42.4MB) | Embed
Subscribe: Google Podcasts | Spotify | Amazon Music | Stitcher | Email | TuneIn | Deezer | RSS | More
So, you are at that point in your marketing journey where you are looking at the Facebook page vs profile situation.
Yes, there are a ton of experts out there advising you about which one to choose.
It's possible that you are brand new to Facebook or you've always had a personal profile but rarely used it.
A close friend of yours advised you to set up a Facebook page.
However, you noticed another friend going live for a network marketing business on her Facebook personal profile.
You are now wondering what to do.
How to know for sure what are the rules for each section of Facebook?
Is it possible to gain success for your business on Facebook?
What methods should you use to attract your potential clients?
Will you get banned if you use your personal Facebook profile for business?
If only there was a way to get absolute clarity around these areas?
In this post, you'll learn all about the best practices when it comes to using Facebook for business, which section to use when.
As well as how to generate leads for your business on Facebook.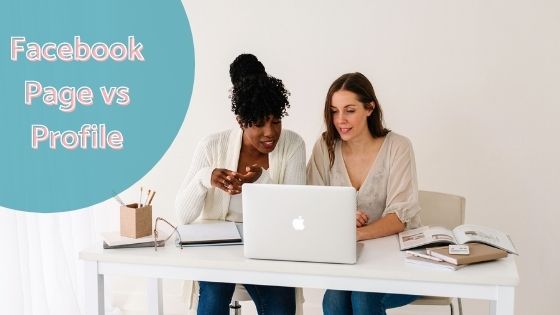 A Brief History of Facebook
Understanding where Facebook came from may help you to better understand its current status.
Facebook began back in 2004 by Mark Zuckerberg and 4 of his college roommates with the intention of limiting the usage to Harvard students.
This was extended to all colleges in the Boston area then to all colleges and universities in the USA and Canada.
By 2006, anyone with a valid email address had the ability to create an account on the platform.
If you are as old as I am or possibly older you'll remember what Facebook was like back then.
Actually, I am sitting here wondering when I joined Facebook. 🧐
I just checked and my account was set up in 2007. It's crazy to think how time flies so fast.
Facebook got to its first 100,000,000 users by August 2008. That's just under two years after granting access to anyone with an email address 13 and over.
Here's an interesting Facebook business page fact, there were 100,000 business pages on Facebook in late 2007.
October 2008 saw the decision by Facebook to set up its international headquarters in Dublin, Ireland.
Why was Facebook created? It was a means for people to have an online profile to display a profile photo of themselves plus other personal information.
Now, here we are many years later and Facebook is more than just your face and basic details about you.
Why Use Facebook for Business?
Well, if you are wondering why you should consider using Facebook to help you generate leads for a business.
Here are a few interesting facts to consider.
Facebook has a very strict policy about people setting up more than one personal profile.
Unlike Instagram, Twitter and Pinterest where you can set up many profiles and brands.
LinkedIn is the only one that would be on par with that specific Facebook rule.
With a total of 2.8 billion monthly active users as well as 1.84 billion daily users, it is a great place to find potential clients.
In terms of business users, there are over 200 million small businesses using the platform regularly.
Here are two interesting statistics that will stop you in your tracks.
65% of Facebook users are under the age of 35 and 98% of users use it via their mobile device.
The final show-stopping statistic I'll leave with you is that users of Facebook spend 19.5 hours monthly on the FB mobile app.
Facebook Apps
Before we look at the Facebook page vs profile comparison let's spend some time looking at the platform as a whole.
You'll notice that there are now so many different areas on Facebook that it can be dizzying trying to find your way around.
Here's a list of those apps.
Personal profile
Stories
Room
Business page
Groups
Community
Marketplace
Watch
Dating
Gaming
Jobs
Avatars
Facebook pay
Live videos
Offers
Weather
Fundraisers
Events
Nearby friends
Campus
Ads manager
After seeing this big list you're probably thinking that you never realised that Facebook had so many apps.
It's crazy to think that a simple online photo album has so many facilities available to its users.
It's important that you are aware that all of these exist before you even create a Facebook page vs profile for your business.
Because it is very easy to get lost on the Facebook platform.
If you ever ran any ad campaigns (on your personal profile) before the business platform was launched then you'll see the ads manager app.
Facebook Page vs Profile
Now that you know the basics of what Facebook is, where it came from and the services currently on offer.
Let's spend some time specifically looking at the two main applications which are the Facebook page and personal profile.
Starting with the personal profile first makes more sense because you'll need a profile in order to create a page.
Personal Profile
As the name suggests a personal profile is just a place where you can set up information about a person.
I know that there are married couples who share the same personal profile which I find very strange.
What's even stranger is that one profile has two birthdays every year. So, it is quite confusing who's birthday it is when the day arrives.
A personal profile account will contain the following information.
Name
Date of birth
Hometown
Relationship status
Current city
Past jobs
Current jobs
Websites
List of friends
Hobbies
Books
Music
Videos
Photos
Events
Sports
Timeline
The list of information appears to be endless. Are you wondering why Facebook is asking for so many details?
Well, in order to serve you relevant advertising, Facebook needs to know as much information about you as possible.
For example, if you watch comedy movies, read romantic novels and attend outdoor events, Facebook can include you in an audience with that profiling.
It is against Facebook's terms of service for you to use your personal profile for business purposes.
However, as you can see in the screenshot below there are clever ways to incorporate business promotions on your profile.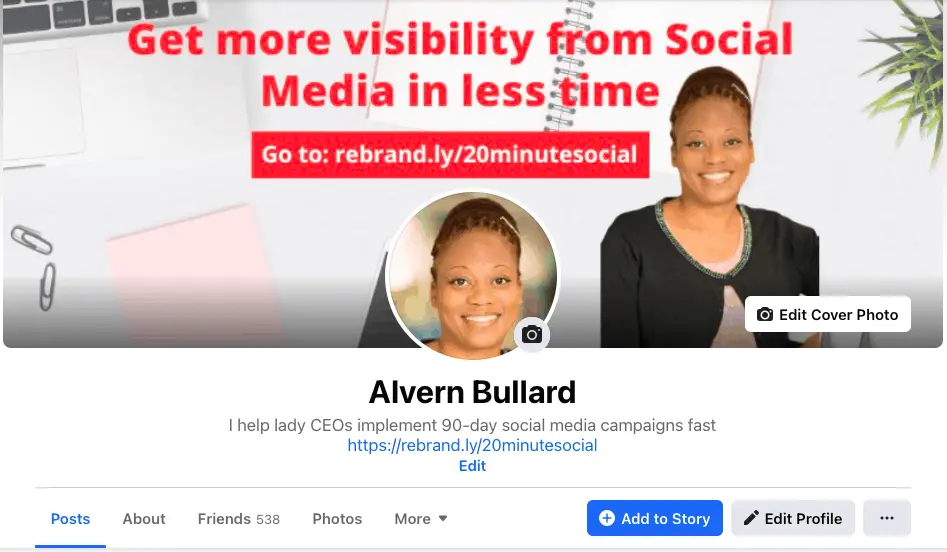 I am able to add an image with links to a landing page which is part of my website right below my profile picture.
There's something you must know, it is the goal of every social media platform to keep the users on there for as long as possible.
So, if you would like some more Facebook love it would make more sense to link to a Facebook business page or group rather than an external website.
You would normally receive friend requests on your regular profile. Your Facebook friends are able to see the posts that you publish on your personal timeline.
Of course, you can adjust your privacy settings to set parameters around who can see your Facebook posts.
Business Page
The Facebook page is a great way to give your business a social media presence so it is essentially a company page carrying your business name.
Typically, the people who like your page wouldn't be people on your friends list.
It would make more sense to have people from your target market following your online presence.
Things are about to get very confusing because a business page is managed via the business app.
If you want to create a business page you'll need to have a profile already set up on Facebook.
Once that is done you'll go to the apps section on your top right and click on create a page.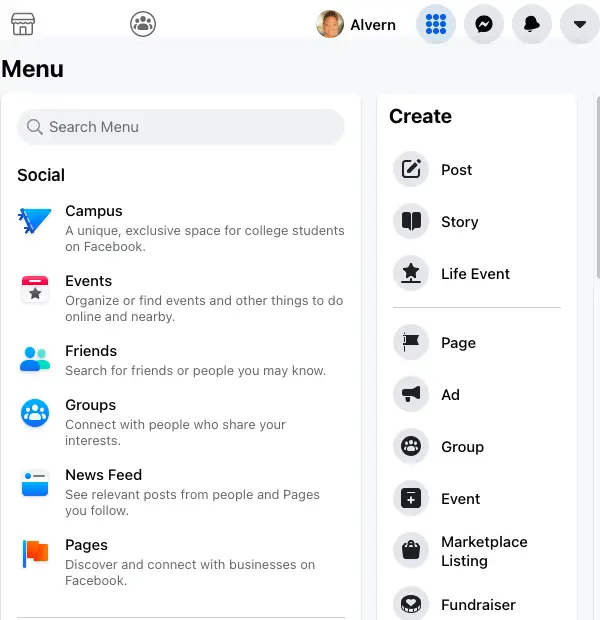 A note of caution, the folks at Facebook change the navigation of the platform very often so don't be surprised that yours look different.
However, to manage an existing business page you'll need to go to business.facebook.com and assign access to an admin or you.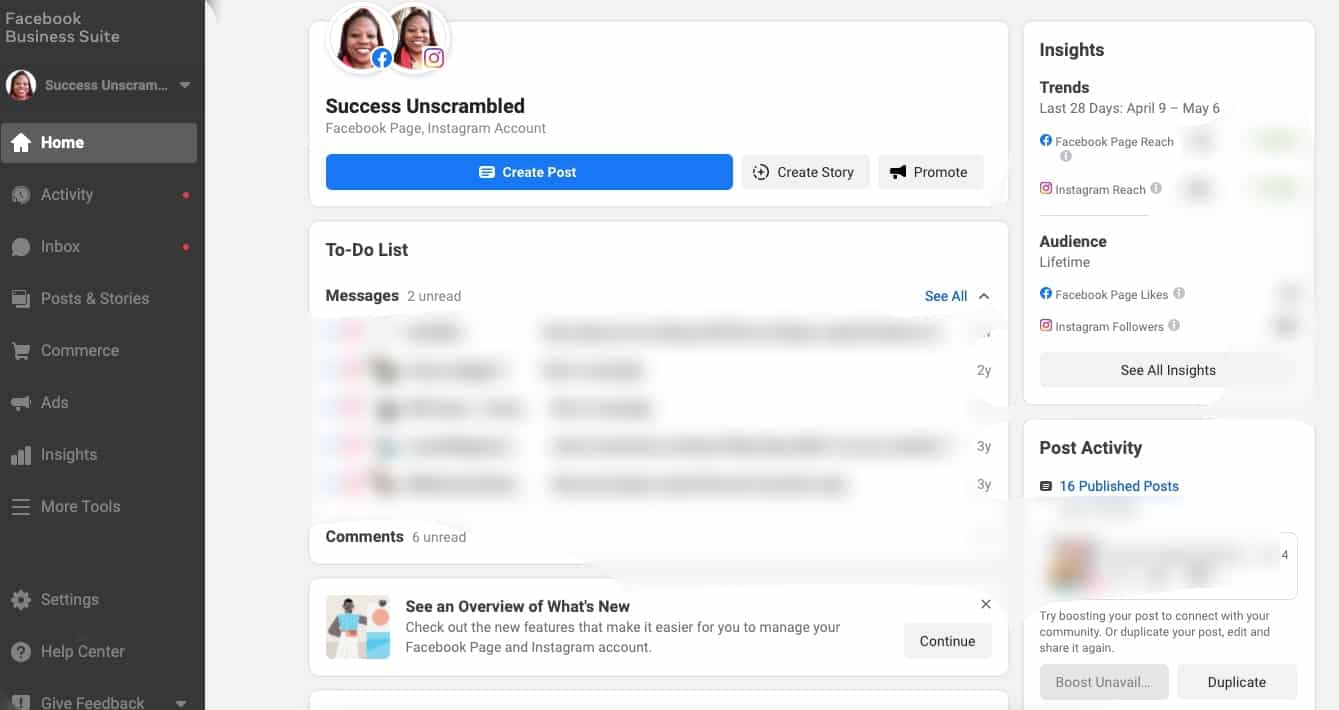 In the above screenshot, you'll see the home page of the Facebook Business Suite platform or app.
I currently manage over 20 pages so I have seen this platform evolve over the years and every year I login things are different.
It feels like Facebook never sits still.
A great benefit of using the Facebook business platform is that you can link your business Instagram profile right inside the app.
One key benefit of doing this is that you get to see all your analytics in one place plus you get to schedule feed posts and story posts (including carousels) from this platform.
An amazing way to get around the challenge of having a poor performing business page is to set it up as a public figure or Facebook fan page.
If you serve a local market, you can set up your business page as a local presence to include your address and even your business phone number.
You can even go through a verification process to get your business listed locally on Facebook.
Facebook Business Suite
Other features available on the Facebook Business Suite include the following:
Boost posts
Ads Manager
Commerce
Insights
Events Manager
Audiences
Ads Reporter
Creator Studio
Media Library
Services
Instant Forms
Partner Integrations
Appointments
Monetization
Let's spend some time looking at these features one by one so that you can understand what they do and when to use them.
Boost Posts
While you have the ability to use this features on the post of your business page there's also the opportunity to do this inside Facebook Business Suite (FBS).
This feature is good for when one of your posts is gaining traction like a Facebook live and you want it to get more reach.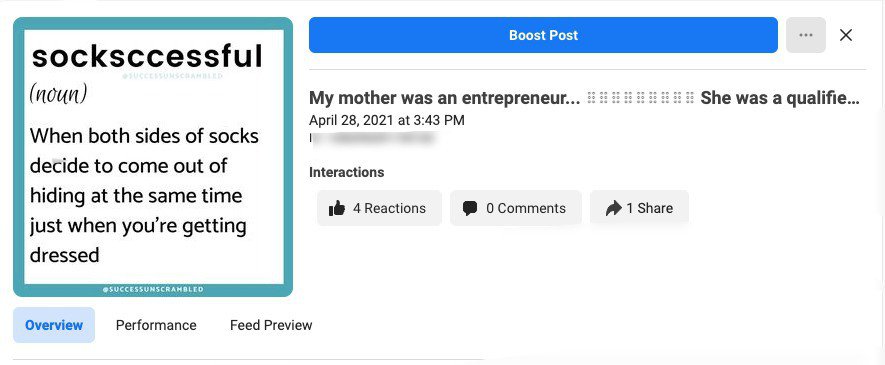 It means that you can actually get more mileage from one piece of content. This works really well when you have an upcoming masterclass or webinar.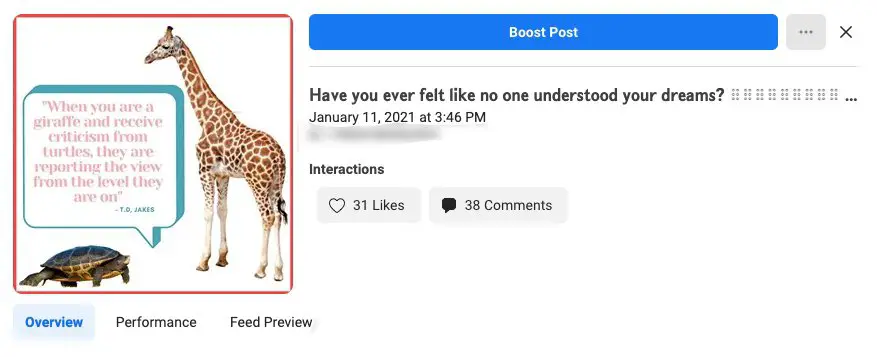 Did you know that you have the ability to boost IG posts as well? Yes, this can also be done using FBS.
Ads Manager
As the name suggests Ads Manager gives you the ability to really get specific in the kind of Ad you want to run.
Whether it be Ads to cold or warm or even lookalike audiences.
The Ads Manager app allows you to select your objective, choose your demographic and audience interest so that you can get higher conversions.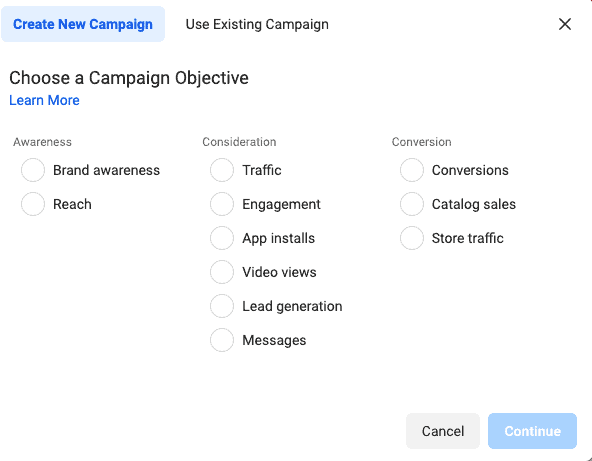 Be sure to get really specific and creative with your interest targeting.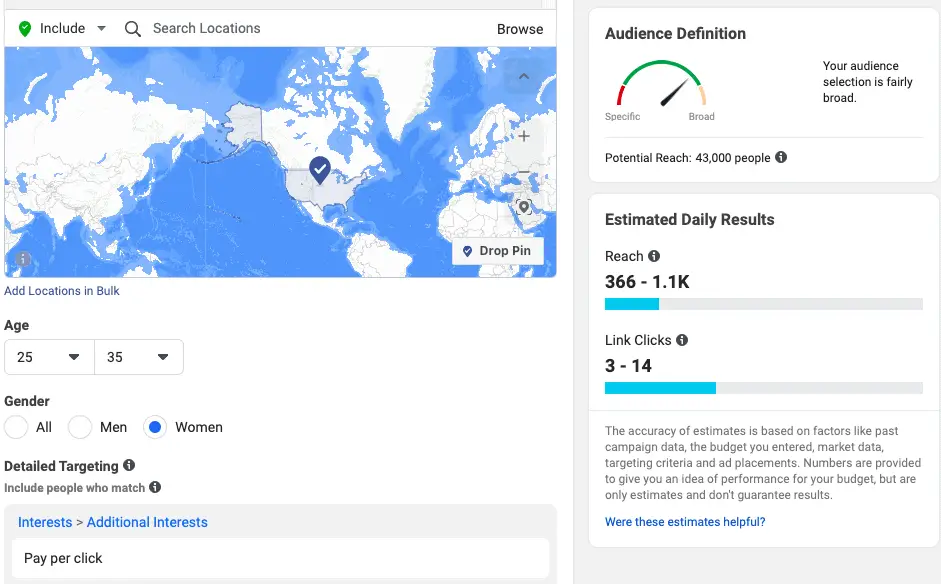 There are two schools of thought when it comes to running ads on Facebook. One group firmly believes that you should only use Ads Manager.
While another group will advise you that it is okay to use the "Boost post" features just to get more reach on your posts, while Ads Manager should be for a formal product launch.
Commerce
Inside Facebook Business Suite (FBS) you have the ability to add products from your e-commerce store to the platform.
By adding them to shop on your business page you are also adding them to the Ads Manager catalog as well.
It means that you can promote your products organically as well as running ads to them using Ads Manager.
Many e-commerce platforms like WooCommerce and Shopify give you the option to ad a pixel to your website or shop.
Insights
This may be obvious but Insights allows you to see the performance of all your organic and paid promotions across Facebook and Instagram.
What's good about Facebook Insights is that you get a 5,000-foot view of which posts get the most engagement compared to other pieces of content.
There's even the option to look at your followers across both platforms by age, gender and top cities.
Events Manager
One of the keys to getting visibility of activity across your website and e-commerce shops is to install a Facebook pixel.
You can easily achieve this by going to events manager, grabbing your pixel and installing it on your website to track events.
These events can include actions like views, leads, add to cart, purchase and initiate checkout.
To set up your FB pixel click the plus sign on data sources.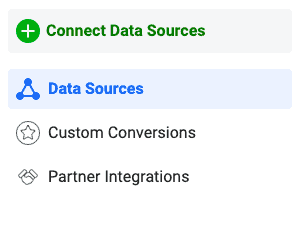 Choose your data source as seen below. I'm so excited to see that you can now choose a CRM.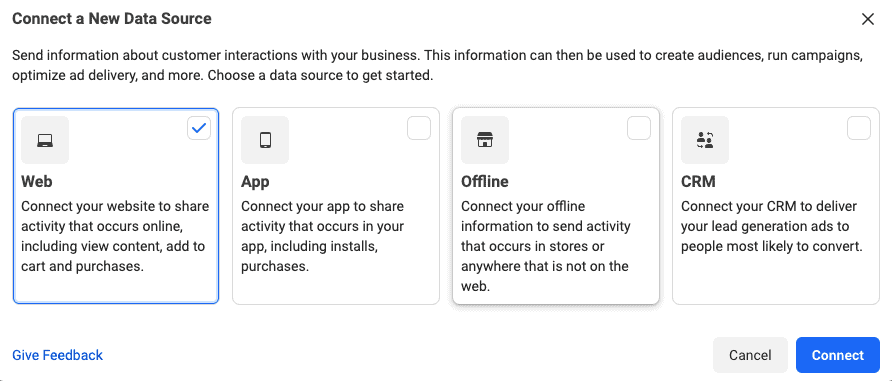 Select the type of data source connection, API or Facebook pixel.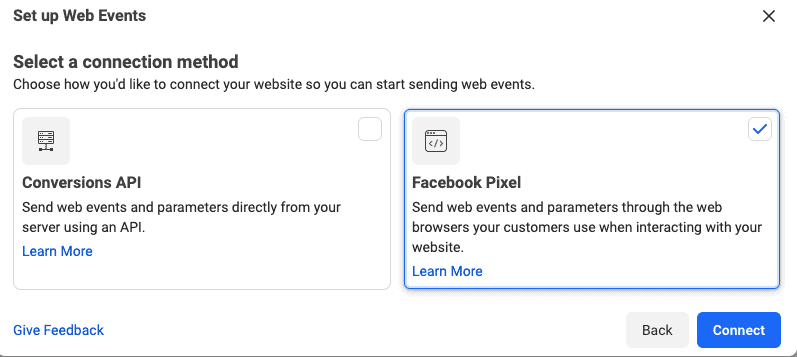 Once you have the pixel installed you'll be able to see monthly reports similar to the one in the screenshot below.
The reason why you'll have both Google Analytics and Facebook tracking installed is that each one will help you with conversion tracking when you run Ads.
In other words, Facebook will be perfect to track leads from their platform while Google Analytics will handle paid search, display ads and video ads.
Audiences
At a very basic level audiences gives you the ability to create a custom audience based on criteria set by you.
180 days after setting up your pixel you may want to create an audience of all the people who visited your website.
The capabilities of Facebook continues to blow me away every single year. You can also create custom audiences for Instagram, shopping, events and even offline activity.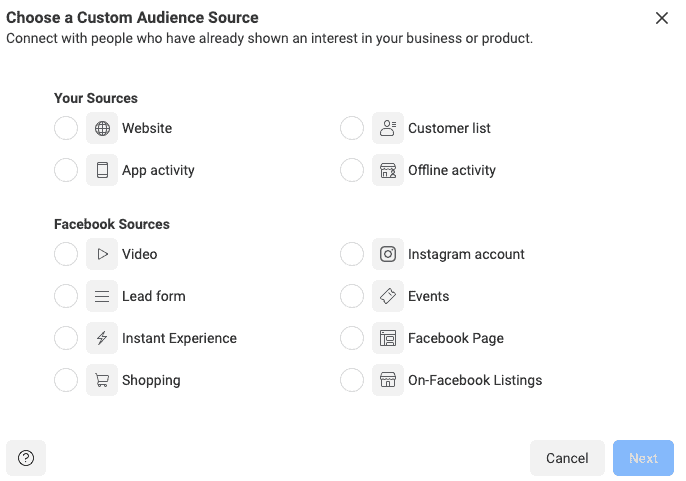 To create an audience simply click on 'create audience' choose the most suitable option.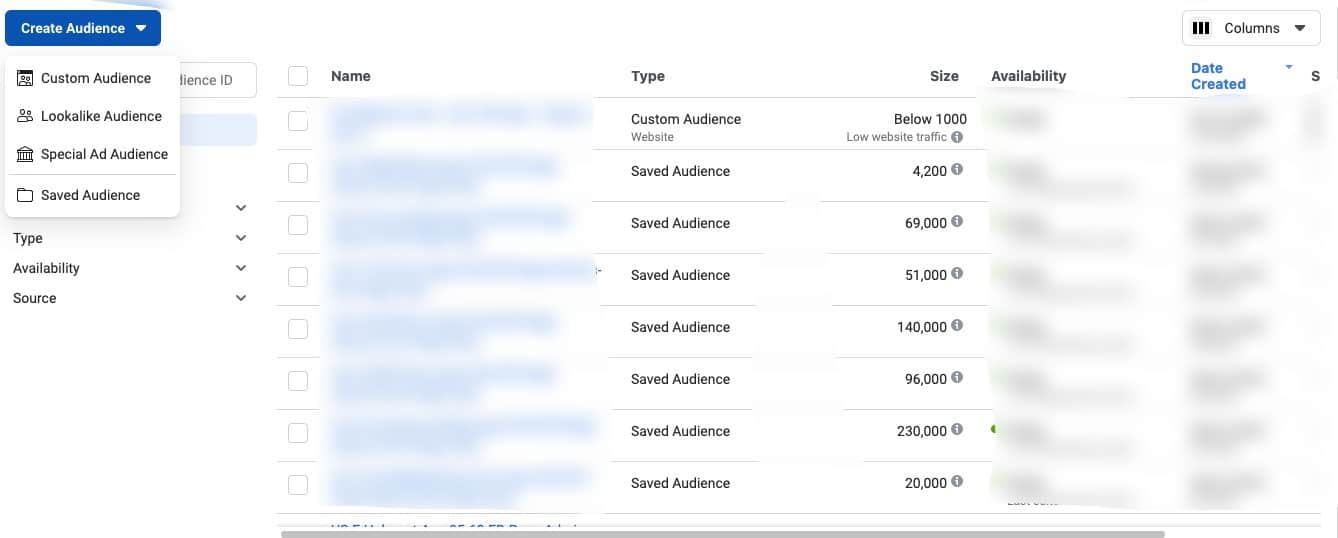 Then select your data source and enter your parameters as seen below. I decided to choose Instagram as my source over the last 365 days.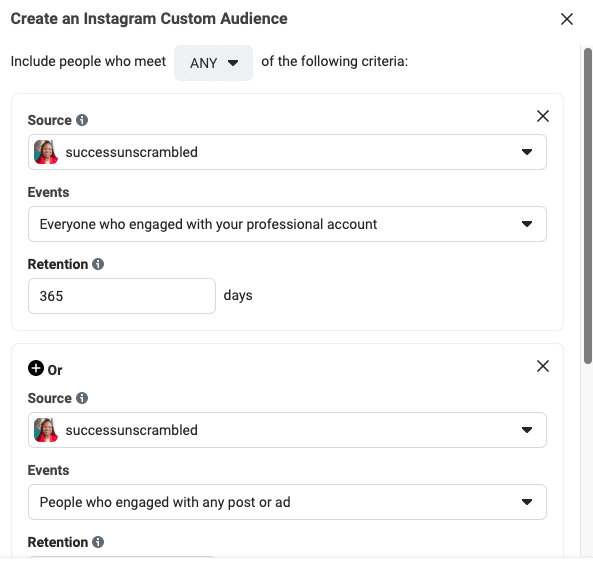 After creating the audience you'll be given the option to create a lookalike audience.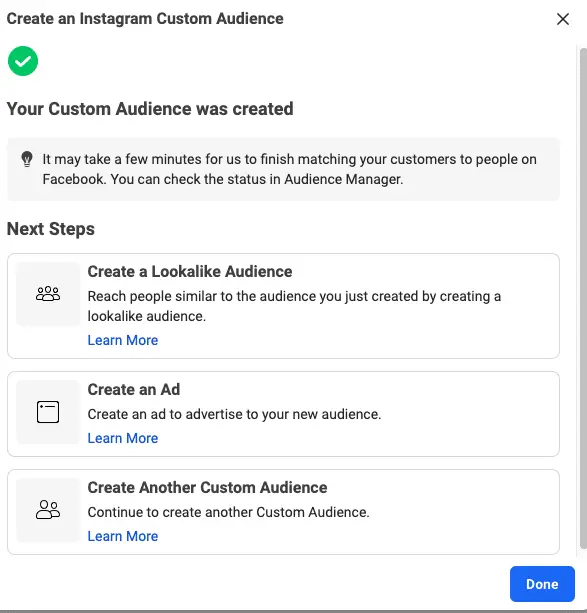 When you click on create a lookalike audience you'll see the option to choose your parameters.
These include your source, audience location and size. See the image below.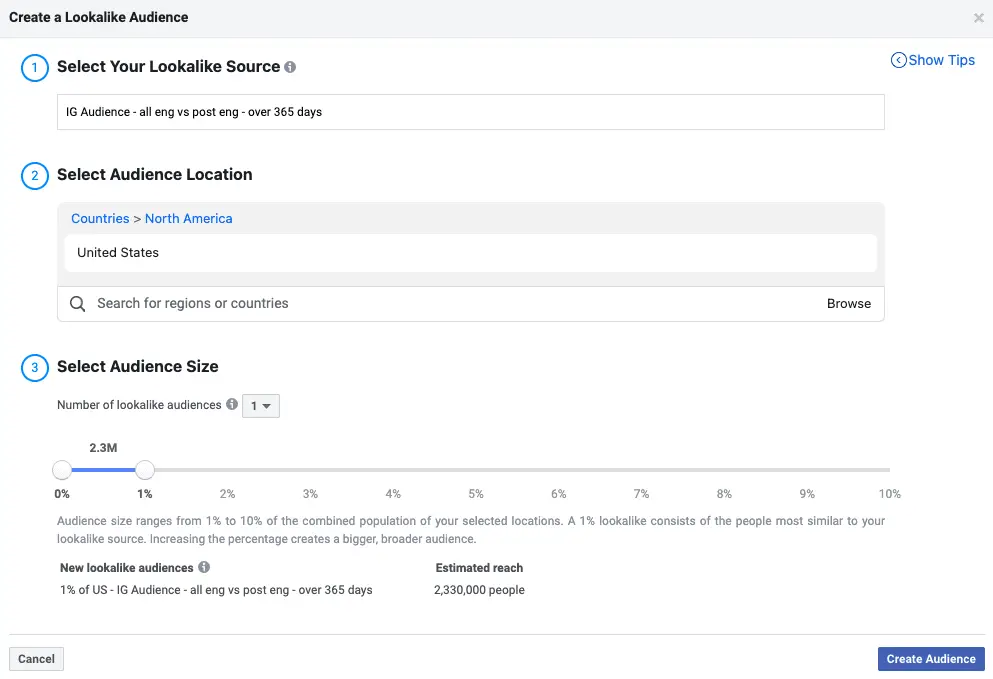 You'll have the option to create 6 different versions of that lookalike audience. I chose to create 3 different kinds as seen in the screenshot below.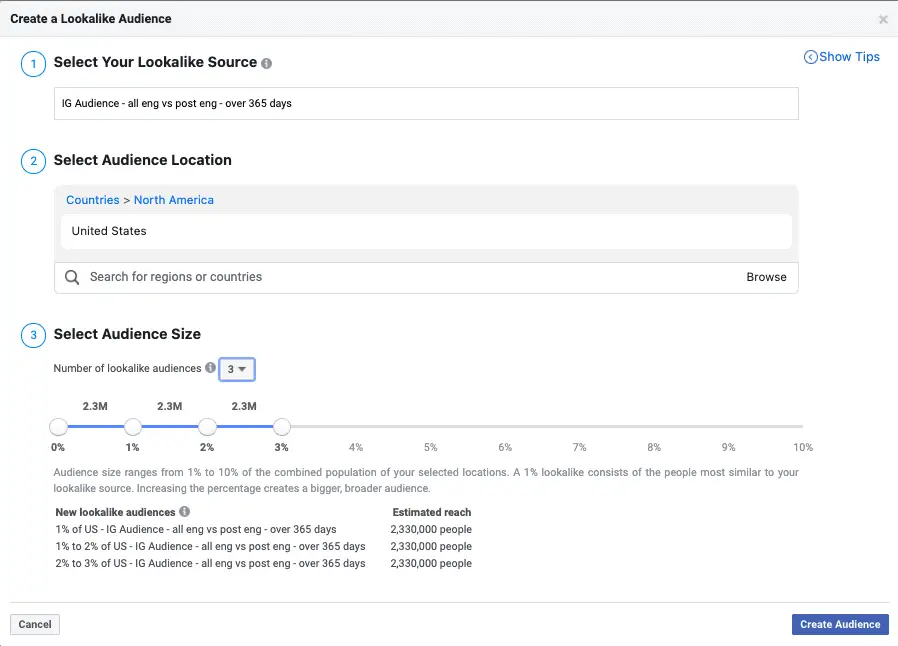 Ads Reporter
You're probably thinking what's the difference between the Ads Manager and the Ads Reporter.
Well, if you have any experience running Facebook Ads you'll know how difficult it can be to extract reporting on your ads from the Ads Manager.
This is why the Ads Reporter is great to help you to really calculate your return on ad spend (ROAS) more accurately compared to how it was previously.
Creator Studio
One amazing feature that was launched recently in the Facebook Business Suite (FBS) is the ability to auto-post to IG Stories.
Imagine having to schedule all your IG Stories for one week using your phone in under an hour.
The key drawback is that the IG Stories app has a lot more features like captions, DMs, polls and questions that's not available in FBS.
In case you are wondering you can even schedule carousel posts as well.
I find it easier to access Creator Studio directly by going to; https://business.facebook.com/creatorstudio/home
Compared to trying to find it inside Facebook Business Suite (FBS).
On your smartphone you'll need to download the app called Facebook Business Suite.
Media Library
If you are planning and scheduling all your content 30-90 days in advance you may find it handy to use your media library.
You have the option to upload all the images and videos that you will be scheduling out in advance.
It means that the process of scheduling content will take a lot less time since you will not need to add them one by one.
What's brilliant about the media library is that you even have the ability to segment your content into folders and sub folders.
Services
If you are a service-based business you may want to consider using the services app to promote your services on Facebook.
The way this application function is a bit strange because you need to add a time frame into the listing.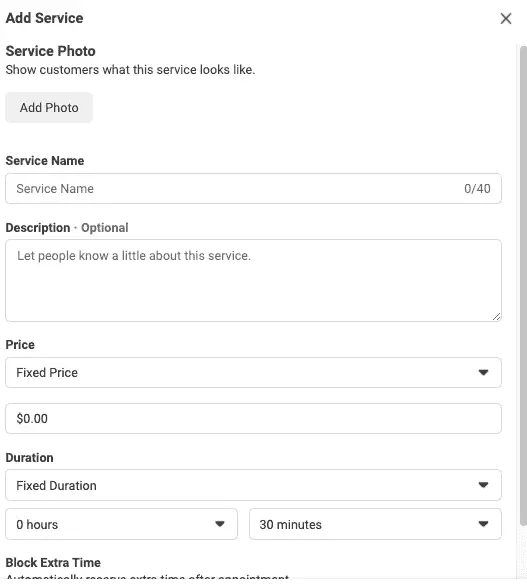 As you know, if you are offering social media management as a retainer you just charge monthly without assigning a time to that service.
Instant Forms
Do you want to use Facebook as a lead generation machine? Then you need to take a look at Instant Forms.
A fascinating feature of Instant Forms is the ability to connect it directly with your CRM platform of choice.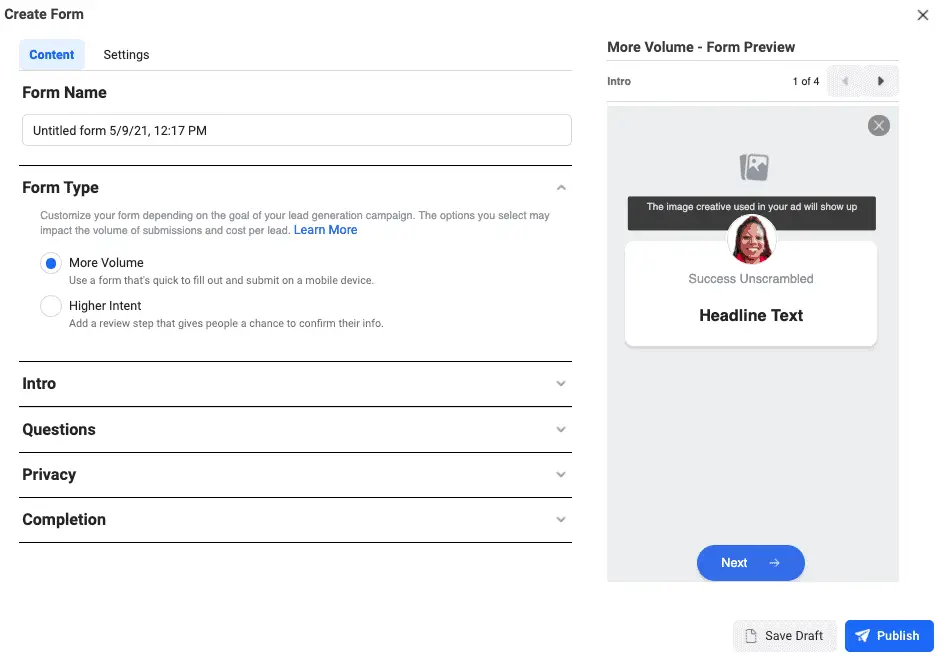 This feature is especially useful to generate leads from paid ads using Ads Manager.
Partner Integrations
When it comes to choosing tools that work seamlessly with all your business technology.
It really helps to know in advance what tools already integrate natively with Facebook Business Suite.
Nothing is worse than choosing a new application only to realise that it does not integrate with other must-have tools.
Some of these partners include:
Ecwid
Shopify
WooCommerce
Kajabi
WordPress
Squarespace
Segment
Zapier
Hubspot
Appsflyer
Adjust
Google tag manager
Head over to partner integrations here to see the full list of tools already available to integrate with FBS.
Appointments
Depending on the type of business that you have it may make sense to give your Facebook audience direct access to your calendar on the Facebook platform.
To achieve this head over to the appointments app and choose your available time slots.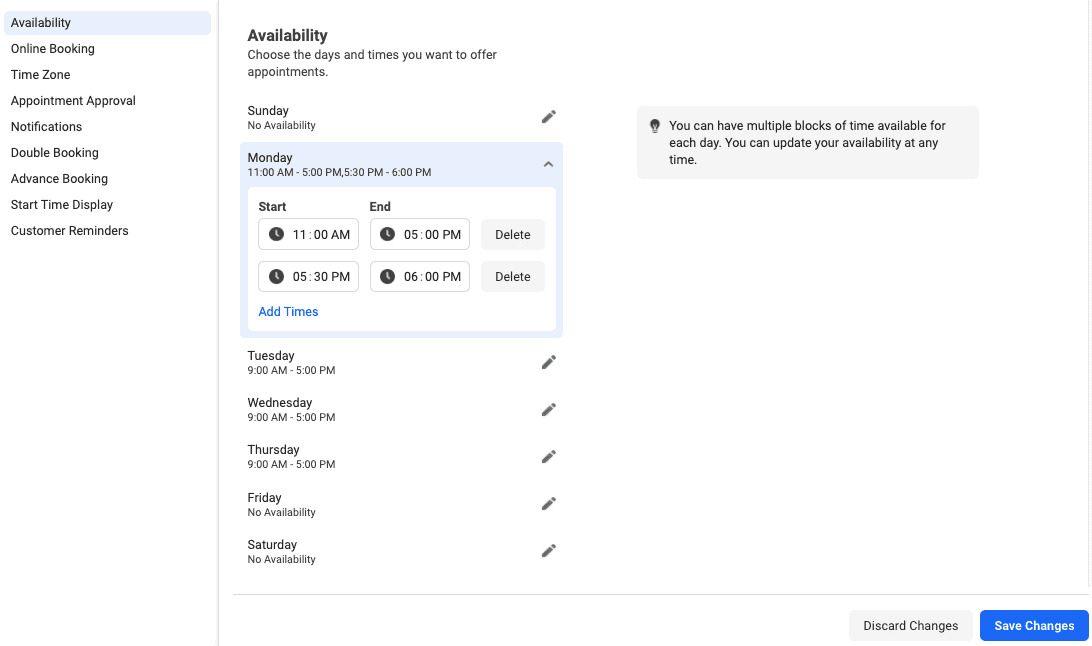 After choosing your available times remember to switch on the feature that allows customers to see your availability and booking calendar.

Monetization
One new feature that has been added over the last few days for business pages is the ability to run paid events as well as Instant articles.
If you have an existing business page, you'll notice a notification similar to the one below where they talk about monetization.

When you click on it, you'll see a list of eligible options available including paid online events and Instant Articles.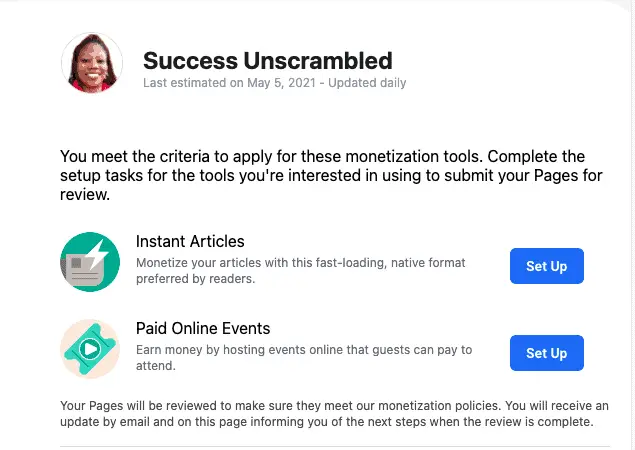 There are 5 other monetization options available. These options include the following:
In-stream ads for On demand
Fan subscriptions
Stars
In-stream ads for Live
Brand collabs manager
You'll notice that there are a number of criteria that your page will need to meet in order to qualify for these other monetization methods.
Business Page vs Profile: Side by Side comparison
To help you understand the similarities and differences between a personal profile and a business page here's a side by side comparison.
| Feature | Personal Profile | Business Page |
| --- | --- | --- |
| Personal details | Yes | No |
| Website address | Yes | Yes |
| Run paid ads | No | Yes |
| Promote business | No | Yes |
| Promote business person | Yes | Yes |
| Go Live | Yes | Yes |
| Publish Stories | Yes | Yes |
| Business vanity URL | No | Yes |
| Boost posts | No | Yes |
| Ads Manager | No | Yes |
| Commerce | No | Yes |
| Insights | No | Yes (100 page likes) |
| Events Manager | No | Yes |
| Audiences | No | Yes |
| Ads Reporter | No | Yes |
| Creator Studio | No | Yes |
| Media Library | No | Yes |
| Services | No | Yes |
| Instant forms | No | Yes |
| Partner integrations | No | Yes |
| Appointments | No | Yes |
| Monetization | No | Yes |
Knowing what is possible on Facebook for any small business will help you to assign a budget that will get you the results that you need.
Remember that it makes more sense for you to install your Facebook pixels 3-12 months in advance of running paid campaigns via Facebook Business Suite.
Having the data available will put you at a big advantage compared to someone who doesn't have the statistics.
5 Ways to Generate Leads for Your Small Business on Facebook
Now that you know every possible area where you can generate leads on Facebook let's look at the best ways to put this into action.
1. Facebook Lives
One of the fastest ways to build the know like and trust factor with potential clients is by publishing video content.
It is by far the best way to make your business page more favourable to the Facebook algorithm.
Remember to boost that live in order to get more eyes on your content.
2. Personal profile posts
When you experience success in your business via awards, testimonials, certifications or just key lessons you can place these on your personal profile.
It is not against the Facebook terms of service because you are only talking about things that are happening in your life.
Your friends and family or friends of your family will see this and those who are potential customers will reach out to you.
3. Personal Profile Stories
You can also share videos of these successes in your personal profile stories. It's surprising how many of your friends engage with stories.
Be sure to have the first image be a photo or image capture of your face as this will encourage them to engage.
4. Facebook Ads
While running organic campaigns work quite well, to actually take your business to the next level you'll need to get more reach using paid Ads.
Depending on the offer, you may want to consider driving leads to a webinar or masterclass where potential clients can spend 60-90 minutes with you.
Webinars tend to convert much better than Facebook live events.
5. Self-Liquidating Offer (SLO)
In case you are worried about your ad budgets there is a specific type of offer called a self-liquidating offer that is designed to keep you in profit.
Many small business owners use it as a way to break even on their ad spend.
The beauty of this technique is that you offer a high value low-cost product for roughly around $37 together with a one-time-offer.
Together they will fill your funnel with potential, highly qualified leads and keep the cost of your ads low.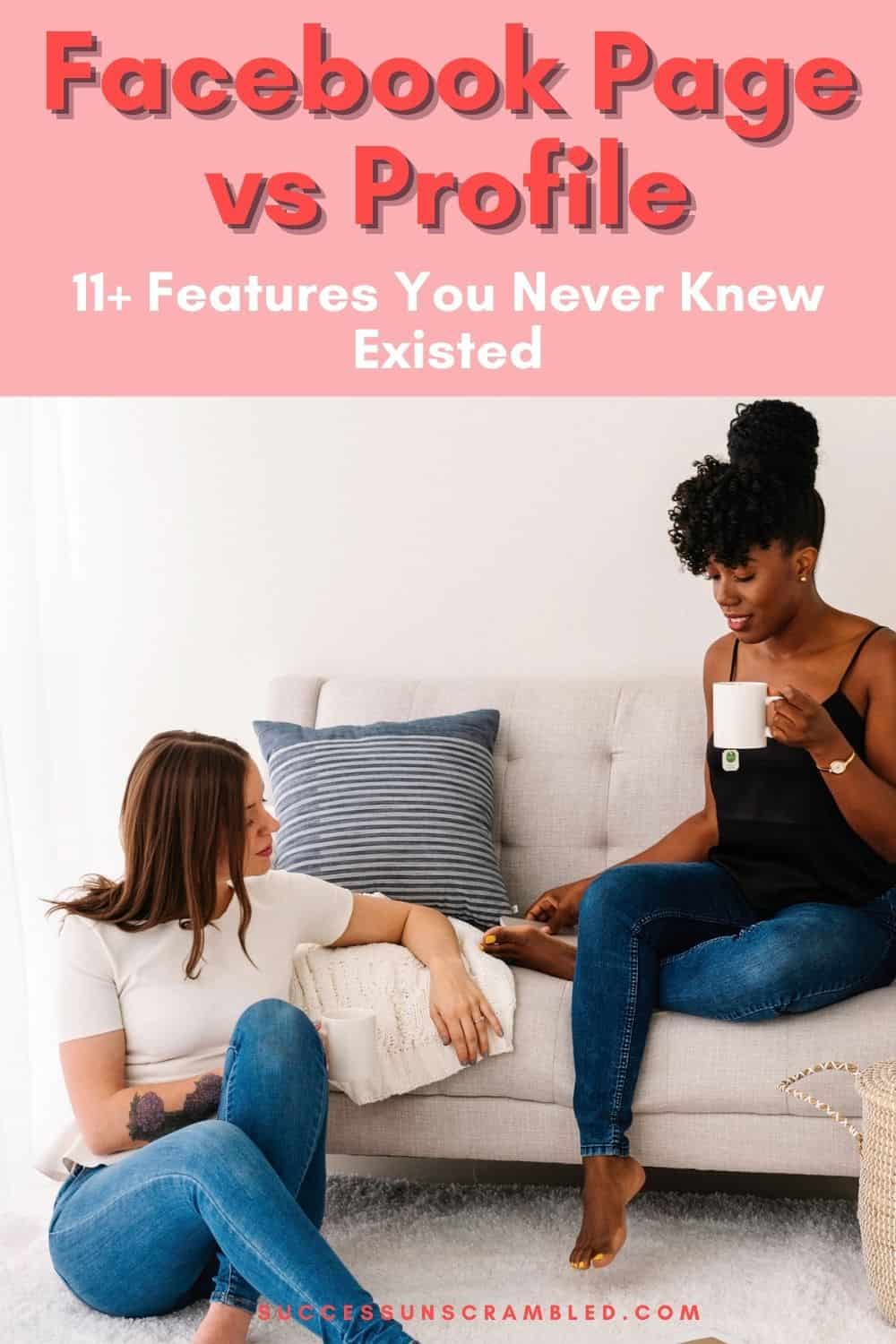 Summary
Facebook is a powerful platform for small business owners but everyone complains that it is a pay to play solution.
Although Facebook charges for you to promote your business, you have to admit that they are re-investing those funds to increase their platform capabilities.
After looking at the breakdown of all the Facebook page vs profile features side by side you'll know why using the business features is better for your business.
There are mainly 3 different types of digital businesses.
These include the following:
Service-based
Coaching + courses
E-commerce
No matter which model you choose Facebook has organic and paid promotion features that will get you conversions.
Yes, I agree with you that using the paid features can be overwhelming especially when you want to ensure that you get a significant return on ad spend (ROAS).
This is why hiring a FB Ads Manager who will make your efforts profitable makes a lot of sense.
Over to you, what has been your experience using Facebook for your small business?
Announcements
Are you one of my regular listeners? If yes, did you subscribe to this podcast and leave a 5-star review?
Your positive review of this podcast is vital to keeping it alive and running for the next 12 – 24 months so please leave a positive 5-star review for us on iTunes, Spotify or any of your favourite podcast players.
Running a organic and paid campaign on Facebook means developing a profitable digital marketing stratgey.
Having a good marketing mix of organic and paid creatives always works quite well.
I started this blog in 2017 because I had a burden on my heart to reduce women illiteracy globally.
Because this is a huge undertaking I have decided to help 1,000 women over the next 10 years to become wildly successful in their online business through simplified marketing strategies.
That way we can build a strong business network of women who can donate 1% of their profit and together we can help reduce women illiteracy worldwide.
Would you like to be part of this movement? Shoot me an email using alvern (at) successunscrambled (dot) com.